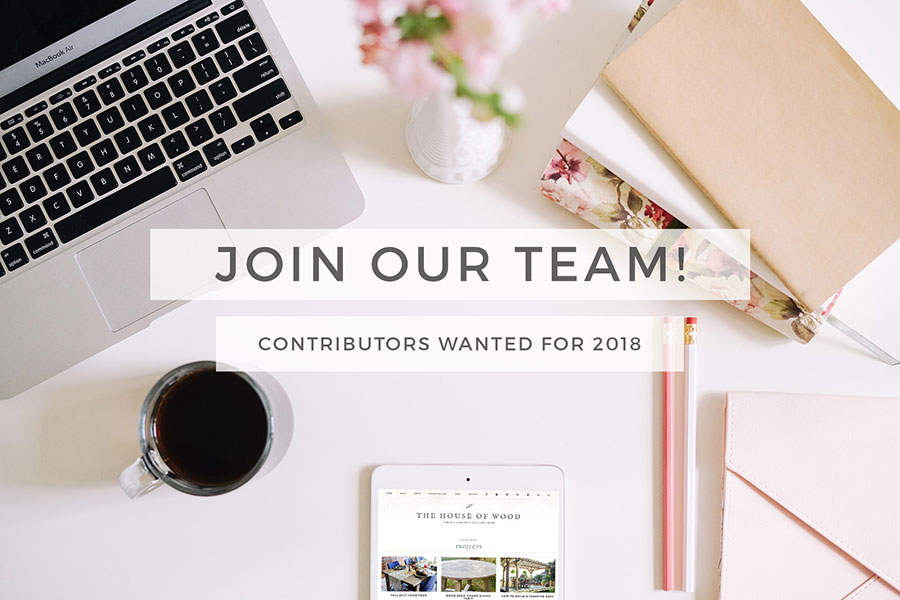 ***UPDATE 1/1/2018: Applications are now closed. Thank you so much for your interest! We will be announcing the 2018 House of Wood Creative Team shortly!***
We are currently accepting applications for talented, creative, positive bloggers who have a passion for creating and sharing inspiring ideas and content, stunning photography, and being a part of a fun, collaborative community.
WHAT I'M LOOKING FOR:
Original, high quality content that is inspiring, entertaining, and/or educational.
Bright, clear, crisp photography that thoughtfully considers good lighting, composition, focus, and styling.
Someone with prior experience with WordPress, Facebook, Instagram, and Pinterest.
Posts written with impeccable grammar, punctuation, and spelling, with a minimum of 250 words and 4-5 photos.
Someone who is organized, timely, personable, and communicative.
TOPICS:
DIY & Home Decor (crafts, carpentry/woodworking projects, interior decorating, organization)
Food & Drink (recipes, restaurant reviews/recommendations)
Lifestyle (travel, fashion, beauty, parenting, military life is a plus!)
POST SCHEDULING OPPORTUNITIES:
Monthly, for 6 months
Twice a month, for 6 months
Quarterly, for 1 year
WHAT YOU'LL GET:
Contributors will be paid per post. Payment will be negotiated dependent upon the scope of the content, but may range anywhere from $75-$250+ per post.
Promotion on The House of Wood social media channels including Facebook, Pinterest, and Instagram.
Your photo, short bio, blog URL, and contributor posts will be listed in the "My Team" section.
Mentorship, guidance, support, and community. Building a strong tribe is an integral part of this blogging world and I've learned so much from a handful of amazing people who have been very generous with their time, expertise, and insight. I fully believe and try to live out the idea that "a rising tide lifts all ships" and I'd love to share my knowledge and experience with you.
Potential brand sponsorships.