Hey guys!  It's Shara here from Woodshop Diaries and I'm so excited to be contributing to The House of Wood!! I've been a big fan of Jen's for a good while and actually worked with her last year to bring my modern dog house to life!
Like Jen, I love building furniture and am excited to bring you the tutorial to build this simple DIY side table!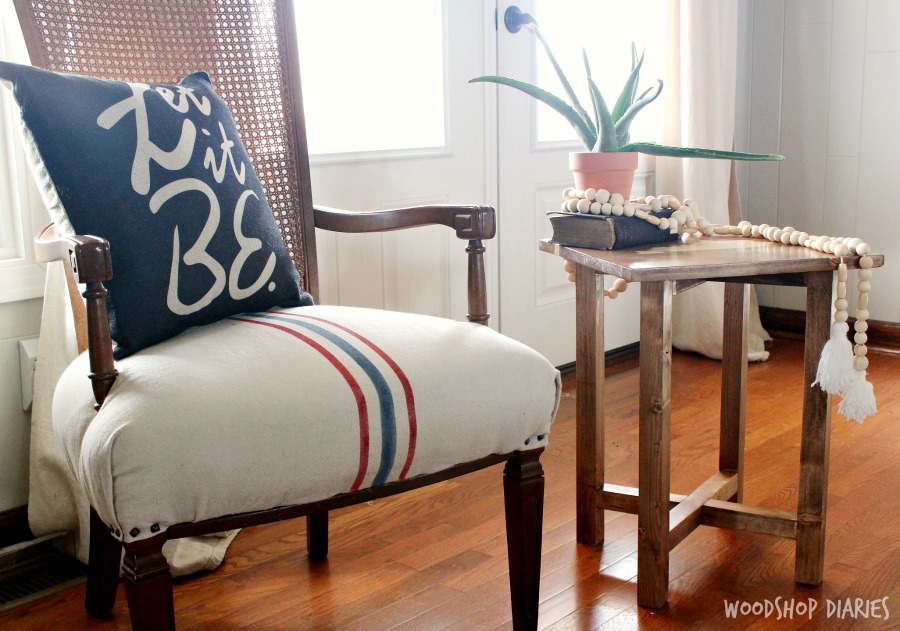 Tools and Materials:
Miter saw
Pocket hole jig
Drill
Jigsaw
Clamps
2-inch wood screws
1 1/4-inch wood screws (optional)
2 1/2-inch pocket hole screws
(1) 1 x 6 x 8 Ft. boards
(2) 2 x 2 x 8 Ft. boards
Cut List:
(4) 2×2 @ 22 inches long (legs)
(4) 2×2 @ 13 inches long (base X pieces)
(3) 1×6 @ 16 inches long (top)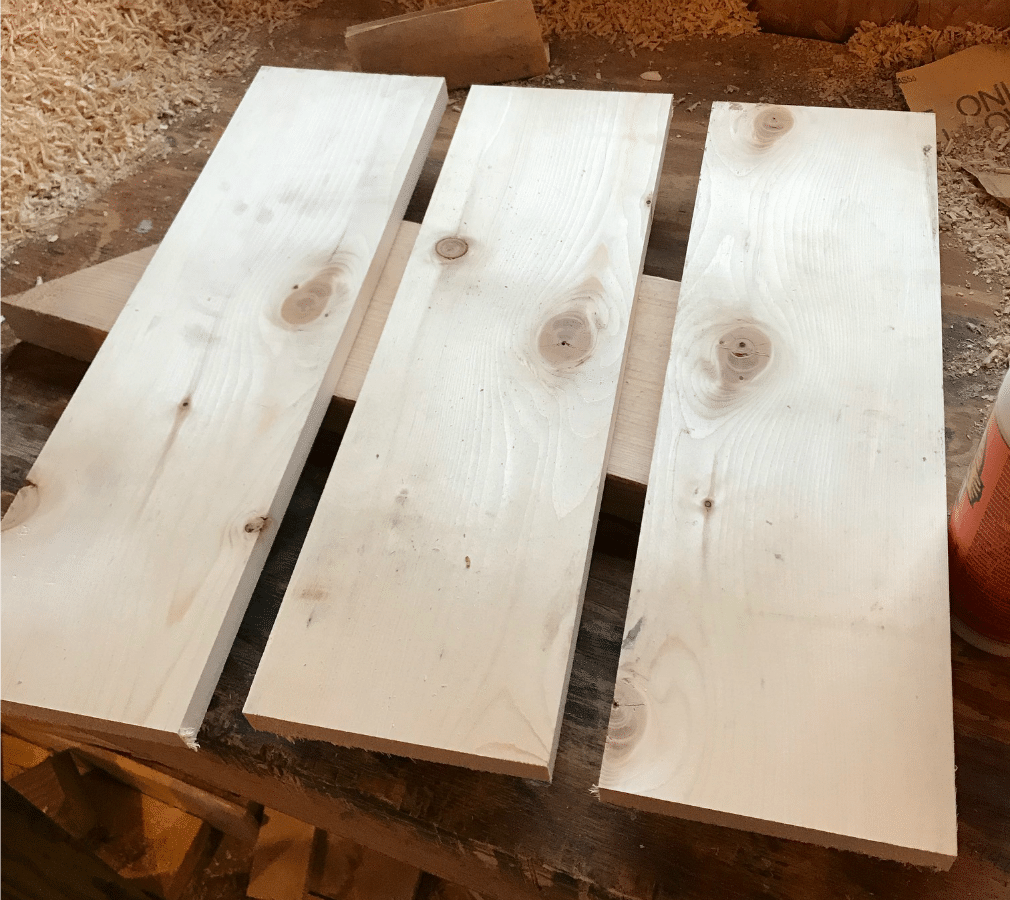 Step 1: Assemble the simple side table top. Apply some wood glue to the edges between the boards, then glue and clamp together. Alternatively, you could also use 3/4-inch pocket holes with 1 1/4-inch pocket hole screws to attach the three boards. I prefer to just glue them.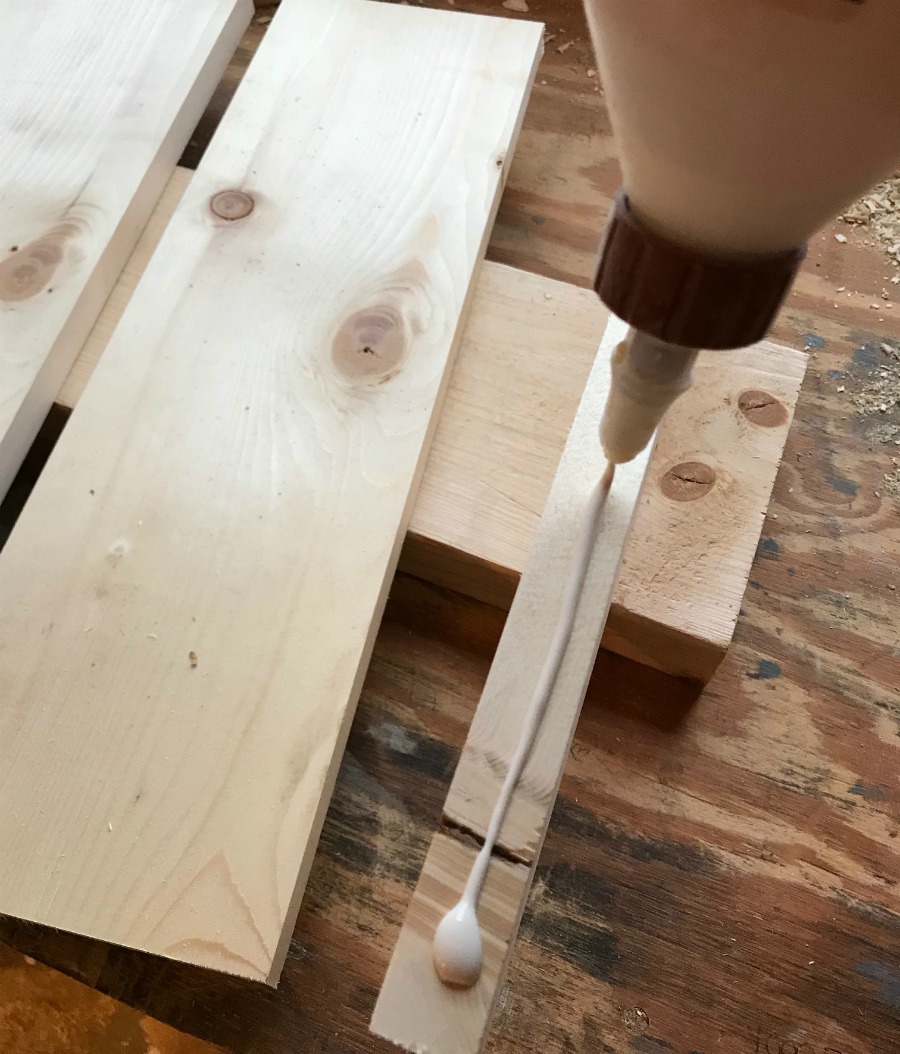 I cut my boards a little long to trim down later; it makes for a smoother edge. While the glue is drying, you can work on assembling the base.
Step 2: Create the table base Xs:
Find the center of each 13-inch board and mark 3/4 inches on each side of the center. Then, mark 3/4 inches into the board from the edge. Use a jigsaw and a chisel to cut out a notch like shown so that when fitted together, the two boards create an X. Apply some wood glue into the notches and fit together to create two identical Xs. This is called a half lap joint. You can drive a 1 1/4-inch wood screw into the bottom side to strengthen the joint.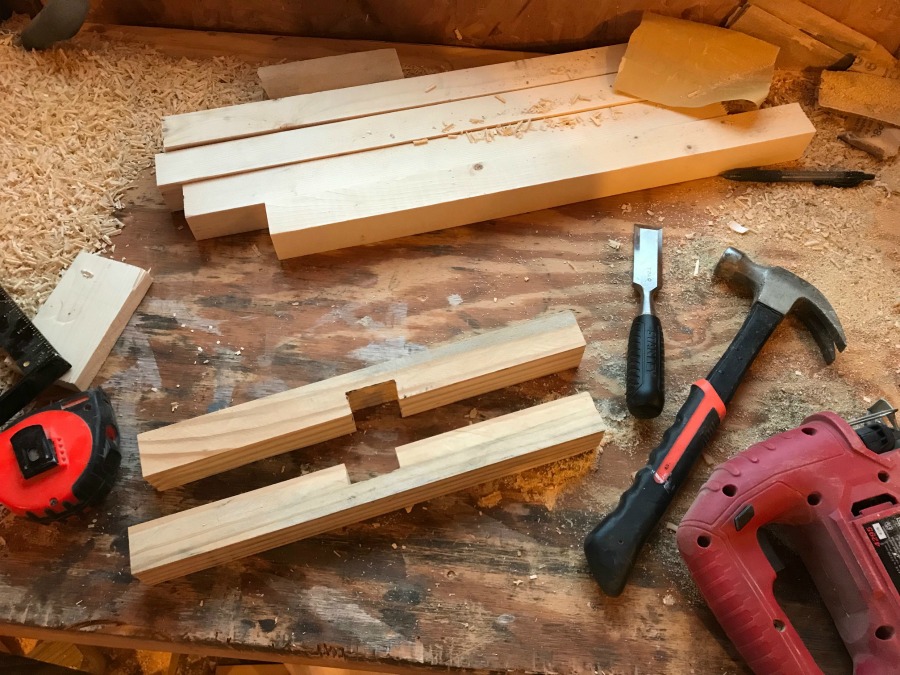 If you'd prefer, you could also attach the Xs using pocket holes and screws. I like the half lap joint better, though. I also used this joinery in my super simple DIY bar stool.
Step 3: Assemble the side table base:
Drill one 1 1/2-inch pocket holes into each leg of each X using a pocket hole jig and a drill. Then, cut the legs and make a mark from the bottom of each leg about 2 inches up. Line the BOTTOM of one of the legs of one of your Xs up with the mark and attach using a 2 1/2-inch pocket hole screw.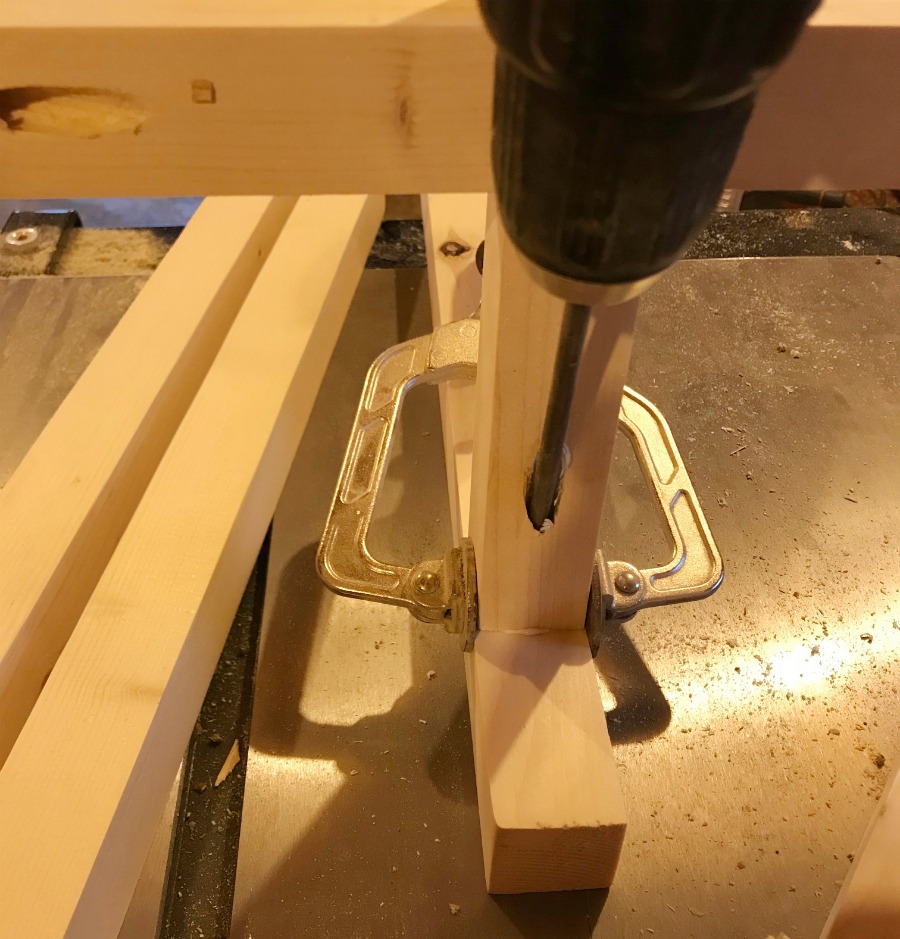 Work your way around until all of the legs are attached.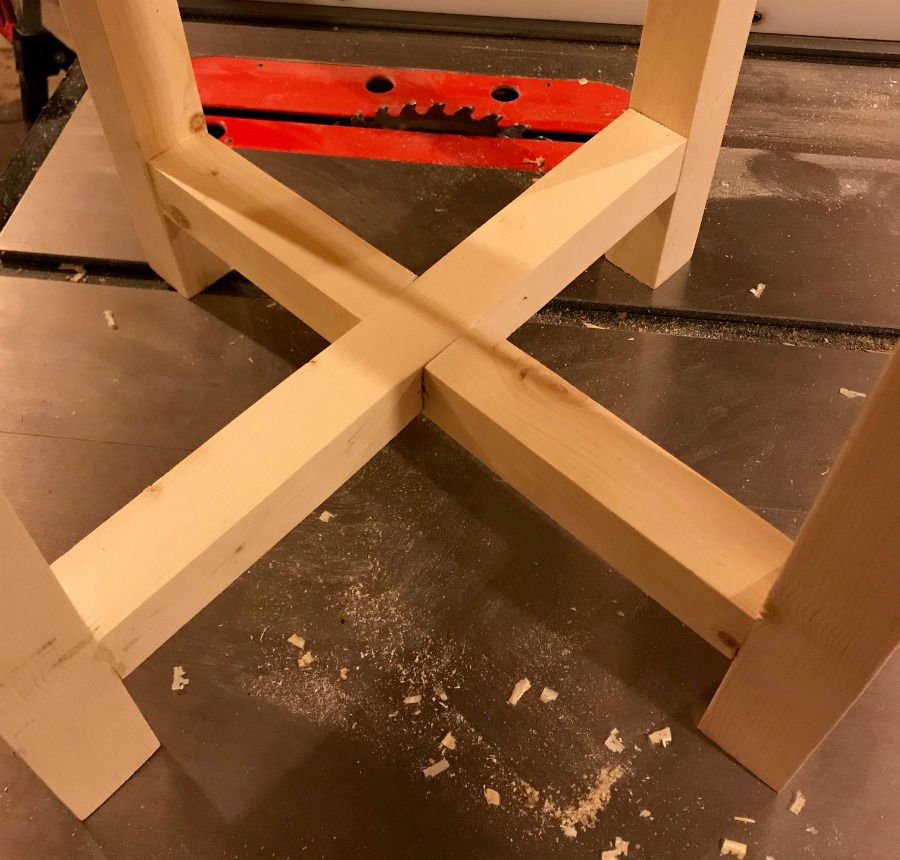 Do the same with the other X along the top of the legs.
Step 4: Attach the base and top together:
Once you've cut down and sanded the top and base, turn the top upside down on your work surface and place the base upside down on top of it making sure that it's centered. Using 2-inch wood screws, attach each leg of the top X to the top as shown.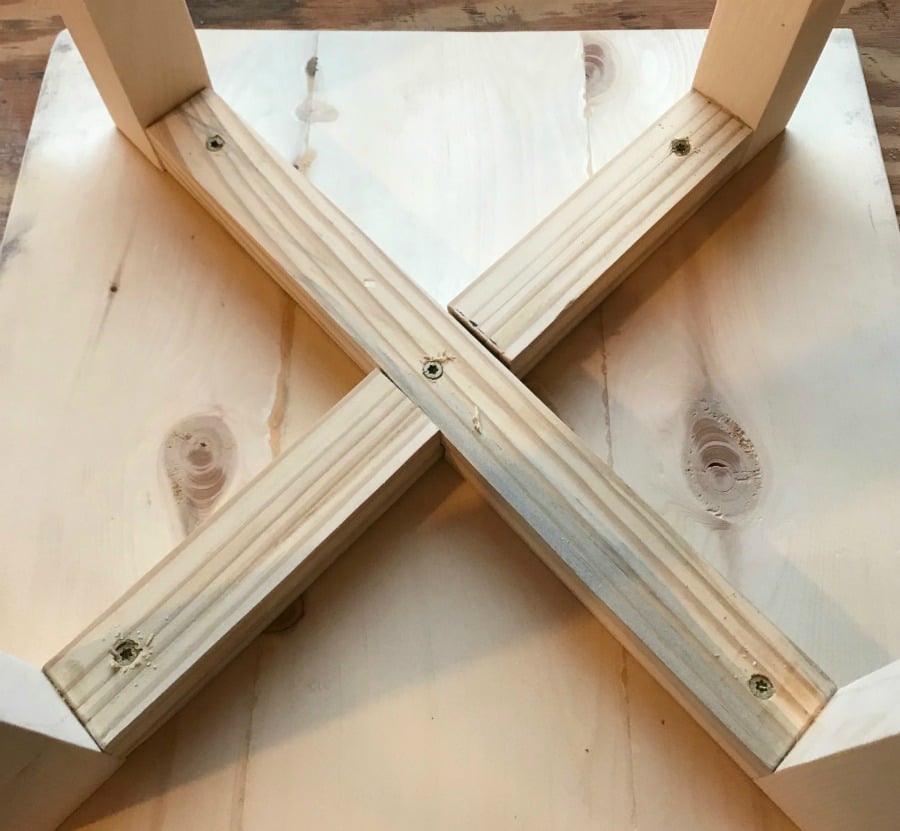 Then, feel free to finish as desired! I used a stencil to create a Kentucky design on the top of mine like I did with these DIY lazy susans. It would look cute with a painted bottom and stained top as well! Get creative with your finish choices to make this simple DIY side table project your own.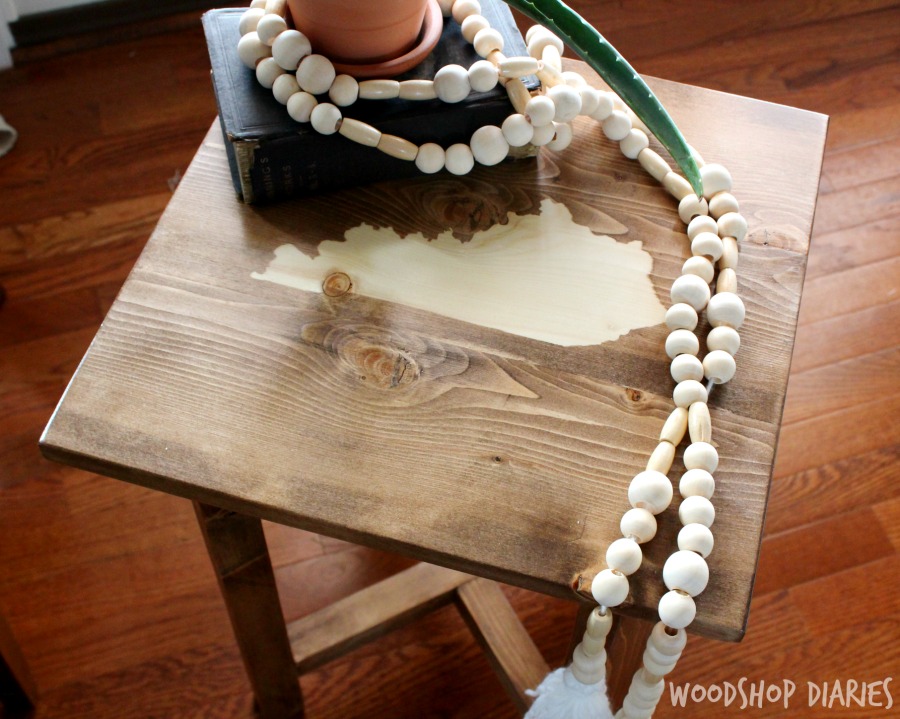 And that's it! Hope you guys enjoyed the tutorial for this quick and simple DIY side table! It would also make a great plant stand or nightstand!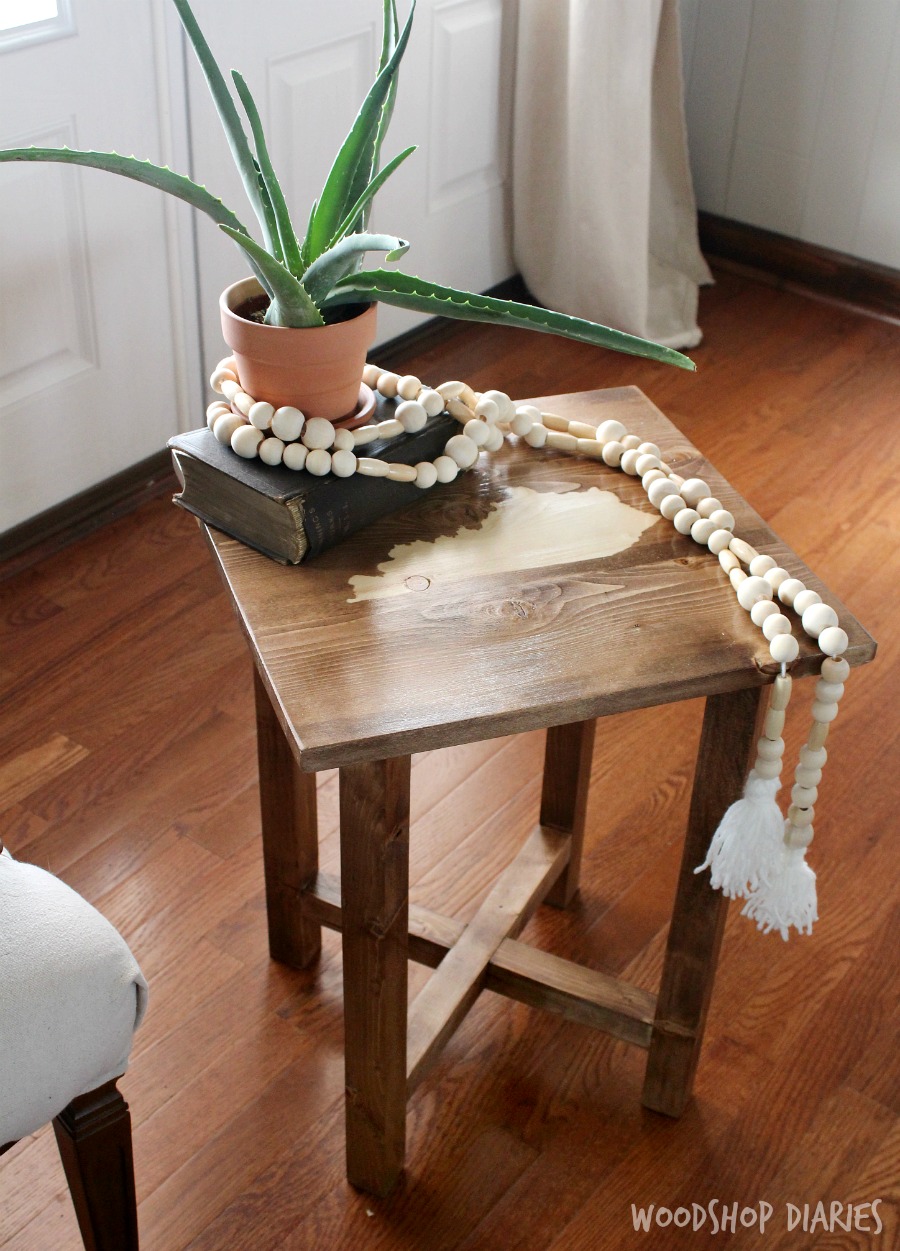 Until next time, happy building! 🙂