If you know anything about me, you know that organization is one of my love languages. We just moved into our new home and as I started getting things unpacked and organized, one pain point was our hall linen closet. It had basic wire shelving installed that didn't make the most of the space. Giving our linen closet a makeover was one of the projects I knew I wanted to tackle as soon as possible and I am SO GLAD I did!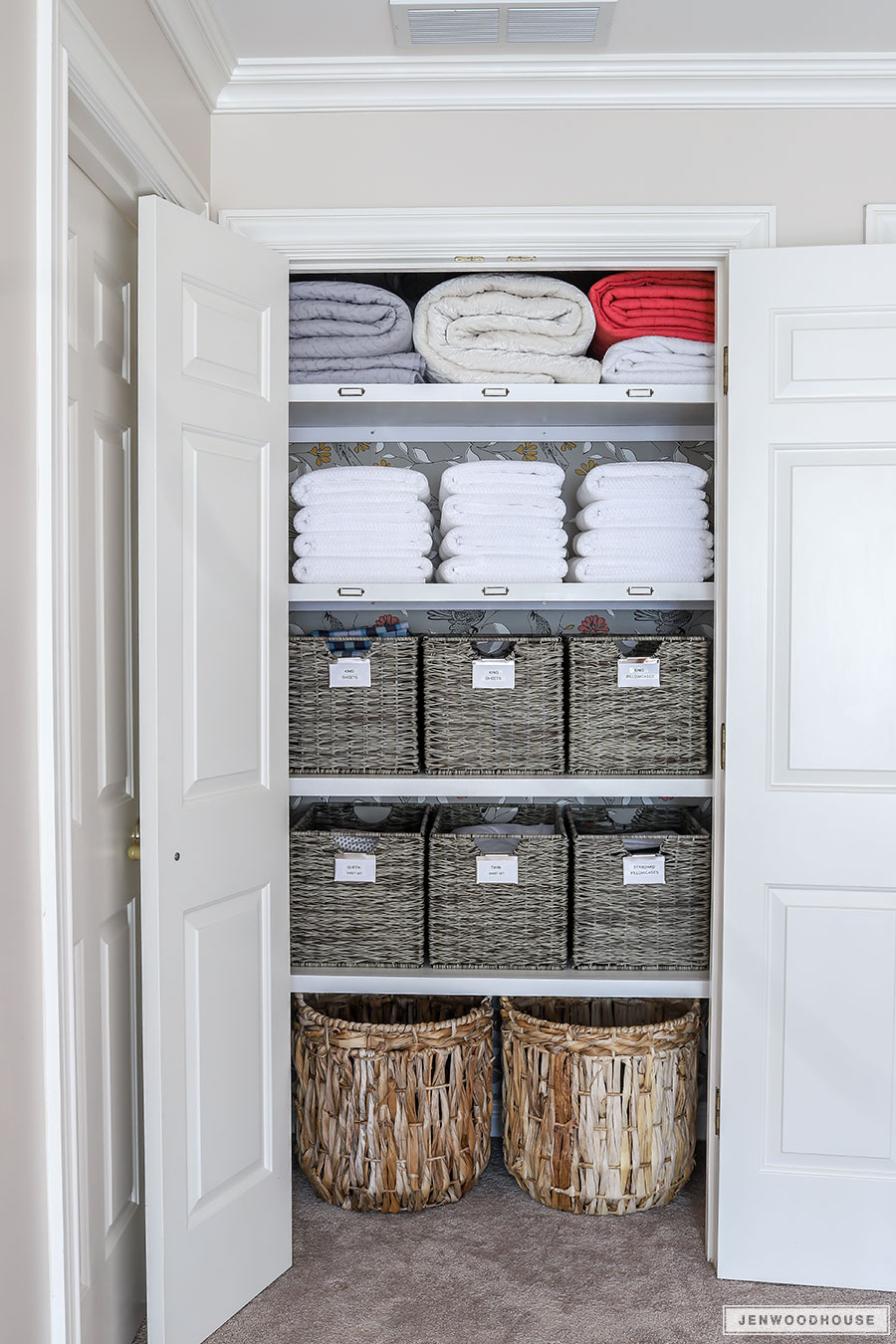 I'm so excited to be partnering with Dremel this year to bring you several smart and easy DIY projects. This linen closet makeover is the first of many projects! I'm often asked for my tool recommendations for folks who don't have a huge workshop space. If you're an apartment dweller or you don't have access to a workshop full of big power tools, this DIY project is for you! I'll show you how I reorganized our linen closet using only small handheld power tools.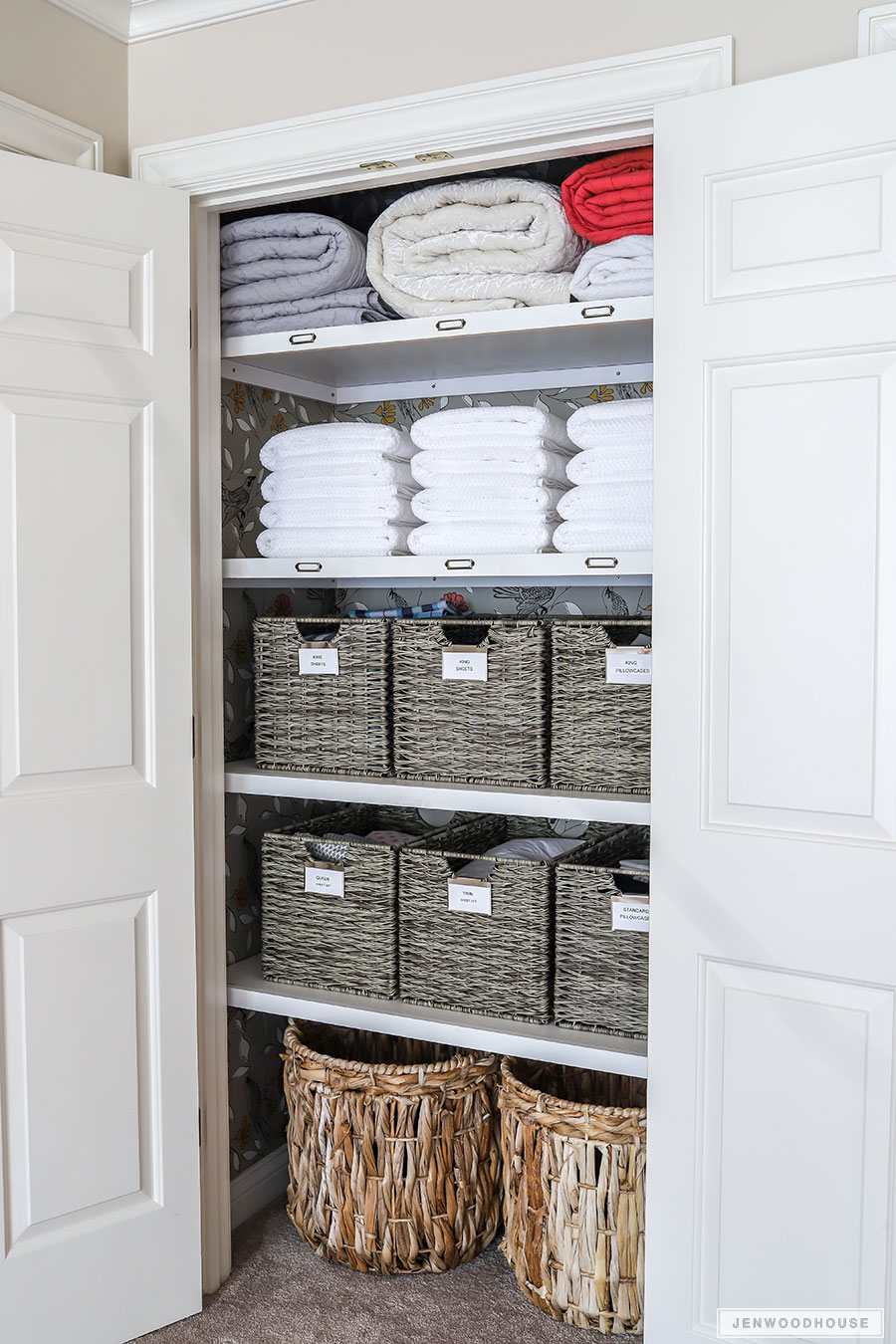 Are you ready to see what our linen closet looked like before?
The basic wire shelving wasn't even level and it was pretty shallow, despite there being about two feet of depth in the closet. Also, allow me to draw your attention to that big empty space on the left. I assume this space is for hanging things, but as you can see, it's a massive waste of valuable real estate in this small closet. It won't be difficult to improve upon this sad situation and create a smarter storage solution without devoting a ton of time and effort.

Tools:
Materials:
1×2 Ft. boards
Melamine shelves
2 1/2-inch Wood screws
1 1/4-inch Pin nails
Wood glue
First thing's first: rip out that dysfunctional wire shelving and prime the canvas. I used the Dremel Go cordless screwdriver to remove the shelves. This is such a handy little tool to have around the house. It's rechargeable by USB and once you seat the bit into the screw head, you simply push to engage. You can take a closer look at the Dremel Go here. The drywall anchors for the wire shelves left some gaping holes in the walls so I patched them up with spackle and then let it dry. Once dry, I used a sanding sponge to sand everything flat.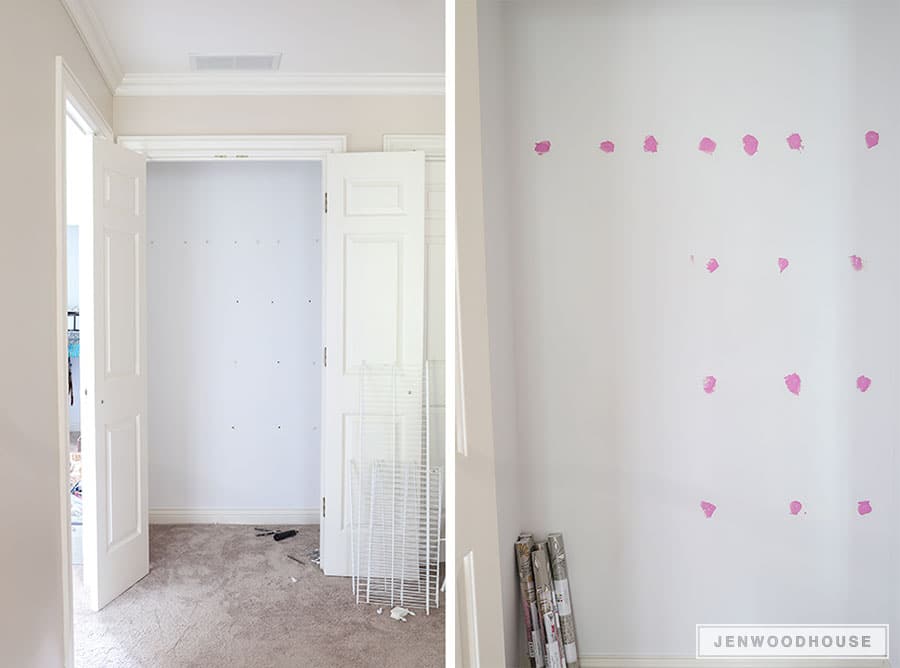 Next, I installed this peel-and-stick wallpaper. This step is totally optional, of course. And word to the wise – installing peel-and-stick wallpaper is best completed with two people. I hung this wallpaper by myself and while it was certainly possible, it wasn't without a few choice words and a verge of tears. I will say, however, that the wallpaper is very forgiving. I was able to pull it off and reposition the panels whenever I messed up, which sadly, was more often than not!
Quick tip: buy more rolls than you think you'll need – you can always return the unopened rolls later!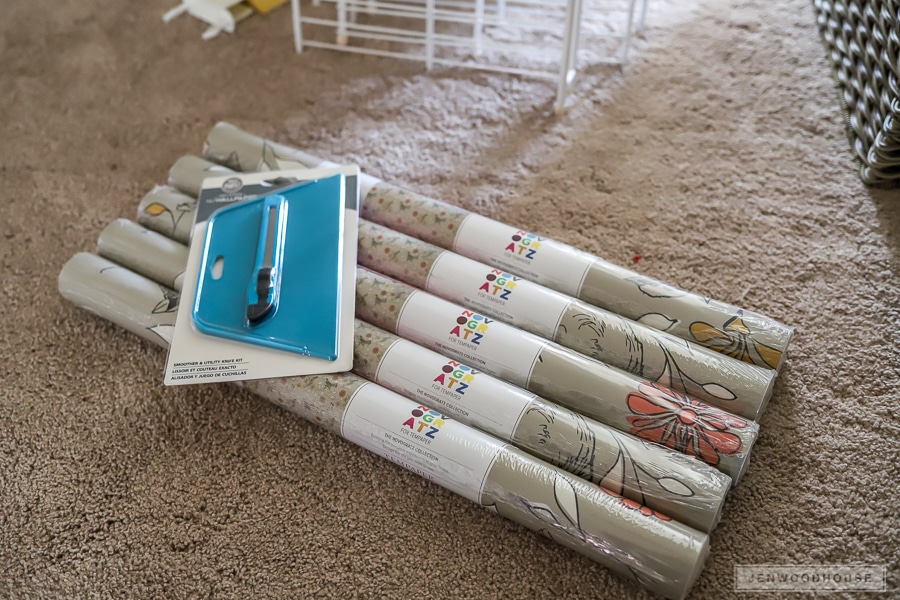 Because I tend to obsess over the tiniest details, the perfectionist in me just about had a conniption fit when I couldn't get the pattern to line up exactly or when the wallpaper stuck to itself. Very, very frustrating. But after all was said and done, my mishaps are virtually unnoticeable. Most of this lovely pattern will be covered up by baskets, blankets, and towels anyway, so I really shouldn't have wasted my time sweating the small stuff.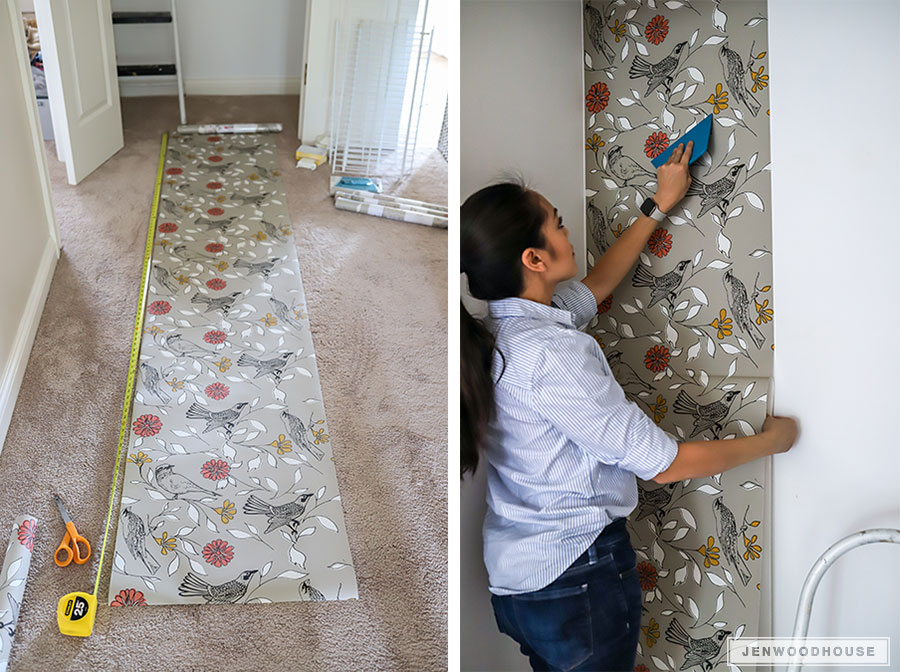 I would recommend skipping the wallpaper if you tend to be a perfectionist like I am or if you don't have an extra set of hands to keep the wallpaper from wrinkling or sticking to itself. Hopefully you'll have better luck than I did.
But it sure is pretty, right?! Not sure if the juice was worth the squeeze, though.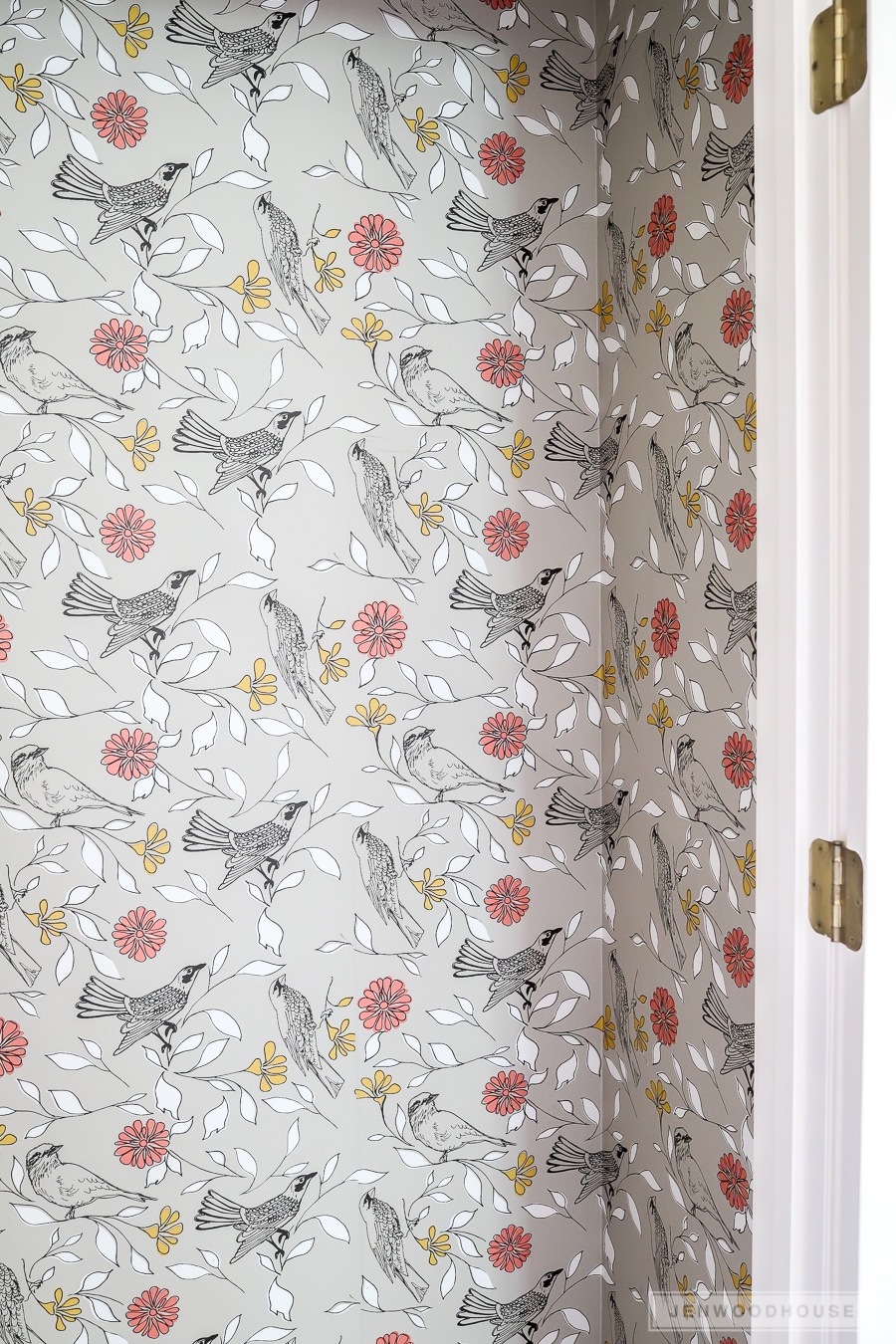 After the wallpaper was installed, it's time to cut the cleats for the shelving. I used the Dremel Ultra Saw to make all of my cuts. This little handheld tool made cutting the boards quick and easy. I love that it's small enough to store in a drawer, but it's perfectly capable to take on a project like this.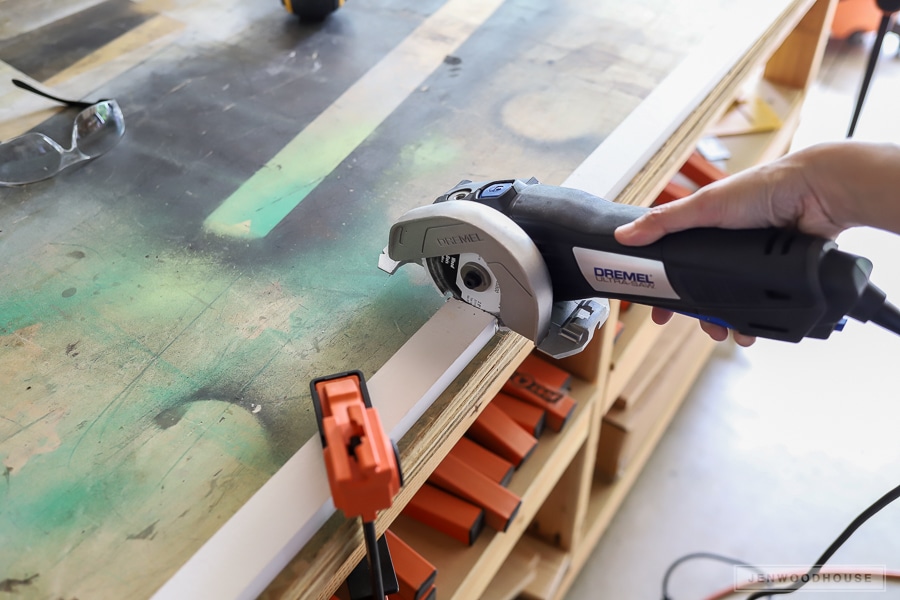 I located the studs in the wall and screwed the cleats in with 2 1/2-inch wood screws. I used a level to make sure everything was, well… level.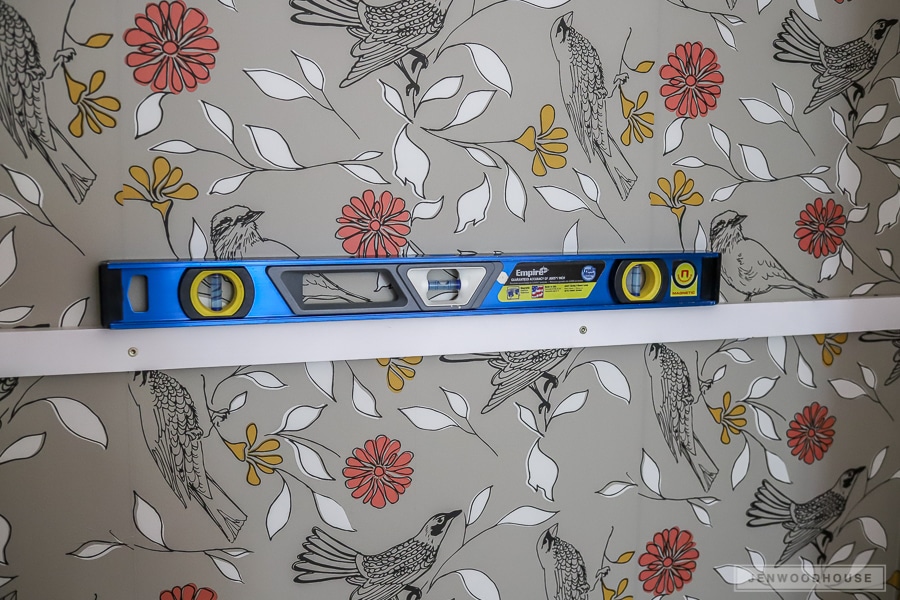 The long cleats run along the back of the closet and there is a shorter cleat on each side to support each shelf. I cut four 45-inch cleats for the back and eight 24-inch cleats for the sides. Your measurements may vary.
We'll store extra blankets, quilts, and pillows on the top shelf, guest towels on the second shelf, and then bed sheet sets on the lower two shelves. The lowest shelf measures about 20 inches from the ground to store bulkier items underneath, while the rest of the shelves are about 15 inches apart.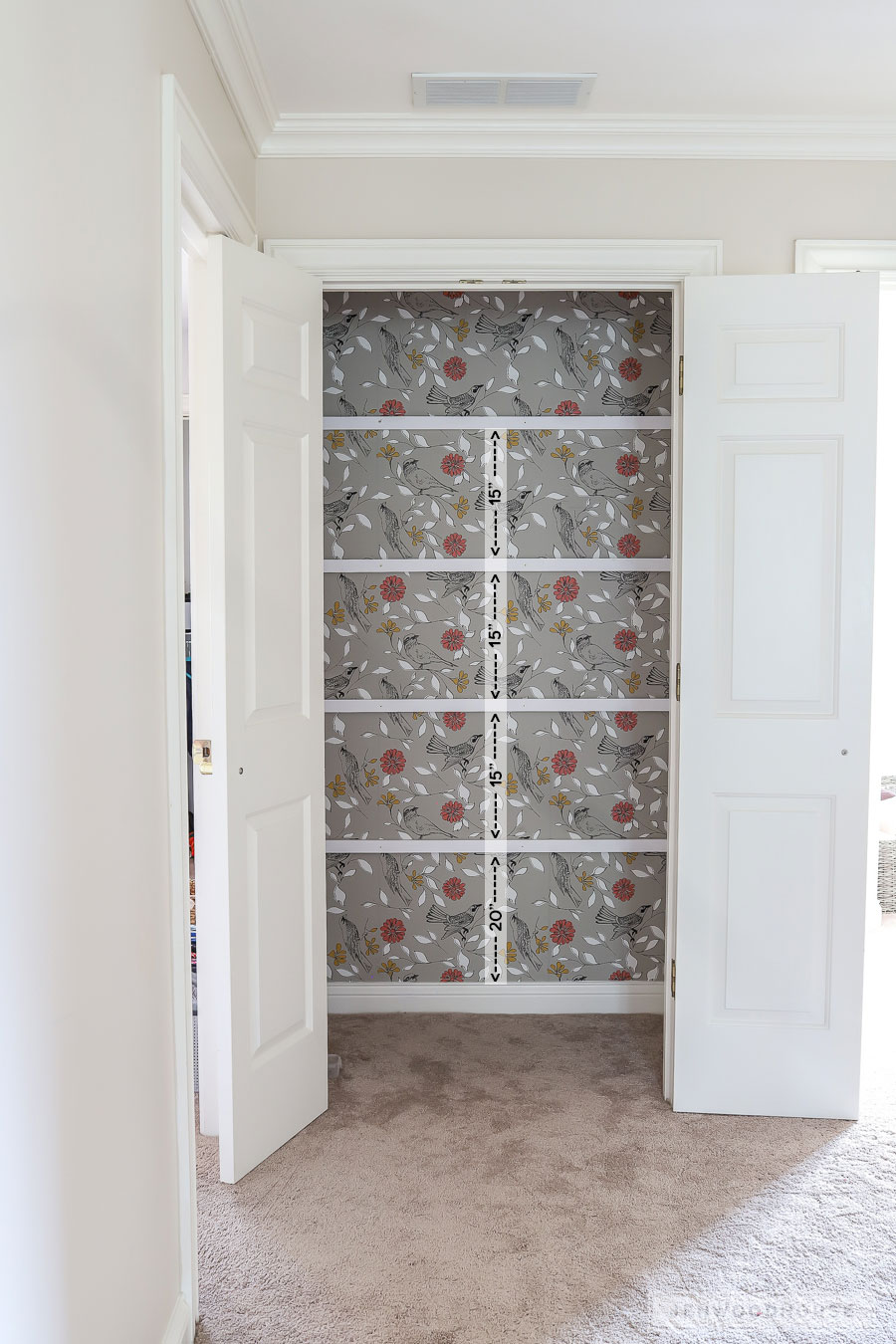 These melamine shelves happened to be the right width for our linen closet, so I just had to cut them down to the correct length. I did this with the Ultra Saw as well. So quick and easy!
Quick tip: use a foam insulation board as your cutting mat so you don't damage your floors!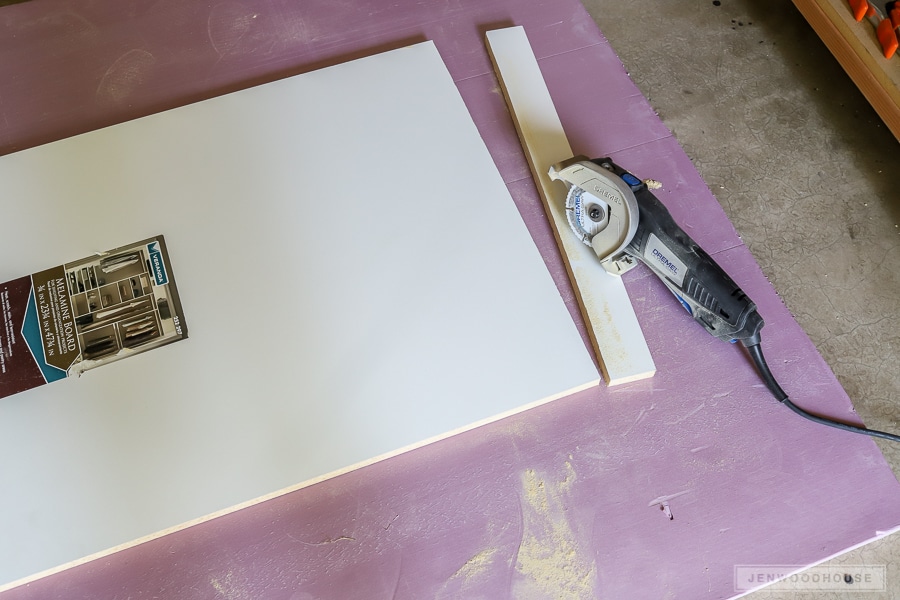 We're nearing the finish line now. I laid the melamine shelves into place, then added more 1×2 trim to the front to cover the raw MDF edges. I used my pin nailer to attach the trim to the shelves.
I was worried that the shelves would sag because the span is almost 4 feet long, but so far, there's been no evidence of that! These melamine shelves are surprisingly strong (and heavy!) and we're not storing much weight on them. If you're going to store more weight on your shelves, however, you may want to reinforce them with cross braces underneath. A good rule of thumb is to have support every 24 inches. You can use this handy "Sagulator" to make calculations according to your details.
Feel free to caulk the seams underneath where the shelves meet the cleats, if you're so inclined.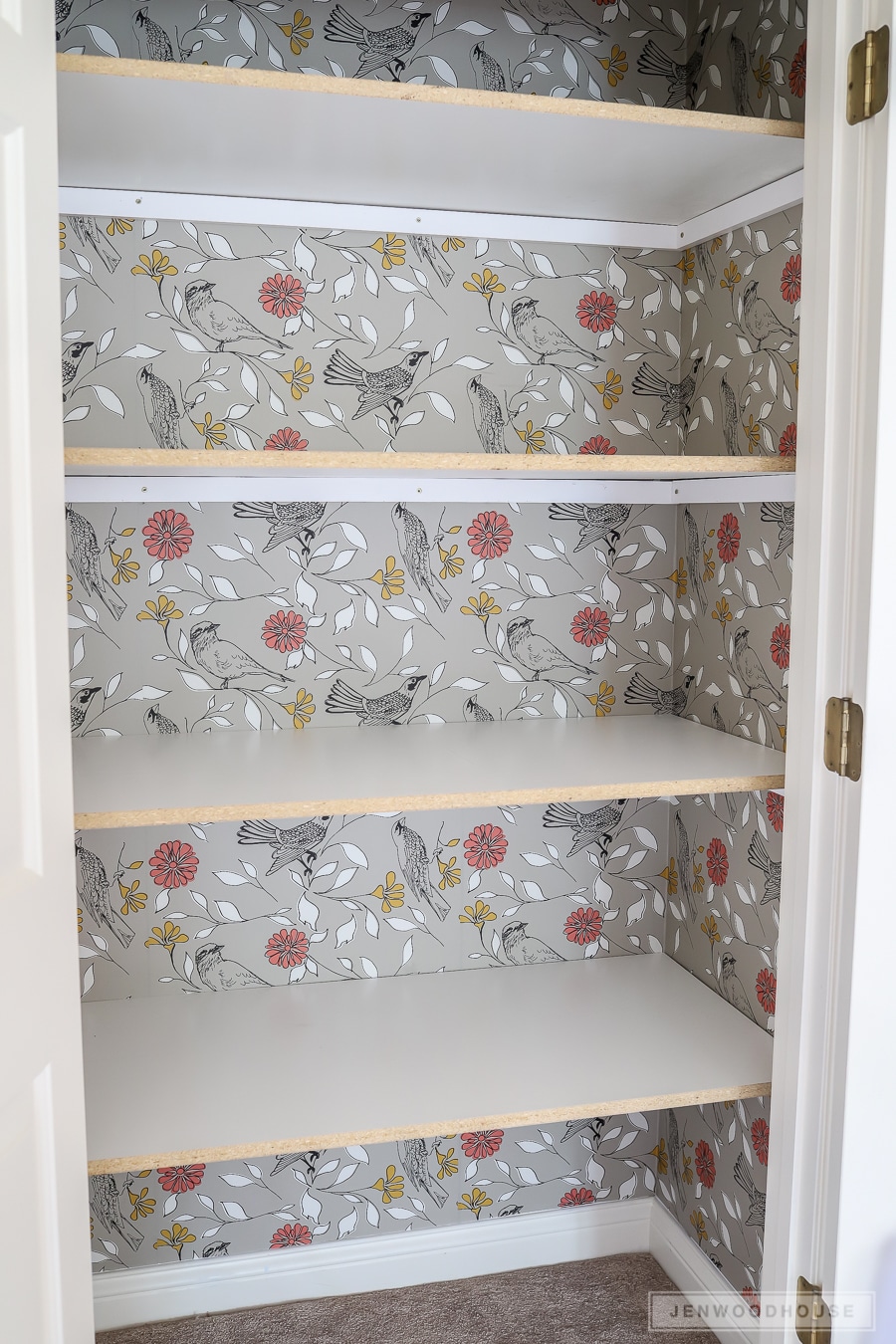 Finally, fill up the shelves with linens, towels, extra blankets, and other items then stand back and admire your newly organized, more efficient, and fully functional linen closet! This scene gives me all the heart eyes! Would it be weird to leave these doors open all the time?!
What do you think? Are you convinced that you don't need big power tools or a massive workshop to tackle this project? Grab a few Dremel tools and get to work! And don't forget to tag me on social media (@jenwoodhouse #jenwoodhouse) so I can see your linen closet makeovers!

Product Sources: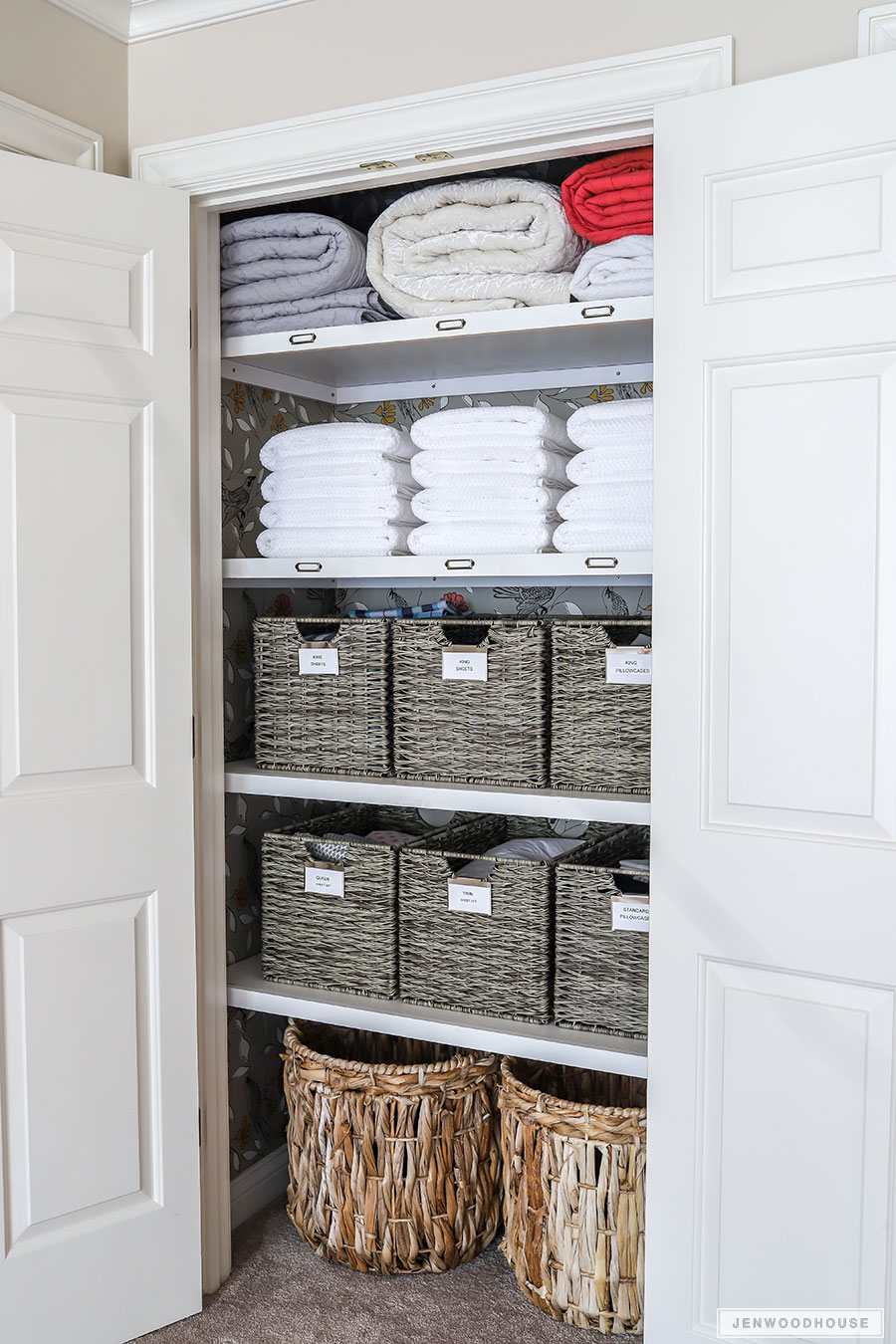 *This post is sponsored by Dremel. All efforts, ideas, and opinions are my own. This post contains affiliate links. To read my full disclosure policy, please click here.