Nashville, Tennessee is where we call home, despite constantly being bounced around the world by the Army. Most of our family lives in Nashville and we hope to one day retire there after we say goodbye to military life. One of the things I love most about Nashville is its small-town feel mixed with big city culture. Nashville is rife with great food, music, art, culture, and boundless creative energy, yet is small enough to feel like a friendly, close-knit neighborhood. Because it's rare to meet a "born-and-bred" Nashville native, the town is filled with transplants from all over the world who have pegged this hip and lively town as their home of choice. Folks want to live here (as opposed to being stuck here) and the quality of life is a beautiful reflection of that. One of the best-kept foodie secrets, Nashville claims some of the best restaurants in the nation. Well-rounded in both high- and low-brow fare, I've compiled a list of the Top Ten Nashville Eats.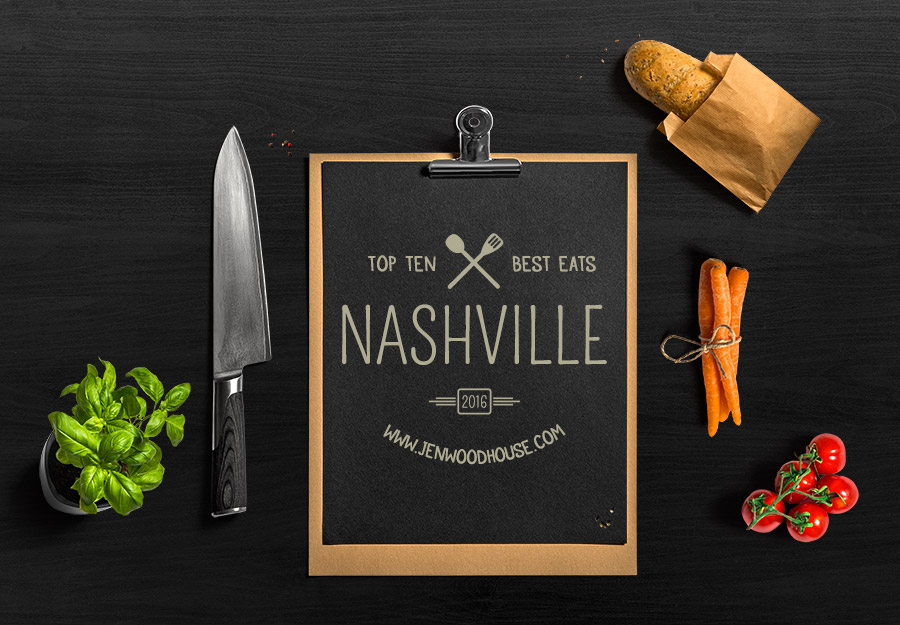 1. Prince's Hot Chicken
Winner winner, Hot Chicken Dinner! Nashville's signature dish dates back to the Great Depression. The story of how hot chicken came to be is a juicy one, involving a philandering ladies' man and one woman's revenge that turned into this delicious, happy accident. While the city is littered with hot chicken joints, Prince's is the original and the one everyone comes hustling back to after trying out all the new kids on the block. Word to the wise: don't rub your eyes while enjoying this Nashville staple and for the love of all that's holy, don't forget to wash your hands after you eat!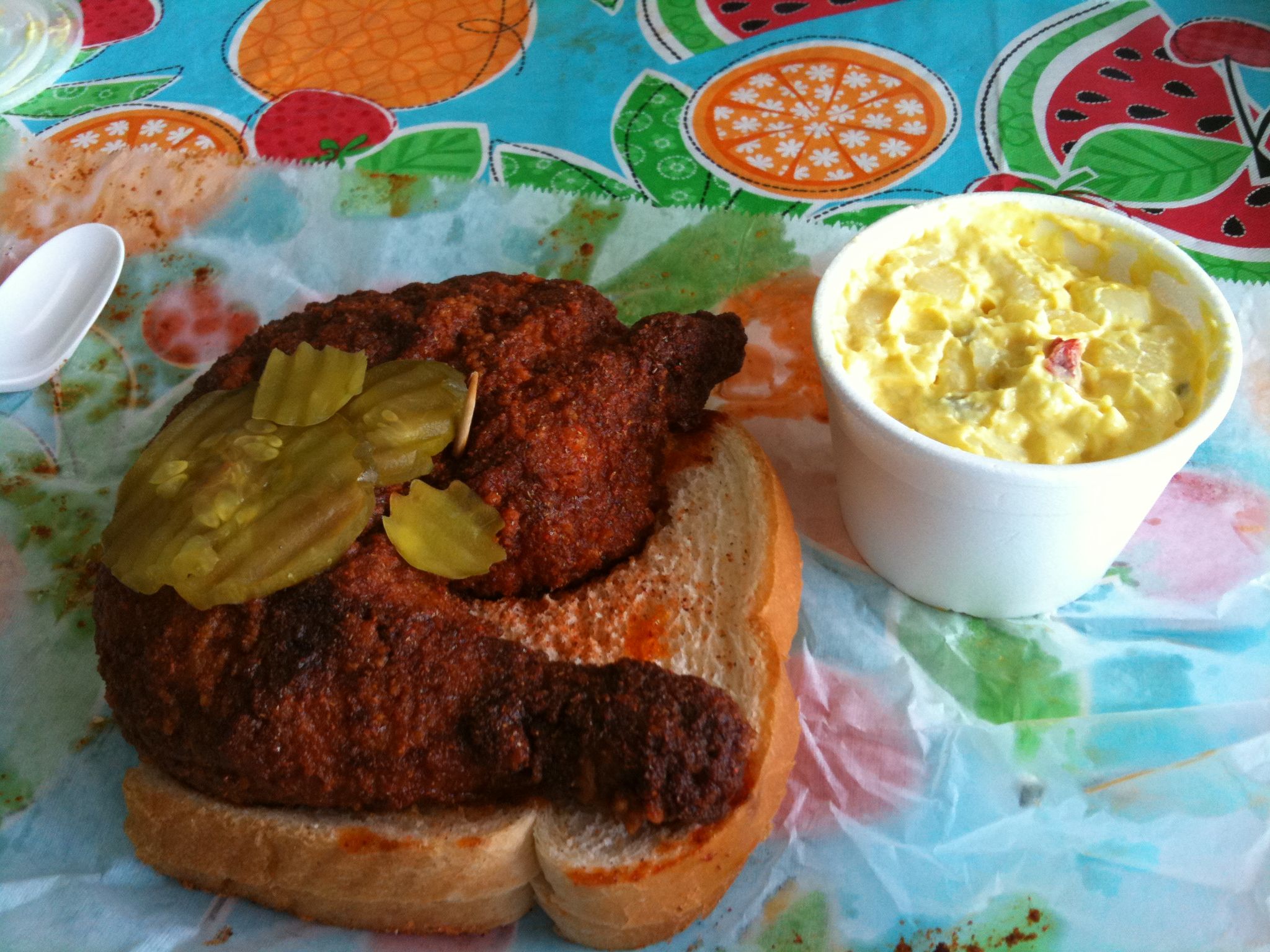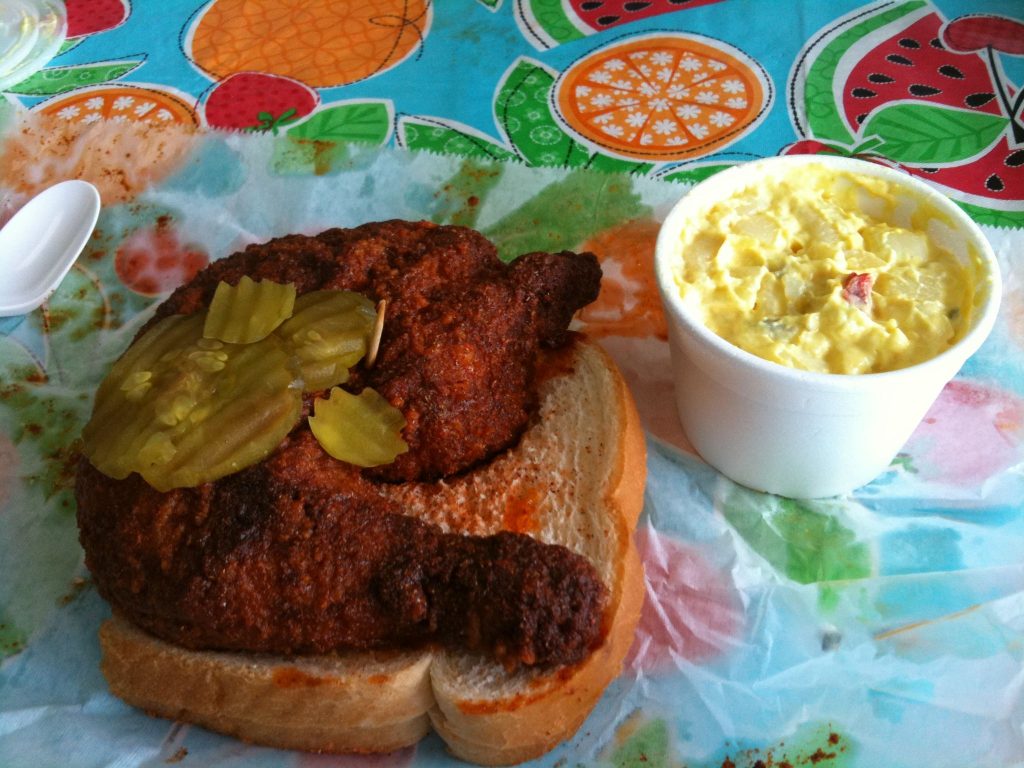 2. The Catbird Seat
If upscale, exclusive, and spectacular is your thing, then The Catbird Seat won't disappoint. It can be challenging to get a reservation at this 32-seat venue; you'll have to book several weeks in advance, but the wait will be worth it – prepare yourself for a dazzling 3-hour culinary experience. Patrons are seated in the restaurant's U-shaped open kitchen where they get to witness the chefs skillfully and artfully prepare each dish in the multi-course menu. If you're an adventurous eater with a penchant for the sensational, The Catbird Seat should be at the top of your foodie bucket list.
3. Two Ten Jack
An izakaya (Japanese pub) and ramen house, Two Ten Jack was voted Best Sushi in 2015 by local mag, The Nashville Scene. Despite Tennessee being land-locked, some of the best sushi I've ever had was in Nashville – and that's saying something because my husband and I lived in Japan! While the sushi at Two Ten Jack is top-notch, you won't want to miss the yakitori and slurp-worthy ramen.
4. Pinewood Social
This buzzing hipster establishment is one eclectic gathering place. Not only is it a great spot to grab a coffee or a cocktail and some delectable pork belly, but a place where you can bring your A game and throw a few balls down one of the six reclaimed vintage bowling lanes, play bocce ball, or take a dip in the pool next to a 30-foot Airstream bar. My friends and I like to play 'Hipster Bingo' and see how many walking cliches we can spot while hanging out at Pinewood Social. Skinny jeans? Check. Thick, black-rimmed glasses? Check. Buffalo plaid? Double-check. Epic beards? Bingo! All joking aside, there's something for everyone at Pinewood Social and the unique concept of this joint earns it a spot on my Top Ten list.
5. The Loveless Cafe
I have a special place in my heart for The Loveless Cafe. I've spent many a breakfasts here while recording my first and second albums and Loveless's world-renowned, made-from-scratch biscuits with homemade preserves just warms my heart and brings back so many fond memories. The Loveless is a tourist hot spot for Southern comfort food, so be sure to arrive early or expect to wait an hour or more for a table.
6. Marche Artisan Foods
Marche is not just a restaurant with amazing food with European flair and seasonal menu, but a gourmet grocery market selling imported cheeses, breads, meats, and olives. An excellent spot for breakfast/brunch. While you're at it, try Margot Cafe too – owned by the same chef Margot McCormack.
7. The 404 Kitchen
Simple doesn't have to mean boring and The 404 Kitchen is proof of that. A cozy 28-seat dining spot with an even smaller menu, The 404 Kitchen serves up focused, yet creative food that is fresh, honest, and thoughtful.
8. Rolf and Daughters
You'll find Mediterranean-inspired, self-described "modern peasant food" at this historic Germantown establishment. Try the squid ink tajarin pasta, the pork ragout, or any of the hand-cut daily pasta specials with hearty, rustic sauces and die from carb-lovin' heaven.
9. City House
Sunday Supper at City House is an exciting time to eat at this Germantown spot. If Italy and the South got together and had a love child, he would be chef Tandy Wilson. He describes himself as an "old redneck from Tennessee" yet if you tasted his Southern-infused Italian creations, you'd think he was raised in Naples. Charcuterie, antipasti, pizzas and pastas adorn the menu – don't miss the pork belly ham pizza!
10. Adele's
Adele's is our go-to brunch spot; the Sunday buffet never disappoints. Seasonal, farm-to-table clean, classic Southern comfort food that doesn't need a lot of pomp and circumstance to shine.
I hope you enjoyed this restaurant tour of our foodie city: Nashville, Tennessee. There are so many more foodie hot spots in Nashville, I wish I had room for them all! Have you eaten at any of these places? What did you think? Do you have a favorite food stop that wasn't on this list? Nashville knows good food and you can't go wrong in our sweet Southern town. I'd love to hear your Nashville restaurant recommendations in the comments!
Want to continue on our Great Southern Road Trip? Thanks to Heather at Southern State of Mind for hosting this fun blog hop. We Southern bloggers are driving non-stop all week, so be sure to check back and tour the other Southern stops on this trip!
THE GREAT SOUTHERN ROAD TRIP ITINERARY
MONDAY ROUTE:
TUESDAY ROUTE:
WEDNESDAY ROUTE:
THURSDAY ROUTE:
FRIDAY ROUTE: