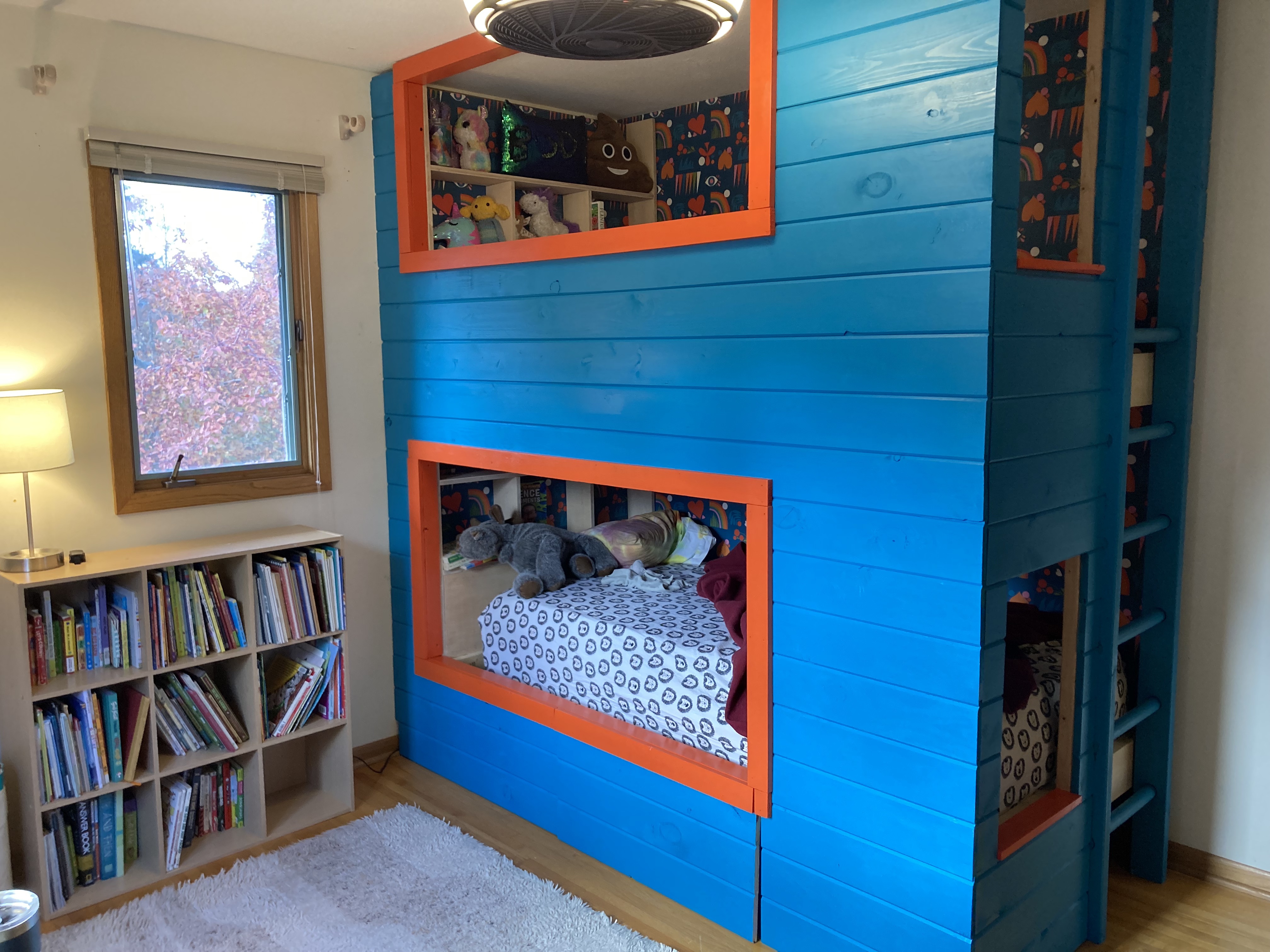 Submitted by Sarah Stocco
Estimated Cost:
JenWoodhouse.com Plan Used: https://jenwoodhouse.com/diy-built-in-bunk-beds/
About the Project:
We recently moved into a new house, and my kids had to leave behind a custom loft bed my dad and I had made for them in the old house. When we were sure of our new place, I let the kids do some browsing of design ideas and we came across Jen's plan for a house-like bunkbed. The votes were unanimous! They picked out their wallpaper (a design by Lisa Congdon purchased on Spoonflower) and we picked colors for the outer boards based on the wallpaper design. I did this entirely by myself (although I did have some help from my 9 year old daughter to construct the bookcases and do some of the painting) and it was super doable! This is by far the nicest thing I've ever made, and the plans were super straightforward and easy to follow. I even used salvaged wood from our last loft here and there in the project. I will definitely be using more of Jen's plans in the future.
Some notes: I had to flip the plans based on the layout of the room, and it was super easy to do; I added some wallpaper on the back board of the bookcases; I did upgrade to a 1 1/2″ dowel for the ladder and it feels super sturdy; I made a little "secret" door in the bottom so the kids can hide under the bed during hide and seek, and we can store some guest sleeping mats under there; because I had leftover tongue and groove board, I added a 3 1/2″ strip between the ladder and the wall, which finished it off nicely; I wanted to use our existing slats from my kids' twin beds and had to add extra 2×2's to each side of the bed boxes because the standard slats were too narrow to fit the bigger bed frame in the plans; I think I'll add a little leather handle at the top of the ladder to help my daughter (and me) get up and down the ladder.