It's Day 10 and we've been faithfully chugging along on our 12 Days of Christmas Tablescapes Tour. Welcome back! I've been so inspired by my DIY blogger friends. These amazing people were gracious enough to join me for this little shindig: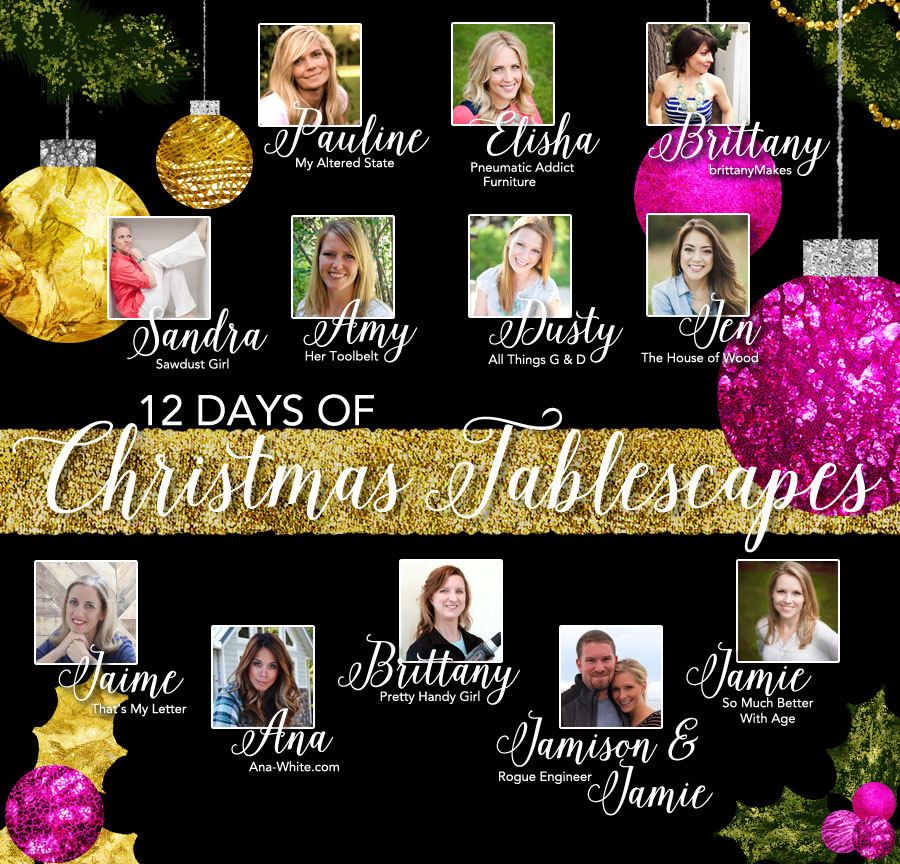 I love it. In all of our DIY insecurities: thrifted chairs, missing baseboards, subfloor, incomplete dinnerware sets… we still manage to create a beautiful and livable space. Pauline of My Altered State shares her beautiful DIY Swiss cross-inspired table and table setting today here. Leave it to a DIYer to freakin' BUILD A TABLE for a tablescape challenge. Rock on. You guys have GOT to see this thing of beauty.
We've got a couple more tables to share with you before we wrap this thing up, but here's our full tour schedule:
Mon, 12/8 Rogue Engineer
Tue, 12/9 Her Toolbelt
Wed, 12/10 So Much Better With Age
Thu, 12/11 Pneumatic Addict
Fri, 12/12 Pretty Handy Girl
Mon, 12/15 All Things G&D
Tue, 12/16 brittanyMakes
Wed, 12/17 House of Wood
Thu, 12/18 Sawdust Girl
Fri, 12/19 My Altered State
Mon, 12/22 That's My Letter
Tue, 12/23 Ana-White.com
Have a wonderful weekend, and we'll see you on Monday at Jaime's place!
Did you miss a day? No worries! Catch up here: