Hi friends! Did you enjoy Rogue Engineer's Southern rustic Christmas table setting yesterday? What a stellar kickoff to this 12-part series, don't you think? Thanks for joining us for Day 2 of The 12 Days of Christmas Tablescapes Tour!
If you're new here, welcome! We're happy you've dropped in! I've teamed up with 11 of the best DIY bloggers to bring you 12 Days of Christmas Tablescapes! Check out this amazing lineup: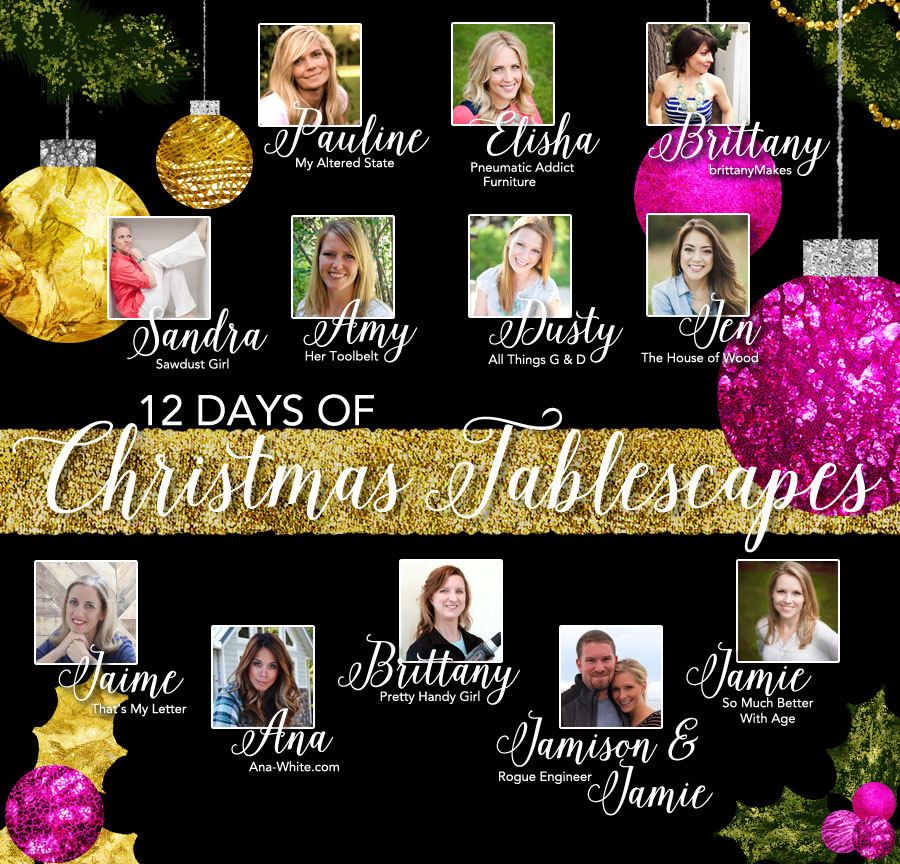 Unbelievable, right? Well, Amy from HerToolbelt is up next sharing her Winter wonderland table setting. Even though she ran with a chilly Winter wonderland theme, her tablescape totally warmed my heart. So many beautiful and thoughtful DIY details here. You don't want to miss it.
And for people who live by schedules, here's ours:
Mon, 12/8 Rogue Engineer
Tue, 12/9 Her Toolbelt
Wed, 12/10 So Much Better With Age
Thu, 12/11 Pneumatic Addict
Fri, 12/12 Pretty Handy Girl
Mon, 12/15 All Things G&D
Tue, 12/16 brittanyMakes
Wed, 12/17 House of Wood
Thu, 12/18 Sawdust Girl
Fri, 12/19 My Altered State
Mon, 12/22 That's My Letter
Tue, 12/23 Ana-White.com
Be sure to check back tomorrow to see Jamie's Christmas table setting! Thanks for visiting!
Miss a day? No worries! Catch up here: