Welcome to Day 7 of The 12 Days of Christmas Tablescapes Tour! I just loved Dusty's fun and whimsical table yesterday, didn't you?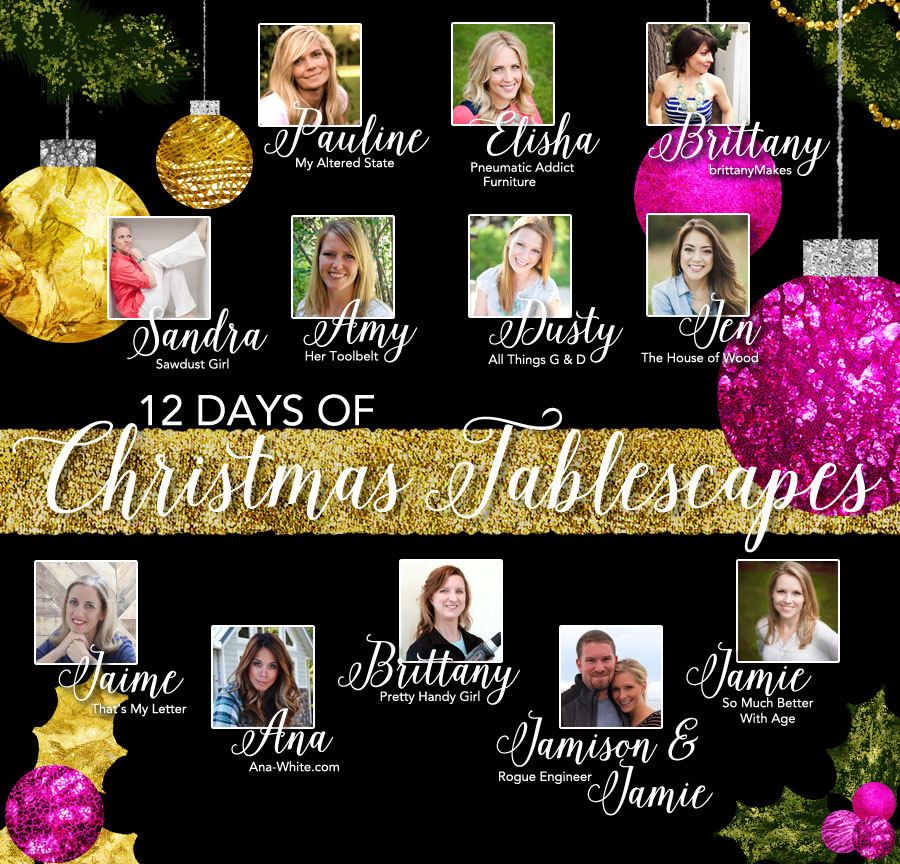 Today Brittany from brittanyMakes is showing off her stylish and chic holiday tablescape. I just love her style – she's got such a keen eye for design. Check out her fab table here.
Here's our full tour schedule:
Mon, 12/8 Rogue Engineer
Tue, 12/9 Her Toolbelt
Wed, 12/10 So Much Better With Age
Thu, 12/11 Pneumatic Addict
Fri, 12/12 Pretty Handy Girl
Mon, 12/15 All Things G&D
Tue, 12/16 brittanyMakes
Wed, 12/17 House of Wood
Thu, 12/18 Sawdust Girl
Fri, 12/19 My Altered State
Mon, 12/22 That's My Letter
Tue, 12/23 Ana-White.com
Thanks for joining us for this fun 12-part series! Be sure to meet me back here tomorrow – I'll be sharing my high-heeled-inspired Christmas table! Sounds crazy, right? Well, you'll just have to wait and see what I mean. I am so excited to share it with you.
Did you miss a day? No worries! Catch up here: