***Update: This table has been SOLD and 100% of the proceeds benefitted The Breast Cancer Research Foundation! Thank you so much for supporting this worthy cause!***
Hi friends! How've you been? Life has been crazy here at the House of Wood. So crazy that I almost didn't get my latest piece of furniture submitted in time for my very first online auction! That's right, I'm selling a piece of furniture for the first time ever! Shut the front door.
As I'm sure you've noticed from all the pink everywhere, October is Breast Cancer Awareness month and I'm thrilled to have been invited to participate in the First Annual Power Tools for Pink Contest, hosted by PureBond Plywood. 100% of the proceeds will go to The Breast Cancer Research Foundation. This event hits especially close to home, as my husband's aunt was recently diagnosed with breast cancer and is on the front lines, fighting this terrifying disease. The day after she was diagnosed, she underwent a double-masectomy and a week later began her chemotherapy sessions. I've never met a woman with such unwavering faith and admirable strength, that even in the face of such tragedy and pain, she glorifies God and continues to pray and bow to His will. I'm honored to know her and to be able to support such a worthy cause.
Inspired by the Breast Cancer Awareness theme, I designed and built this accent table out of solid pine and PureBond birch hardwood plywood. This two-toned table is stained in a medium wood tone and paired with the sweetest, softest pink with beige/gray undertones. The construction of the bottom part of the table is loosely based on Ana White's Rustic X End Table. Obviously, I left out the X detail and opted for a solid bottom shelf using eco-friendly, formaldehyde-free PureBond plywood.
This table is up for auction on eBay until Oct 29, 2013. CLICK HERE TO BID!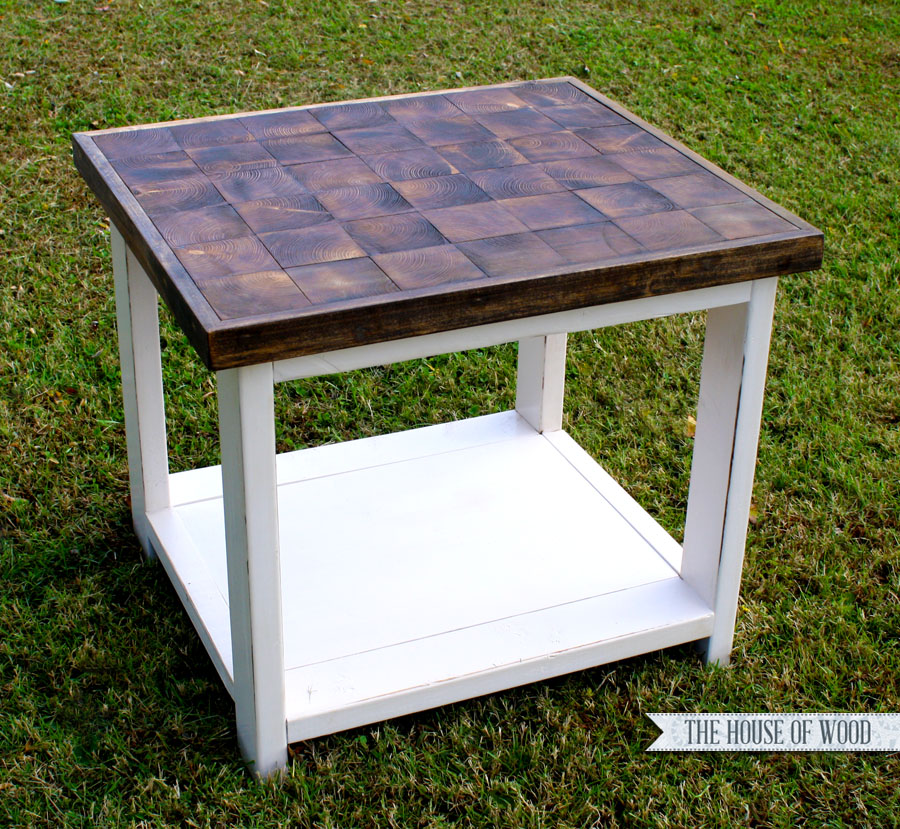 The top is really the showstopper of the piece. I wanted to show the growth rings of a tree, so I cut up some 4×4 blocks and turned them up so that the end grains were showing. Can I just tell you how hard it is to find untreated 4x4s? Luckily, our neighbors are builders and were able to call in a few favors for me. My builder neighbor, Josh, was able to pull some strings and call on his friend who owns a sawmill. He had him cut me some 4x4s, fresh from the ground! What a cool learning experience… this is truly DIY, people. The 4x4s were rough cut and so green, they were truly four inches by four inches. Once Josh planed them, they measured just shy of four inches.
Now I understand why store-bought lumber never truly measures what they're labeled. For example, a 2×4, is not really two inches by four inches. It varies and can be approximately 1 3/4″ by 3 3/4″. Confusing, I know. When the lumber is milled, it's milled at its exact measurements and once its planed and kiln-dried, and whatever other process it may go through from the lumber yard to the store, it's whittled down and measurements are no longer accurate. Also, because these 4x4s were so green and wet and they didn't go through a kiln-drying process, they molded as they sat in my garage. Ew. Nothing a little bleach/water solution couldn't get rid of.
Speaking of bleach… Josh wanted me to clarify: contrary to popular belief, he does not dye his hair. My husband, Adam, always compliments him on his perfect coiffure, so we see how one can assume such perfection isn't God-given. But it is. It is, after all, perfection only God can create. Here's Josh, with his perfectly highlighted blonde hair, planing my 4x4s (amiright or amiright, ladies?):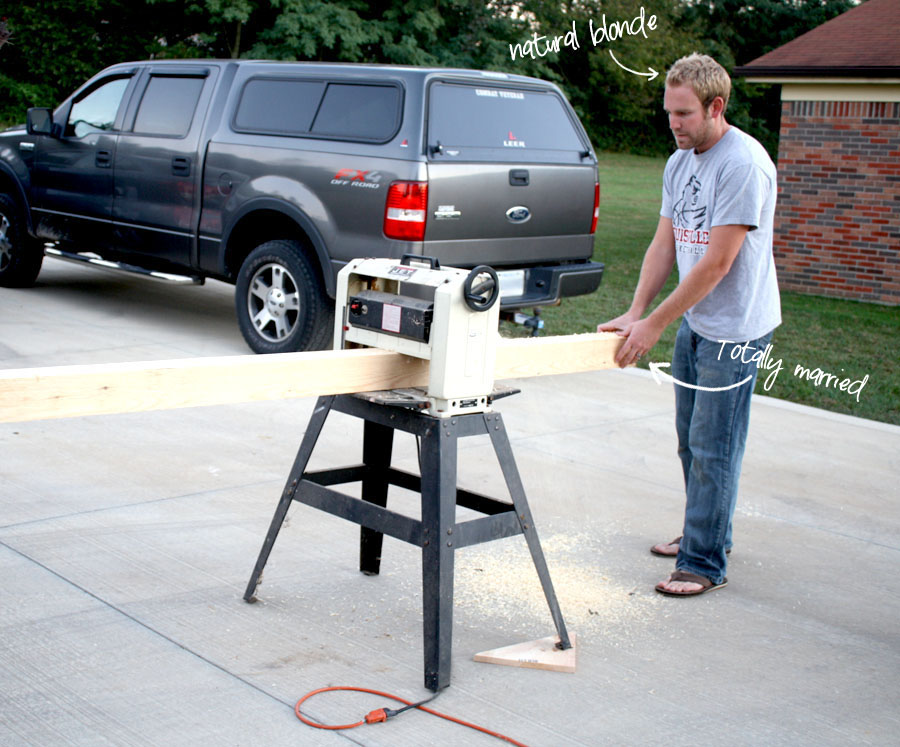 If you didn't catch it earlier, Josh (and his mane of perfection) is married. Just thought I'd reiterate.
But enough about my husband's man-crush. I built the base of the table out of 2x4s and 2x2s kreg-jigged (that's a technical term) and pocket-hole screwed and glued together: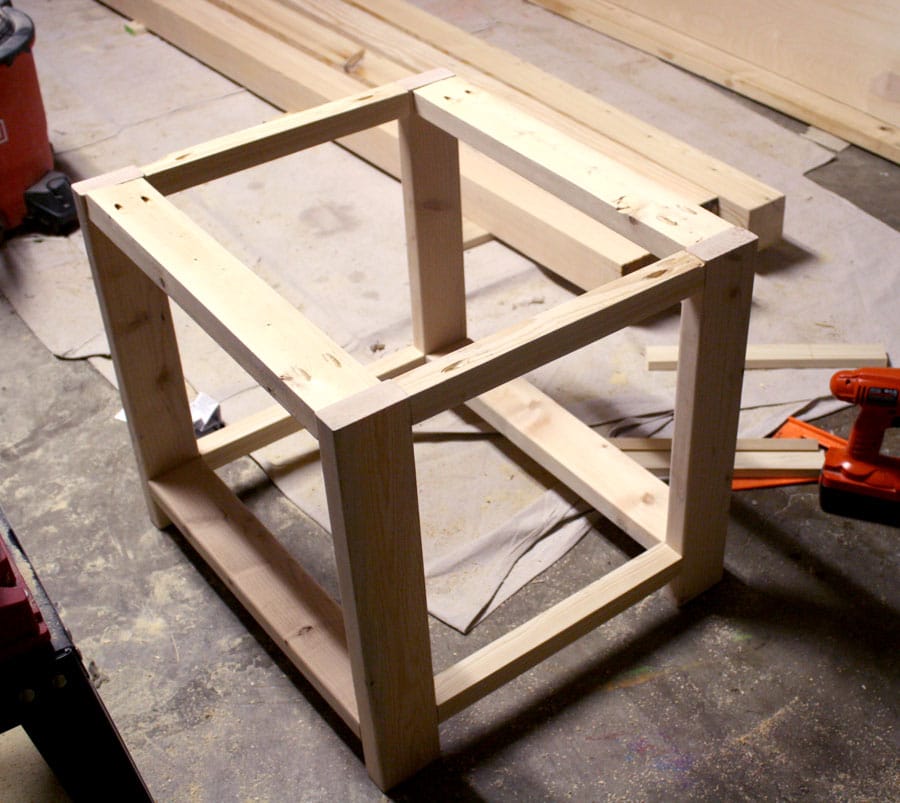 Then I attached the solid bottom shelf, cutting the 3/4″ Purebond plywood to fit: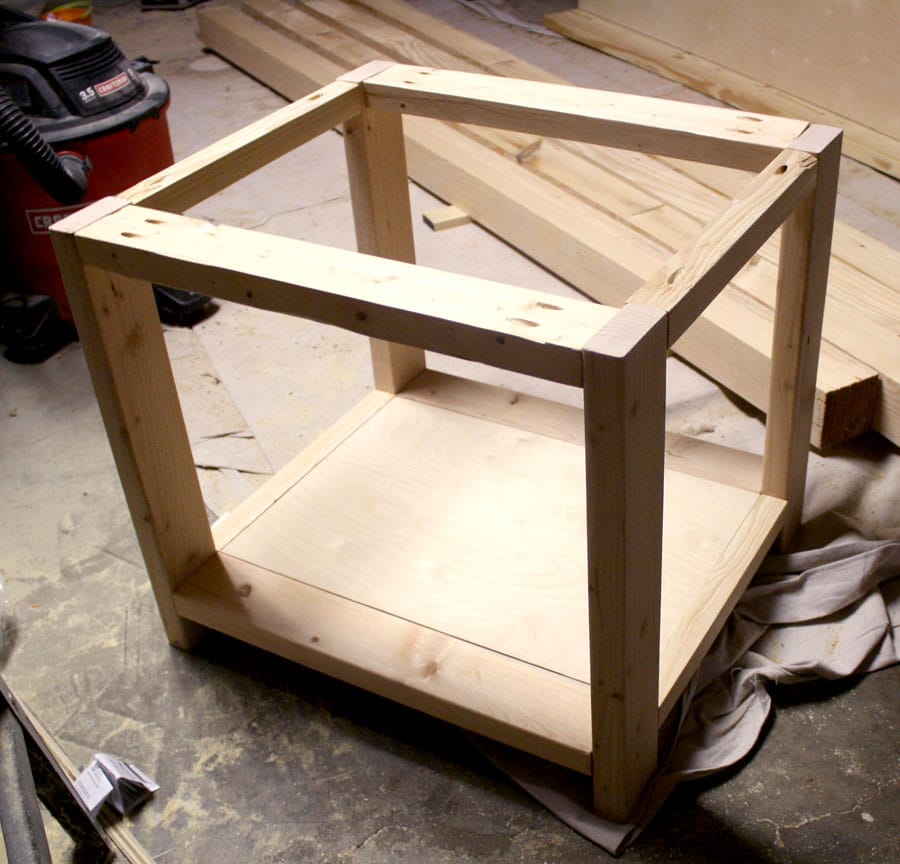 I attached another panel of Purebond on top for the 4×4 blocks to rest on. Then I screwed and glued it to the base, and attached the 4×4 blocks with wood glue. I stained the top with Minwax's "Provincial" wood stain and painted the bottom with Benjamin Moore's "Kitten Whiskers." It's the sweetest, softest pink with gray/beige undertones – it's the same paint I used for Evie's toddler bed. I lightly distressed it and finished it with a few coats of Minwax's Polycrylic in a satin sheen.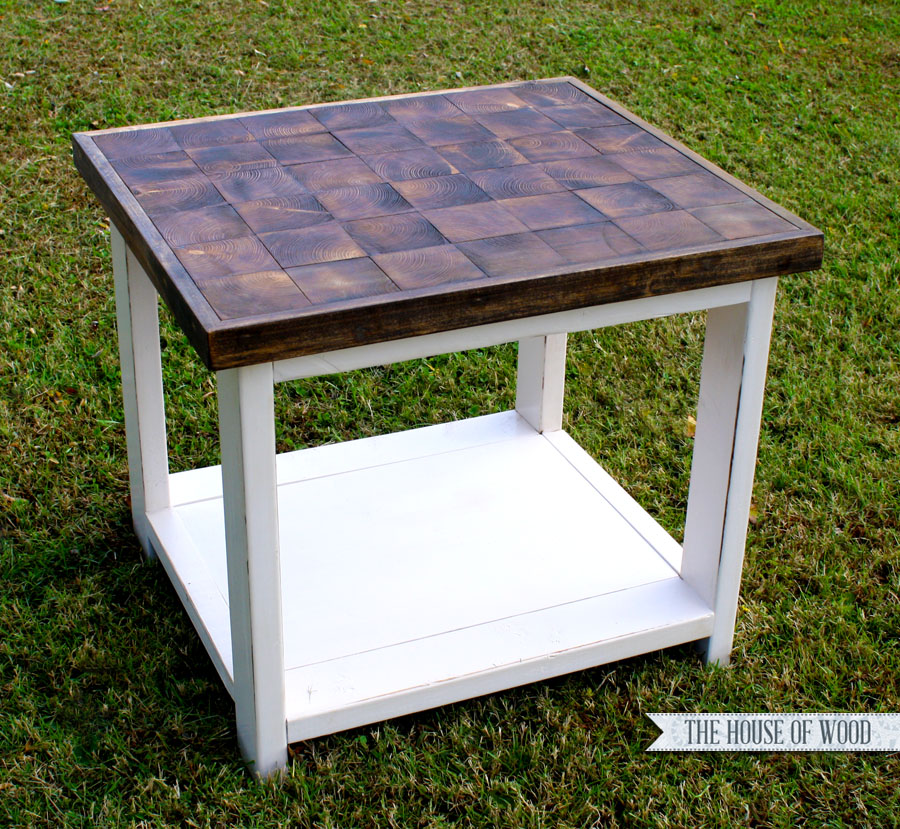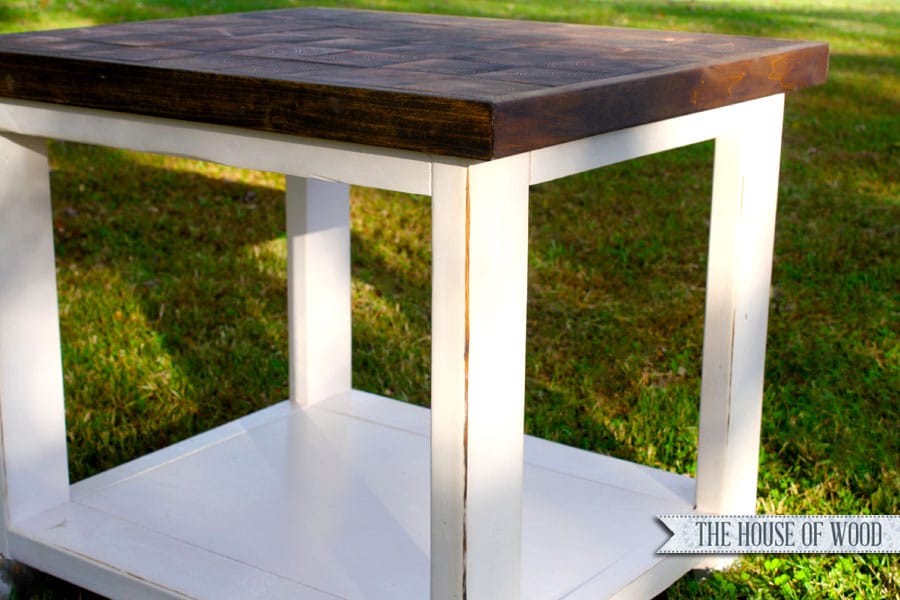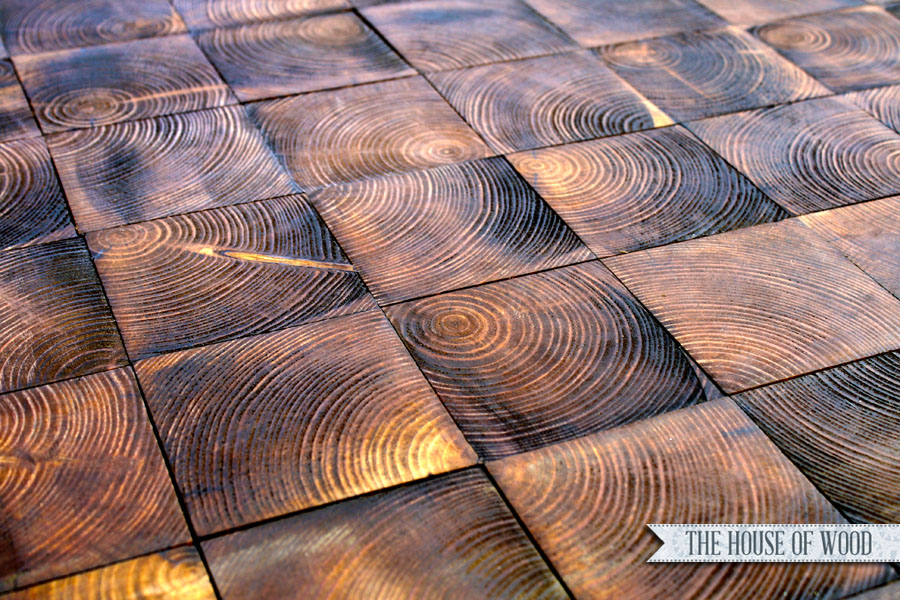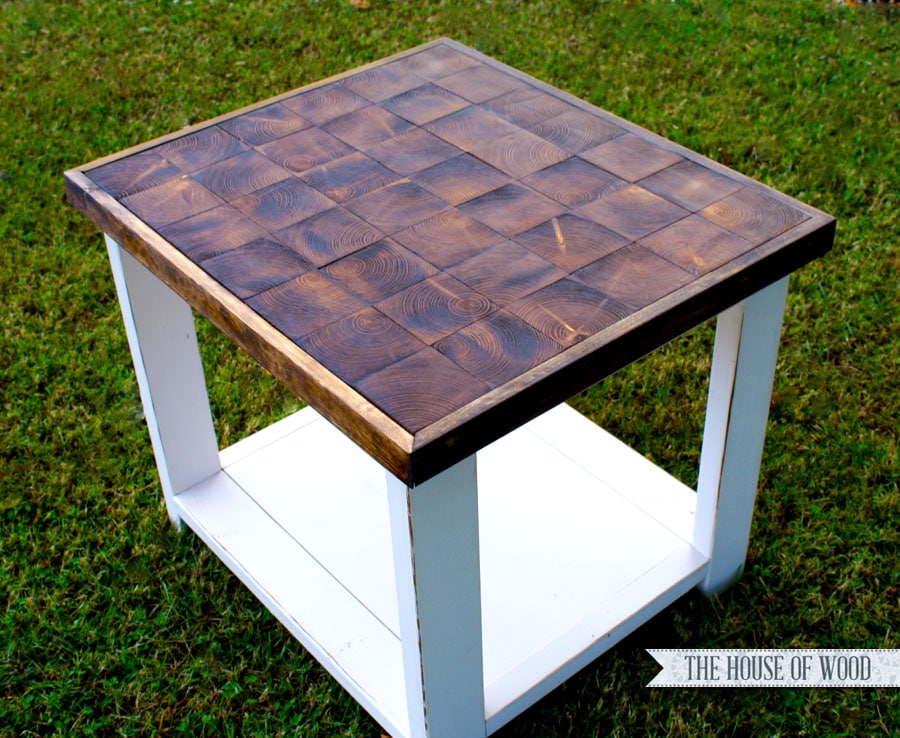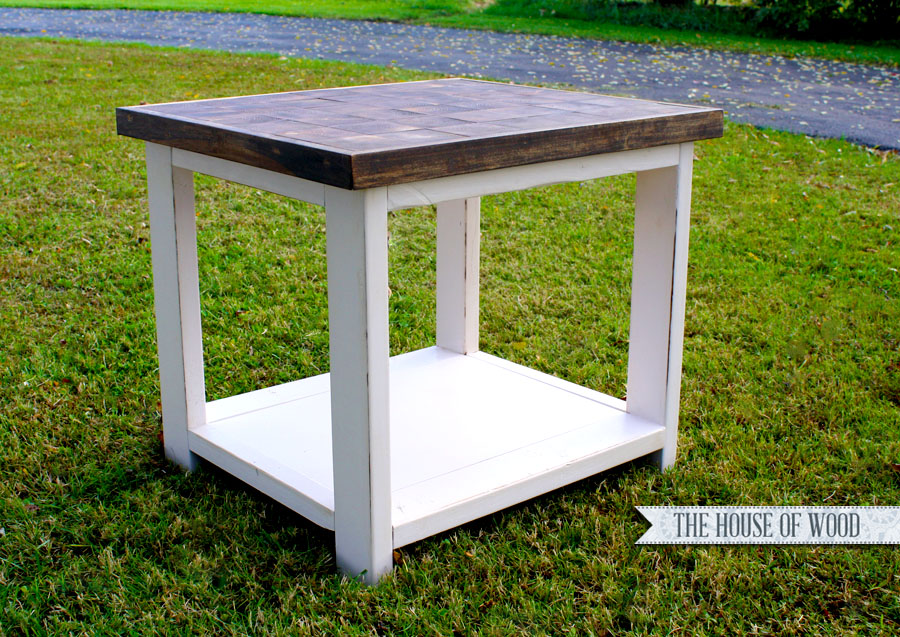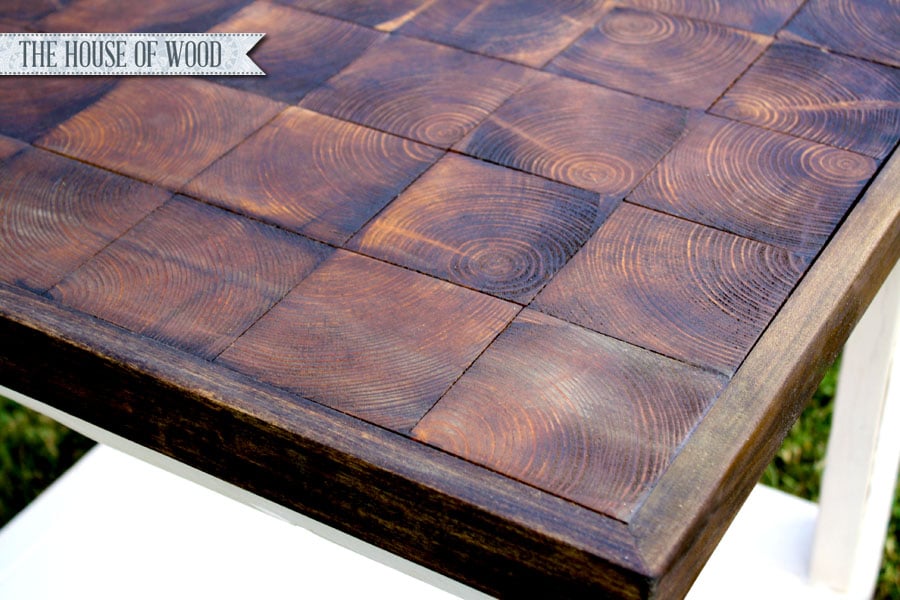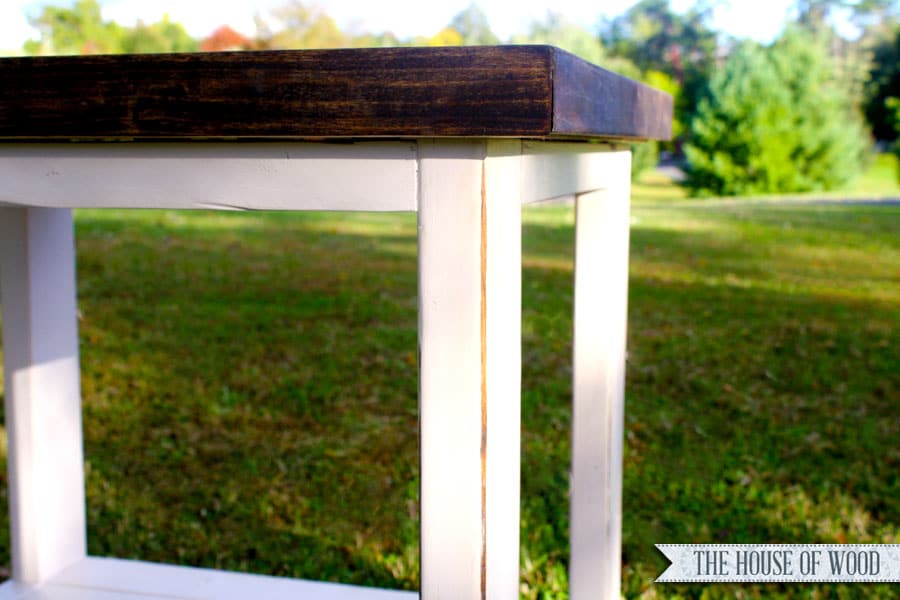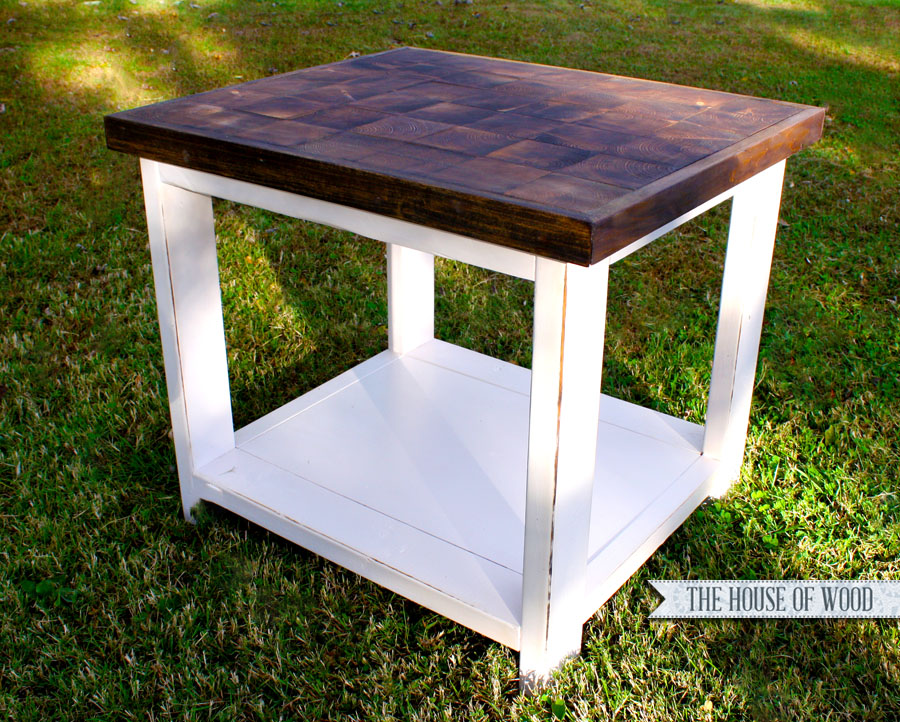 And there you have it, my Breast Cancer Awareness accent table is done and up for auction! Click here to place your bid. This listing expires October 29, 2013 and 100% of the proceeds will benefit The Breast Cancer Research Foundation. Thank you so much for supporting a worthy cause, good luck and happy bidding!