My First Haven Conference Experience
If you keep up with me on Instagram or Facebook, you'd have seen the lion share of these photos. And if you don't, then this will be news to you. Read on for my Haven Conference recap (everybody's doin' it).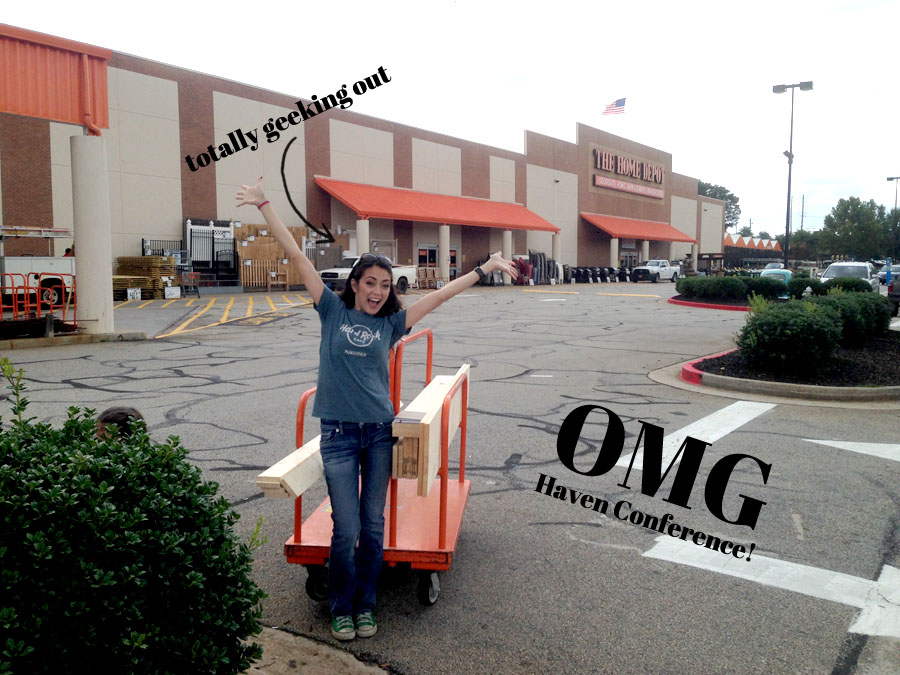 Last weekend, I traveled to Atlanta to speak at the Haven Conference, an annual DIY Bloggers' Conference. It was my first ever blogger conference experience and I was so honored (and terrified) to have been chosen to teach a class. I teamed up with Jaime of That's My Letter and we taught folks the basics of building furniture: how to choose lumber, what tools to use and how to use them, etc. We had an hour for each class and we built (with the help of attendees) 2 benches and 2 coffee tables. We partnered with our dear friend, Ana White who so generously provided the plans for both of the builds, which you can download from her website.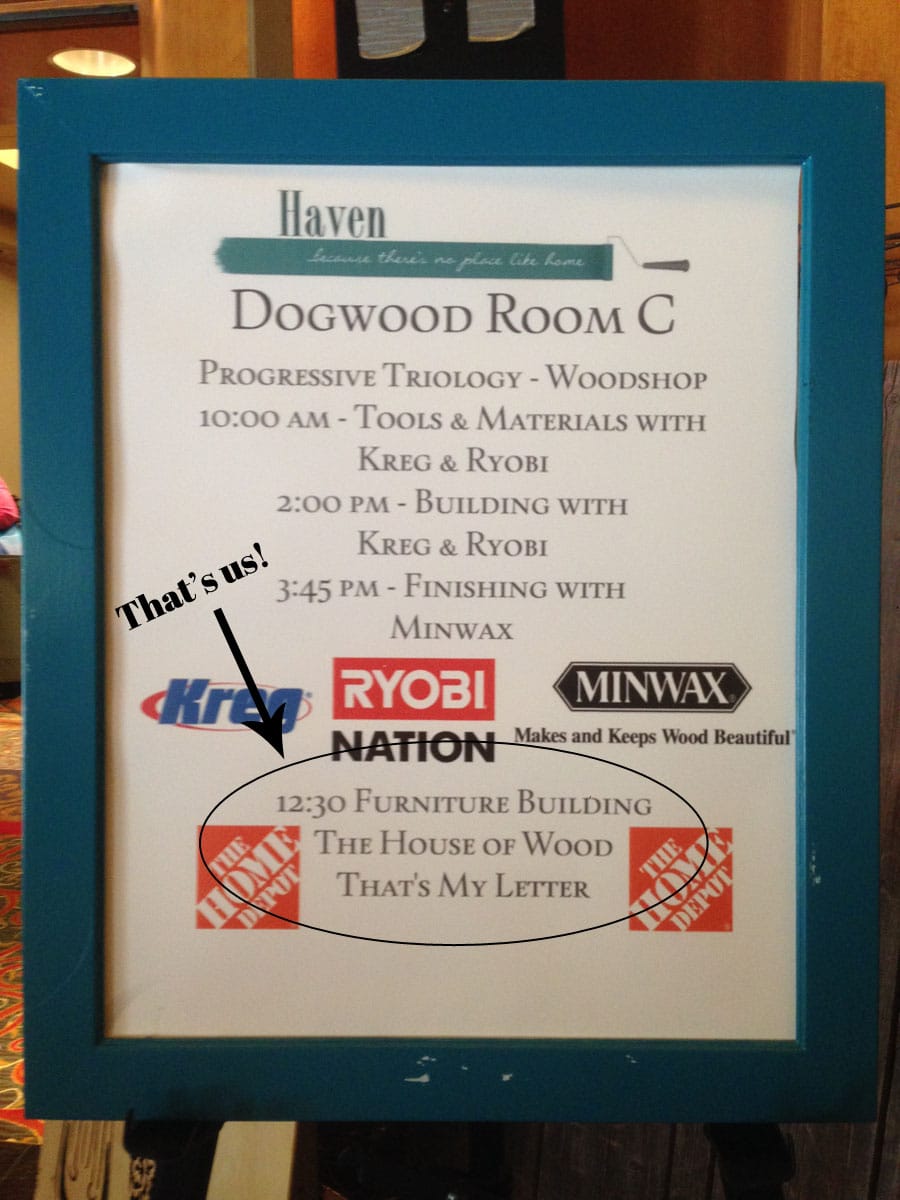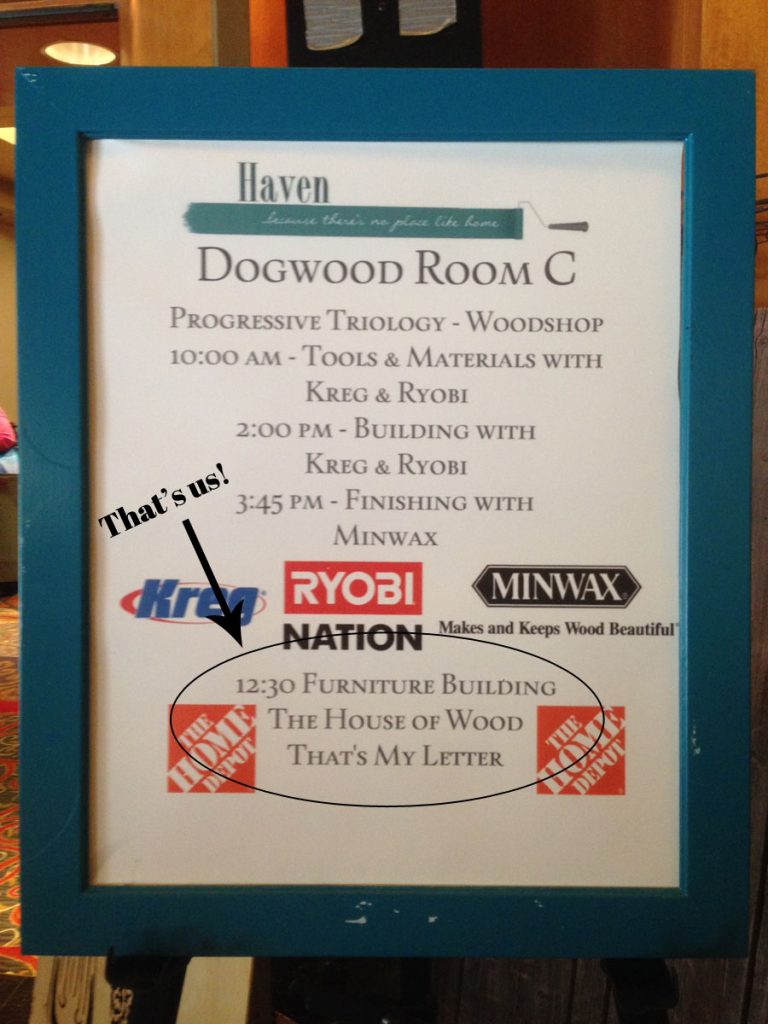 Many of the attendees (99% of which were women) approached us later, telling us how empowered and inspired they were by our class and that they will be going home to finally tackle that DIY project, or take on that scary power tool. Talk about a rewarding experience!
Here are a few photos from our class (I apologize for the grainy, blurry photos. Some of these were taken with my iPhone in dark alleys conference rooms with bad fluorescent lighting):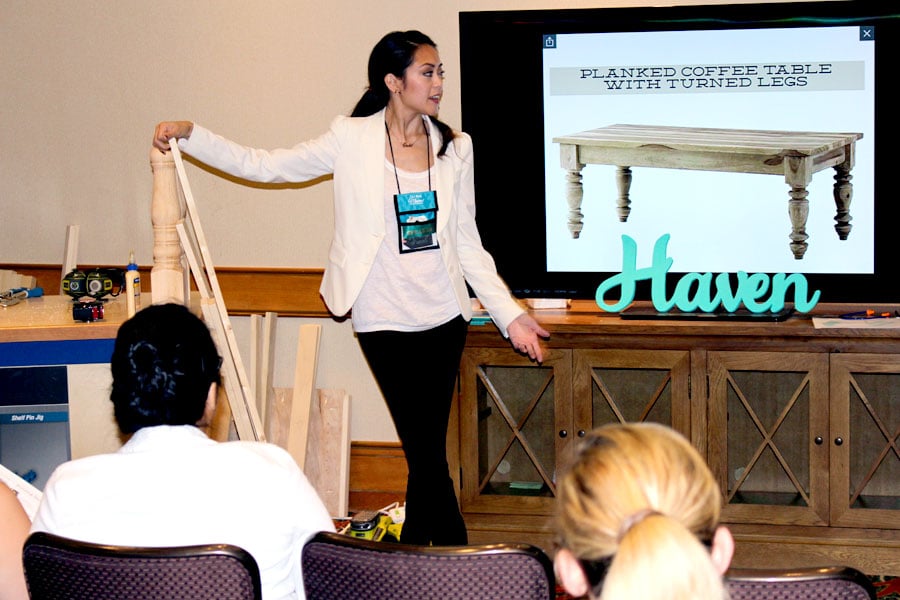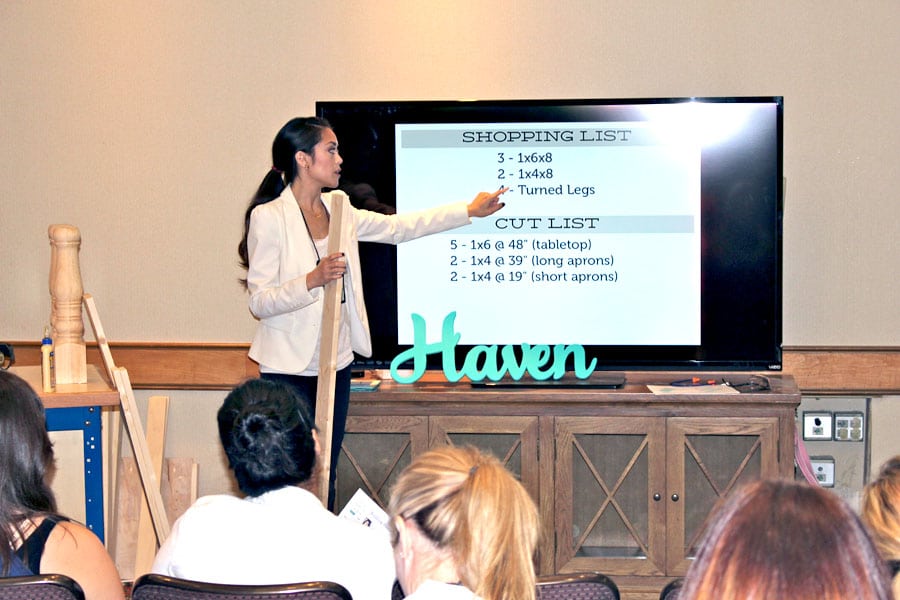 Jaime demonstrates how to properly measure and mark boards for cutting: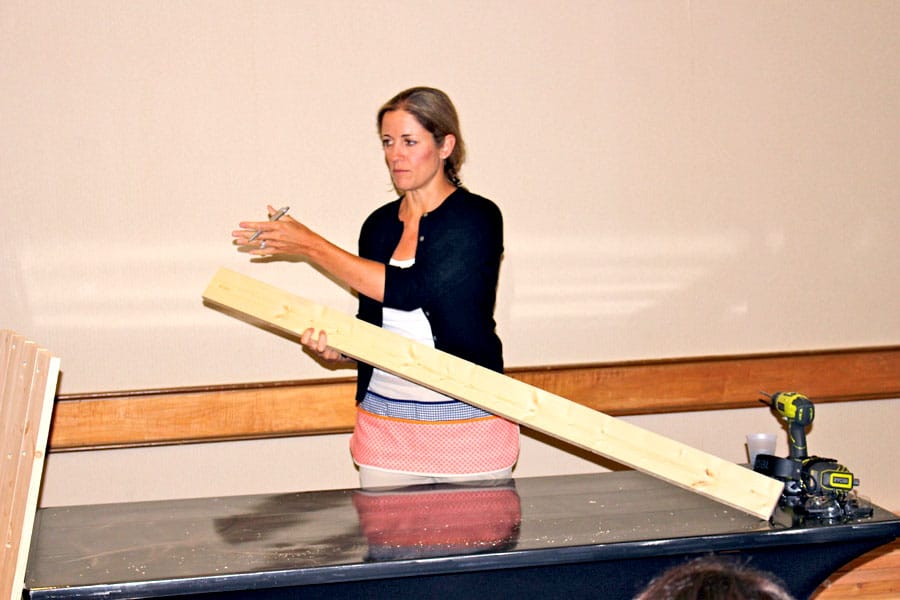 I love the photo below so much. This lady was so pumped to be using Ryobi's 10″ sliding compound miter saw for the first time, she had me take her photo because her "hubby would never believe this!" That's what it's all about. Getting out there and doing it. You go, girl!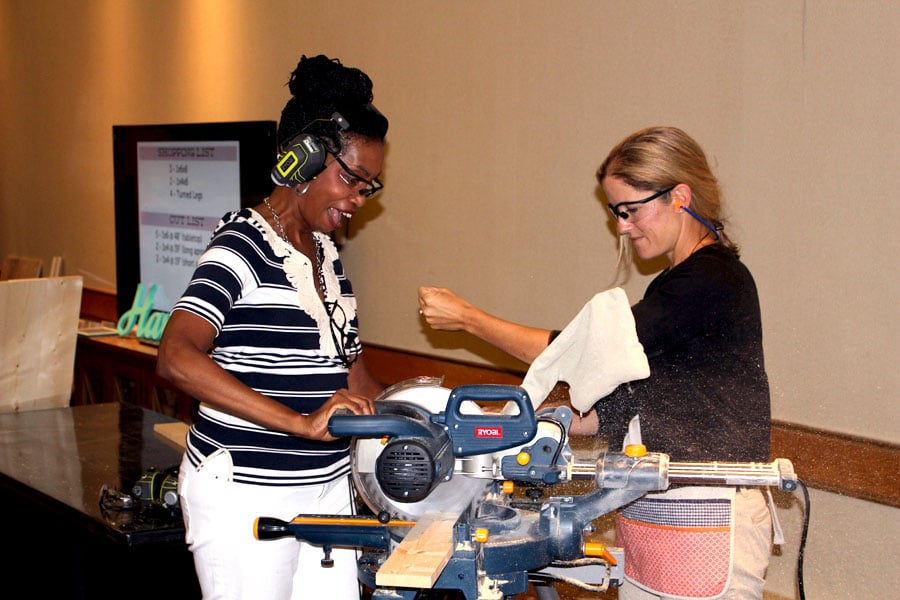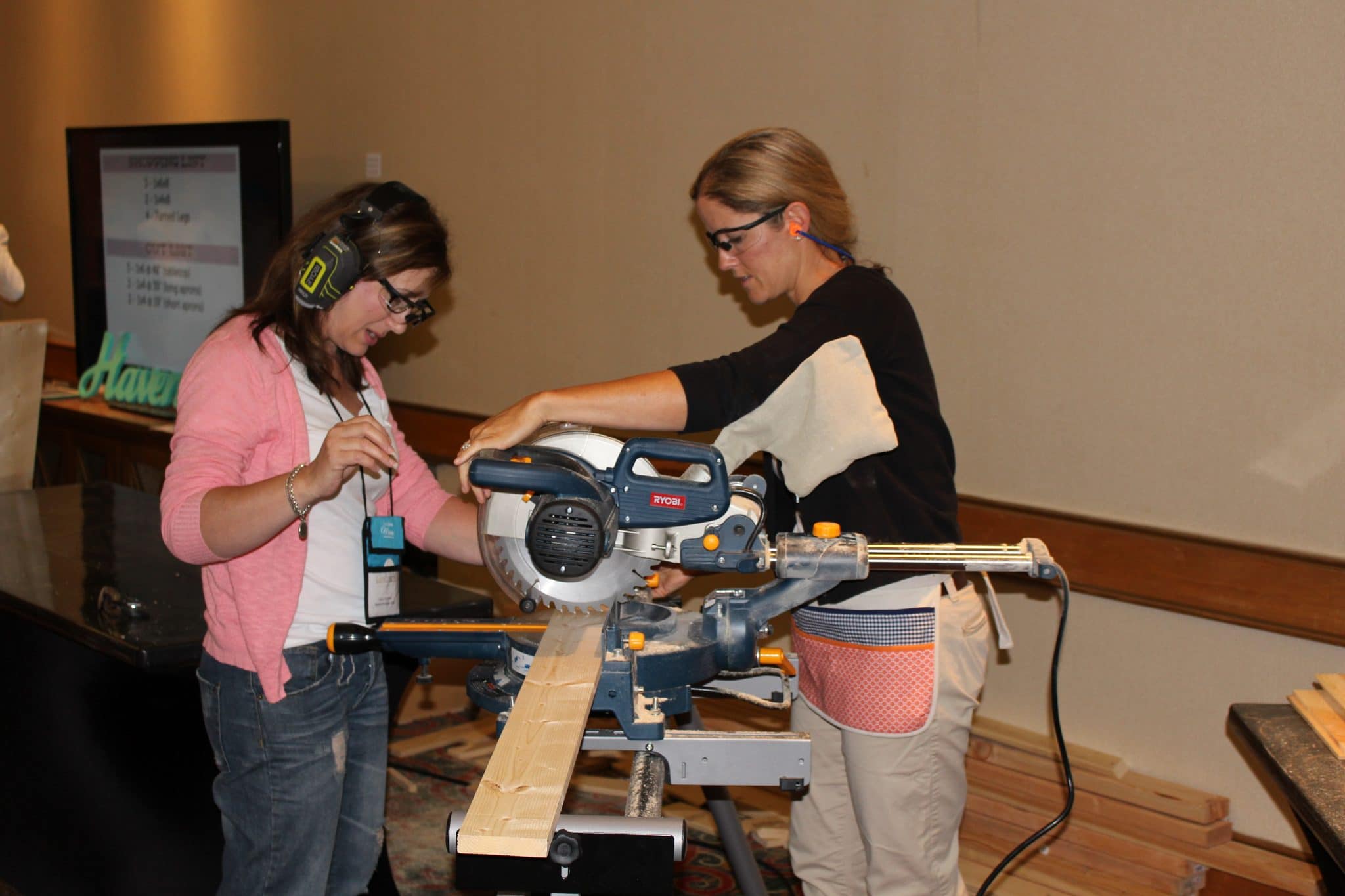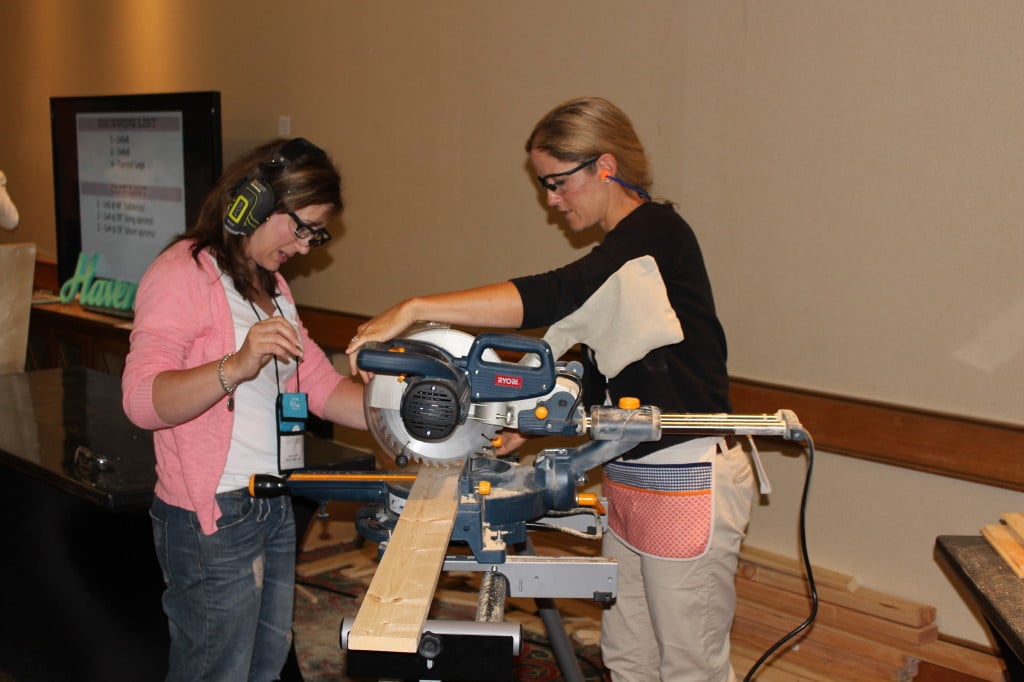 The kind folks at Kreg and Ryobi were so generous as to provide all the tools we needed for our class. They were standing by, ready to offer assistance and guidance, which helped my nervous-first-time-teaching self a great deal. And thank you to the sweet peeps at Osborne Wood Products for providing the turned legs for our coffee table.
Here I am with Jamie (not to be confused with Jaime) from So Much Better With Age, showing her how to use the Kreg Jig K5 to drill pocket holes. That is, after I took a second to figure it out for myself. I actually have the K4 model at home, so this is me, using the K5 for the first time! Jamie (and Jaime), thank you for your grace.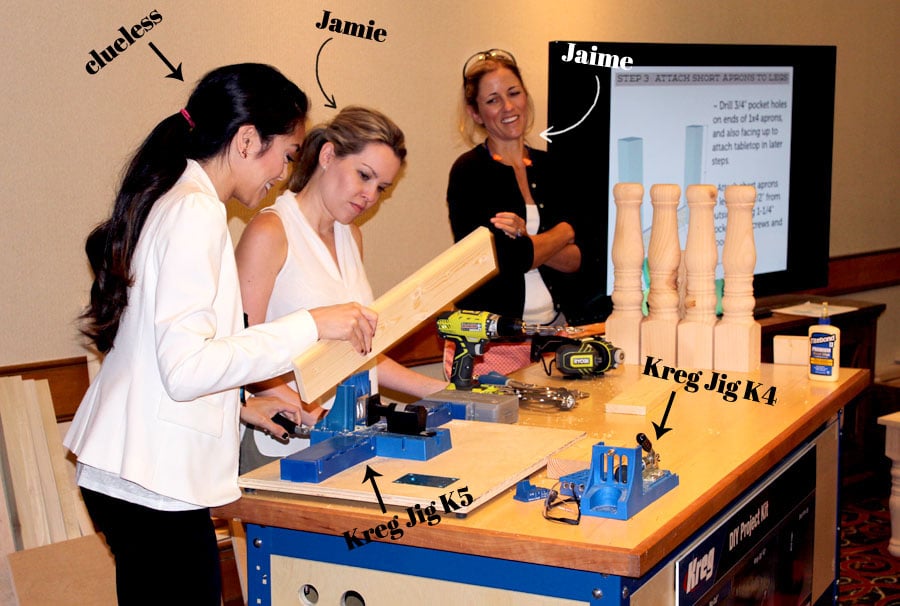 Side note: I failed to get these ladies' names, so if you're in any of these photos, please let me know so I can link back to your blogs!
Here's Angie from Postcards From the Ridge rockin' the Ryobi cordless drill and Kreg jig: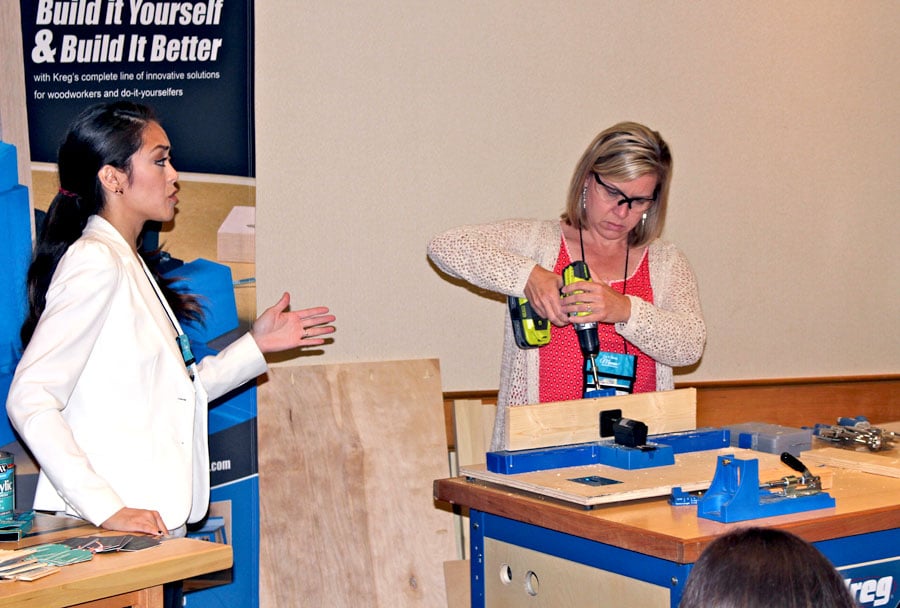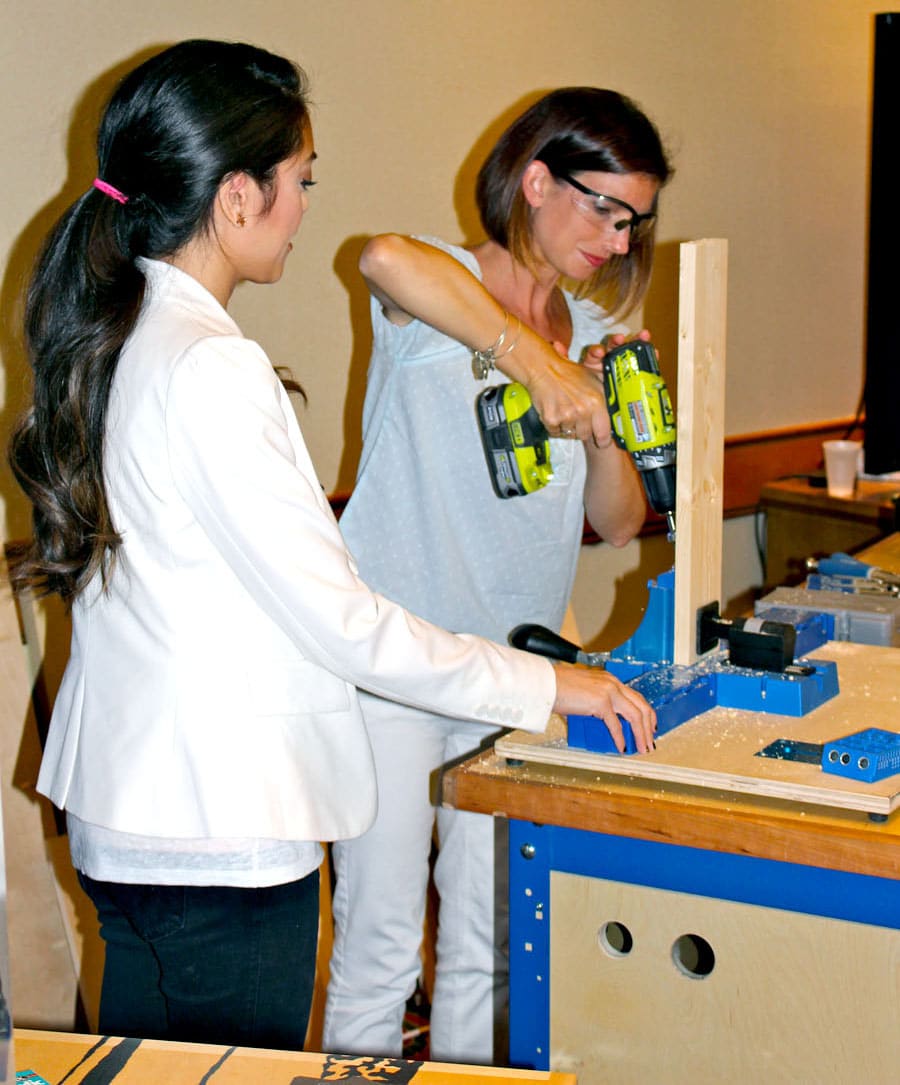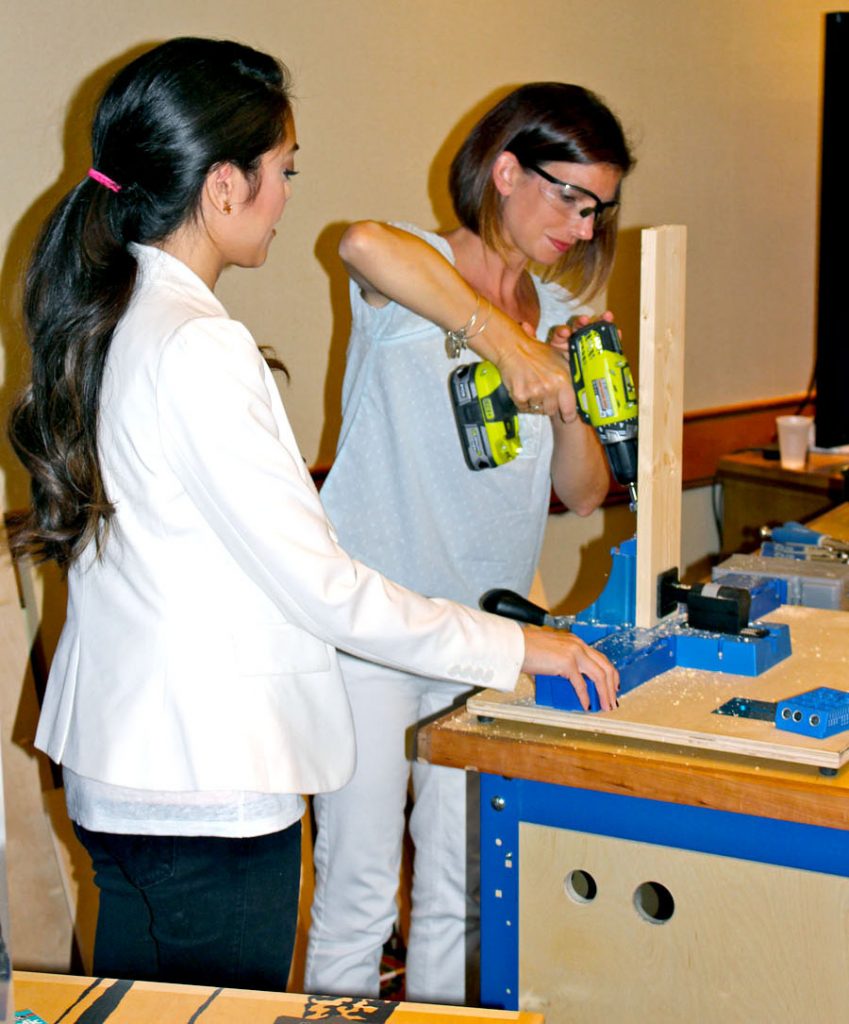 Jaime helps an attendee join the table top in a plank-style: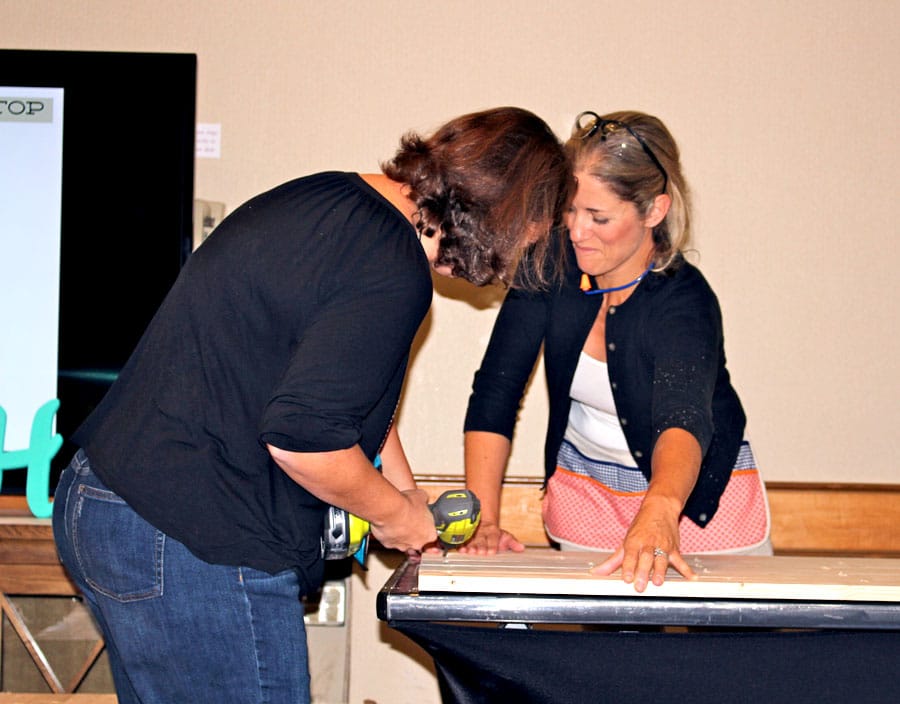 This is our planked table top, joined together: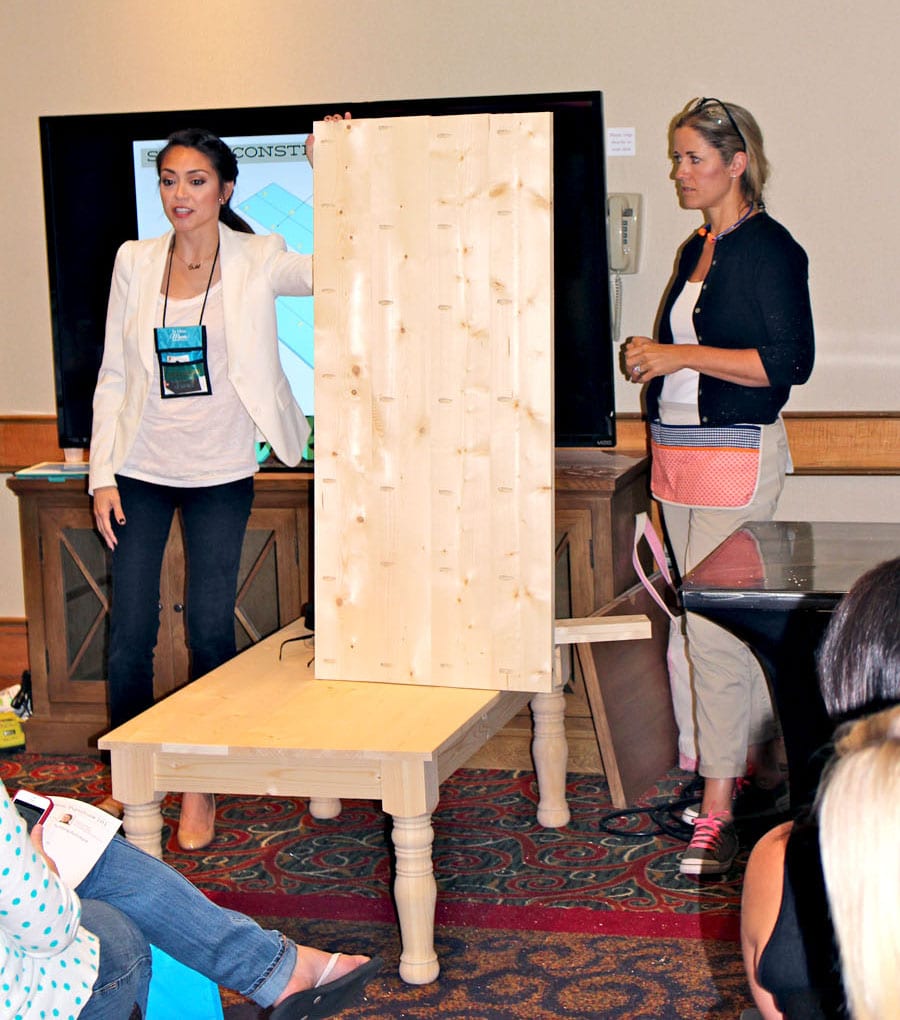 After the base is assembled, it's time to put it onto the table top.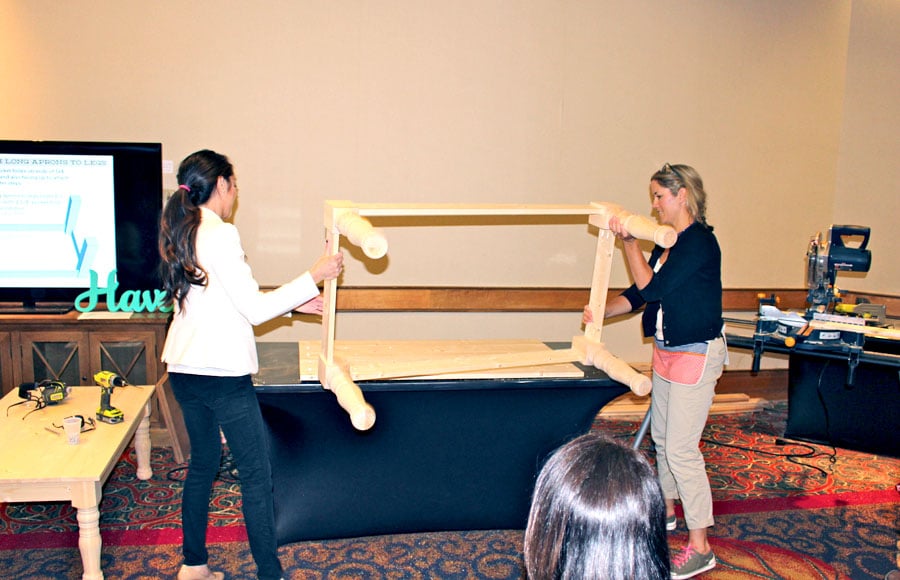 We center the base over the table top so that there's an inch overhang on all sides, and we check for square by making sure the measurements from corner to corner match: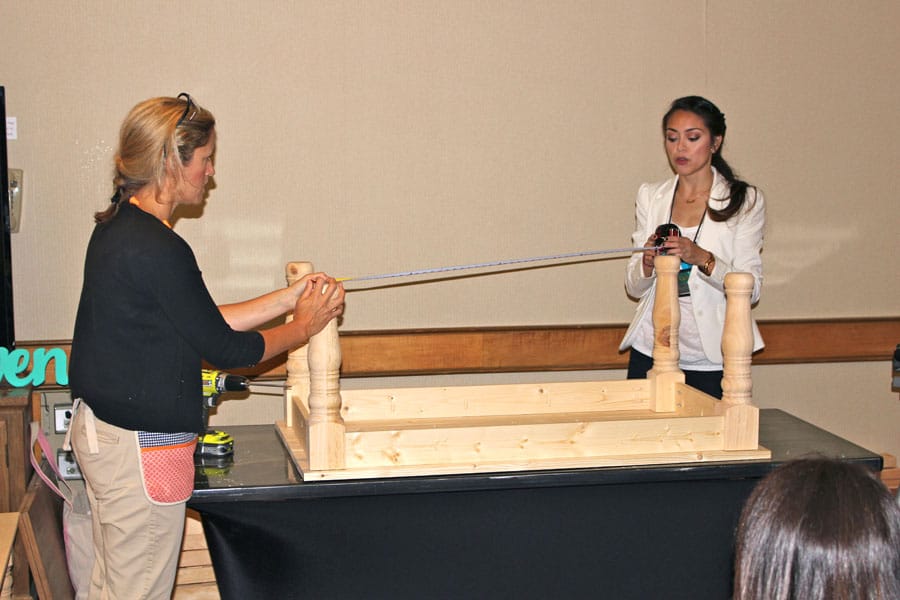 Then we drive the pocket hole screws from the aprons to the table top to attach the two pieces together (and look how much fun we're having! Building furniture is a blast, you guys!):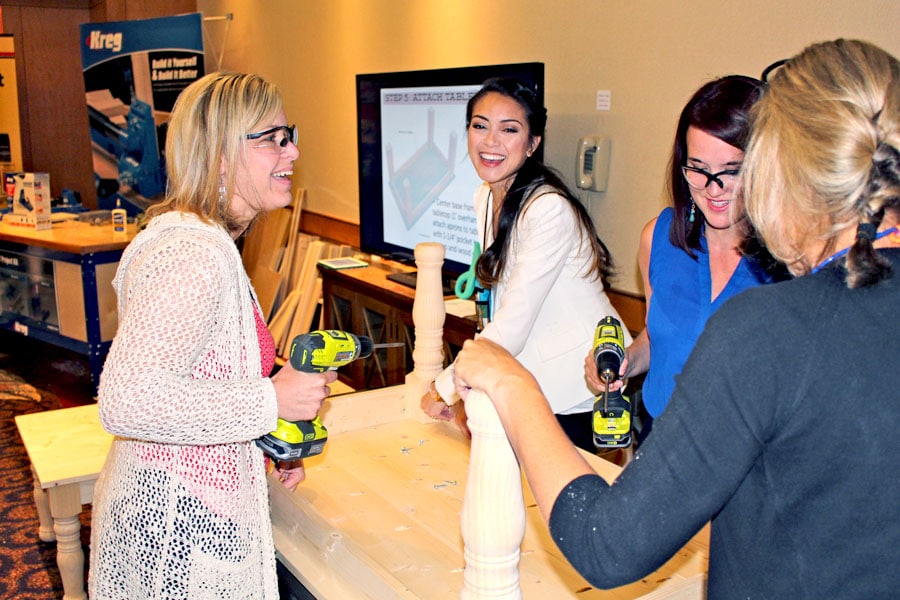 And in about an hour, the coffee table is built! We completed our project from start to finish, within the time frame we were given, and no appendages were lost in the process. SUCCESS!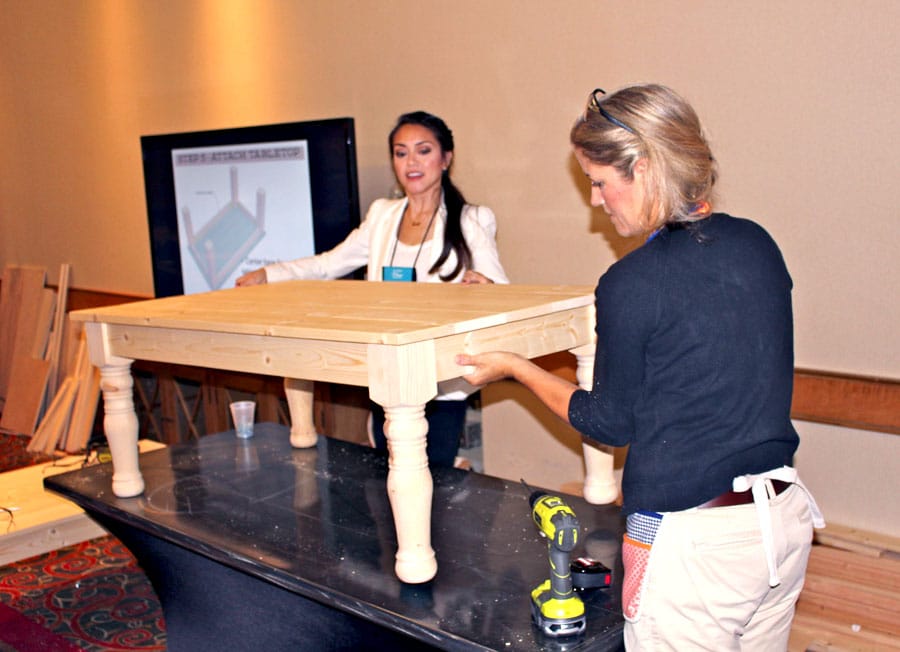 Looking for the bench we built the day before? It's here.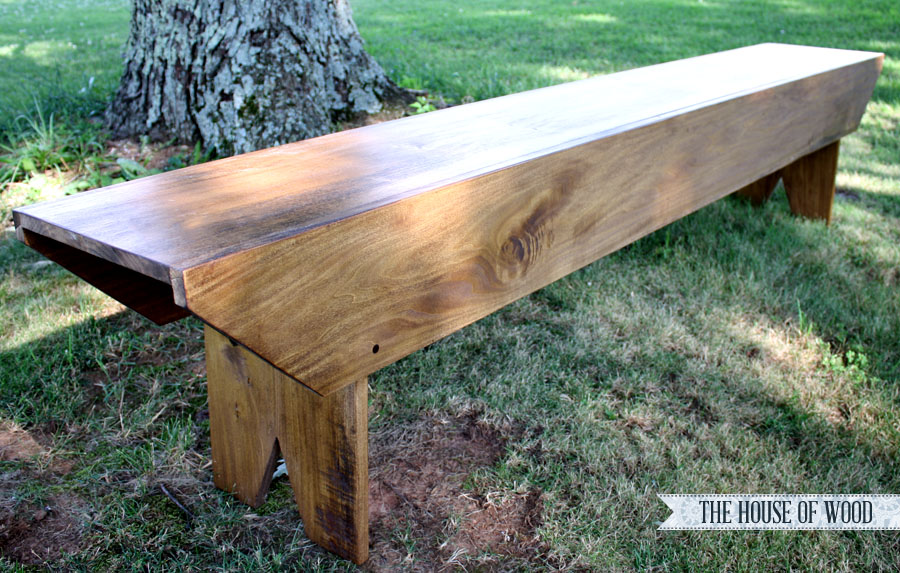 Preparing for and teaching our classes took the majority of our time, but we were still able to meet so many wonderful people, which was truly the best thing about my Haven experience.
These guys are from Kreg. These jokers were a blast to work and hang out with. I'm so thankful we had to share a room for our presentations. Getting to work so closely with a company I believe in was such a treat. Not only is their product essential in building DIY furniture, but the people who work for Kreg are top notch. We couldn't have taught our class without them. These guys were absolute gems.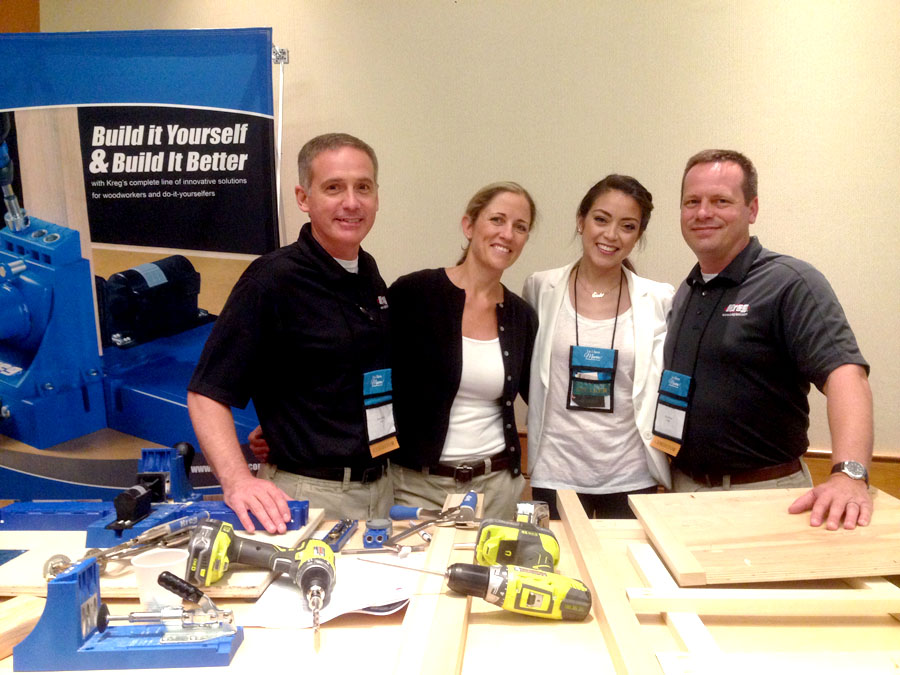 It was awesome to meet some of the companies I've previously worked with, to meet them in person and put a face to a name, like these lovely ladies from Osborne Wood (I'm sad I didn't get a photo with the Osborne guys! It was great meeting y'all). You may remember Osborne from when Ana and I worked on the Restoration Hardware-inspired Coffee Table together. We worked with Osborne to design and create the gorgeous turned legs we used.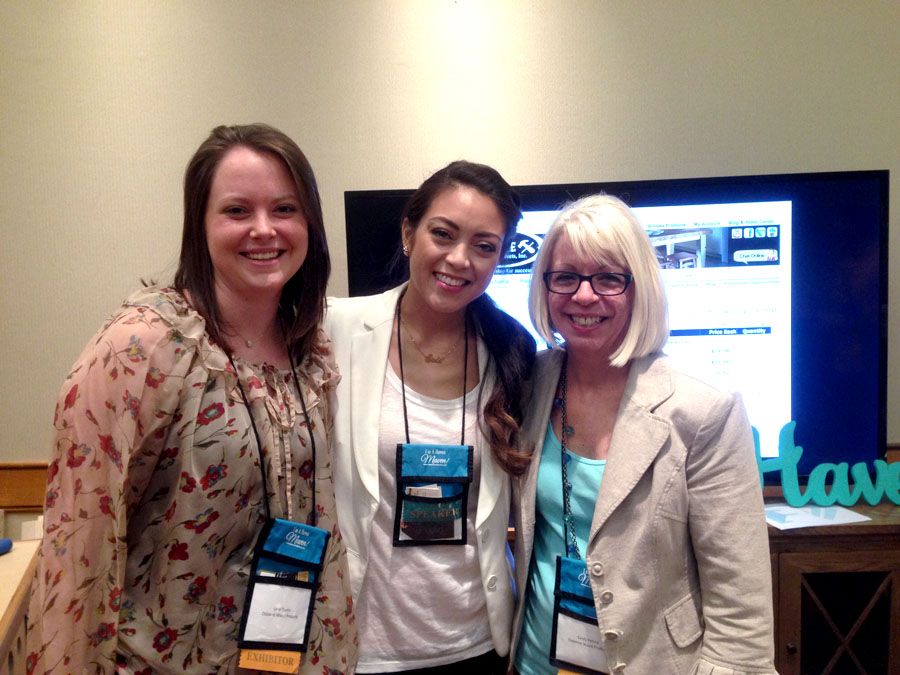 Meeting the Purebond Plywood folks was a lot of fun too. I'm not really sure why this pic had a Matrix malfunction, but the conversation was great! I see many more Purebond projects in my future…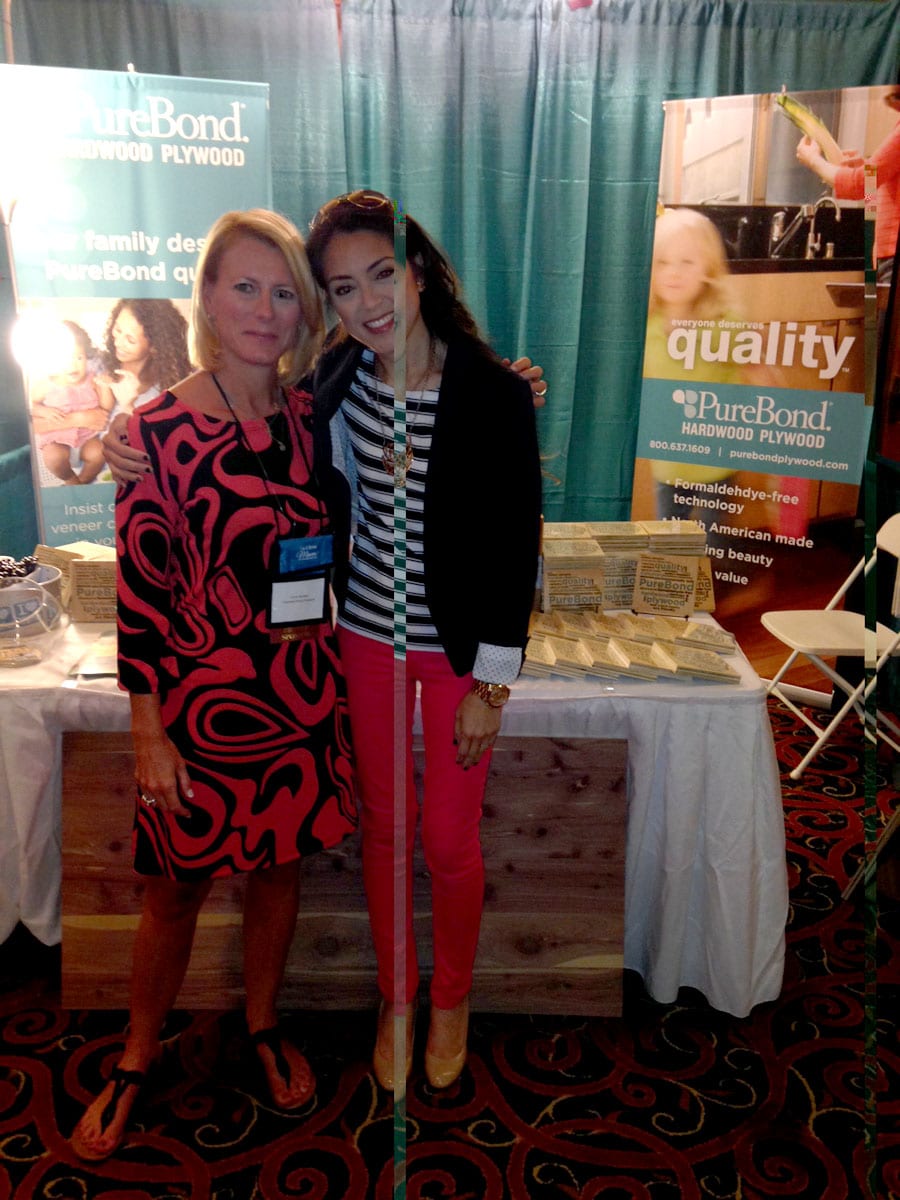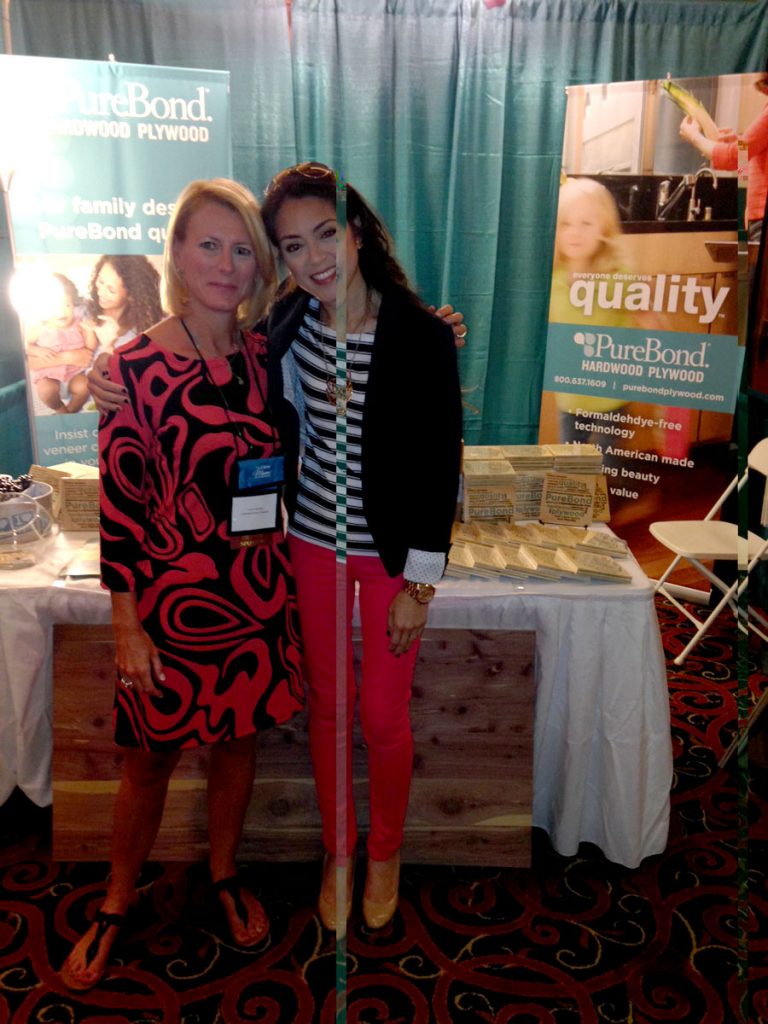 It was pretty rad that I got to meet Mike Holmes from HGTV's Holmes on Homes. I told him not to come to my class because he'd probably tell me I was doing everything wrong. He agreed. I was okay with that.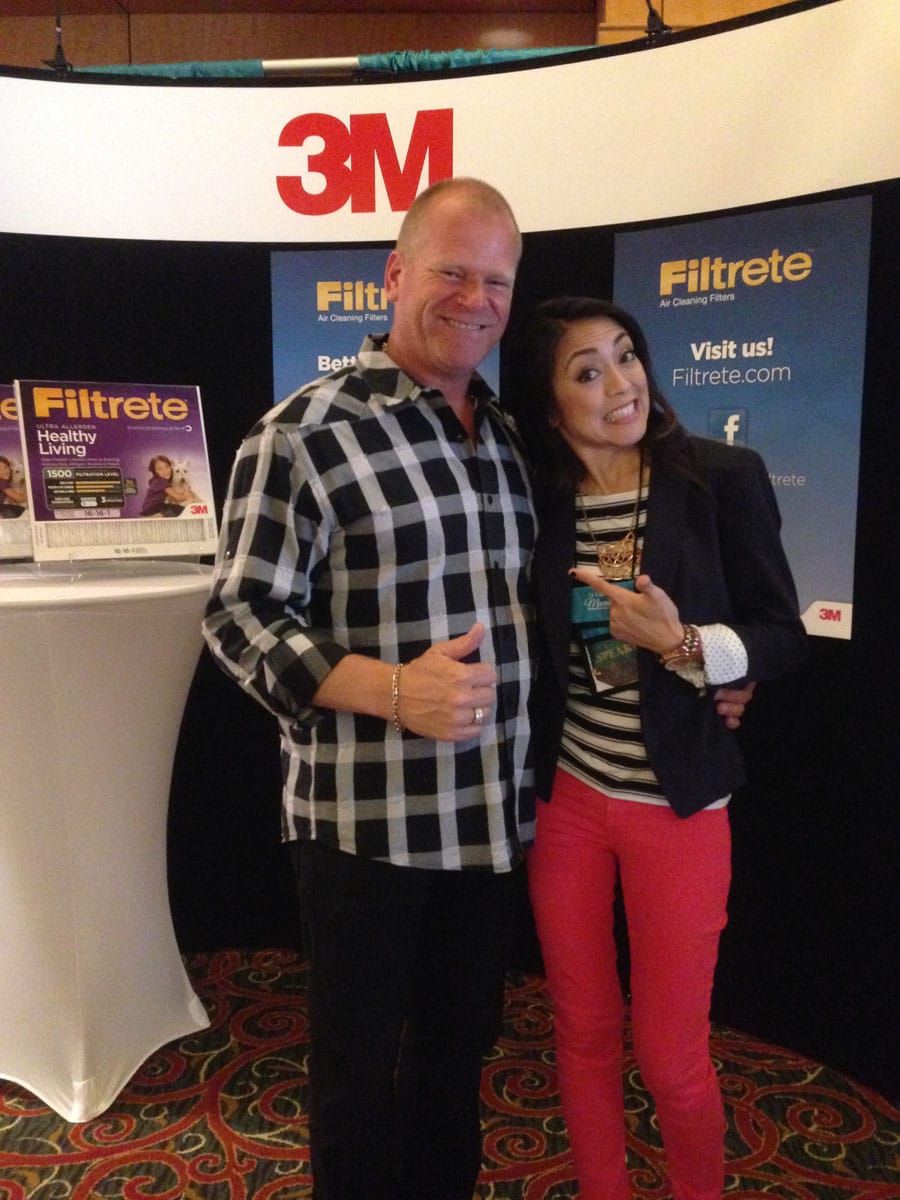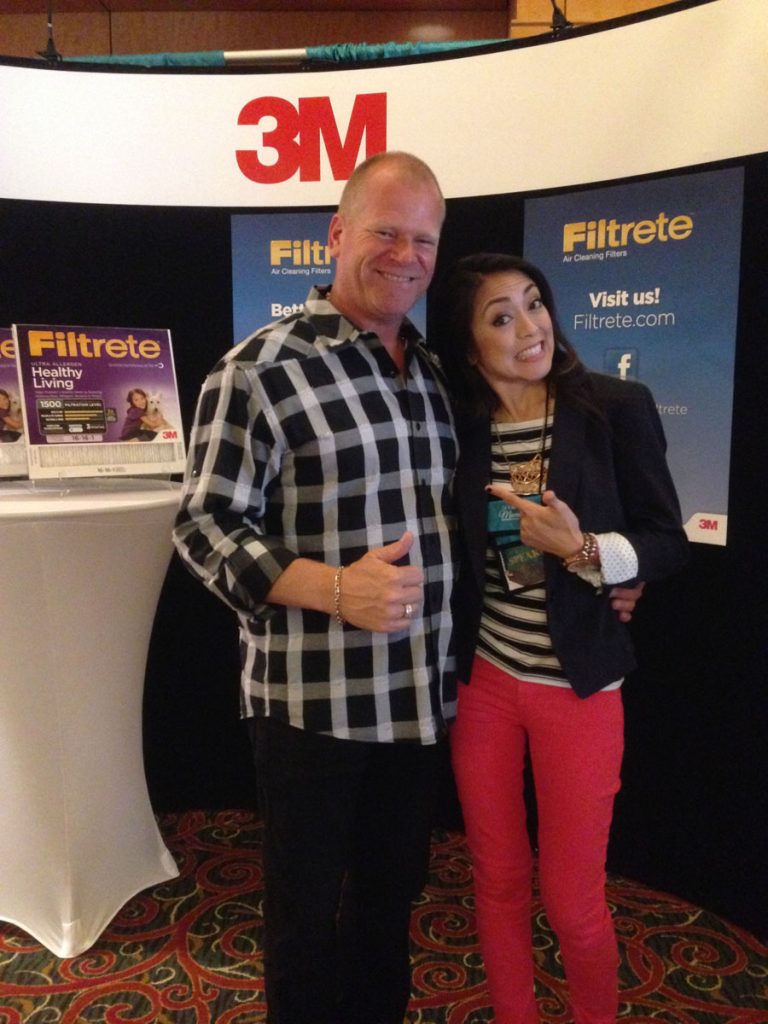 And I finally got to meet a few blogger friends in person! Gone are my days of online stalking! Now that we've actually met and hung out in real life, I don't feel like such a creeper knowing what the inside of their homes look like. Be cool, Jen, be cool. Act normal. See? I have photographic evidence.
From left to right, there's Kelly from View Along the Way and Ashley and Whitney from Shanty 2 Chic (it's a Jen/Shanty sandwich!) and my neighbor, Kristle, who was so sweet to tag along with me. These girls were just as sweet, talented, and funny in real life. Kelly may have caressed my hair on more than one occasion. #truestory #notcreepy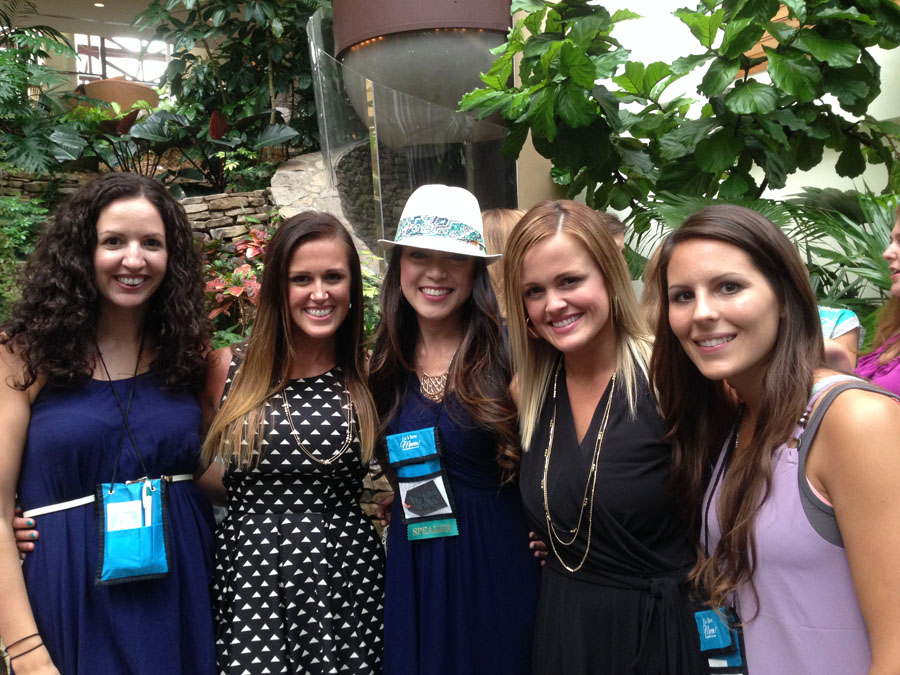 Here I am with 4 out of 6 of the Haven team. These hard-working and talented ladies put this whole shebang together. Not an easy feat!
From left to right: me, Traci from Beneath My Heart, Chris from Just A Girl, Rhoda from Southern Hospitality, and Beth from Home Stories A to Z (not pictured: Kristin from Kristin Stockdale Design and Sarah from Thrifty Decor Chick).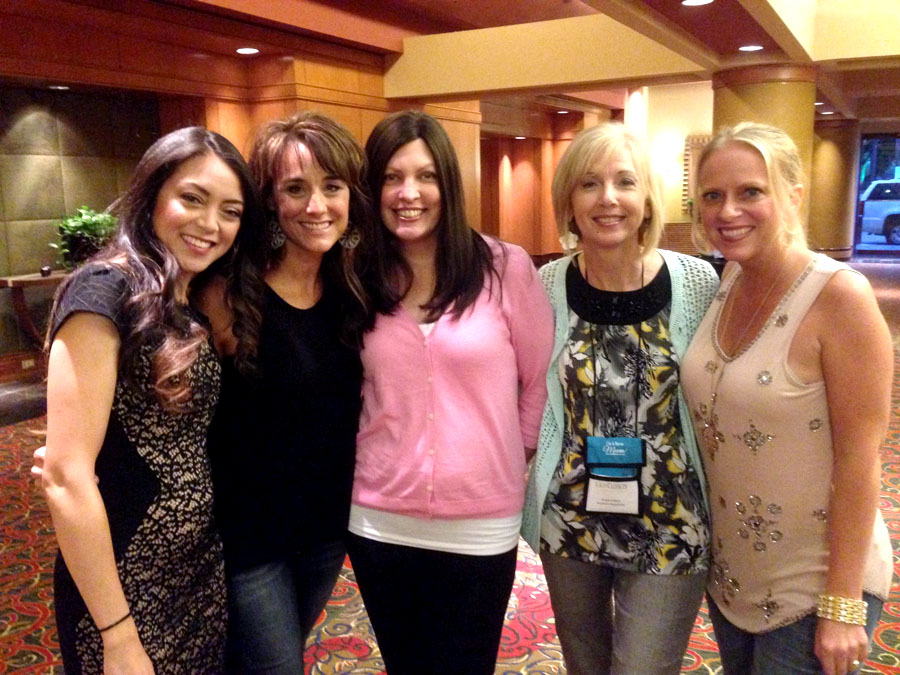 Here's Jaime and I with Laura from Finding Home (it's a maple syrup sandwich!). We took her class on the importance of branding for bloggers. So much useful info! I've got a lot of homework to do!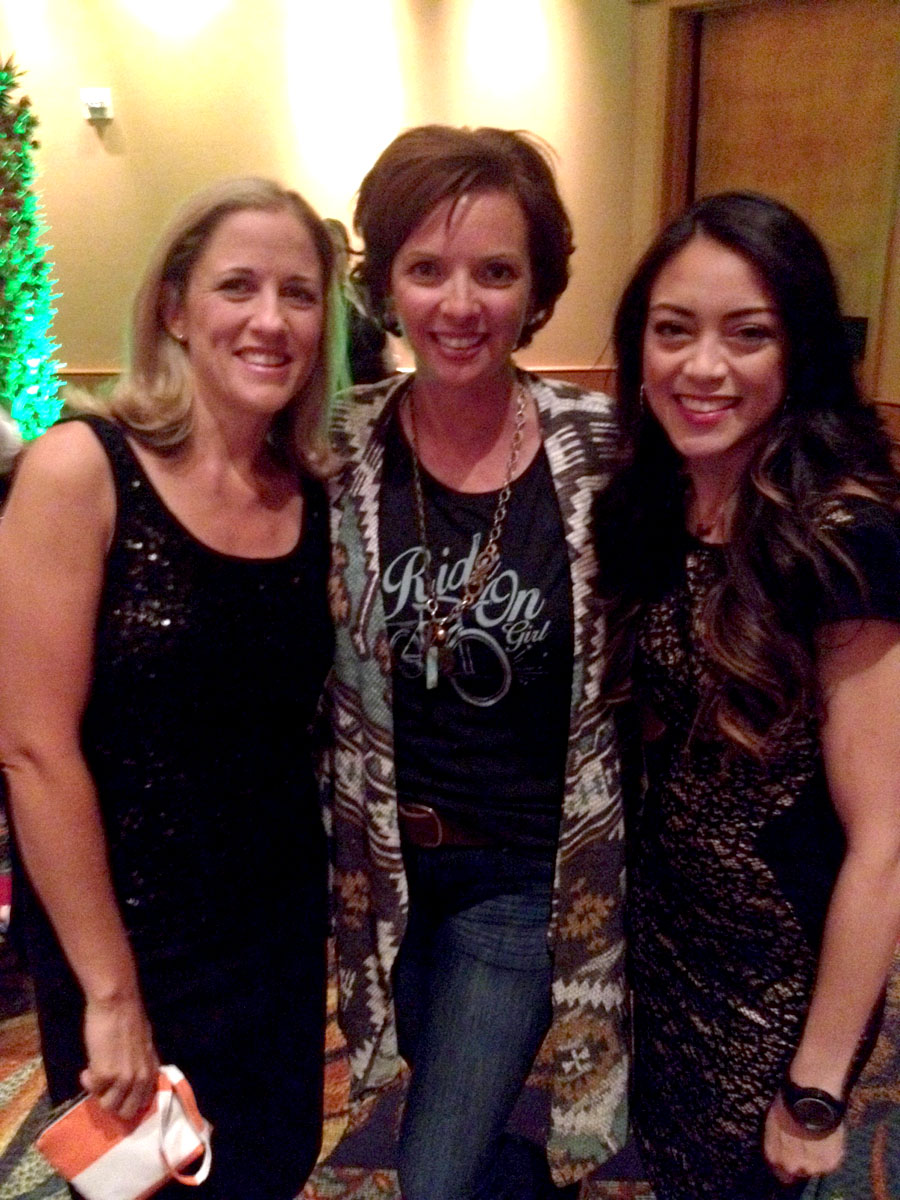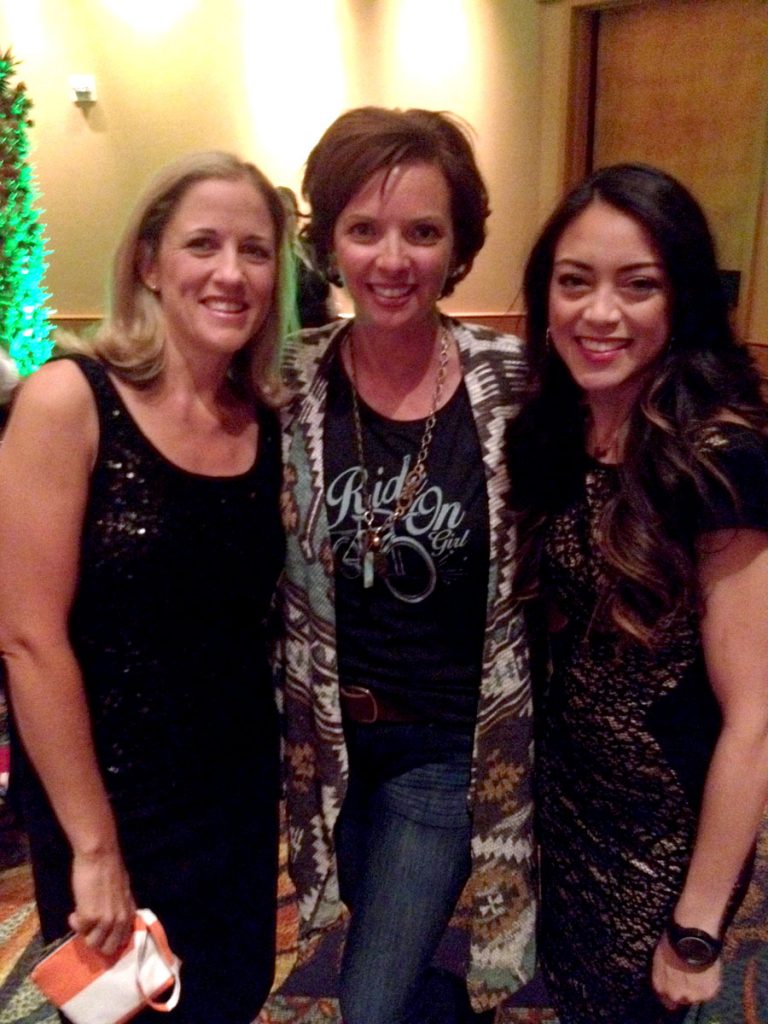 It was so nice to finally meet the beautiful Roeshel of DIY Showoff. Isn't she lovely? We've been long-time blog friends, and this was the first time meeting her in person! I'm not really sure what my hair is doing in this pic. It's running away, that's what it's doing. And I swear, I didn't have too much to drink. I was mid-blink, I think. #poetanddidntevenknowit #thatsmystory #andimstickingtoit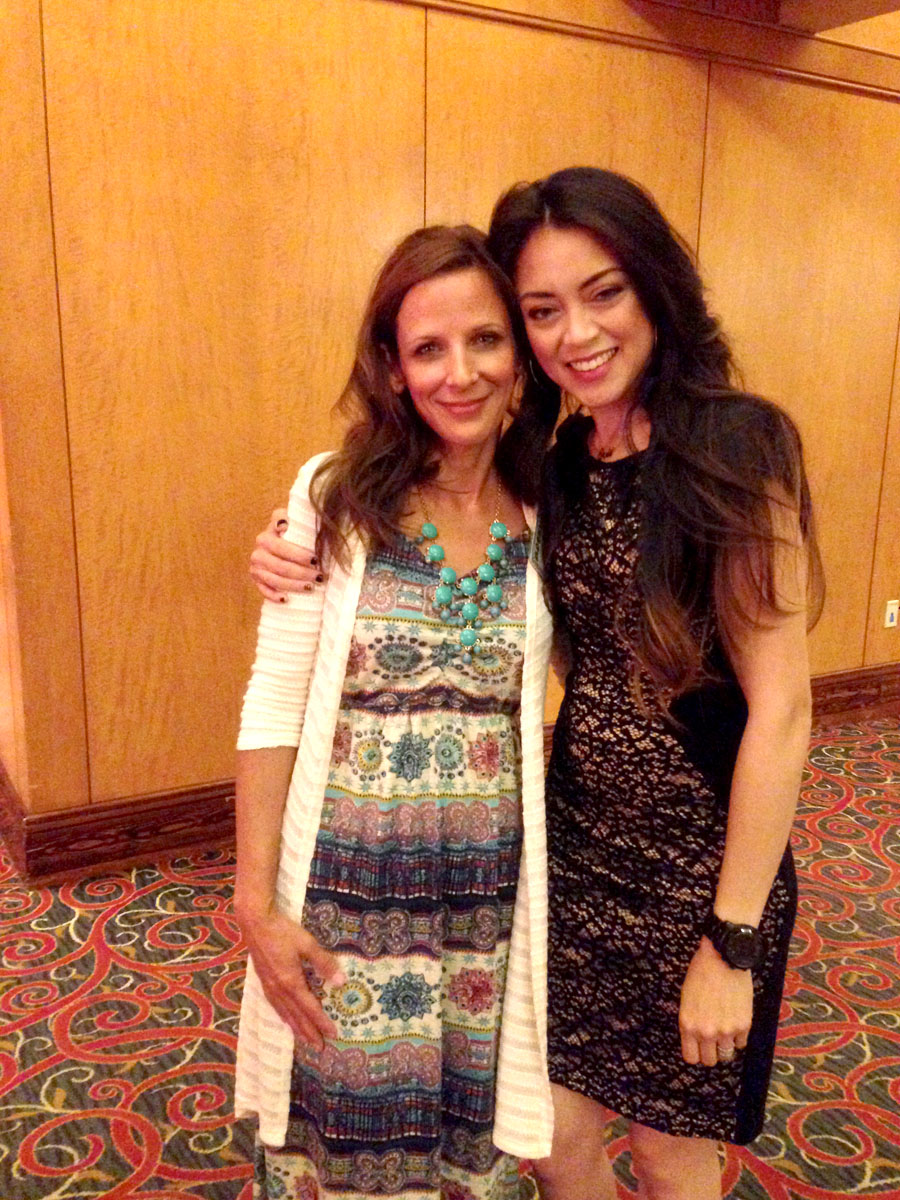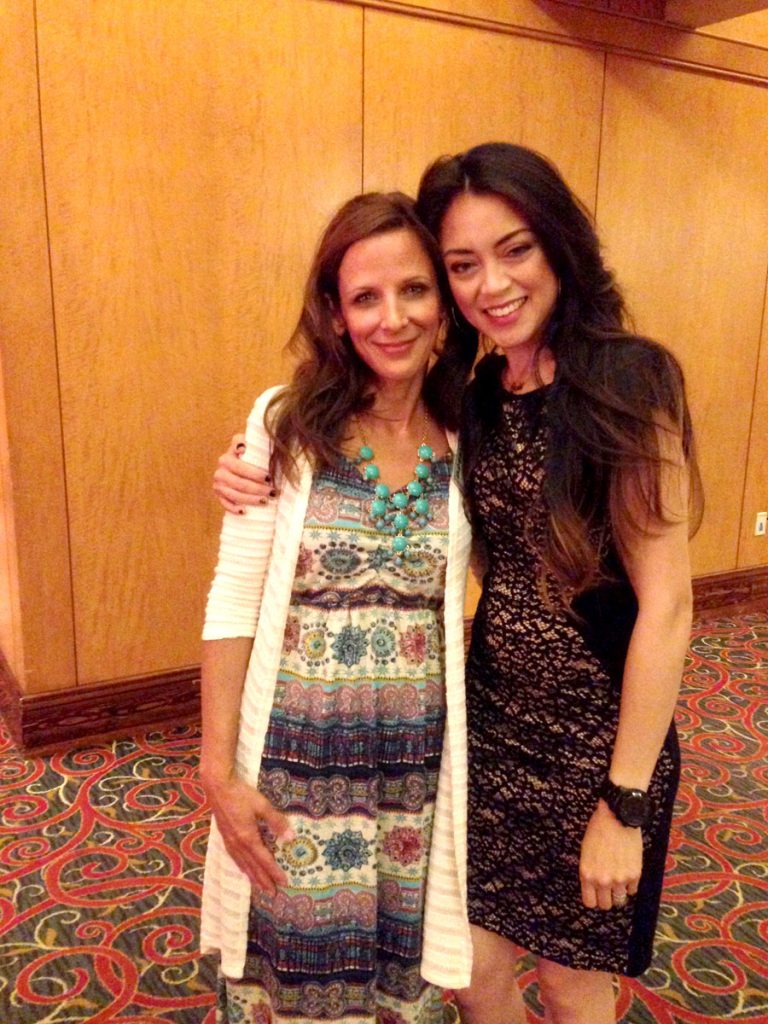 And here I am with my blurry BFFs (Jaime and Mark, the Ryobi Guru):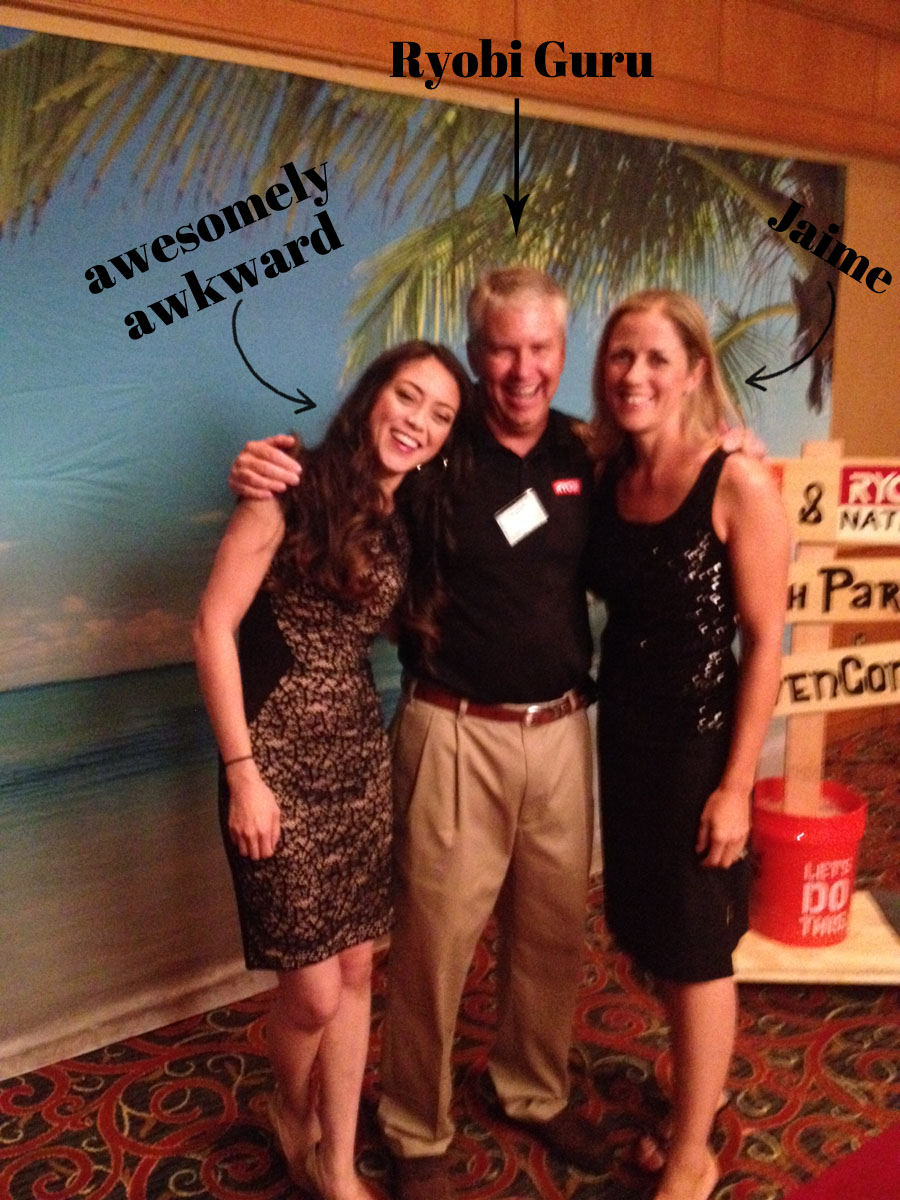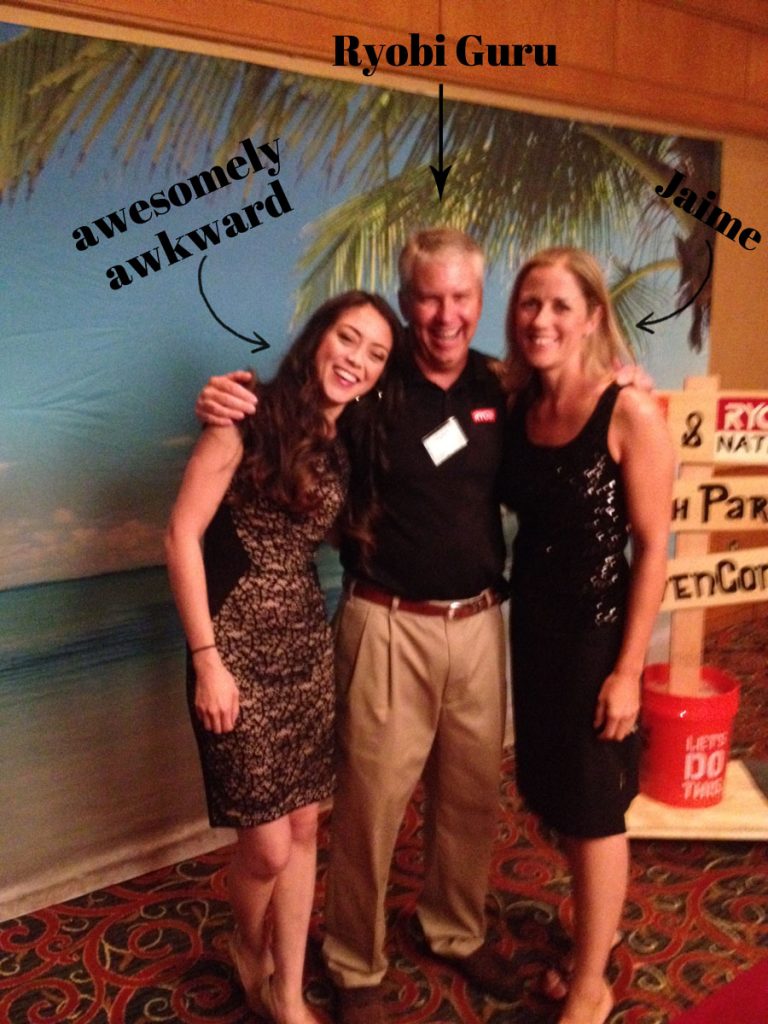 And the kickass Ryobi team (hoo boy, can they throw a party!):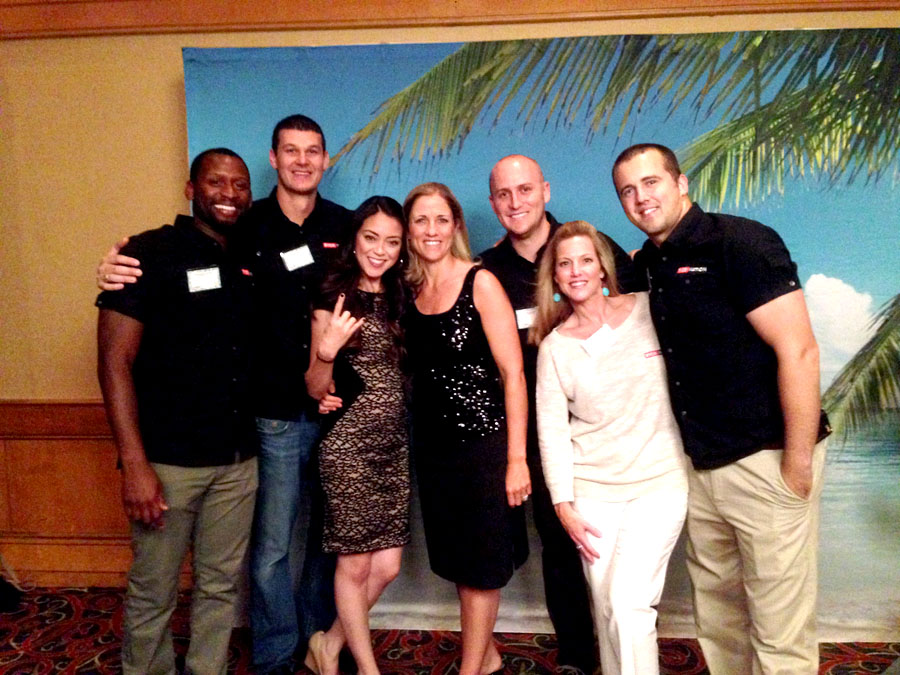 I also got to meet and hangout with badass builder, Sandra from Sawdust Girl. She's every bit as funny, engaging, and charismatic as I'd expected. I also met Brittany from Pretty Handy Girl (why did I forget to snap a pic?! #fail), which was pretty awesome.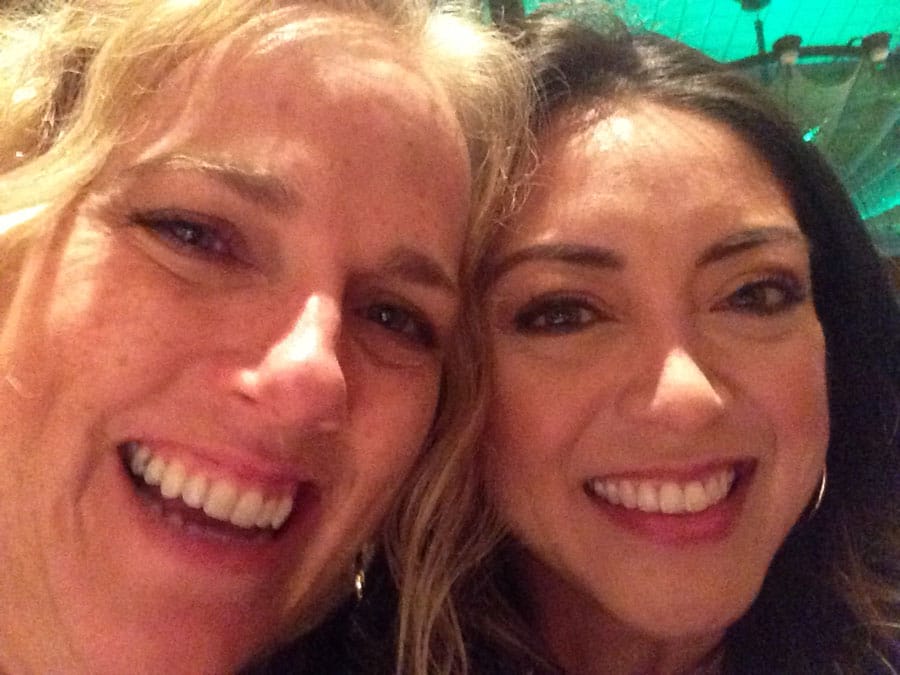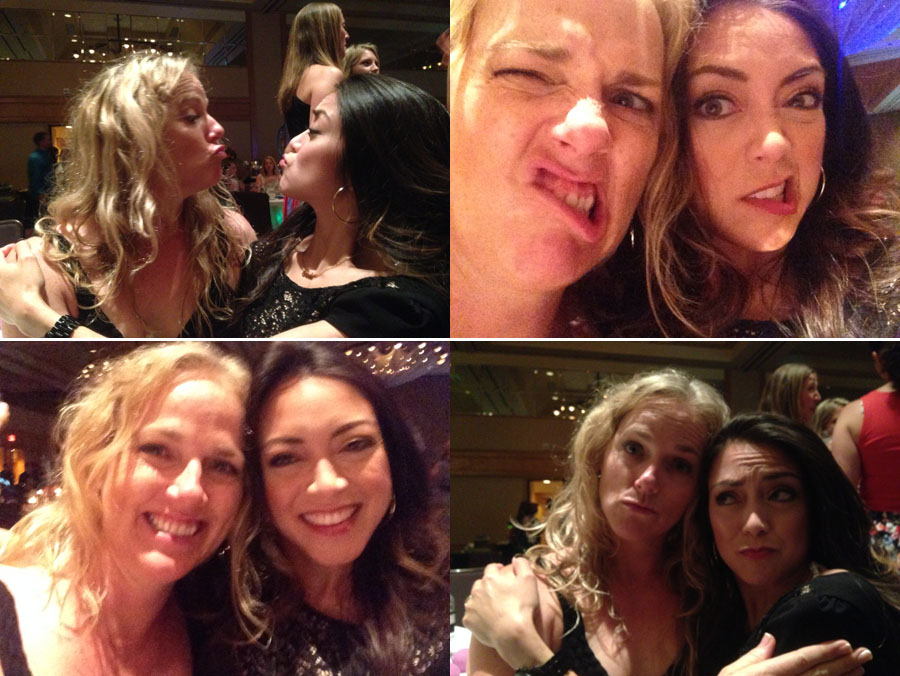 Another highlight was meeting Dusty from All Things G&D. I loved her Maternity Fashion series on her blog (years ago!), where she documented her outfits from week to week during her pregnancy. She made accessorizing the bump so chic!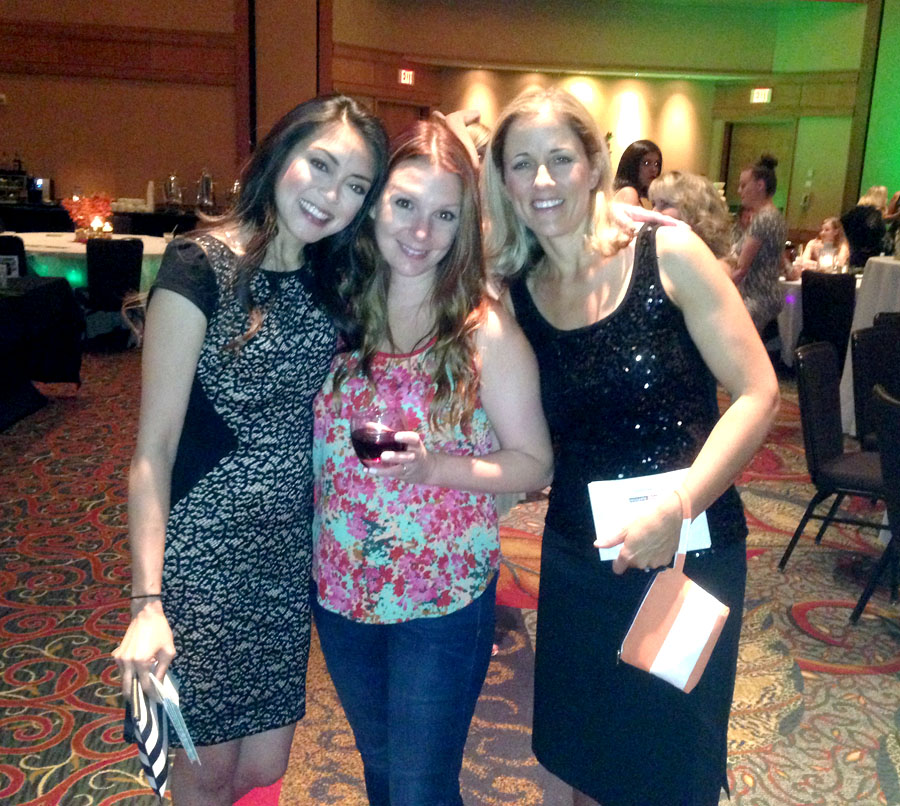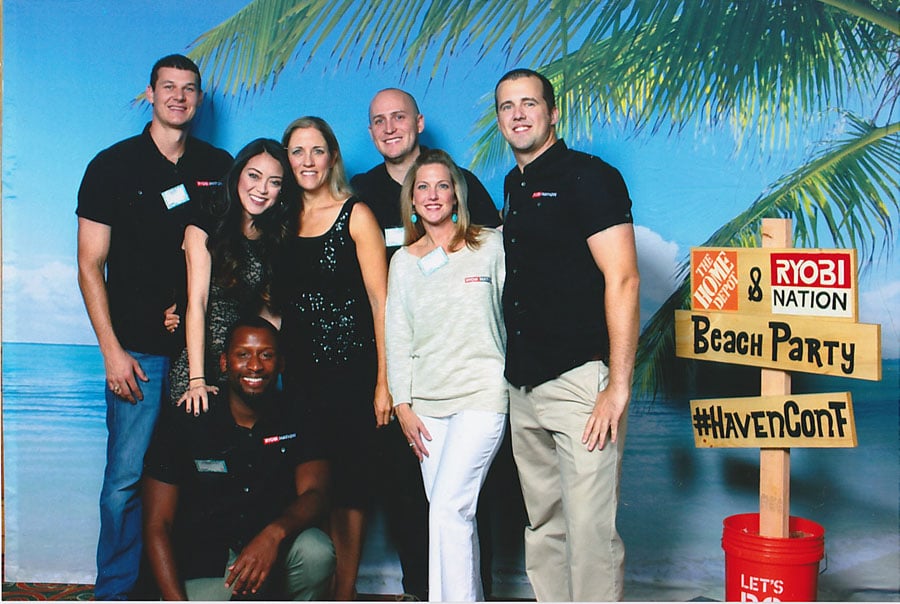 Here we are with Joe, the Miter Saw Master. He was such a huge help during our classes. What a lovely guy.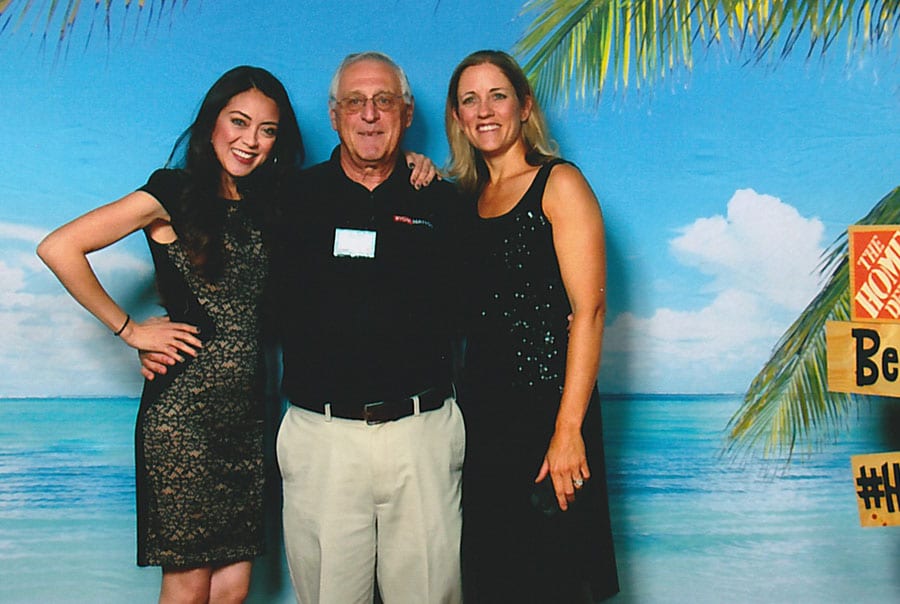 And this has got to be one of my favorite photos of the whole weekend. There is just so much awesome in this one photo, it's almost too much. Building besties unite!
From left to right: Ashley, Pauline, me, Jaime, and Whitney: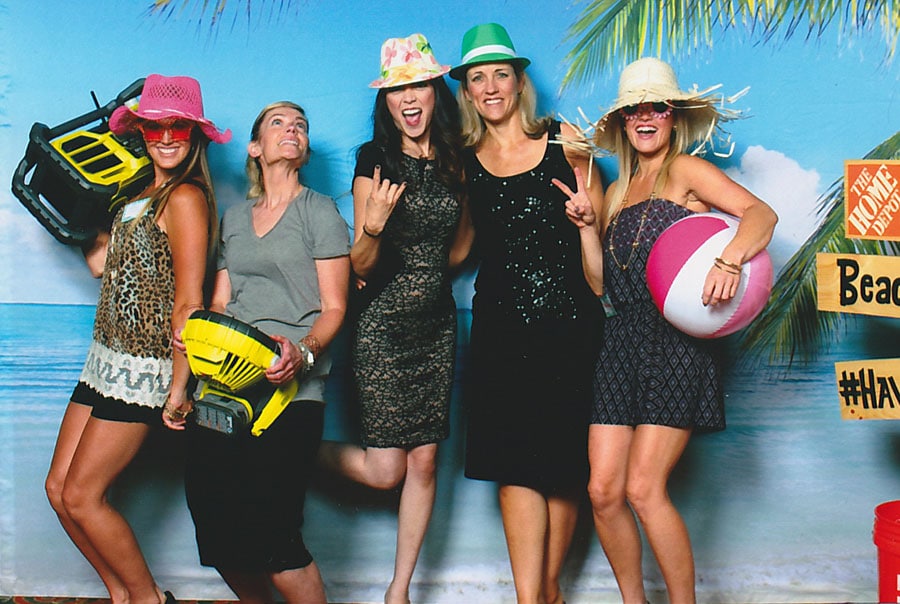 I'd be remiss if I didn't mention how this whole experience would not have been possible without my darling husband. He traveled with me and took care of the kids the entire weekend. He took them to a wild animal reserve, took them swimming, and just generally gave them an awesome vacation while I was hanging out at Haven.  He's the real deal, y'all. He does this husband and father thing way better than I do anything at all. Plus, he's so pretty. Bonus! Thank you, Adam. You're my favorite.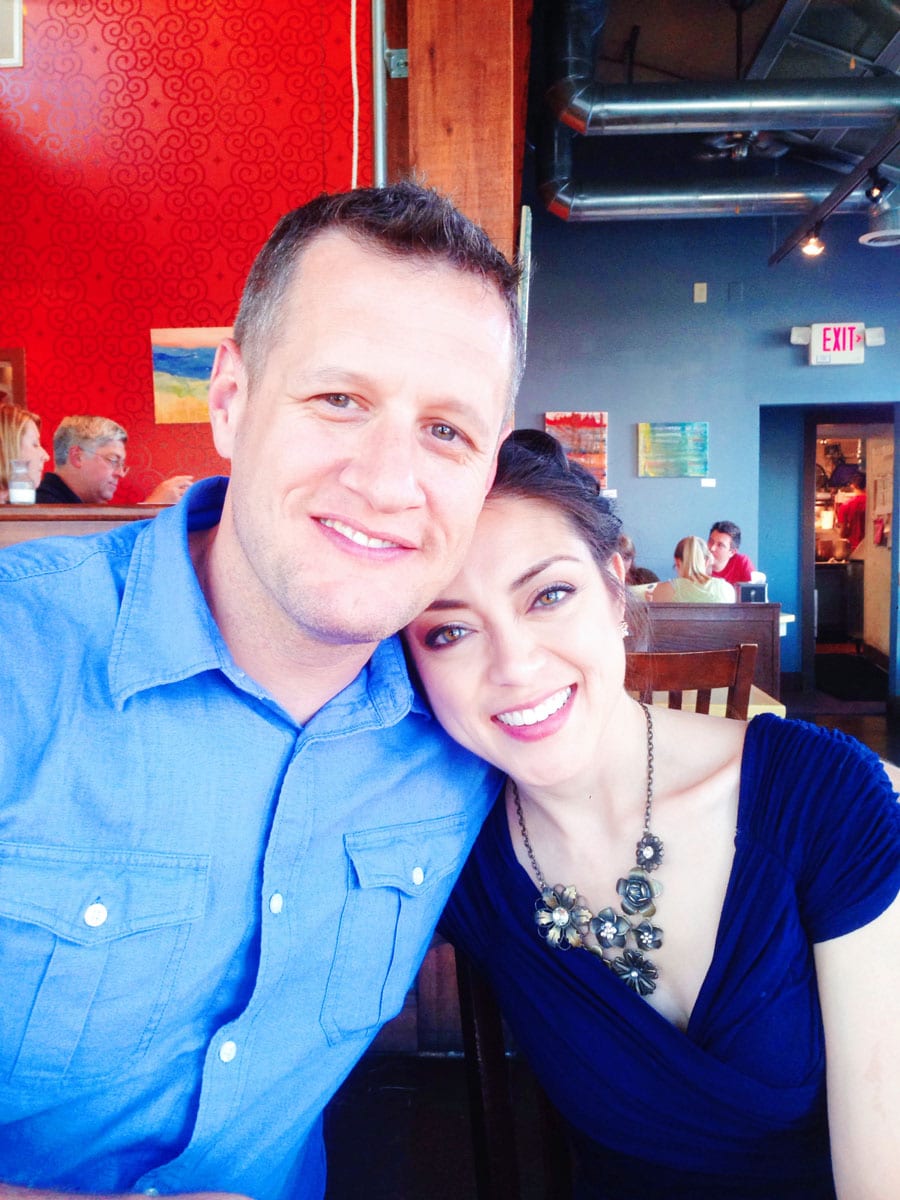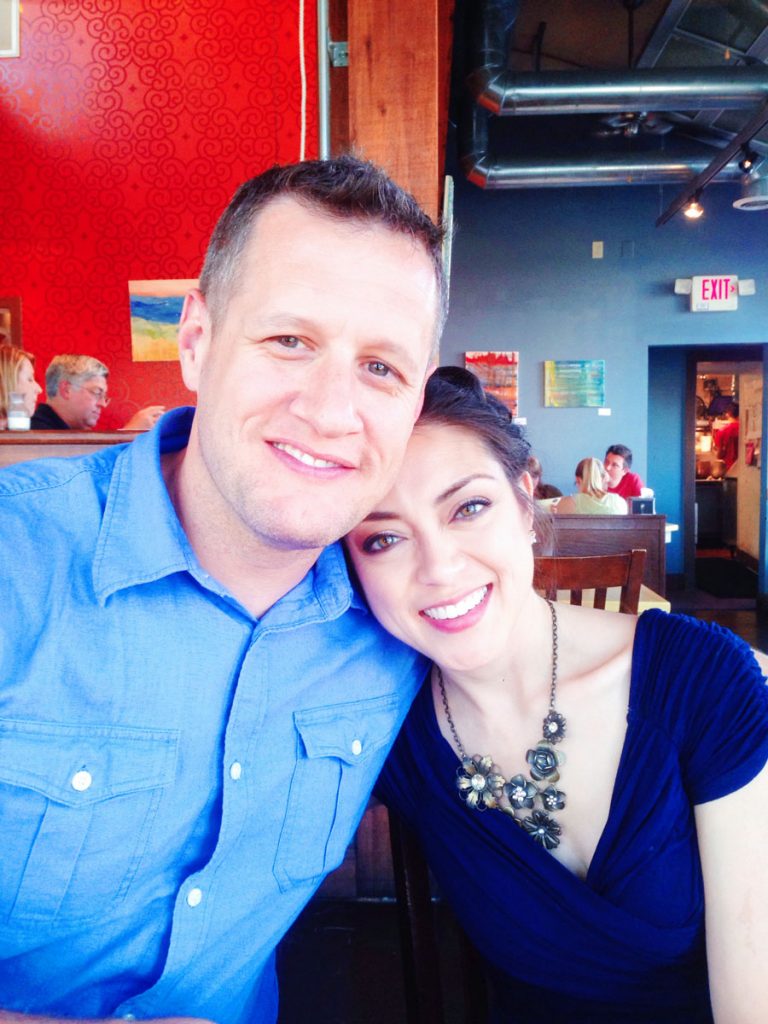 The whole weekend was jam-packed with amazing and wonderful things, but the one experience that stands out among the rest is getting to know and work with Jaime. She's something really special, you guys. Check out her blog – it's chock-full of creative, inspiring things. Jaime is so down-to-earth and humble, you'd never guess she was a DIY rockstar. Gaining a new friend in Jaime was, hands down, my favorite part of the whole conference.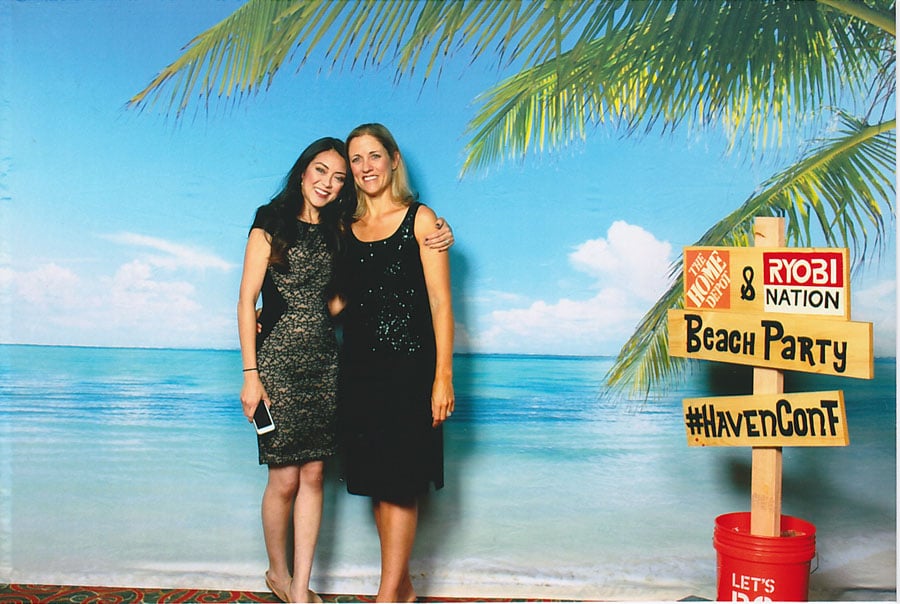 Haven Conference. What an amazing experience. Where bloggers and brands unite, where fellow bloggers lift each other up, support one another, empower one another. Where online acquaintances become real life friends, where the sense of community and unity is not only encouraged but celebrated. Where we share knowledge, experiences, fun times, and food (lots and lots of food!). What a whirlwind of an adventure, exciting and exhausting in the best way. Thank you, Haven Mavens! Here's to 2015!