*This post is sponsored by The Home Depot.
I'm excited to share a closer look at some new products from Diablo and Husky Tools! Today, we're talking about three new saw blades from Diablo Tools: the 6-1/2 inch 24-teeth framing saw blade, the 6-1/2 inch 32-teeth wood and metal blade (a personal favorite), and the 5-1/2 inch 18-teeth fast framing saw blade with additional bushings.
This Diablo 6-1/2 in. saw blade cuts and rips hardwood, 2x lumber, pressure-treated, OSB, and laminated boards cleanly and accurately, making quick work without bogging down your saw. It's compatible with any 6-1/2 inch corded or cordless circular saw. The super-thin kerf minimizes material removal while the stabilizer vents absorb noise and vibration. This helps in reducing drag and friction, delivering a more precise cut.
I really prefer to use the smaller handheld saws, like a 6-1/2 inch, because it's lighter, easier to manage and control. Whether I'm cutting hardwood, plywood, or 2x material, I don't find that I lose any of the power that might come from a larger saw. Being able to maintain positive control over my tools is more important to me – the more control I have over the tool and the workpiece, the more precise and safer my cuts are. That being said, this 6-1/2 inch framing blade makes a pretty clean and accurate cut with its 24 teeth. When we were framing out my workshop, this is the blade we used to make quick work with repeated tasks. For plywood, however, I prefer using the Diablo plywood blade because it has almost double the teeth, for the cleanest, smoothest cut.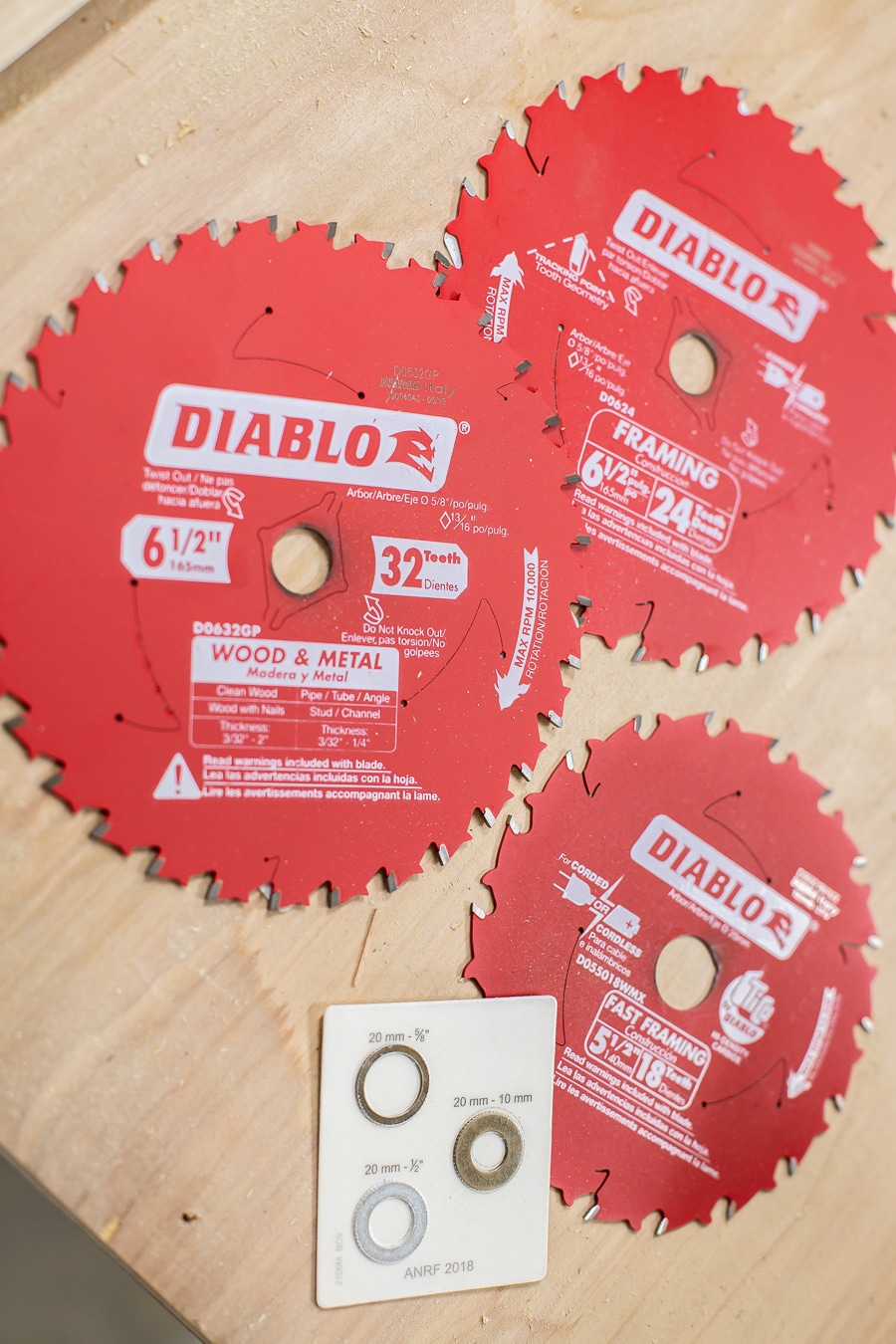 This wood and metal blade is a fairly new blade from Diablo. It's specially formulated to withstand impact and reduce wear and tear on the blade and the saw. It's the industry's first multi-purpose saw blade for cutting clean wood and wood with nails. This blade is very versatile in that you can go from cutting wood to metal without having to change the blade! I'm currently using this blade on my wood and steel entryway cabinet and it's super convenient and efficient not to have to switch blades or saws when I'm working with the different materials. It's compatible with both corded and cordless saws, and cuts 2x lumber, wood with nails, angle iron, channel, flat bar, steel studs, and threaded rod.
This fast framing saw blade is optimized for 1/2 in., 5/8 in., 10mm, and 20mm cordless saws and is ideal for hardwoods, softwoods, 2x lumber, pressure-treated lumber, OSB, plywood, and laminated beams. It produces accurate, smooth cuts on framing materials without bogging down the saw and it comes with 3 additional bushings that allow your blade to fit on 1/2 inch, 5/8 inch, or 10mm arbor saws. The thin kerf minimizes material removal, requiring less cutting power.
This mechanic's tool set is the ULTIMATE tool kit for your favorite gearhead! It's designed to fill a tool chest to the brim – one of the most comprehensive sets from Husky. This set features all the tools a mechanic would ever need! Adam is just starting to work on vehicles, so he was like a giddy school girl when we unboxed this set. It is so massive – this set will surely last us a lifetime or two.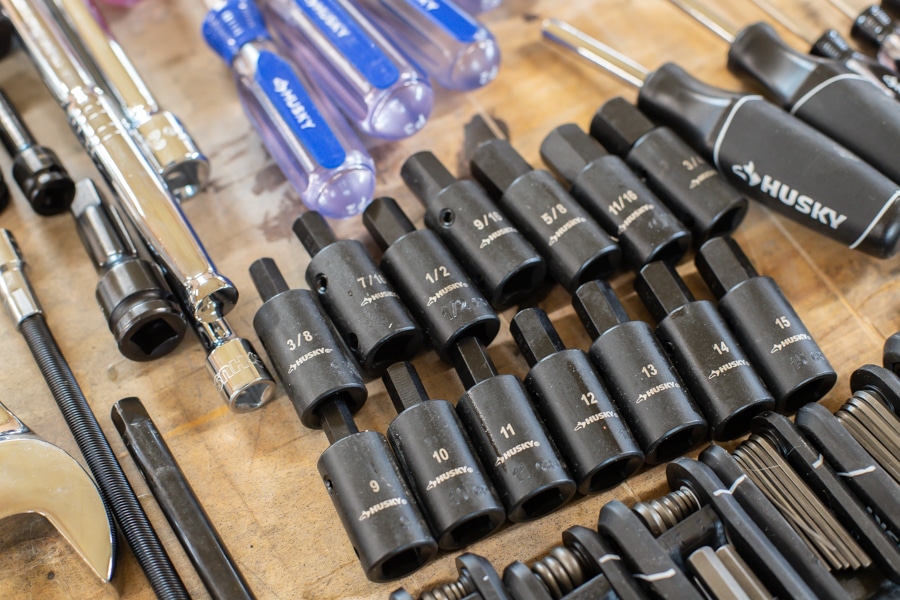 Set includes:
433 sockets
94 impact sockets
218 wrenches
113 hex keys
37 screwdrivers
15 drive tools

3 quick release ratchets
2 flex-head ratchets
2 palm ratchets
4 breaker bars
1 speeder bar
1 T-handle
1 bit driver
1 spinner handle

31 extensions and adapters
273 accessories
12 socket rails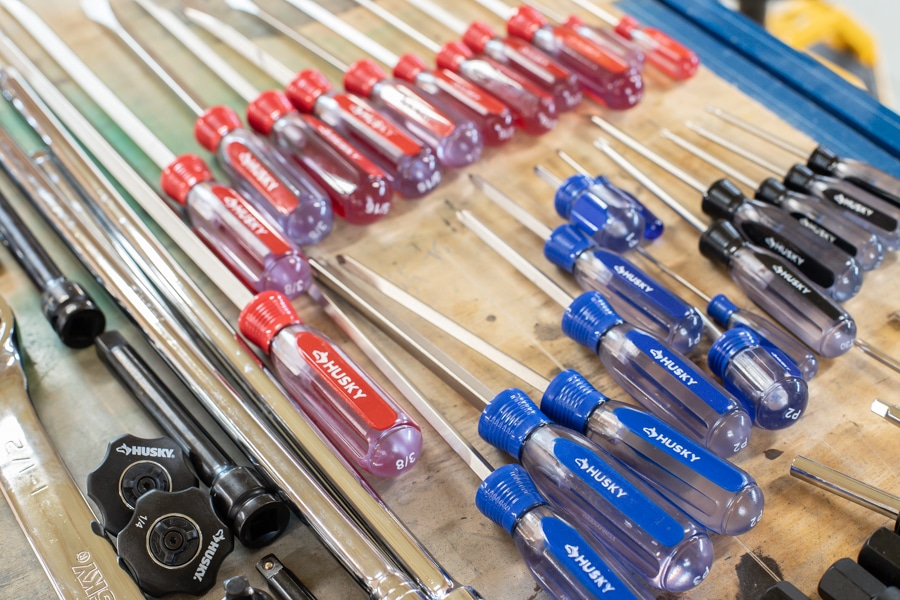 The 72-tooth ratchets and ratcheting wrenches need only a 5º arc swing to turn fasteners and the quick-release button allows sockets and drive tools to be easily removed from the ratchet. The flex-head ratchets pivot up to 180º for hard-to-reach fasteners. The sockets and wrenches feature chamfered lead-ins that help provide fast and easy placement onto drive tools and fasteners. The wrenches feature a 12-point box-end design and 15 offset for increased clearance.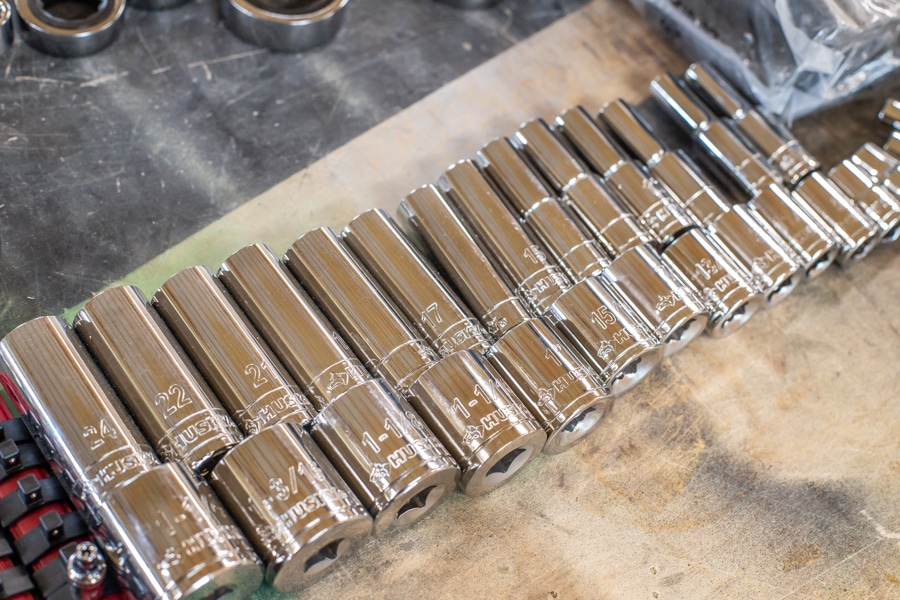 The hex keys, screwdriver and nut driver bits are formed from heat-treated S2 tool steel for added strength and durability. The screwdriver blades are forged from high strength alloy steel and the handles are color-coded for easy identification (red for flat heads, blue for phillips, black for specialty bits). If you or a mechanic in your life is on the hunt for the ultimate tool kit, this is it! Find it exclusively at The Home Depot.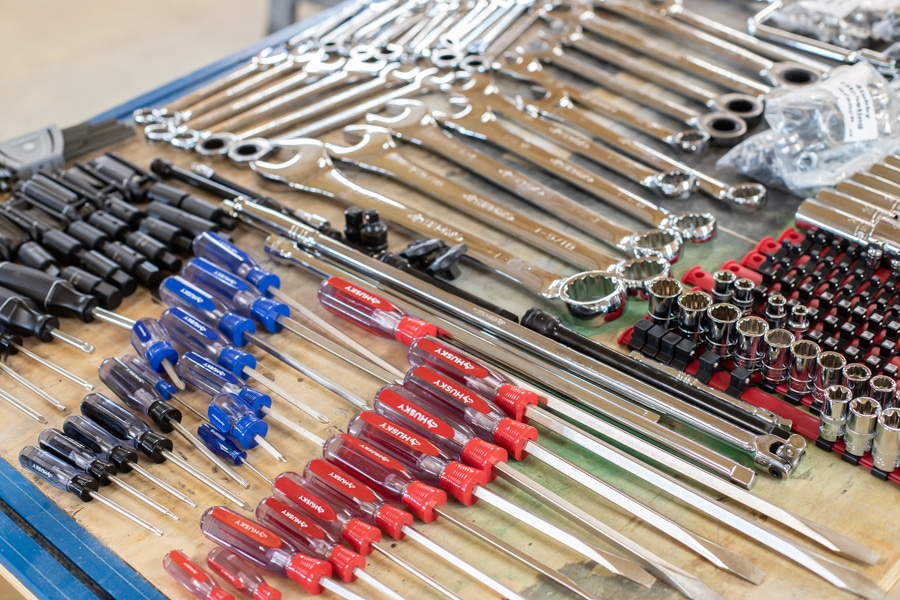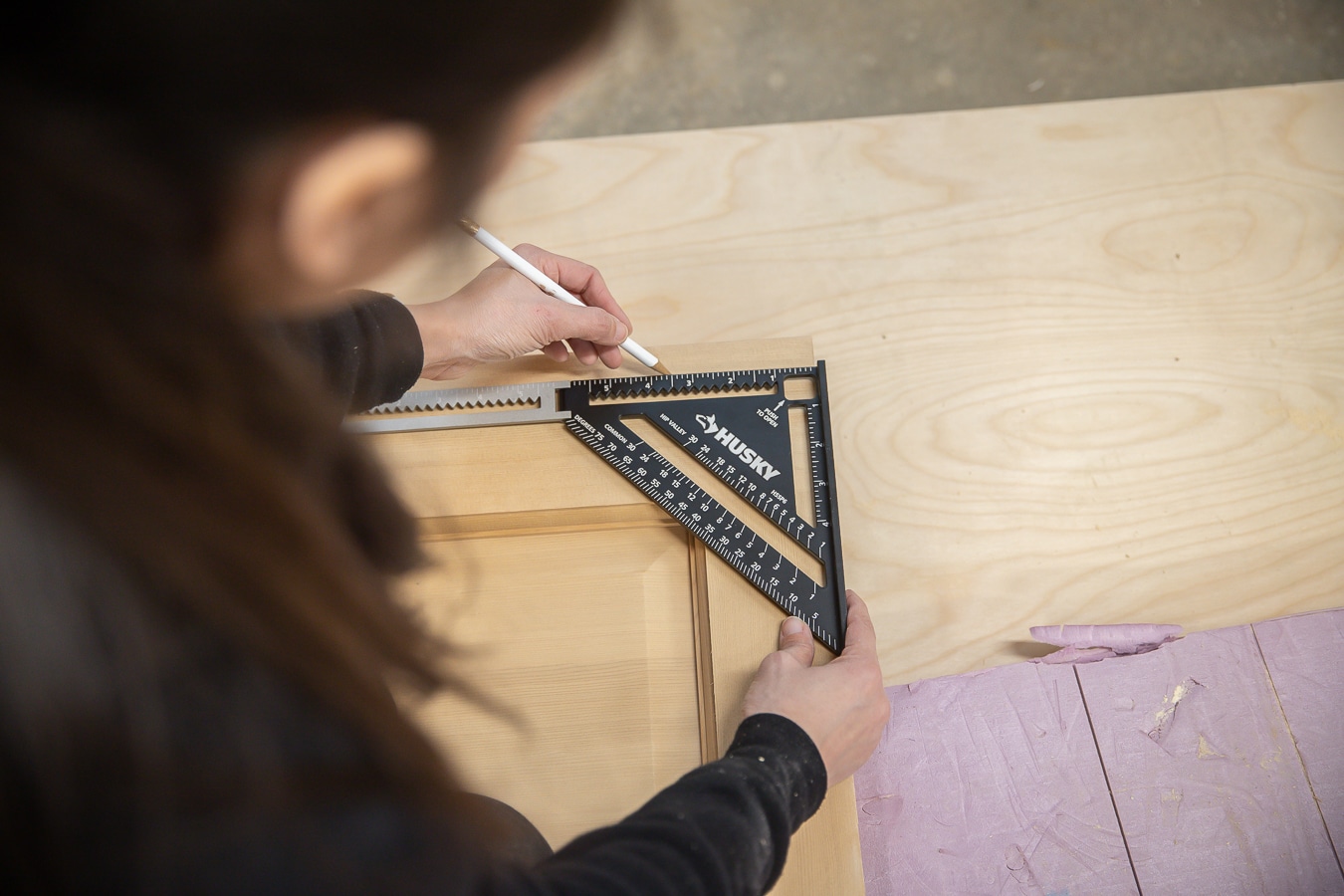 Let's talk about the importance of a good, reliable square. I use a carpenter's square with every project I tackle. This 2-in-1 extendable square from Husky is pretty neat. There's a 6-inch extension that allows me to work with larger material. It folds up neatly to save space when storing, then the extension folds out so you can make a longer mark. The graduated notches allow for easy layout lines. The extension arm securely locks into the body, so it's not flapping around when you don't need it. Like most of Husky's products, this extendable square is backed by a lifetime warranty.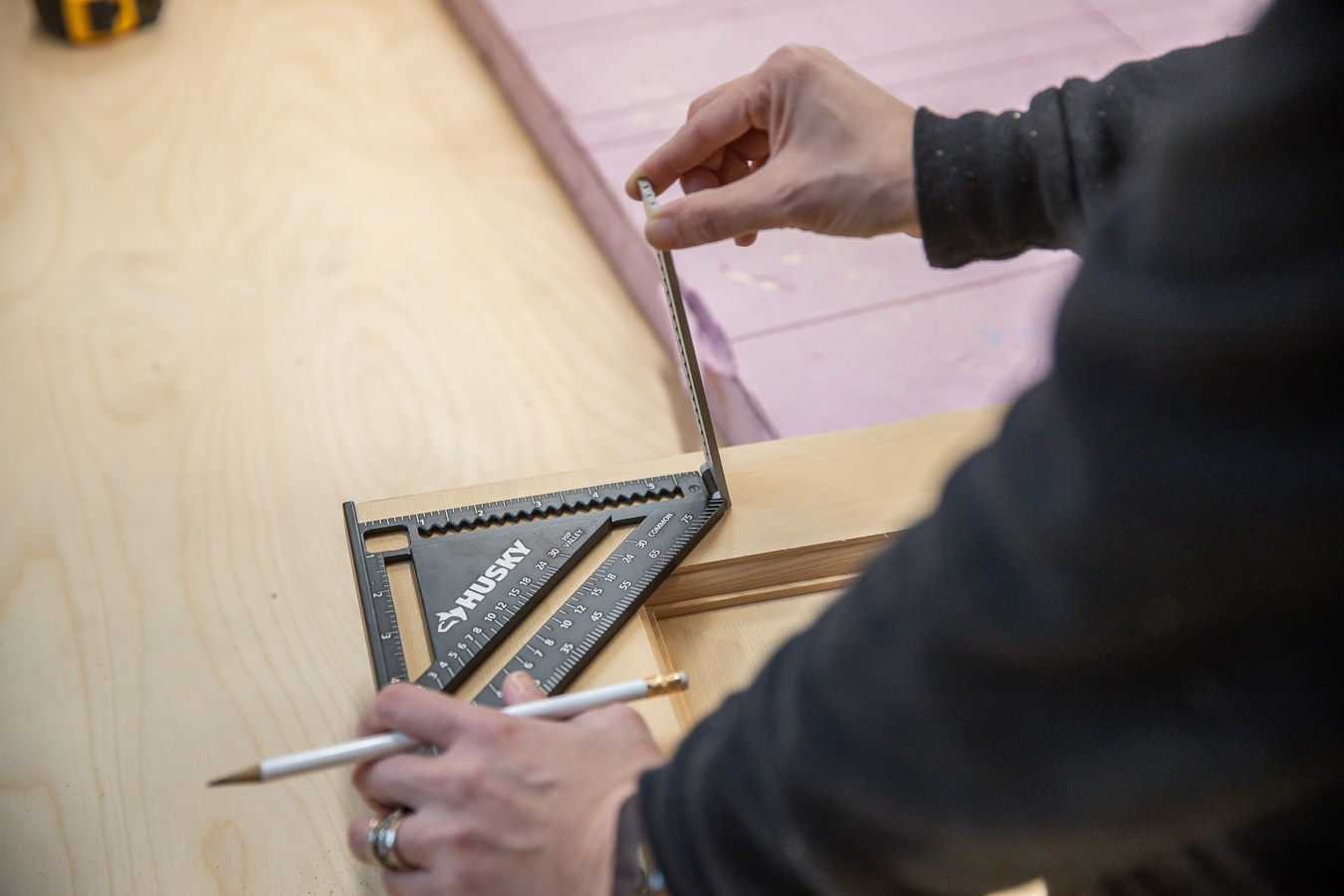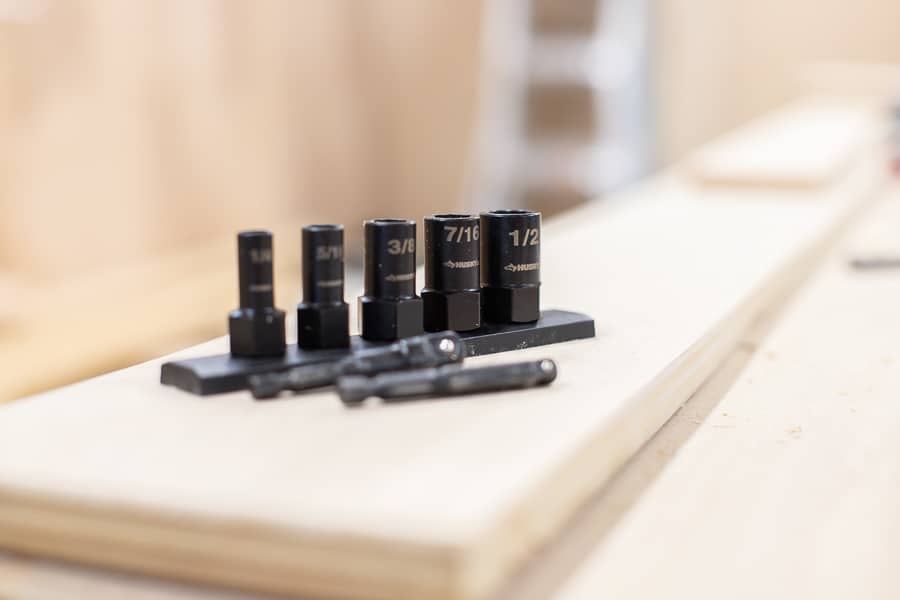 This Husky 7-piece dual direction extraction socket set is a literal game-changer. If you need to remove damaged, rusted, or corroded fasteners, this set is amazing. It includes 5 SAE sockets and 2 impact adapters. They feature a tapered throat which allows for easy placement onto a fastener, which ensures that the fastener won't become lodged in the socket after removal. The sockets have a patented design that allows them to grip in both the left hand (removal) and right hand (installation) directions, so you can reuse a damaged fastener if needed.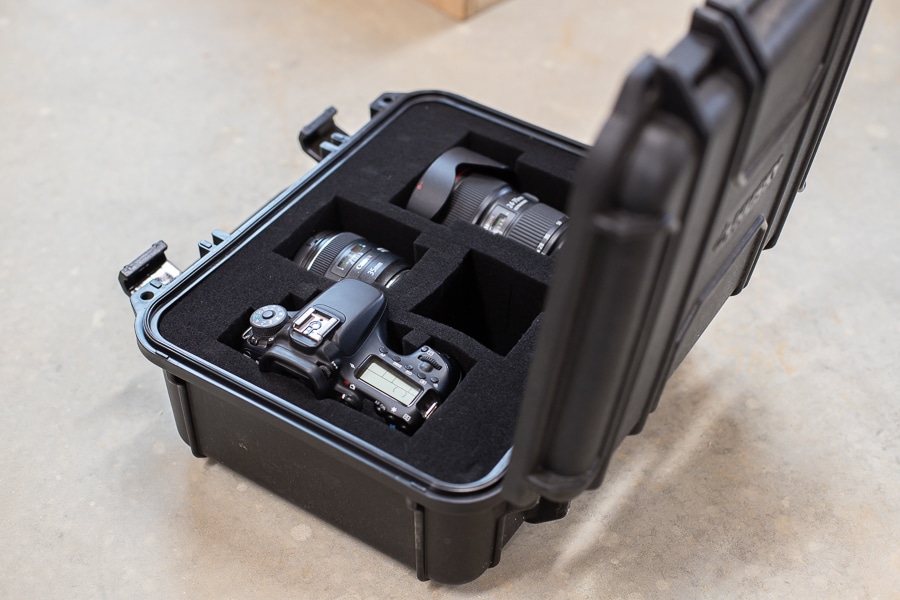 This Husky 22-inch packout modular tool box is a tactical case that's both watertight and dust-proof, which is especially important in my dust-filled workshop. The foam is customizable for whatever you store in this case – just pick and pull the foam inserts out as you need and your items are specially protected from impact. I like to use this case for storing my valuable camera equipment – I have my camera body and several lenses in it. The case has heavy duty latches that are padlock-ready, as well as a pressure relief valve that equalizes pressure and allows for easy opening at any altitude – especially useful if I'm photographing on Mount Everest. I don't currently have plans to do so, but I'm glad to know that I can should the opportunity ever arise. The case measures 13.5 inches x 11.6 inches x 5.3 inches.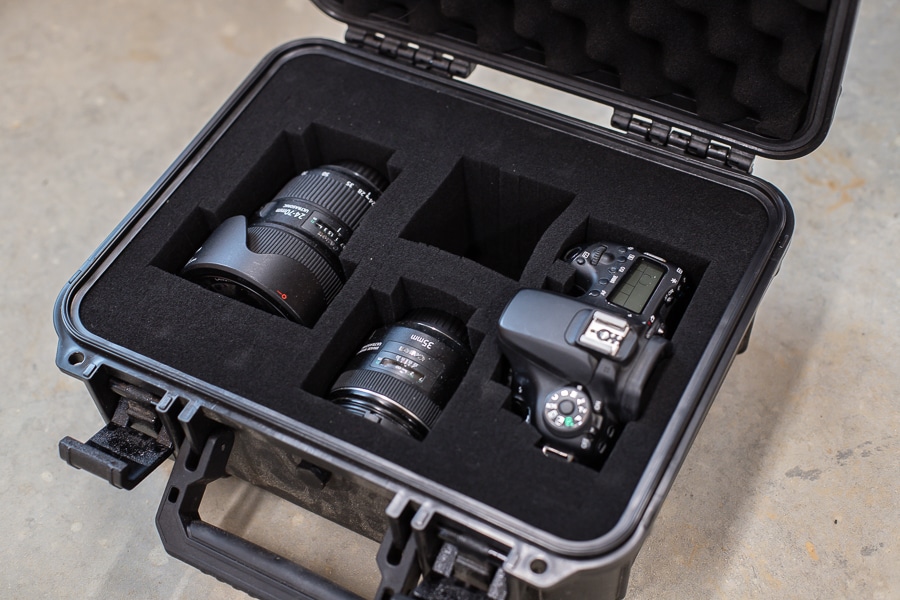 If you're in the market for any of these new products from Diablo and Husky Tools, click the links above to find out more details!
*I acknowledge that The Home Depot is partnering with me to participate in the ProSpective 2019 Campaign. As a part of the Program, I am receiving compensation in the form of products and services, for the purpose of promoting The Home Depot. All expressed opinions and experiences are my own words. My post complies with the Word Of Mouth Marketing Association (WOMMA) Ethics Code and applicable Federal Trade Commission guidelines. This post contains affiliate links. To read my full disclosure policy, please click here.