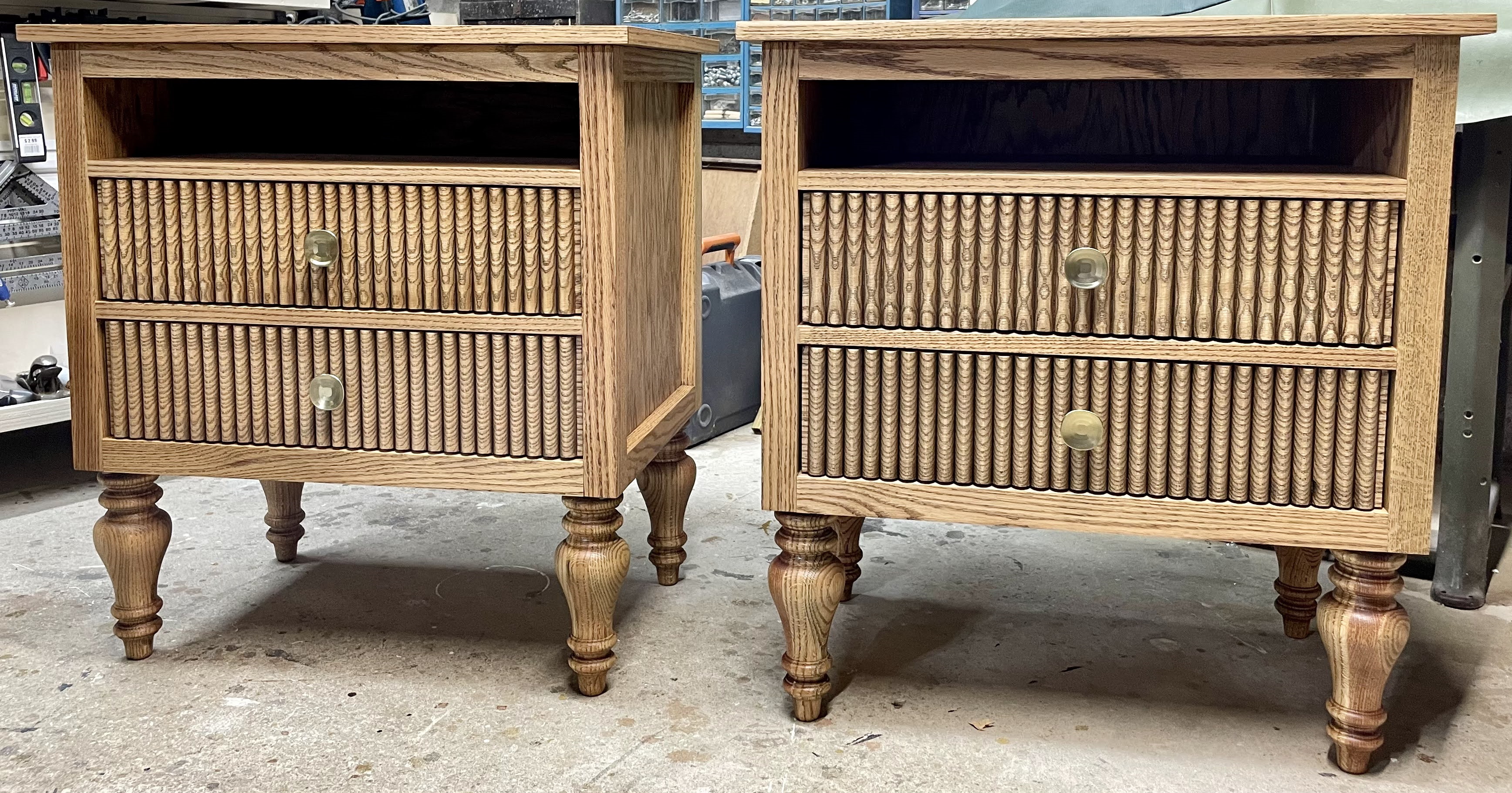 Submitted by Tony Silvestro
Estimated Cost:
JenWoodhouse.com Plan Used: Gustavian 2-Drawer Nightstand
About the Project:
This was my first furniture woodworking project. I followed Jen's plans with the following differences:
1) Used Red Oak vs. White Oak; 2) Adjusted to reduce width from 30″ to 27″ due to space restrictions; 3) Used locking rabbet joints vs. pocket holes for the drawer construction (Half-Half-Half method); 4) Did the drawer face beading by hand using a router table I built into my table saw extension wing with a Whiteside Router Bits 1580 Point Cutting Round Over Bit with 3/8-Inch Radius 3/4-Inch Cutting Diameter and 5/8-Inch Cutting Length. This was by far the most challenging, time consuming, and physically demanding aspect of the project. I had to make 30 cuts per drawer face each requiring at least three passes. Sanding required a Profile Contour Sanding Grip which I got from Amazon (POWERTEC 71620 Grip Set); For the finish, we chose the Walnut Rubio Monocoat Oil Plus 2C covering with the Universal Maintenance Oil for added sheen.
After I completed the assembly, I realized that some pocket holes were visible on inner sides of the shelves, so I had to plug them after the fact. This was very difficult as well as painful on the knuckles, due to the extremely tight space for trimming & sanding the plug ends. A lesson learned the hard way!
We got the legs from Timber Wolf Forest Products as Jen recommended and were very happy with them.
This was a great first-time furniture making project and my wife and I are thrilled with the finished product! I'm in the process of making a similarly stilled 6-drawer dresser based on an enlarged version of a plan I got from @johnbuildsit. I guess I'm a glutton for punishment since I did the same beading on the dresser drawer fronts, which are about double the size of the ones for the nightstand!