Hello everyone! I'm Abbey from The Cards We Drew blog and I'm so excited to be here today on Jen's site sharing a fun recipe idea! I'll be sharing recipes for Jen throughout the year, so if you like what you see, please stop by my blog for more recipes, crafts, and home decor ideas! Today I wanted to share a recipe with you that's perfect for cold winter days or for the upcoming football games and playoffs. This quick, easy, and delicious Pizza Dip Stuffed Bread Bowl is a great way to get your family and friends gathered around the table enjoying each others' company!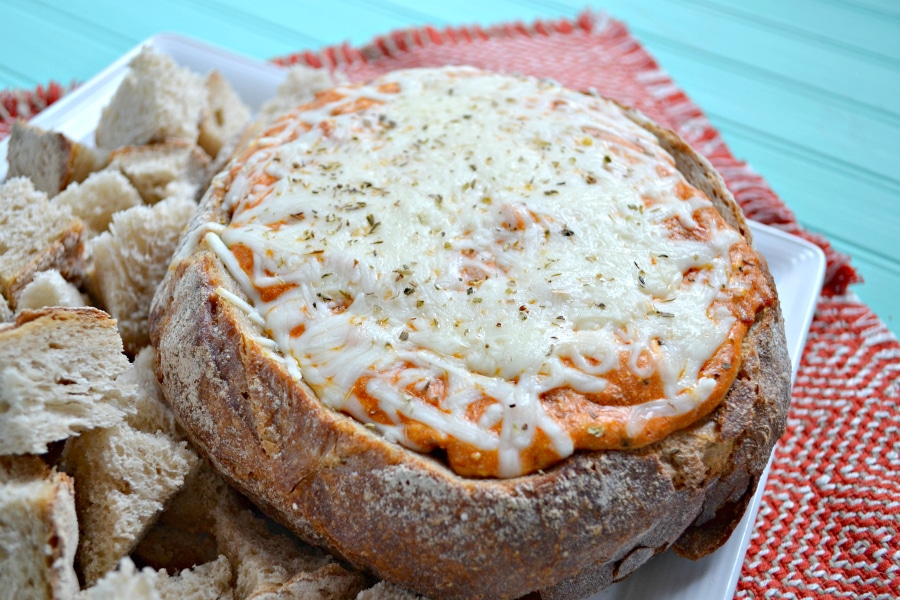 The recipe for this appetizer is very simple and the ingredients are things that everyone will like, especially if you love Italian or pizza!
You start by mixing all of your ingredients together in a bowl… just dump them on in and get to mixing.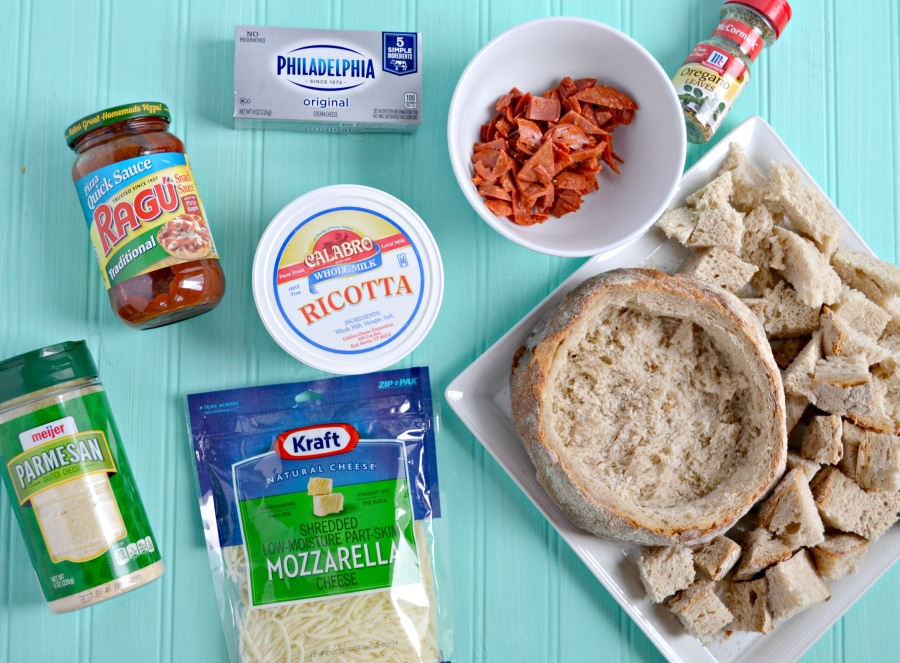 Pre-heat your oven to 350 degrees F and transfer your dip mixture into an oven-safe baking pan. Bake for about 20-25 minutes or until melted and bubbly.
While baking, take your bread bowl and carefully hollow it out. Leave the bread scraps for dipping.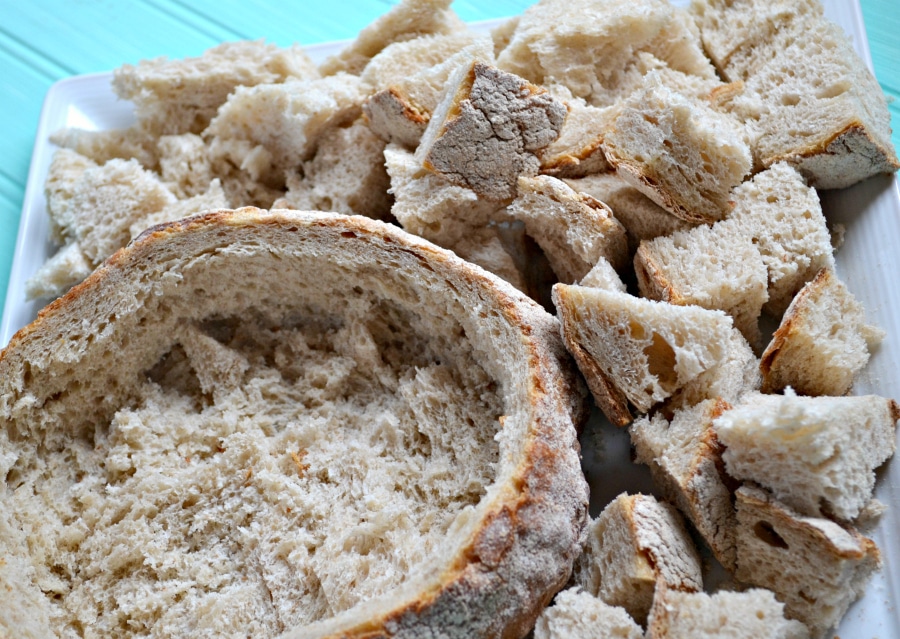 After your dip has baked, transfer the dip into the bread bowl, then take a little extra cheese and oregano and sprinkle it lightly on top and place it back in the oven to melt (5-7 minutes).
Once melted, pull it out of the oven and place the bread around it and serve warm!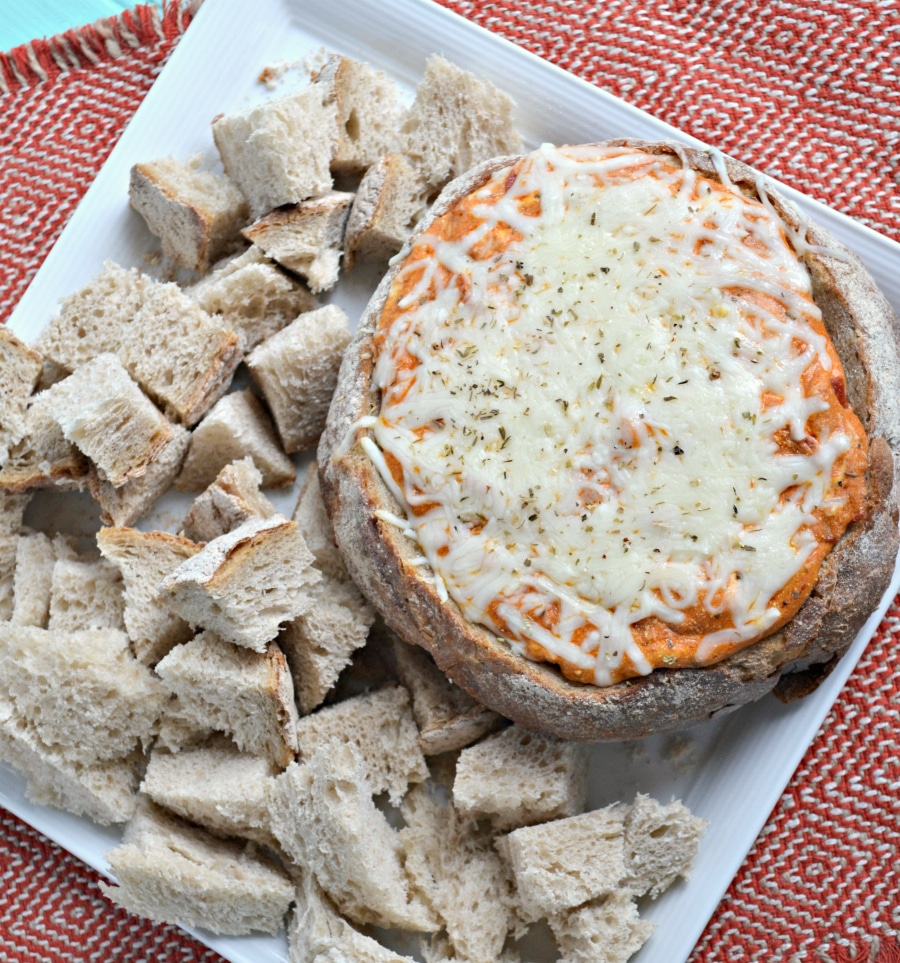 Your guests will love it and you won't be able to stop eating it! 🙂
Pause for the obligatory melty, gooey cheese shot: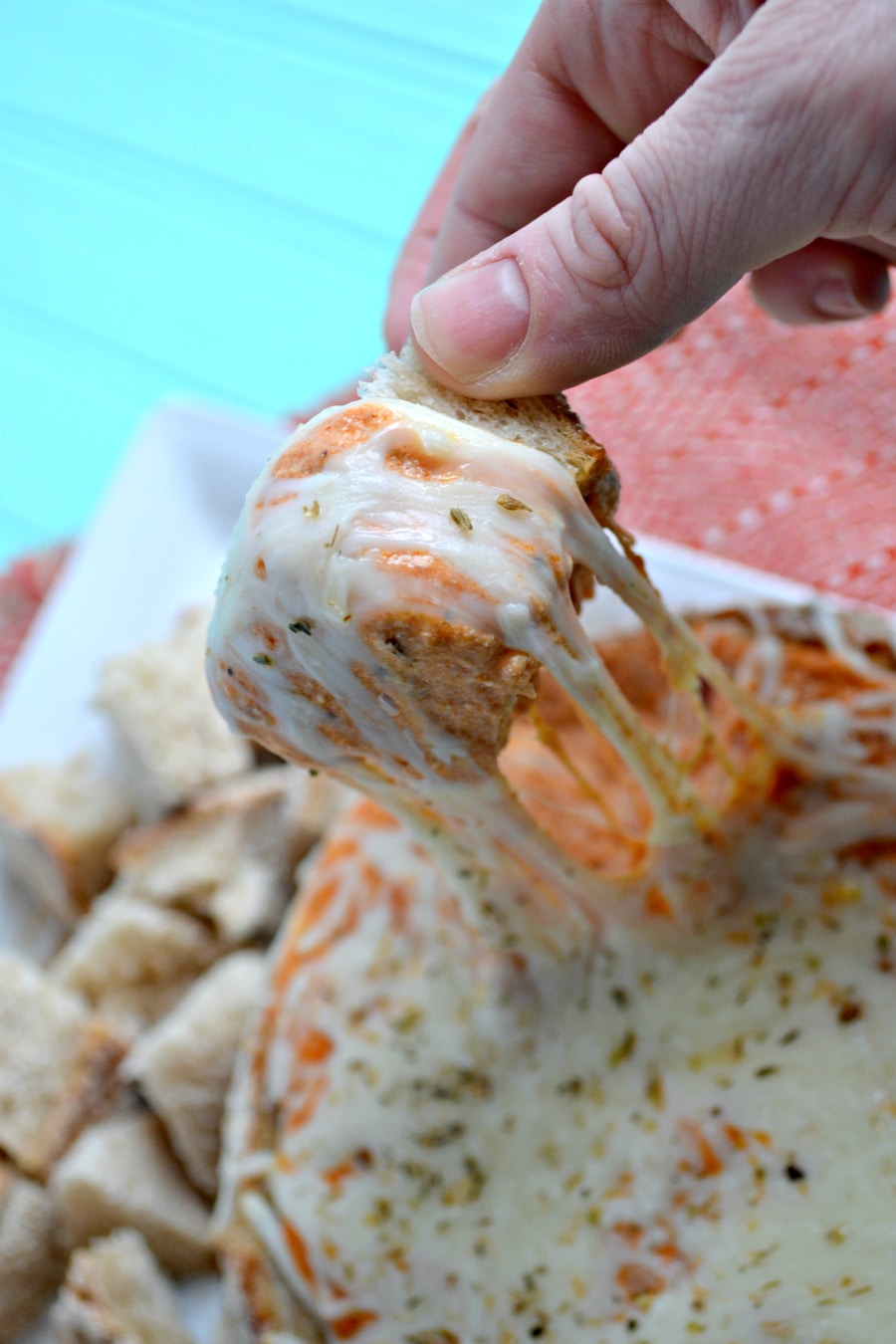 You're welcome.
ENJOY and please stop by The Cards We Drew if you want more fun and easy recipes like this!
Print
Pizza Dip Stuffed Bread Bowl
Make this easy and delicious Pizza Dip Stuffed Bread Bowl for your guests to enjoy!
Author:
Prep Time:

10 minutes

Cook Time:

30 minutes

Total Time:

40 minutes

Category:

Appetizers
1

bread bowl, Italian or Sourdough Bread

1

14-oz. jar pizza sauce

1

package mini pepperoni

1

8-ounce package softened cream cheese

1/2 cup

ricotta cheese

1/3 cup

parmesan cheese

½ teaspoon

dried oregano leaves

1 cup

shredded mozzarella cheese (in dip)

1/2 cup

mozzarella cheese for on top
Instructions
Preheat oven to 350º F.
Mix pizza sauce, cream cheese, cheeses, and oregano in a bowl.
Transfer mixture to oven-safe dish and bake in oven for 20-25 minutes, until melted and bubbly.
While dip is baking, hollow out an Italian or Sourdough Bread Bowl and set bread aside for dipping.
Once dip is baked, transfer to bread bowl and top with remaining 1/2 cup of mozzarella and a small sprinkle of oregano (for garnish).
Bake in bread bowl another 5-7 minutes or until melted, then remove from oven.
Surround bread bowl with your bread chunks and serve warm!
Pin it for later!