We're 33 weeks along and I'm finally starting to feel the slightly uncomfortable symptoms of pregnancy. Still, as mild as these symptoms are, I consider myself really lucky thus far. I've been starting to feel a little swelling in my legs and feet, so I'm trying to keep hydrated as much as possible. My hips and legs don't seem to work as efficiently these days. It's the worst during those middle-of-the-night bathroom breaks. You'd think I were an 80-year-old woman, I move soooo slowly. Turning over in bed takes an act of Congress. My bones are stiff and achy and I've started to waddle! Oy. And hello surprise leg cramps! They enjoy waking me up in the wee hours just to say hello.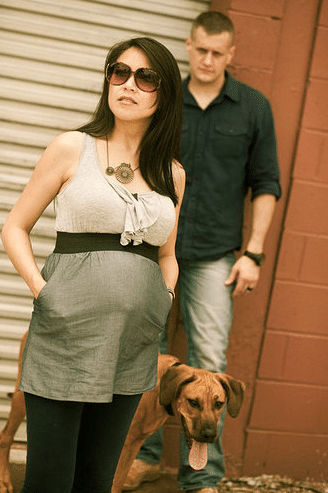 Photo courtesy: Janet Howard
I've been feeling a lot of Braxton Hicks contractions lately. They're basically 'practice' contractions, when your uterus starts preparing for the real thing. Fortunately, they don't hurt, they're just mildly uncomfortable because it feels like an overall tightening across my abdomen.
Eggroll is getting stronger and more active, it seems. Husband and I literally watch in awe as she contorts my belly in all sorts of interesting shapes. Her movements are so strong and sudden, they startle me at times. This pregnancy has just flown by! We've got only 7 more weeks to go, it's hard to believe I've been pregnant for 8 months! Here's hoping the remaining month and a half will sail as swiftly and smoothly.