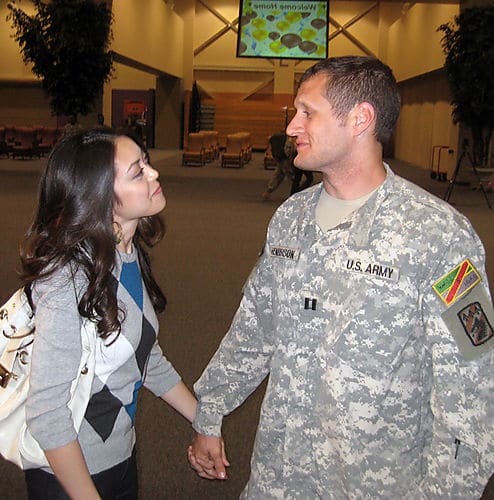 I just can't believe it. Our time has finally come. I feel overwhelmed, incredulous, and so completely blessed. Though Adam's 15-month deployment to Iraq was the most difficult experience we've had to endure, I am so thankful for this separation because it has held in it immeasurable life lessons, it has strengthened the bond between us, and has put all things into perspective.
We've had the opportunity to perfect the art of communication, patience, understanding, and love. We'll be less likely to take each other for granted because we'll always have this time to remind us how unbearable life was without each other. Being given that kind of perception, no matter how heartbreaking, is an amazing gift that we'll cherish and a skill we'll use for the rest of our lives.
It is truly astonishing what the heart can endure. Though there is so much heartache that comes with separation, the heart pumps stronger, and the indestructible feeling of being loved transcends all negativity that might have existed before.
I feel as if life is finally beginning… everything before, a wash of grey, but now, explodes into full-blown technicolor.