Hello and happy Monday, friends!  Welcome back to The 12 Days of Christmas Tablescapes Tour! Didn't Pauline's DIY Swiss cross-inspired table and neutral tablescape just make you swoon? Just another thing to add to my never-ending TO BUILD list.
I love how inspiring these DIY bloggers are: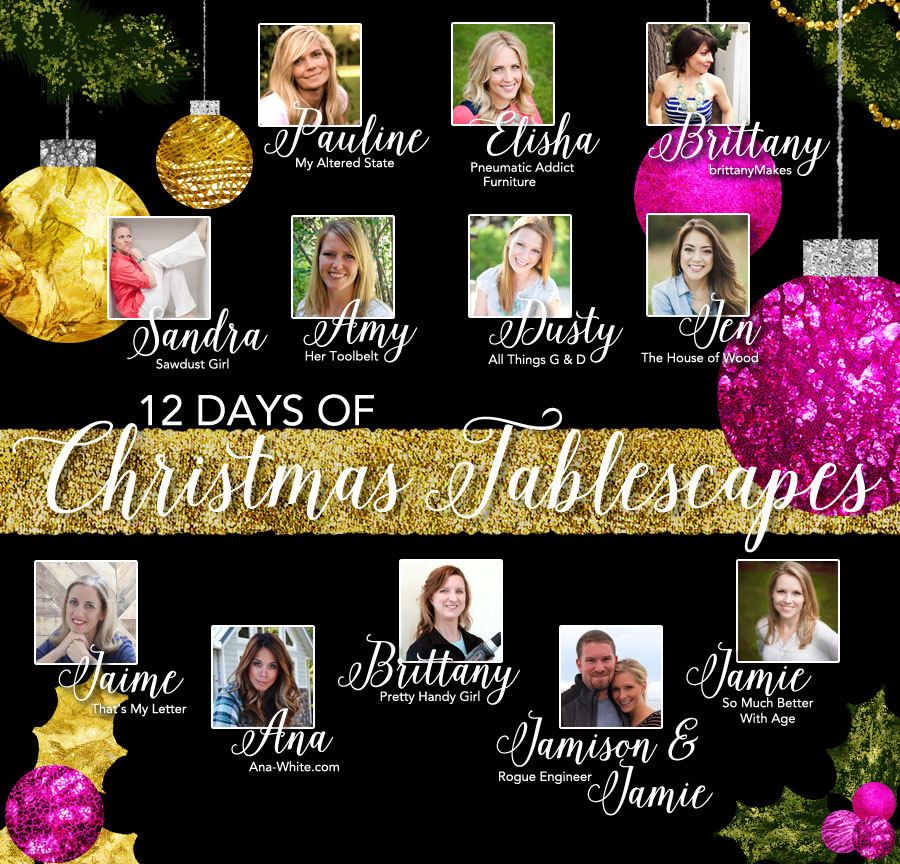 So it's now Day 11 and oh my goodness, you guys. You are going to flip out over Jaime's creative kids' Christmas table. Check out all the adorable, thoughtful DIY details, including a hanging centerpiece! I can't wait till she posts the tutorial for that. Her table seriously makes me want to sit at the kiddie table this year. Check it out here.
We've got one more day on this little Christmas table tour, so stick around… here's our full tour schedule:
Mon, 12/8 Rogue Engineer
Tue, 12/9 Her Toolbelt
Wed, 12/10 So Much Better With Age
Thu, 12/11 Pneumatic Addict
Fri, 12/12 Pretty Handy Girl
Mon, 12/15 All Things G&D
Tue, 12/16 brittanyMakes
Wed, 12/17 House of Wood
Thu, 12/18 Sawdust Girl
Fri, 12/19 My Altered State
Mon, 12/22 That's My Letter
Tue, 12/23 Ana-White.com
See you at Ana's place tomorrow as we wrap up this fun 12-part series!
Did you miss a day? No worries! Catch up here: