Well, it's the final day of our 12 Days of Christmas Tablescapes Tour! Wasn't Jaime's kids' table adorable and creative? I knew there would be so many amazing DIY details coming from this camp of creative DIY bloggers: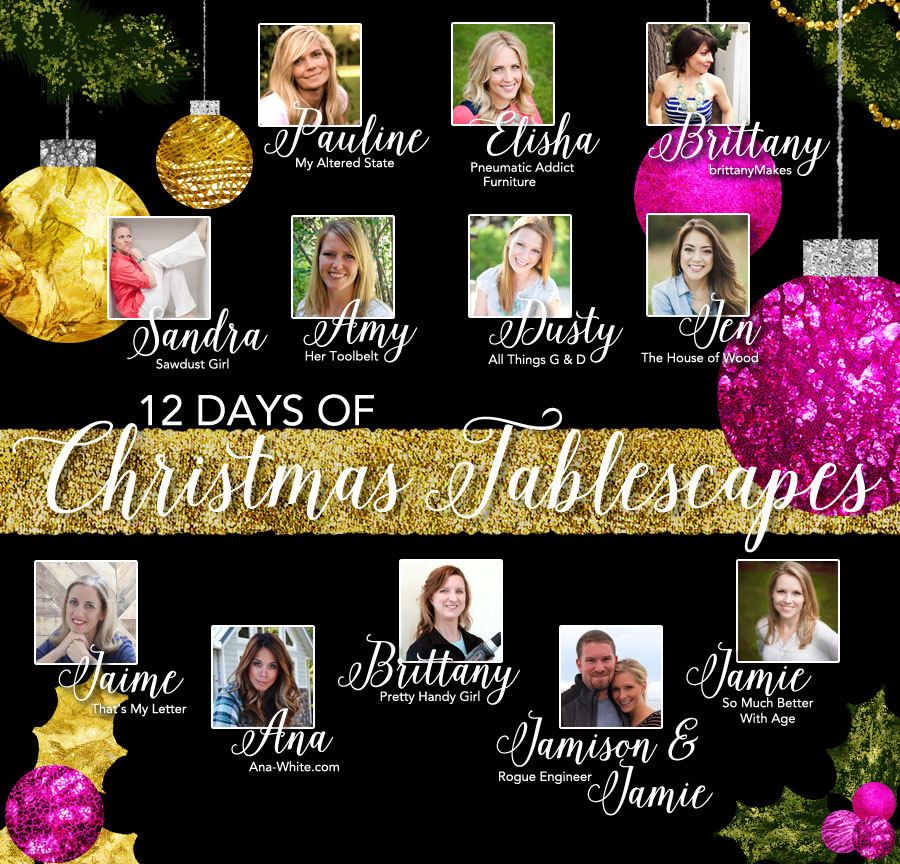 We're wrapping up this fun 12-part series over at Ana White's place. Check out her beautiful, warm, and welcoming table here.
When I considered which bloggers to invite on this little tour, I specifically wanted to put together a roster of DIYers who could and would do several things: 1) work with what they have, 2) create beauty out of humble beginnings, and 3) inspire you to do the same in your homes.
Perfection is overrated. Those designer rooms that you see in glossy magazines are astronomically-priced and just plain unattainable for most, which is pretty useless to me. And looking at all that stuff can be discouraging – we shouldn't compare our real, lived-in homes to glossy magazine shoots that cost tens of thousands of dollars and a team of stylists and designers to create. I'd much rather see homes that inspire and encourage; real spaces for real people. That, to me, is much more interesting than a space that you know no one actually lives in.
This tour wasn't about going to Plume Blanche and buying up their leather and diamond-encrusted furniture and then calling it your own. It's about inspiring the fearless DIY mentality in our readers. Sure, you can purchase "style" and pay a pretty penny for it. But style and substance – stylish spaces that are still functional, creative, and welcoming? That is what really counts and these bloggers brought their A-game to the table (ha – see what I did there?) #punsaretonsoffun
Thank you so much for joining us on our little tablescape tour! I hope you leave feeling warm and fuzzy and completely inspired. From our homes to yours, we're wishing you a very merry Christmas and happy 2015!
Did you miss a day? No worries! Catch up here: