*This post is sponsored by The Home Depot.
Hello and happy Tuesday, friends! Today we're taking a close look at the new brushless drill/driver and impact driver kits from DeWalt and Ridgid!
Price
Prices may be subject to change, but as of the date of this review, the prices of each combo kit are as follows:
DeWalt: $249
Ridgid: $179
Both combo kits include:
Brushless Impact Driver
Brushless Drill/Driver
2 Lithium Ion Batteries

DeWalt: (1) 2Ah and (1) 4 Ah
Ridgid: (2) 1.5 Ah

1 Charger
1 Bag
Both the drill and impact have a DeWalt brushless motor which delivers up to 57% more run time over brushed

DCF887 has 3-speed settings for versatility with Precision Drive for added control

DCD796 has a high speed transmission with 2-speed settings
Brushless technology at entry level price point.

Impact driver has an industry leading 2,250 in.-lbs. of torque

Backed by the industry's only Lifetime Service Agreement
Specs Comparison
Voltage
Drill/Driver No Load Speed

DeWalt: 2 speeds: 0-550/o-2,000 RPM
Ridgid: 2 speeds: 0-5oo/0-1,800 RPM

Impact Driver No Load Speed

DeWalt: 3 speeds: 0-1,000/0-2,800/0-3,250 RPM
Ridgid: 3 speeds: 0-700/0-2,000/0-2,600 RPM

Warranty

DeWalt: 3 year limited warranty, 1 year free service
Ridgid: Lifetime warranty + free batteries and service
I have to give the win to Ridgid on a couple accounts. First, the price. The two brands are so close in specs – the $70 price difference seems like a huge gap.
Second – and this is a big one – Ridgid's lifetime warranty! You just can't beat it. Free batteries and service for LIFE?! That's just insane (in a good way). It's quite an impressive way for them to show consumers that they stand behind their products 100%.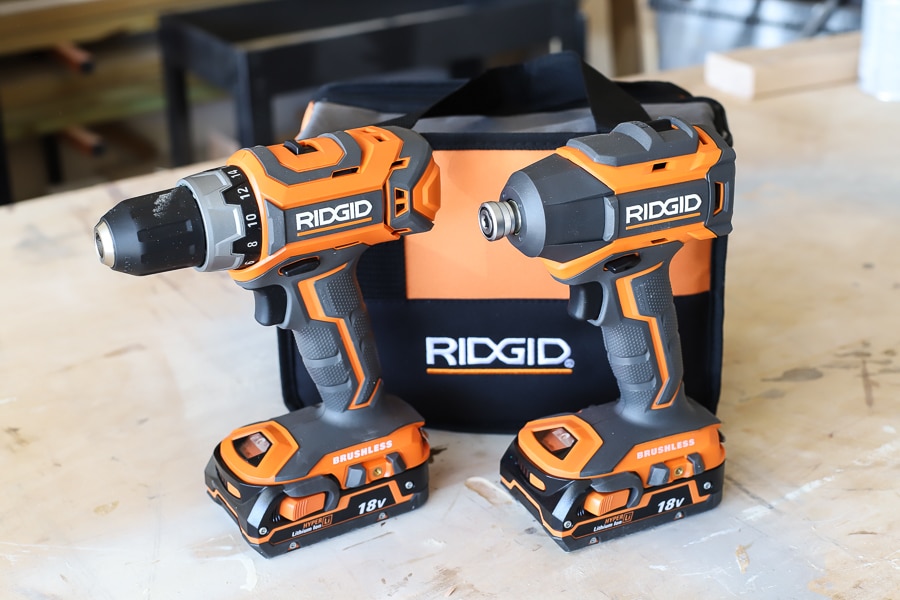 We used all four of the drills on our neighbor's triple bunk bed build and were able to truly compare the two brands side-by-side.
While the DeWalt specs tout more power and speed, we didn't experience a considerable difference in performance. The DeWalt felt a little smoother and was a little quieter to operate than the Ridgid, but the difference was minimal.
Both drills felt very comfortable in our hands and were easy to operate. I especially appreciate the lightweight and compact size for my small hands, while Adam was indifferent here. But he has big man hands, so his opinion on this count is moot.

LED Lights
DeWalt wins this one. Both have LED lights, but as you can see from the photos, DeWalt's lights are much brighter and better positioned on both the impact driver and drill/driver. Ridgid's lights are located at the base of the drill, which makes for a dimmer-lit work area. While the light is located at the base of the DeWalt drill/driver (like Ridgid's), it's tilted up, lighting the work area substantially.

Battery Handling
Ridgid wins this one. Handling the battery on the Ridgid drill is easier and feels more natural than the DeWalt. The DeWalt's button is larger and is located on the top front of the battery, which feels a bit more awkward to press when removing the battery. There are two buttons on each side of the Ridgid battery, which allows for a more natural hand position. Notice Adam's strange claw hand on the DeWalt. Also, when pressing the Ridgid's button, it actually ejects the battery out, making removal more effortless.


Chuck
Ridgid wins this one based primarily on personal preference. It's a toss-up otherwise. Adam says the thought of tightening the DeWalt drill's chuck with his bare hands gives him the heebie jeebies (that's a technical term). Something about that metal ratcheting chuck makes his hair stand on end. I guess it's the same as how some folks can't stand the sound of nails on a chalkboard.
The chuck on the DeWalt doesn't bother me, but I usually defer to Adam when tightening the chuck anyway, because he has the grip of a pro golfer. I do like that the DeWalt's chuck is metal, whereas Ridgid's is plastic.
*Note to Adam: wear gloves when tightening the chuck on the DeWalt drill.

Additional Features
Ridgid has this nifty little drill bit holder – a small, but nice-to-have feature. I don't understand why all tool brands don't include this clever feature on all of their drills. Seems like a no-brainer to me. Win for Ridgid.

Tool Throwdown Final Thoughts
While the DeWalt and Ridgid Brushless Drill/Driver and Impact Driver Combo Kits are extremely comparable – their specs are nearly identical in power, speed, handling, and performance – there's a $70 price difference between the two brands. It's the lifetime warranty and the small, but thoughtful details like the drill bit holder and effortless battery handling that sets Ridgid apart. If you're in the market for a powerful yet affordable brushless drill/impact driver combo kit, Ridgid is your go-to guy.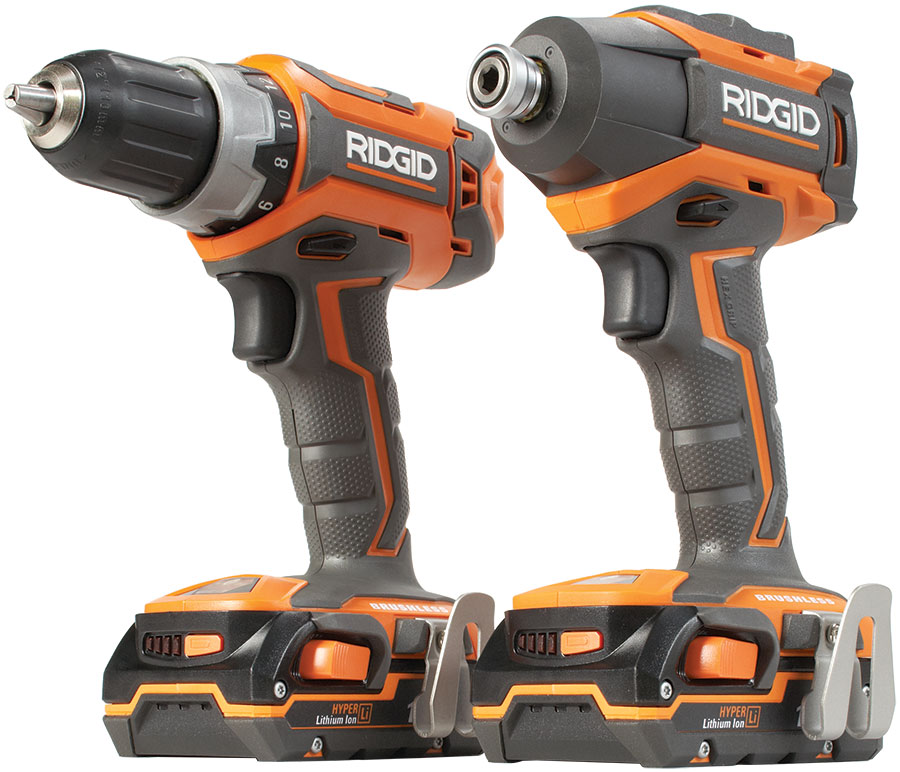 *I acknowledge that The Home Depot is partnering with me to participate in the ProSpective 2018 Campaign. As a part of the Program, I am receiving compensation in the form of products and services, for the purpose of promoting The Home Depot. All expressed opinions and experiences are my own words. My post complies with the Word Of Mouth Marketing Association (WOMMA) Ethics Code and applicable Federal Trade Commission guidelines. This post contains affiliate links. To read my full disclosure policy, please click here.