Our kitchen renovation is moving along quite nicely – we're making quite a bit of progress and there's a light at the end of the tunnel! If you missed my previous blog posts on this kitchen renovation, you can check them out here:
Today is an especially exciting day because we finally have running water back in the kitchen! The marble countertops have been installed, the faucet has been plumbed, and the garbage disposal has been hooked up. We're still waiting on the dishwasher and range to arrive, but we're thrilled to be able to use the sink now! We've been so fortunate to have a sink in the laundry room, which is where we've been doing dishes for the duration of this renovation.
Let's briefly talk about this sink and faucet situation. Is it weird to be in love with a kitchen sink and faucet? Because that's totally happening right this second. I mean… can you even handle this?!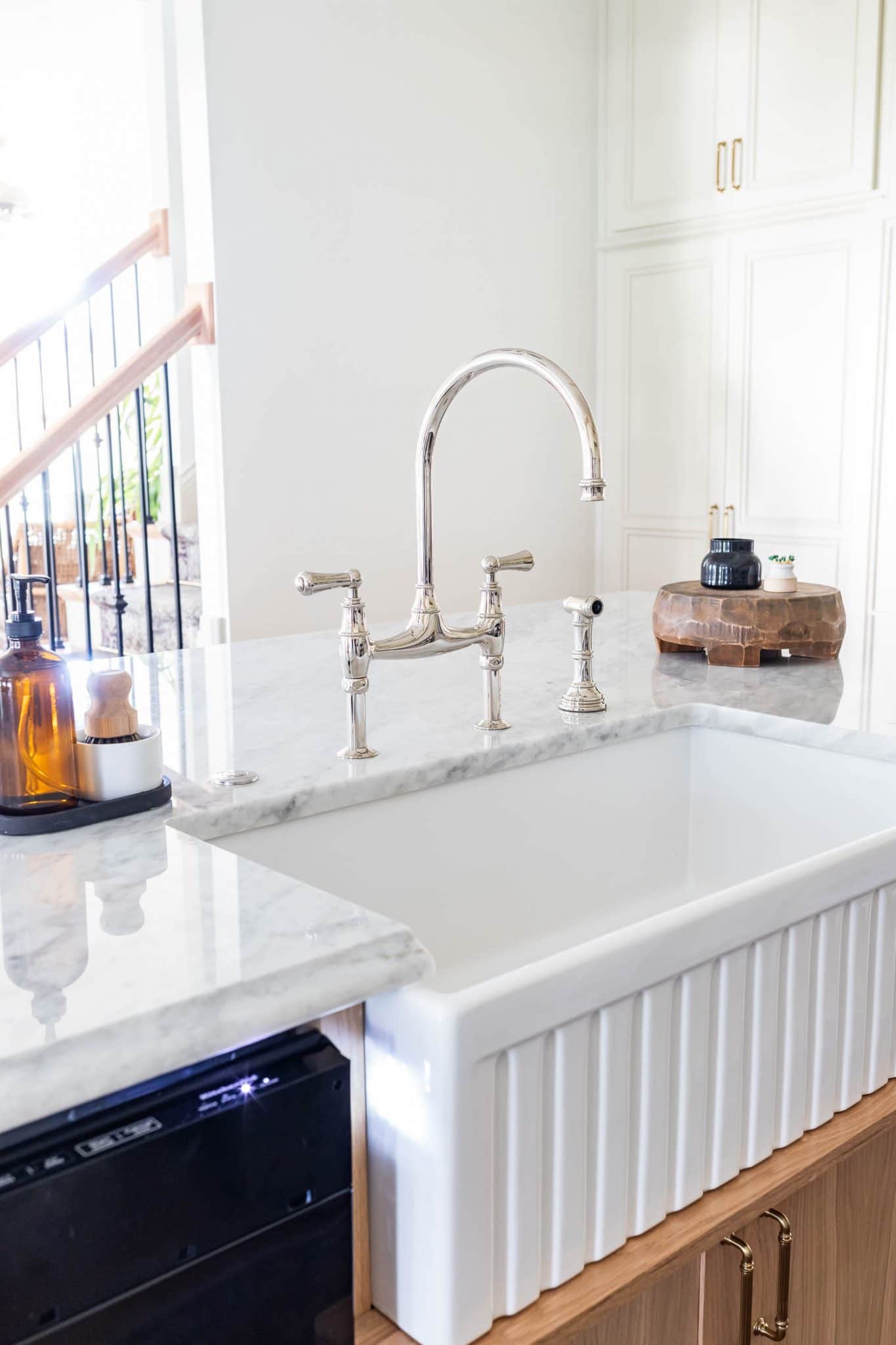 *This post is brought to you in partnership with The Home Depot. Thank you for supporting the wonderful brands that support this site!
Hello, Beautiful! Both the sink and the faucet came from The Home Depot. I'm so happy we decided to go with a single-basin sink – I've wanted one for years! We've always had a double basin sink in our previous homes and found it frustrating that large pots, pans, and cookie sheets never could lay flat inside the sink. Having the wide space of the single-basin sink feels like such a luxury – it fits everything and then some! This is a 33-inch white fireclay sink that's tough, durable, rust-proof, and heat-, chip-, scratch-, and stain-resistant. The fireclay composition is noise-reducing, and the sink comes with a lifetime warranty!
Also, this sink is reversible – there's a flat front and a fluted front. Of course, I chose to show off that charming fluted apron (am I that predictable?!). With a farmhouse sink, water tends to run down the front of the apron and onto the cabinet doors, so we had a drip ledge built into the cabinetry to help mitigate that issue. I love this little detail!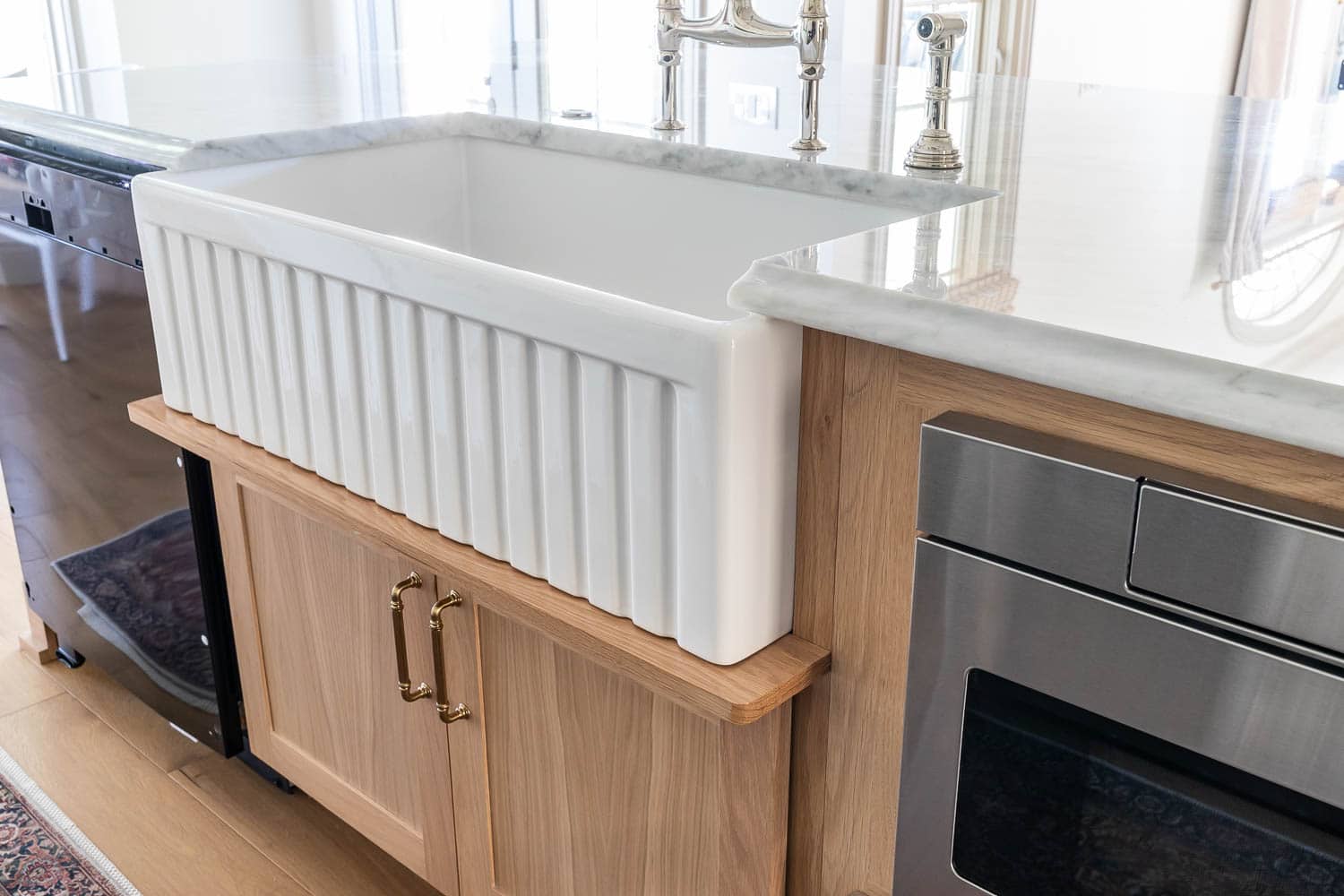 And can we just take a moment to "ooh" and "ahh" over this faucet?! I searched high and low before finding this one by Perrin & Rowe, a brand from ROHL. I've been obsessed with a bridge faucet for what feels like forever, but as I was hunting for the perfect one, I realized how picky I was about its features. The faucet had to have a grand, arching gooseneck (the bigger the better!), a handheld sprayer, a more traditional design with classic proportions and balance, solid brass construction, and a 3- hole installation. Many bridge faucets on the market are 4-hole installations, which feels a bit cluttered to me, especially since we were adding an additional hole for the garbage disposal button. Also, this 3-hole design makes cleaning the countertop around it a breeze. I'm really pleased with the heft and weight of the sprayer and the polished nickel finish is simply exquisite. I'm completely smitten by it.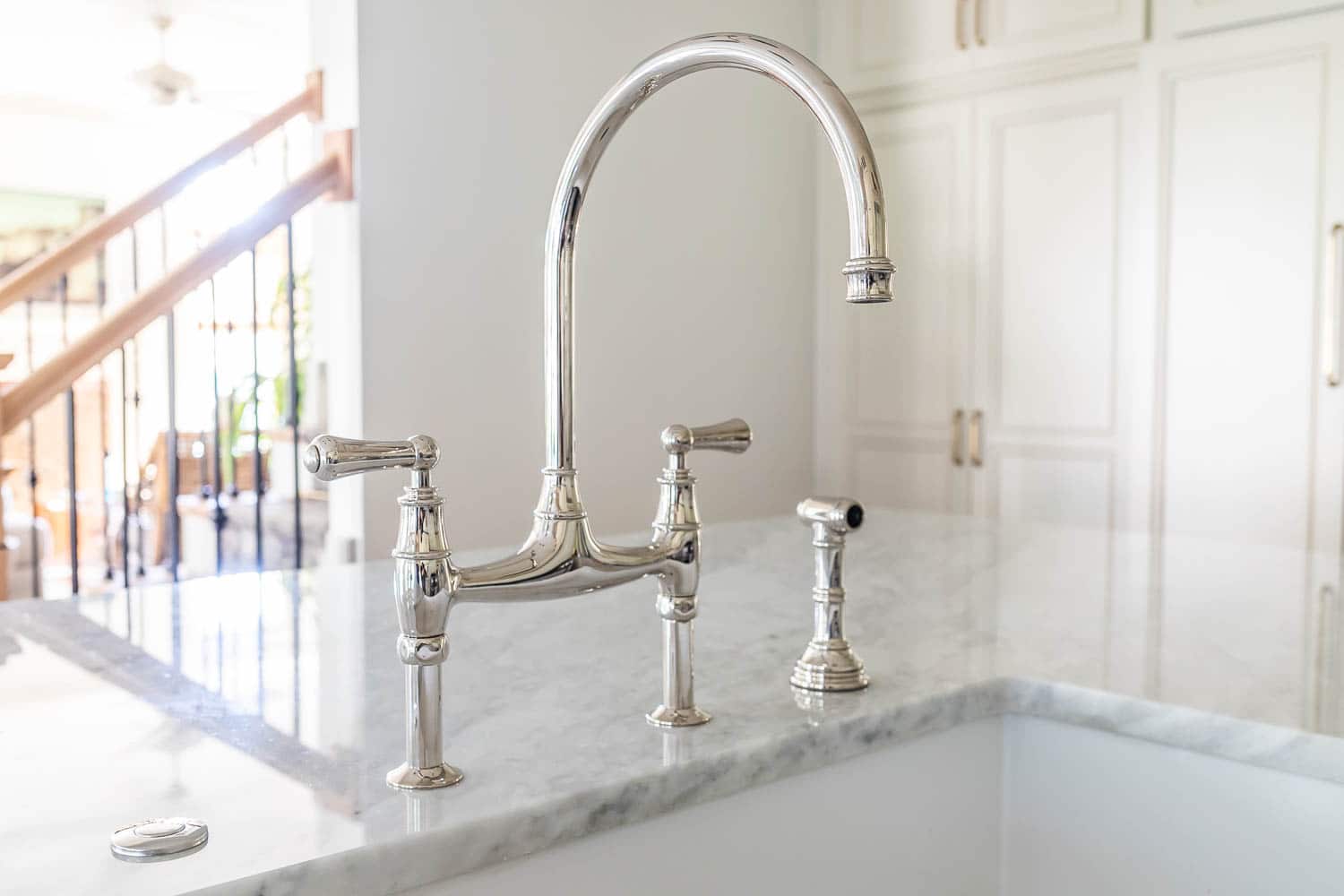 Did you know that The Home Depot offers several convenient delivery options? Most products qualify for free shipping and 2-day delivery. Or if you'd prefer to pick up in-store, many stores offer curbside, customer service, and locker pickups. I opted to place my order online via the mobile app and had the sink delivered straight to my cabinetmakers so they could fabricate the kitchen island exactly to the sink specs. Good thing too, because the sink was super heavy!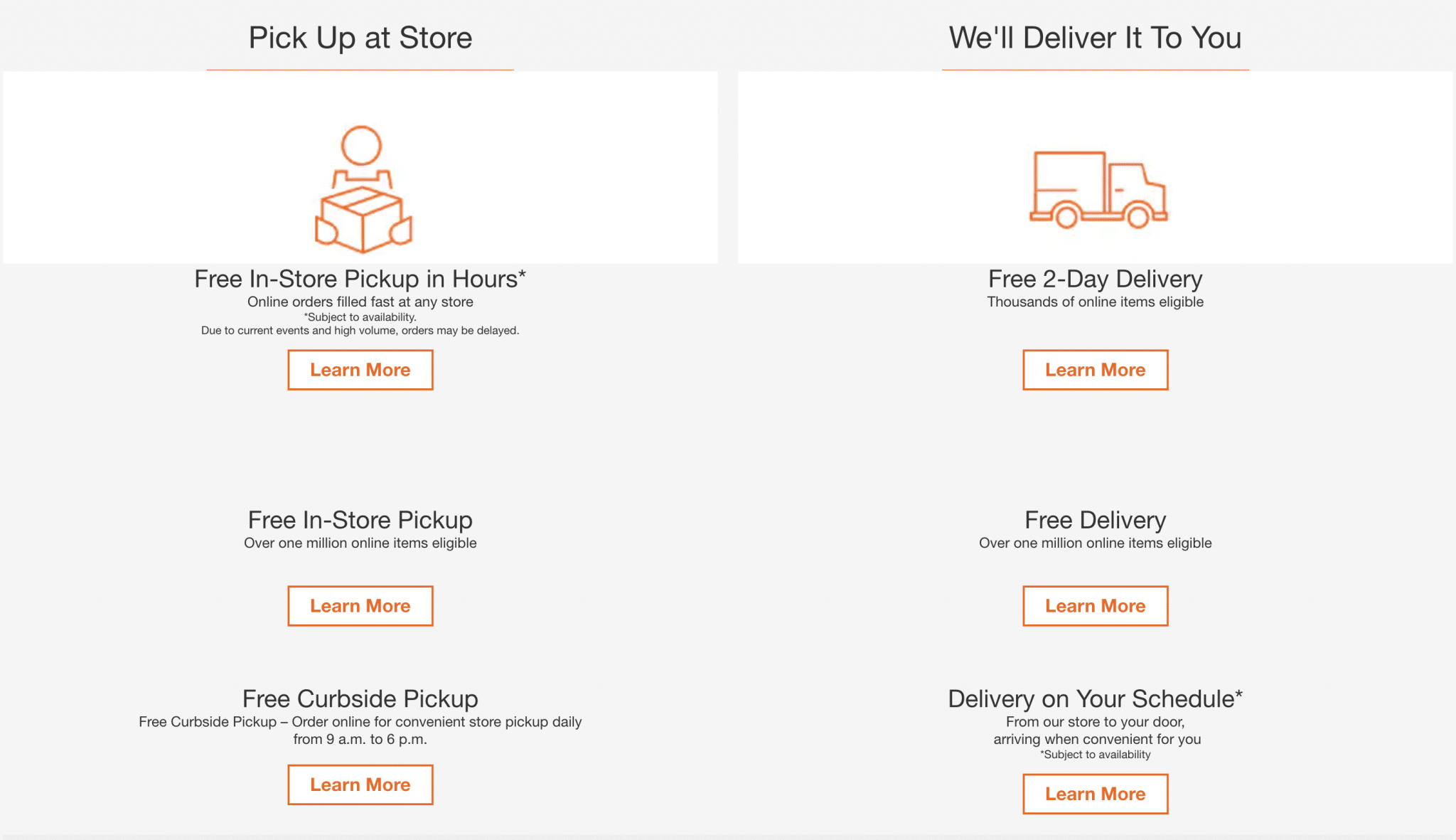 I can't tell you how happy I am to be able to wash dishes in the kitchen again! Ahhh… can you feel it? We're in the homestretch now! We've got a few more things to cross off the list before we call this kitchen renovation DONE-ZO!
To Do:
Finish electrical and hang light fixtures.
Repair drywall and paint ceiling, walls, and trim.
Tile backsplash.
Install appliances.