Hey guys! It's Shara here from Woodshop Diaries and I'm excited to bring you a super quick and easy scrap wood project: DIY Scrap Wood Guitar Bookends!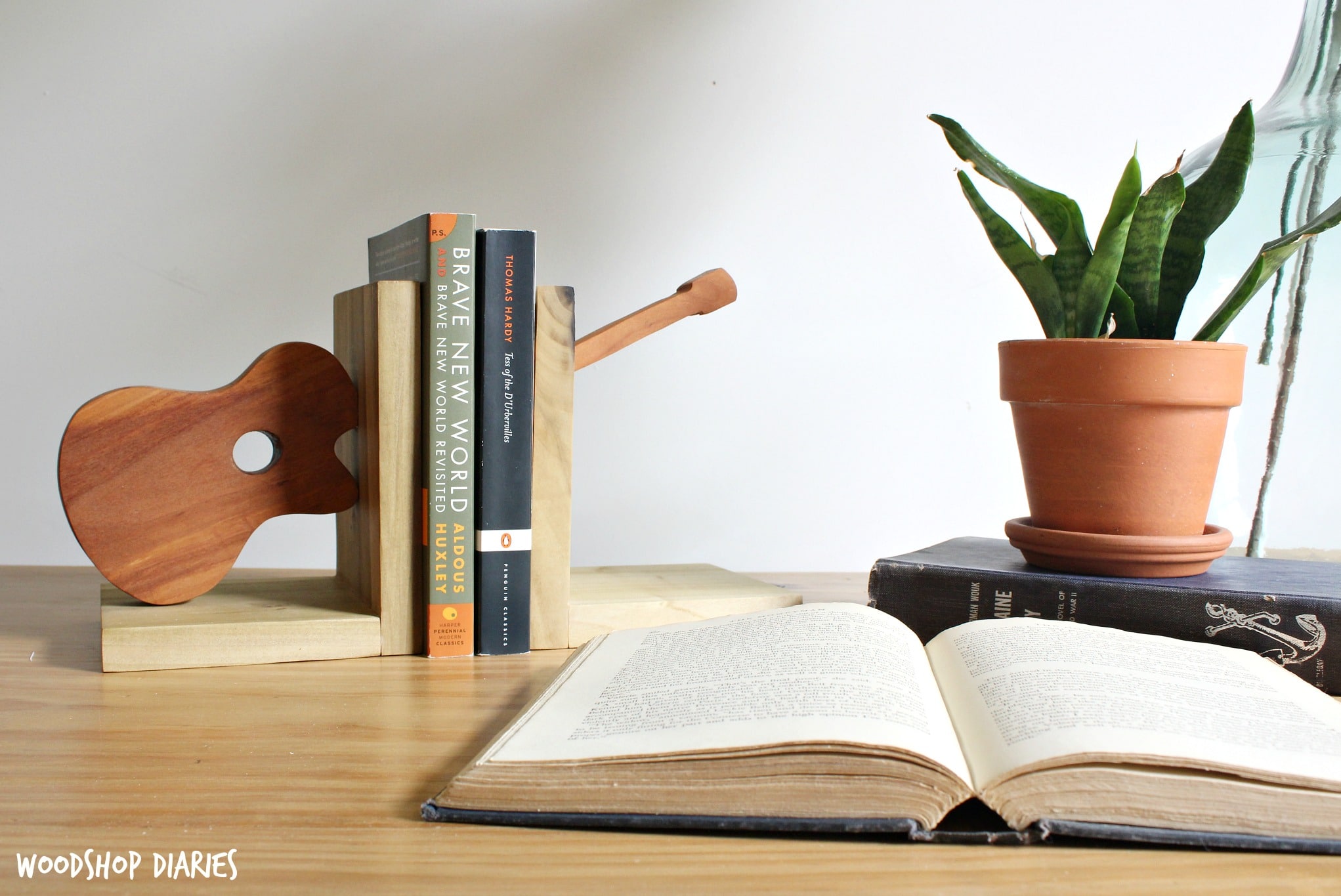 I just love a good scrap wood project, don't you?? I also love guitars. I also kind of have a strange obsession with bookends, so this seemed like a good project to marry them all together 🙂
What's cool about this project is that while I used a guitar, it would be SUPER simple to use just about anything else you're into… like cars, animals, other instruments… whatever you want, really. Then when you get done making one set, grab some more scraps and make something else 😉
Supplies and Tools for a DIY Scrap Wood Guitar Bookends
Scrap wood (at least 2 ft long and 5″ wide piece for the bookends and at least 11″ long piece for the guitar)
Wood Glue
Jig Saw
Drill (optional)
Speed Square
Clamps
First, grab the piece you want to make your shape out of, in this case, the guitar. If you are good at freehand drawing, that's awesome! Feel free to freehand your shape onto your piece. But if you are like me and can't draw to save your life, print off an image of your shape and either use as a guide or cut out and trace around it onto your piece. I made a scrap guitar out of plywood before I cut my real thing, because I was cutting cherry wood and didn't want to screw it up.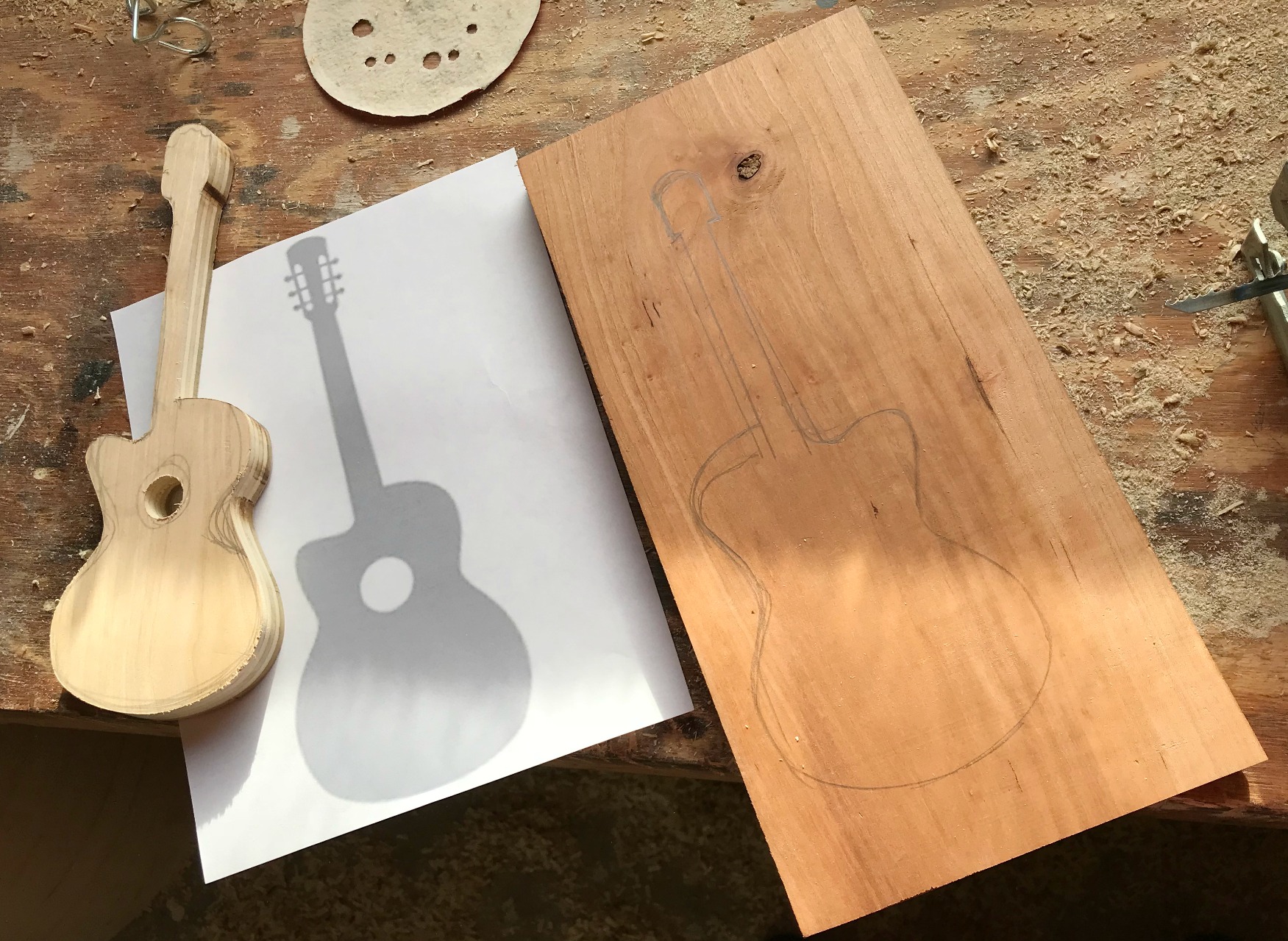 Then using a jig saw and a thin blade, cut out your shape. You could also use a scroll saw here, if you prefer.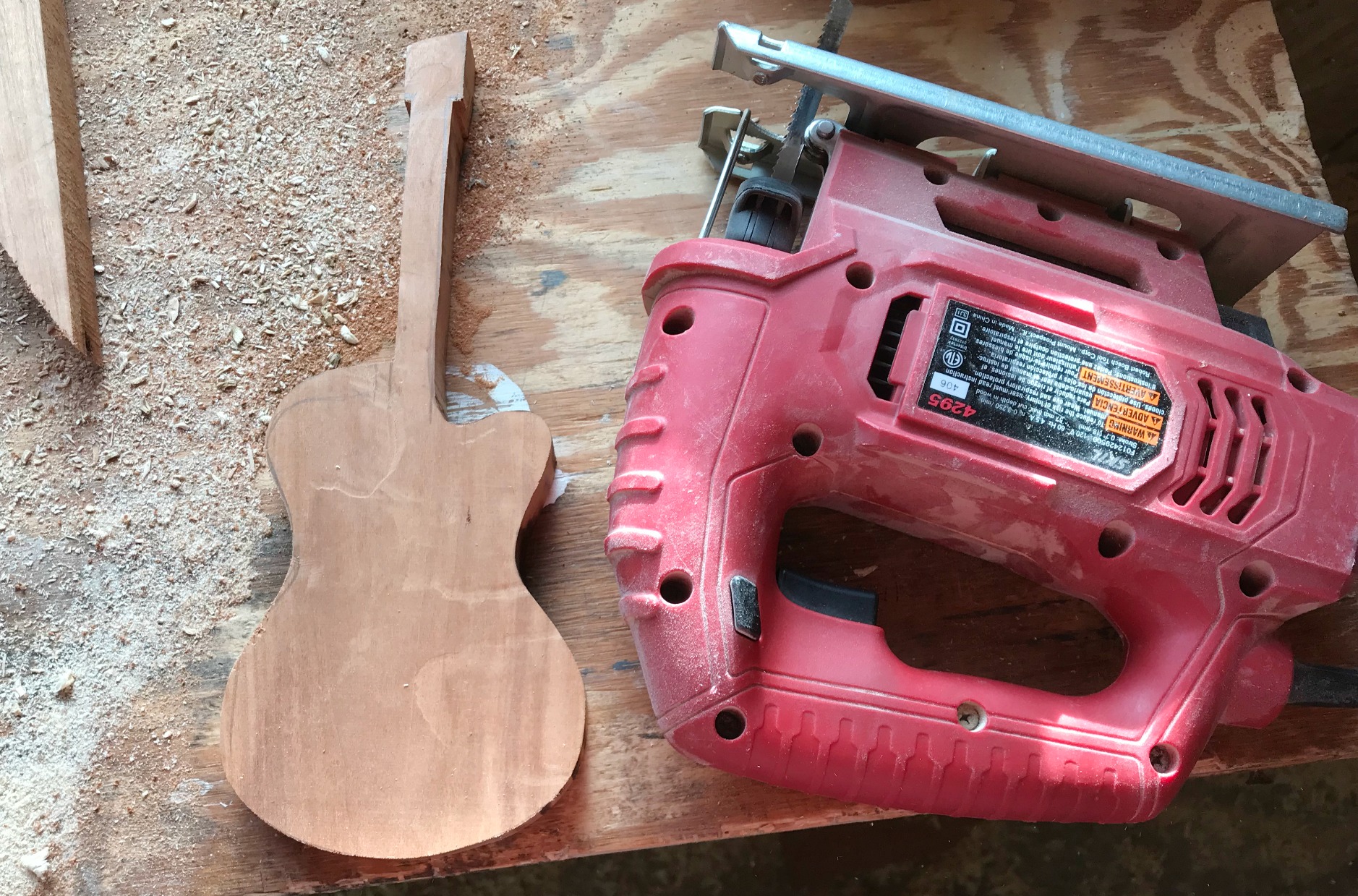 As an optional step, you can use a drill and a small spade bit to drill a hole into the guitar. Next, place a square on your workbench and your guitar on top so that it's angled and the full body is on the square and only the neck is off. Refer to the image below. Make a mark where the square intersects the square like shown. Ignore the mark on the right… I don't know what I was thinking when I made that – haha.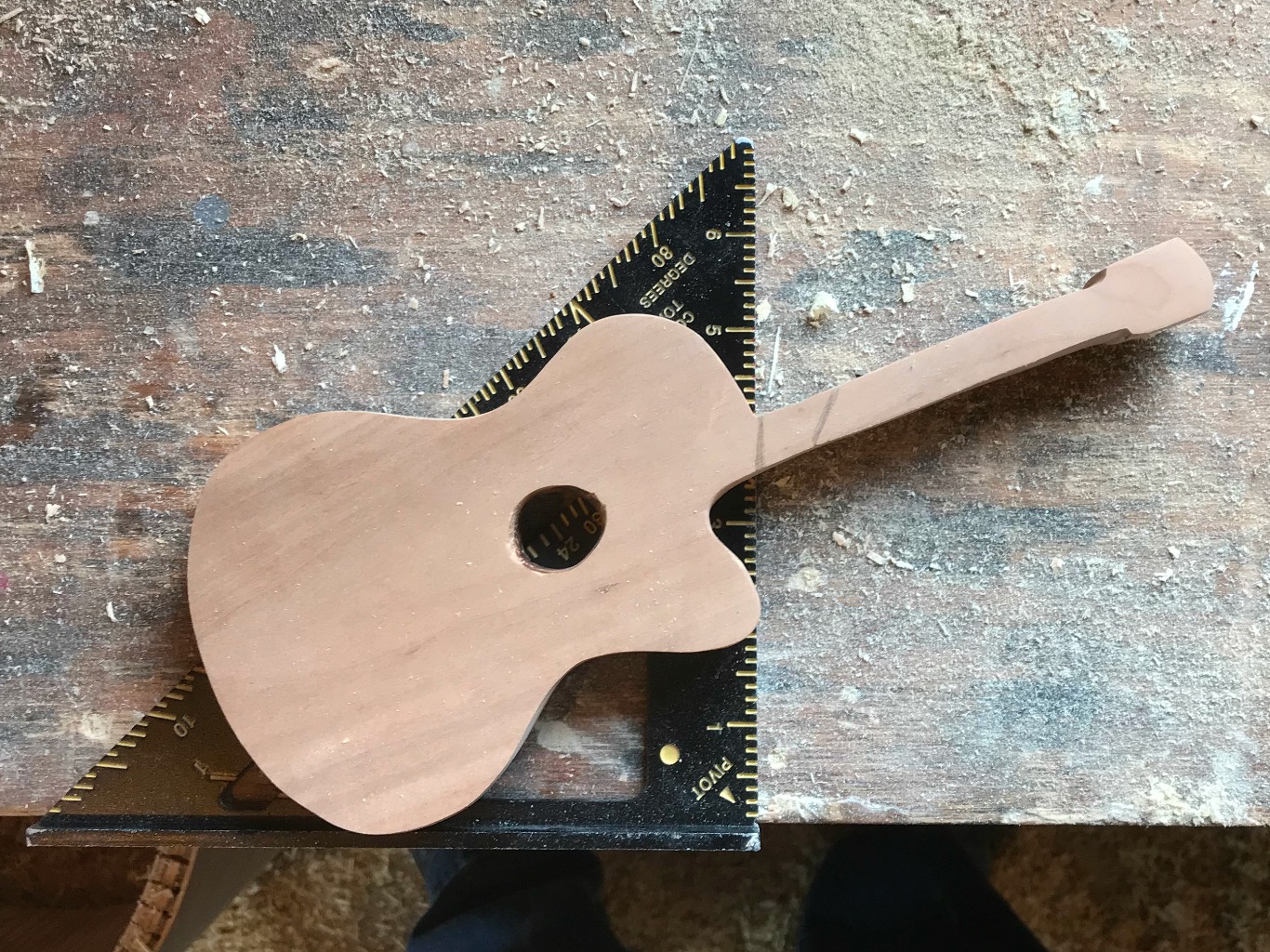 Using a jig saw, carefully cut along this mark as straight as you can. Then go ahead and finish the piece as desired: oil, stain, paint, etc.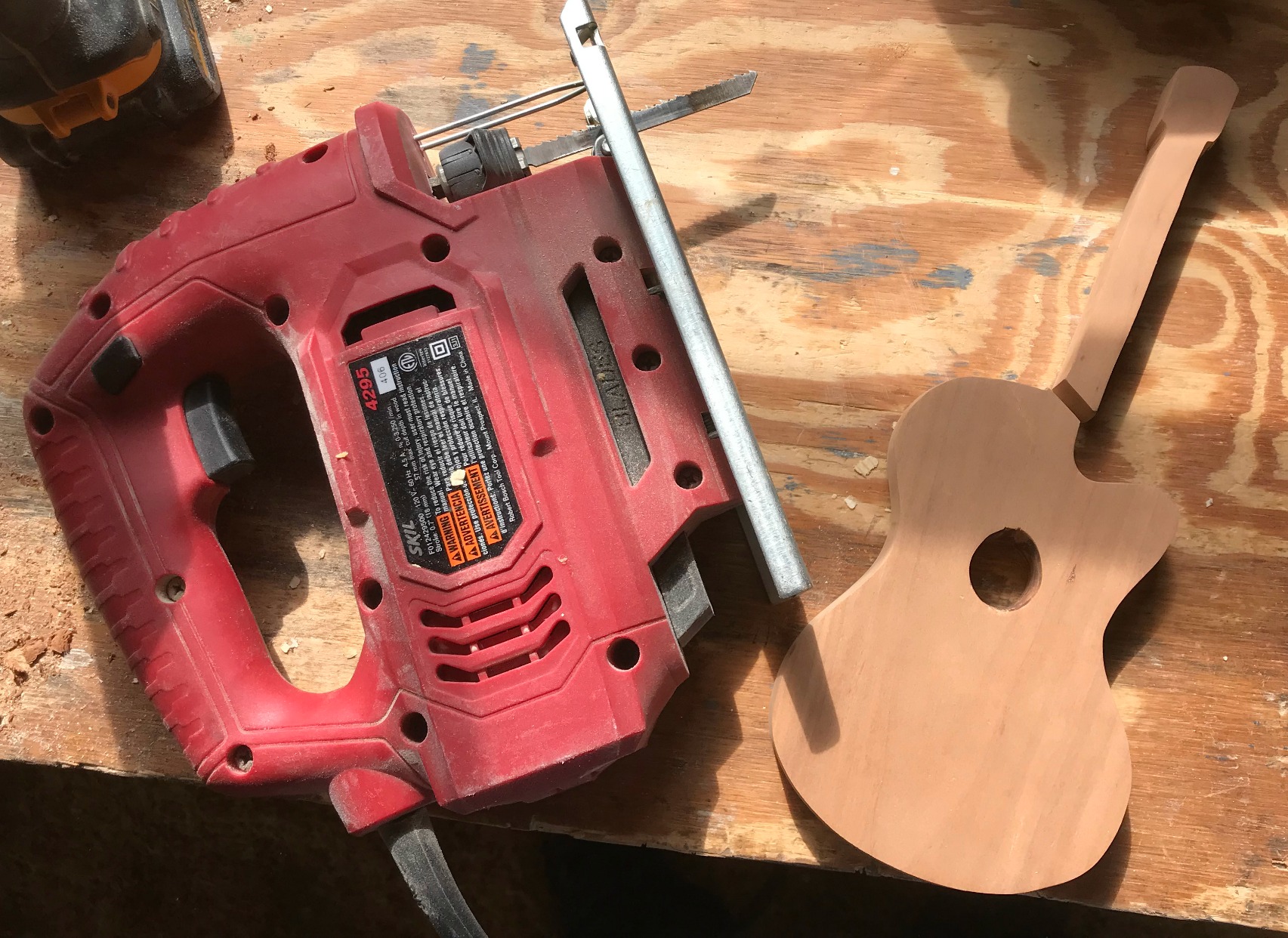 While the finish is drying, move on to make the bookends. Grab your 2-foot scrap piece and cut two pieces 6″ long and two pieces 5″ long.  If you have a miter saw, you can use that, but a jig saw and a straight edge would work, too.
To contrast with the guitar, I used poplar wood for this. But if you don't have different types of wood scraps, you can always achieve a similar look with different stain colors. By the way, if you like the look of this poplar, you will LOVE how this DIY Keepsake Box made from poplar turned out.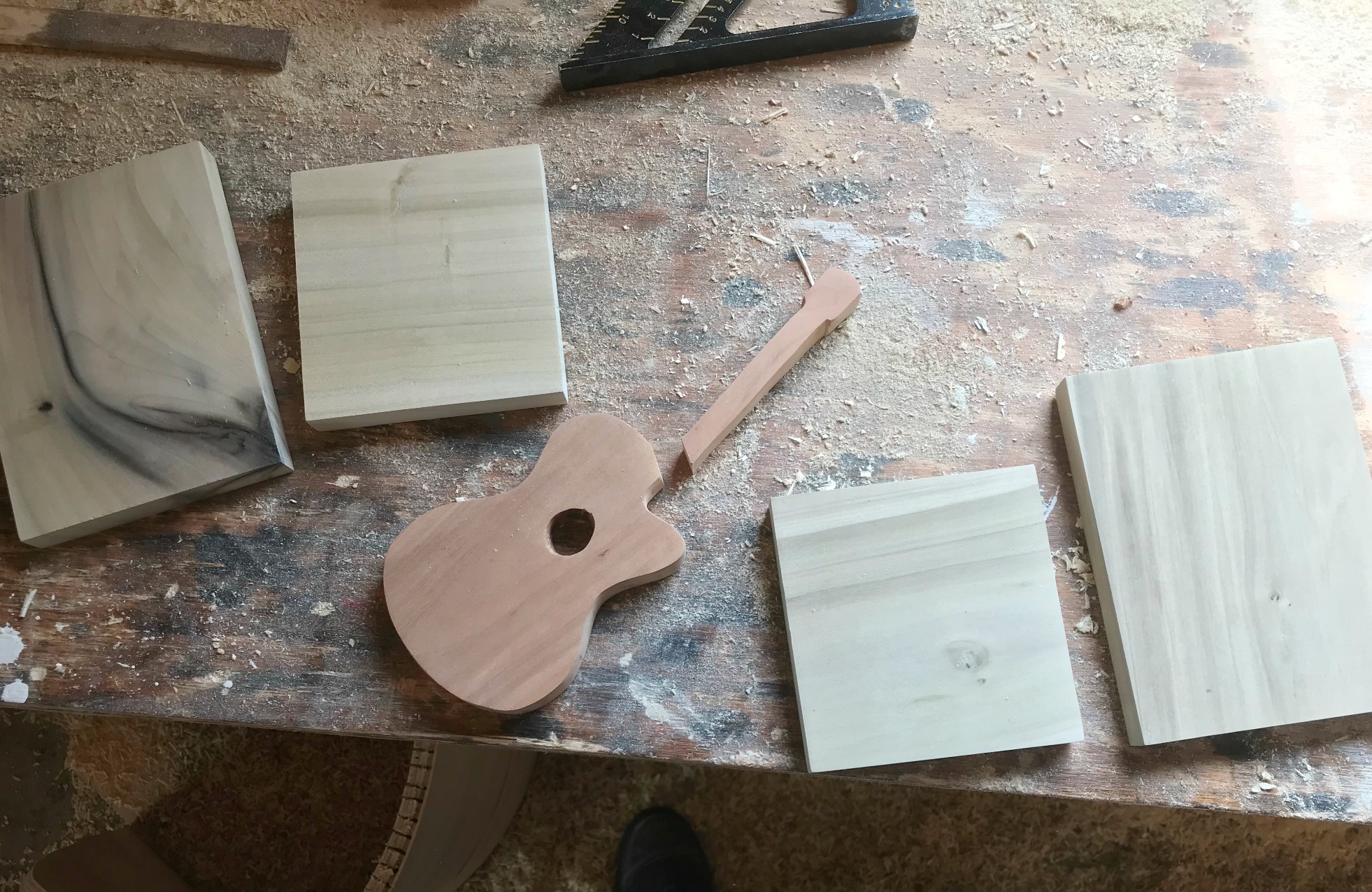 Now, just simply glue these pieces together into two "L" shapes like shown.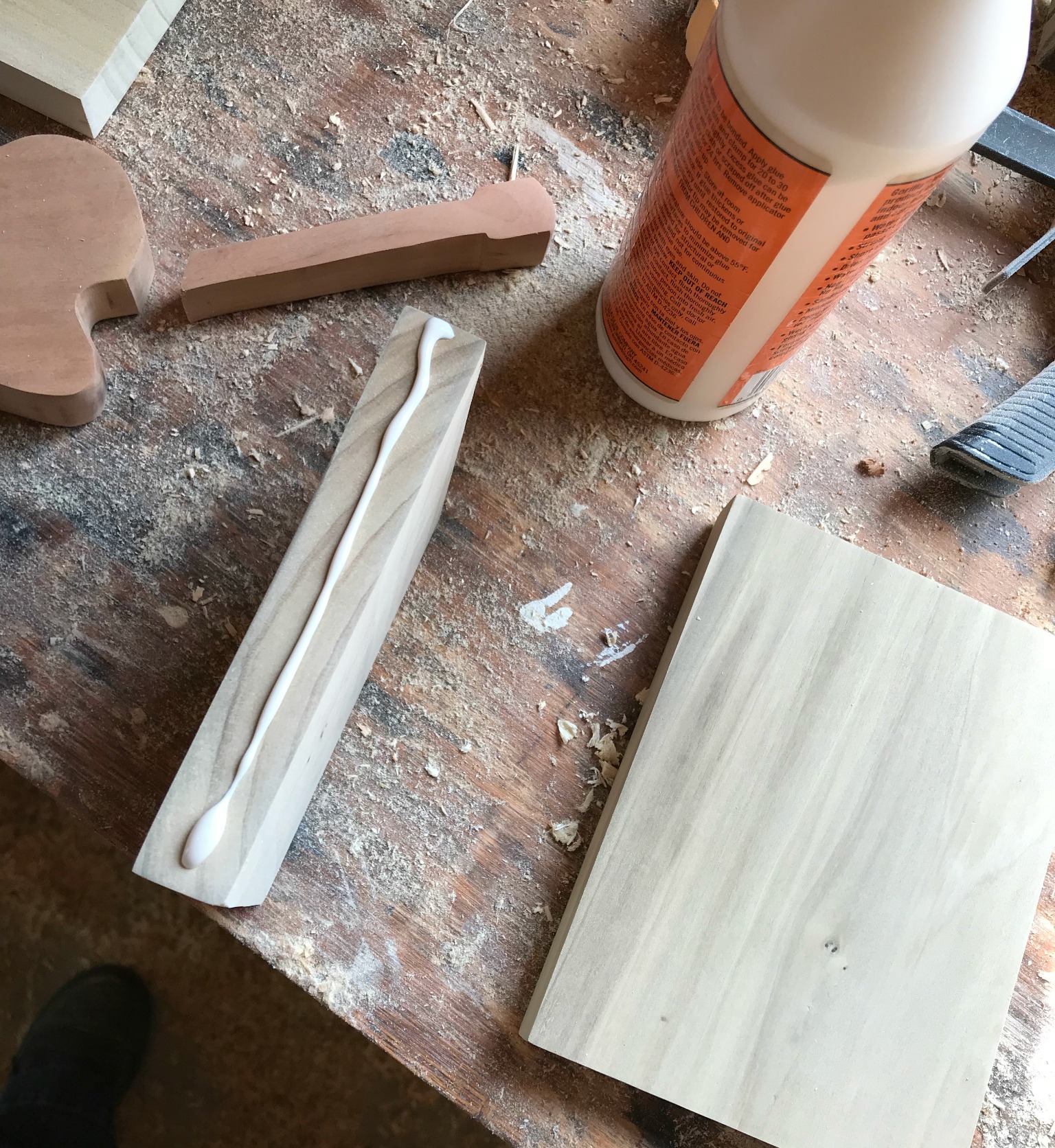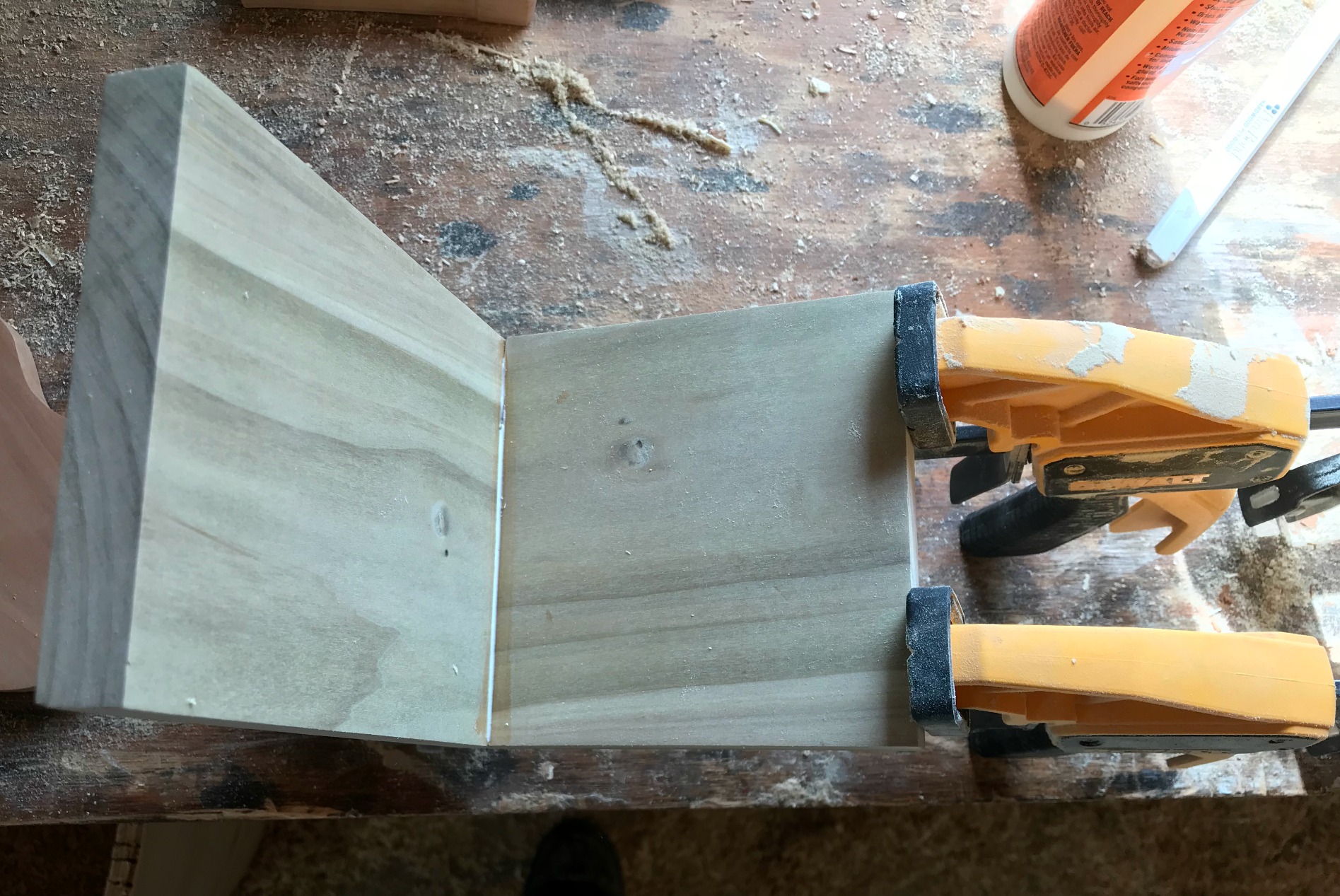 Once the glue is dry, finish (oil, stain, paint, etc) these pieces, then it's time to glue on the guitar shape. Carefully add a small amount of glue onto the guitar body where it will make contact with the bookend.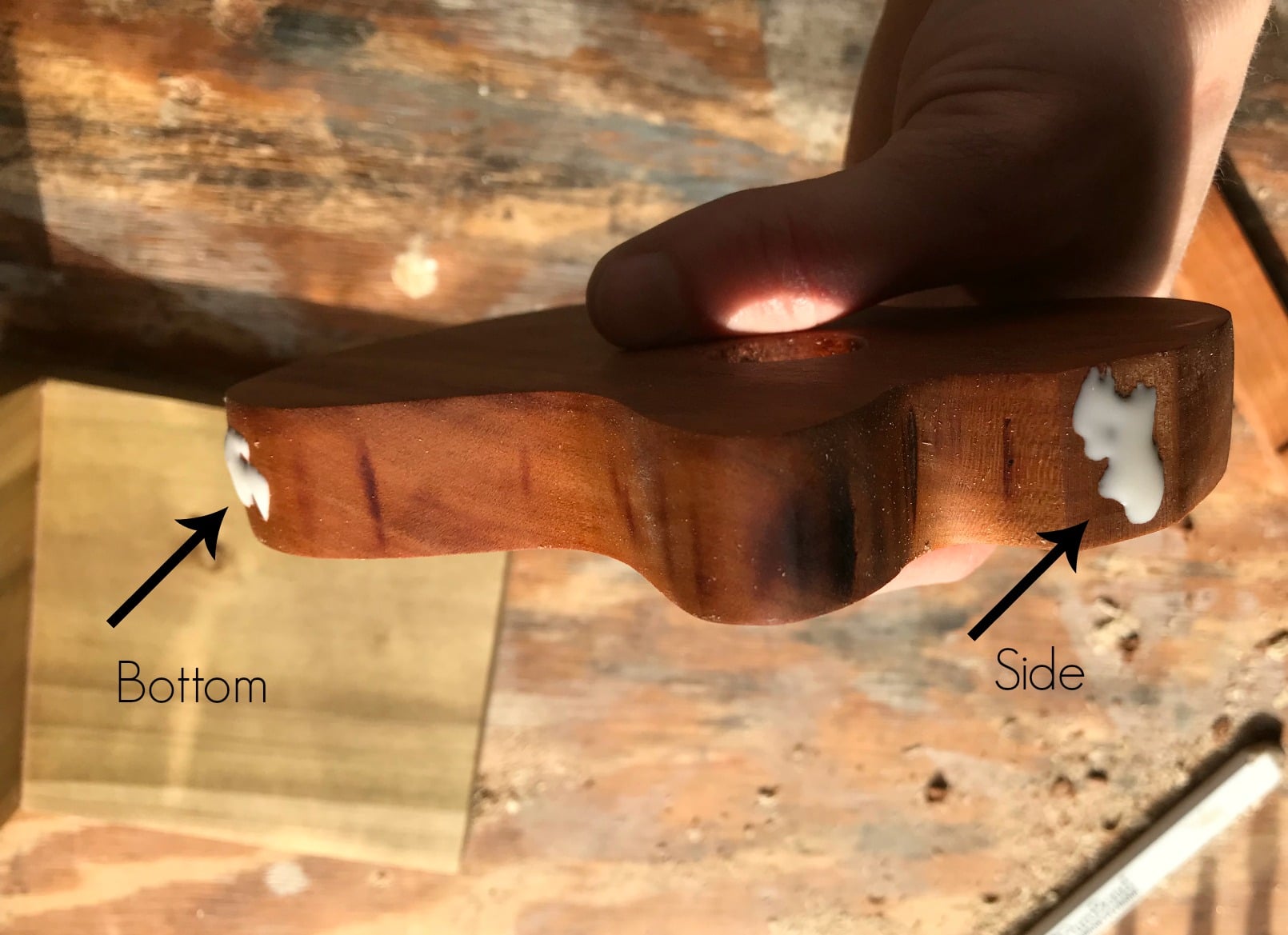 Then, set in place. It's pretty much impossible to clamp this, so just get it where you want it and carefully step away and don't move it until the glue is dry.
For the neck part, apply glue to the neck where it will contact the bookend and set in place. Be sure to set it next to the body to make sure you don't glue it too high or too low and it doesn't line up. It's helpful to let the glue dry while it's leaning against something to stay in place.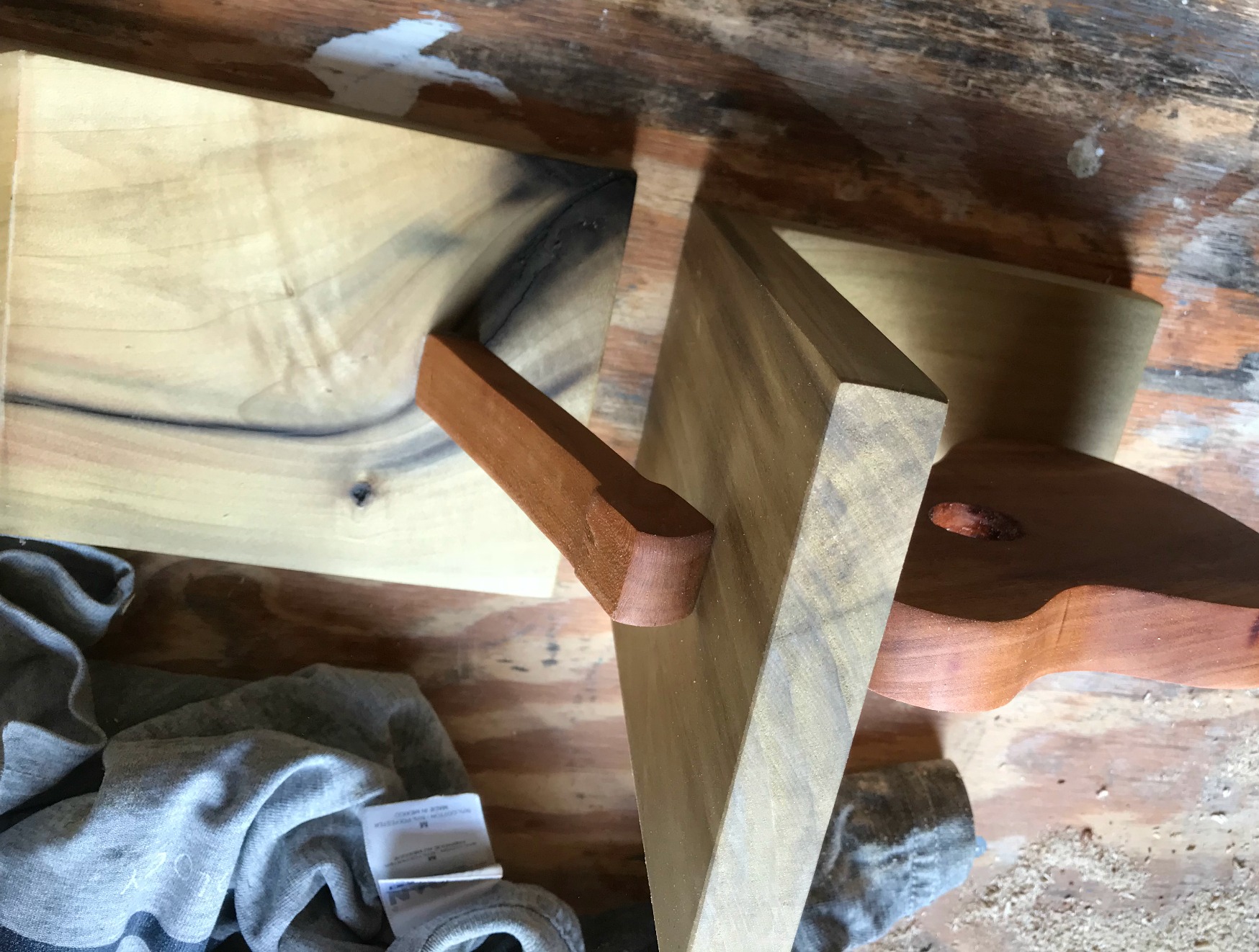 Once the glue is dry, it's ready to use!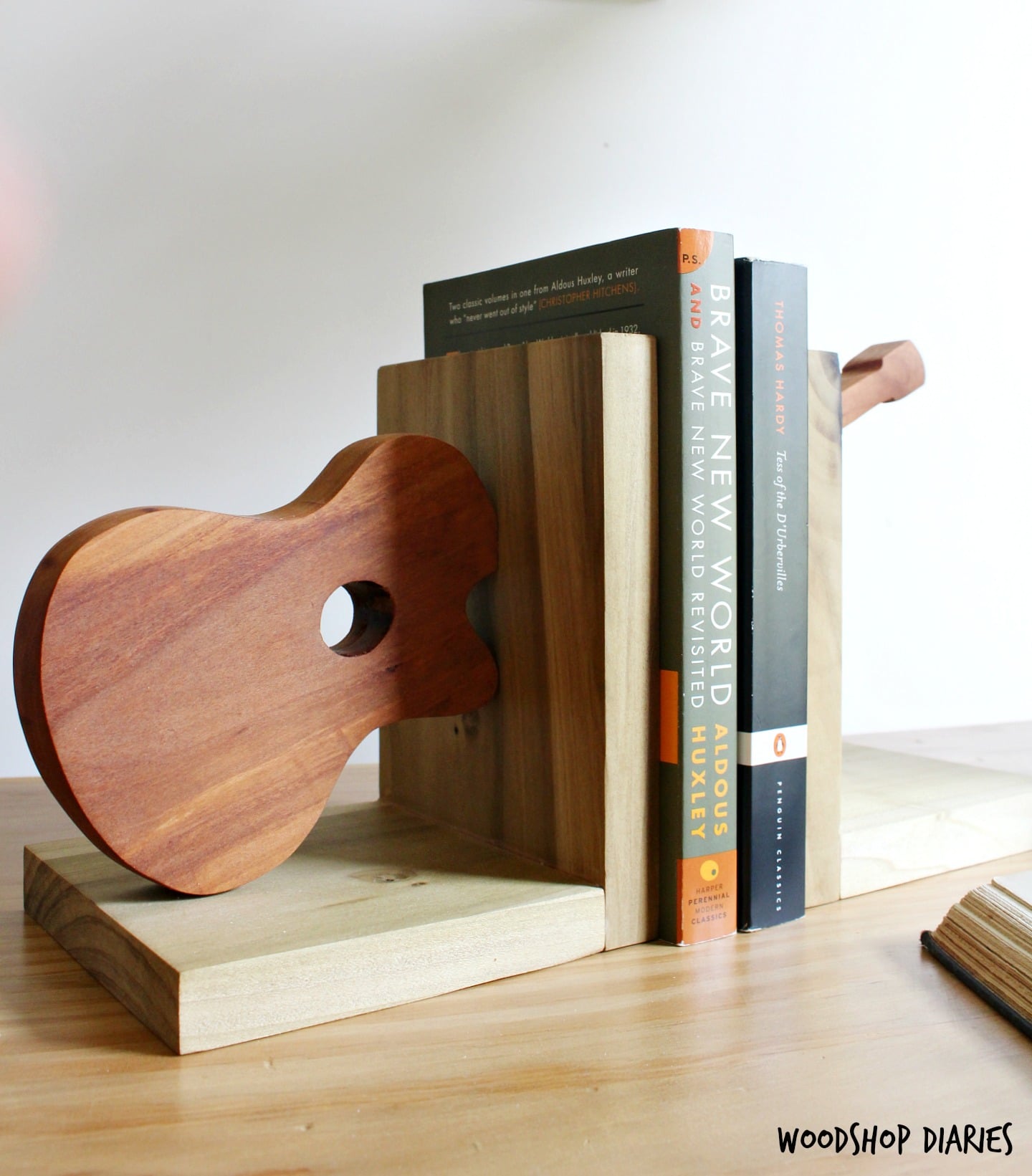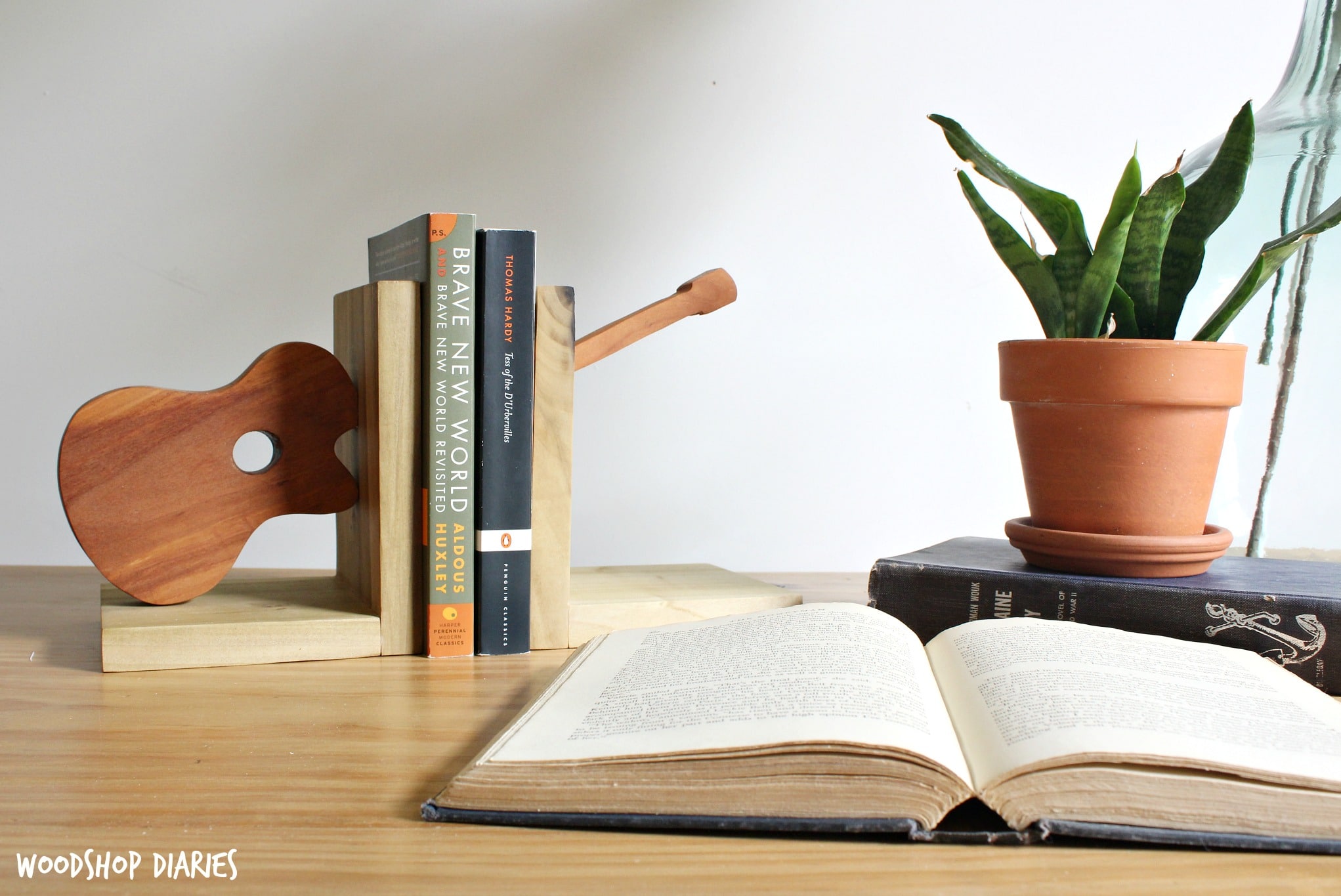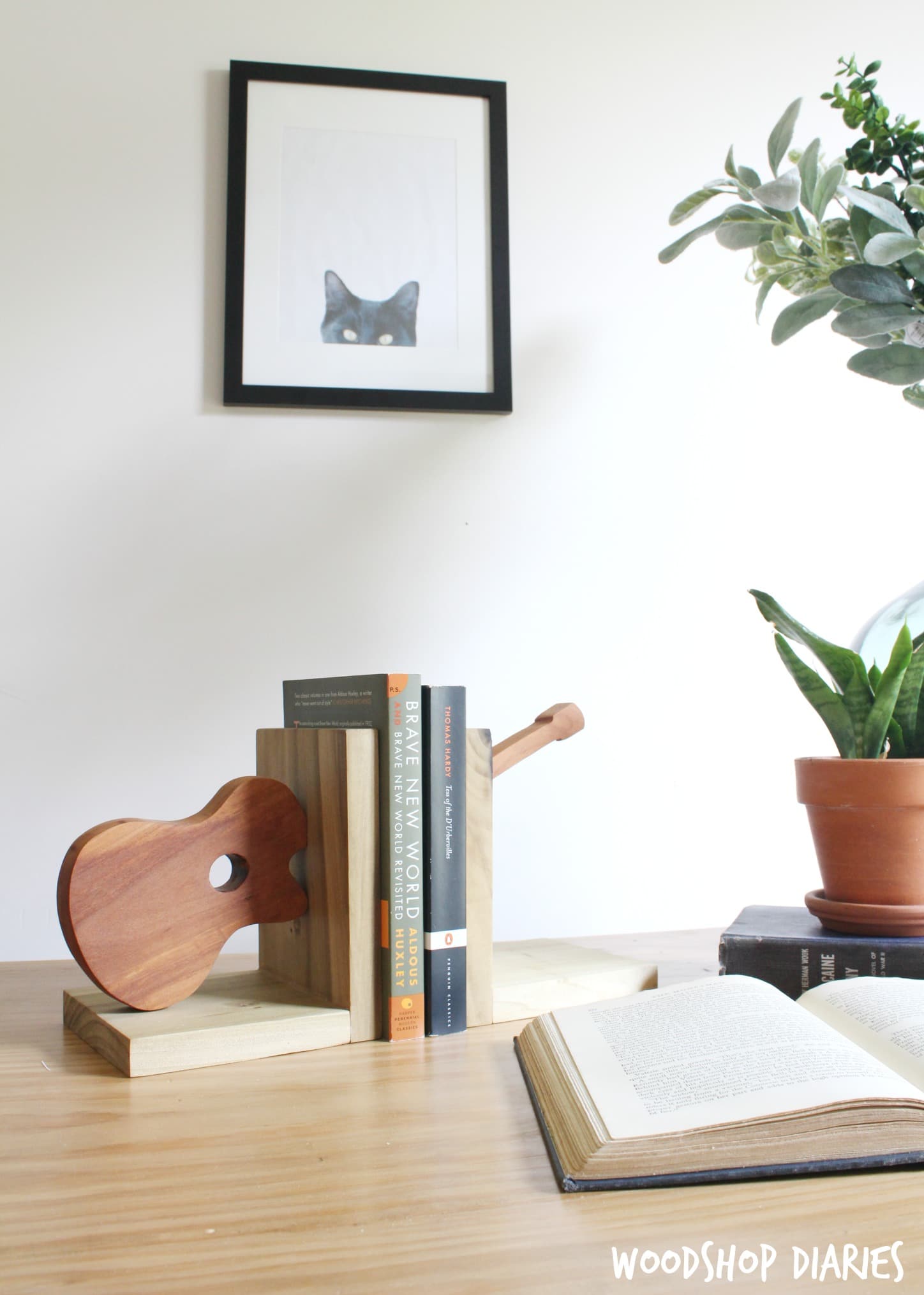 Hope you enjoyed this tutorial for a pair of DIY Scrap Wood Guitar Bookends! If you'd like to see more scrap wood projects, check these out:
DIY Scrap Wood Retro Bluetooth Speaker Box 
DIY Pineapple Shaped Wooden Spoon
DIY Lantern Post From Wood Scraps
And if you need somewhere to store all of your scraps, check out this easy plywood and wood scrap shop cart.
Until next time, happy building! 🙂