Halloween is just around the corner – let's make a gruesome guillotine candy bowl! I'm thrilled to be teaming up with Arrow Fastener on this project. You may recall our previous projects, where we made an under-the-sink hot hair tools organizer, a raised planter box with trellis (in which we grew a ton of tomatoes this season!), a stair rug runner, a white oak folding cookbook stand (these made great gifts!), and a Parisian-inspired wall molding in our guest bedroom (so fancy!).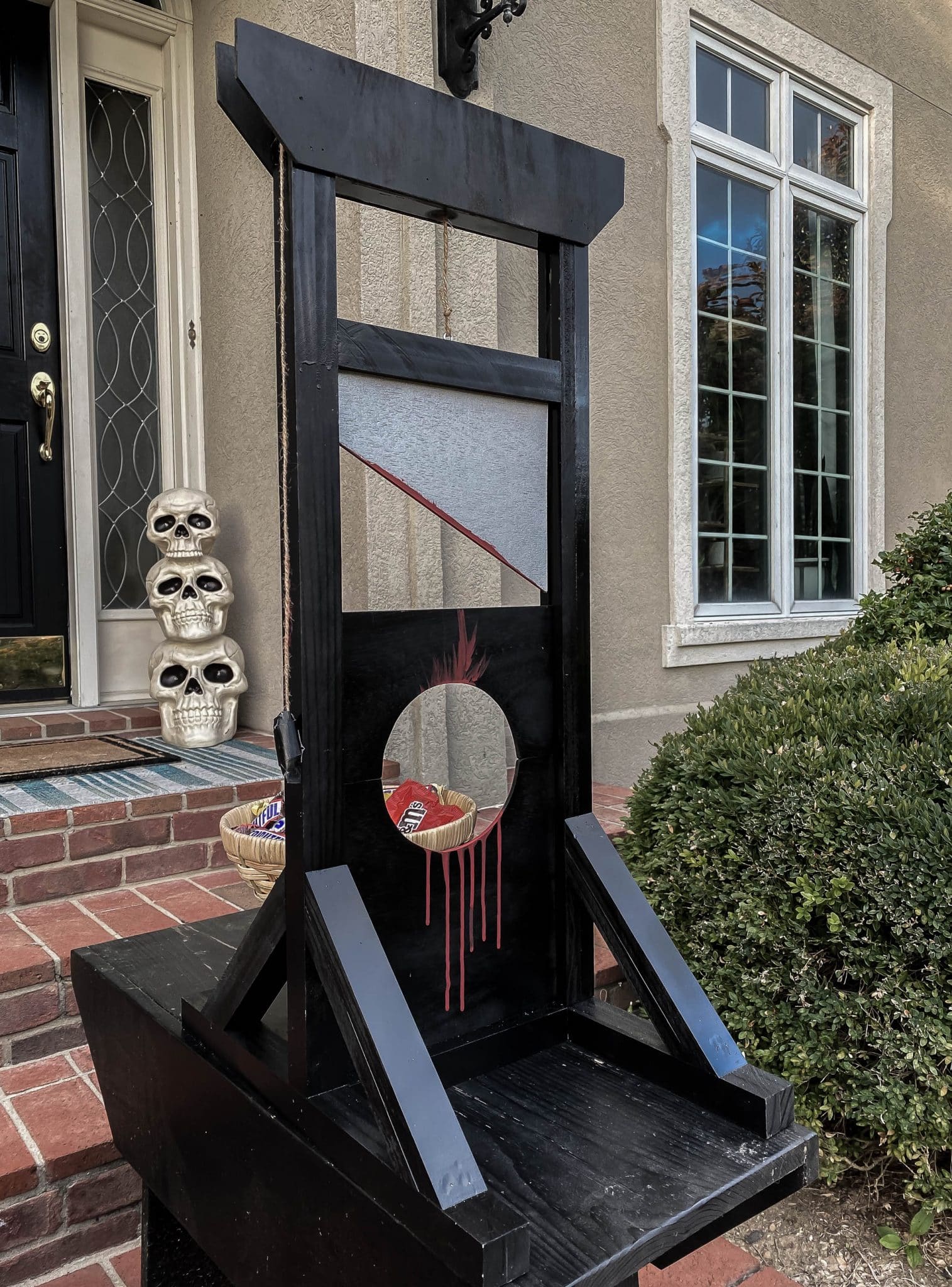 DIY Gruesome Guillotine Halloween Candy Bowl
This DIY guillotine candy bowl is a grim way to hand out Halloween candy to all the neighborhood kids. Trick or treat… if you dare. Beware, you may just lose a finger! Are you ready to make one for yourself? Read on!
Tools:
Air compressor
Table saw
Miter saw
Jigsaw
Cordless drill/driver
Tape measure
Pencil
Speed square
Clamps
Safety glasses, hearing protection, dust mask
Materials:
Scrap plywood and 2×2 boards
2-inch and 1 1/4-inch brad nails
Wood glue
Twine
We've been renovating our French colonial home for three years now and classic French design has since been a huge influence on me – particularly, the years of the French Revolution and the historic events leading up to it. During this time, the guillotine quickly went from being a symbol of justice to an instrument of tyranny in the Reign of Terror, a period of state-sanctioned violence and mass executions. The guillotine was used to publicly execute thousands of people, including King Louis XVI and his ill-fated and iconic Queen consort, Marie-Antoinette. Death by guillotine continued in France well into the 20th century, with the last execution carried out as recently as 1977! It was finally outlawed in France in 1981. Crazy, right?! This part of French history truly fascinates me. In fact, we have plans to travel to Paris to visit the Palace of Versailles, the Estate of Trianon, as well as the site of Louis XVI and Marie-Antoinette's beheading, Place de la Concorde. So, it may come as no surprise that I made a DIY guillotine as a morbid nod to the gruesome history of the French Revolution.
This DIY guillotine is a great scrap wood project – I was able to rummage through my scrap wood pile and make it with things I had left over from previous projects. For obvious reasons, I chose not to use a real blade, and constructed it so that the "blade" is stationary.
The first thing I did was cut the plywood for where the "head" would go – this part on a guillotine is called the lunette.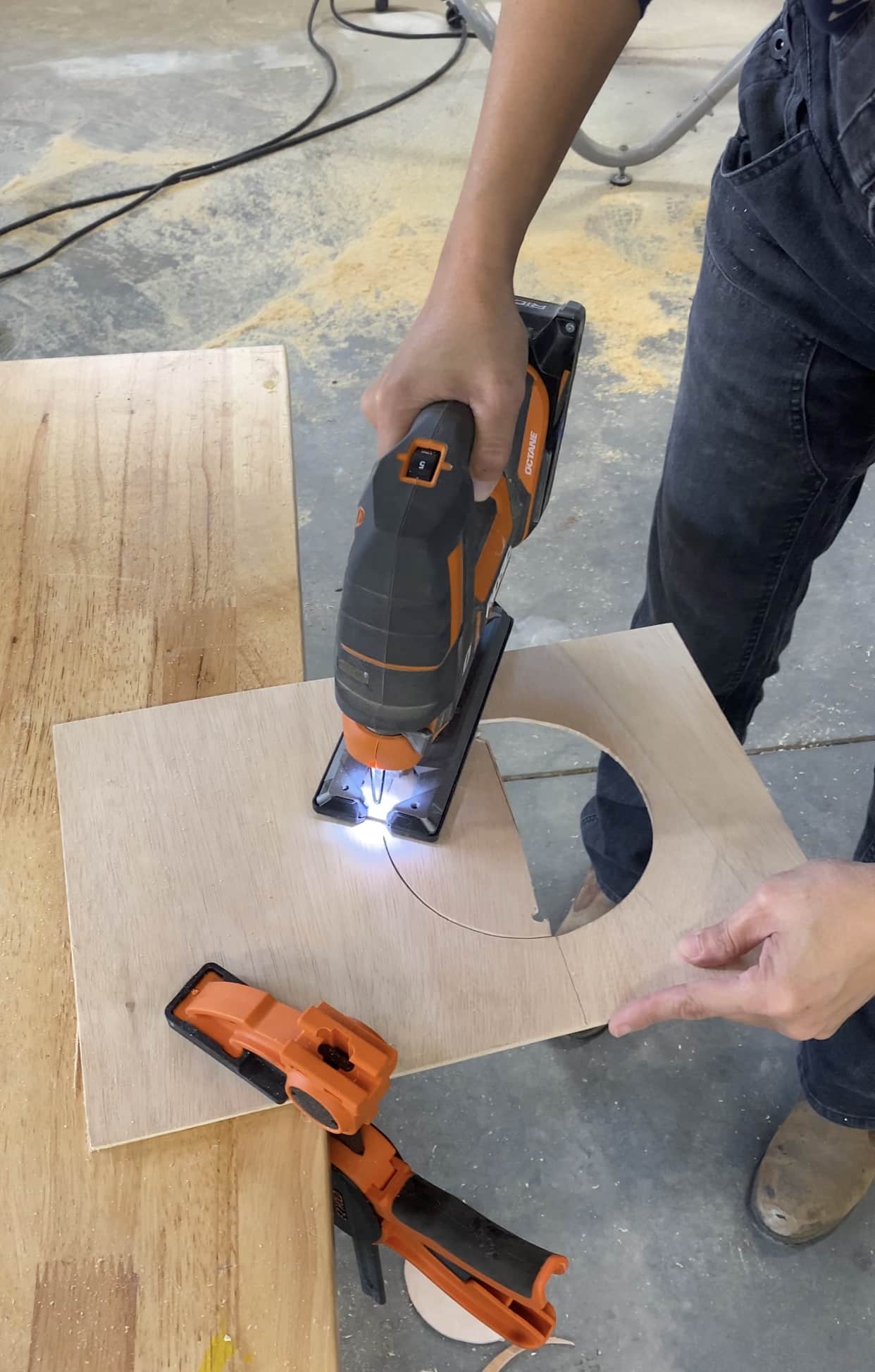 Then I ran the 2×2 posts through my table saw a couple of times so that there was a 1/4-inch wide, 1/4-inch deep groove that ran along the length of the posts. This will be so that I can slide the lunette down into this groove and glue the plywood to the posts.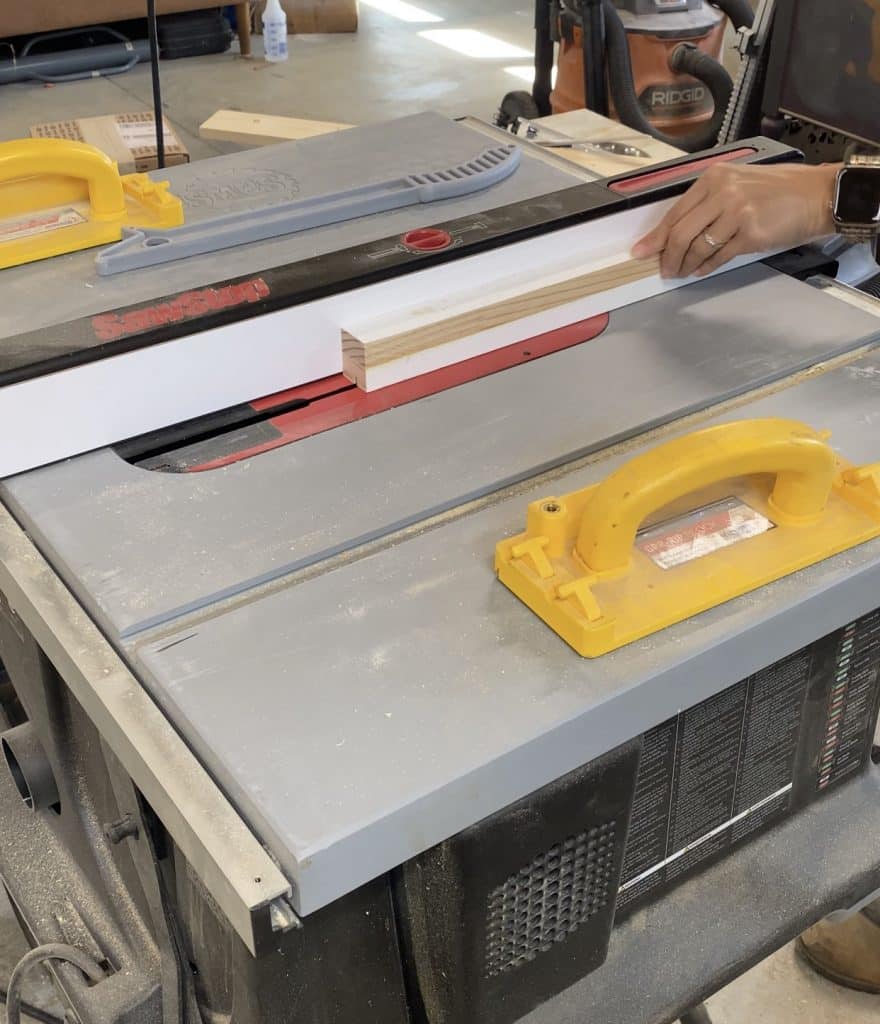 Next, I cut the parts out for the "blade." Instead of using a real blade, I used plywood and painted it with a metallic silver paint to make it look like metal and attached it to the posts on the guillotine. I chose to glue and nail it in place so that it's stationary and won't accidentally come down and injure any unsuspecting costumed children.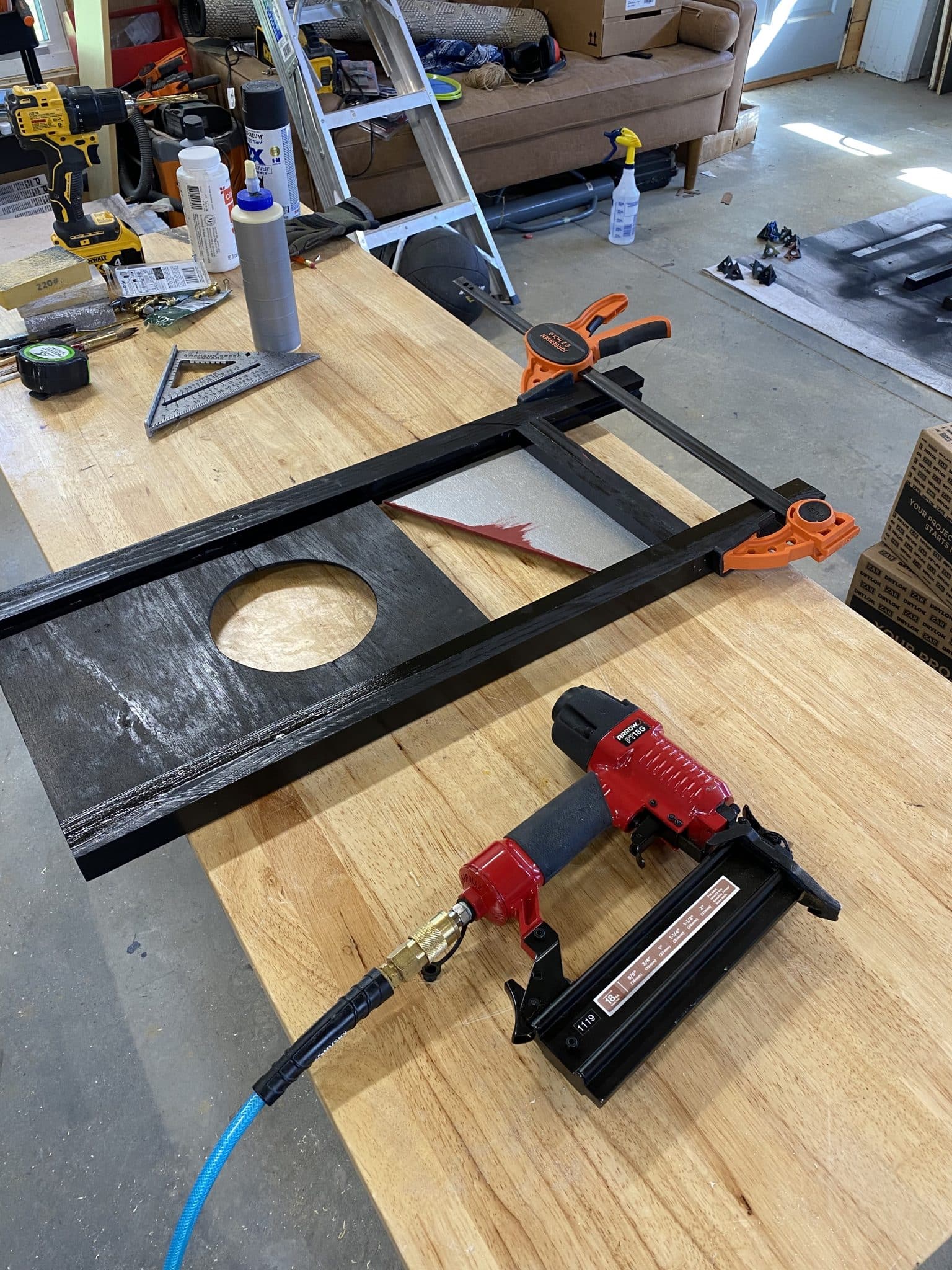 I applied wood glue and used my Arrow pneumatic nail gun to nail all the parts together. Arrow Fastener products are must-have tools for every DIYer. They have a full line of manual, electric, and battery-powered staple guns, rivet tools, glue guns, and nail guns. This pneumatic brad nail gun is perfect for smaller projects like this one because it's lightweight and easy to handle.
I attached the top rail to the guillotine and moved onto constructing the base, which is basically a letter H with four angled braces that will help stabilize the guillotine. Glue and nail these parts to the guillotine as well.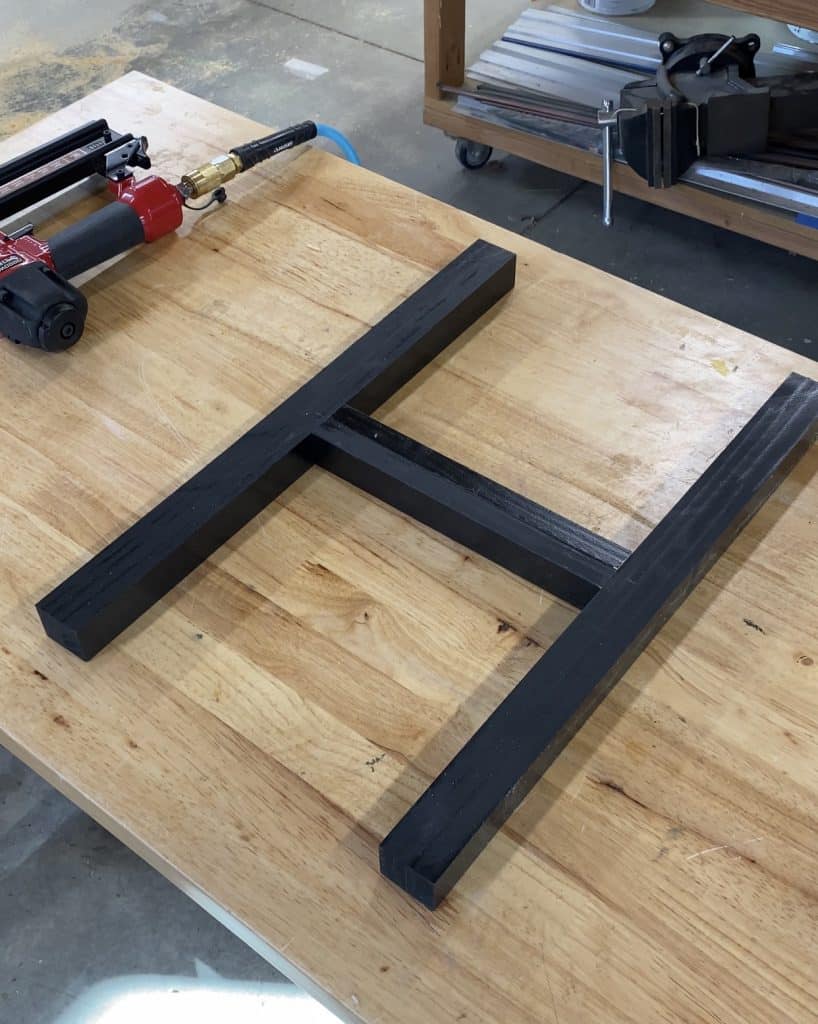 I cut out the headers from plywood and attached them to the top with more glue and nails. Finally, I added a twine rope just to make things look a bit more realistic.
Sand, paint and/or stain, and finish as desired, then place a candy bowl full of sweet treats behind the guillotine so that trick-or-treaters must reach through the lunette to get the candy! If you'd like to build this gruesome guillotine Halloween candy bowl for yourself, be sure to download the plans and tag Arrow Fastener and me (@arrowfastener @jenwoodhouse) on social media so we can see your projects! Happy Halloween!