Hi friends! I am THRILLED to share the plans for this DIY Wood and Steel Coffee Table with you today! I teamed up with my good friends, Ashley and Whitney from Shanty 2 Chic, as well as the awesome folks at Lincoln Electric and Purebond Plywood to bring you this beautiful project! Feast your eyes on this rustic industrial gorgeousness:

I am IN LOVE! And can you believe we welded that steel base?!?! We are no longer just woodworkers, folks! We have added welding to our proverbial toolbox! Welding is something I've been meaning to learn, but have previously been a bit intimidated by the whole thing because… oh, you know… FIRE and ELECTRICITY. I'm happy to report that welding is not as scary and as inaccessible as I expected!
I first dipped my toe into welding when I met the folks at Lincoln Electric at a conference. They had a welding booth set up and they allowed us to demo their welding machines. After an afternoon of MIG and TIG welding, I was hooked! Welding has opened up a whole new medium for me. Did you see the DIY entertainment center I just built? That steel base was my very first welding project!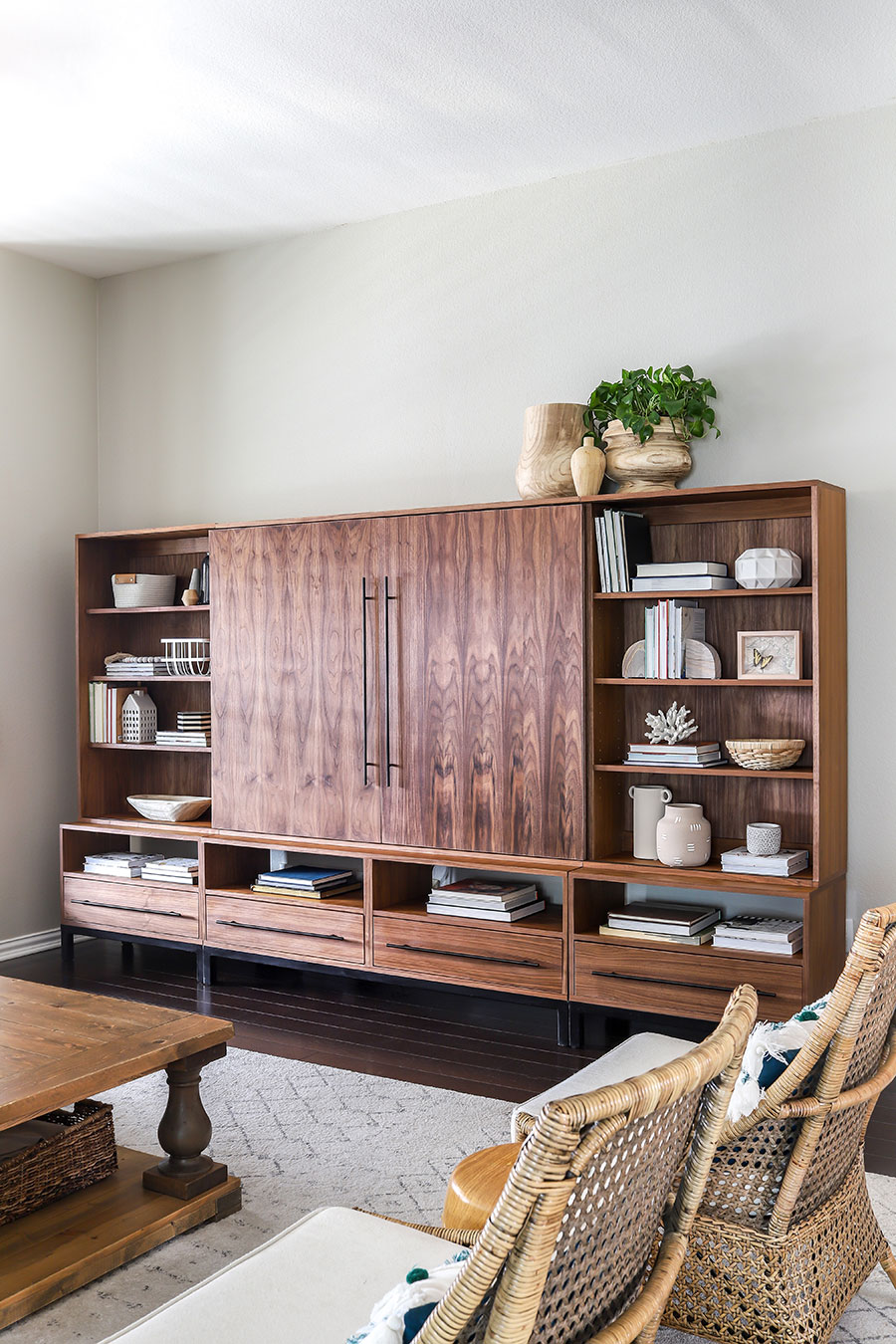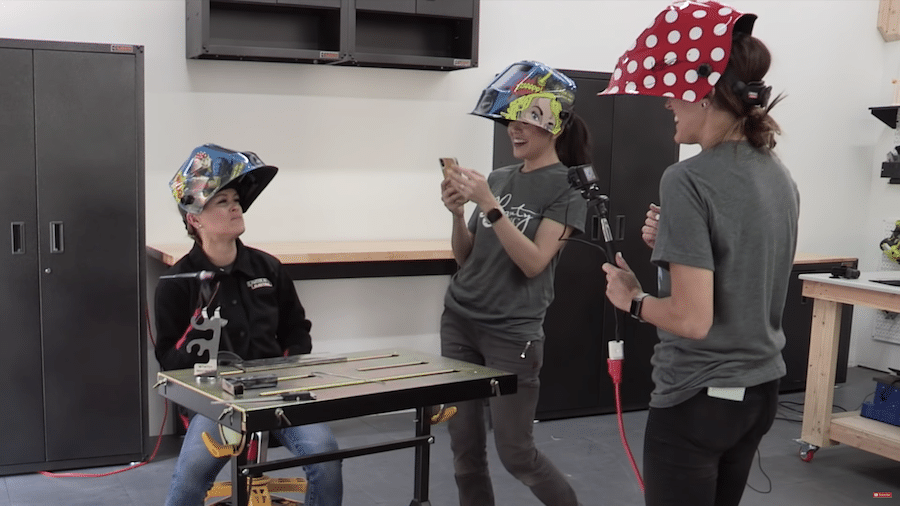 This DIY wood and steel coffee table was SUCH a fun collaboration! I drove up to Fort Worth to visit Ashley and Whitney, gave them a crash course in TIG welding, and this coffee table is what we made together! The top is made from Purebond Plywood and the base is mild steel square tubing. If you've spent any amount of time around here, you already know that Purebond is our favorite plywood for many reasons. It's environmentally responsible, formaldehyde-free, and made in the US. Purebond is my go-to plywood whenever I'm building furniture. And I designed this coffee table so you're only using a single sheet of plywood!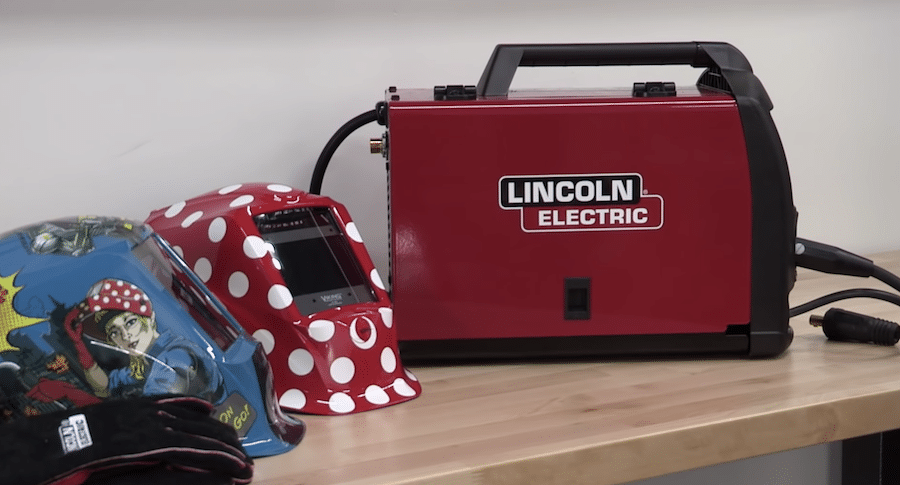 Let's talk about this Lincoln Electric Power MIG 140MP welding machine for a minute. If there's one welding machine you should get, it's this one. The Power MIG 140MP is incredibly affordable compared to other welding machines and it's also quite versatile. It's a 3-in-1 machine that has the capability to do MIG, Stick, and TIG welding and it runs off of standard household 120V power! There's a chart right on the machine that literally tells you what settings to use with which material – it takes the guesswork right out of the equation.
Keep in mind – Ashley and Whitney learned how to TIG weld and we welded this steel base in the same afternoon! So, if you've ever been hesitant about learning how to weld, we're here to encourage you! You can do it!

WHERE TO BUY METAL
Local Metal Supply Shops

Pros: least expensive, they will cut everything to lengths for a small fee, lots of scraps you can get for cheap.
Cons: they cater to a professional crowd, so you may need to find someone with a little patience to help you find the best type of material for your project.

Online Metal Supermarkets

Pros: they'll cut and deliver anything you want, and because they typically use machines, the cuts are precise.
Cons: can be expensive and most of their websites are a little clunky. You need to know exactly what you're looking for.

Home Improvement Stores

Pros: easily accessible and readily available
Cons: most expensive and they usually only offer shorter lengths (nothing over 5 feet)
Here's a helpful article I wrote on how I clean and prep steel for TIG welding.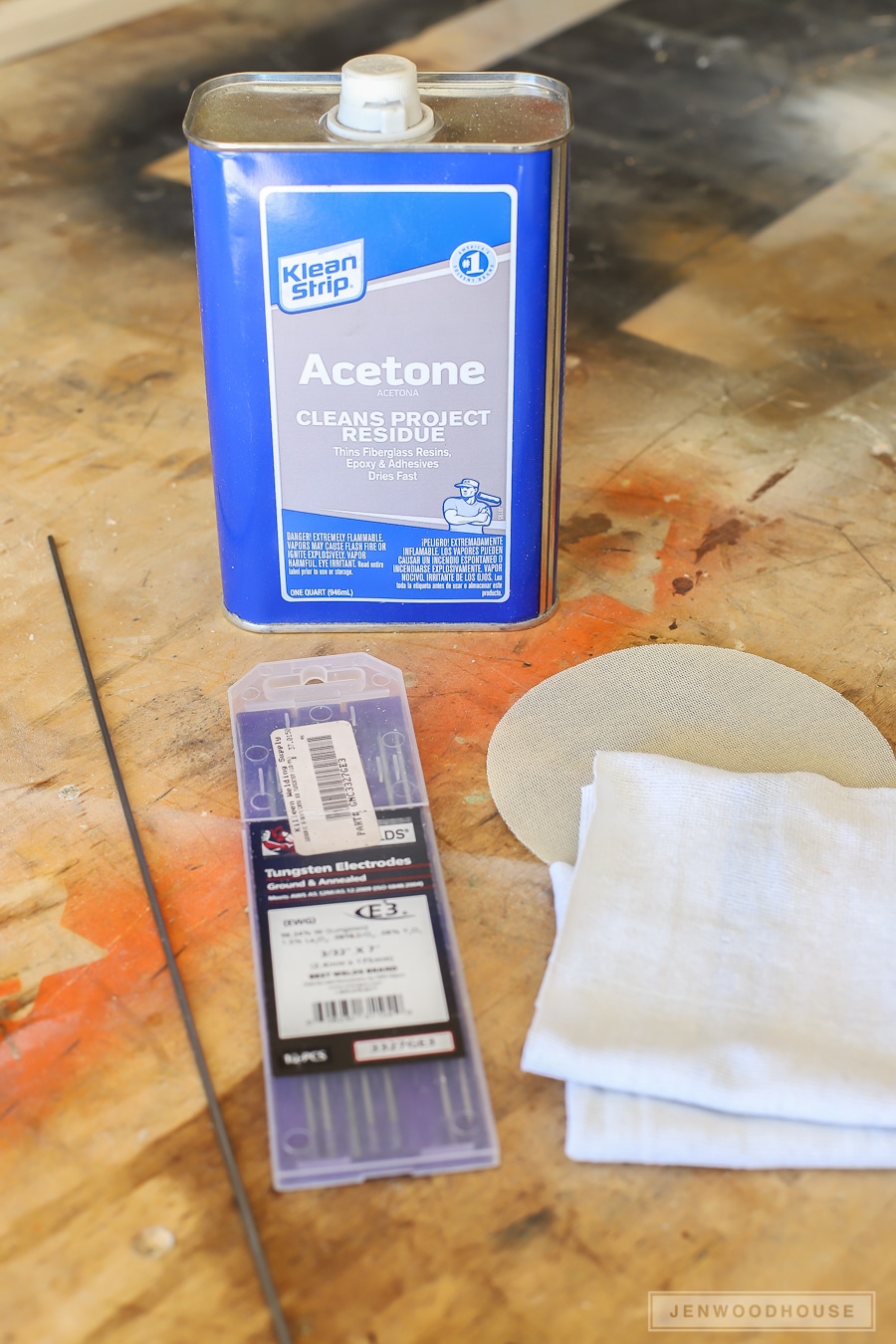 Be sure to watch the fun videos we made! And don't forget to stop by Shanty 2 Chic to see more of this build! Are you ready to build this DIY Wood and Steel Coffee Table for yourselves? Grab the plans below!
*Special thanks to Lincoln Electric and Purebond Plywood for sponsoring this project! And big hugs to Shanty 2 Chic for their wonderful hospitality and collaboration! All efforts, opinions, and victory dances are our own.