*This post is sponsored by The Home Depot.
Say hello to my little fraaand: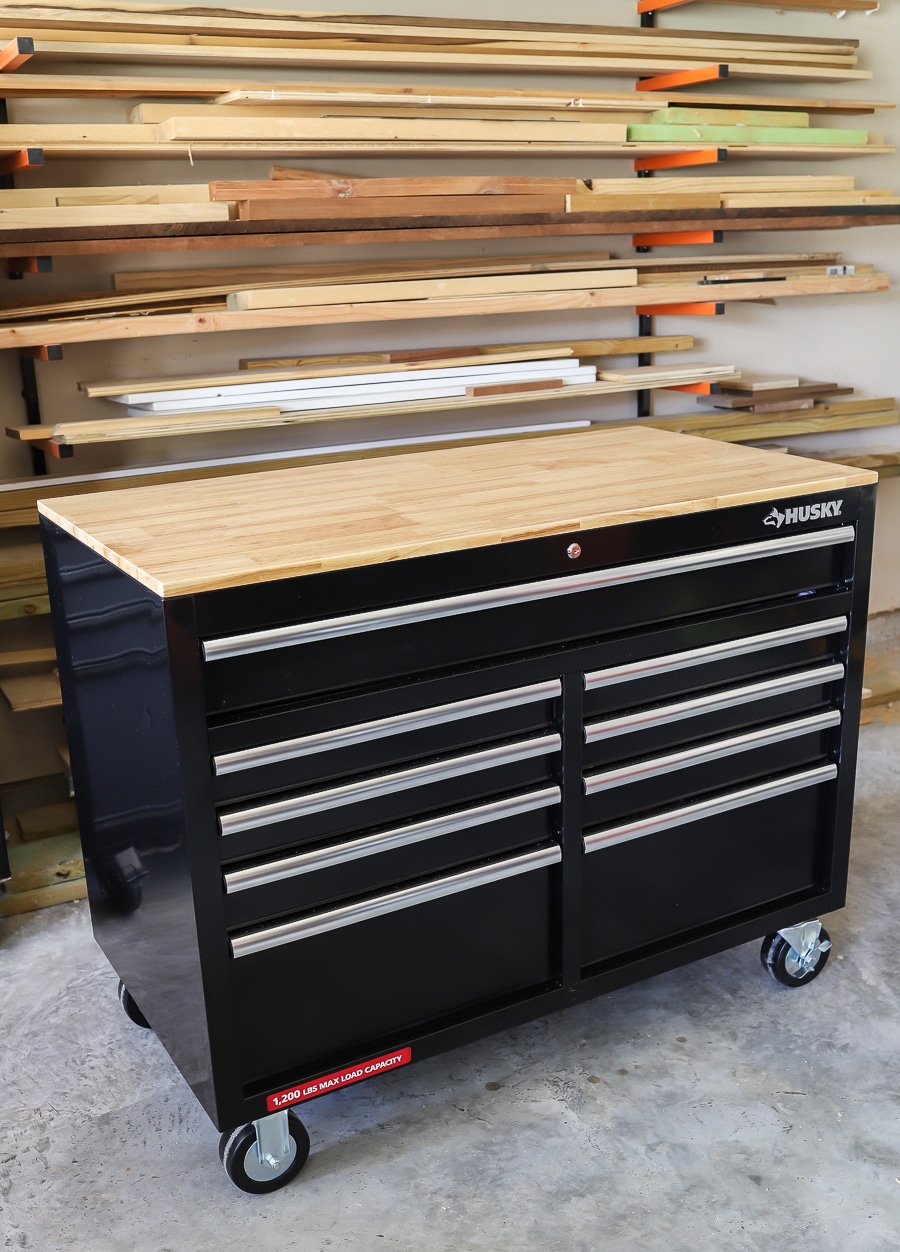 Isn't she gorgeous?
Can a workbench be gorgeous?
Yes. Yes, she can.
And so versatile too, this new Husky 46 in. x 24.5 in. 9-Drawer Mobile Workbench is an excellent addition to my little shop. I can always use more storage and workspace and this sexy thang tackles both – a mobile workbench and a tool chest; it's a twofer!
Now. Can we just have a moment for this drool-worthy solid wood top? Hellooooo, Beautiful.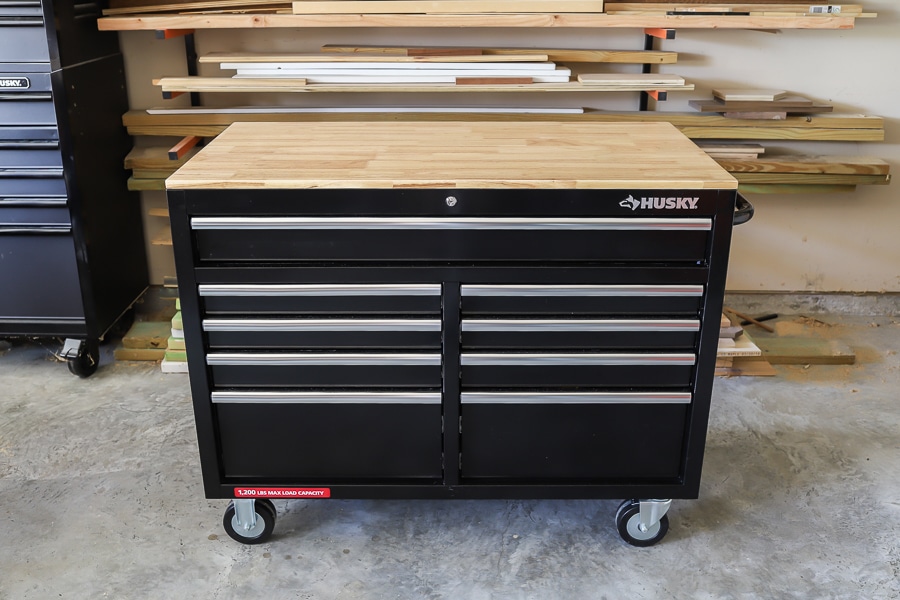 When this mobile workbench was delivered, we were surprised to discover it came nearly fully assembled. We only had to install the casters, which was super convenient!
You guys. I've added so much storage and extra workspace with this thing! With nine full-extension locking drawers that slide out effortlessly, I can store ALL.THE.THINGS.
Speaking of things… let's take a little tour!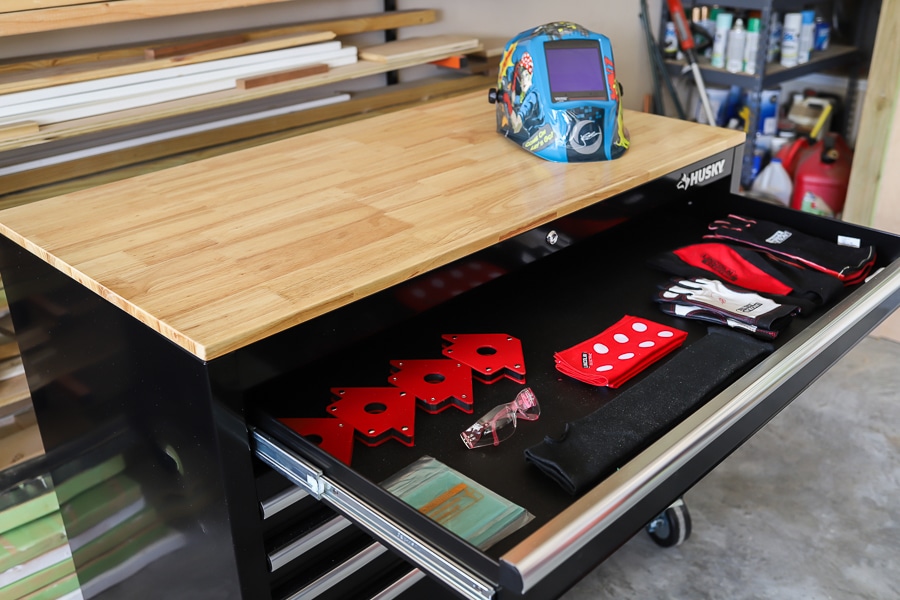 In the top drawer, I store some of my welding gear: welding magnets, rods, kevlar sleeves, gloves, safety glasses, welding cap, and replacement shade lenses.
Side note: Do I seriously have a tool chest for welding gear?!
Never would have guessed it in a million years, and yet…
Here we are.
I love that this top drawer is long enough to store welding rods. And how cute is my welding helmet?!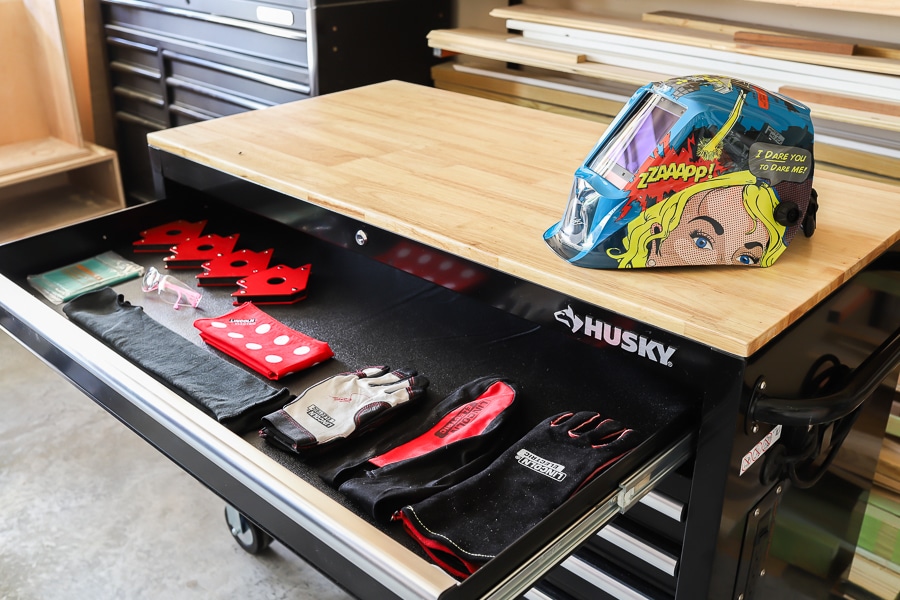 In the next two drawers we keep our wrenches, sockets, pliers, and T-handle hex keys. The included drawer liners not only keep the tools from shifting and sliding around, but it also protects the drawers from accidental leaks and scratches. They're non-slip, water-, grease-, and oil-resistant. So fancy!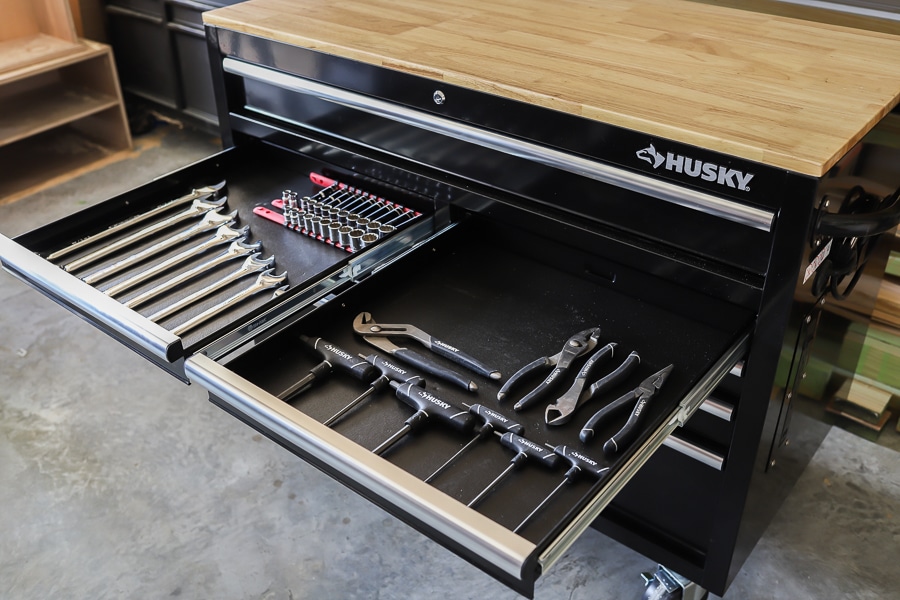 The next two drawers are the same size as the previous ones and directly below are two medium-sized drawers. The two large, deep drawers are at the very bottom and have an extra set of slides to accommodate heavier items up to 200 pounds.
My welding helmet fits nicely in here, as does my DeWalt worm drive style circular saw and Ridgid MegaMax.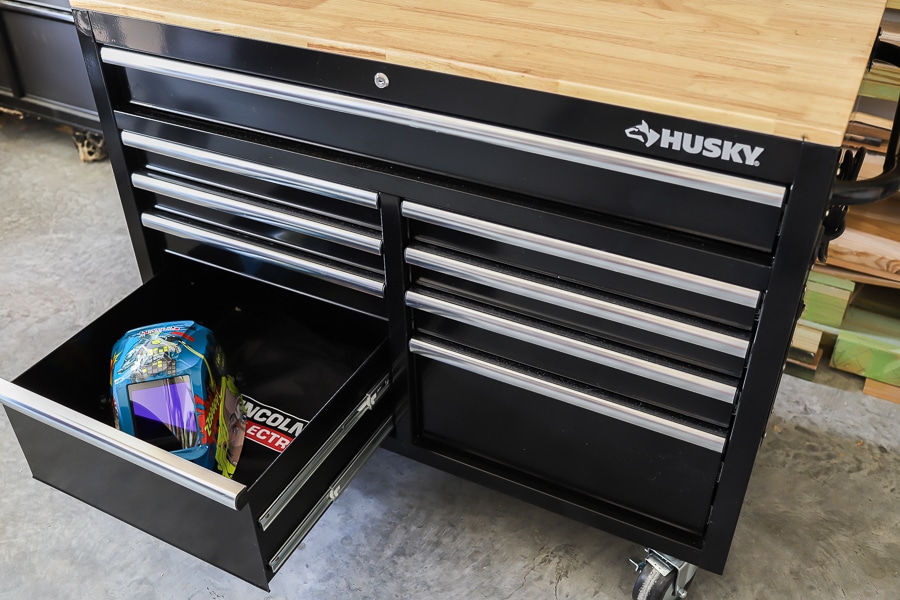 But wait…
There's more!
I haven't even told you one of my favorite parts about this mobile workbench: the integrated power strip provides easy access to four power outlets and two USB ports. This is especially helpful when I want to have tool batteries and other electronic devices charged and ready to go.
Another thing I was impressed about were the huge casters. Even when this workbench is fully loaded up, these heavy duty casters make it easy to maneuver. Two of the four casters swivel; while I do wish all four casters swiveled, it's a small matter of contention.
But who am I kidding? We all know Adam lifts and moves all the heavy stuff around here.
I build, he hauls.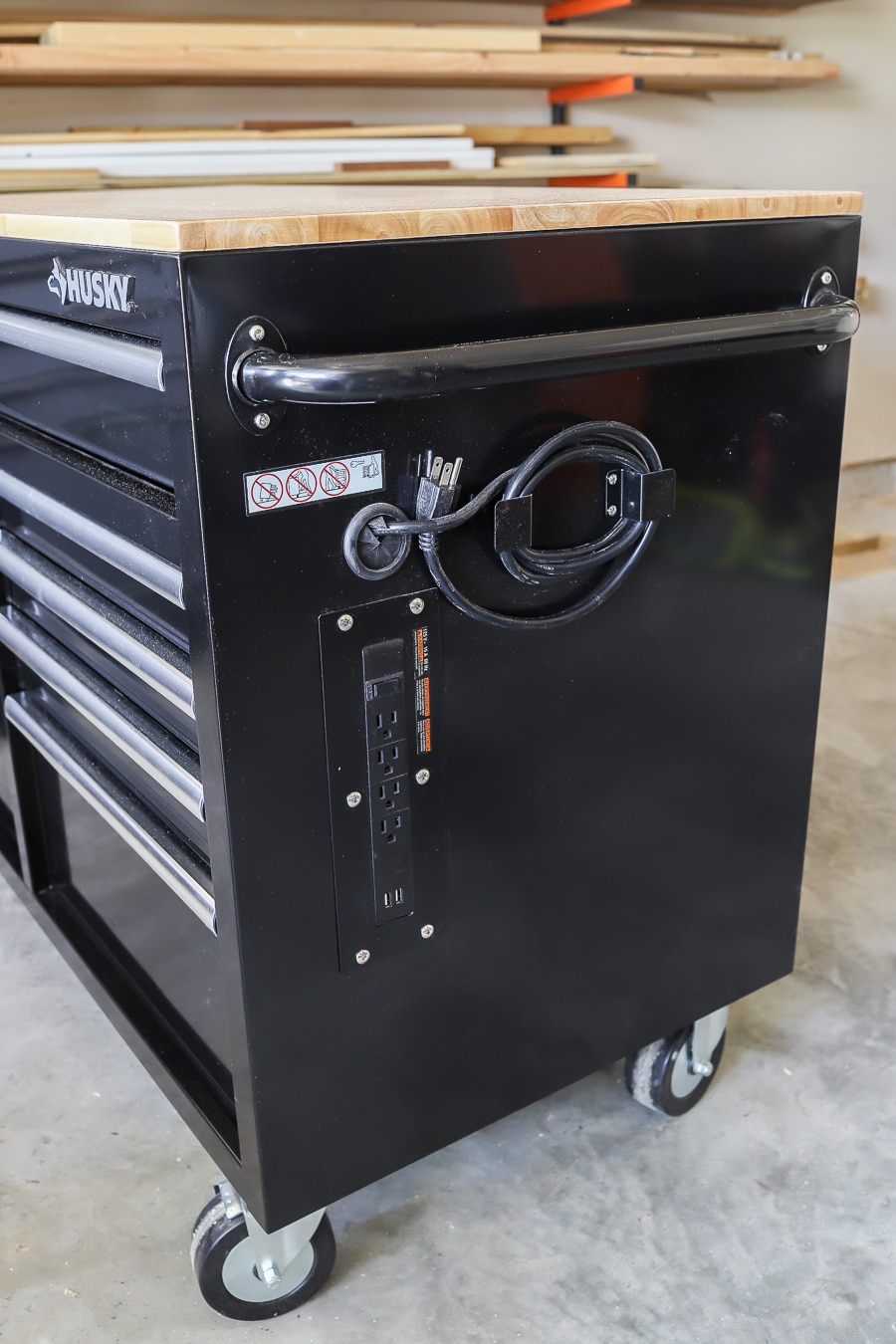 If you're in the market for a new workbench with ample storage, definitely consider this Husky Mobile Workbench – it's well-built, offers substantial storage, has a gorgeous solid wood top with plenty of workspace, and is, by far, the best value for the money, priced at just a hair over $300.00.
*I acknowledge that The Home Depot is partnering with me to participate in the ProSpective 2018 Campaign. As a part of the Program, I am receiving compensation in the form of products and services, for the purpose of promoting The Home Depot. All expressed opinions and experiences are my own words. My post complies with the Word Of Mouth Marketing Association (WOMMA) Ethics Code and applicable Federal Trade Commission guidelines. This post contains affiliate links. To read my full disclosure policy, please click here.