This Kentucky Bourbon Butter Bundt Cake with Salted Caramel Glaze is super moist, buttery, and ridiculously rich! And when you think it can't get any better, just add bourbon!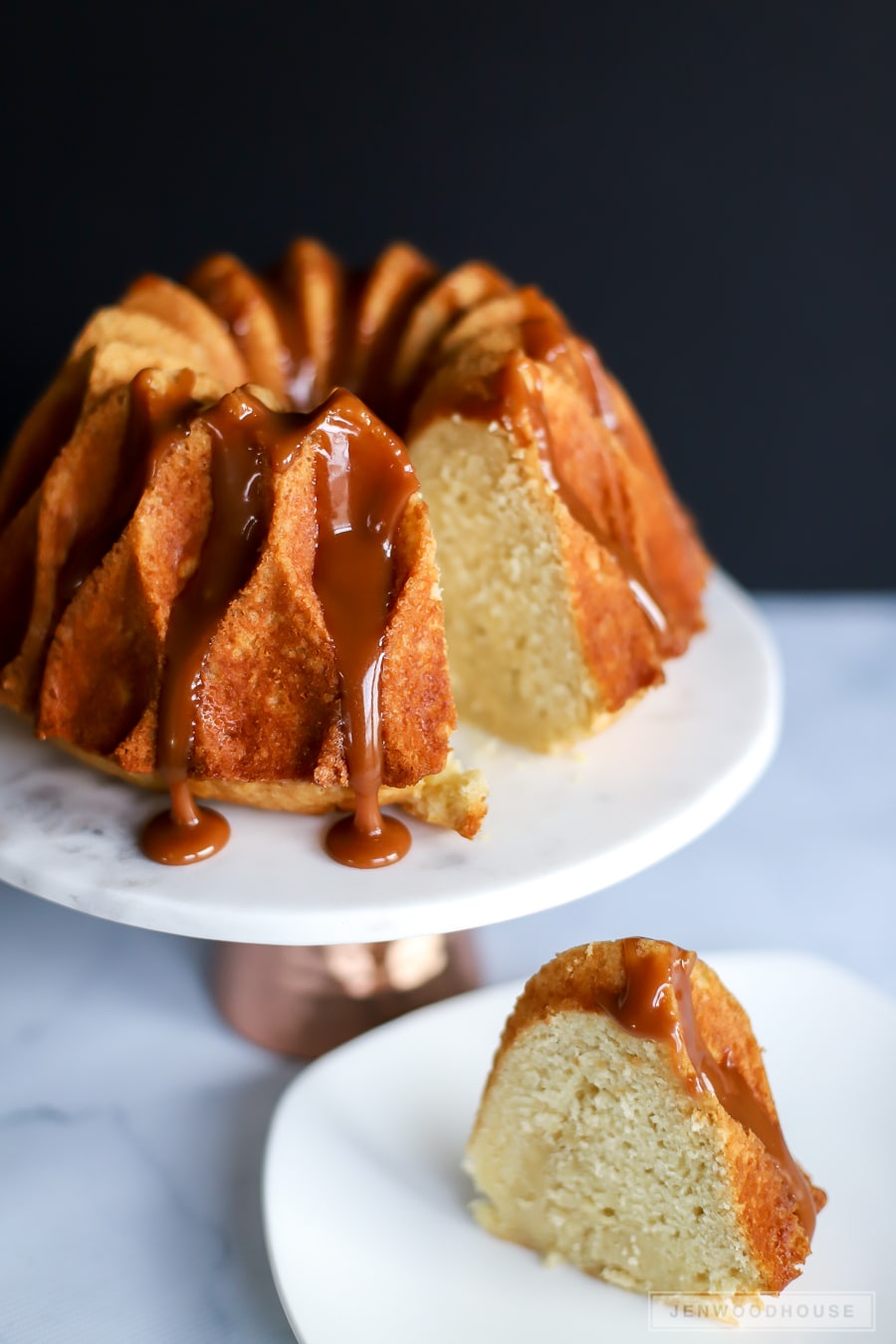 Prior to living in Kentucky, Adam was pretty much a Scotch snob… which is unfortunate because you can't get good Scotch for cheap. Thank goodness for Kentucky – while you can't skimp on Scotch, you can find a pretty decent bourbon for not a lot of money.
I first made a version of this Kentucky Butter Cake at this year's Superbowl party (Go Eagles!) and it got rave reviews. But since this is called a Kentucky Butter Cake, what's more Kentuckian than bourbon?!
Adam's Top 5 Bourbons are:
Angel's Envy
Redbreast 21
Blanton's Single Barrel
Noah's Mill
Eagle Rare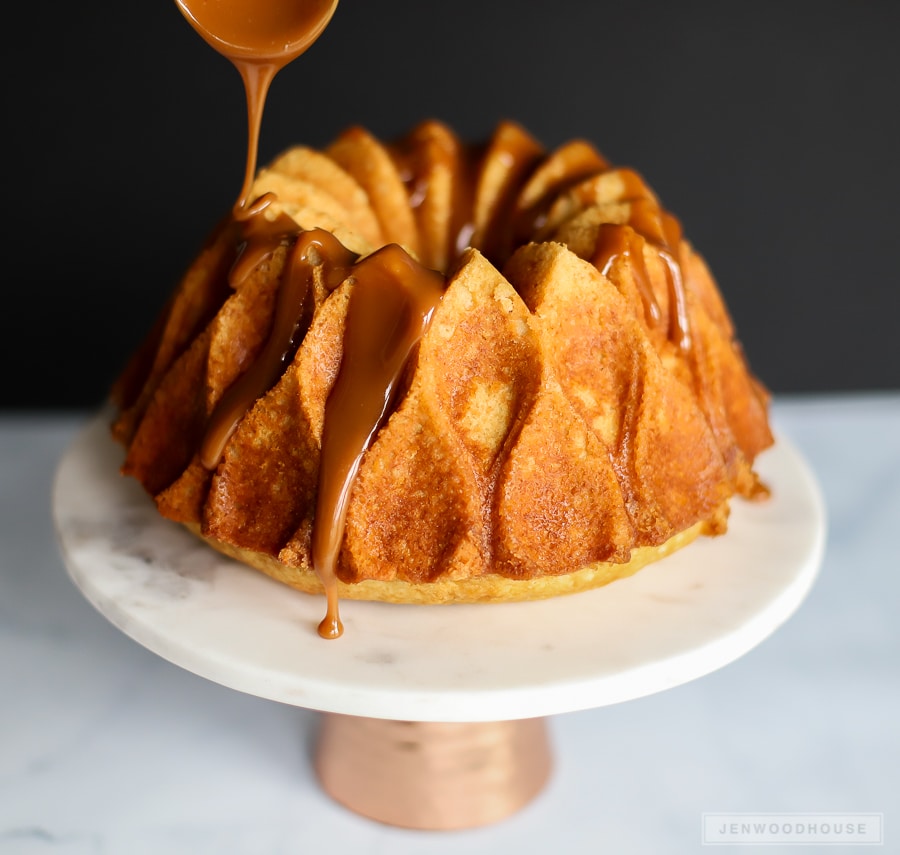 This Kentucky Bourbon Butter Bundt Cake with Salted Caramel Glaze is super moist and sweet and the salted caramel glaze just puts it over the edge. It's a little ridiculous, really. Totally over the top. I personally don't have a huge sweet tooth, so this cake is a bit rich for my taste when you add the caramel glaze, but Adam has a mouthful of sweet teeth, so it's right up his alley.
Print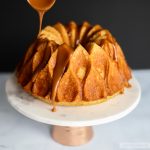 Kentucky Bourbon Butter Bundt Cake with Salted Caramel Glaze
---
Author:

Prep Time:

15 minutes

Cook Time:

50 minutes

Total Time:

1 hour 5 minutes

Category:

Dessert
Description
Take this Kentucky Butter Cake to the next level with bourbon and a gooey, salted caramel glaze! This cake is super moist and buttery, and the salted caramel glaze adds an extra dose of richness – it's downright sinful!
---
Ingredients
Cake:
3 cups all-purpose flour
1 1/2 cups granulated sugar
1 teaspoon kosher salt
1 teaspoon baking powder
1/2 teaspoon baking soda
3 large eggs, room temperature
1 egg yolk
3/4 cup buttermilk
1 cup unsalted butter, room temperature
1 teaspoon pure vanilla extract
1/4 cup bourbon whiskey
Butter Sauce:
1/4 cup unsalted butter
3 tablespoons granulated sugar
1/2 cup whole milk
1 teaspoon pure vanilla extract
Salted Caramel Glaze:
3/4 cup granulated sugar
1/4 cup water
1 cup heavy cream
4 tablespoons unsalted butter
1 teaspoon kosher salt
1/2 teaspoon pure vanilla extract
---
Instructions
Make the Cake
Preheat the oven to 350º F. Spray a 10-inch bundt cake pan with non-stick cooking spray and sprinkle a little flour in it.
In a large mixing bowl, whisk the flour, sugar, salt, baking powder, and baking soda together.
Cream the butter, eggs, and vanilla in the bowl of an electric stand mixer on medium speed.
Whisk the bourbon and buttermilk together in a liquid measuring cup. Set aside.
Add a third of the dry ingredients to the stand mixer, then add half of the buttermilk/bourbon mixture, alternating the two until everything is incorporated. Try not to overmix the batter.
Pour the batter into the prepared cake pan and bake in the oven for about 45 minutes, or until an inserted toothpick comes out clean.
Prepare the Butter Sauce
While the cake is baking, prepare the butter sauce. In a medium saucepan, combine the butter, sugar, milk, and vanilla extract and cook over medium heat, until the butter is melted and the mixture is fully combined. Be careful not to let the mixture boil.
After the cake is done baking, while it's still warm, use a wooden skewer to poke holes into the cake and spoon the butter sauce over the cake, letting the sauce get down into the holes. Set the cake aside to let it cool and soak up the butter sauce while you make the caramel glaze.
Make the Caramel Glaze
In a tall, heavy-bottomed saucepan, mix the sugar and water until combined. Turn the heat to medium-high and bring the mixture to a boil. Here's the hard part: don't touch it! You can swirl the pan periodically to get rid of any hot spots, but don't stir. Boil the mixture until it becomes a golden amber color, about 8-10 minutes. Be sure to watch it so that it doesn't get too dark or it'll be bitter.
Warm the cream, butter, and salt in a small saucepan over medium heat. Once the caramel reaches a golden amber color, remove it from the heat and slowly add the cream mixture. Be careful – the cream will bubble up violently. Stir the vanilla in.
Put the mixture back on medium heat and boil until it reaches 220º F on a candy thermometer or until it is thick enough to coat the back of a spoon.
Once the cake is cool, remove it from the pan and drizzle the caramel glaze over it. Enjoy!