Hi friends! Last weekend we hosted a fun construction-themed Kids Workshop Party at our house where our kids and their friends built these cute bug houses.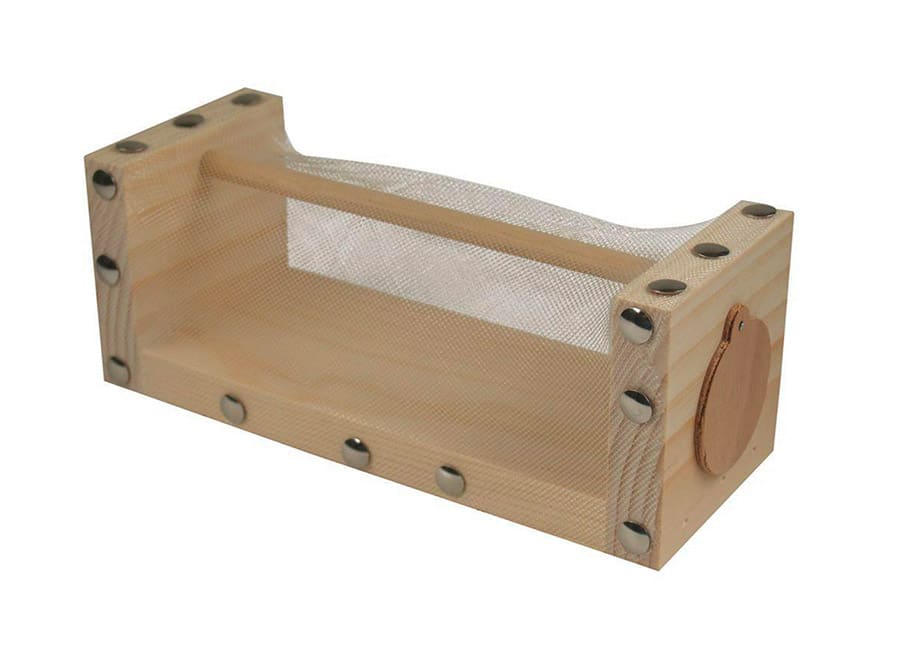 *This post contains affiliate links. To read my full disclosure policy, please click here.
We often take our kids to the monthly Kids Workshops at The Home Depot so when Houseworks, Ltd. reached out to me about their building kits and party supplies, I thought hosting our own kids workshop at our house would be such a fun way to spend a Saturday afternoon. For the past 19 years, Houseworks, Ltd. has provided the building kits for Home Depot's kids workshops and they also sell paper goods party supplies at HomeDepot.com so you can host your own kids workshop party! How fun, right?
I ordered a few bug house kits and a party supply kit online, grabbed some supplies to transform my front yard into a construction zone, and invited a few of my kids' friends over for a fun building party.
Remember the easy DIY sawhorses I just made? They were made for this party and I just love that they're kid-sized.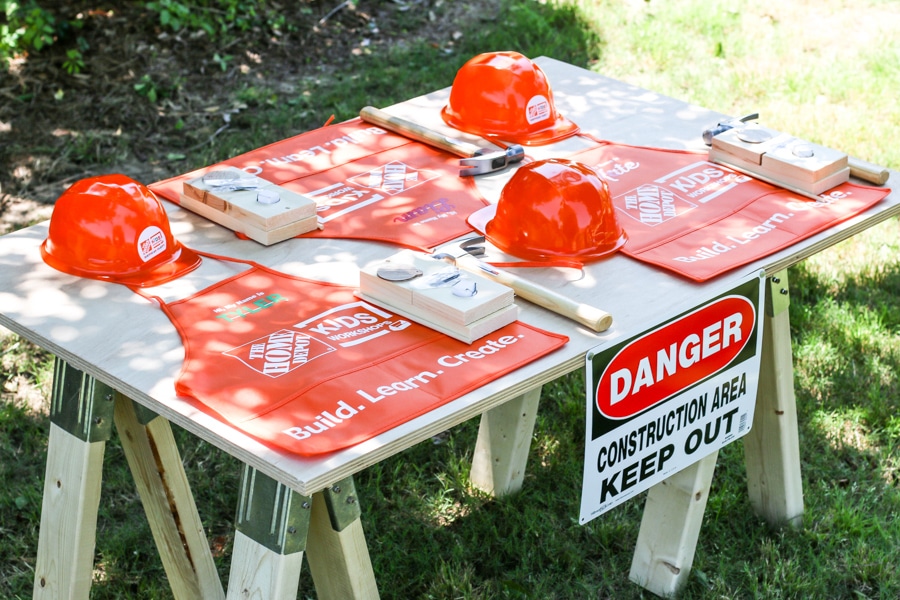 Apparently, my construction party decor was a bit too authentic because after I got everything set up, my phone rang. It was the HOA president.
Me: "Hello?"
HOA: "Jen." 
The voice on the other end was very stern.
Me: "Yes?"
HOA: "Is everything alright? This is the HOA lady and we have some concerned neighbors."
Me: "Um, ok… yes, everything is fine… why?"
HOA: "The danger signs and caution tape all around your yard – what on earth is going on?!"
Me: "Ohhhhh, that. We're having a construction-themed kids party."
Relieved laughter.
HOA: "Good heavens, we didn't know what to think! We thought it was a gas leak or something!"
So it's worth mentioning: be sure to contact your HOA before throwing a construction-themed party or you might give the neighbors a good scare.
Oops.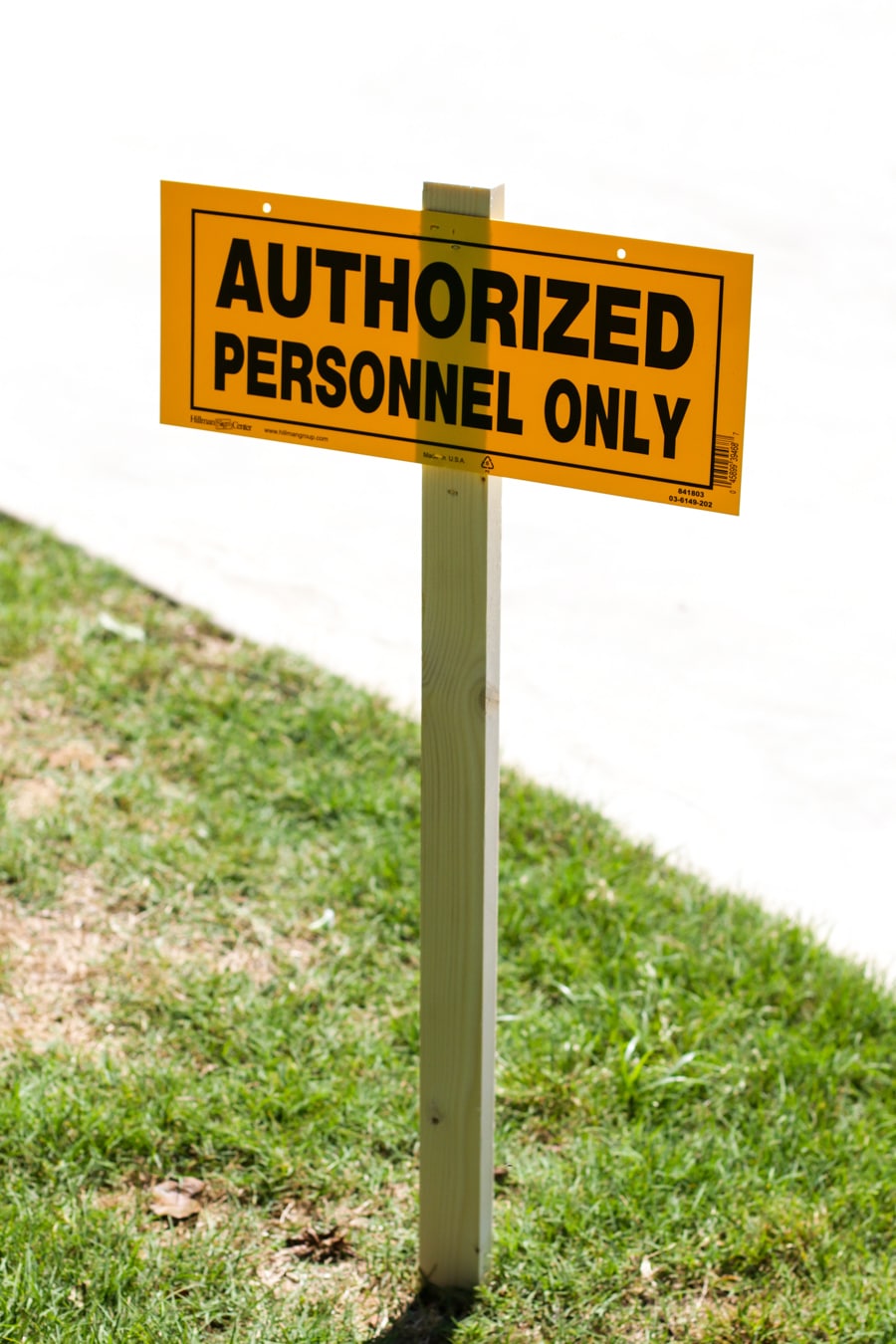 These tiny Home Depot aprons are pretty adorable too. The manager at my local store was kind enough to give me a handful of them for this party. I used my Silhouette Cameo to personalize the aprons with the kids' names.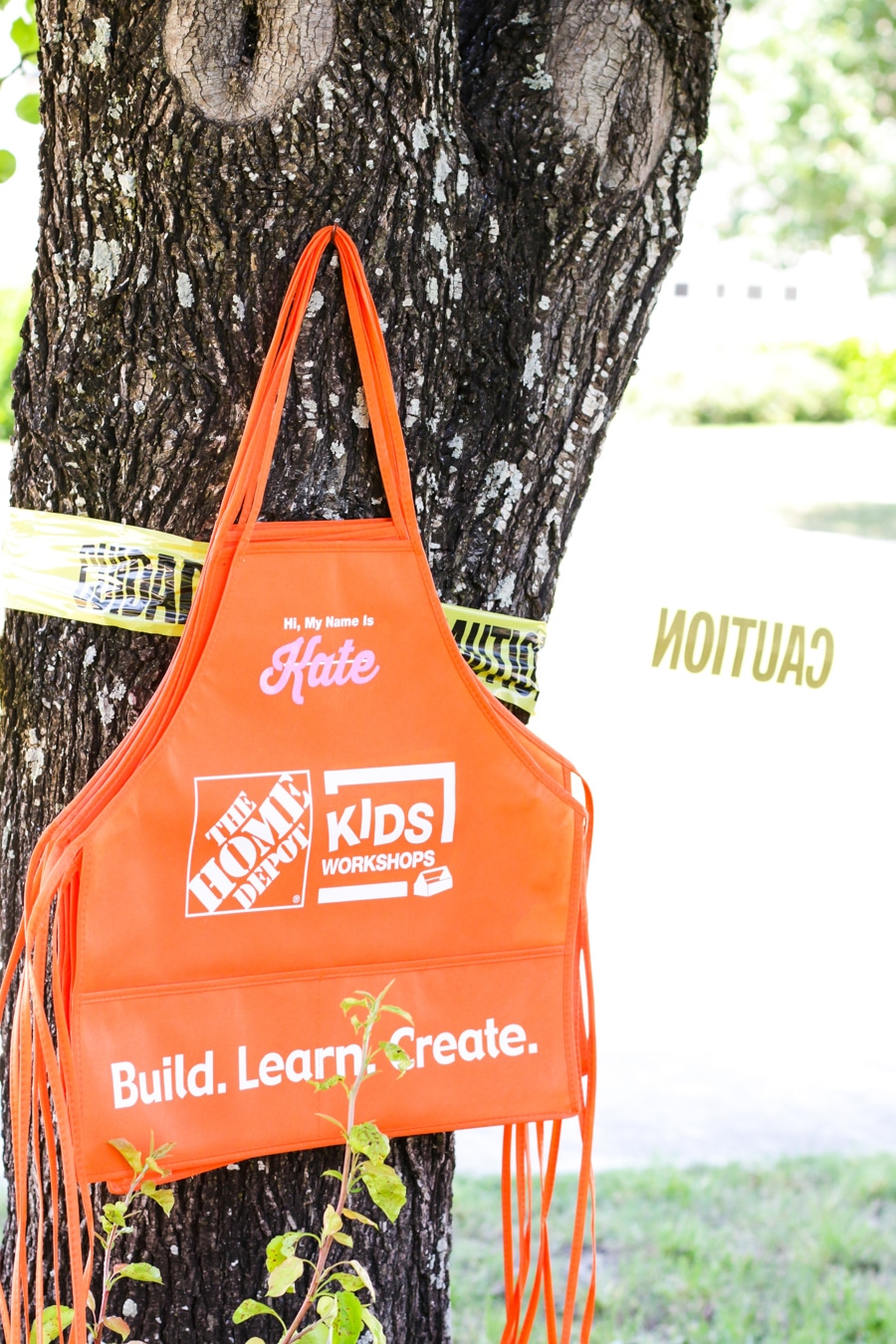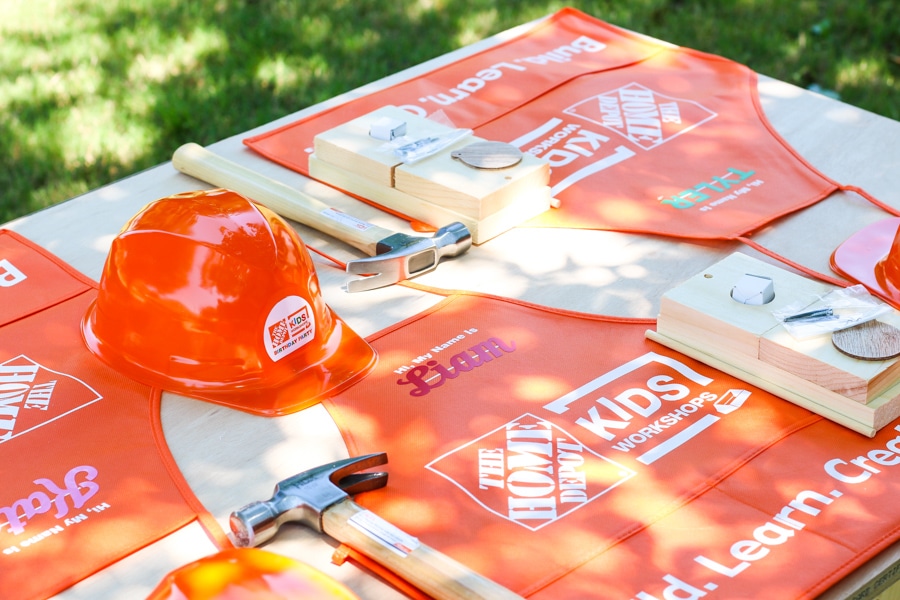 Having a friend who is a professional photographer is pretty stinkin' amazing. Our friends, Shelby, Jason, and their kids attended the party and Shelby was kind enough to snap some of these photos so I can focus on the kiddos. She's the super sweet and talented photographer who took our family photos for last year's Christmas card. She's also the one I built this storage bench for. She's currently based in Alabama, but will be based in Oklahoma starting this summer, so if you're looking for a great OKC photographer, check out her website.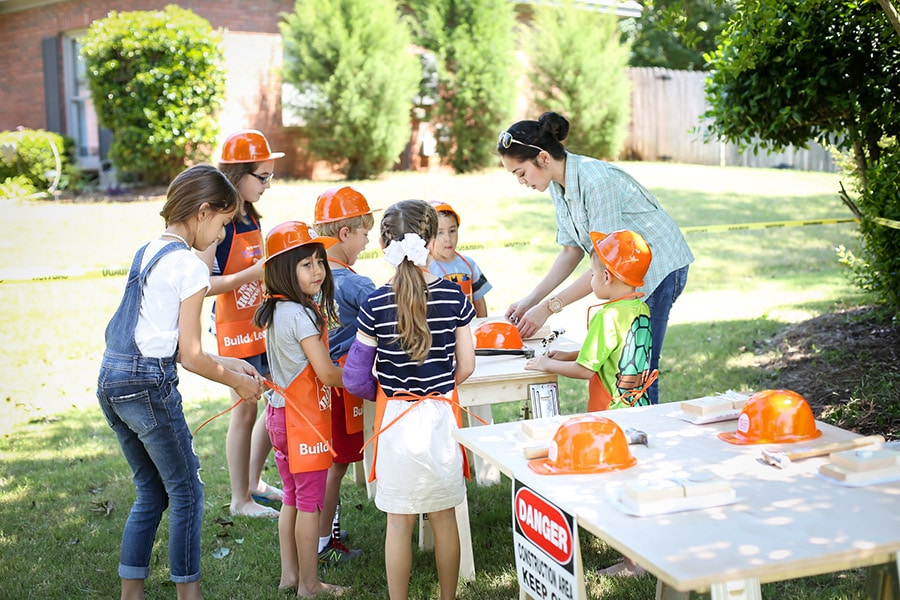 The kids had so much fun building. They loved learning something new and were pretty excited about building their very own bug house.
You can purchase the party supplies and workshop kits from HomeDepot.com.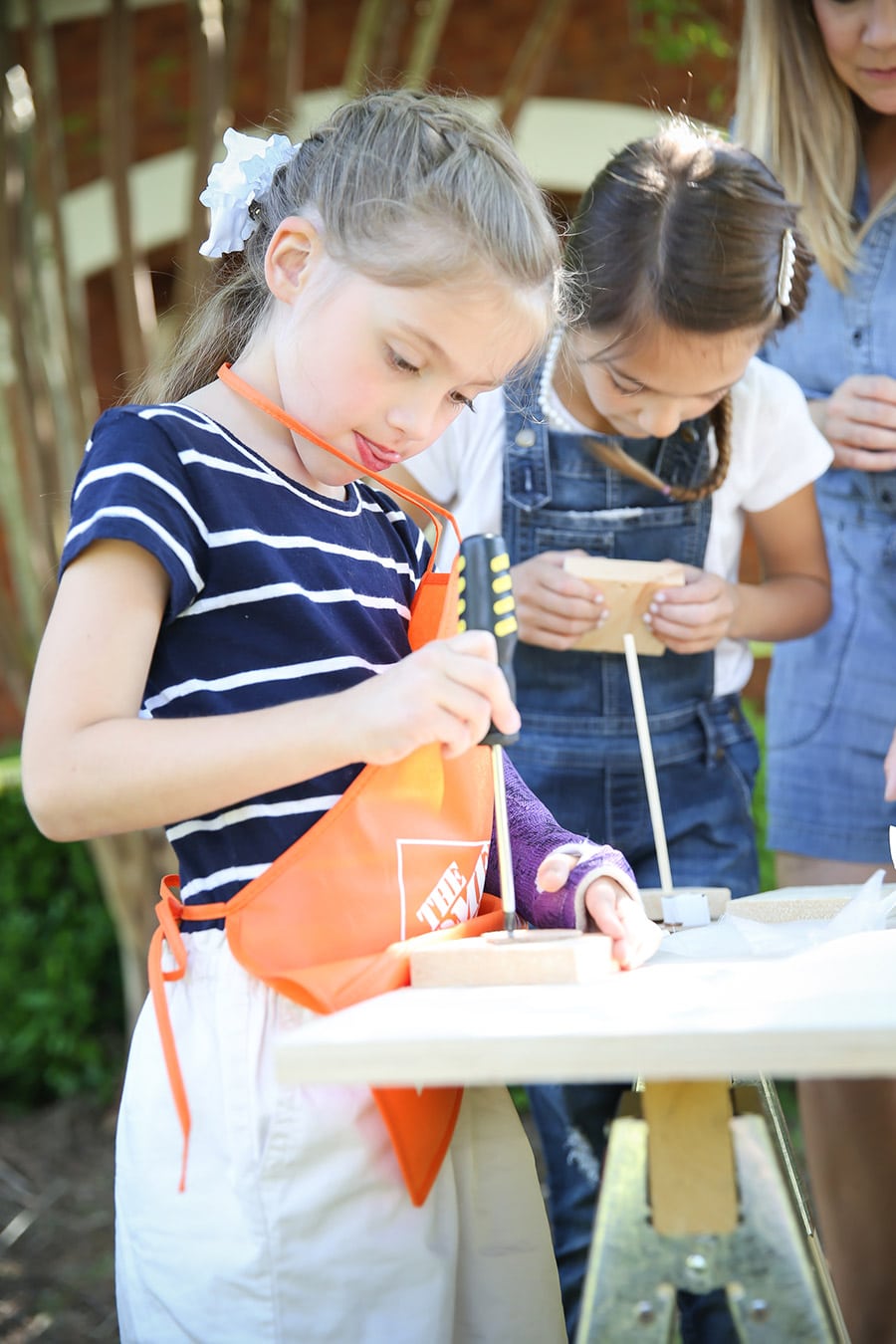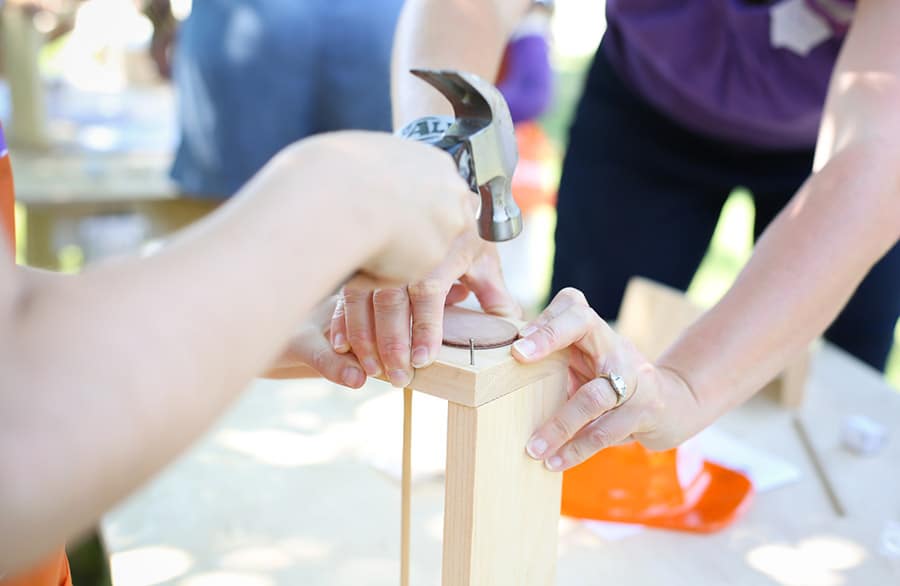 And when I said 'Kids Workshop Party,' I actually meant "Parents Helping Their Kids Build Stuff Party.'
But hey, no thumbs were harmed in the process so I'd call it a win.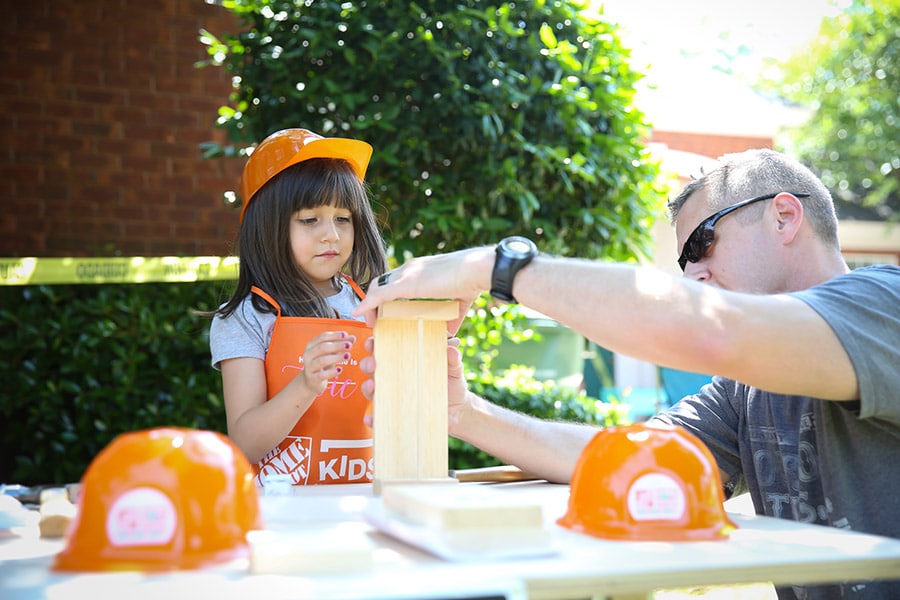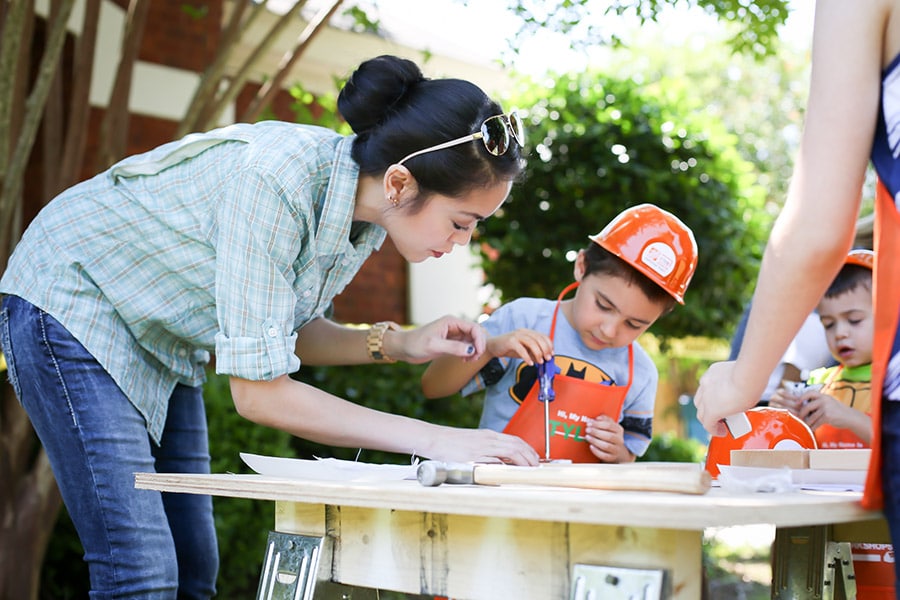 But seriously, what a sweet way to spend a Saturday, right? We all had a blast.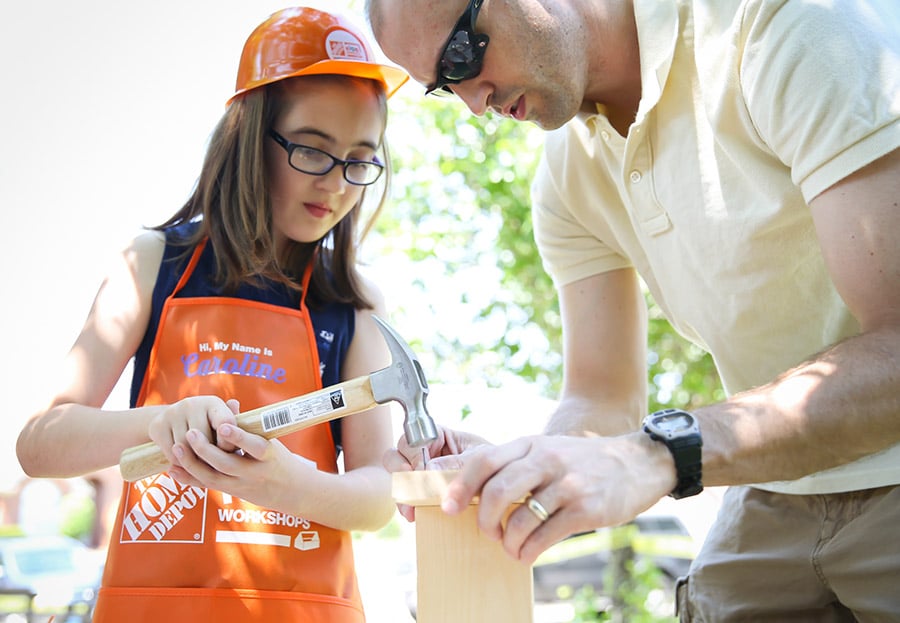 Check out my little lefty. Just like her mama.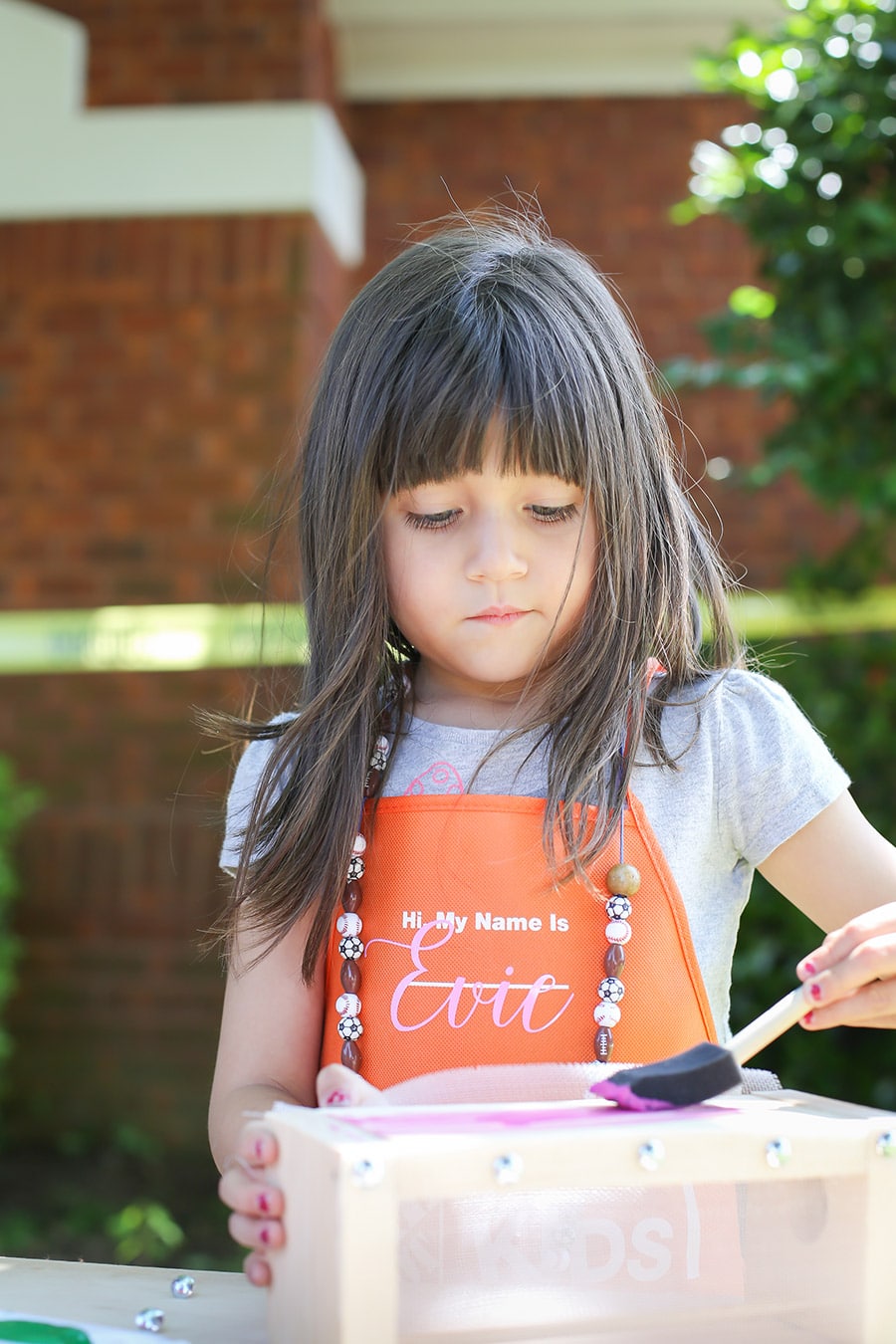 Just look at that intense focus! Bug house building is serious business.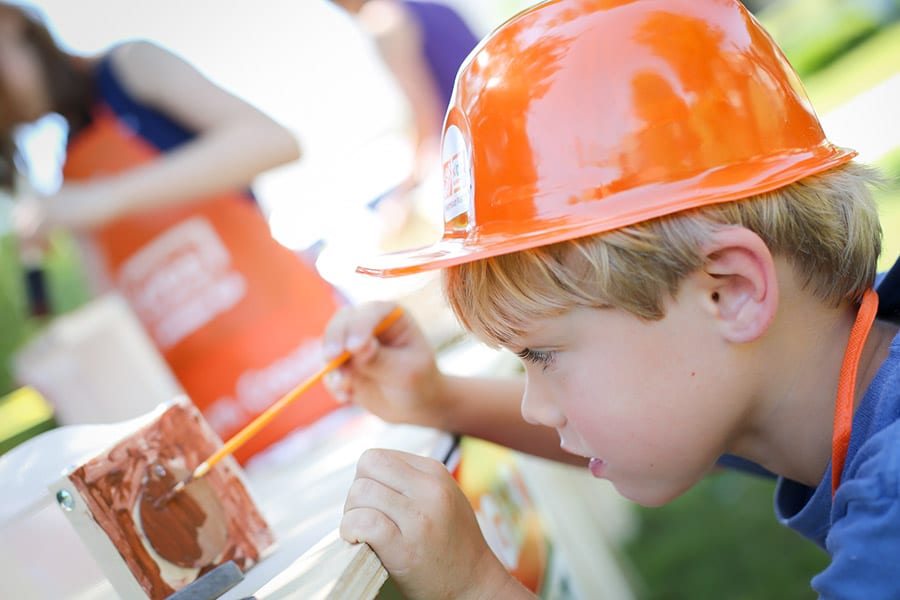 After all that building, we'd really worked up an appetite, so we hit the snack table while the paint dried on our bug houses.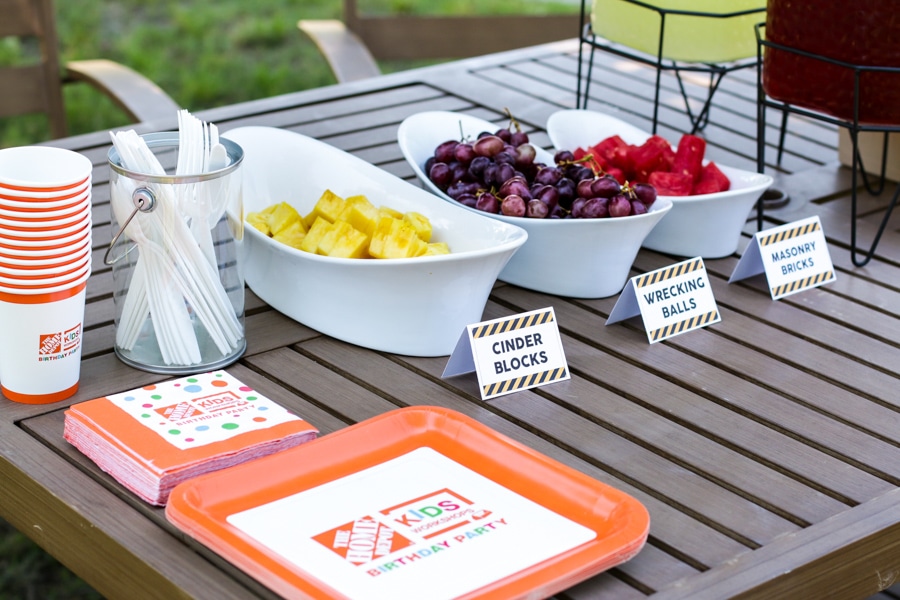 Aren't these little food labels adorable? I designed them in Photoshop. If you host a construction-themed party, feel free to download these cute food labels.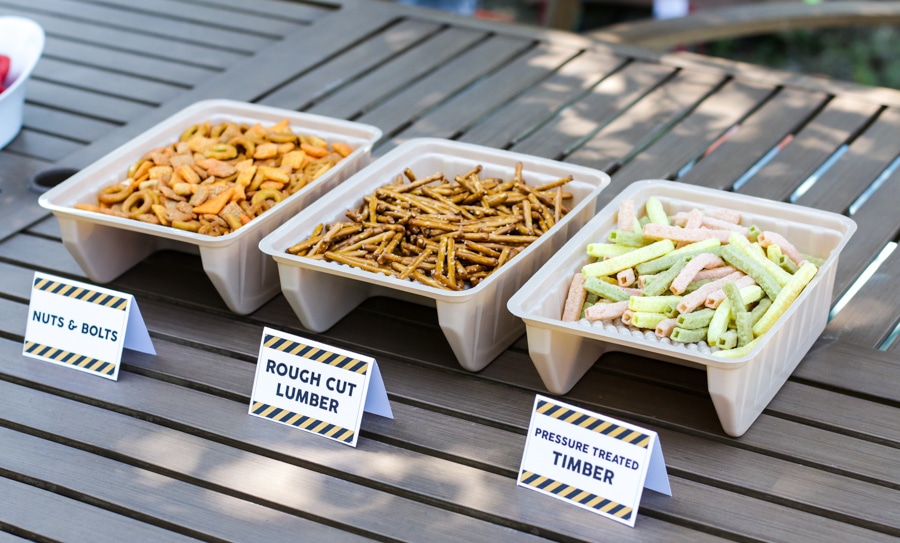 These disposable paint trays are perfect for holding snack foods.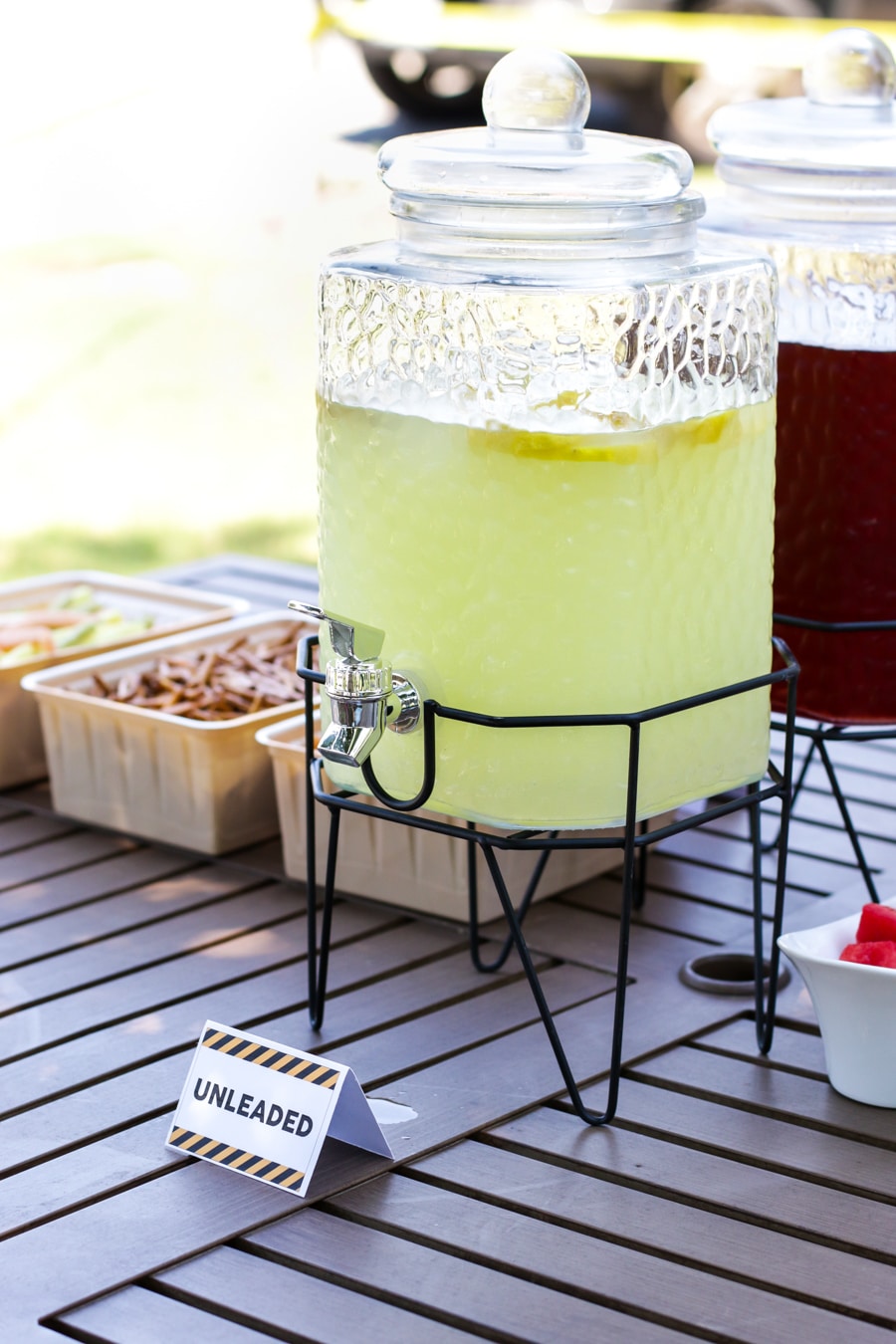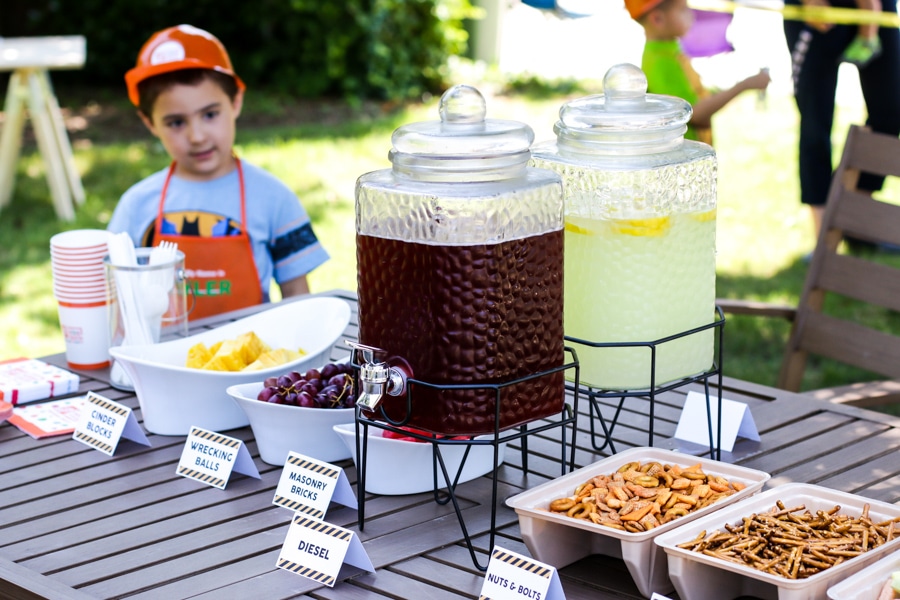 And of course, we had to have cookie cake. Because hello. COOKIE CAKE.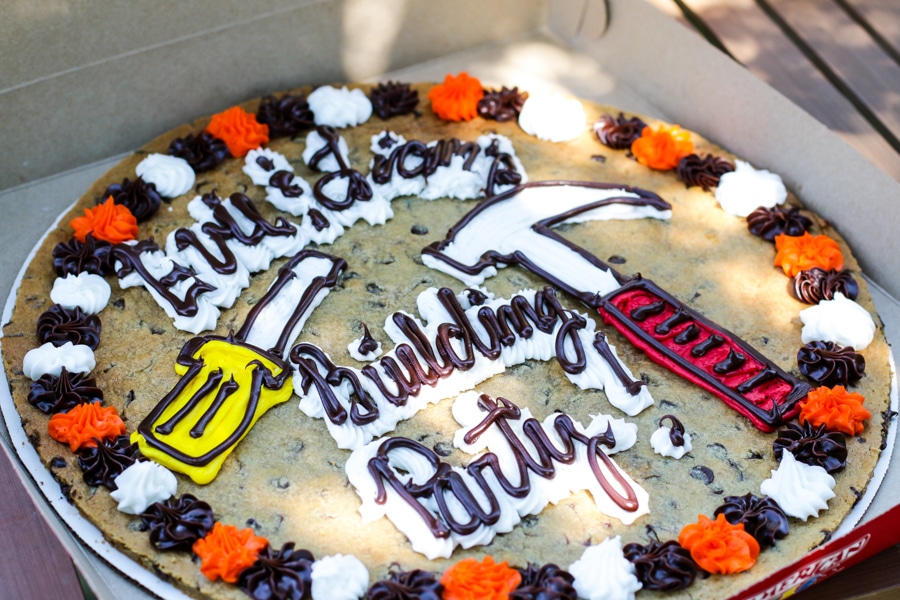 The kids had so much fun building and painting – and catching bugs in their new DIY bug houses!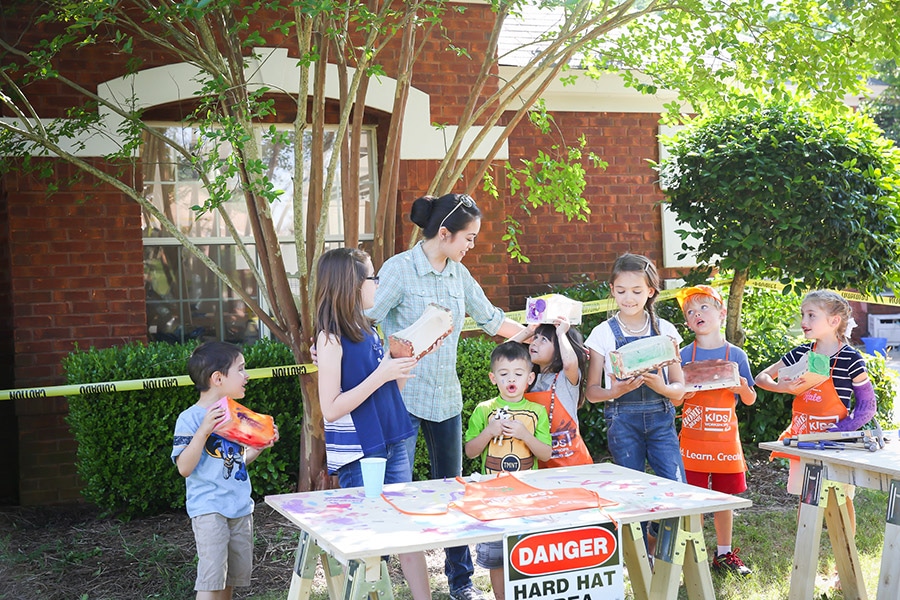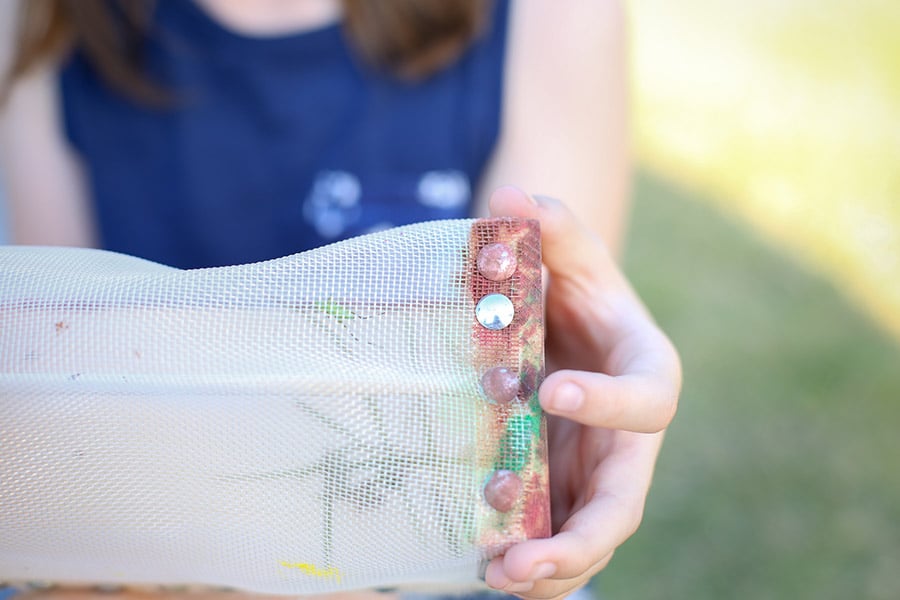 Like this post? PIN IT so you don't forget it!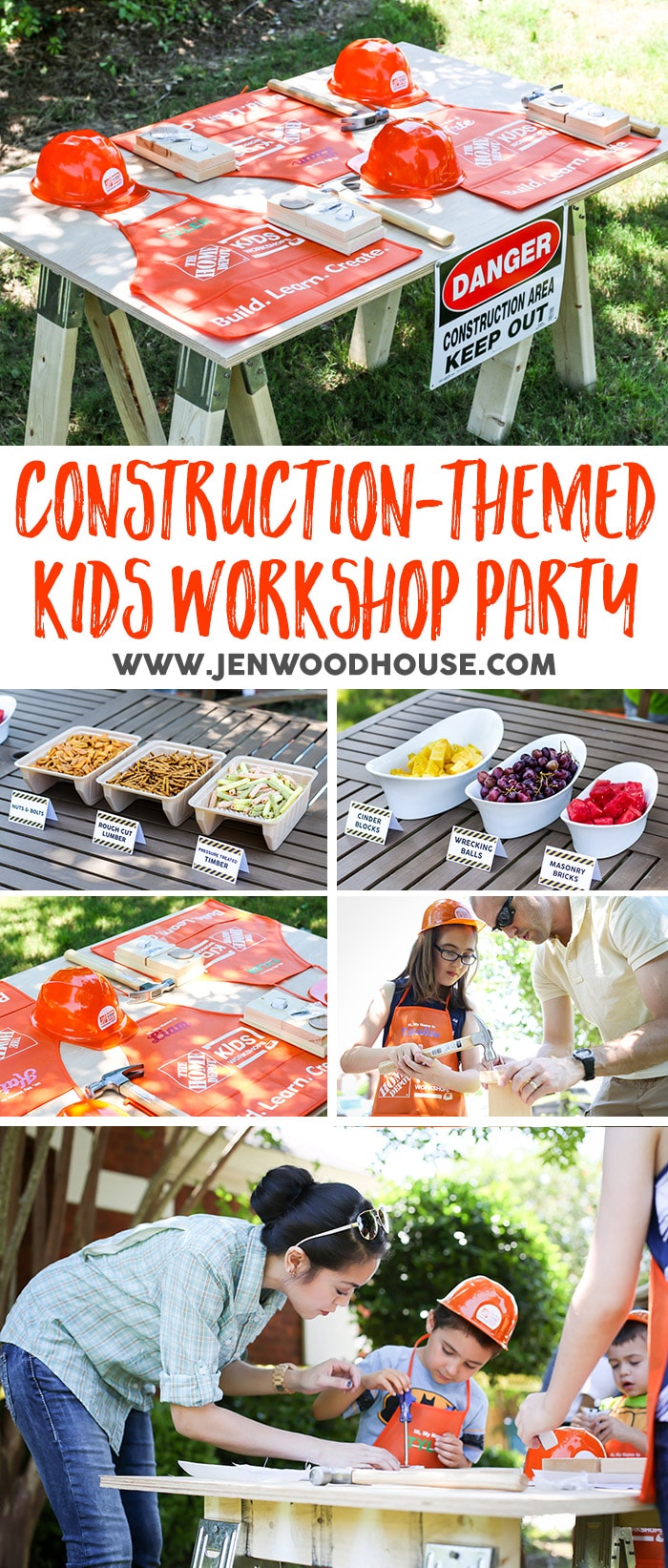 *This post is sponsored by Houseworks, Ltd. All efforts and opinions are my own.