It's a brand new year and with it comes more DIY projects and home renovations! 2021 was a productive year for us and I'm so proud of the work we got accomplished, but I'm even more excited about what 2022 has in store. The two major remodels that we started in 2021 will be wrapping up early this year: the kitchen and the primary bathroom! Those two are our top priorities, along with 6 other projects that are on the docket.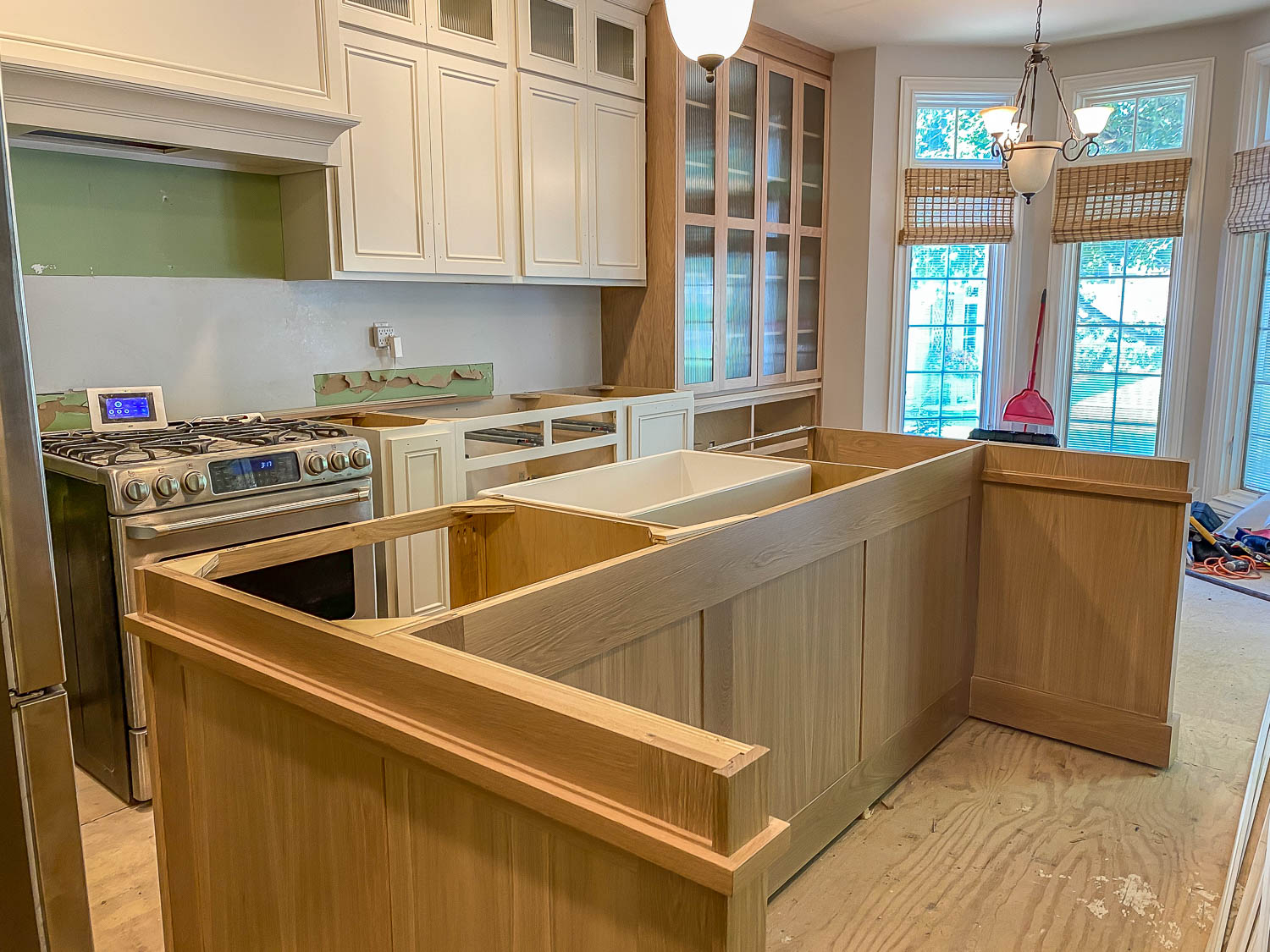 If you follow me on Instagram and Facebook, you'll know all about the kitchen drama we've been facing. We're so close to completion, but have been experiencing some setbacks. The cabinets don't fit three out of the four appliances we purchased. *face palm. We're working with our cabinet designer to correct these issues, however none will be easy fixes. The opening where the range should be is too large, so there's a gap on both sides of the stove (perfect for food, crumbs, and gunk to fall!). We'll have to uninstall the cabinets, scoot them over, add some filler pieces, and have the marble countertop recut and reinstalled. Luckily, I was able to snag the last slab from my lot, so we'll be able to match the marble perfectly.
The dishwasher is a panel-ready appliance that should seamlessly integrate with the rest of the cabinetry, but it sticks out several inches because the opening is either not square or not large enough or both. Our panel-ready fridge doesn't seamlessly integrate into the surrounding cabinets (despite having full expectation they would), so we're currently trying to figure out the way ahead from here. While the rest of the kitchen looks absolutely beautiful, these are mistakes we can't ignore nor accept, so I'm looking forward to getting all of these issues corrected so we can all move on with our lives and finally reveal the kitchen of our dreams!
*Update: The primary bathroom remodel and the DIY double vanity is done! Click the links to see the full reveal!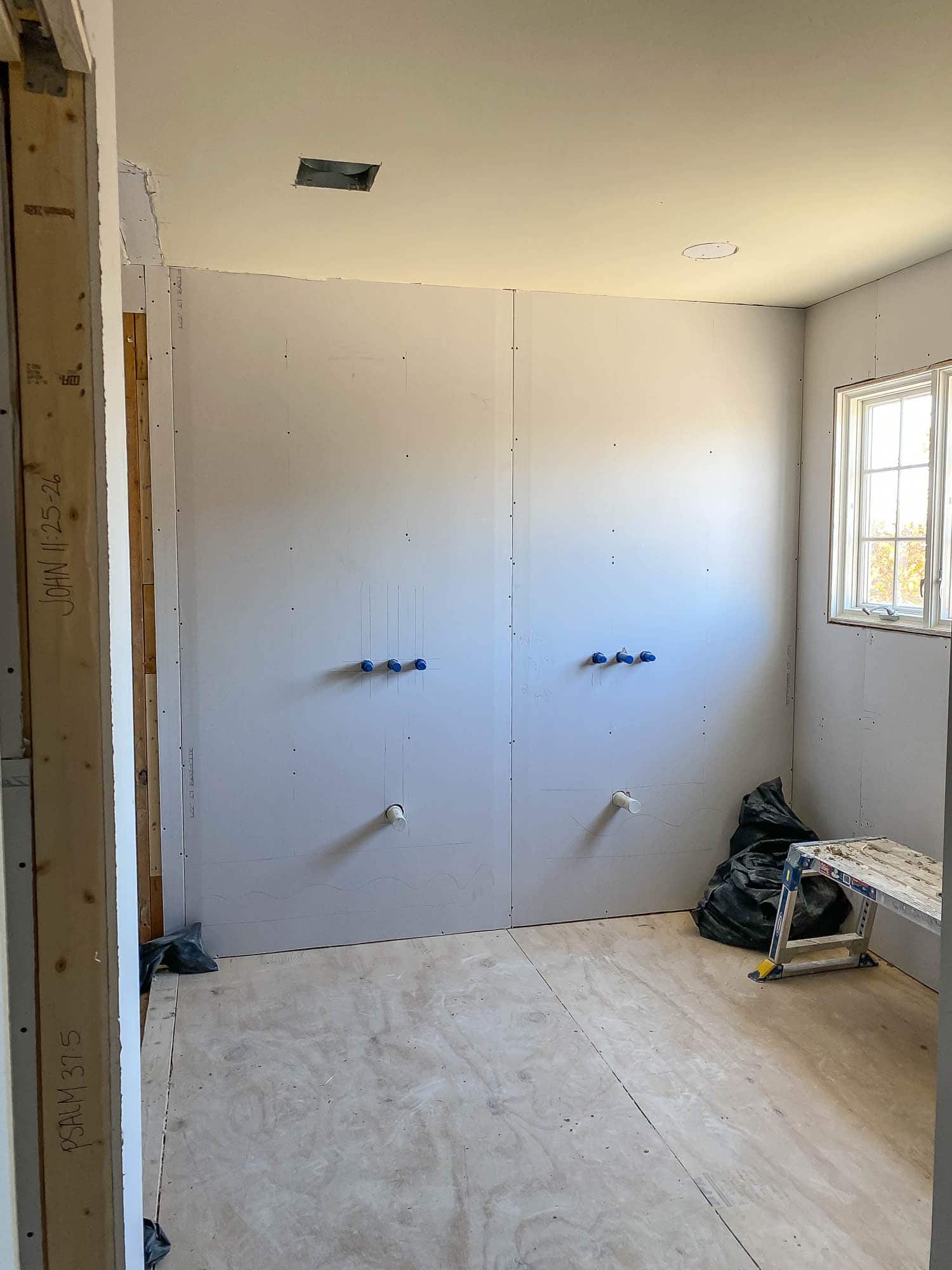 We're wrapping up the bathroom renovation we've been working on. With the holidays and some unexpected delays with the tile guys, we're running about 3 weeks behind schedule. Womp womp. I'm excited to get started on building the double vanity. I just ordered the materials for it (black walnut!) from one of my brand partners, 84 Lumber and it's going to be amazing. With lumber prices still at an all-time high, the cost for the black walnut was almost $2,600 (!!!).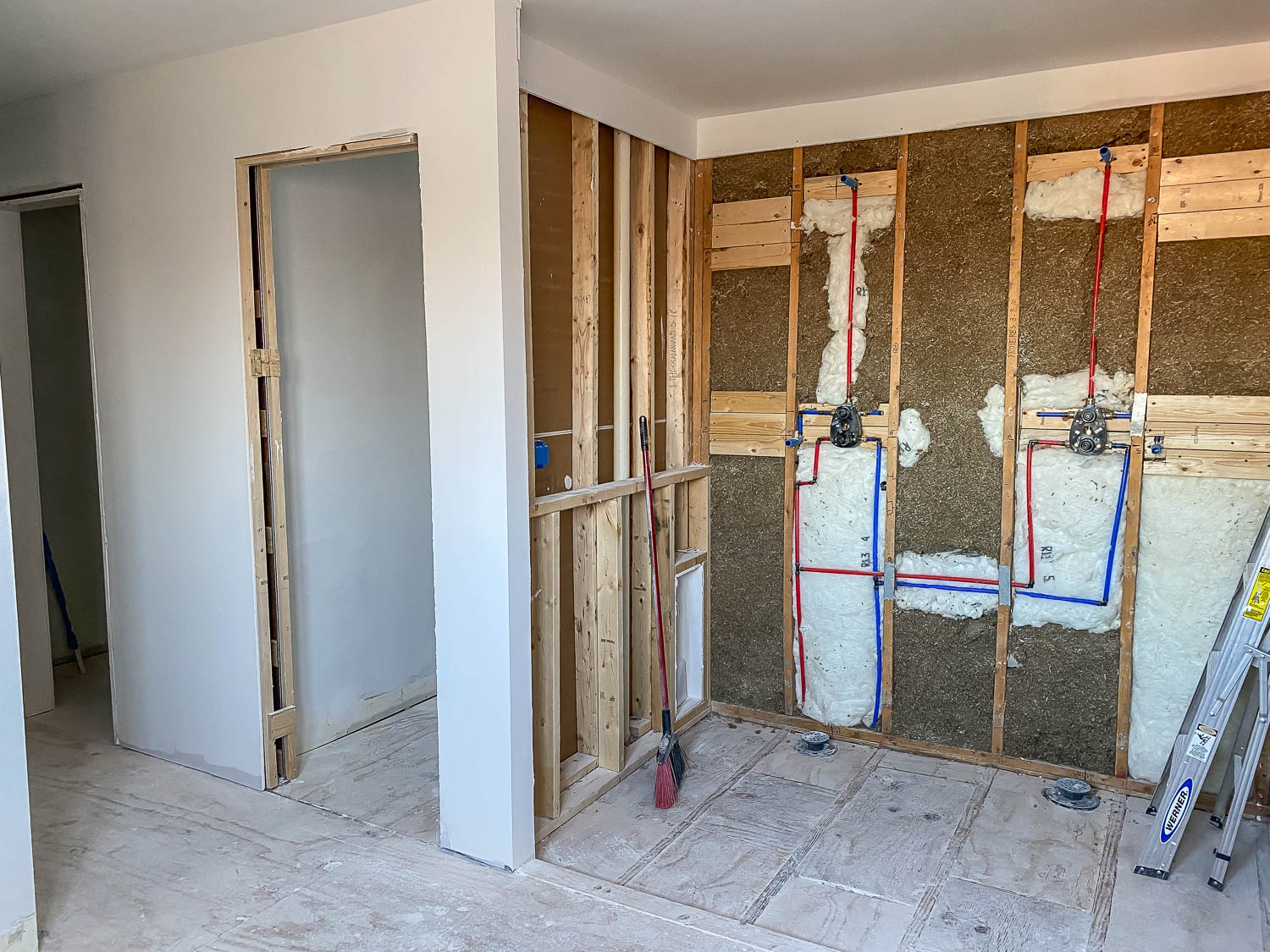 The tile guys are scheduled to start tiling tomorrow (fingers crossed we don't run into any more setbacks). Hopefully they'll be done by the end of this week. As soon as tiling is complete, I expect things will move more quickly with finish plumbing and electrical immediately after, then trim work, double vanity and countertop install, and finally paint and finishing touches.
Which leads me to my next decision… what color should we paint the room? My first inkling was to go with my tried-and-true White Dove (which is in the majority of our house) or Swiss Coffee (in our guest bedroom and bathroom), but I'm still undecided. I want to see how the black walnut vanity + marble countertop + the herringbone wood-look floor tile + marble shower tile will all look together in the space before I make a paint color decision. It might be nice to switch it up and go a little darker… we'll see! I'm on the hunt for an ambiguous but neutral color that changes with the light… a muted green-gray that could read green, gray, or beige depending on the time of day. Here are a few colors I'm considering.
3. Primary Closet with DIY Custom Built-Ins
*Update: The primary closet renovation is done! Click to see how it turned out!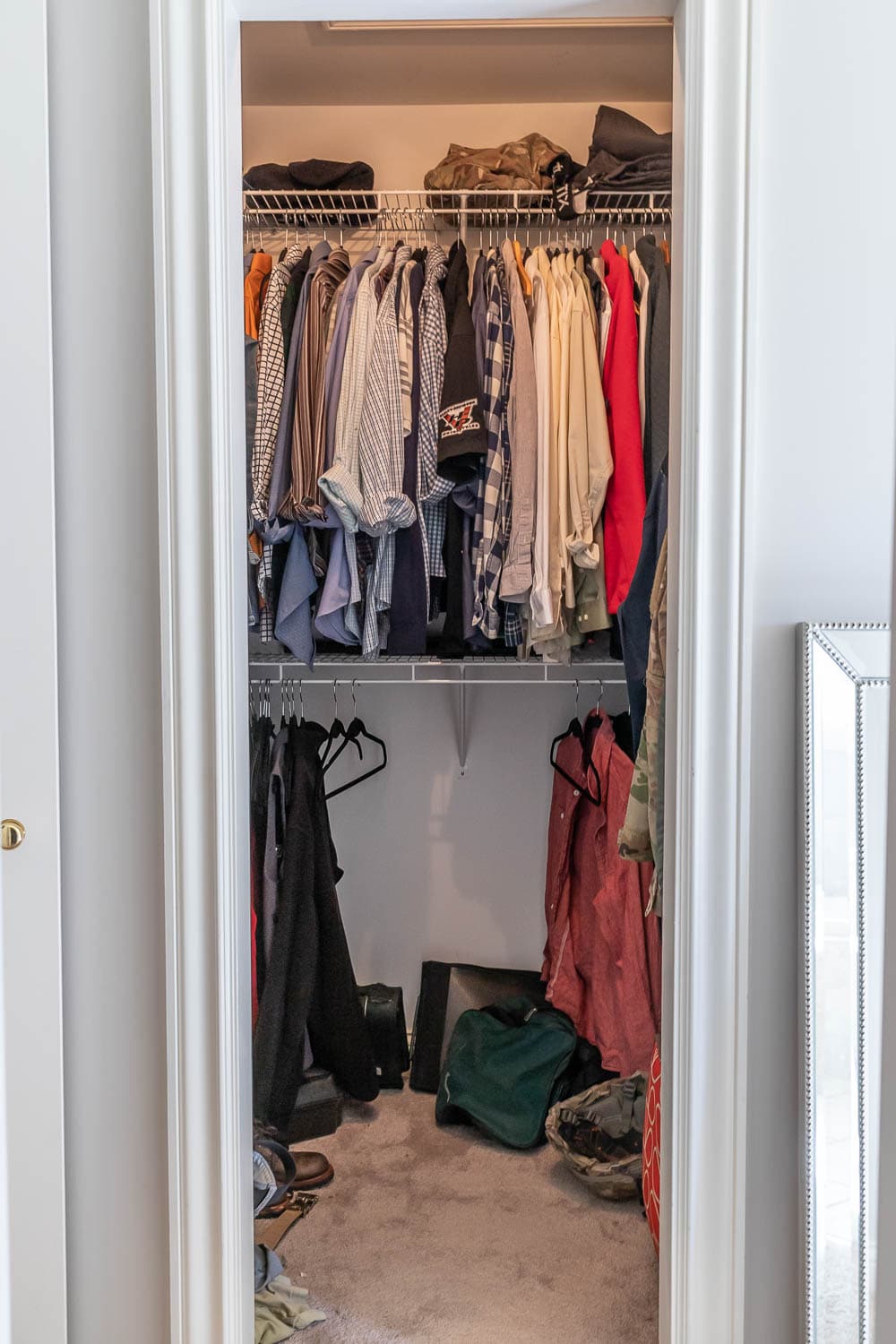 Along with the bathroom renovation, comes a closet makeover. We have separate his & her closets, although they're pretty small with basic wire shelving. We're going to team up with Shelf Help and Purebond Plywood to design, create, and install custom built-ins for the closets. Although the space is small, I'm confident we can maximize every valuable inch of space and create a more efficient and smart storage solution. I'm also working with Graham & Brown for the wallpaper and paint color in the closets. Wouldn't a fabric-inspired wallpaper (like this one) be so perfect?!
4. Front Door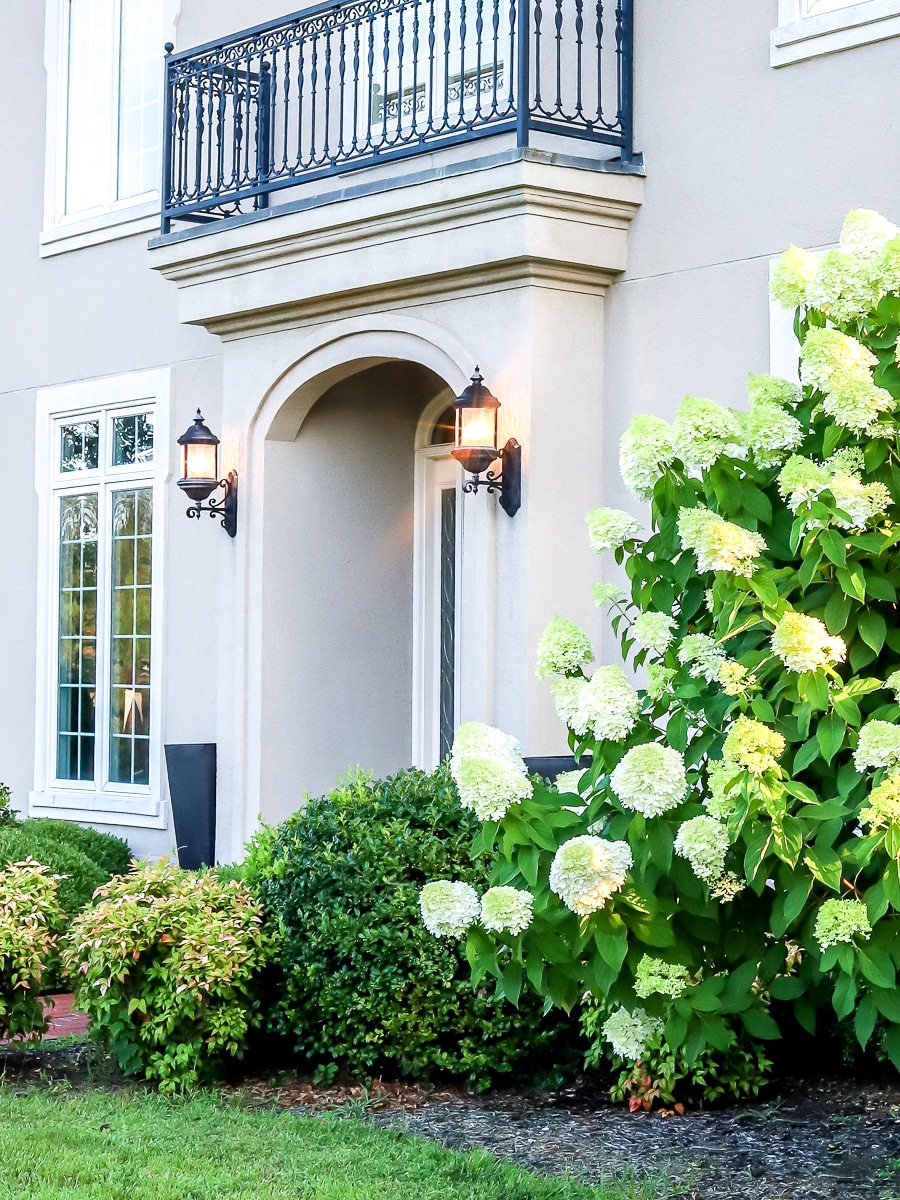 Ever since we moved in, our front door has literally been falling apart. The wood is coming apart at the seams and we can actually see light coming in through the cracks! Our door is currently a single door with sidelights and a transom. I *think* we might have the space to convert it into French doors. Here are a few inspiration images I pinned. We also need to replace the lantern sconces because they've seen better days.
5. Laundry Room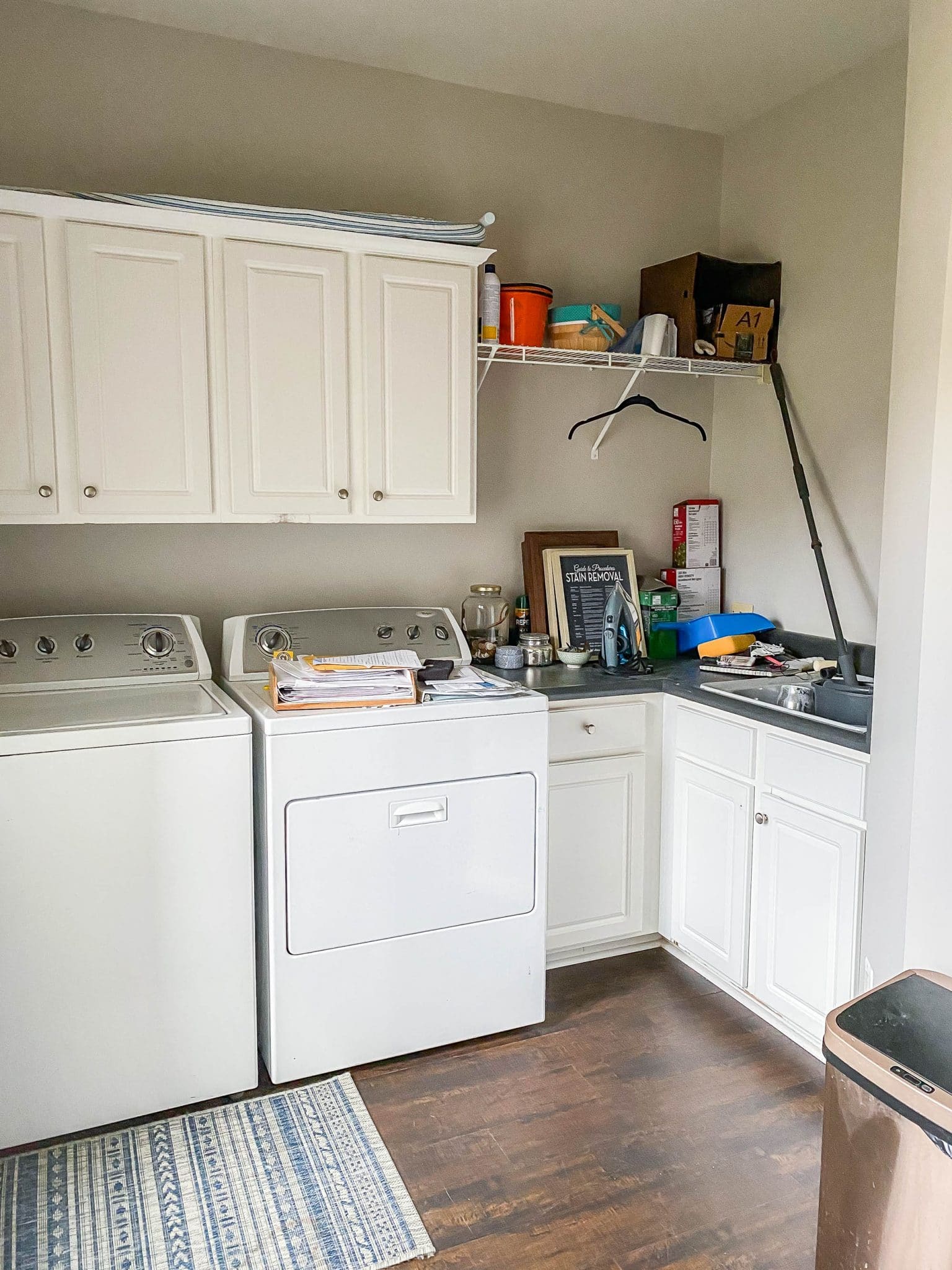 When we replaced all the flooring on the main floor with a French oak engineered hardwood, we left off at the laundry room. We're hoping to give the laundry room a complete renovation, but at the very least, we do need to demo the old dark laminate-over-beige-tile situation that still exists there and continue the same hardwood flooring as the rest of the main floor. I'm trying to decide between a stacked washer and dryer vs. a side-by-side setup. What say you?
6. Basement Bonus Room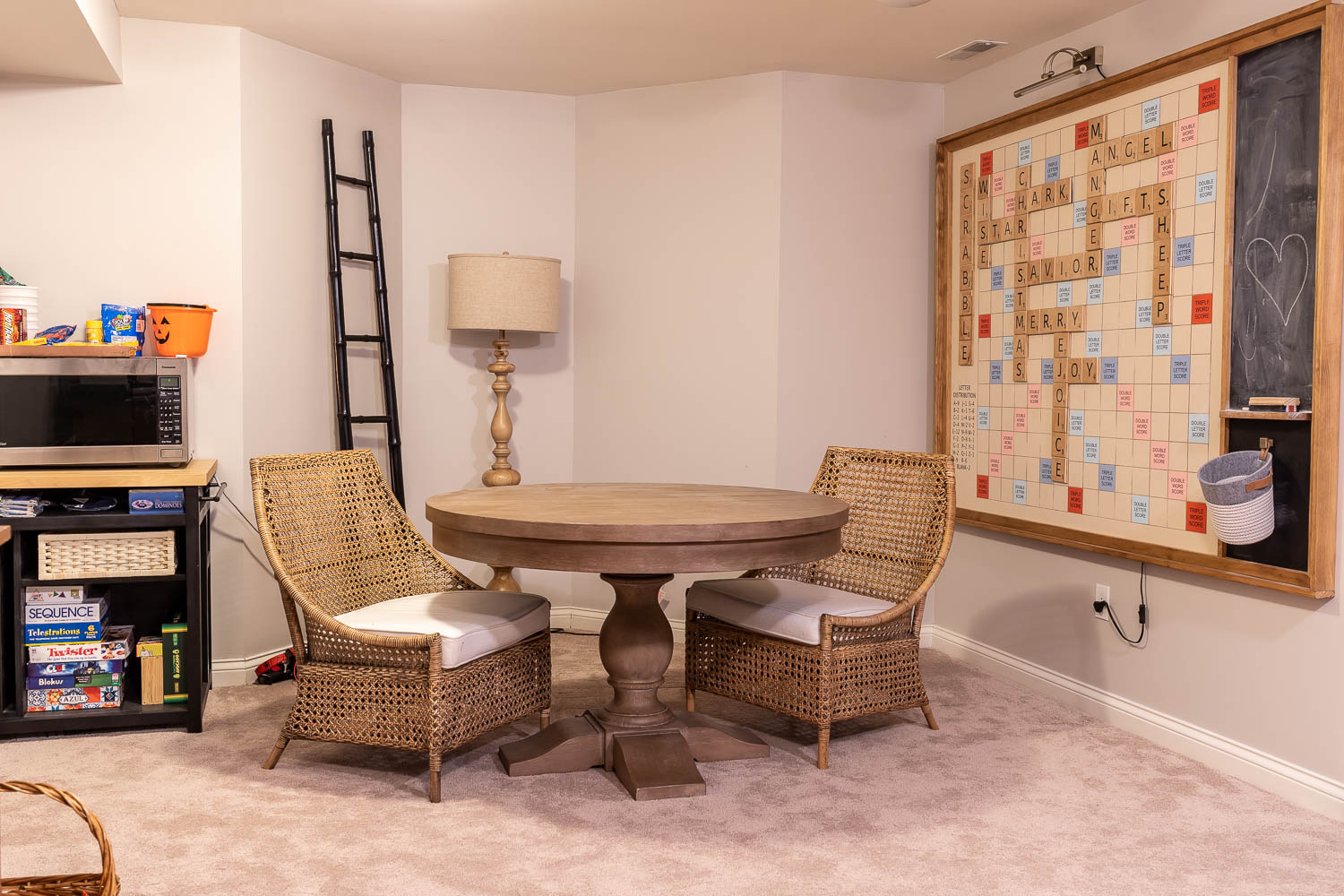 When we renovated the basement and turned it into a home theater last year, we neglected the adjacent space (we call it a "flex space") with plans to turn it into a wet or dry bar area someday. Though the design has been dreamed up for months now, I'm still zeroing in on how we want the room to function for our family. I'm envisioning a lounge area with a statement bar to showcase Adam's impressive bourbon and scotch collection. I'd love for it to be a place to chill, hang out, talk, and play games (we moved my DIY Giant Scrabble Board in here)… all with a 1920s Prohibition-era speakeasy vibe to match our stunning Art Deco home theater.
7. Basement Powder Room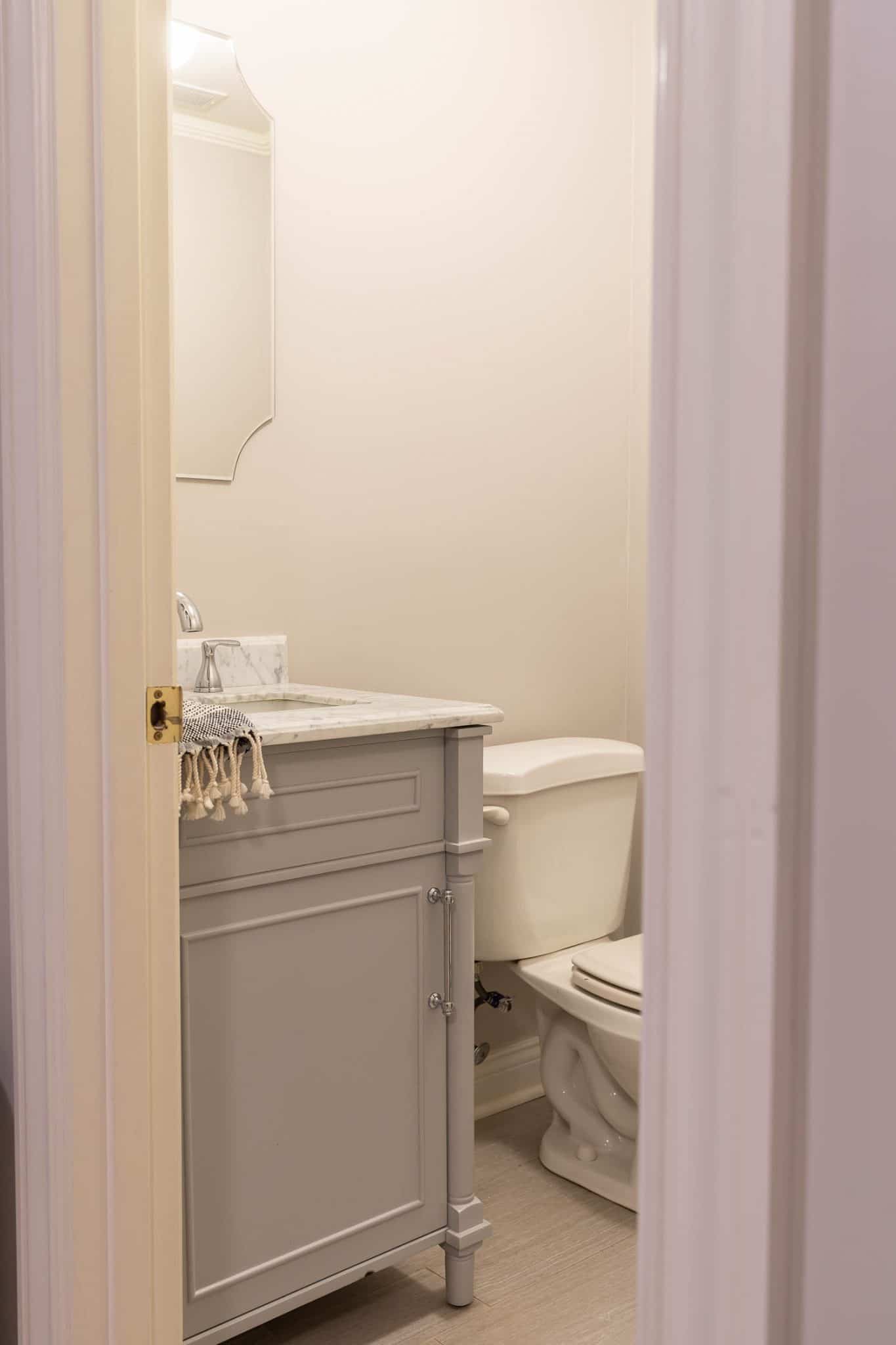 We're so fortunate to have a small powder room connected to this "flex space." I'd like to give it a full makeover as well. I'm envisioning dark, moody walls with vintage tile… this is another room where the design is fully imagined, now it's just a matter of execution.
8. Dining Room with DIY Dining Table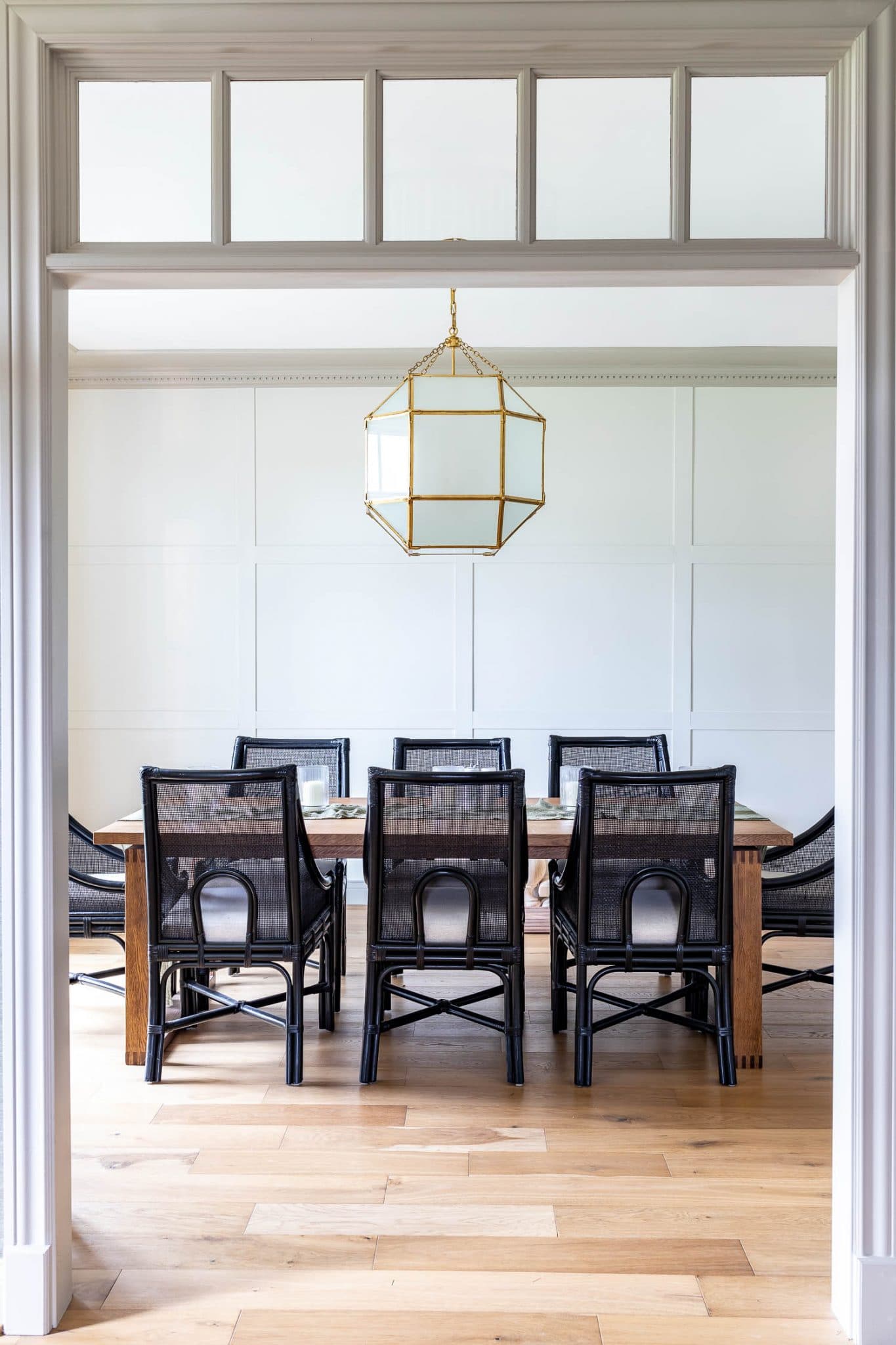 In the dining room, we installed a transom window above the doorway, painted the trim and walls, and installed the light fixture, but nothing more. This room has remained largely untouched and undecorated for the two years we've lived here. My plans for this space is to take down the modern farmhouse board and batten (it was here when we bought the house) and replace it with a more intricate, traditional (but interesting!) molding treatment on all four walls.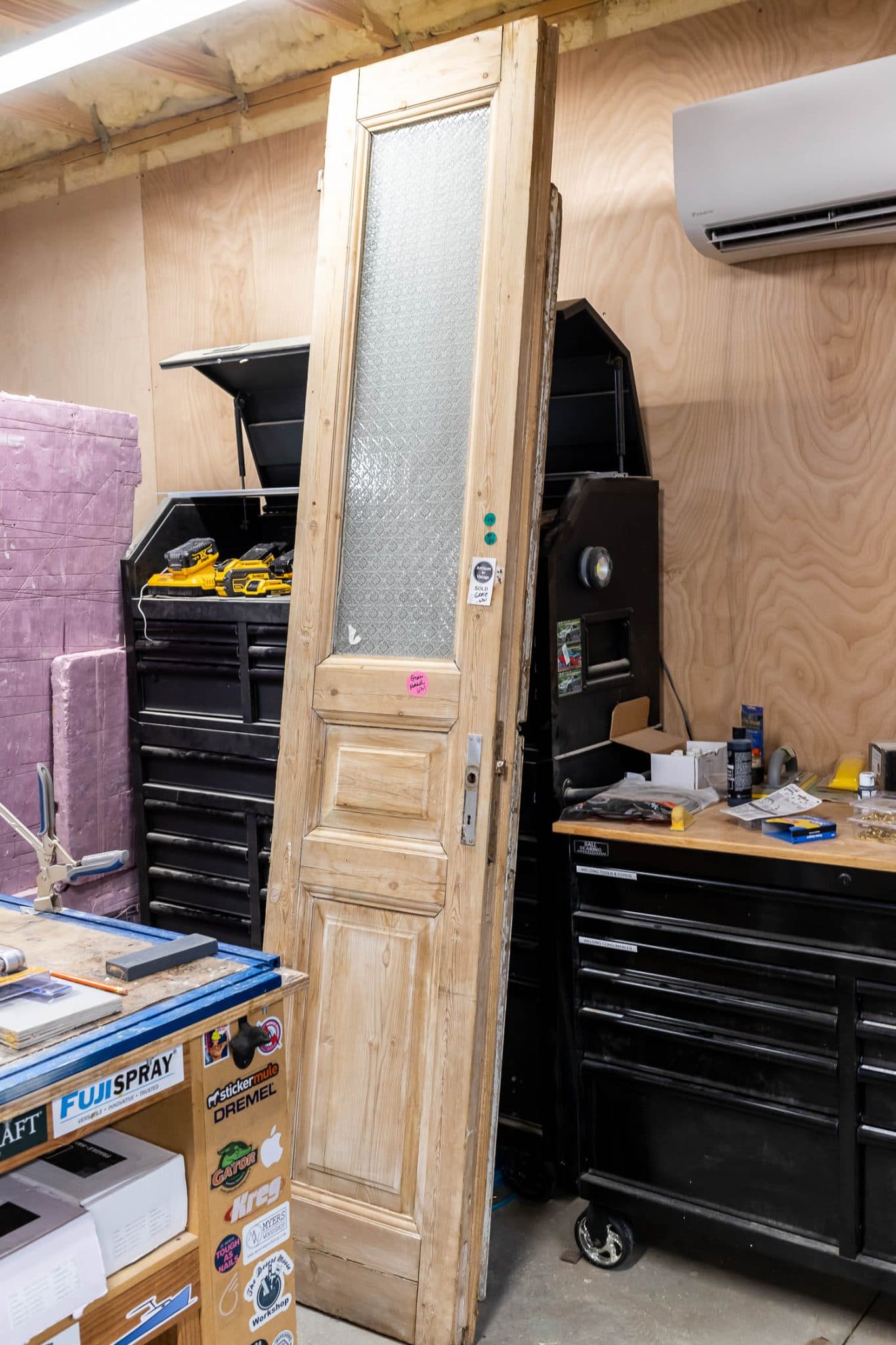 Last fall, I bought a pair of antique doors when I visited the Round Top Antique Show with my dear friend Grace Mitchell. Fun story: Grace took an impromptu road trip all the way from Texas to Kentucky to come visit me and she personally delivered these doors to me! She's truly the best.
I'd love to install the doors in the dining room, but because they're much taller than what we have currently, we'll have to cut and reframe the opening. But seriously, aren't they so pretty?! Fingers crossed I'll be able to find the same vintage patterned glass because one of the doors needs a panel replaced. I'm also considering a darker, moody paint color for the walls and trim work.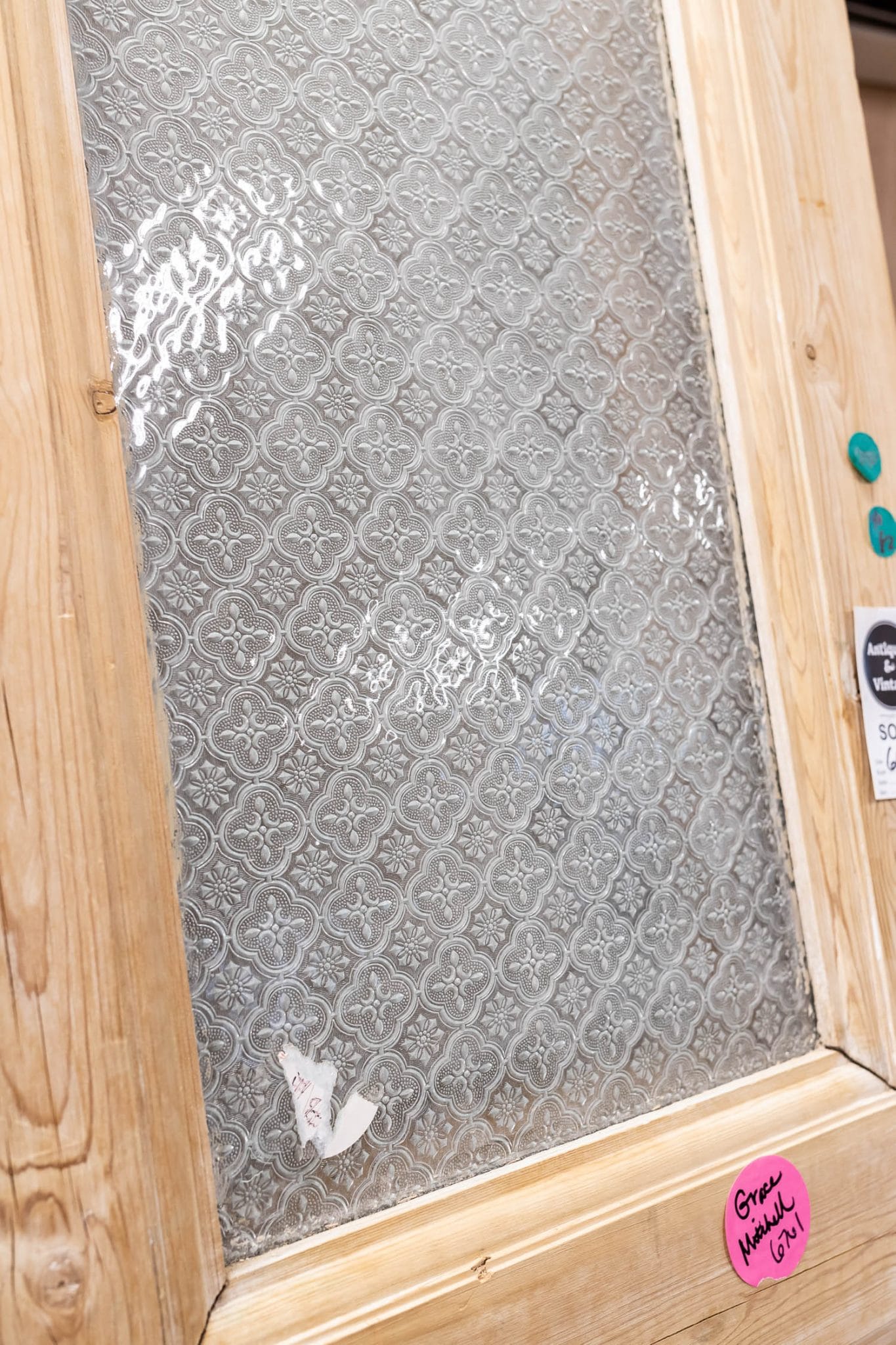 I've been dying to incorporate soapstone somewhere in this house (I almost used it for the kitchen renovation!) and so I bought a beautiful slab that will ultimately become our dining tabletop. I'm working with Carolina Leg Company to design the pedestal bases and the awesome guys at Stone City will fabricate the top (ogee edge all the way, baby!).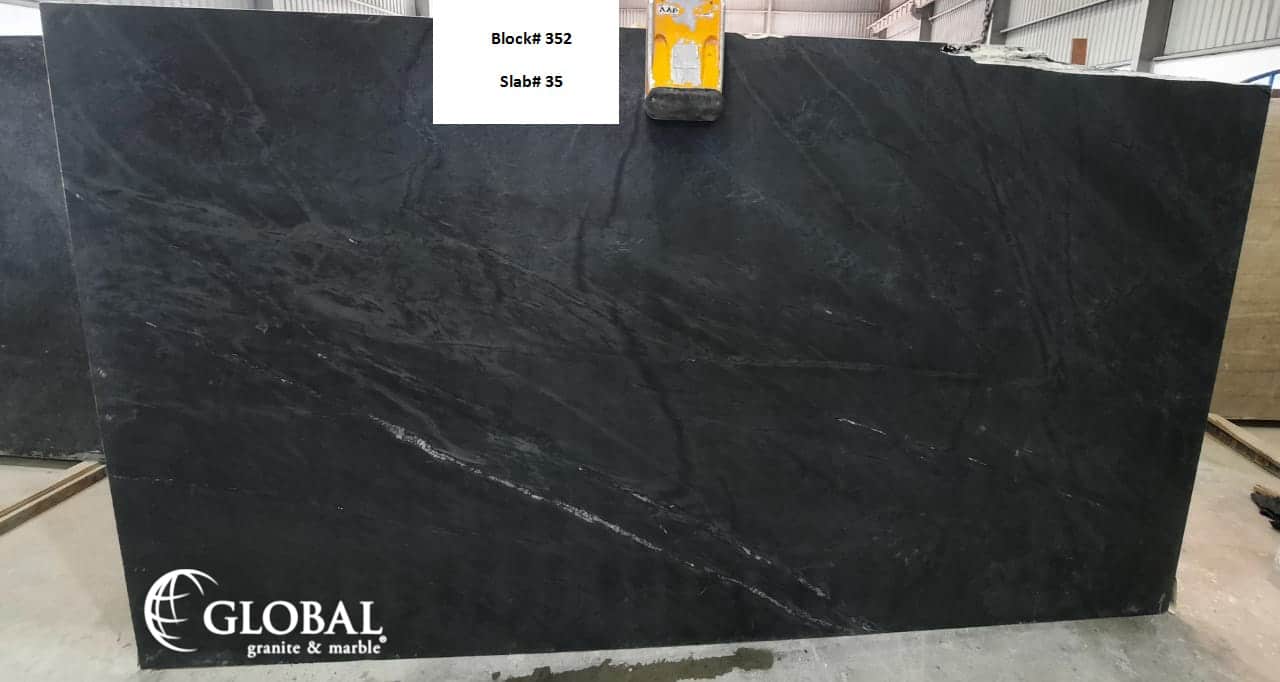 And that's our 2022 Project List! Which projects are you most excited about?