Mexican layered dip pots are perfect for your next fiesta! Make them for your next backyard soiree – they are sure to be a crowd pleaser. Because who doesn't like Mexican layered dip, right?

Mexican Layered Dip Mini Pots
All you need is just 5 minutes to whip up these precious petite pots. If you want to get fancy, you can make my delicious guacamole and salsa recipes from scratch, but I find when everything is layered this way a good, high-quality store bought version does just fine and is a big time saver. If you want to make it extra fresh spritz a little lime on it before you serve it. Give it a little extra zing!

Here is the full Mexican Layered Dip recipe: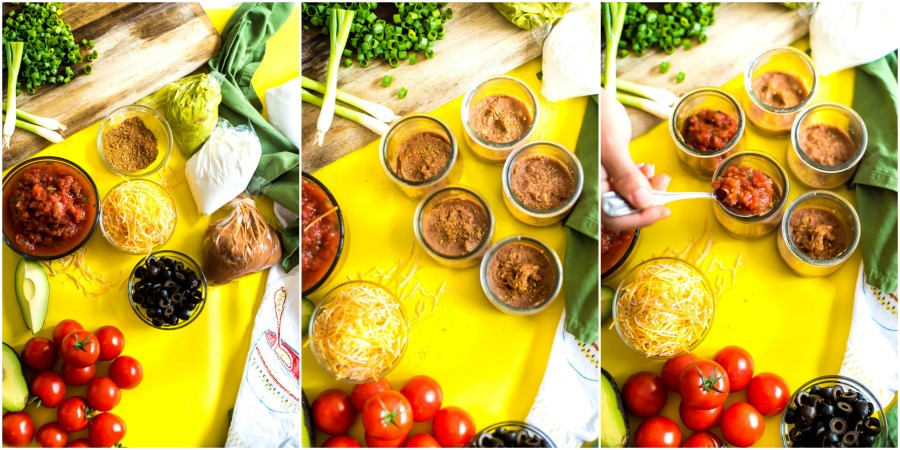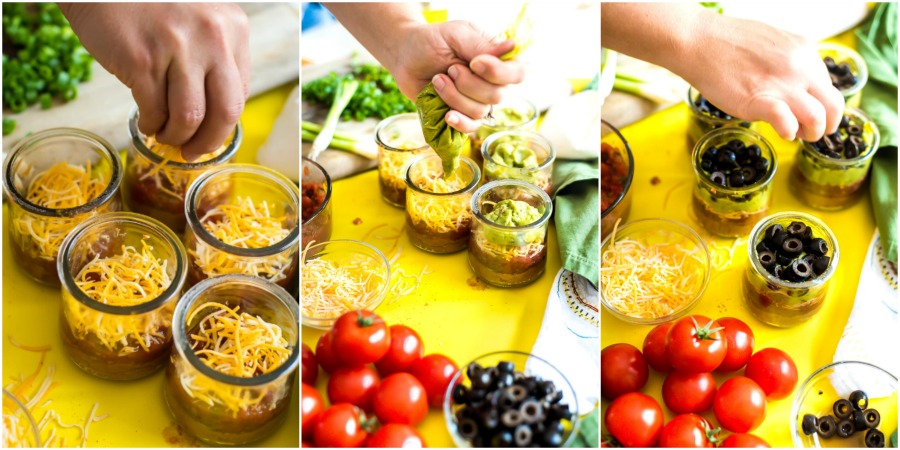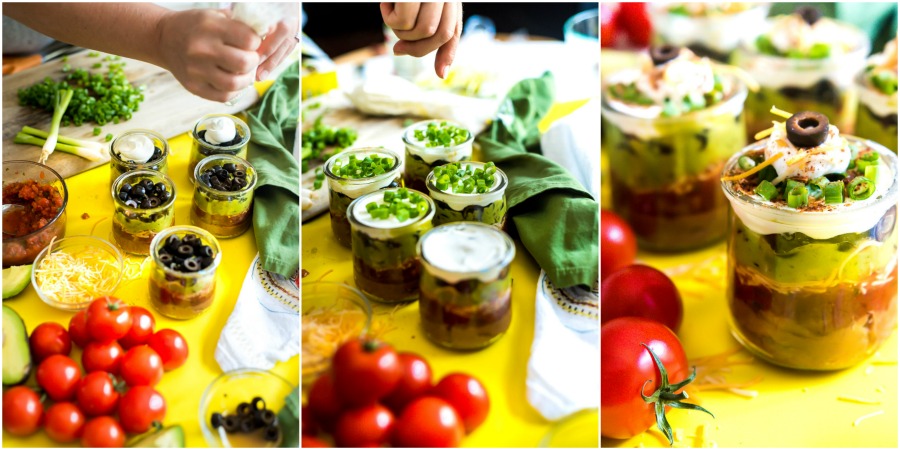 Print
Mexican Layered Dip Mini Pots
Dangerously Delicious Darling layered pots of Mexican goodness!
Author:
Prep Time:

10

Total Time:

10 minutes
1 cup

refried beans

1 cup

fresh salsa

5 oz

. finely shredded Mexican cheese

1 cup

guacamole

1/2 cup

sliced black olives

1/3 cup

green onions

1 cup

sour cream

1 TBSP

taco seasoning
Instructions
Layer each item as evenly as possible without making a mess of the sides. I used sandwich bags to pipe the beans, guac and sour cream in and then pressed and smoothed it out with a clean spoon each time before adding the next layer.
Sprinkle your taco season sparingly between layers for the best flavor!
Disperse each ingredient evenly across the containers you are using 4/ 6 oz. or 5/ 5 oz. containers. Multiply the recipe to make more.
Pipe in the refried beans, then spoon in the salsa.
Add a sprinkle of cheese and then pipe in the guac.
Place your sliced olives so they are visible from the edges for the next layer.
Pipe in sour cream and add green onions. Then make it pretty with an extra dollop, some cheese, and 1 sliced olive to garnish the top.
Serve with chips and enjoy!
So, I guess technically this could be considered an eight-layer dip with the taco seasoning ingredient added in there. Seven layer dip- eight-layer dip –  I just call it Mexican Layered Dip. You could just as quickly spread the same ingredients into a pyrex or glass dish and serve it that way, but I think the mini pots add a bit of class and flair to this somewhat common potluck dish.
Don't you think this is the best ever layered Mexican Dip?
Do you LOVE Mexican dips!?
Anything with avocado seems to be all the rage over the last decade or so, and there is no exception to that in my house. Guacamole has become a staple around here. Of course, if any of these layered dip ingredients are not your thing- just leave them out or replace them with something you love. Shredded lettuce, diced fresh tomatoes, cilantro… there are a lot of options to make these Mexican Layered Dip Mini Pots your own personal favorite and get your (and your guests) taste buds sizzling and screaming for more!
Enjoy this and check back soon for more delicious recipes from south of the border! They are coming – leave your requests in the comments if there is something you're dying to try. ¡Olé!
Pin it for later!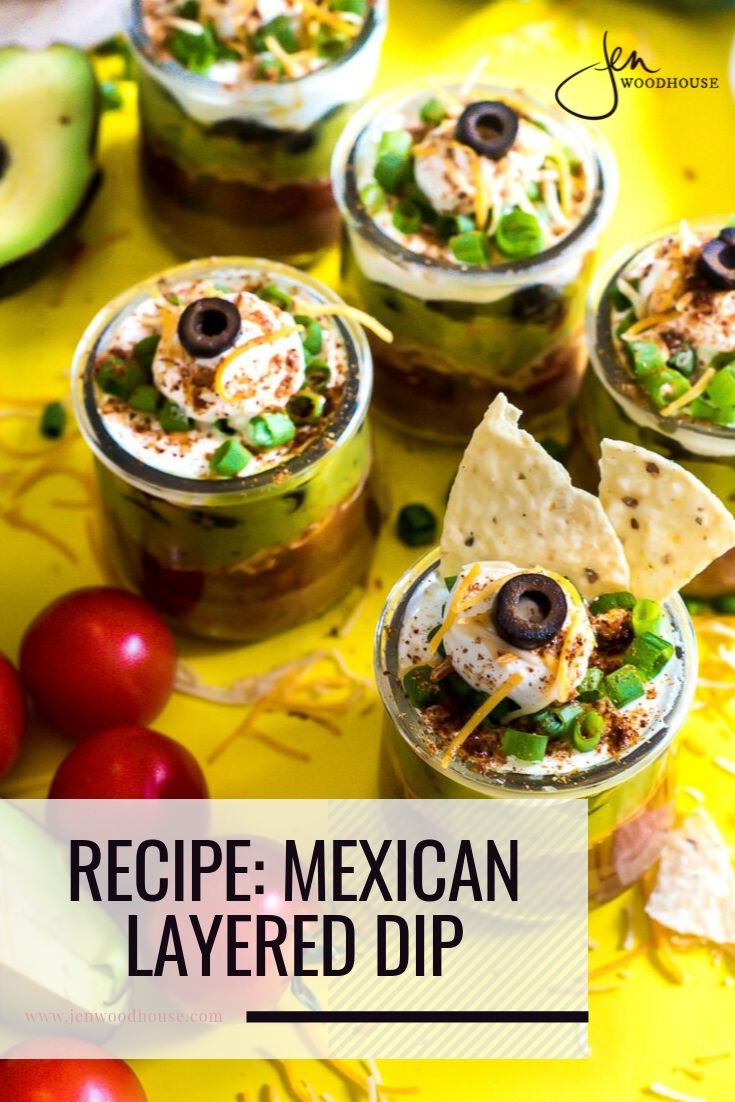 Oh- and every good Mexican meal deserves a refreshing Margarita. Try my favorite sweet strawberry version on the rocks: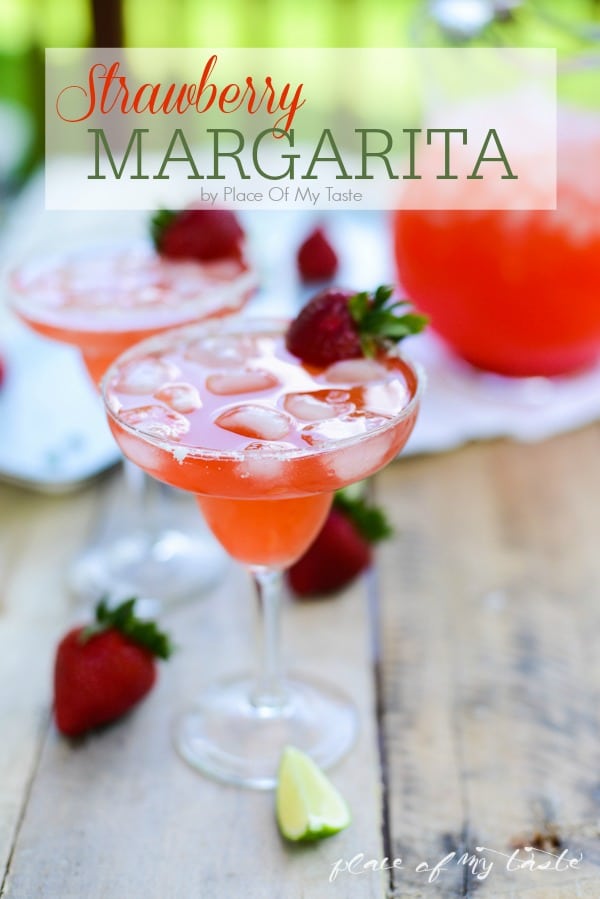 Come on over and visit Place of My Taste for more recipes, DIY projects, and decor tips!
Cheers,
Aniko