*This post is sponsored by The Home Depot.
Hello readers, this is Adam writing to tell you about two new outdoor products from Milwaukee Outdoor Power Equipment. Like vacuuming, yard work isn't something Jen does enjoys. First up, we got to try out the new Milwaukee M18 16in. cordless chainsaw. Tough, powerful, and in a completely manageable package, this is the perfect tool for clearing brush from the backyard, or in our case, mountain biking trails.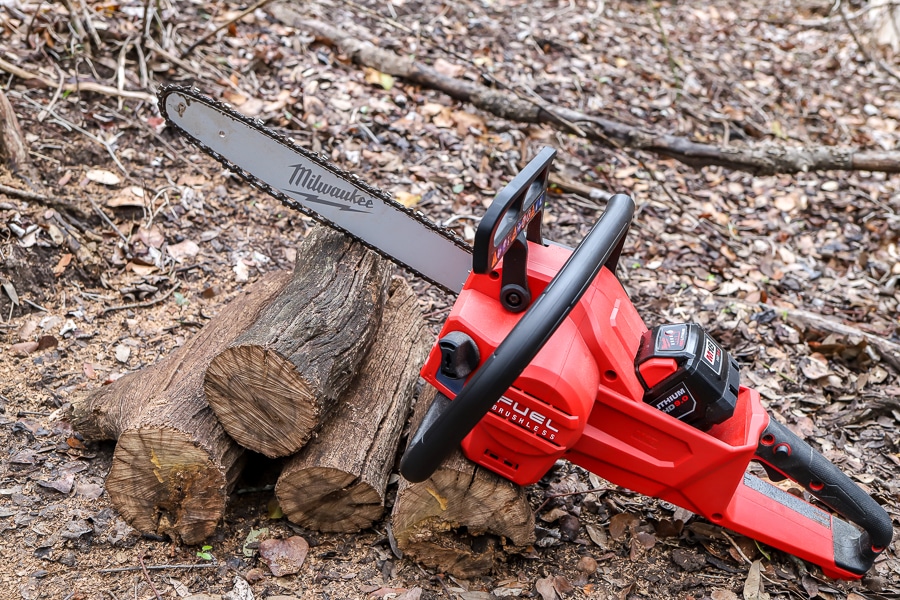 MILWAUKEE M18 FUEL 16 IN. 18-VOLT LITHIUM-ION BATTERY BRUSHLESS CORDLESS CHAINSAW KIT (TOOL-ONLY)
I was able to pack this thing out across a few streams and a few miles clearing some bike paths and hiking trails near our house. While the Milwaukee literature states that pairing this tool with the M18 REDLITHIUM HIGH OUTPUT HD 12.o battery produces the best productivity, I used the HD 9.0 battery with no shortage of power. Now I wasn't sure how much cutting I'd be doing, so I packed 2 additional batteries in my bag but never had to use either of them. I was cutting cedar and dead wood without slowing down even a little bit. Jen was very impressed with my manliness until she gave it a go and promptly cut up the pile in the photo above. Only then did she realize how manageable yet powerful this tool is – thanks Milwaukee, now I have to do it with an axe next time, to show off my non-toxic masculinity.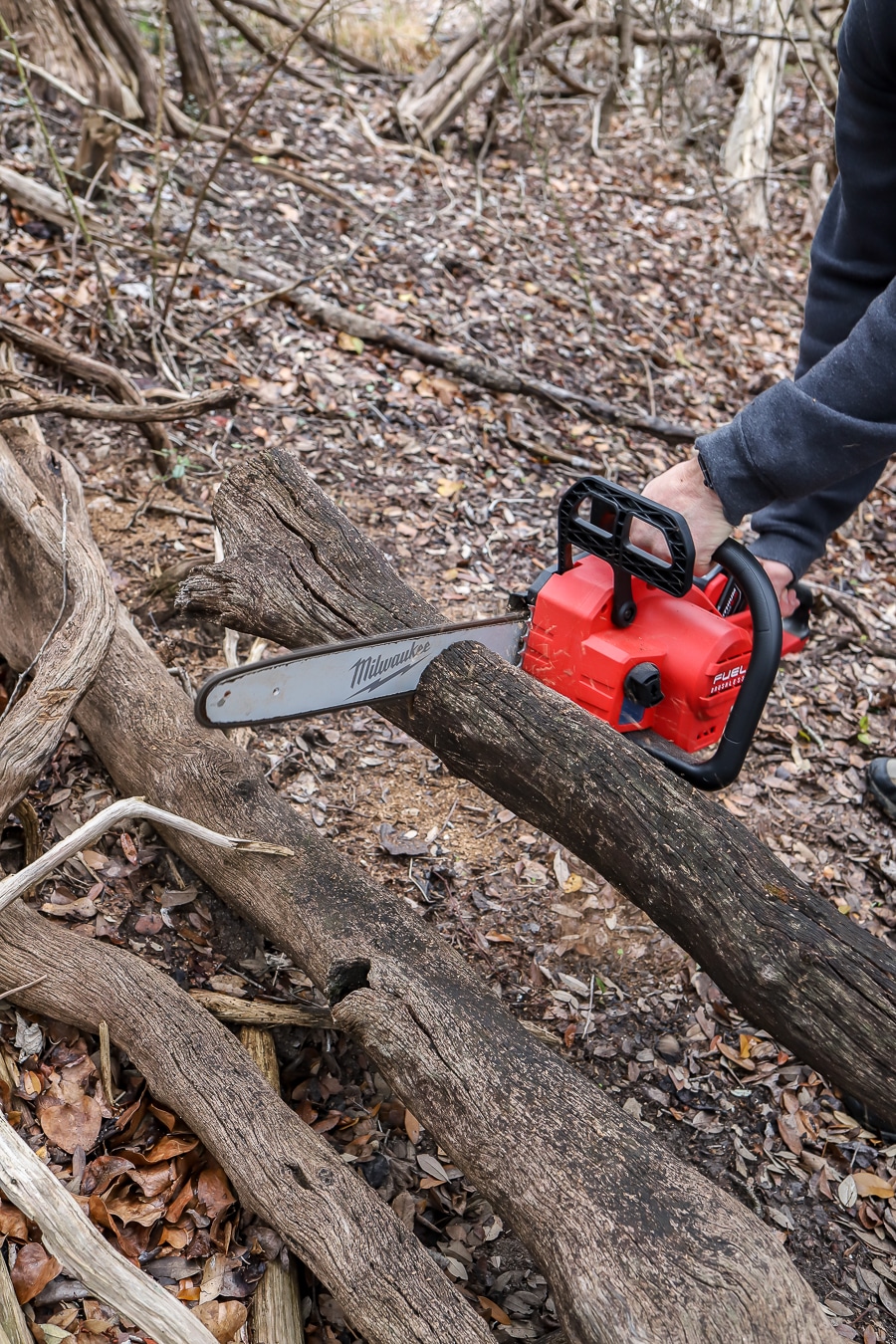 Even though it's battery-powered, this chainsaw gives the same power and performance as a 40 cc gas-powered tool. It's also fully compatible with the M18 battery system, which features over 175 tools. The 16-inch bar was more than enough for all the cutting I needed to get done and being able to use the same M18 batteries that I use on the drill, driver, and string trimmer means I'm not wasting my time searching for the right battery. All the power of a 40 cc gas chainsaw without the smoke and noise is pretty convenient and a far more pleasing experience. I can pop the battery out of the saw and use it on my string trimmer, pole saw, or hedge trimmer, how convenient is that?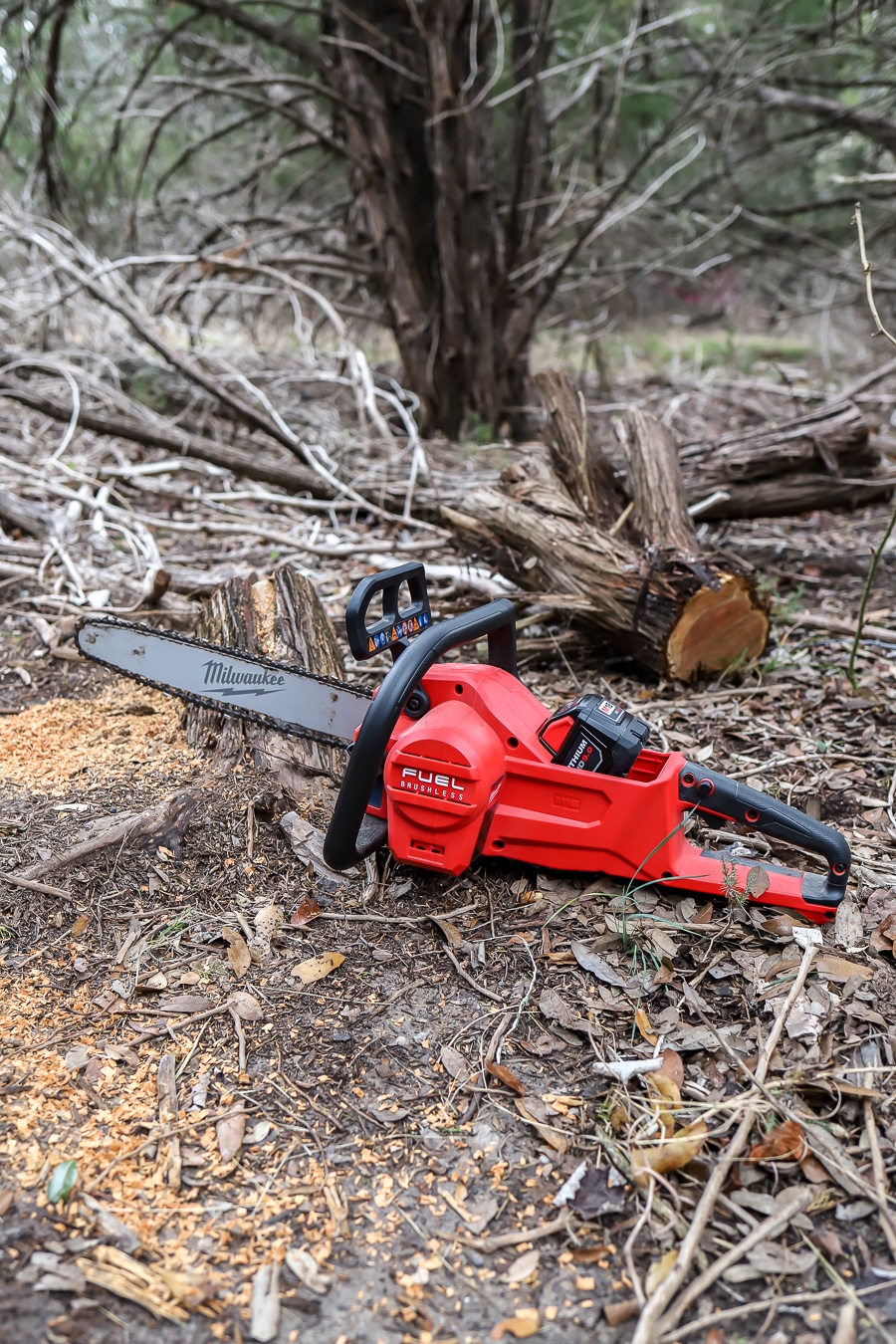 MILWAUKEE M18 FUEL 18-VOLT LITHIUM-ION BRUSHLESS CORDLESS STRING TRIMMER WITH QUIK-LOK ATTACHMENT CAPABILITY AND 9.0 AH BATTERY
The Milwaukee M18 Cordless String Trimmer with QUIK-LOK attachment proved just as tough as the chainsaw, but the balance of this thing is what impressed me the most. I'm used to using 2-cycle gas powered string trimmers – I've even used other brand's cordless string trimmers – and all I can say is that the balance of this tool was just right. It also comes with a shoulder harness which sadly, I did not realize when I first put the tool to use.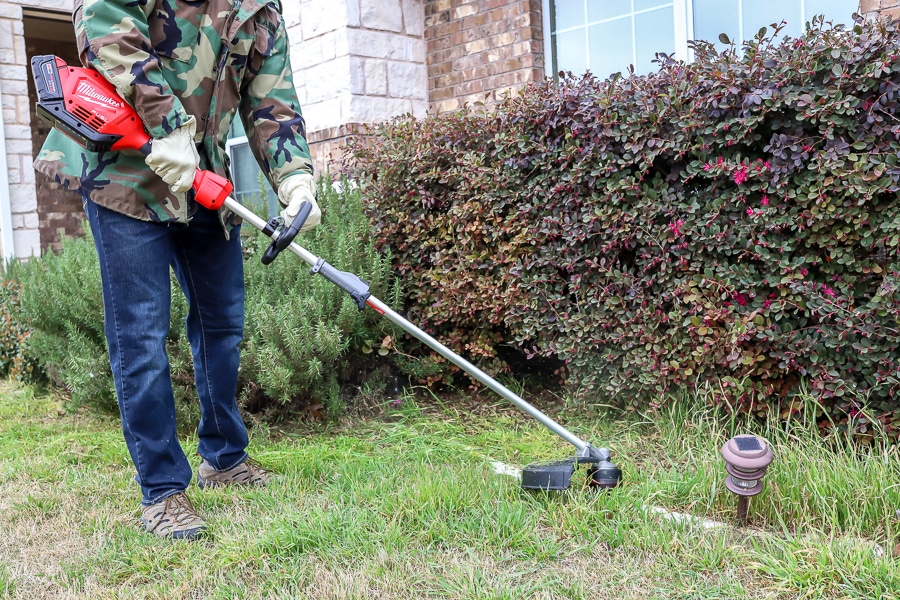 All the string trimmers I've used have had one thing in common: a ridiculously fatiguing vibration during use. With the interchangeable attachments I was expecting this tool to be no different. Surprisingly though, I was one smooth operator… I mean the tool operated smoothly, but I mean the other thing too. Milwaukee's QUIK-LOK system worked flawlessly for me. Keep in mind I'm not exactly a "read-the-instructions" kind of guy, so the fact that I was putting the tool to successful use 3 minutes after unboxing it should tell you how simple and well the system works.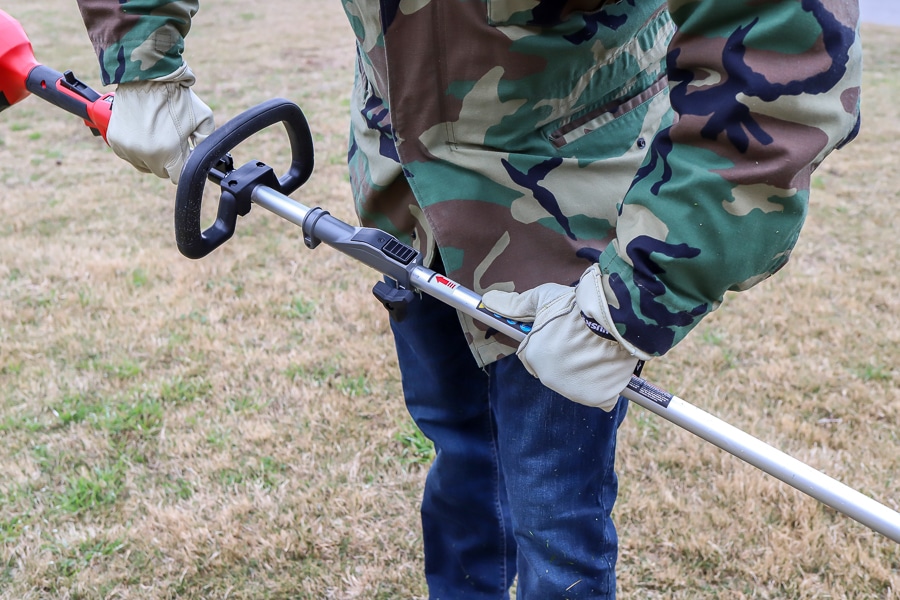 Finally, this string trimmer is nearly ready to go right out of the box – I just had to attach the grass guard and the front handle. All told, I'm really happy with the performance of Milwaukee's outdoor products, which is great since I'm the only one in this house who uses them.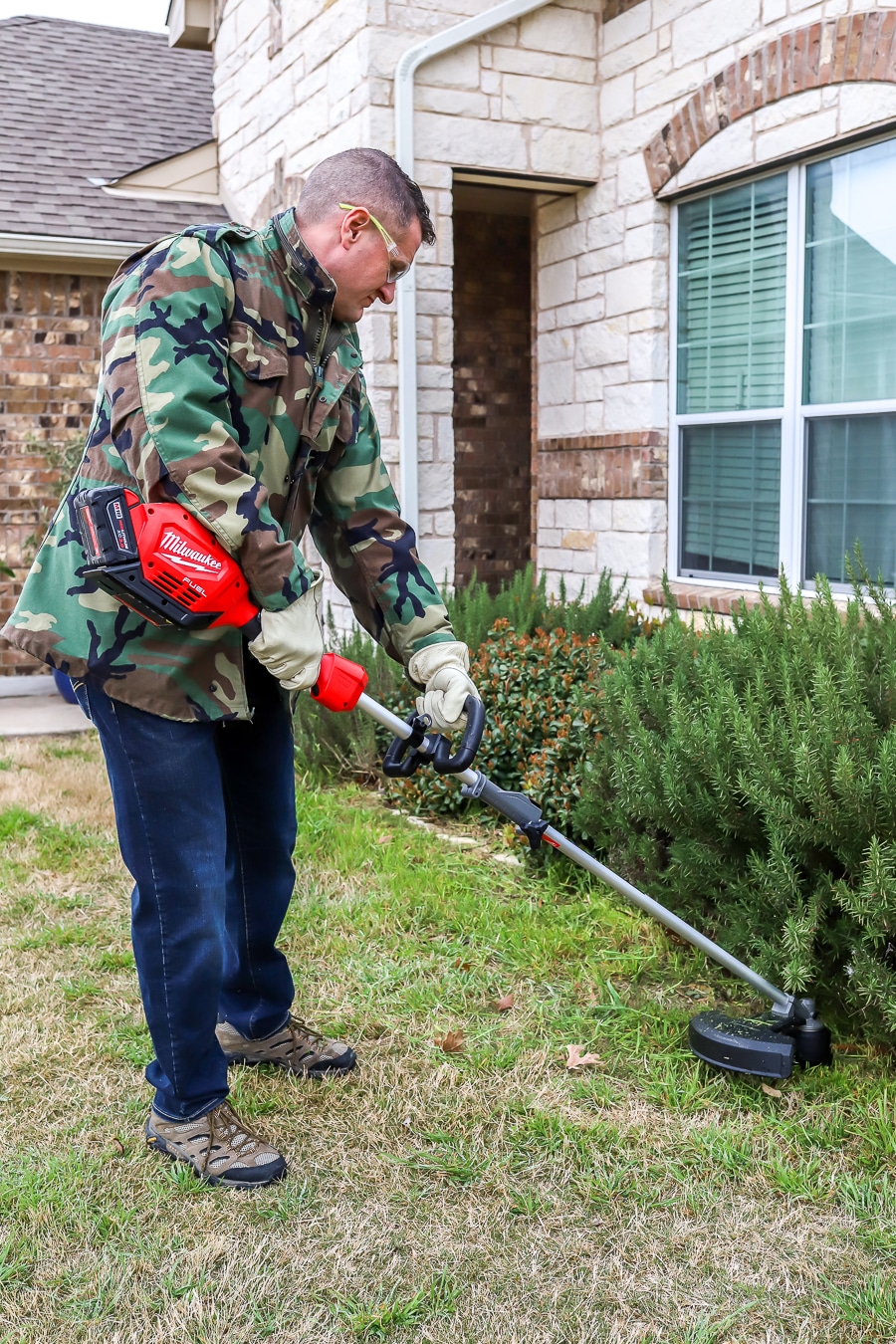 *I acknowledge that The Home Depot is partnering with me to participate in the ProSpective 2018 Campaign. As a part of the Program, I am receiving compensation in the form of products and services, for the purpose of promoting The Home Depot. All expressed opinions and experiences are my own words. My post complies with the Word Of Mouth Marketing Association (WOMMA) Ethics Code and applicable Federal Trade Commission guidelines. This post contains affiliate links. To read my full disclosure policy, please click here.