*This post is sponsored by The Home Depot.
Today we're taking a closer look at some cool new tools from Ridgid and RYOBI. We've been utilizing a few of these new tools in our home projects. In fact, you can see this new Ridgid jigsaw in action during our recent hardwood flooring installation.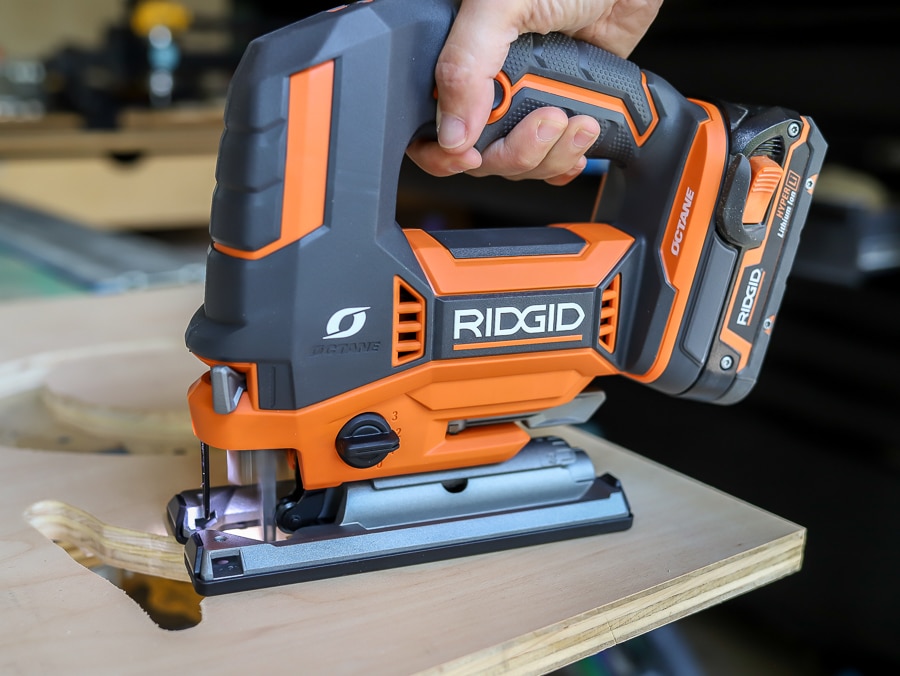 I was excited to try out the new Ridgid Jigsaw during our hardwood flooring installation. We had to cut some of the floorboards to accommodate floor outlets, as well as notch out parts that went around door jambs and air vents – this jig saw made easy work of it all. With the adjustable orbital action, sight line blower, variable speed trigger and speed dial, it's the fanciest jigsaw I own! It also has a "line start" setting which creates a more efficient cut by starting slow and increasing speed once you get going. Most of all, I love how easy it is to adjust the angle of the cut – you just pull the gray lever forward to set the angle of the foot plate. Kudos to Ridgid on this one – I really appreciate all of the small, yet thoughtful design elements they incorporated into this tool.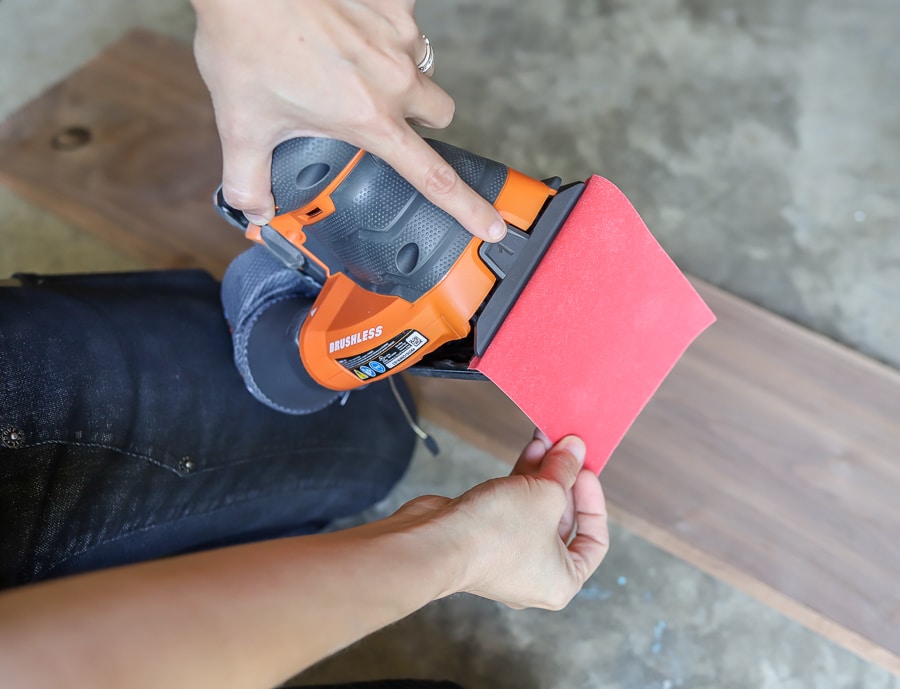 The new sheet sander from Ridgid boasts brushless and cordless capability. Brushless technology seems to be all the rage these days, but what does it actually mean? In a nutshell, a brushed motor has electromagnets inside that spin to power the motor. Brushed tools are simple and cheap to manufacture, but there are a few problems that come with it. The brushes eventually wear out, they limit the speed and power of the motor, and can be harder to cool down. With a brushless motor, a computer controls the motor instead of mechanical brushes, so it's more precise and efficient and there are no brushes to wear out. These brushless tools are higher in cost, but you can usually recover that cost because the tool is more efficient and longer-lasting.
The powerful 18-volt Ridgid battery gives you up to 1 1/2 hours of continuous run-time. If you know me at all, you know that sanding is the bane of my existence and if I'm sanding something for 1 1/2 hours, then I am not a happy camper. Thank goodness this brushless sander is efficient and powerful. With up to 14,000 oscillations per minute, the Ridgid sheet sander gets the job done fast and it cleans up after itself (my favorite!). The fancy AIRGUARD technology collects up to 90% of the dust! It also has a hose hookup if you want to use a dust collector or shop vac.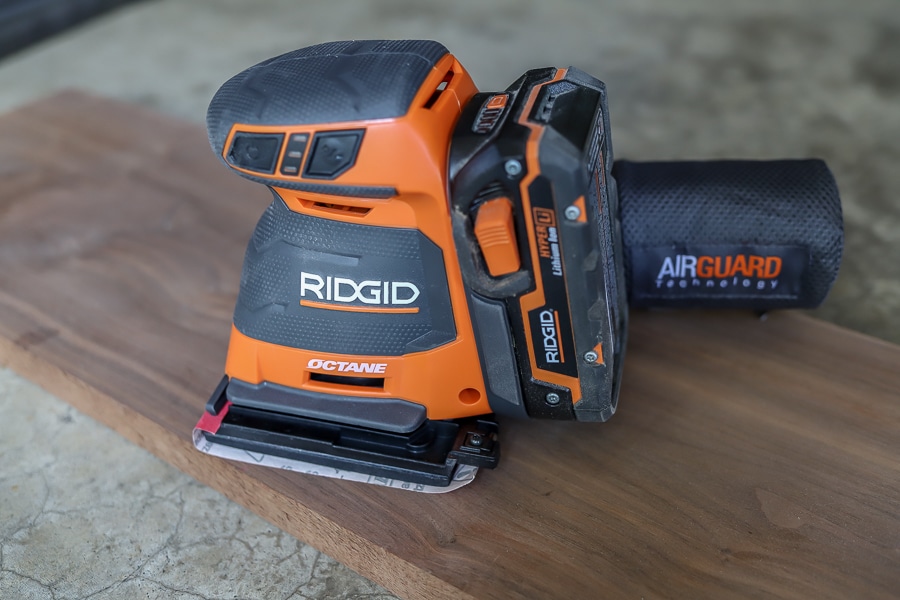 When our son broke his beloved Spiderman headphones, this RYOBI ONE+™ Soldering Station was the perfect tool for the job. RYOBI to the rescue! Adam fixed it faster than you can say "Peter tingle!" (Side note: anyone else think Tom Holland's Spidey is the best one ever? Because he totally is.) This soldering station heats up to 900 degrees F and there's a handy temperature control that allows you to set and maintain a desired temperature. Of course, we love the hybrid technology that gives you the choice of plug-in or battery power, but best of all, the Spiderman headphones are back in service and all's right with the world.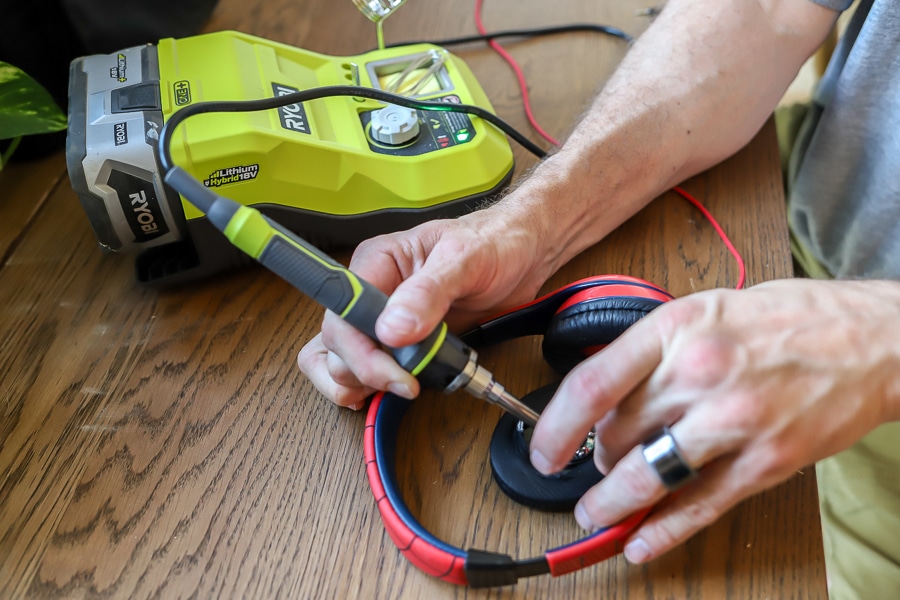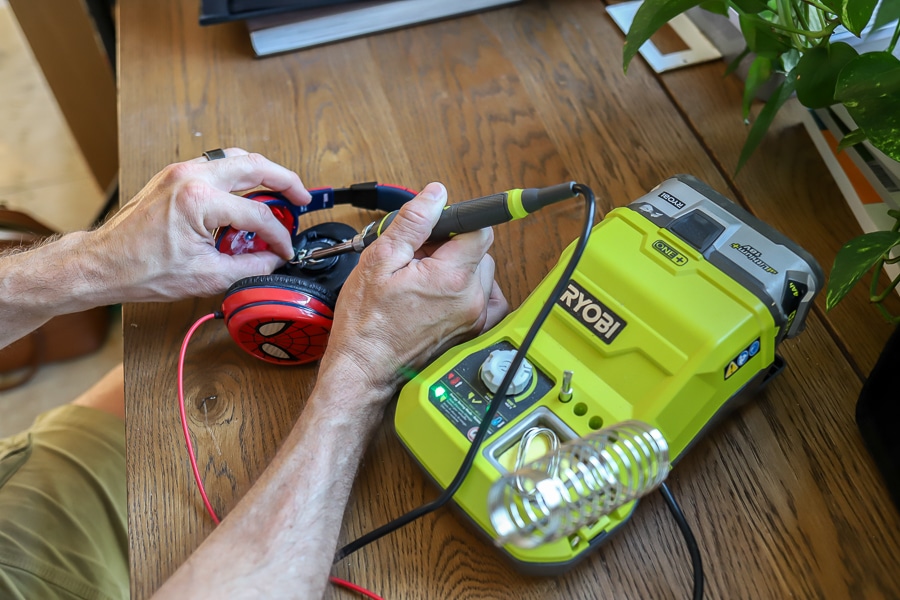 I received two impact wrenches recently – one made by RYOBI and the other by Ridgid. It was nice to be able to compare them side by side. Let's take a closer look.
The RYOBI 3/8-inch impact wrench produces 150 ft./lbs. of torque and up to 3,400 impacts per minute. The Ridgid impact wrench delivers 485 ft./lbs. of torque 3,500 impacts per minute. RYOBI has 3 speed settings and Ridgid has 4, so both give you greater control over a wide range of fastening applications. RYOBI's speed 1 is for precision fastening, speed 2 is for controlling driving depth and fastener tension, and speed 3 is for maximum torque. Ridgid's 4th speed setting is called "Auto Mode", which automatically shuts the tool down when it begins to impact, preventing over-tightening. RYOBI's impact wrench is a common 3/8-inch square anvil with hog ring to easily change sockets, while the Ridgid impact wrench has a 1/2-inch friction ring anvil. Both impact wrenches come with a tri-beam LED light to illuminate the work area for better visibility.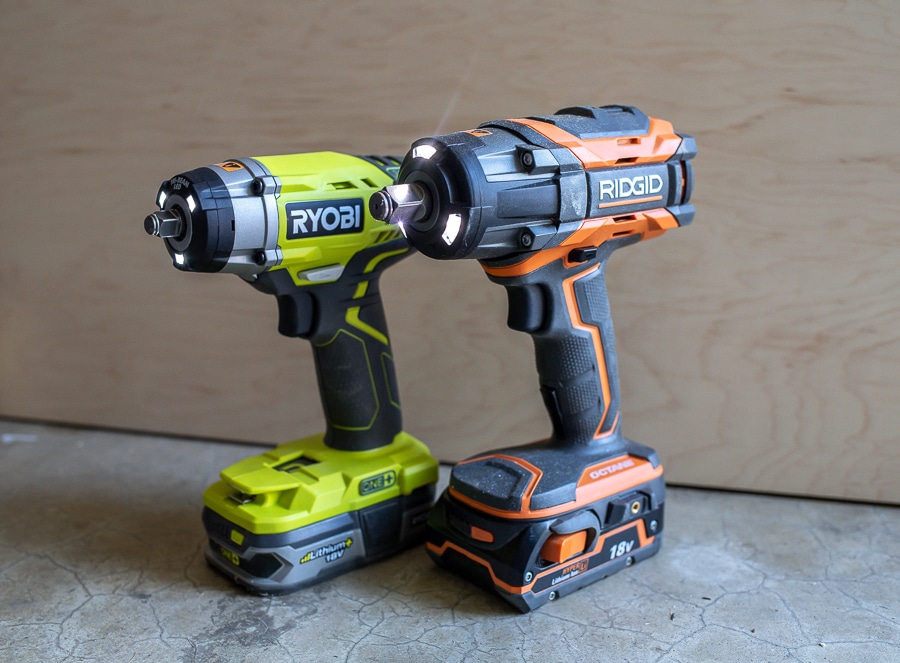 RYOBI is set at a lower price point, currently selling at $79, where the Ridgid impact wrench is priced at $129. Depending on your budget, RYOBI and Ridgid have got you covered. Check them out at HomeDepot.com.
*I acknowledge that The Home Depot is partnering with me to participate in the ProSpective 2019 Campaign. As a part of the Program, I am receiving compensation in the form of products and services, for the purpose of promoting The Home Depot. All expressed opinions and experiences are my own words. My post complies with the Word Of Mouth Marketing Association (WOMMA) Ethics Code and applicable Federal Trade Commission guidelines. This post contains affiliate links. To read my full disclosure policy, please click here.