Howdy, y'all! I'm back with another DIY upholstered headboard project. Husband and I have been enjoying our comfy DIY upholstered headboard so much that I decided to create one for the guest bedroom as well. This is such an easy, inexpensive project that not only gives you a lot of bang for your buck, but packs quite a hefty design punch too.
For a more in-depth step-by-step tutorial, click here. But in a nutshell, here's a quick rundown of DIY Headboard Project #2:
I picked up a sheet of 1/4″-thick plywood at my friendly neighborhood Lowe's and had them cut it down (for free!) to 64″x36″ to accommodate a queen-sized bed. Then I measured and marked off (with painter's tape) where I'd drill holes for the tufting detail to occur later on.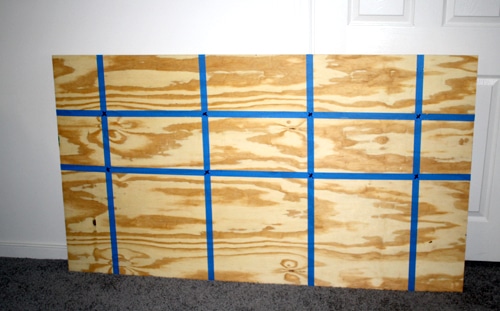 I pieced together some 2″ foam I had laying around from previous projects and fixed it to the board with spray adhesive, shaving the excess off with an electric knife, so that the foam edge was flush with the plywood. It's far from perfect, but the layers of batting and upholstery fabric should hide any gaps or imperfections in the foam.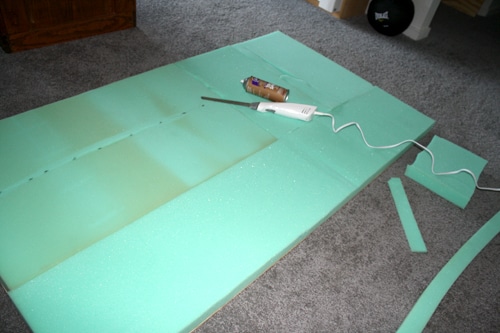 Then, I laid the plywood foam side down, over the batting. Then pulling the batting taut, I wrapped it around the board and stapled it to the back. And because I can't leave a 5-month-old puppy alone for a second, he shredded some of my beautiful batting. But not to worry, I was able to salvage what I had left and pieced it together too, in hopes that the layer of thick upholstery fabric will be forgiving enough towards my shoddy batting layer. It's a lucky thing Watson is so stinkin' cute.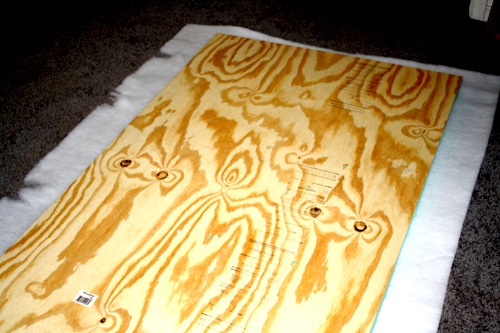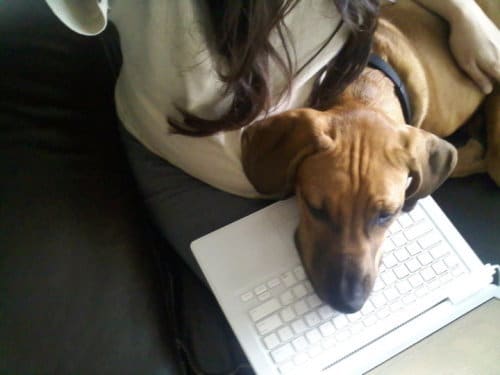 When choosing the fabric, I knew I wanted to go with a solid color this time, since my patterned headboard ended up hiding the tufting detail I worked so hard on last time. I searched for a solid color that would coordinate with our yellow and grey nursery scheme, but still work with the espresso furniture and the coffee-colored glider/ottoman combo. And because I was afraid the solid fabric would look too bland, I chose one with some texture to it, so that it still had some visual interest going on. I fell in love with this pretty fabric, in all its frosty, silvery, texturey (these are technical terms, by the way) goodness.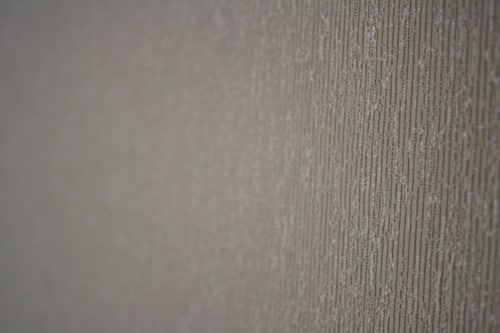 Unfortunately, the fabric store didn't have it in stock, so I had to special-order it (*cue a few days of thumb-twirling). But at originally $39.99/yard, it was on sale at the time, so I was able to snag 2.5 yards of it at 40% off, which made for a happy week overall.
Next I wrapped the fabric around the board, batting side down, pulled it taut and stapled it to the back. I took some time with the corners, making sure they were neat and square before stapling it down.
Onto the tufting part! I covered the buttons with some leftover fabric and then used an upholstery needle and thread to thread it through the pre-drilled holes, pulling the thread taut to create a tufting effect. Then I stapled the thread to the back to keep the buttons in place. I've seen where people have tied washers to the other side to keep the thread in place, which seems more efficient and aesthetically pleasing, but I didn't have any washers laying around and was too lazy to go out and pick some up. So I went the ghetto-route and just stapled the thread to the back. Not that pretty and I'm not sure how well it'll hold up over time, but for now, it'll do.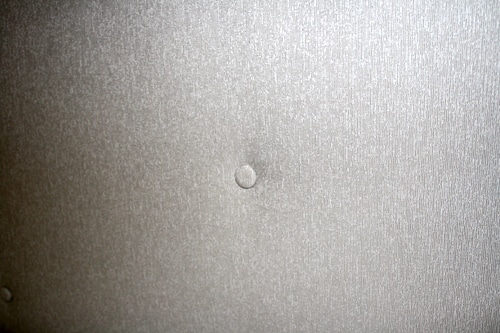 I hung the headboard using a french cleat with a 200 lb. hanging capacity (overkill, I know), screwing it into the studs in the wall so that it was good and secure. And voila! A fresh new look for not a lot of money or effort. Good times.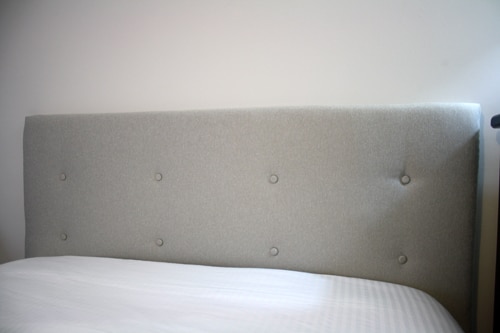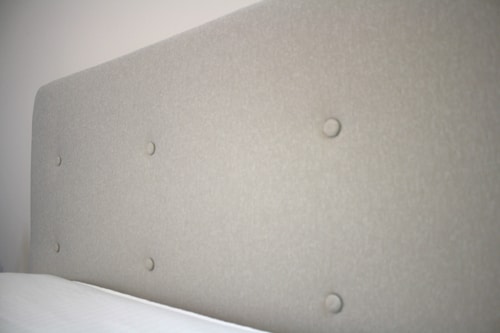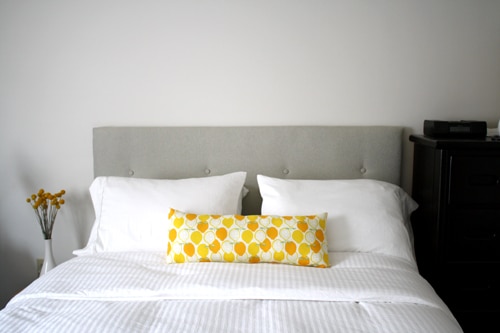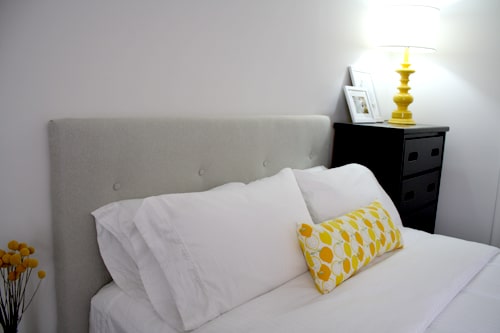 Don't mind the keyboard. It will relocate once Eggroll is born, but for now, this is where I do most of my writing.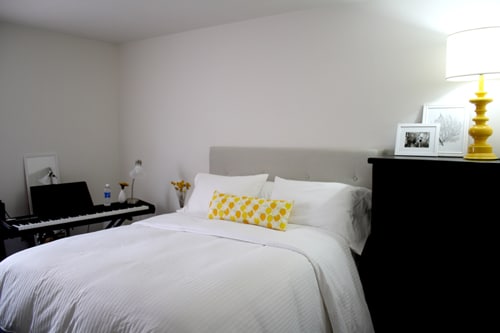 Cost Breakdown:
1/4″ 4×8 Sheet of plywood: $17.97
2″ High density foam: already owned
Batting/Fiberfill (on sale 40% off): $8.98
2.5 Yards of fabric (on sale 40% off): $52.48
8 Buttons (on sale 50% off): $2.79
Upholstery needle and thread: already owned
Spray adhesive: already owned
French cleat: $10.77
Total Cost: $92.99
Next up… what to hang above the headboard? Bare walls are the bane of my existence and there is a lot of it in this room. The hunt is on.