*This post is sponsored by The Home Depot.
A few weeks ago, I recently reconnected with my friend Tara via Instagram. Tara and I attended college together in Philadelphia and we discovered we lived only about an hour away from each other! Her husband has a massive vinyl record collection and they'd been searching high and low for an affordable storage solution that would allow for them to flip through the records from the top. Tara reached out to me in hopes that we could create a DIY vinyl record storage unit for her husband for Christmas. After a bit of brainstorming, here's what we came up with: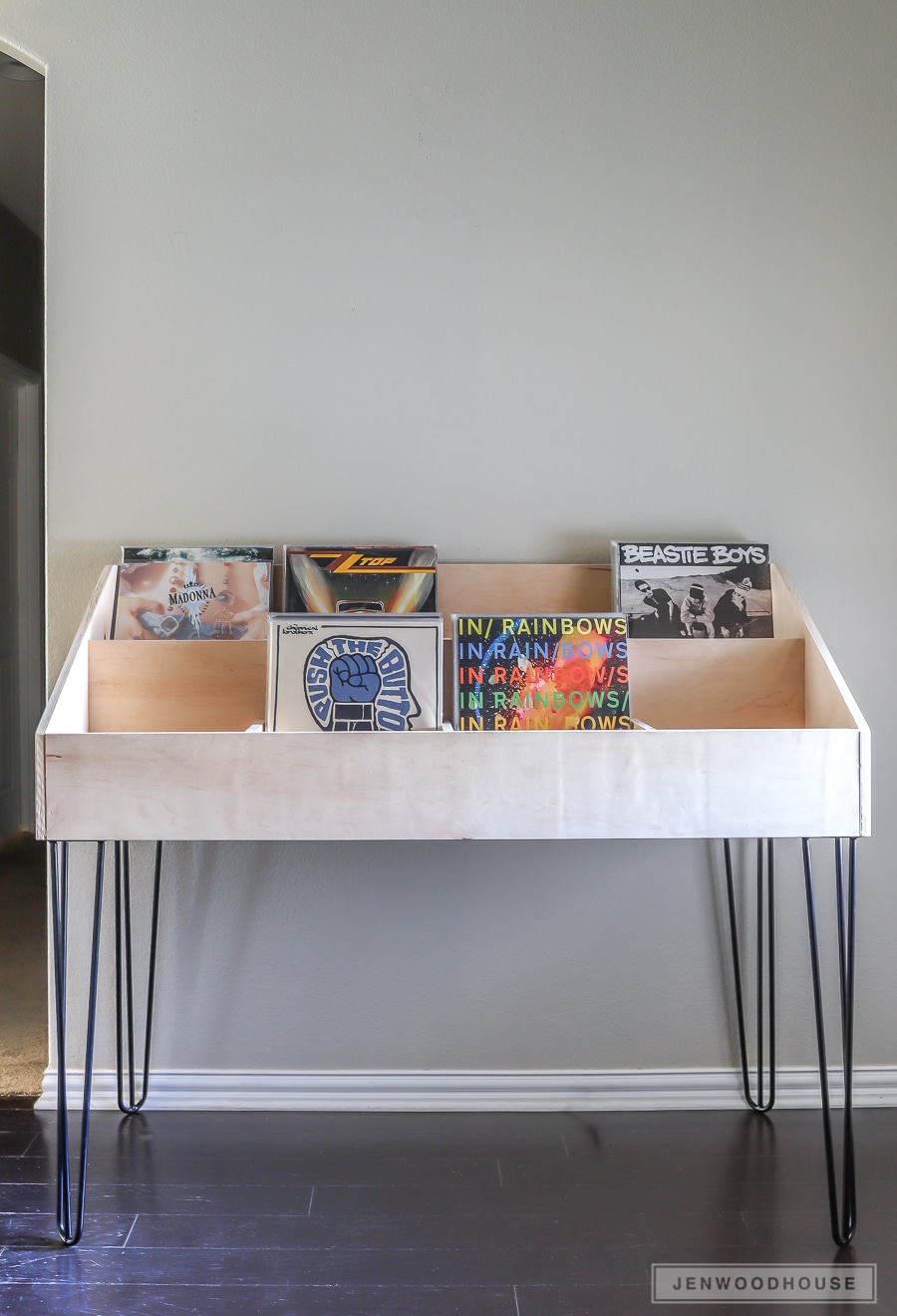 You guys. This was Tara's FIRST build!!! She did an an incredible job – I drew up some plans and she came over one afternoon and built this DIY vinyl record storage unit in about 5 hours! She made all of the cuts and did most of the assembly. The total cost of materials (lumber + legs) was a little over $200. Don't you just love DIY?!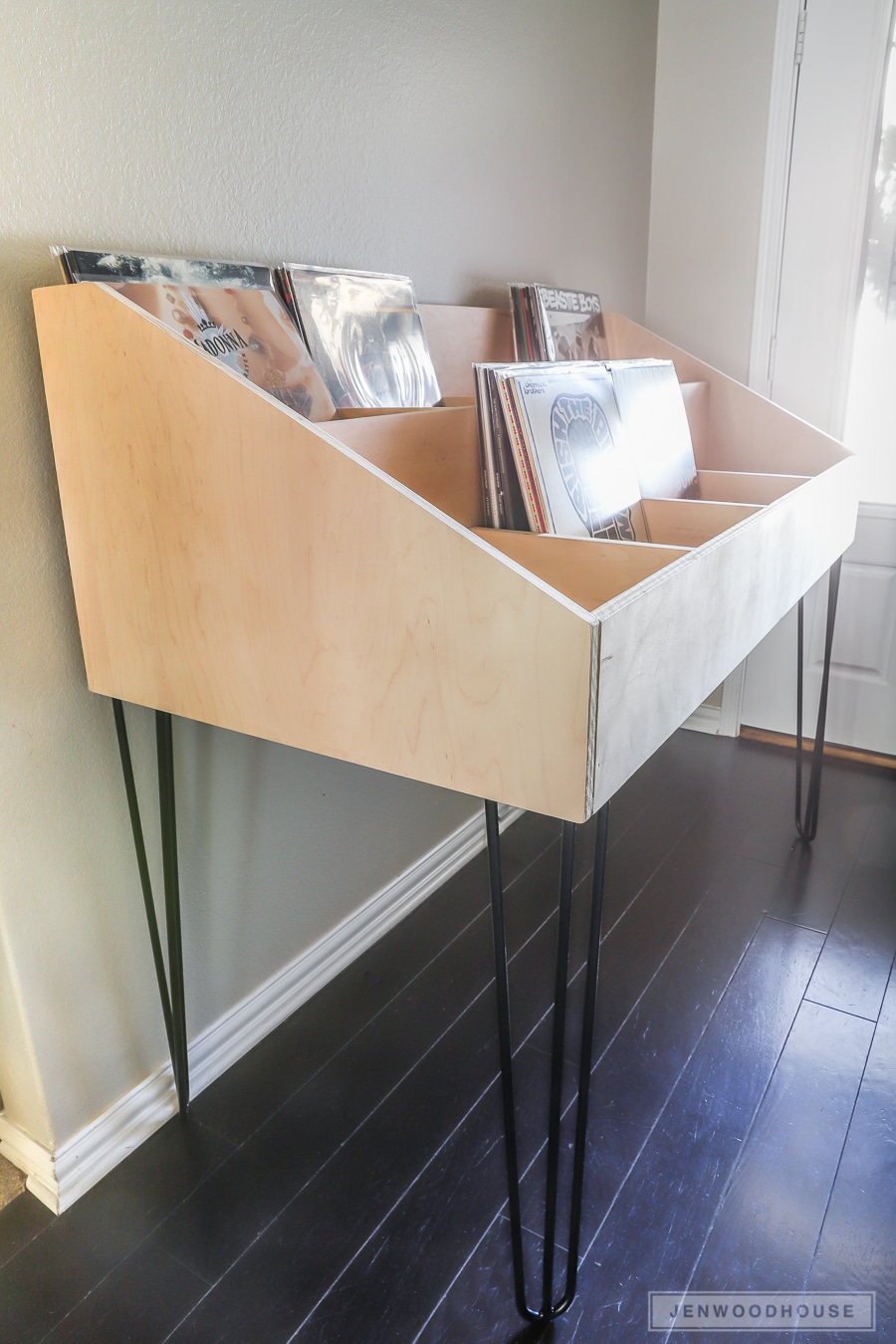 This DIY vinyl record storage display features 8 separate cubbies that will hold about 350 records total. You can download the plans by clicking the image below.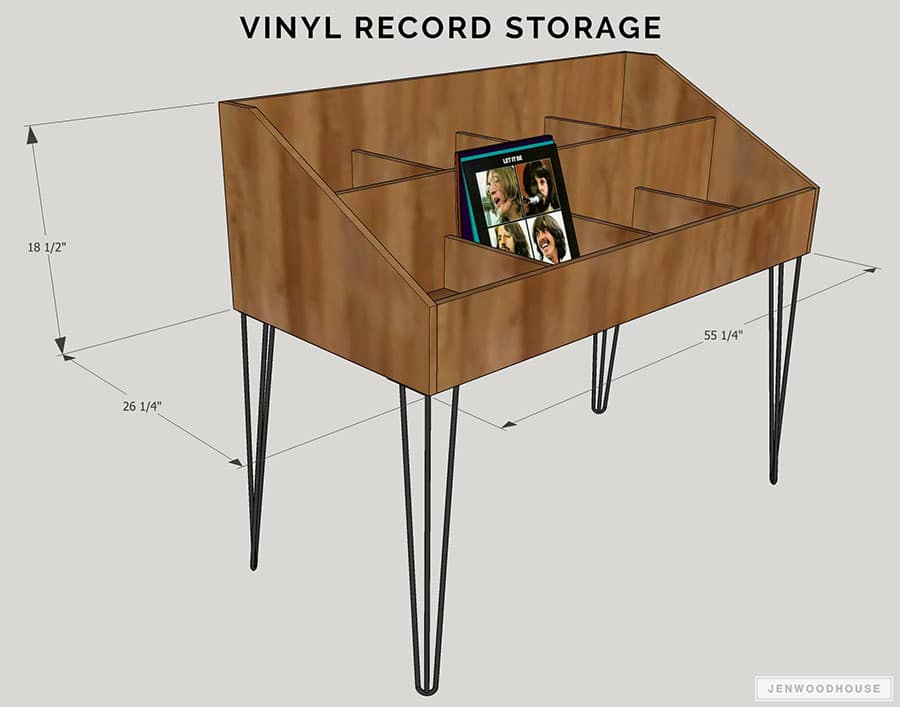 If you're looking for something smaller, I've also drawn up the plans for a 6-Cubby version, which will hold about 250 records total.
We put the storage cabinet on 28-inch black 3-rod steel hairpin legs. They're heavy duty steel legs that can support up to 350 pounds and they come in varying heights.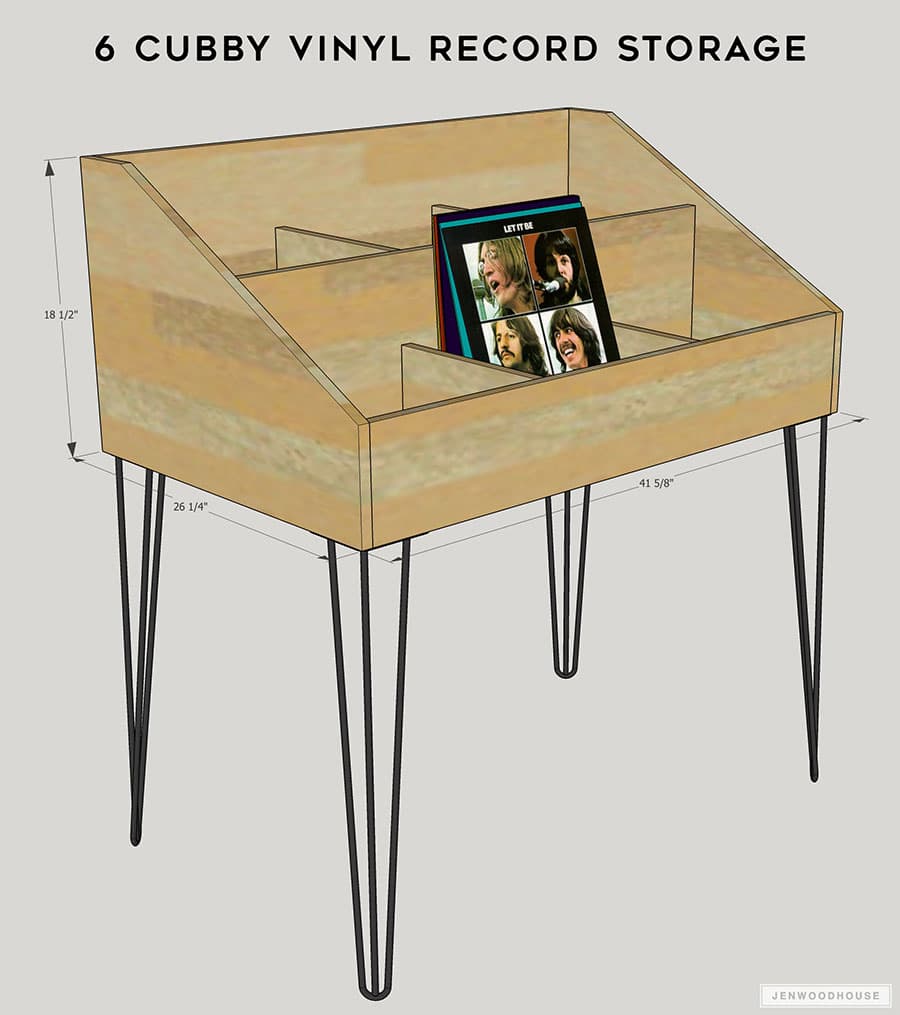 Having the right tools for the job really does make a world of difference. We used some of the tools that came in the new Dewalt Cordless 8-Tool Combo Kit and I truly believe it set Tara up for success. Ringing in at just $499 for the entire kit, this Dewalt 20-Volt Max Lithium-Ion Cordless Combo Kit with ToughSystem Box is an unbelievable deal. You get 8 tools, 3 batteries, 1 charger, and the tough system box! This is an exclusive product to The Home Depot.
DEWALT 20-VOLT MAX LITHIUM-ION CORDLESS COMBO KIT (8-TOOL) WITH TOUGHSYSTEM BOX
The tool kit includes:
Circular saw with a 6-1/2 inch carbide blade
Reciprocating saw with keyless blade clamp that allows for quick blade change
Grinder with an 8,000 RPM motor, quick-change release, trigger switch with lock-off button
Compact Drill that is lightweight and compact for working in tight spaces
Impact Driver with 1-handed loading for its 1/4 in. hex chuck that accepts 1 in. bit tips
Impact Wrench that has a hog ring to easily change sockets
Oscillating Multi-Tool with a powerful brushless motor, providing up to 57% more run time
Flashlight with LED output of 110 Lumen
ToughSystem Box with thick structural foam walls, heavy duty wheels, telescoping handle, integrated water seal and rust-resistant metal latches
I highly recommend this kit if you're in the market for a solid, contractor-grade starter tool set – this Dewalt Combo Kit is hard to beat. We used the circular saw, drill, impact driver, and oscillating multi-tool for this build. We also used a pocket hole jig (not included in the kit) as our joinery method, but this additional tool isn't necessary for this project.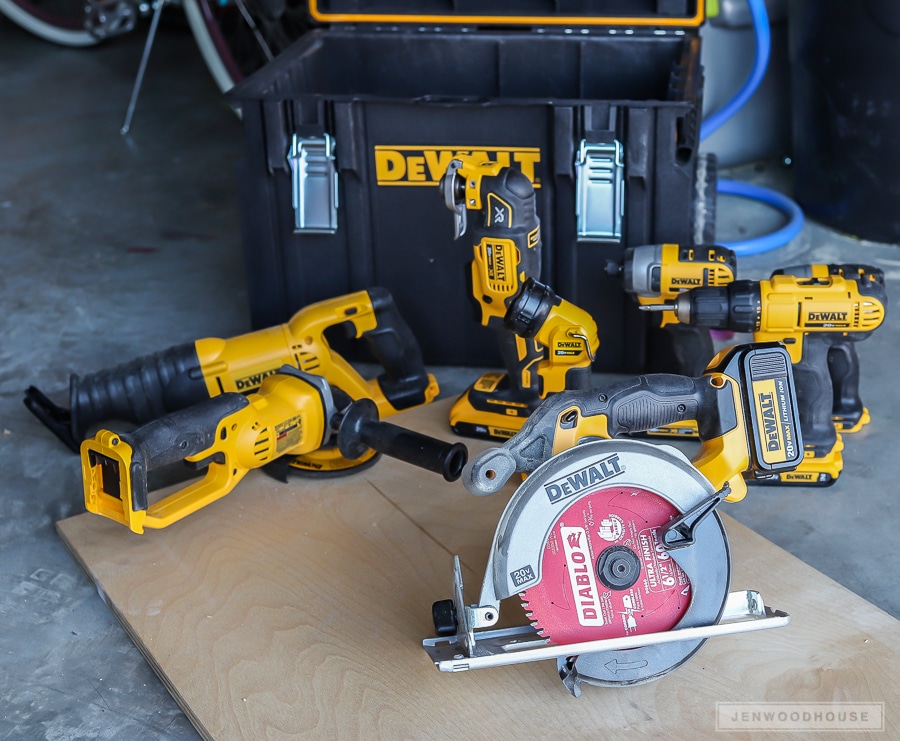 DIABLO 6-1/2 X 60T ULTRA FINISH SAW BLADE
I was incredibly impressed by the Dewalt cordless circular saw and the Diablo ultra finish saw blade – the saw itself was easy to maneuver and accurate, and paired with the Diablo 6-1/2 inch 60-Tooth Ultra Finish Saw Blade, every cut was fast, clean, and precise. There was absolutely zero splintering on the plywood, which means it required little to no sanding later on! Anything that cuts down on a tedious sanding job is my favorite.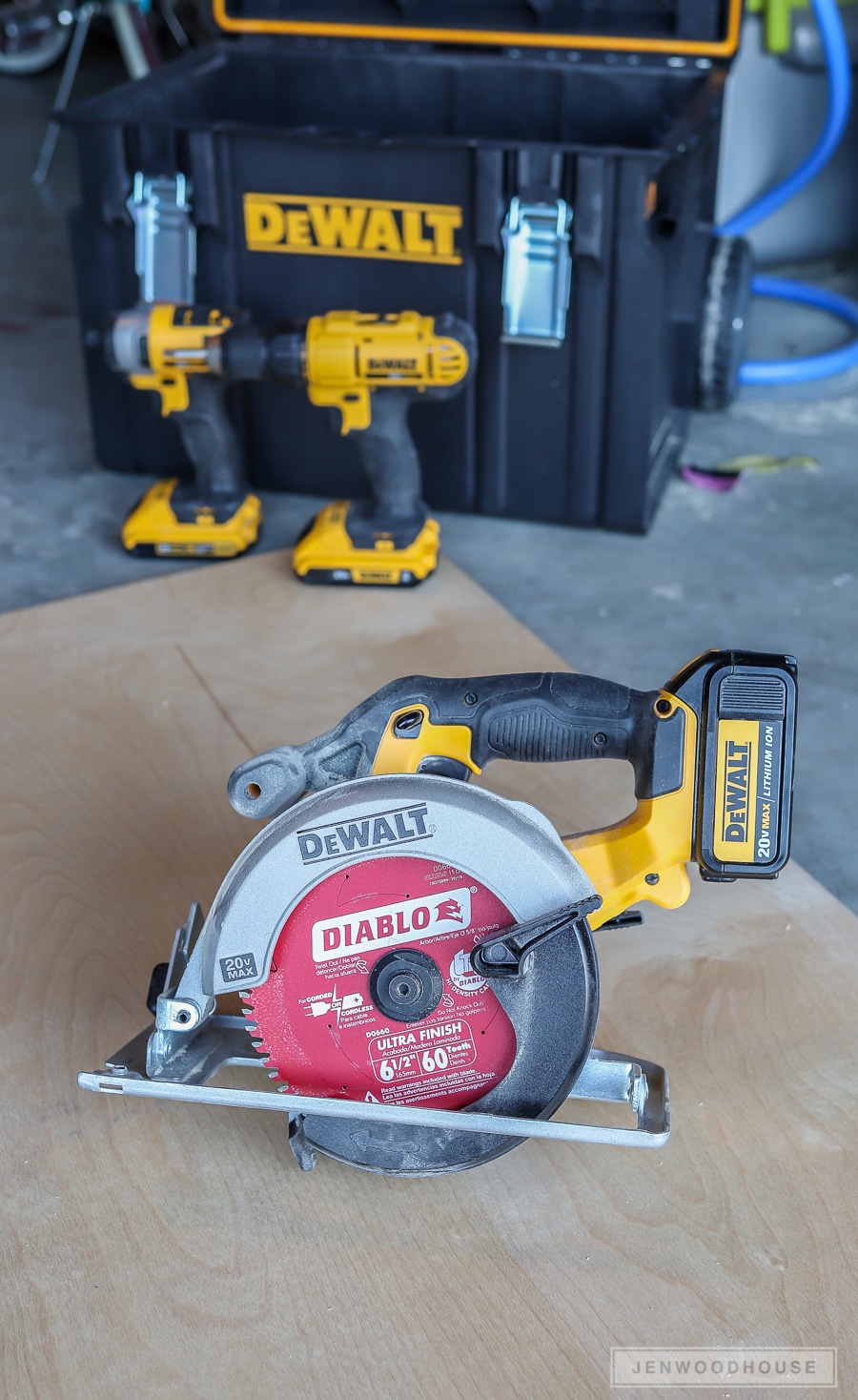 This Diablo Ultra Finish Blade is ideal for cross-cutting oak, pine, melamine, plywood, and delicate molding. The tri-metal shock-resistant brazing is extremely durable – it allows the carbide tips to withstand extreme impact and the high density carbide is specifically designed for each application to increase performance.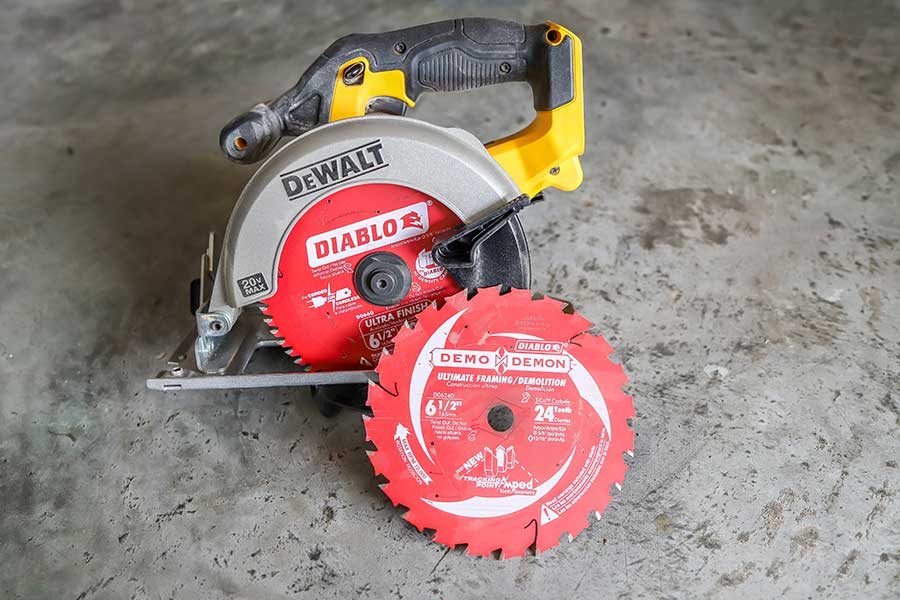 Another favorite blade of mine is the DIABLO 6-1/2 X 24T DEMO DEMON SAW BLADE. It has lock-tooth technology for a strong bond between the carbide tooth and the blade for deep impact resistance and longer life. The pyramid tooth geometry for superior tracking control and smooth, effortless cuts. We use Diablo blades all over the shop because they are simply superior.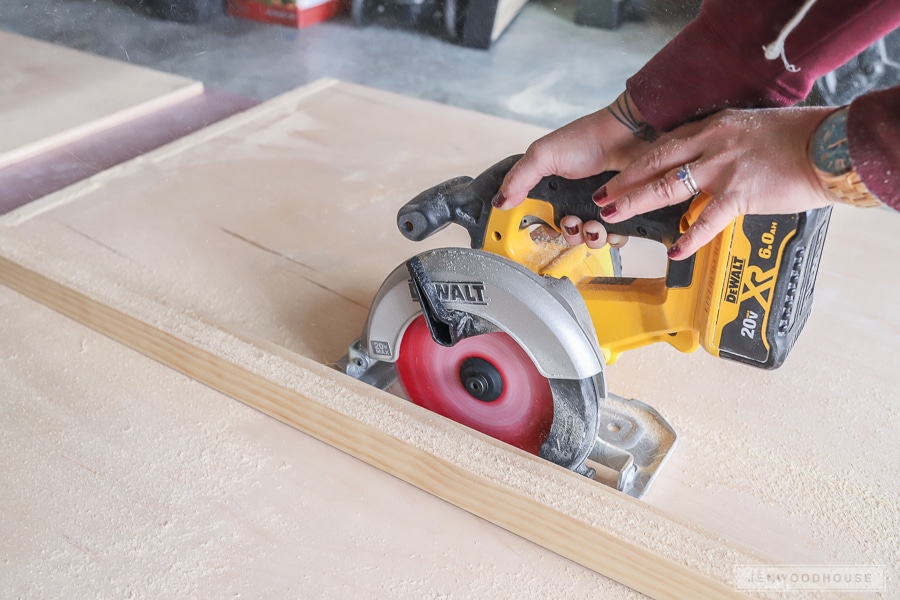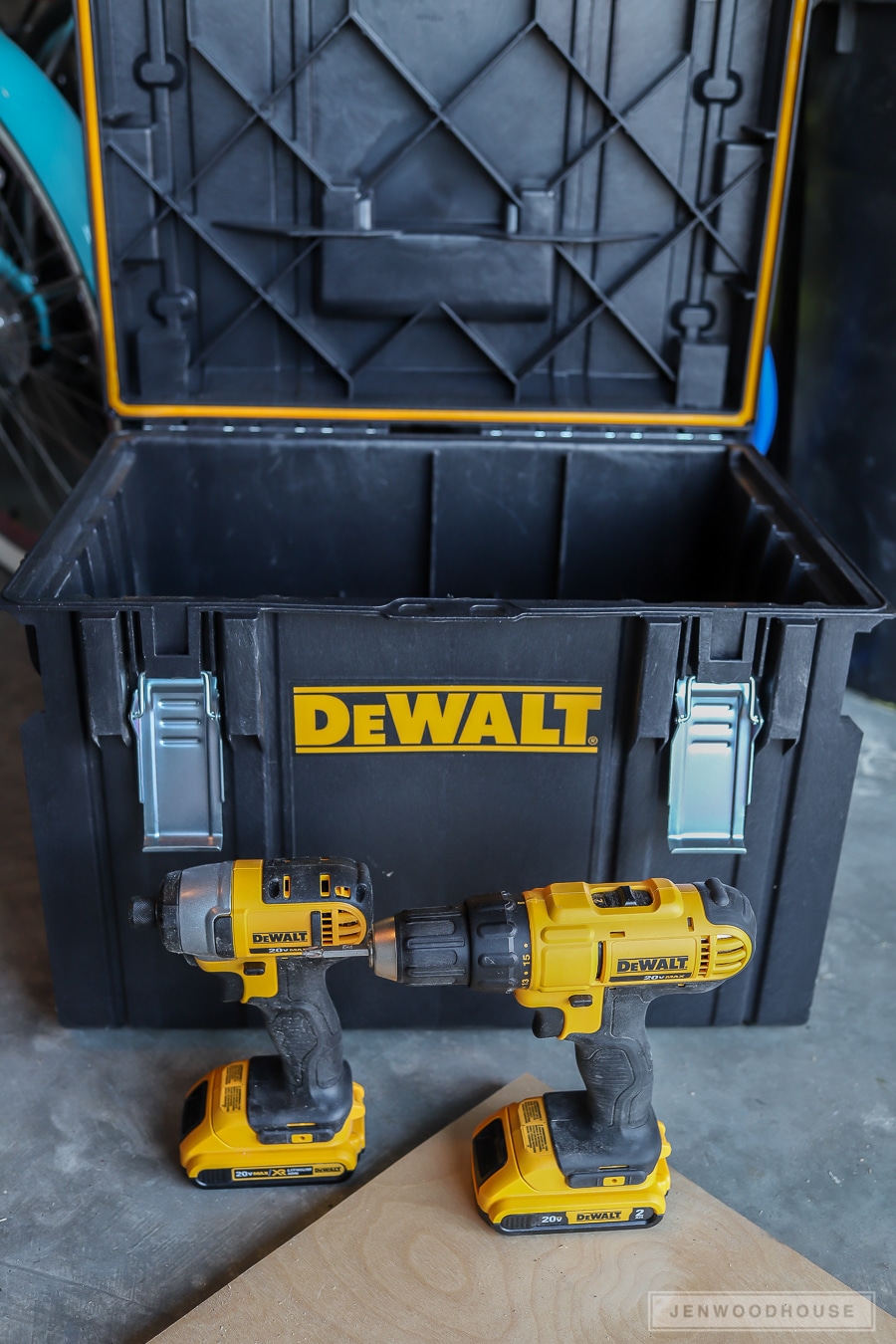 To add the 2×2 support frame underneath, I pre-drilled pilot holes with the cordless drill, then drove the 2-inch wood screws into the bottom with the impact driver. Having two separate drills made this task fast and easy – no need to switch out drill bits between jobs.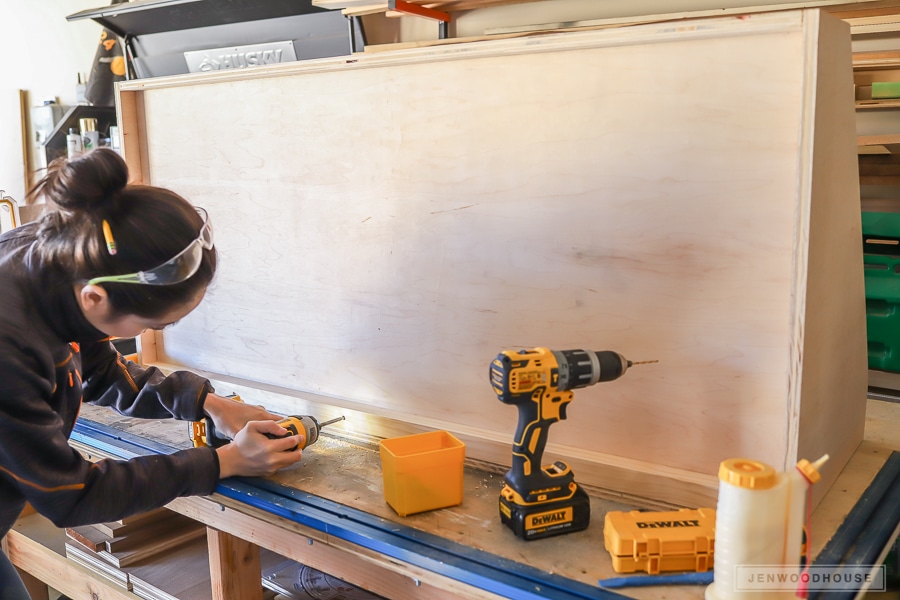 For the cross supports, I chose to drill pocket holes on each end to attach them to the frame and also drove the wood screws into the bottom of the cabinet. This is probably overkill, but I wanted to make sure that the plywood doesn't sag over time, under the weight of 350 vinyl records.
It's like I always say…. Why build when you can overbuild?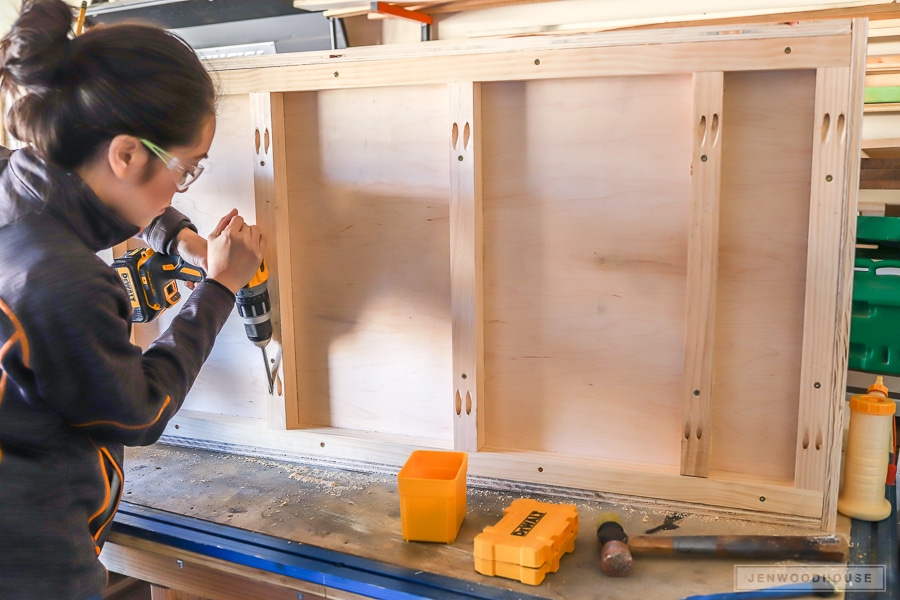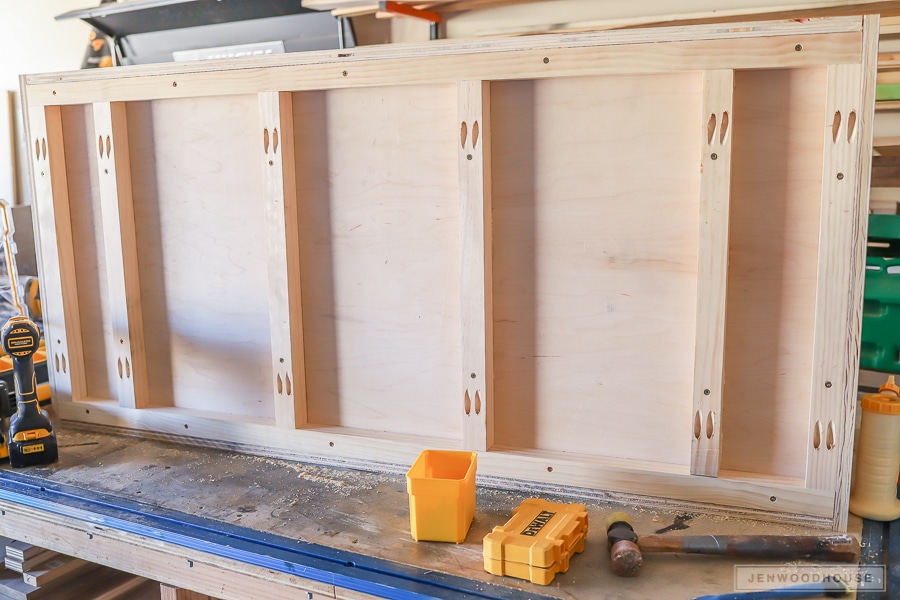 Once the storage unit was constructed, it was time to sand. To get into the nooks and crannies of each cubby, this Dewalt oscillating multi-tool was a huge help. It has a quick-change accessory system that allows blades and attachments to be changed quickly without wrenches. We purchased the coordinating Oscillating Sanding Pad separately and was able to sand the hard-to-reach places with ease.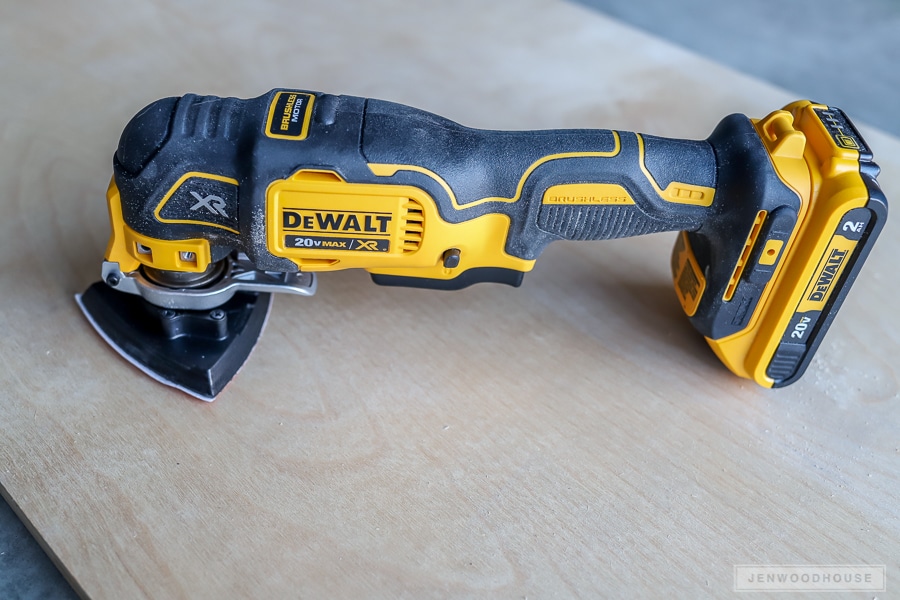 We applied a couple of coats of semi-gloss finish, screwed the hairpin legs on, and called it a day. We're so pleased with how it turned out and I just know Tara's husband is going to love his Christmas present! Pretty sure Tara wins Wife of the Year!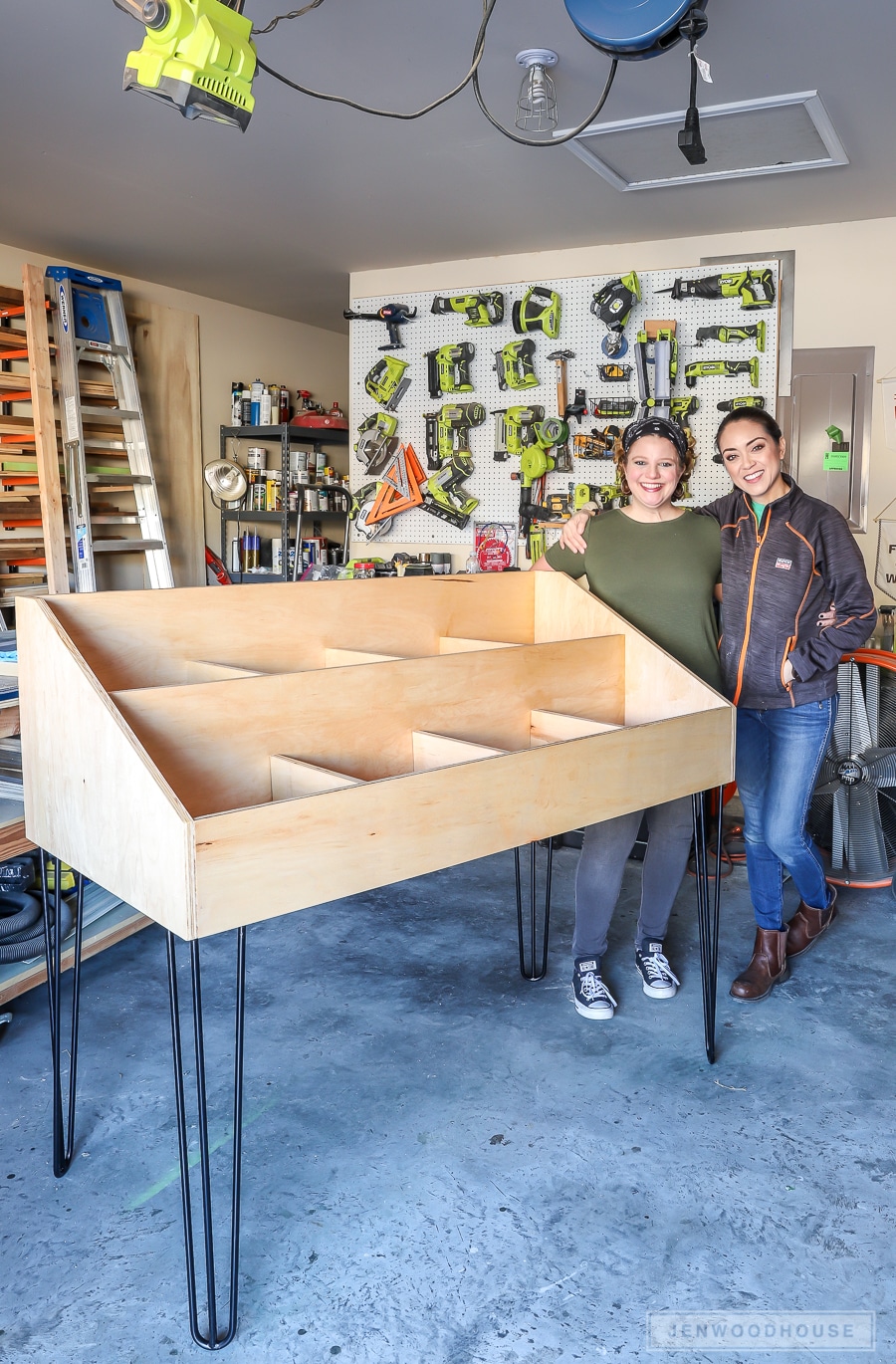 Thanks for reading, friends! If you build this DIY vinyl record storage unit, I'd love to see it! Be sure to tag me (@jenwoodhouse) on social media so I can see your projects!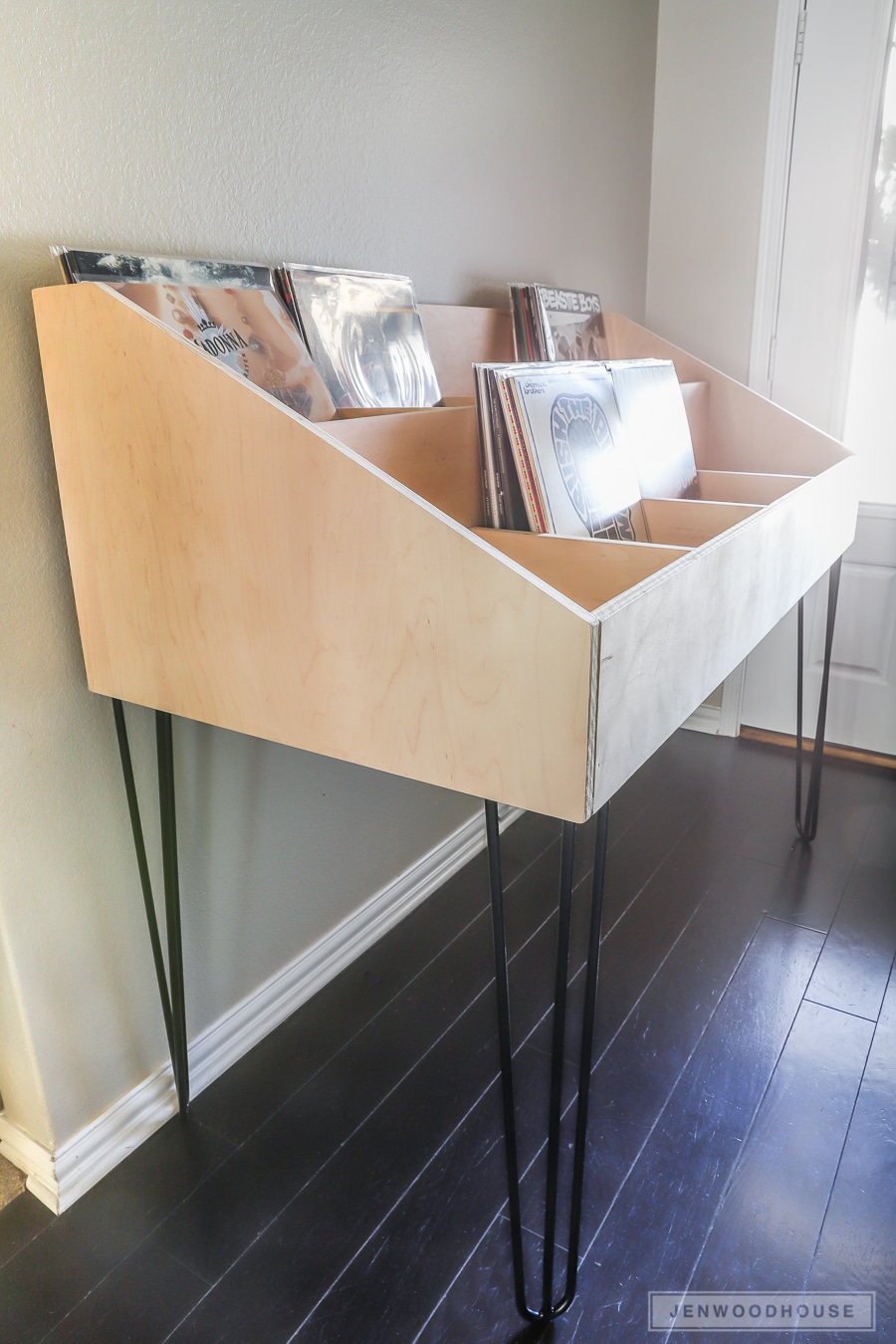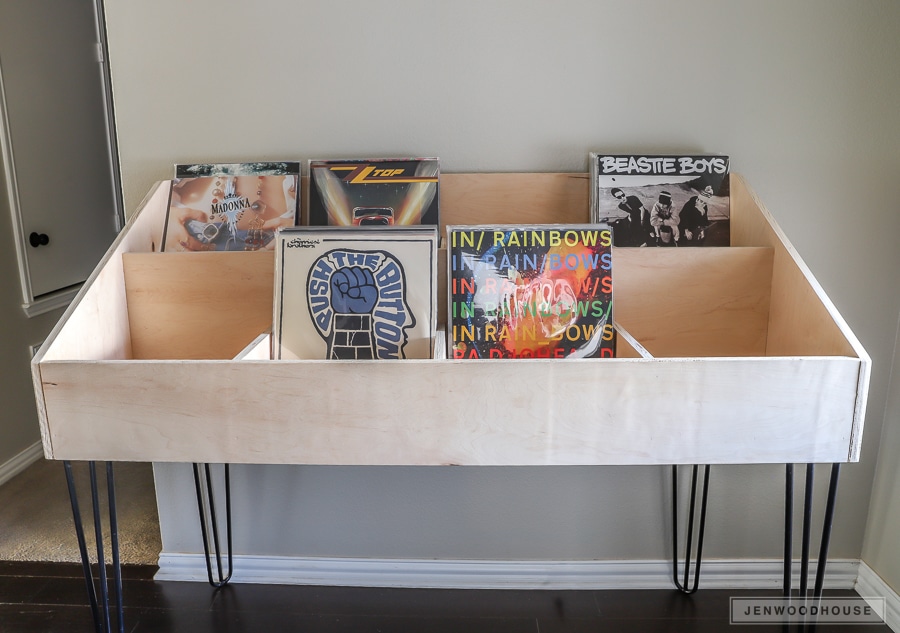 Love this project? PIN IT for later!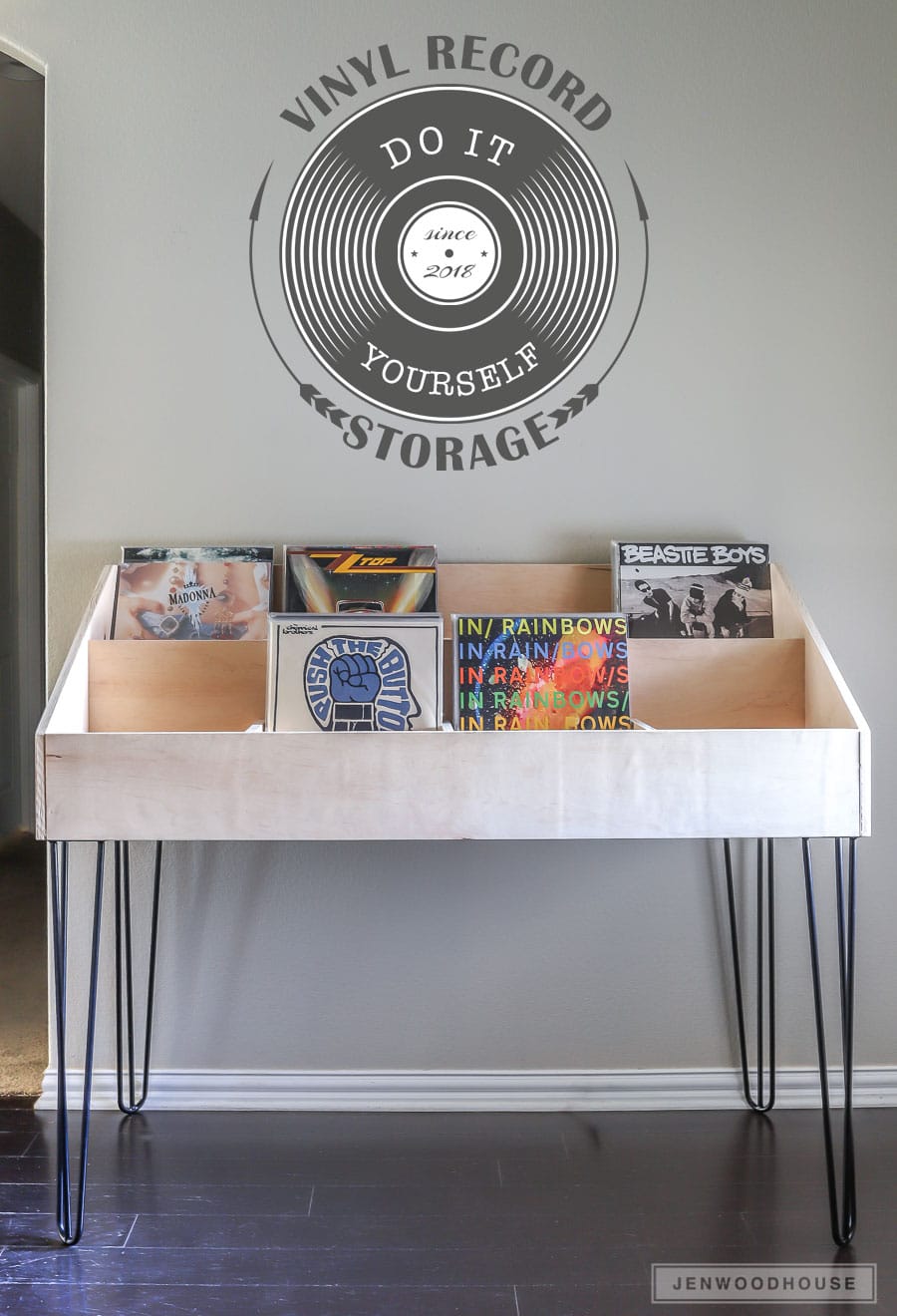 *I acknowledge that The Home Depot is partnering with me to participate in the ProSpective 2018 Campaign. As a part of the Program, I am receiving compensation in the form of products and services, for the purpose of promoting The Home Depot. All expressed opinions and experiences are my own words. My post complies with the Word Of Mouth Marketing Association (WOMMA) Ethics Code and applicable Federal Trade Commission guidelines. This post contains affiliate links. To read my full disclosure policy, please click here.