It was 76 yesterday. As in, seventy-six degrees Fahrenheit. It just doesn't feel like Christmas here in Texas, but by putting up these snowy, wintery decorations, I'm hoping that I can trick myself into a holly jolly mood. If I squint really hard and turn up the A/C to "Alaska," maybe… just maybe…
Mind over matter.
Mind over matter.
Mind over matter.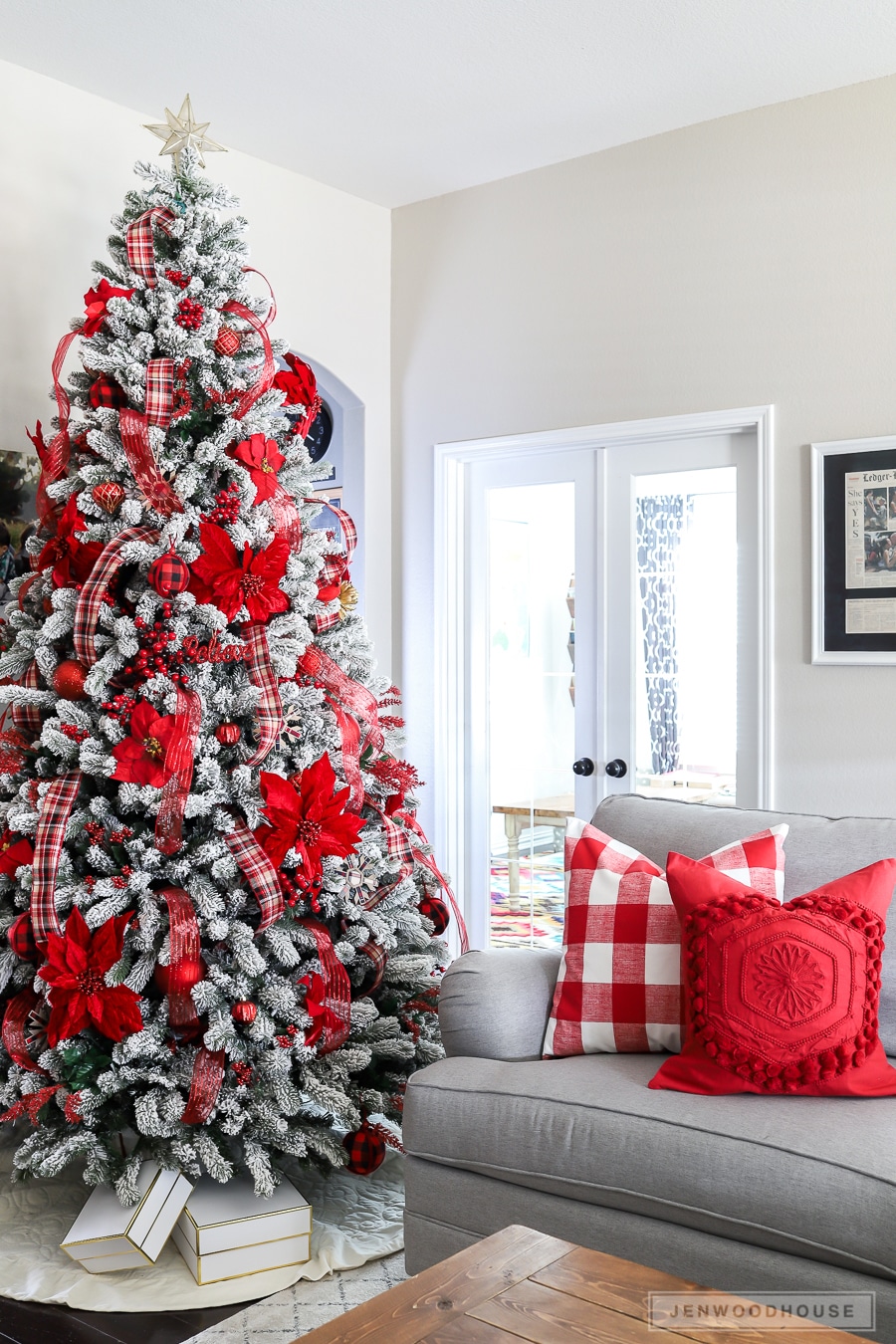 Don't be fooled by those gifts under the tree. Like my fake snowy tree, those are fake gifts (empty boxes!). Being the kid of a blogger is just plain cruel. I've gotten absolutely zero Christmas shopping done.
Zilch. Zip. Nada.
I'm failing at life, basically.
There is some relief, however. Every year, we try to get our kids only 4 Christmas gifts each: something they want, something they need, something they can wear, and something they can read. I don't know, is that cruel? This way, our wallets don't go anorexic and our kids' focus isn't on getting a bunch of unnecessary 'stuff.' I think it helps them to be more intentional about the things they put on their list, since it's so limited. It's an added bonus that my house isn't filled to the brim with a bunch of toys that either a) make annoying and/or creepy noises (I'm lookin' at you, Hatchimals), or b) have a hundred pieces that is now somehow my responsibility to keep track of.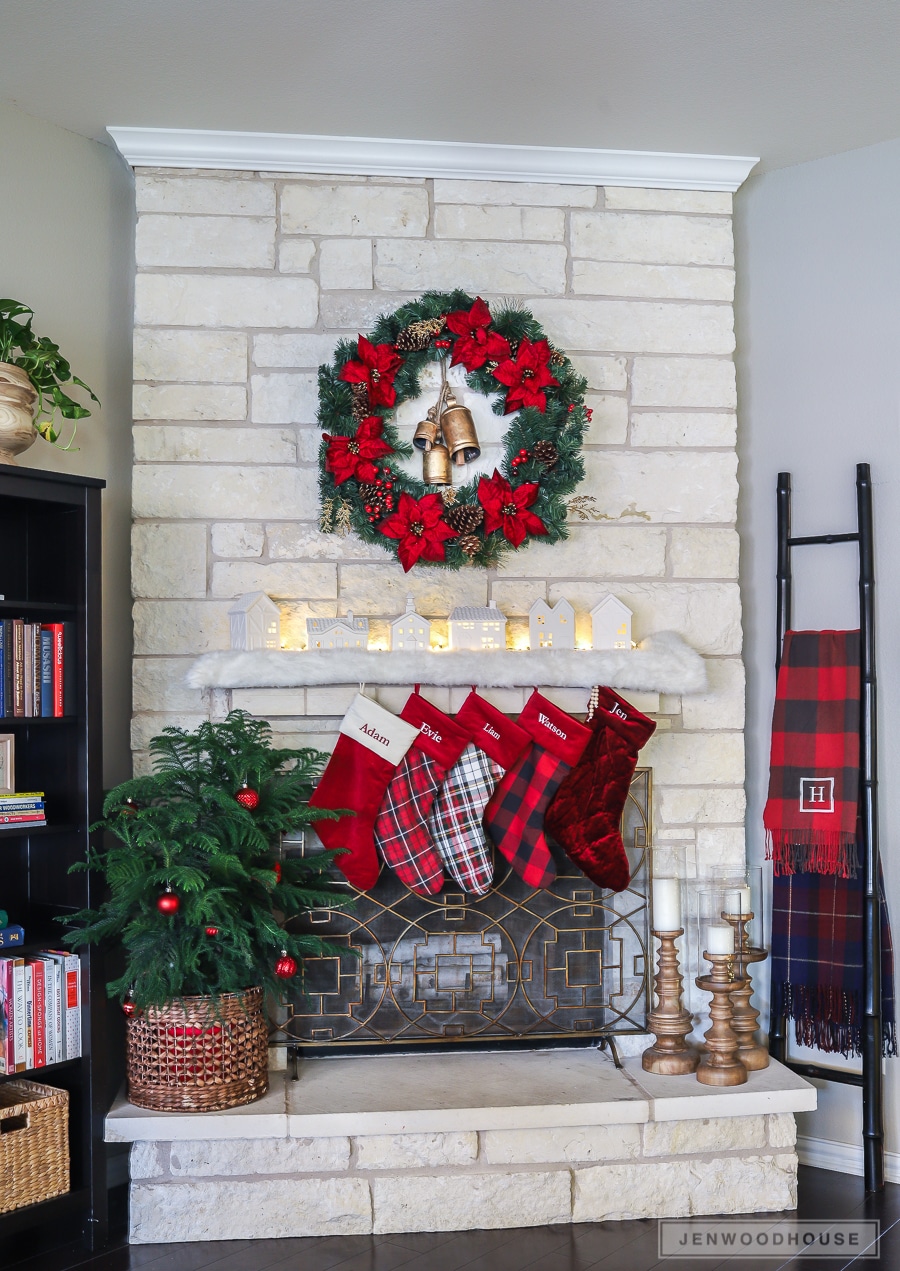 Grams and Pops recently bought my kiddos kick scooters (not the motorized ones, oh, no. My kids are going to have to work for all 4 of those mph) and those little scooters have been so great. They keep my kids playing outside in the sunshine, exercising, and they don't make any annoying noises or come with a gazillion pieces… seriously, the best. gift. ever. Way to go, Grams and Pops!
SHOP THIS SPACE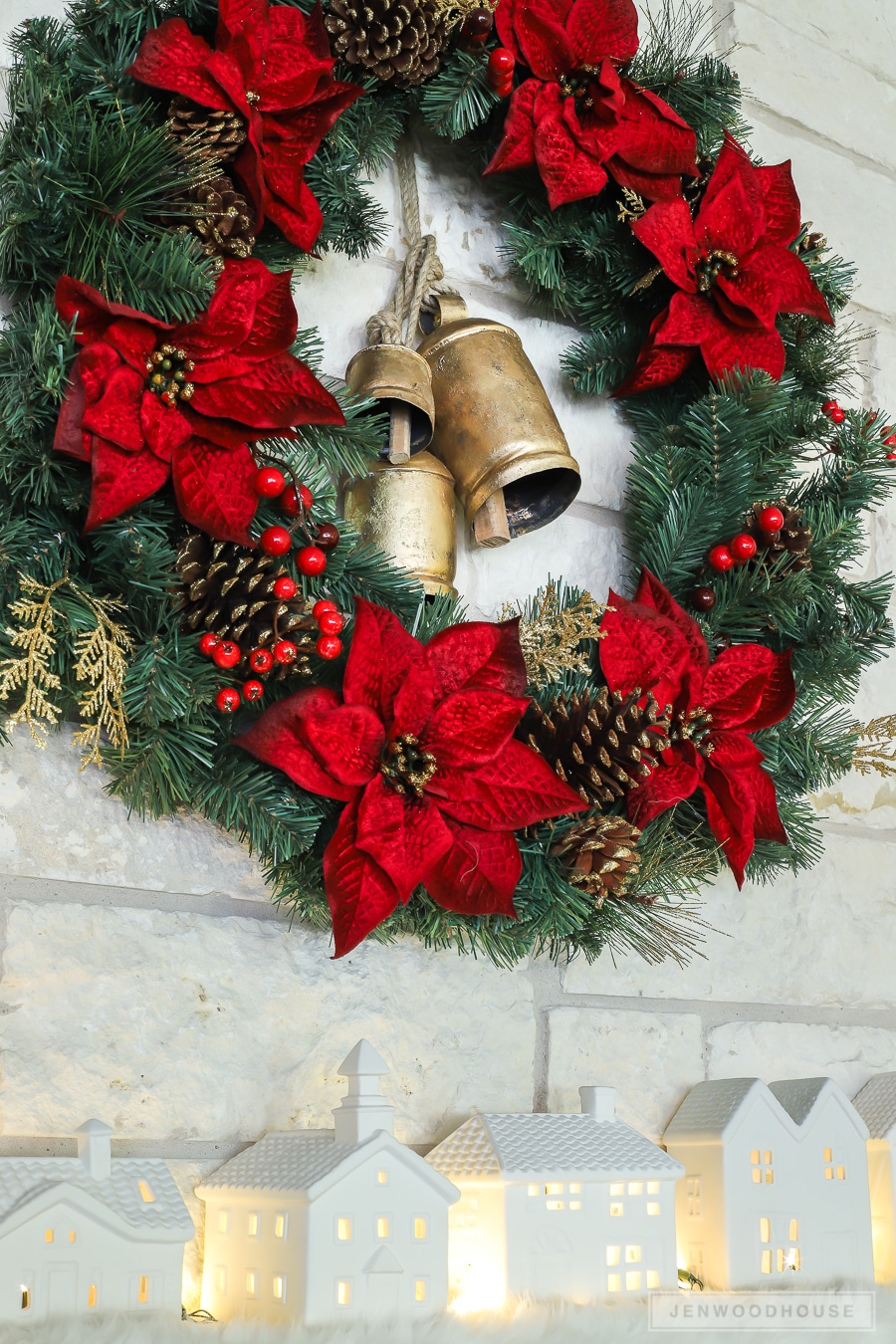 I recently showed you my Christmas mantel earlier this month. I moved my DIY stocking hanger box to the foyer console to catch keys, sunglasses, and other miscellaneous stuff and added a few more of these ceramic houses to my collection.
And I'm still madly in love with this little tree – it's so charming and whimsical! It's a Norfolk Pine from The Home Depot. And it's still alive, hallelujah!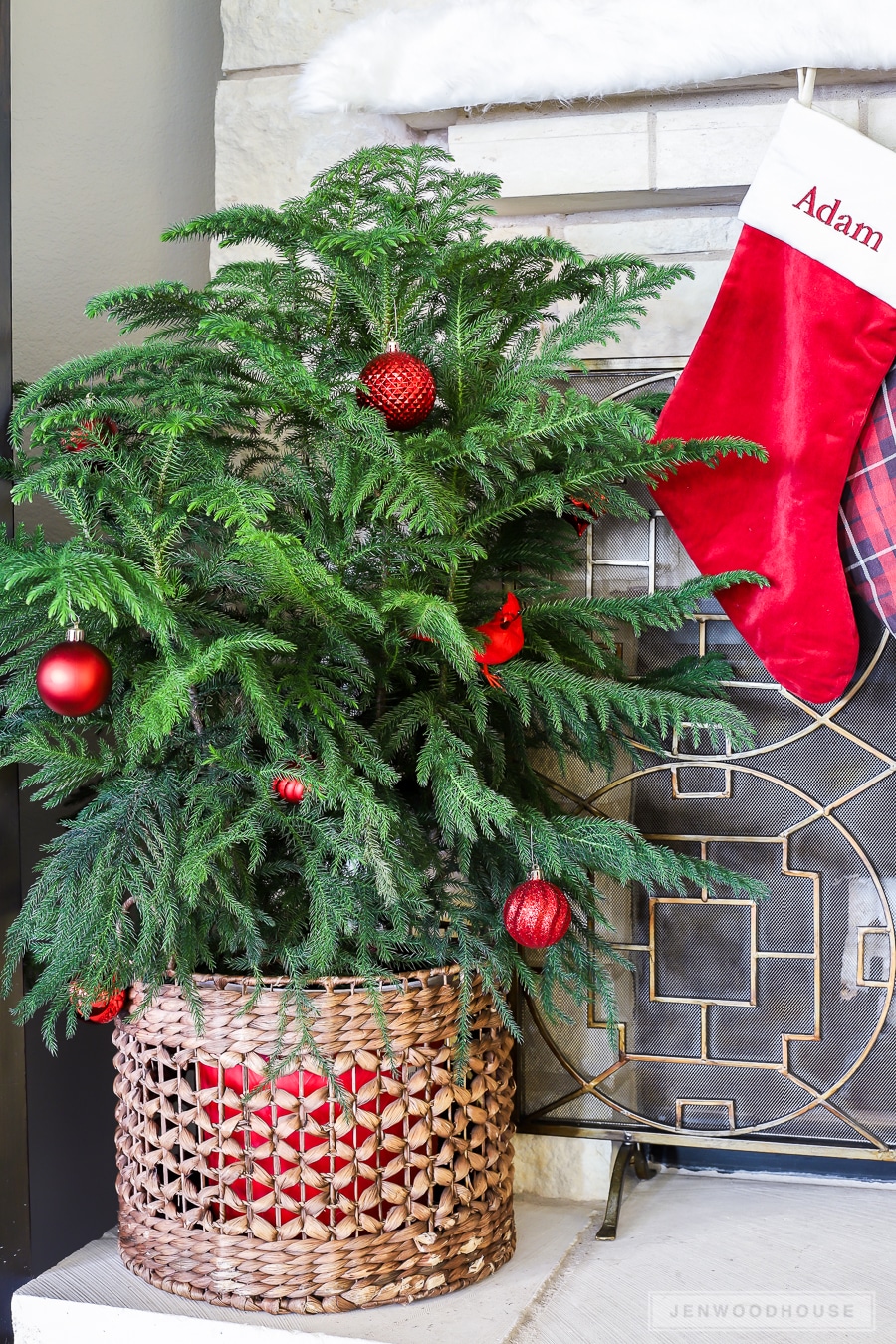 Okay, let's move into the dining room, shall we? I didn't really go all out 'Christmas' in here – I'm going for a more understated, winter white theme… except I can't really do much with that crazy colorful rug. It's just so good, I can't live without it.
Also, because my husband refuses to help me move furniture so I can switch out area rugs. This is where he draws the line.
Savage.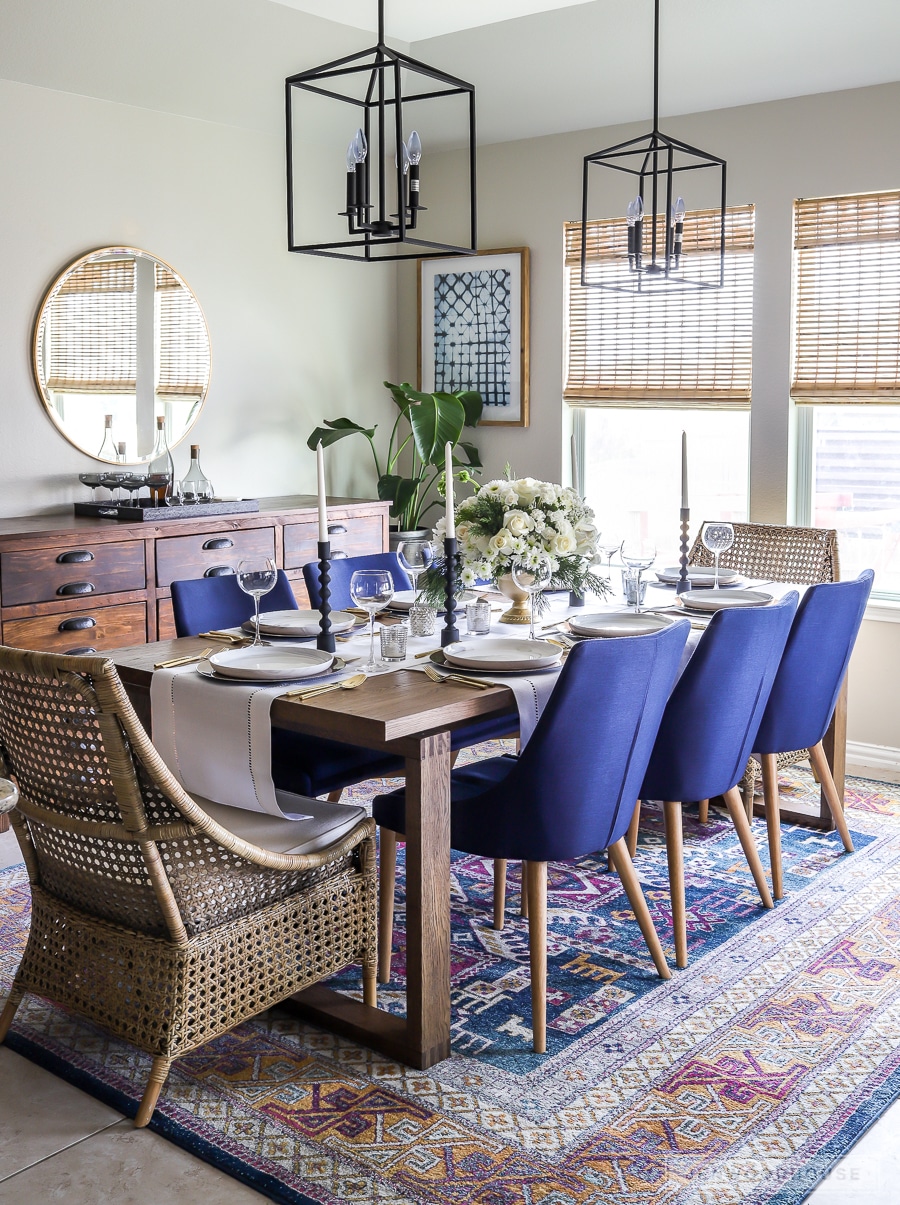 SHOP THIS SPACE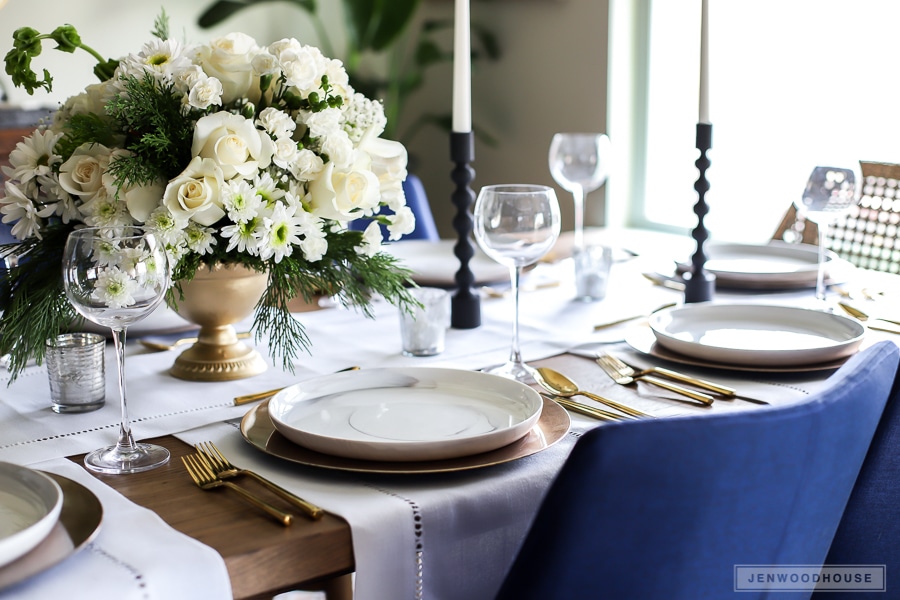 I'm horrible at arranging flowers. H.O.R.R.I.B.L.E. But I have to say, this is the first time I actually gave it a real go and I don't totally hate it. I think it's pretty but I still have no idea what I'm doing. A professional will probably look at this arrangement and cringe, but I won't even make eye contact with that person. That person is dead to me.
Wow, that escalated quickly.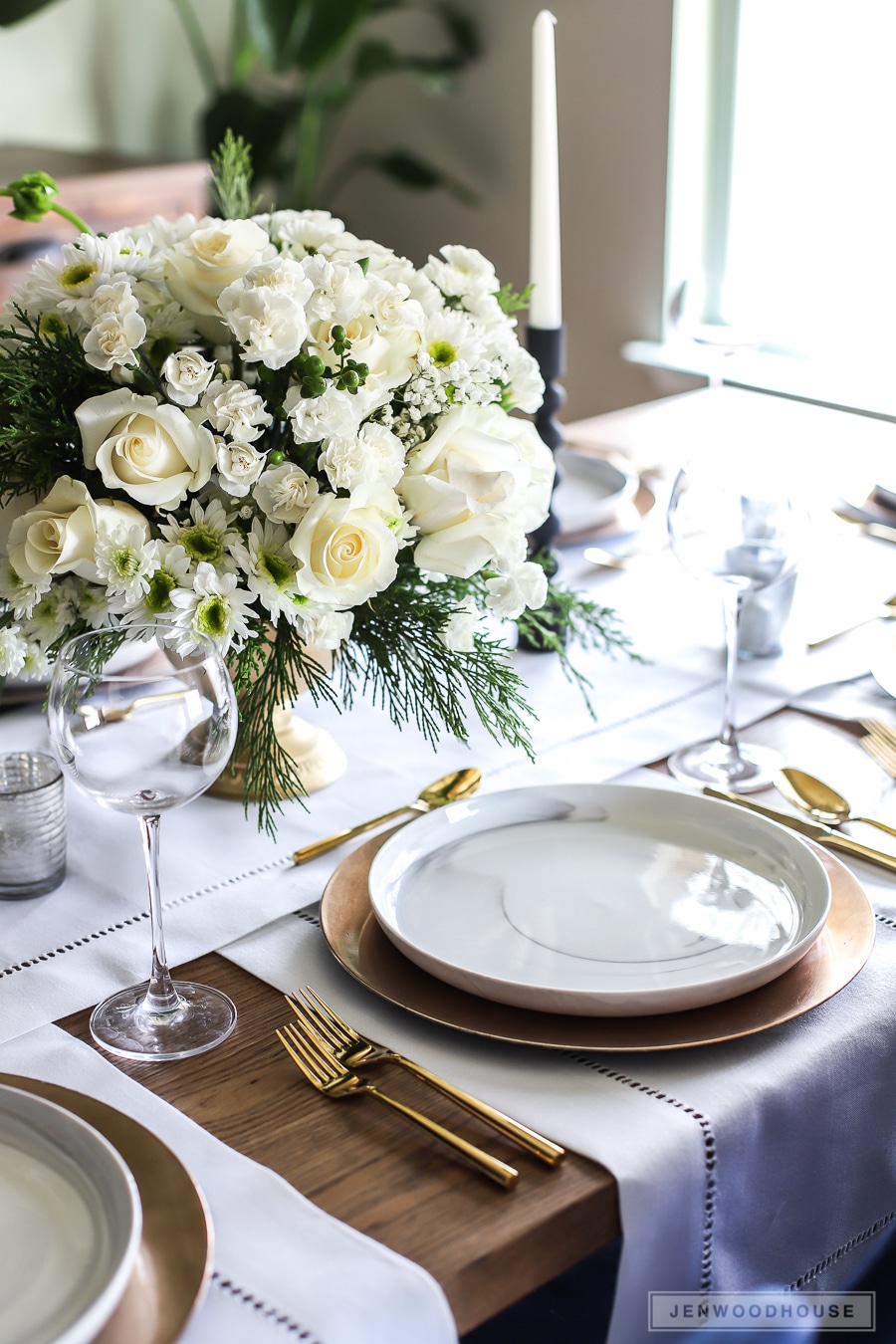 Hey, look at these marble plates! I really love how the pattern on each plate is slightly different. Aren't they fancy? When my 5-year-old saw the table set, he really wanted to have dinner by candlelight. Nope!
Don't. Touch. Anything.
Hands in pockets!
Fake presents, fake candlelit dinner… keep up, kid. This is your life.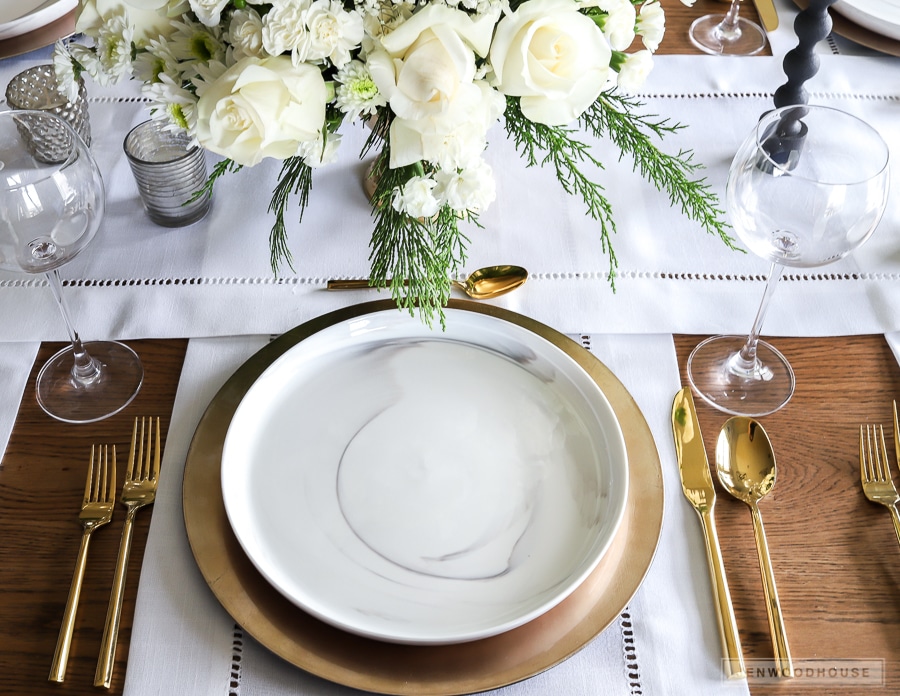 Be sure to visit 25 other inspiring home decor bloggers' holiday home tours – this festive little blog hop is going on all week, so stay tuned! Thanks to Krista and April for organizing this fun Seasonal Simplicity series!
Monday
The Happy Housie / House by Hoff / At Home With the Barkers / Paint Me Pink / Cherished Bliss
Tuesday
Maison de Pax / House of Wood / Tidy Mom / The Turquoise Home / Rain on a Tin Roof
Wednesday
Jaime Costiglio / Robb Restyle / Bless'er House / Two Twenty One / Place of My Taste
Thursday
Town & Country Living / A Burst of Beautiful / Deeply Southern Home / My Fabuless Life
Friday
Erin Spain / Nina Hendrick / The Wicker House/
Making Home Base / Sincerely Sara D / Just a Girl and Her Blog