Have you seen those crafty paint pouring videos popping up all over social media? I've been seeing them everywhere and there's a good reason, acrylic pouring art is just plain fun!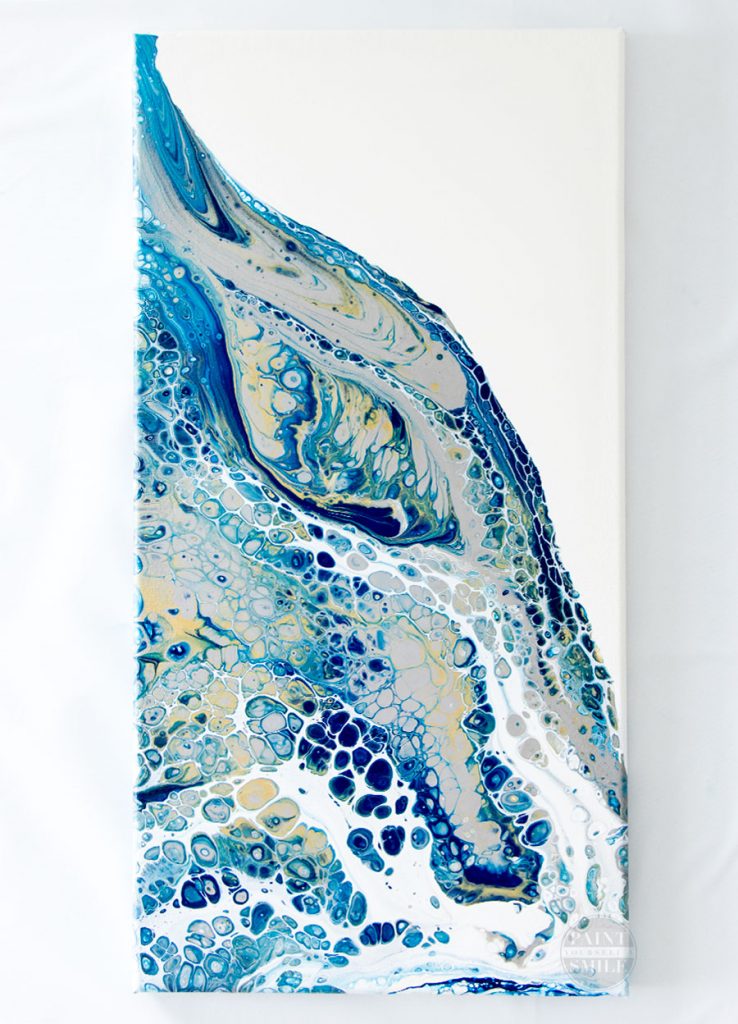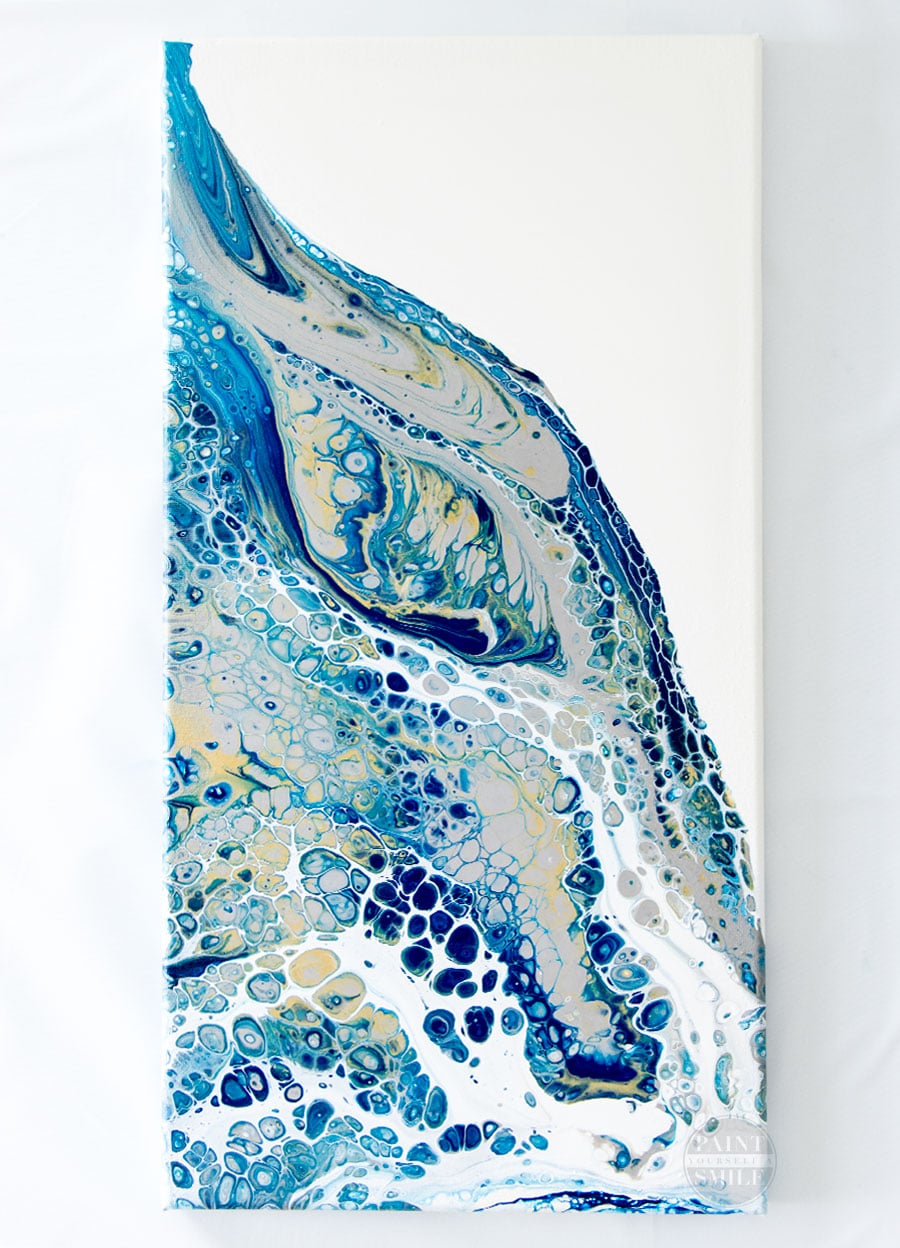 If you have yet to try it, you are in for a treat! Hi friends, it's Jenny from Paint Yourself A Smile, back to show you how to create easy art using basic acrylic paint pouring techniques! Let's get started, shall we? First, you'll need to gather the supplies and prepare your workspace.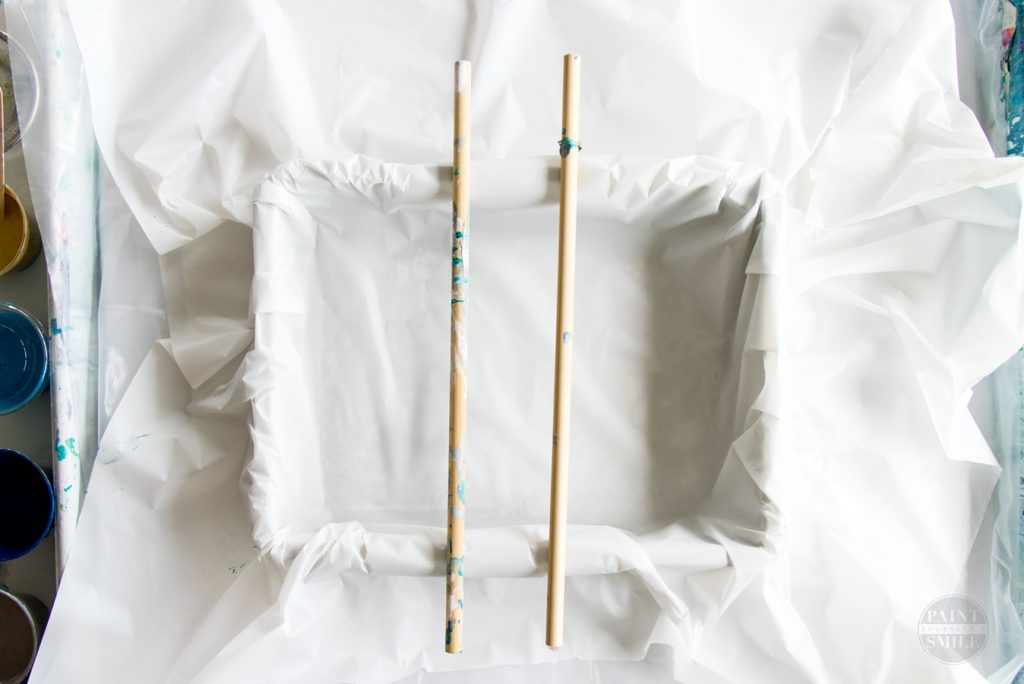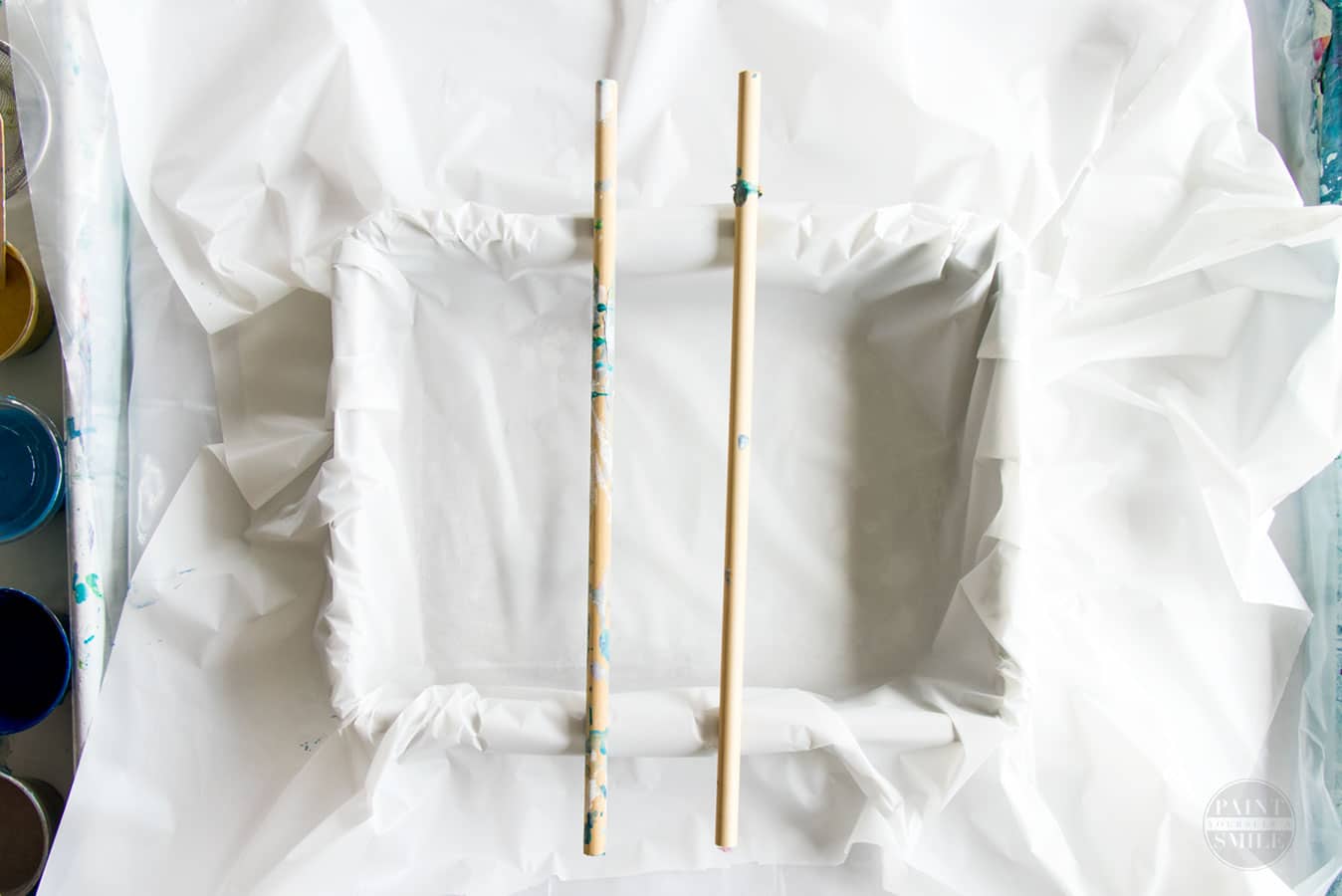 Acrylic pouring can be a messy process and paint WILL run off the canvas so take precaution to protect your work surface and floor. I use a plastic drop cloth over my work table. I also use a rectangular pan to catch the bulk of the paint run off. The two dowel rods in the photo above are helpful to lift my canvas.
Here are some basic supplies that are helpful…
Workspace Supplies
Paper towels, rags and a trash can nearby
Plastic drop cloth
Gloves (I don't use gloves but most rationally minded people do)
Box or pan to catch excess paint drippings
Level surface to set the finished painting on to dry
Painting Supplies
Canvas or Wood
Acrylic Paint
Pouring Medium or Paint Additive such as Floetrol
Silicone oil or Dimethicone
Plastic Cups and Stir Sticks
Strainer
Scale (optional)
Now that you have some supplies, let's mix our paint!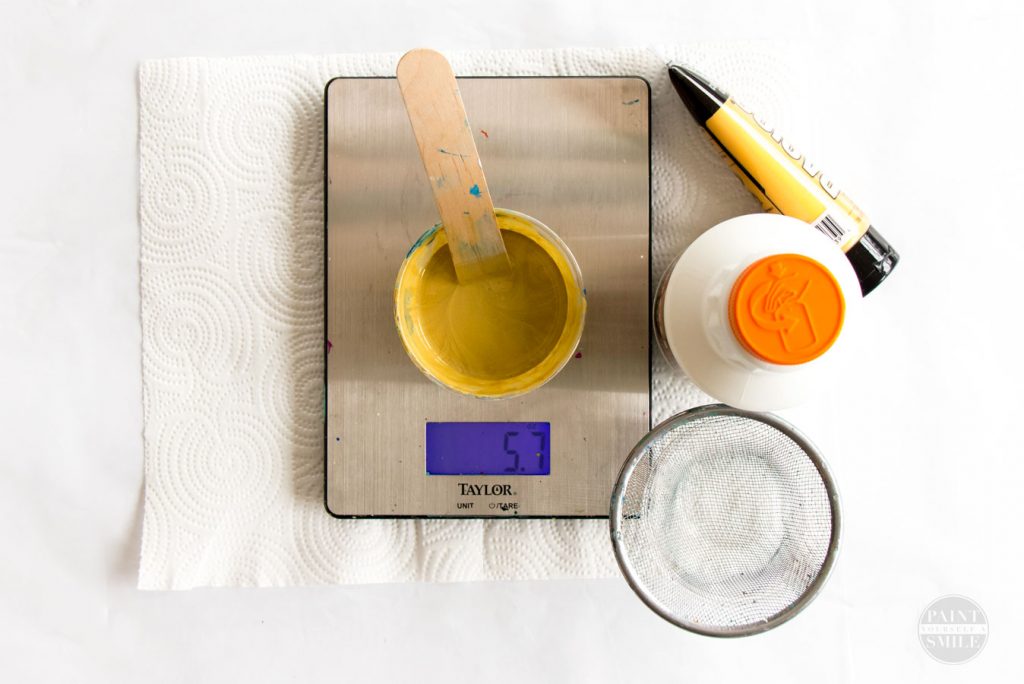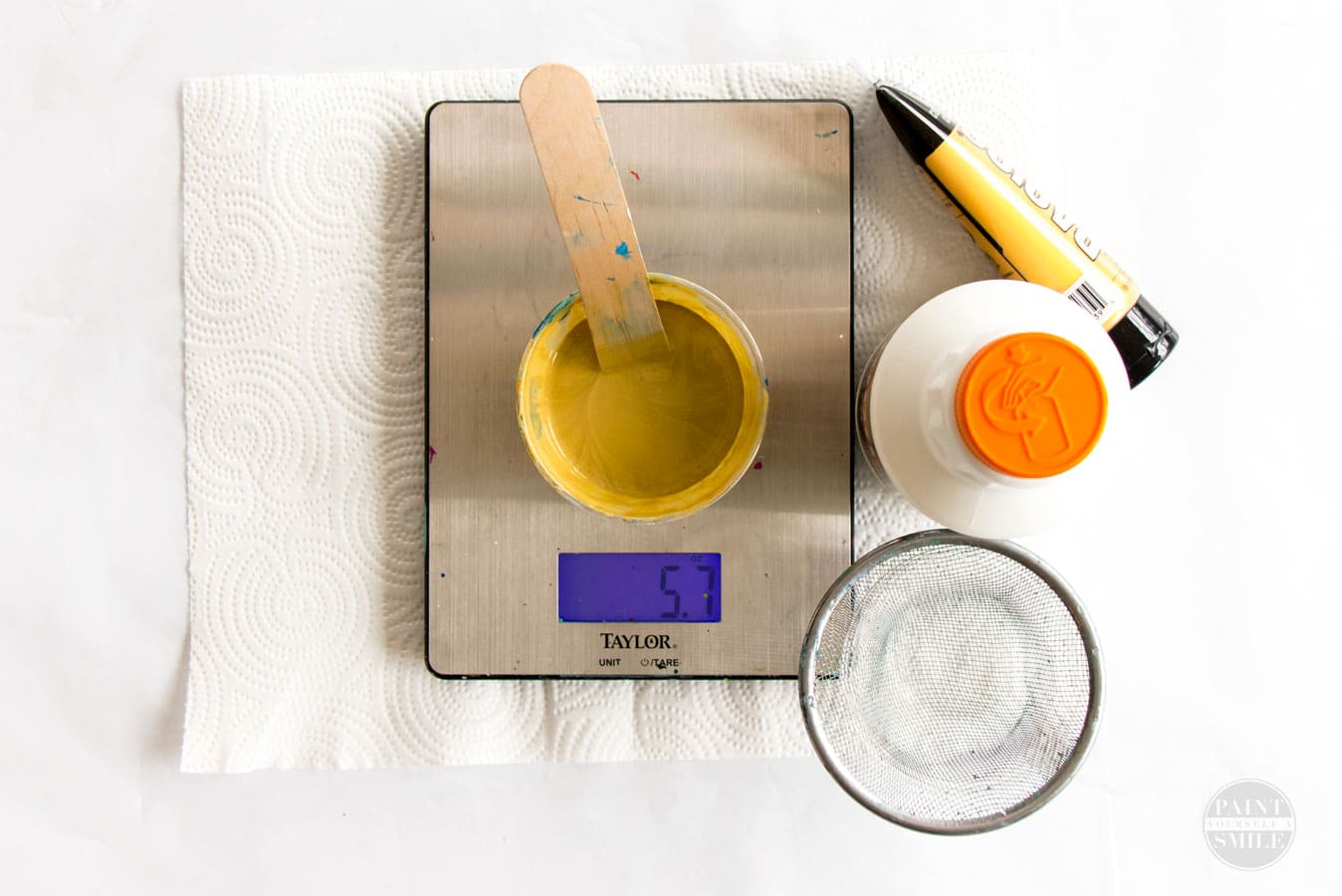 Successful fluid art is all about paint consistency. The pouring recipe I prefer is 1 part paint to 2 parts Floetrol. Floetrol is a paint additive found at your local Home Depot. I like it because it's reasonably priced and easy to come by. As far as what kind of acrylic paint, craft paint, house paint and artist acrylic all work. The difference between craft paint and artist acrylic is, artist acrylic is heavily pigmented and may provide more vibrant color. Also, because heavy body artist acrylics are thicker than craft and house paint, the mix may need to be thinned with up to one-part distilled water.
You can eyeball your ratios, but I prefer to use a scale and measure everything out so the paint mix is consistent. It doesn't matter whether you add the paint first or the medium first, but it does matter how well you mix it. Floetrol can be lumpy so pour it through a strainer before mixing. It's also important when you mix your paint to stir and not whip. Whipping creates air bubbles. Air bubbles in the paint can create unwanted craters and speckles on the surface of the painting. To avoid these issues, I let my mix sit for at least 30 minutes (often much longer) to let air bubbles rise to the surface.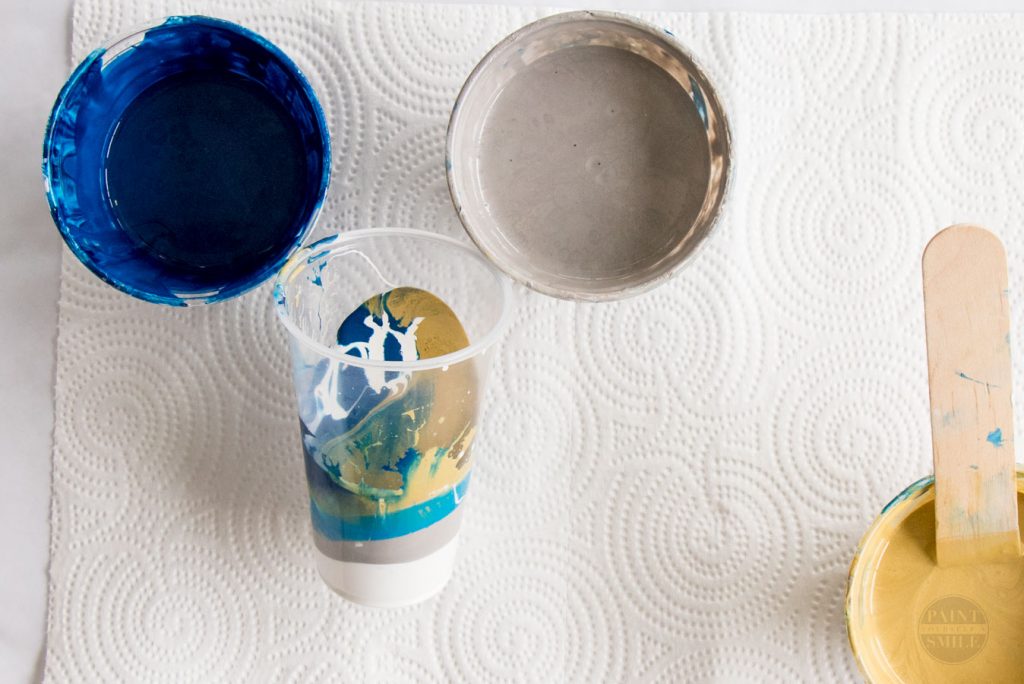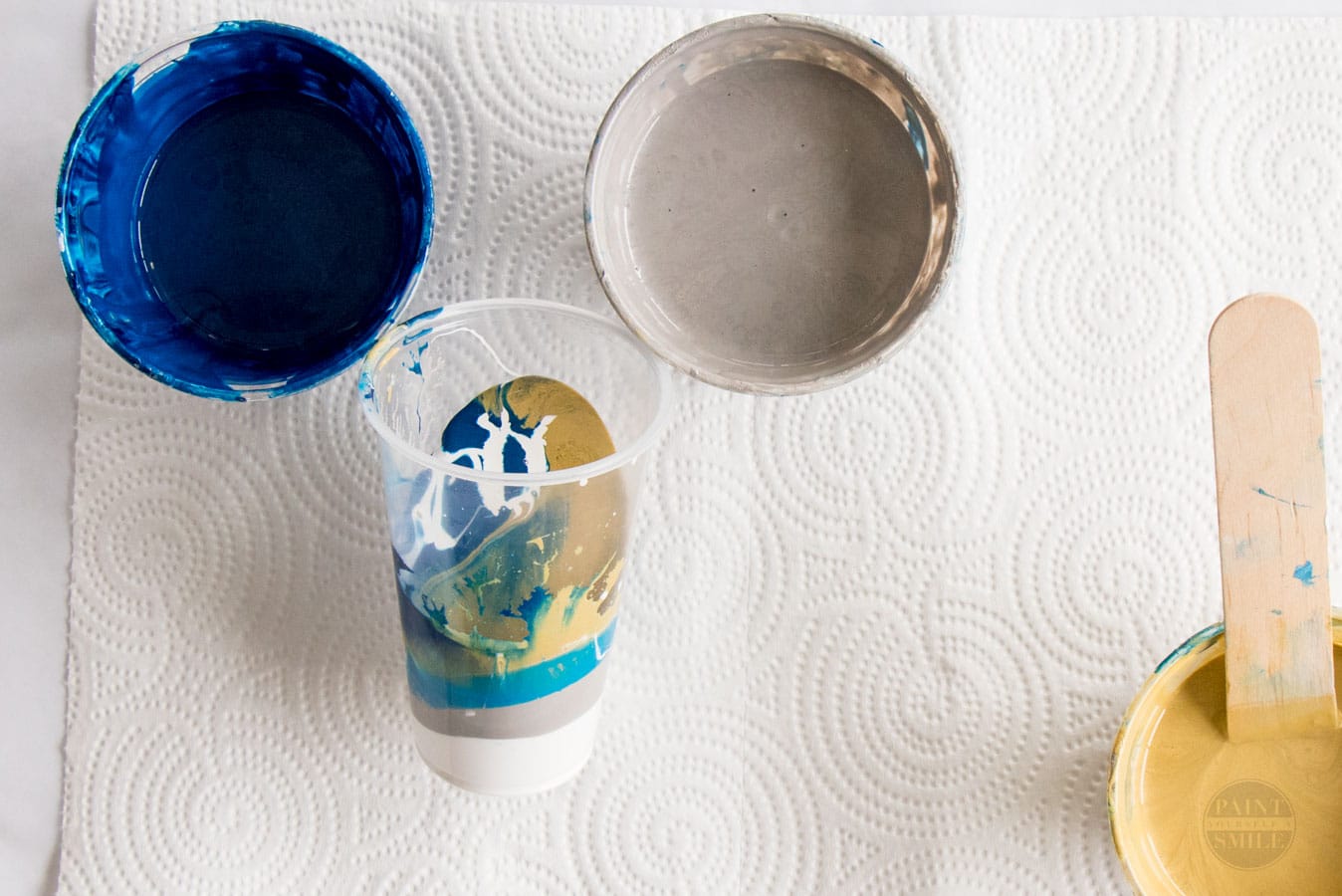 After the paint is mixed, 2 to 3 drops of 100% silicone oil may be added to aid in cell creation. Cells are the pretty round shapes formed naturally in fluid artwork. Since cell creation is a natural result of the different color densities reacting to each other, silicone oil is not necessary for this effect. That said, it does help but a word of caution, more oil doesn't mean more cells. Too much oil will cause drying issues and other problems. Less is more when it comes to silicone.
Now that the paint is mixed and it's free of air bubbles, it's time to load the cup. Today's painting will be a flip cup. There are no rules when layering your colors in the cup but typically white goes in first since it is the heaviest color and when the cup is flipped, the white pulls down through the other colors. I recommend starting with only a 2 or 3 colors to get the hang of it.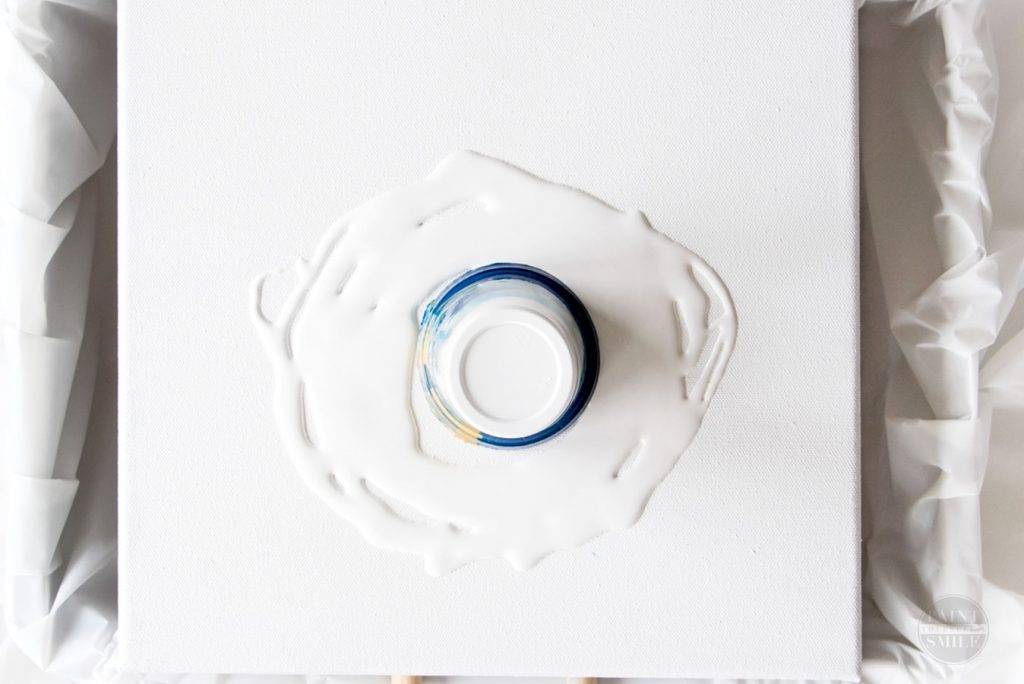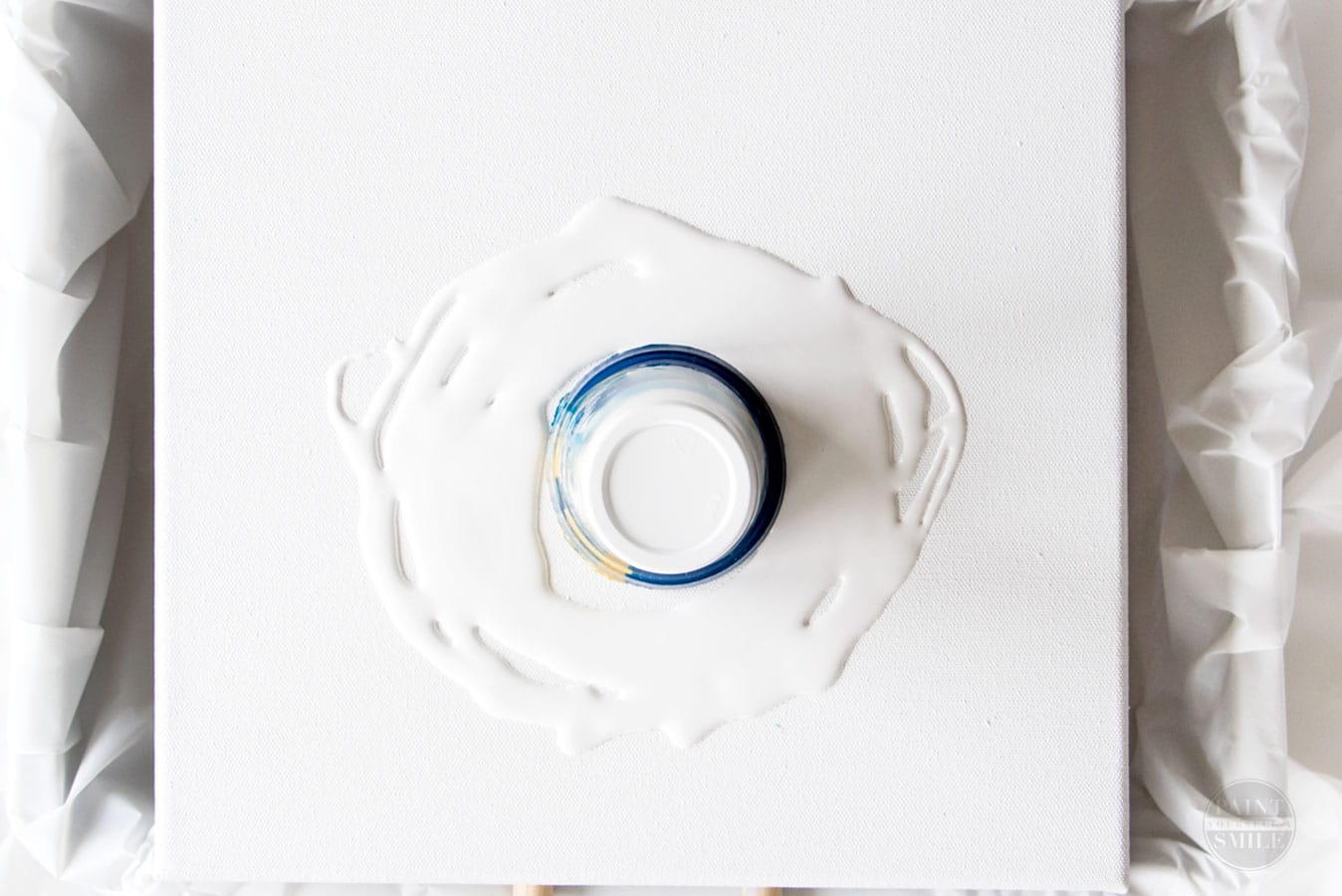 Once the cup is loaded set the canvas on top and flip the cup and canvas over together. While you wait for the color to sink to the bottom, add a thin layer of paint mix to the canvas. This will help the colors flow and spread on the canvas after the cup is lifted.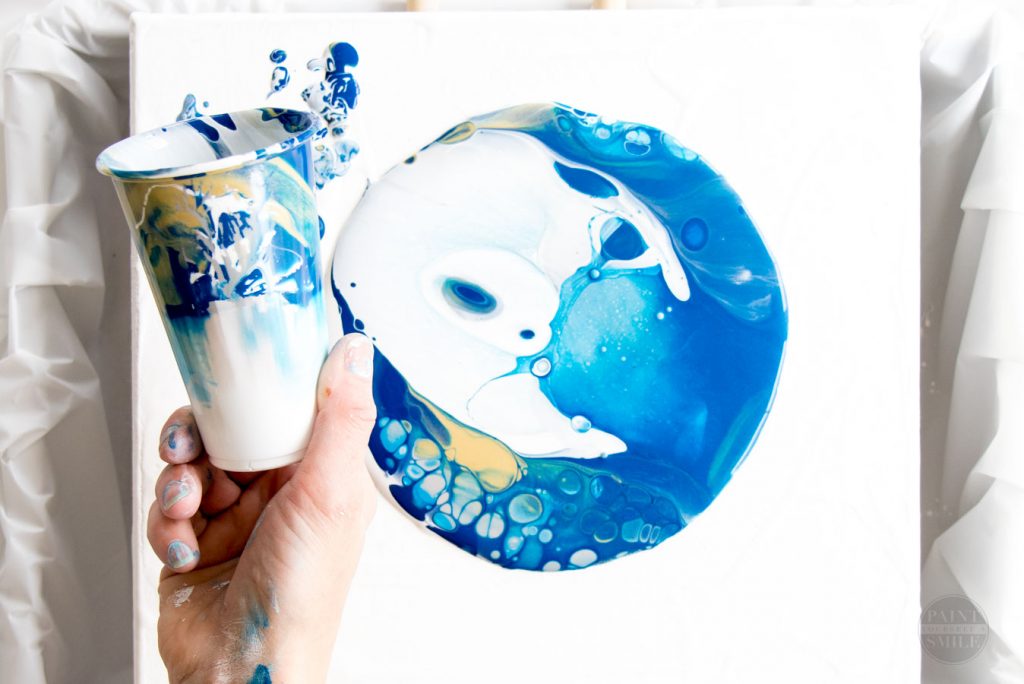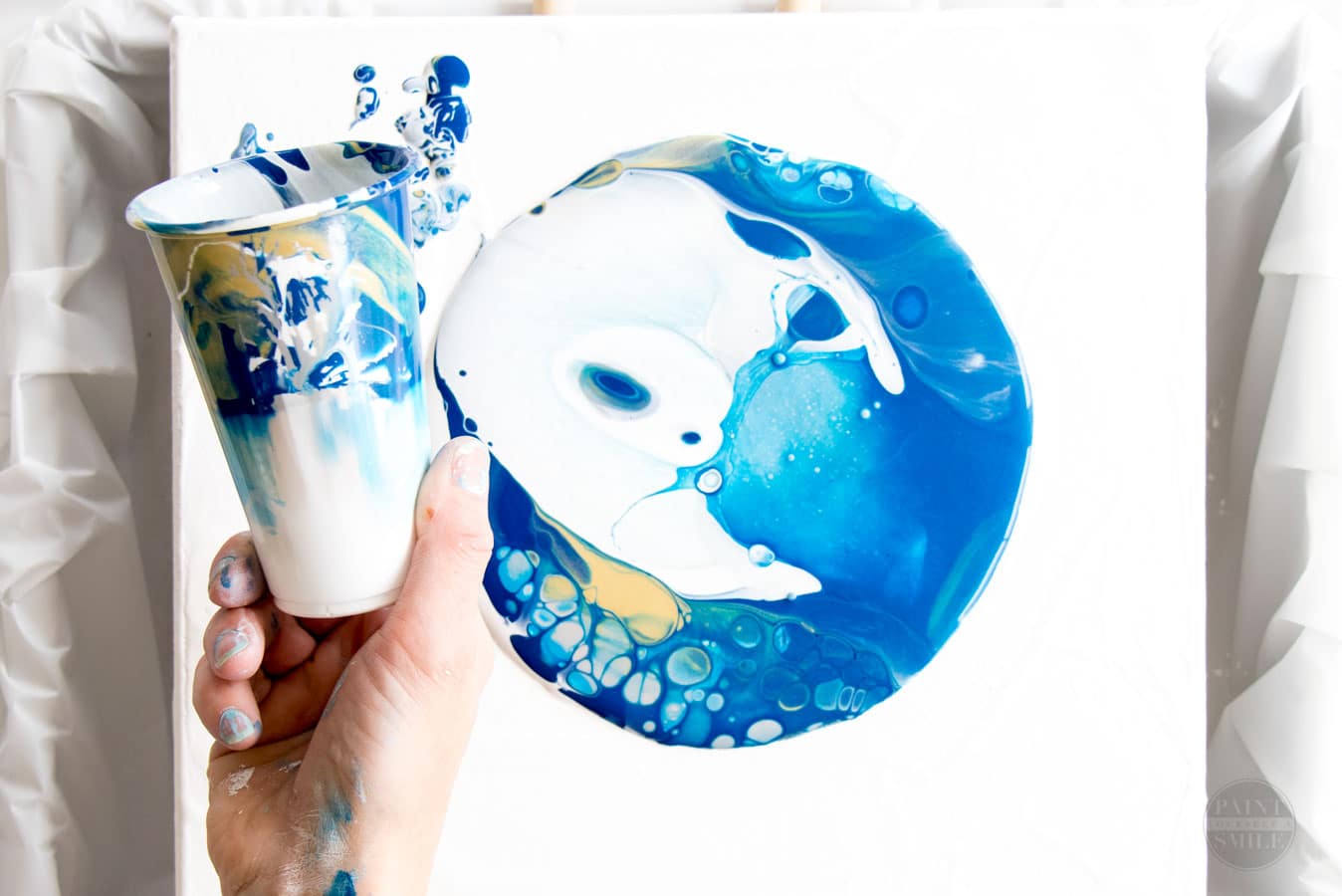 It's always a surprise to see what pattern is going to form when the cup is pulled away and the paint begins to spread.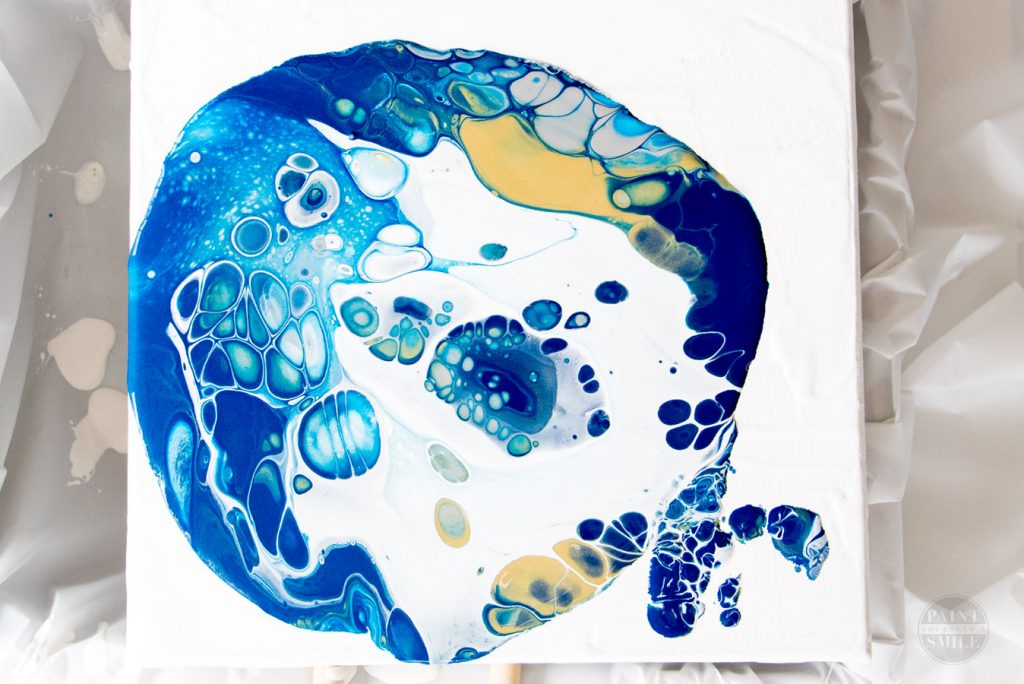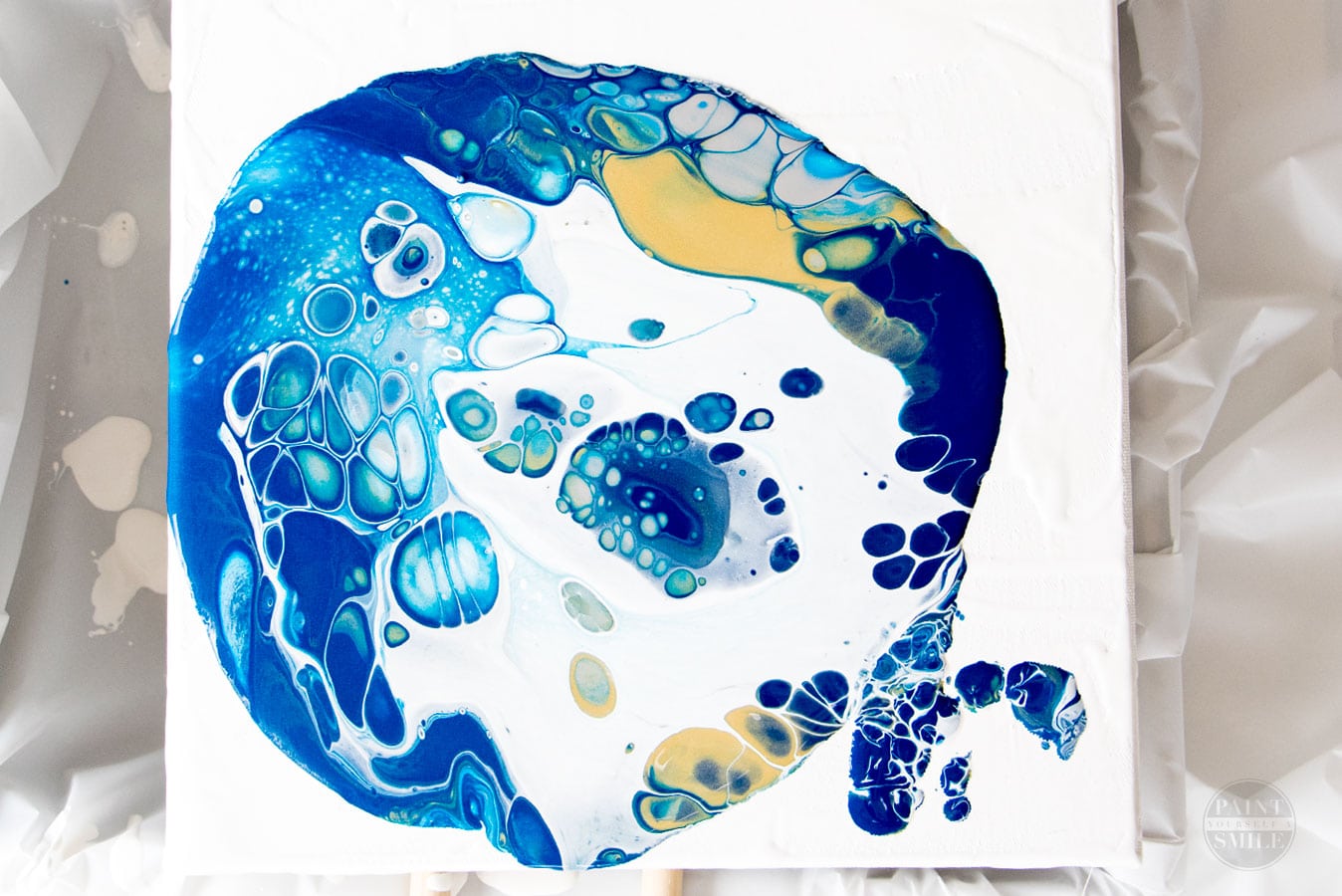 At this point, you can pick up the canvas and gently tilt the canvas to help the paint spread. Be careful though, if you tilt it too fast, the cells may fall apart.
Once the paint has covered the canvas to your liking, set the painting on a level surface to dry. If the surface isn't level, the paint will continue to move and slide right off the canvas.
It takes between 1 and 3 days for a painting to be dry to the touch and up to 4 weeks to be fully cured. When the painting is fully cured, a water-based gloss spray or resin is often used to bring the colors out and give the painting a beautiful glossy finish.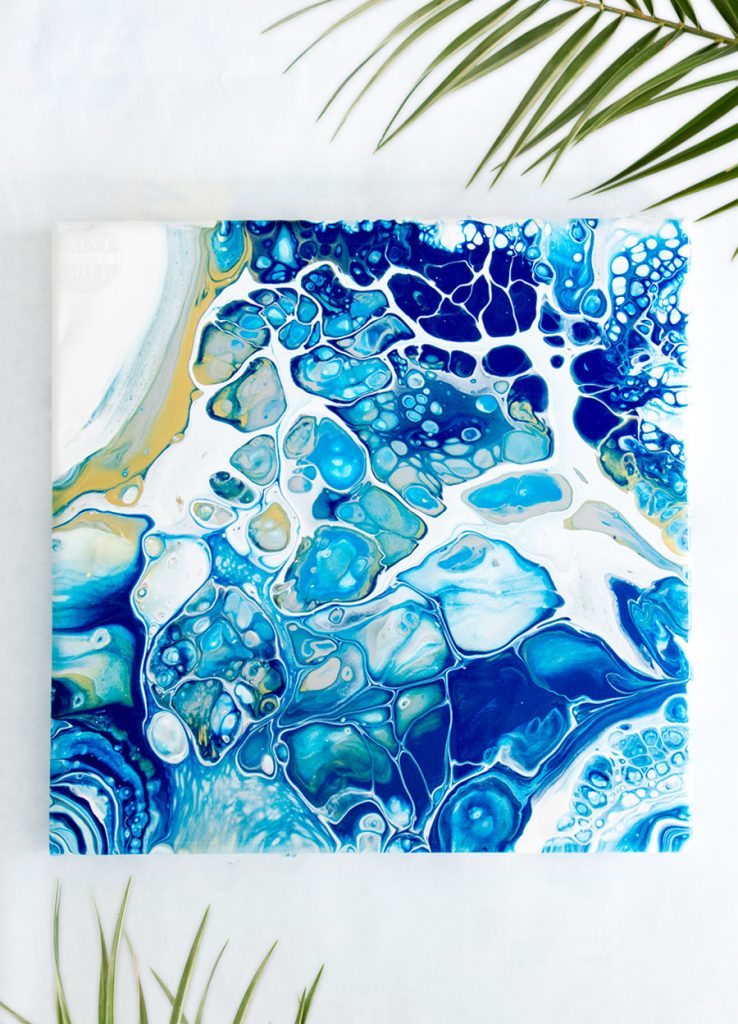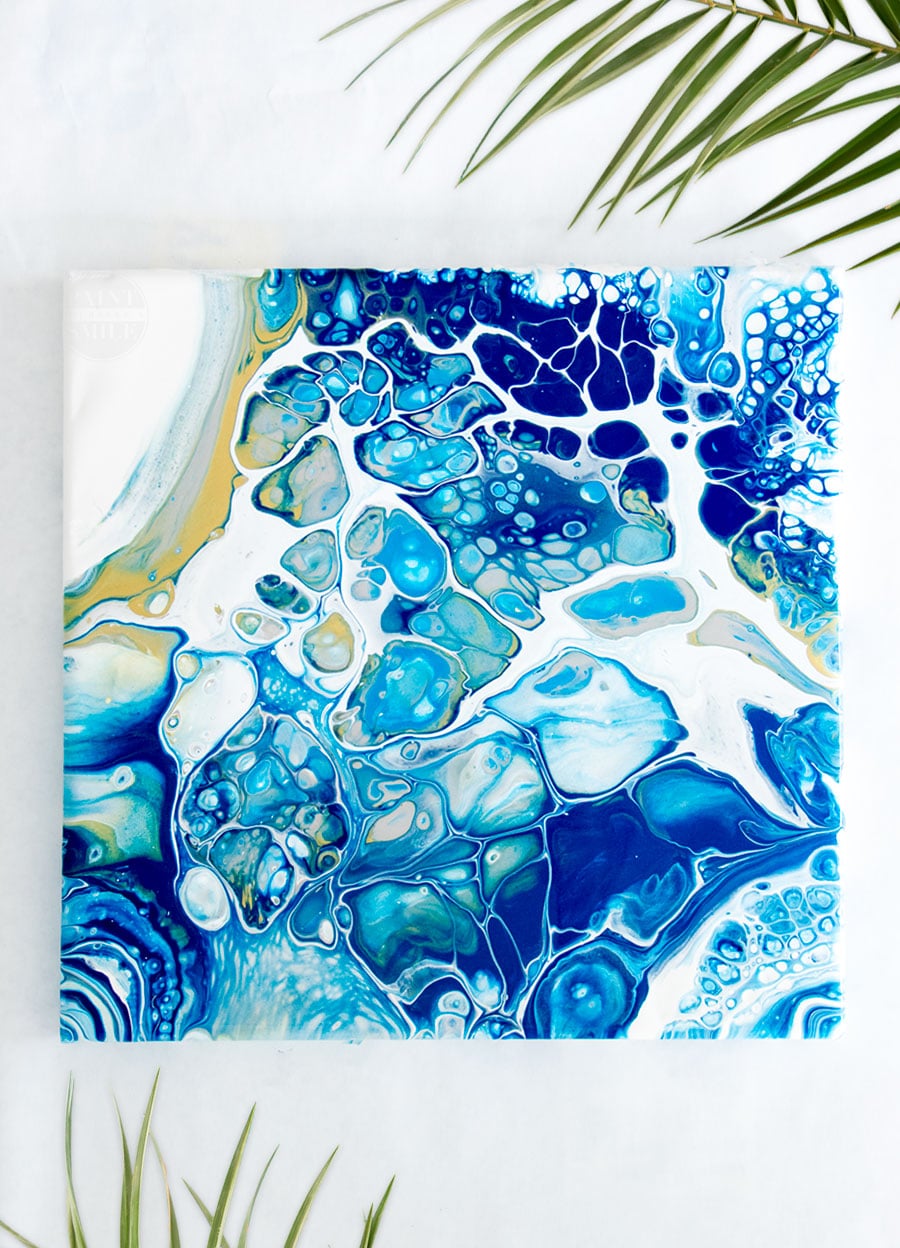 I really do hope you'll give fluid art a try, it's crazy fun. For more acrylic pouring projects, check out my youtube channel
Happy creating,
Jenny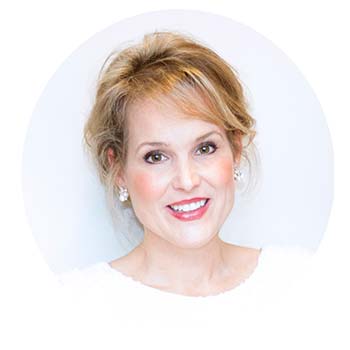 Hello I'm Jenny! I live in Ohio as an artist, wife, and mother of two teenage boys. When I'm not driving my boys to every sports practice on the planet, you can find me blowing up the house in the name of design and trying to convince my husband that a truck load of dust and chaos is actually a good thing. I'm a painter, furniture refinisher, seamstress, art supply collector, laundry avoider, and power tool lover. I share my design & DIY adventures on a little blog called Paint Yourself a Smile in the hopes that I can empower other women to tackle their own creative ideas. Stop by and say hello!