Weren't you just swooning over Amy's Winter wonderland Christmas table setting yesterday? I know I was! Leave it to DIY bloggers to DIY almost every detail. I love that! Man, this 12-part series is really off to an amazing start! For those of you just joining us, I've asked a few of my best DIY blogging buddies to share their Christmas tablescapes in a fun series called The 12 Days of Christmas Tablescapes Tour.
Check out this DIY rockstar lineup: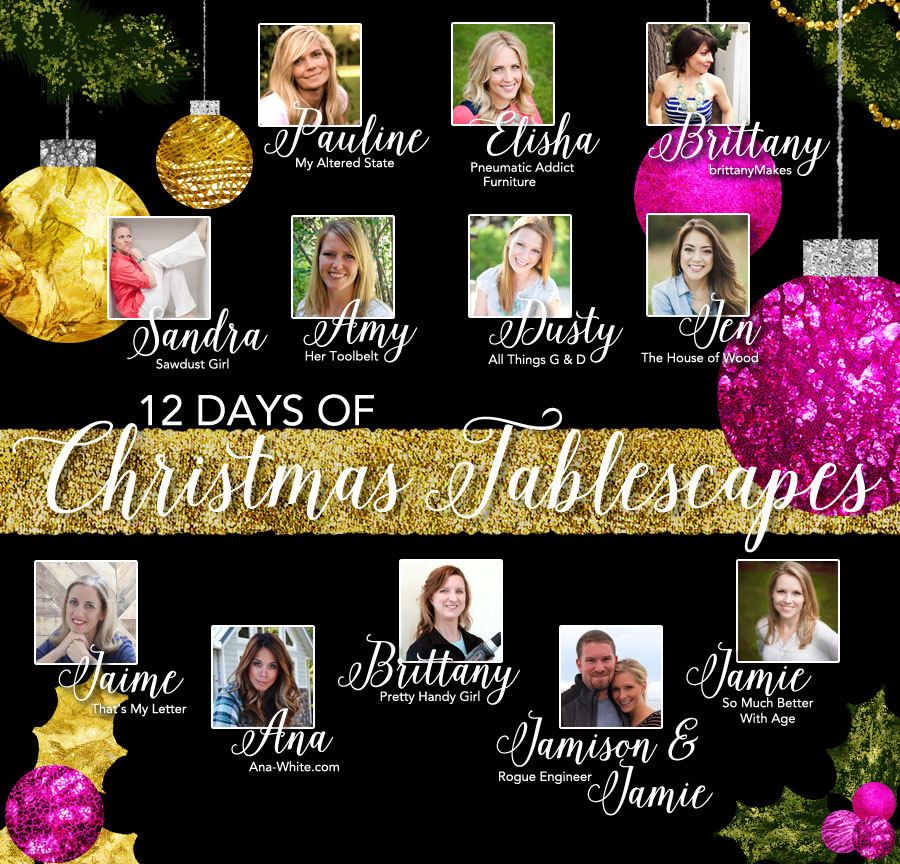 Today, Jamie from So Much Better With Age is sharing her elegant holiday table. So many simple, yet classic details. I just love how she marries 'refined' with 'rustic' so effortlessly. Check out her beautiful Christmas table here.
Here's the rest of our schedule (if you're into that sort of thing):
Mon, 12/8 Rogue Engineer
Tue, 12/9 Her Toolbelt
Wed, 12/10 So Much Better With Age
Thu, 12/11 Pneumatic Addict
Fri, 12/12 Pretty Handy Girl
Mon, 12/15 All Things G&D
Tue, 12/16 brittanyMakes
Wed, 12/17 House of Wood
Thu, 12/18 Sawdust Girl
Fri, 12/19 My Altered State
Mon, 12/22 That's My Letter
Tue, 12/23 Ana-White.com
Don't forget to join us for tomorrow's installment, when Elisha from Pneumatic Addict Furniture shows off her holiday tablescape!
Did you miss a day? No worries! Catch up here: