Hi friends! Did you enjoy taking a peek at Elisha's modern DIY holiday table? She can do no wrong in my book. Thanks for joining us for Day 5 of The 12 Days of Christmas Tablescapes Tour!
If you're new here, welcome! We're happy you've dropped in! I've teamed up with 11 of the best DIY bloggers to bring you 12 Days of Christmas Tablescapes! Check out this amazing lineup: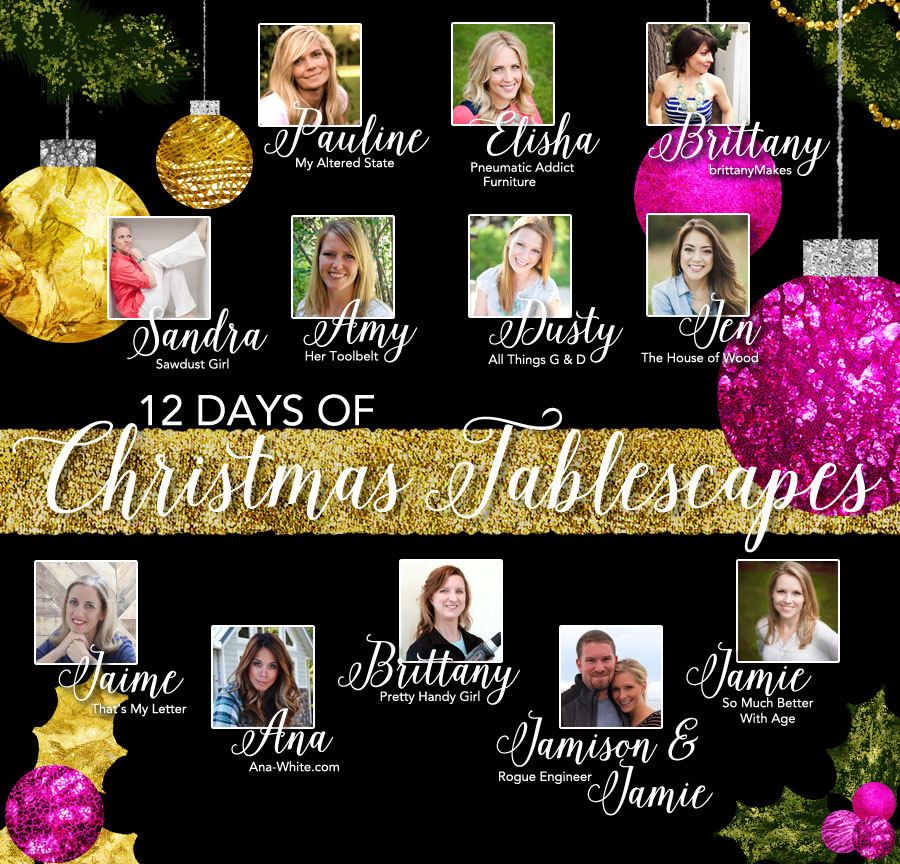 Unbelievable, right? Well, Brittany from Pretty Handy Girl is up next sharing her festive table setting. You won't want to miss this one. Brittany says she's a newbie at this sort of thing, but you would never know it. She knocked it out of the park, and even added a yummy hot chocolate bar, for good measure. Hop on over to see her beautiful tablescape here.
Here's our tour schedule:
Mon, 12/8 Rogue Engineer
Tue, 12/9 Her Toolbelt
Wed, 12/10 So Much Better With Age
Thu, 12/11 Pneumatic Addict
Fri, 12/12 Pretty Handy Girl
Mon, 12/15 All Things G&D
Tue, 12/16 brittanyMakes
Wed, 12/17 House of Wood
Thu, 12/18 Sawdust Girl
Fri, 12/19 My Altered State
Mon, 12/22 That's My Letter
Tue, 12/23 Ana-White.com
Well that wraps up the first week of stellar Christmas tablescapes. You won't want to miss next week's posts – it's chock-full of more DIY goodness, but for now, have yourself a merry little weekend! Thanks for visiting!
Miss a day? No worries! Catch up here: