Welcome to Day 8 of The 12 Days of Christmas Tablescapes Tour! I'm so excited to be hosting this fun and festive 12-part holiday series! Brittany blew me away (as usual) with her stylish and chic Christmas table setting. But, I expect nothing less from her.
That's just par for the course, isn't it? I mean, take a look at this DIY dream team: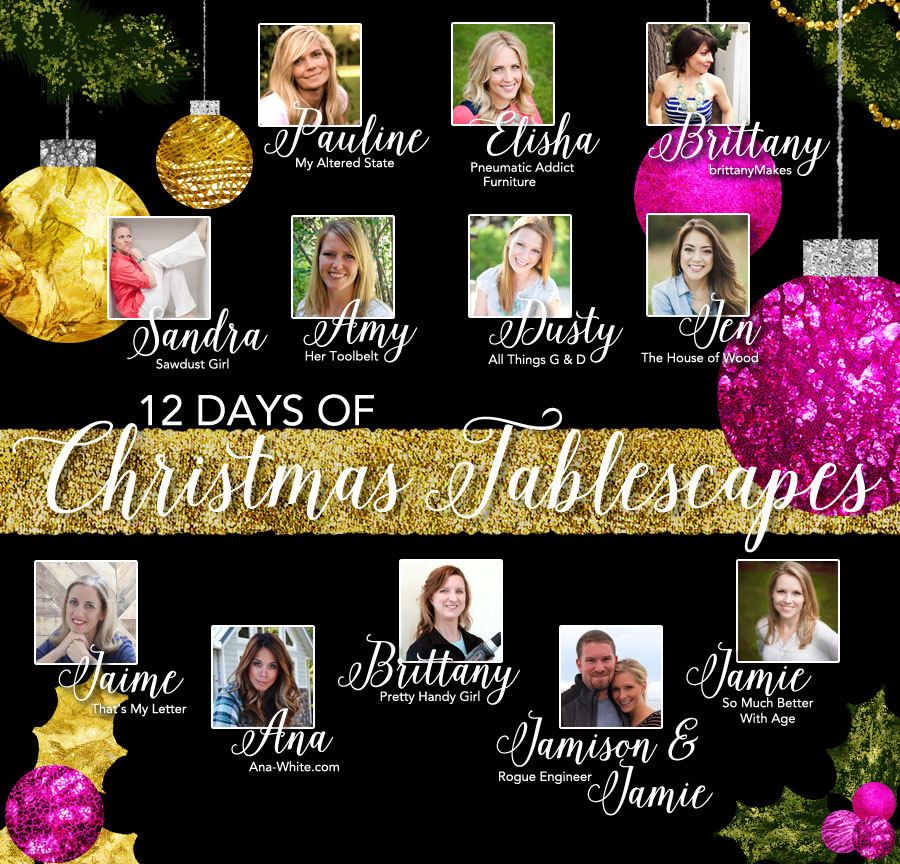 Today, it's my turn to show off my decked out holiday table setting! Woohoo!
Naturally, I hit up Pinterest for ideas and as I was scrolling along, I stumbled across this image and it kicked me in the teeth with all the inspiration I'd need for this project. After all, my life's philosophy is that a great pair of shoes can pretty much conquer the world. Amiright or amiright, ladies? So, the jumping off point for my Christmas table was a slammin' pair of heels. Typical. It's not surprising that I'd find inspiration in shoes, as I tend to do (more often than my husband would appreciate).
So without further ado, welcome to my Christmas morning breakfast table!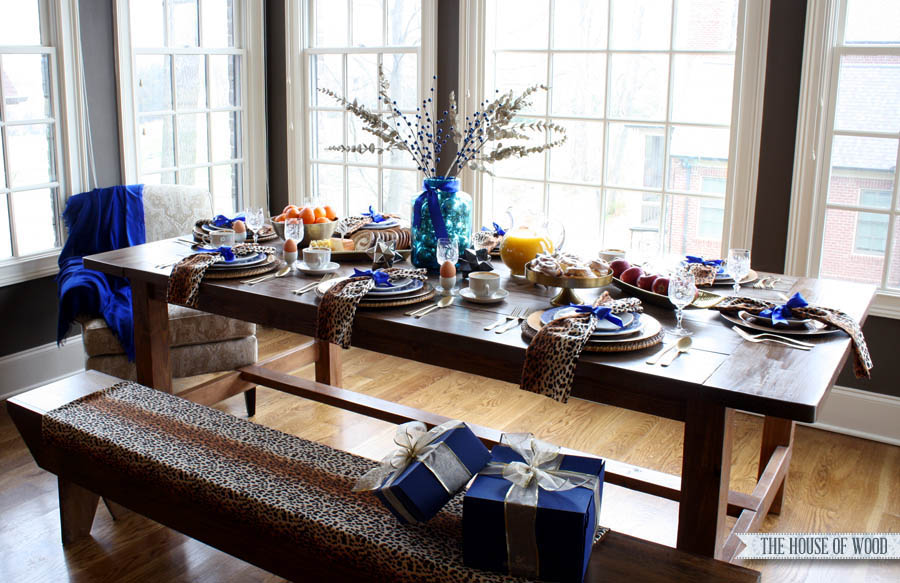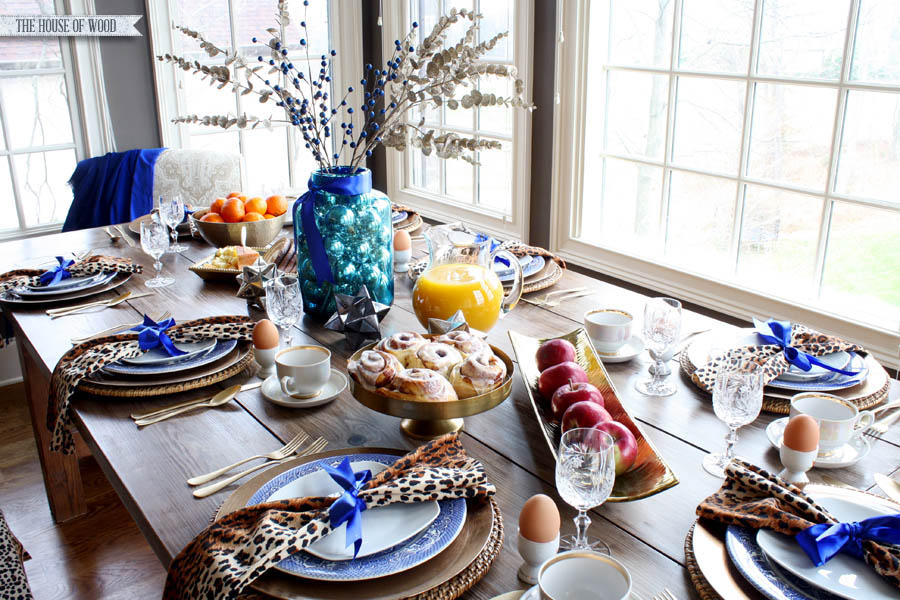 I built this hefty farmhouse table for my parents and it's the perfect backdrop for my holiday tablescape. So much of Christmas is about coming home, so that's exactly what I did! My parents' breakfast nook  (side note: is it still considered a 'nook' when it can house a 94″ table?) was the ideal space to dress for the holidays.
And do you recognize that bench? It's the bench that I taught Haven Conference goers how to build last summer, along with my friend, DIY extraordinaire Jaime from That's My Letter.
I followed Ana White's plans for the farmhouse table and the post for the bench can be found here. I'll spare you the tutorial on how to build the farmhouse table because honestly, everyone and their mothers have not only built one, but blogged about it… amiright? I will mention, however, that it was next to impossible for me to find untreated 4x4s, so I had to call in some favors. I hit up my neighbor who knew a guy who owned a sawmill and he hooked me up with some rough, raw 4x4s. They were so green, we had to dry them out for weeks. And then we had to plane them and everything. Good times.
Oh, and if you haven't built one of these babies, congratulations. You are the 1% and I applaud your willful defiance against conformity.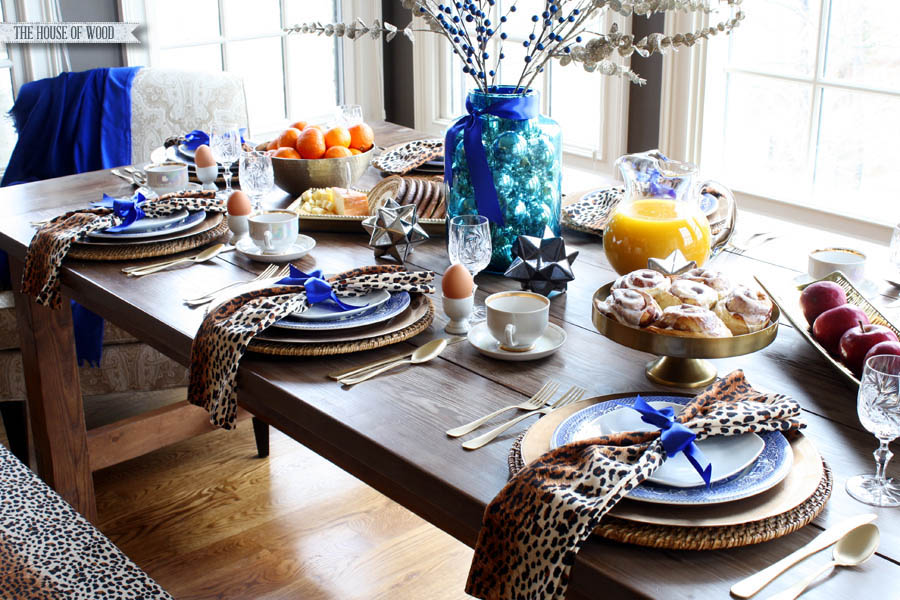 I bought 3 yards of leopard print fabric for the DIY napkins and table runner (that I later decided looked better as a bench cover). And with a 50% off coupon, the not-so-grand total came in at less than 20 bucks! This is why I love DIY so much. Such a money-saver!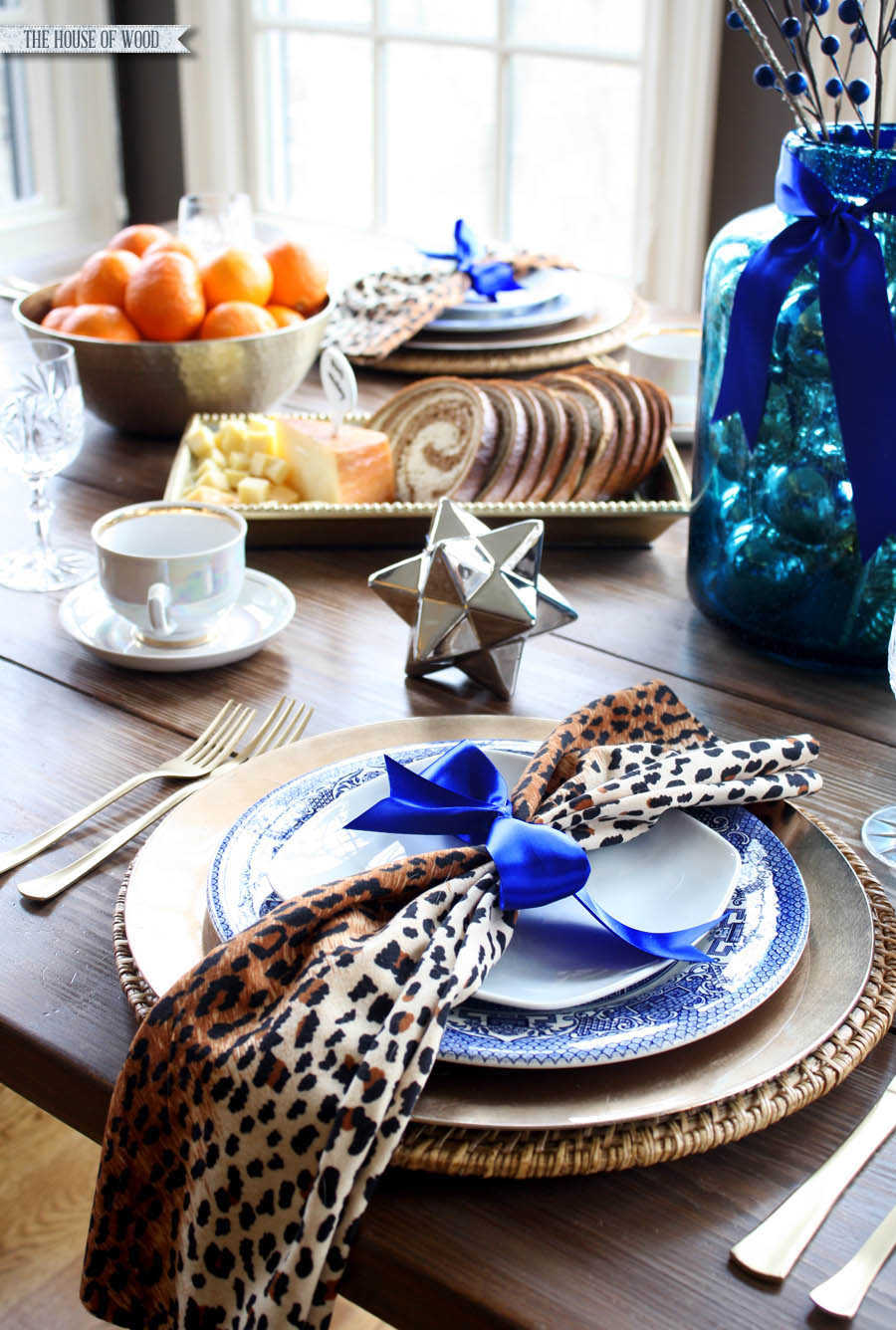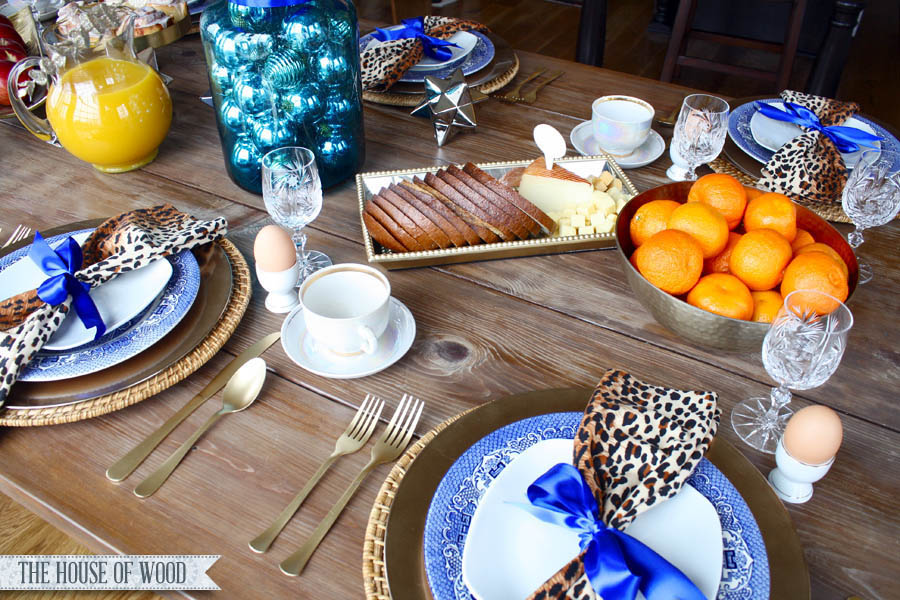 The antique Chinese canton-style plates belonged to my grandmother. Not only do they play nicely with my color scheme, but it adds sentimental value to the whole table. Growing up as an Air Force brat, we moved around the world every four years which allowed my mom to amass quite an eclectic, international collection of souvenirs. The Bohemian crystal goblets are from Czechoslovakia (back in the 90s, when it was still called 'Czechoslovakia'), the porcelain egg cups are from Germany, and the iridescent gold-rimmed tea cups are from the Philippines.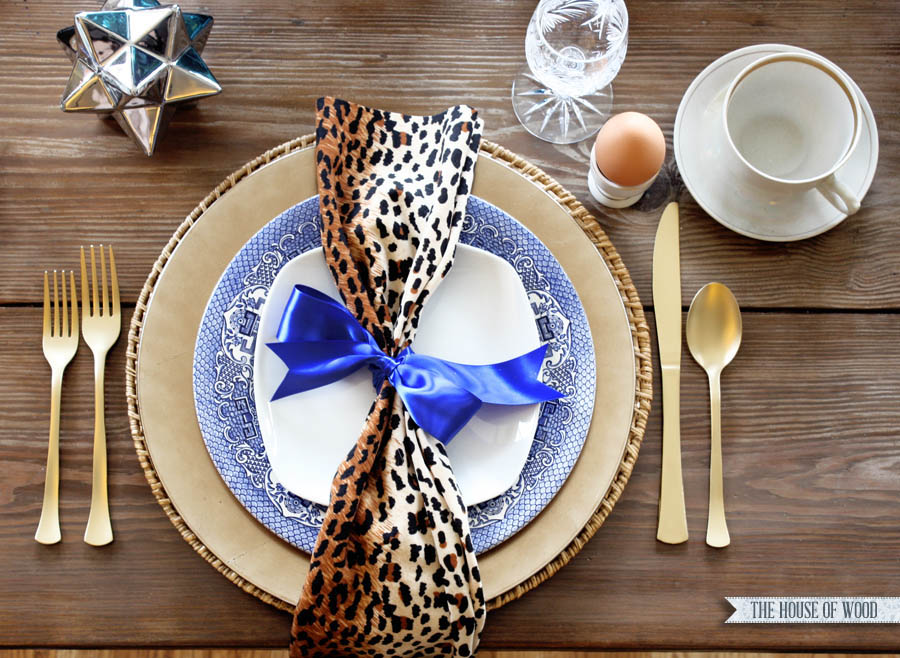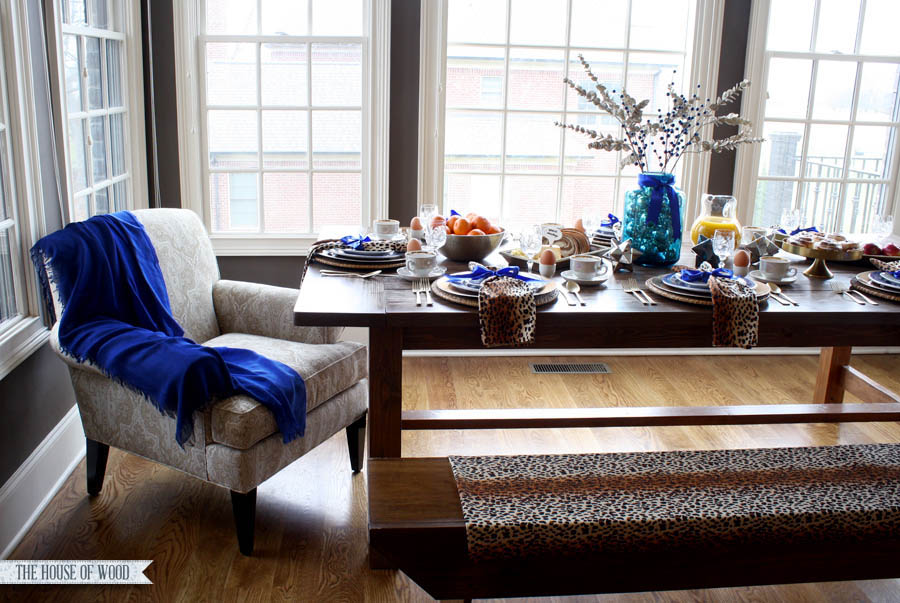 And not that it's a tradition in our family, but cinnamon rolls on Christmas morning is like, a thing, right? Pinterest told me it was, and so it came to be. If eating cinnamon rolls is wrong, I don't wanna be right.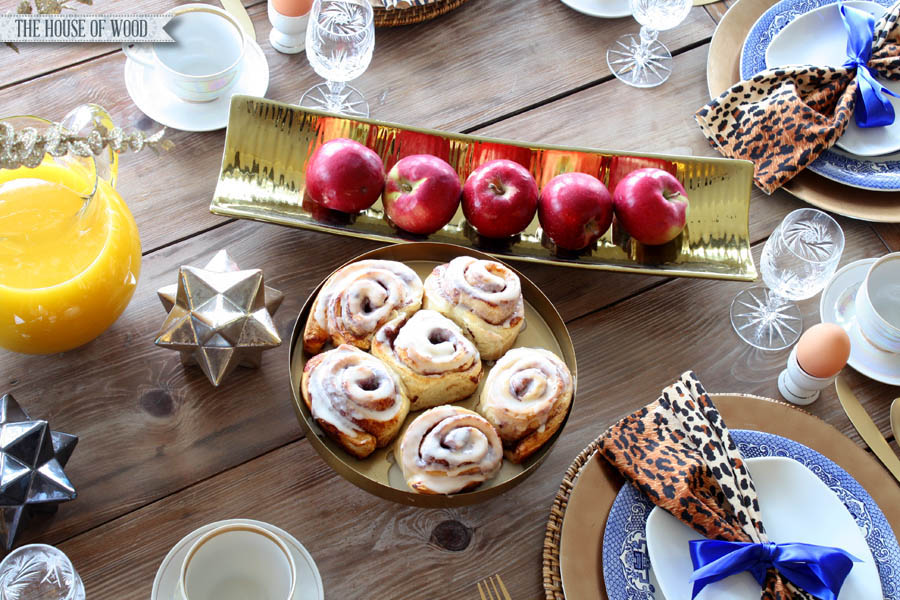 You know I had to throw some fruit and eggs in there, to help ease the guilt that undoubtedly comes with cinnamon rolls.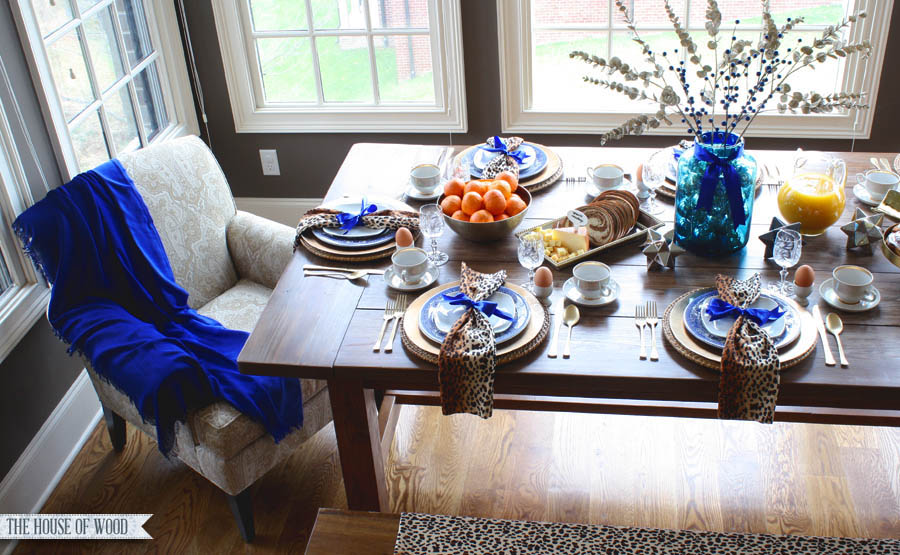 Unlike PrettyHandyGirl, I do own chargers, as useless as they are. Three different sets, actually. *hangs head in shame. I admit, I have a slight obsession with kitchen stuffs: glassware, dinnerware, flatware… any kind of 'ware.' Well, except for Tupperware. We don't really do leftovers at our house, but I did know a girl who couldn't bring herself to throw away any of her empty 'I Can't Believe It's Not Butter!' plastic tubs. That was interesting. I should've had her committed to an episode of 'Hoarders.'
Oh, and I know what you're thinking, you jerk. Even though I own three sets of chargers and more appetizer plates than I know what to do with, I am not a hoarder. I keep my crap organized. It's like the freakin' dewey decimal system up in here.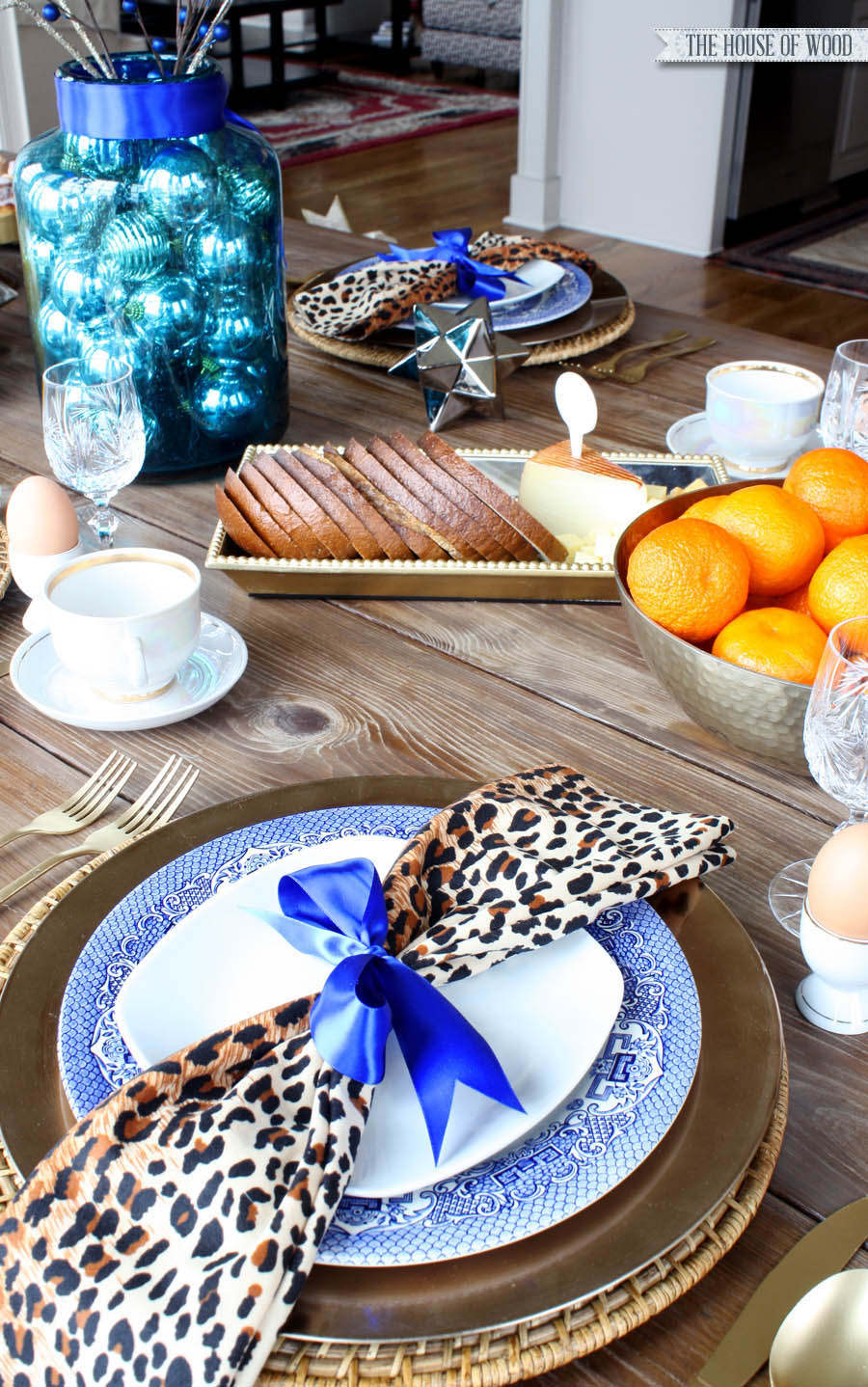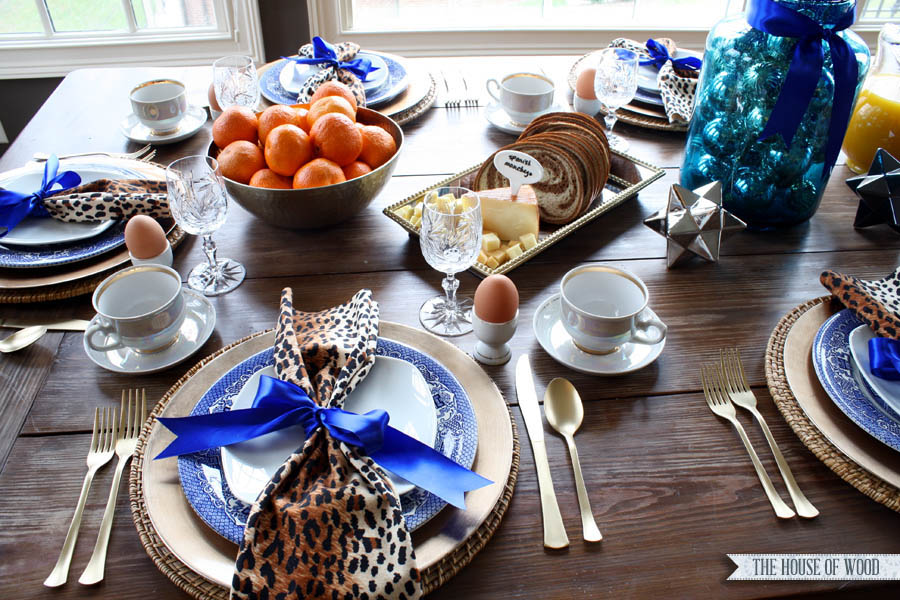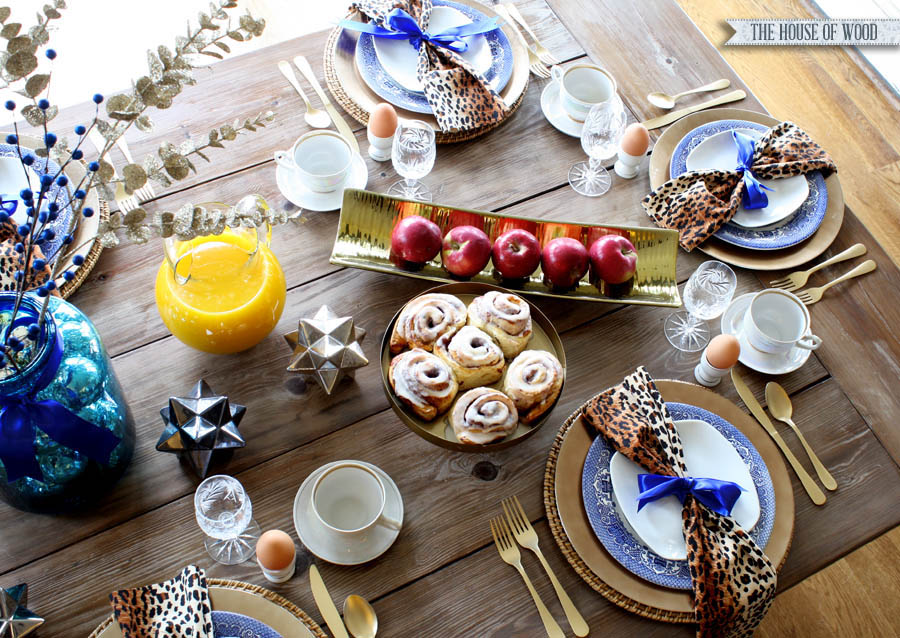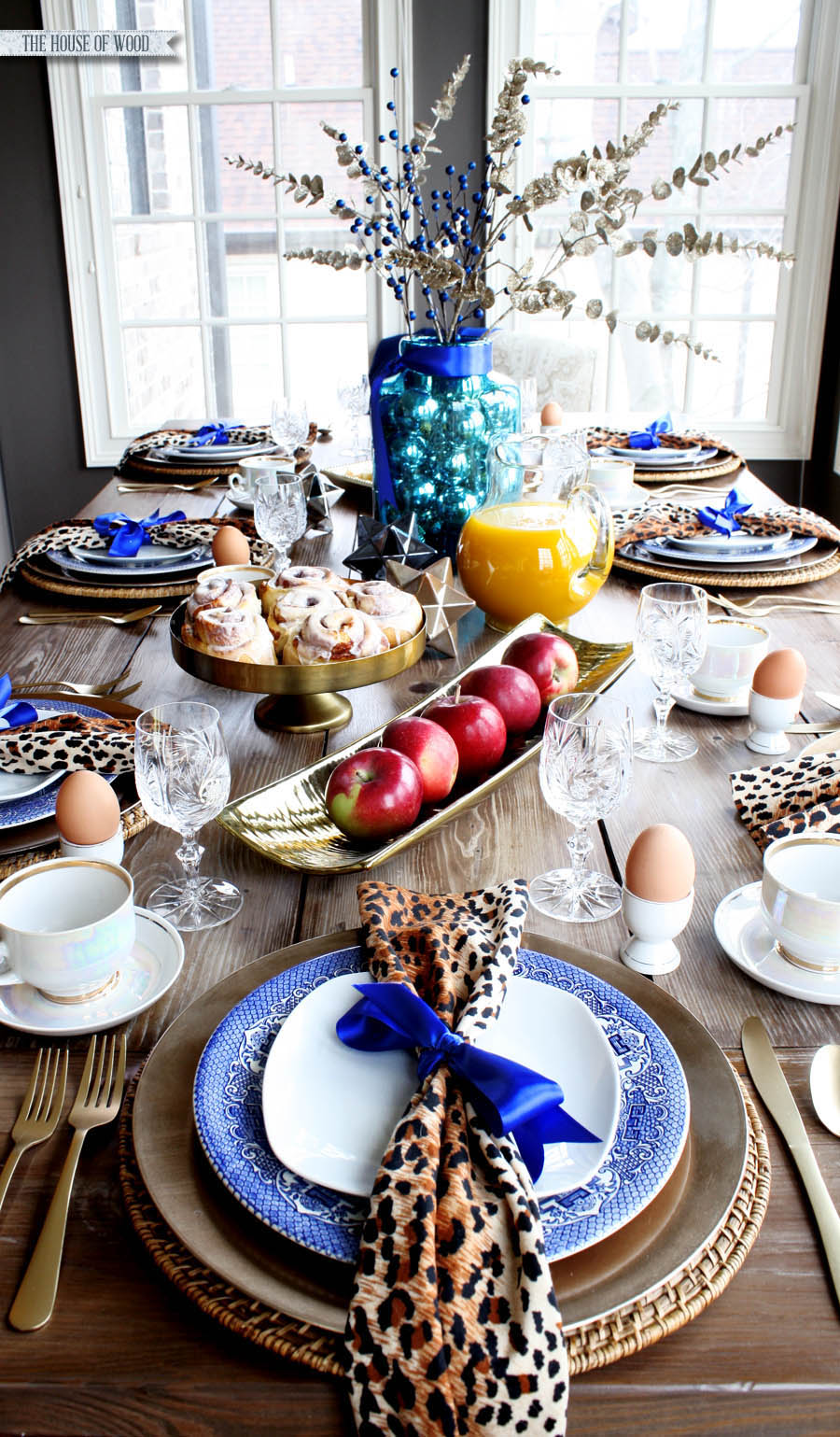 So there you have it – my Christmas morning breakfast table. Are you hungry yet? I might share one of my cinnamon rolls. Maybe. But probably not. Thanks for stopping by! Here's an apple.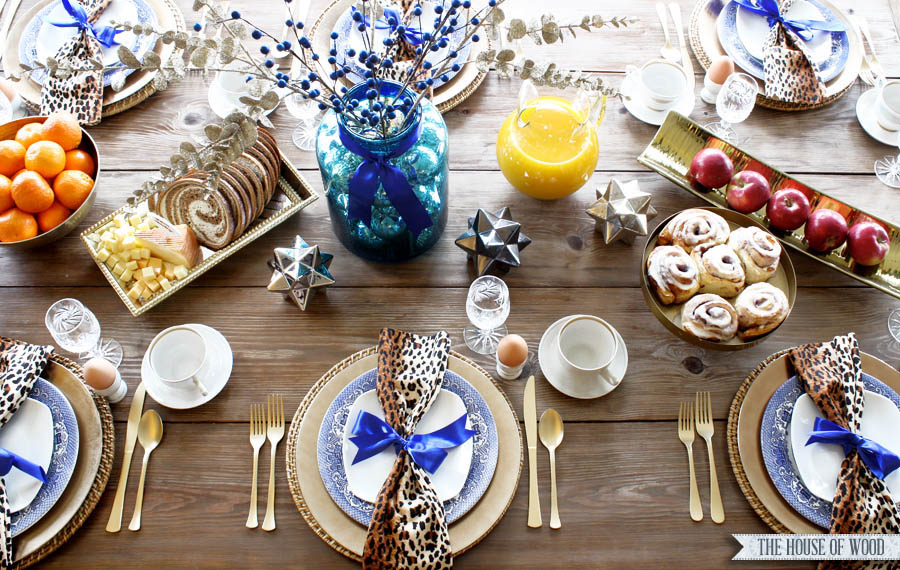 Are you on Pinterest? So am I – let's be friends! I'd love for you to pin and share the image below. Thank you!

Thanks again for following along on our little holiday tour – don't forget to stop by Sawdust Girl's place next, she'll be sharing her tablescape creation with us tomorrow!
Here's the full tour schedule:
Mon, 12/8 Rogue Engineer
Tue, 12/9 Her Toolbelt
Wed, 12/10 So Much Better With Age
Thu, 12/11 Pneumatic Addict
Fri, 12/12 Pretty Handy Girl
Mon, 12/15 All Things G&D
Tue, 12/16 brittanyMakes
Wed, 12/17 House of Wood
Thu, 12/18 Sawdust Girl
Fri, 12/19 My Altered State
Mon, 12/22 That's My Letter
Tue, 12/23 Ana-White.com
Did you miss a day? No worries! Catch up here: