*This post is sponsored by The Home Depot.
Oh, hi. I built these built-ins. NO. BIG. DEAL.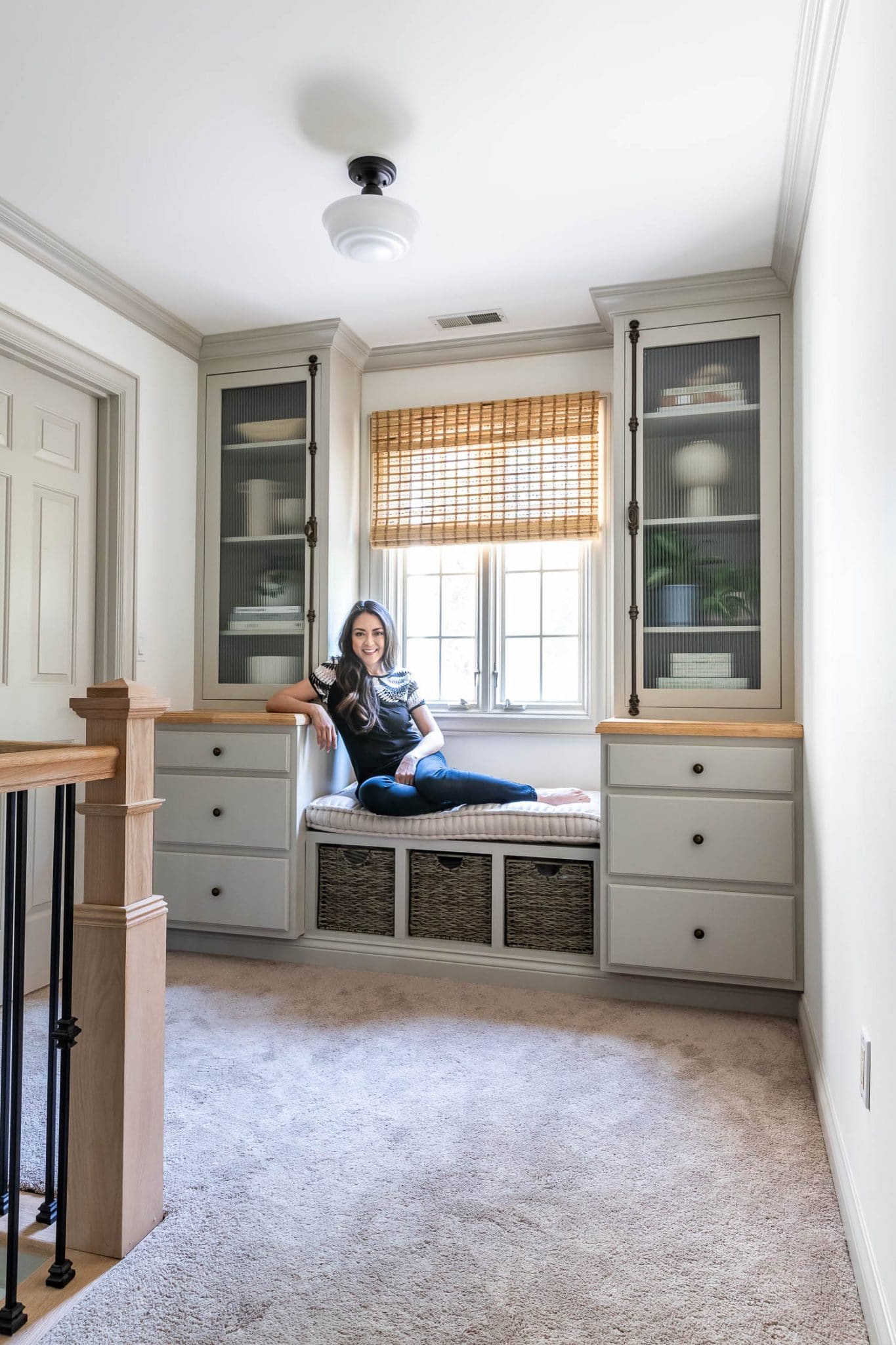 Just kidding. This is a very big deal for me! Can you believe how much storage we packed into this little space?! I can't get over how much more functionality we gained from this previously under-utilized alcove! I am SO happy with how these DIY built-in bookcases and cabinets turned out, but it wasn't without more than a few bumps along the way. Oh yes, I made my fair share of frustrating and/or numbskull mistakes, but luckily, problem-solving is one of my favorite pastimes.
Watch the Video!
Hallway Before
Want to see what this space looked like before? It was pretty blah… nothing to see here, folks. I half-heartedly stuck a bench there because I didn't have anywhere else to put it and just as I'd expected, it quickly became the kids' "clutter-catcher." (I cleaned up the clutter before snapping the photo – you're welcome.)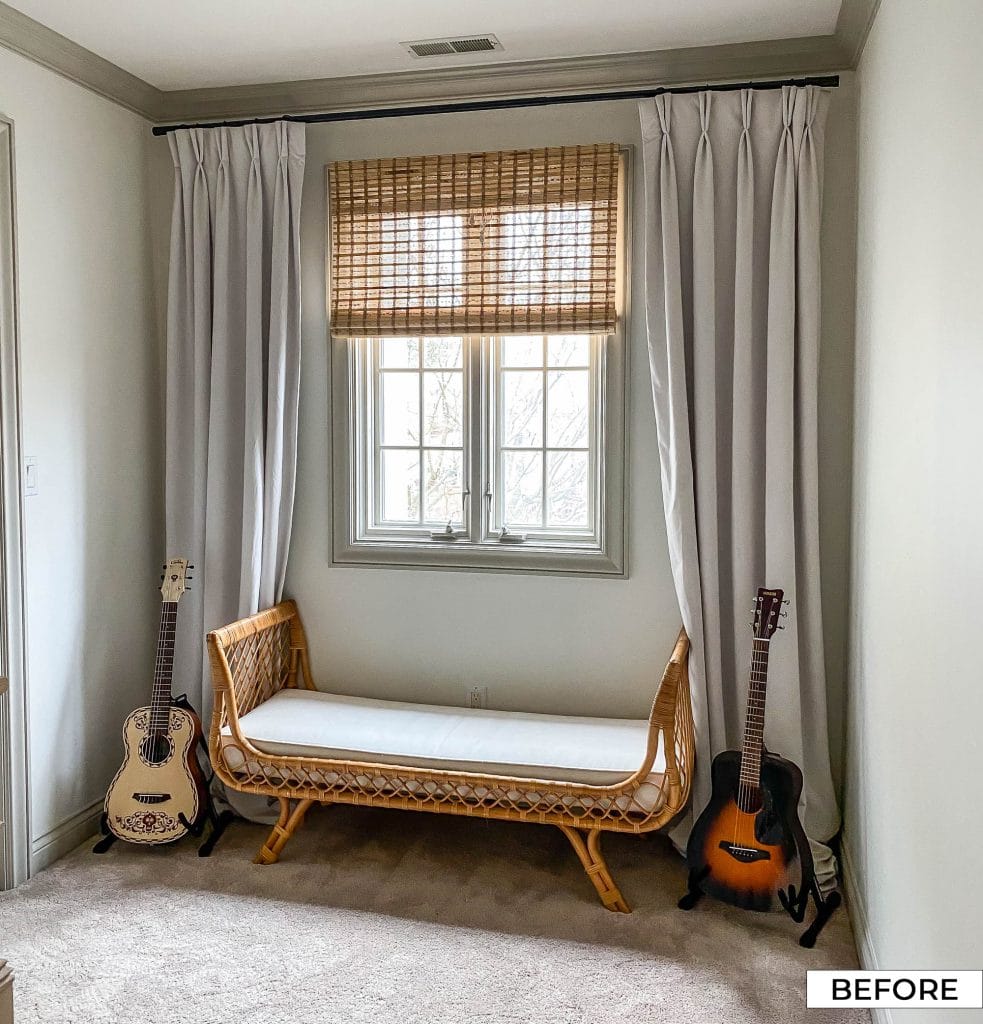 Hallway Built-Ins Design Board
Here's the inspiration board I made for this project. You may recall, our house is a French colonial so I wanted to stay true to that aesthetic. I knew built-in cabinets, a couple of glass-front bookcases, and a window bench would be just perfect in this space.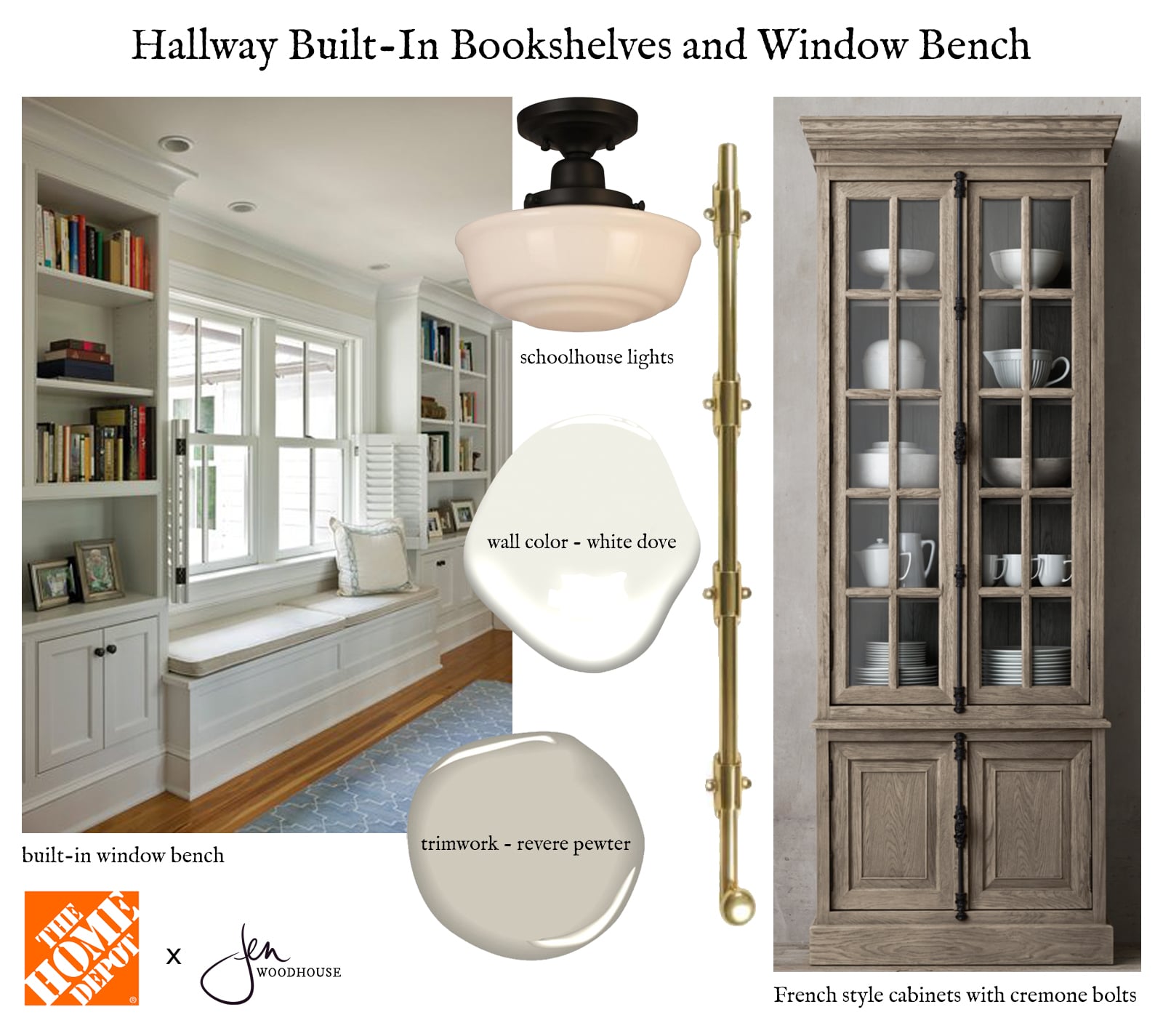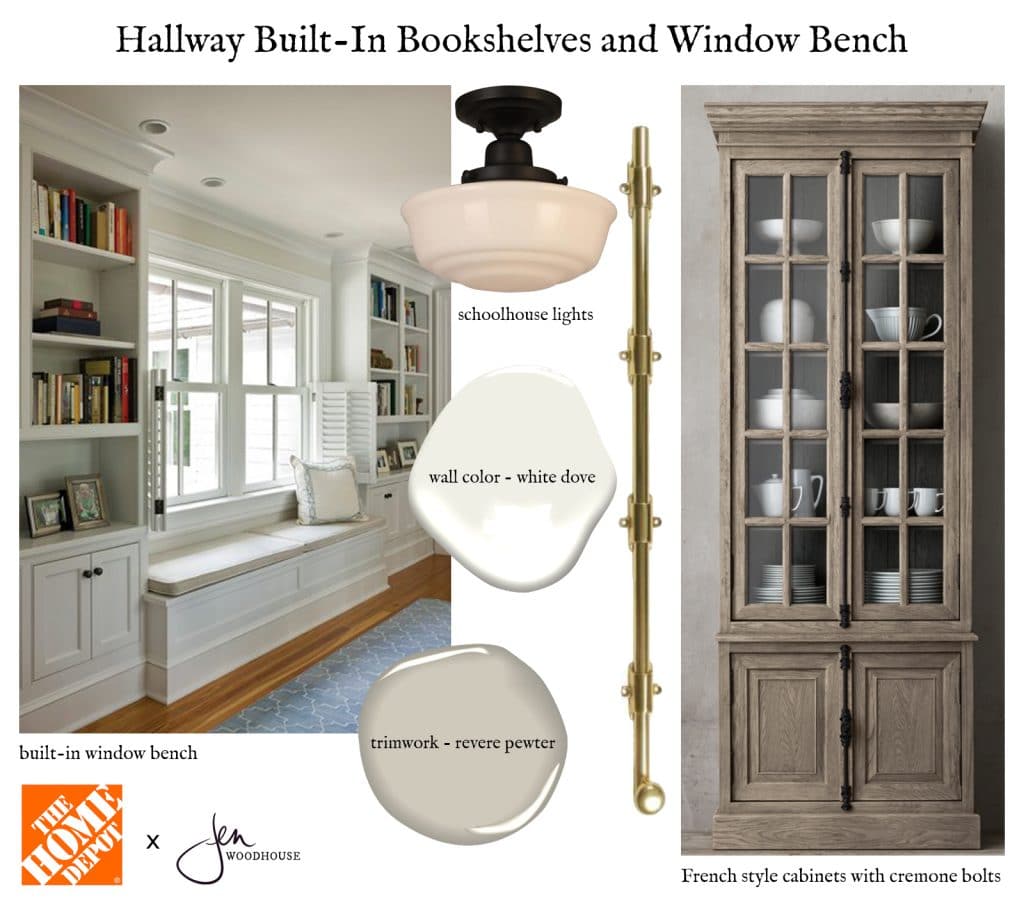 Hallway Before & After
And because I know you love seeing a side-by-side before/after comparison: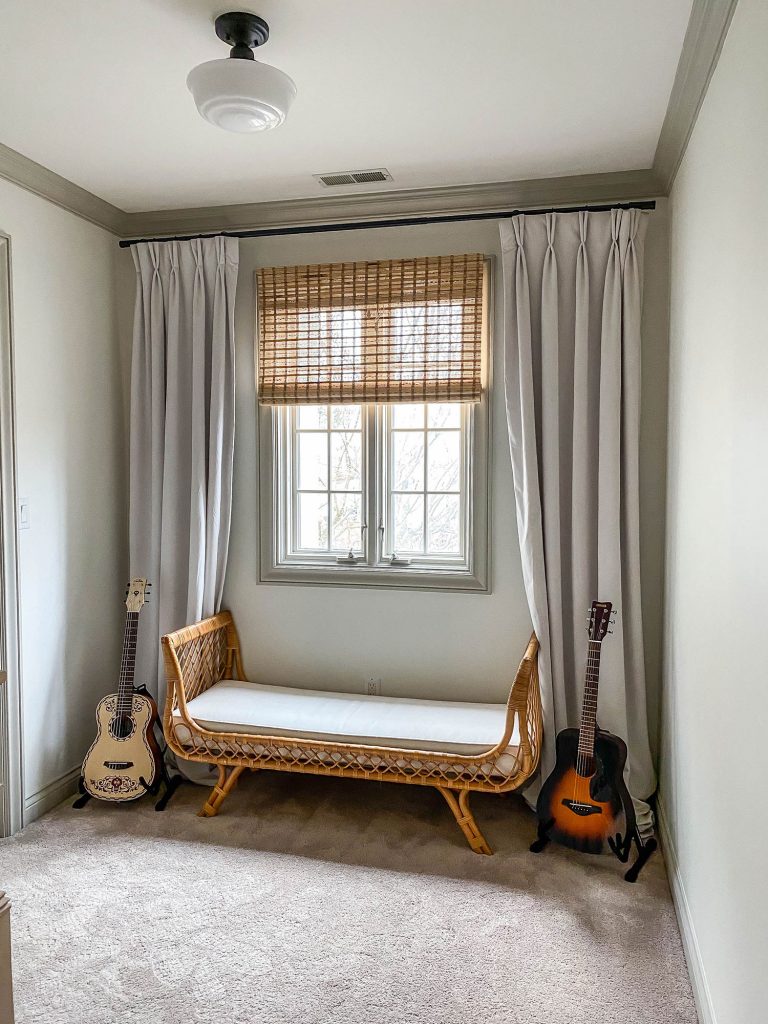 Product Sources:
The Home Depot Mobile App
I use The Home Depot mobile app throughout my entire projects. I start by browsing products through the app using the image search or product locator, then I save the items to a list (organized by project). This helps me plan and budget the entire thing. Then I can purchase straight from the app and take advantage of their curbside pickup service. The Home Depot also has a "buy online, pickup in-store" option where you can either pick up your order at the customer service desk or in convenient pickup lockers. These fulfillment services may vary with each store, so be sure to check your local store for more details.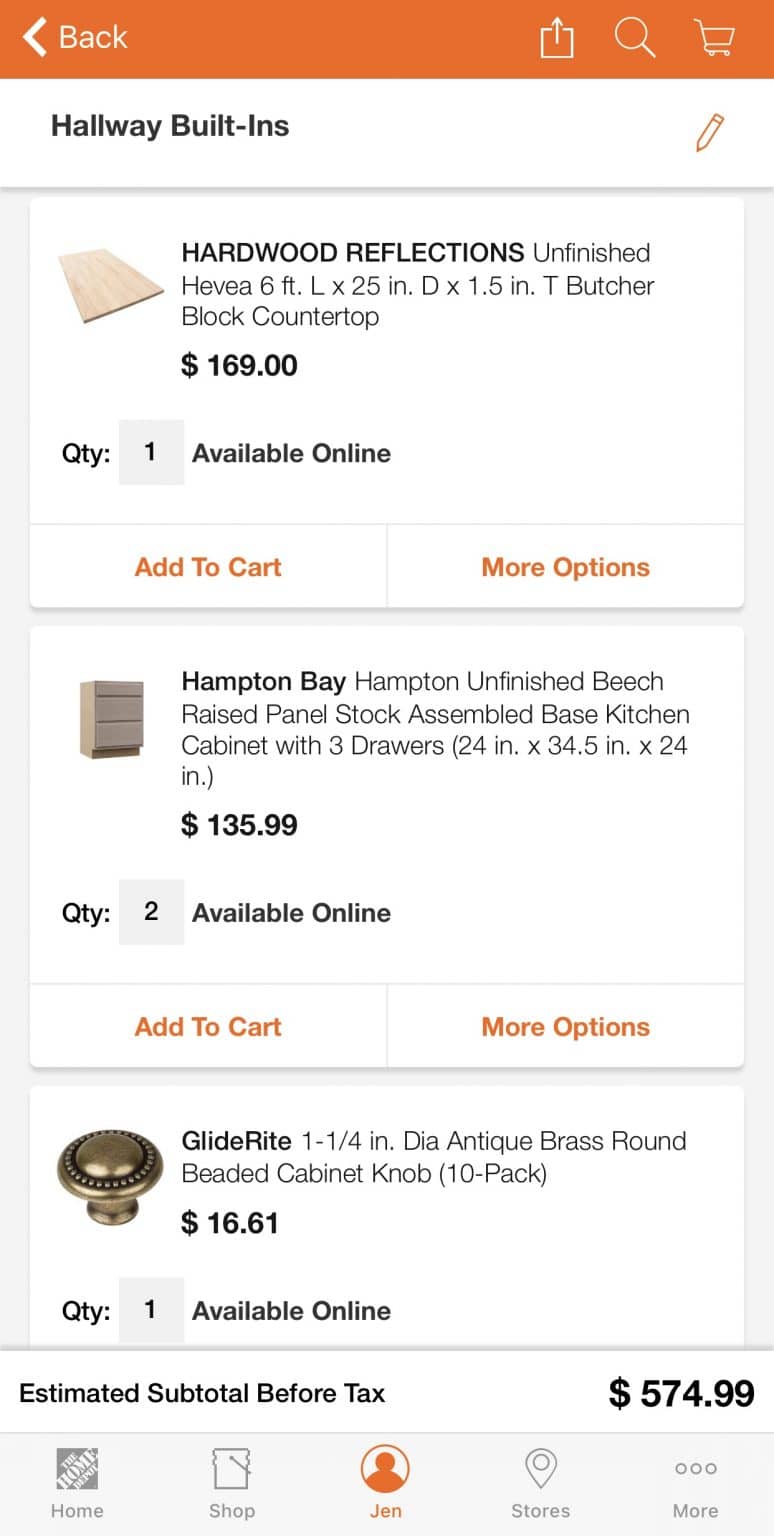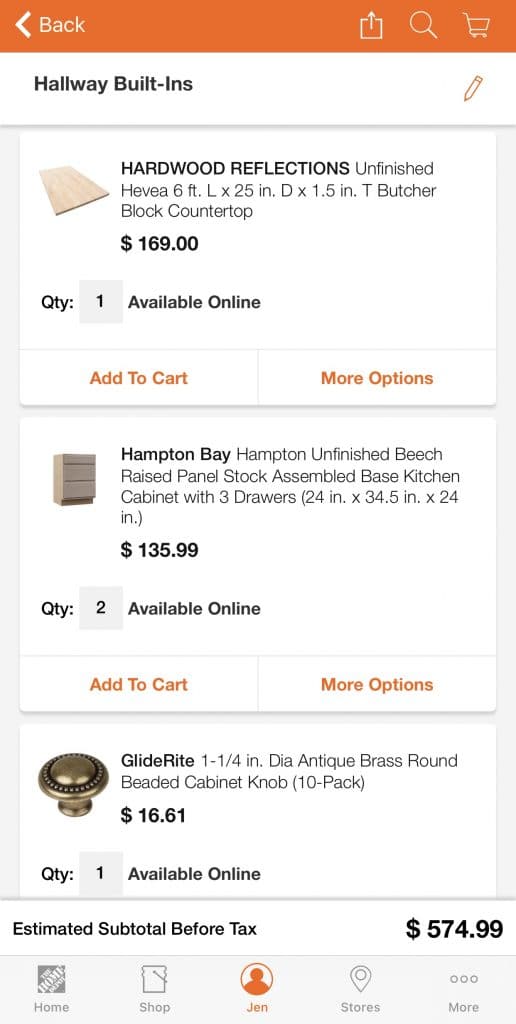 Curbside Pickup Service
I purchased all of my materials through the mobile app and chose the "curbside pickup" option. My order was ready the next day, so I drove to the store, checked in on my smart phone, and the store associates loaded my items into the back of my truck. It doesn't get any easier than that!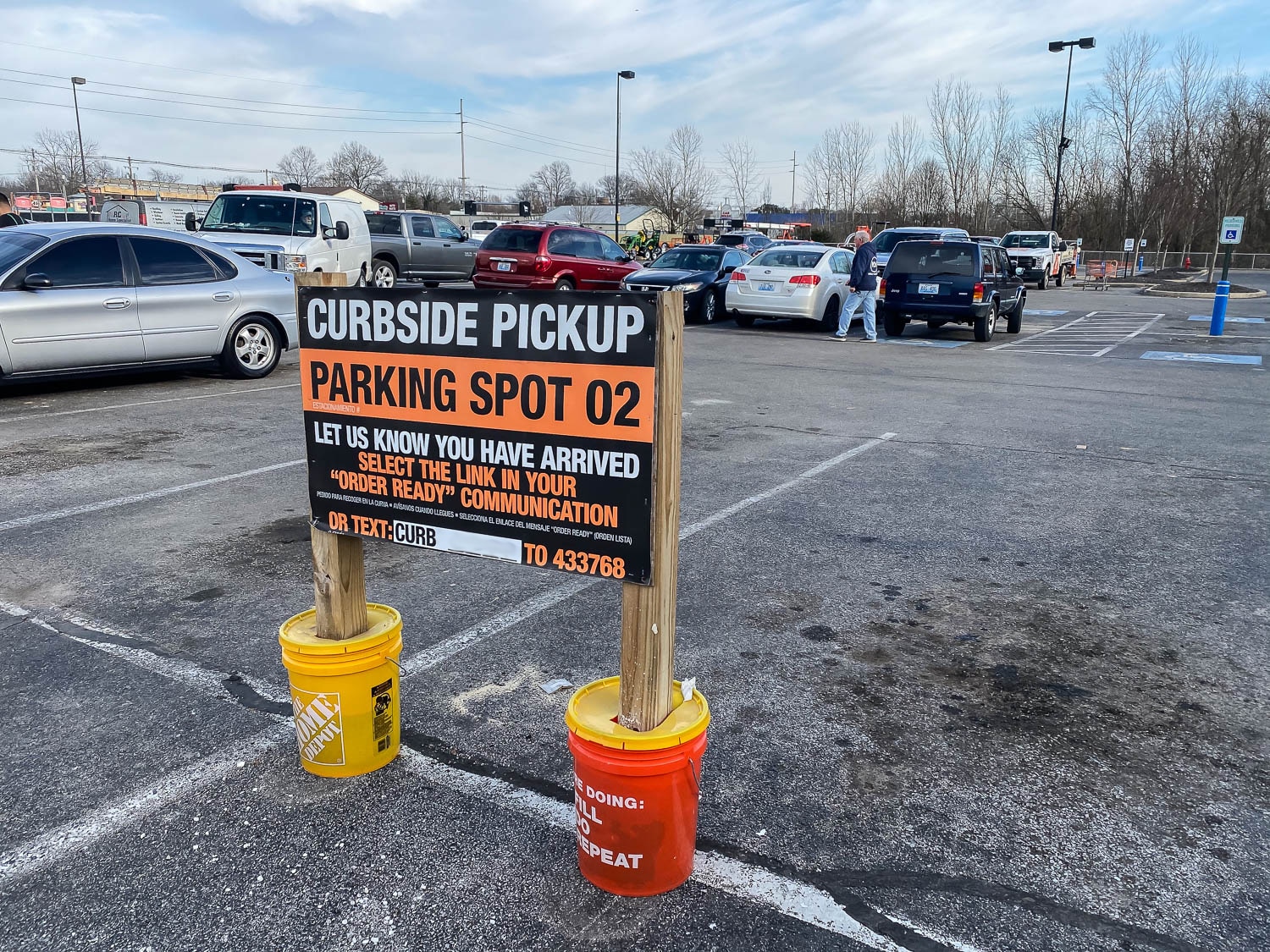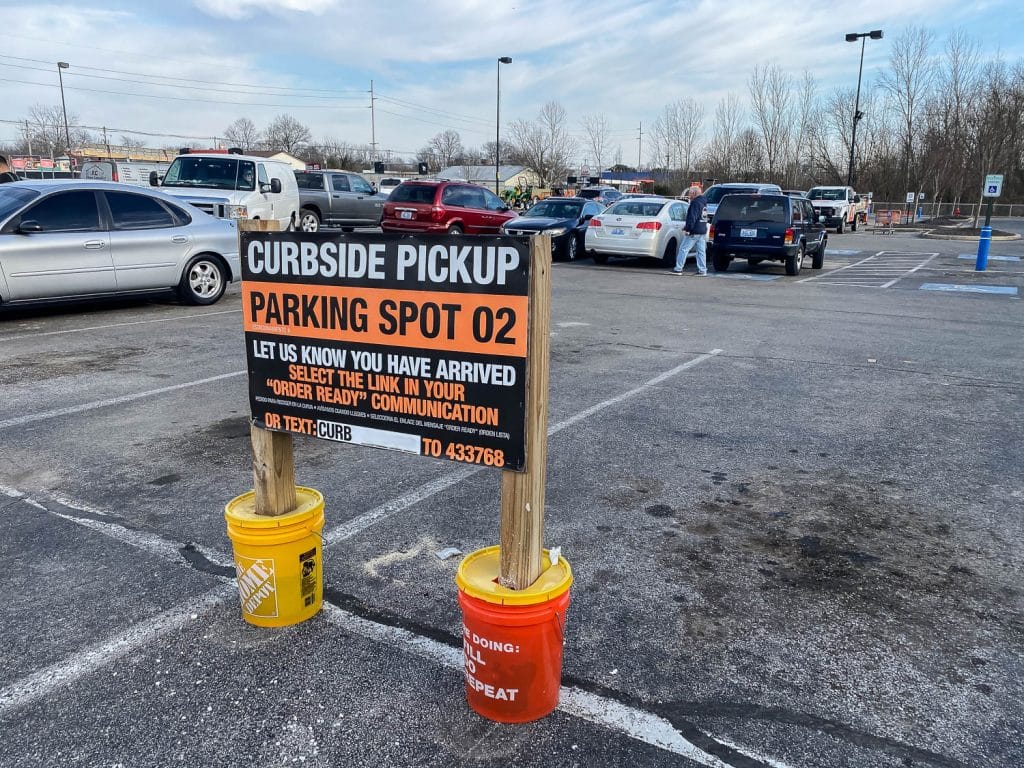 Unfinished Kitchen Cabinets
There were a lot of firsts for me in this DIY built-in bookcase and cabinet project, but I certainly learned a ton! It was my first time building inset cabinet doors with reeded glass, my first time routing a cove and bead edge on butcher block, my first time NOT building everything from scratch!
Speaking of which, those drawers are actually store-bought cabinets from The Home Depot! Purchasing in-stock, unfinished cabinetry saved me so much time and money (especially with current lumber prices)! My dear friend, Corey from Sawdust 2 Stitches is a literal genius and she often buys off-the-shelf cabinets, modifies them, and custom-fits them into her space. It's amazing how she's able to make stock cabinetry look custom! Check out how she created her incredible office space and drool-worthy built-in pantry!
After I got the cabinets home, I primed and painted them, then installed them into the space. They're leveled and screwed into the studs. Seriously – easiest DIY project ever!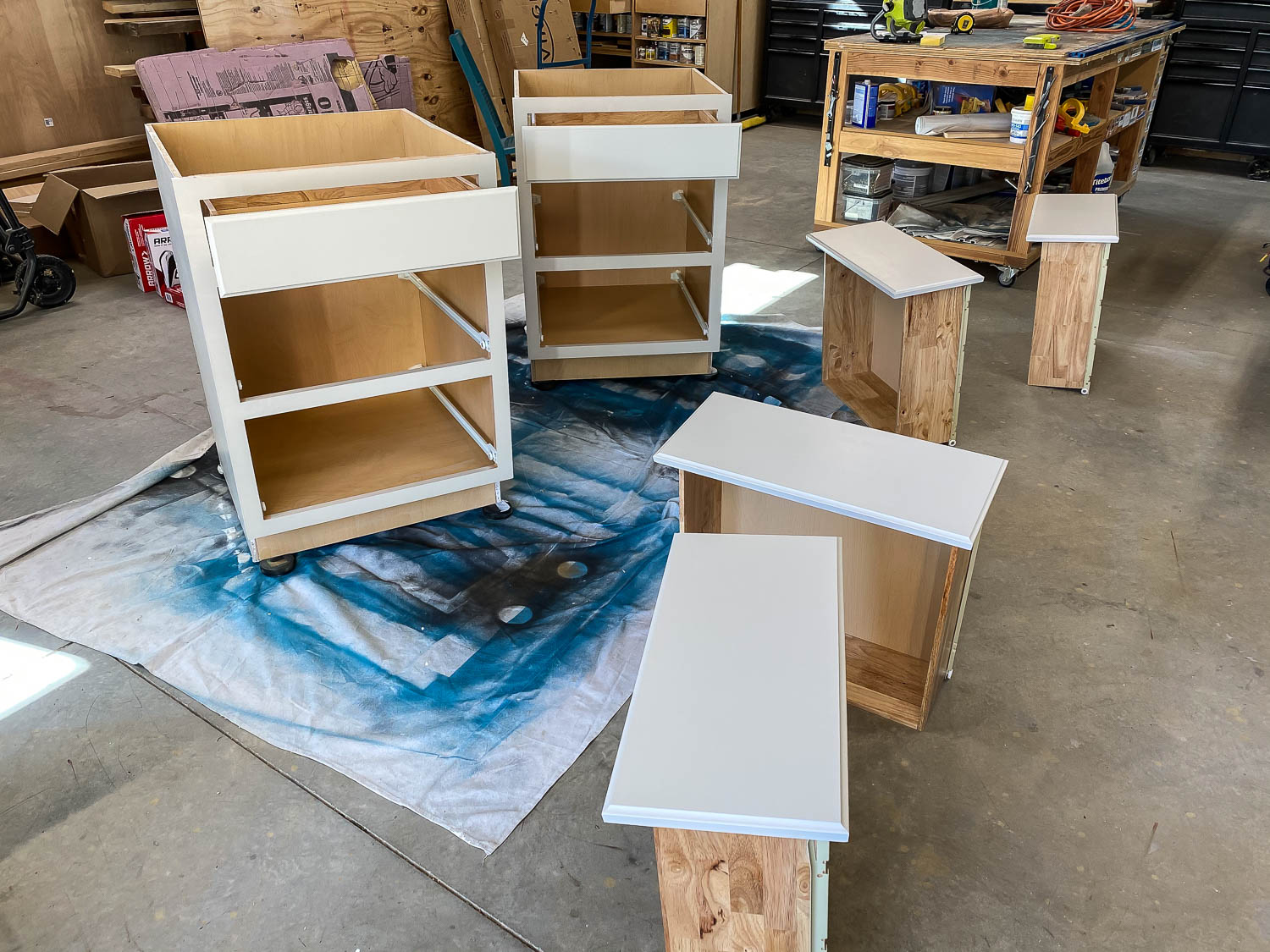 Window Bench with Storage Cubbies
Next, I built the window bench out of plywood and screwed it to the walls and cabinets. It's almost exactly like the window bench I built in Liam's room. Because I didn't want to lose access to the power outlet, I kept the back of the bench open.
Butcher Block Countertop
Did you know you can get solid wood butcher block from The Home Depot? This is the one I picked up. I measured and cut it to length, then routed a pretty cove and bead profile on the edges. The factory square edge looked unfinished, so I tried a round-over bit, which made the butcher block look like a kitchen counter. I did a quick search on my Home Depot app and found this cove and bead router bit. I routed that classic profile on the edges and it was the perfect choice! It makes the butcher block look more like a piece of furniture, rather than a countertop.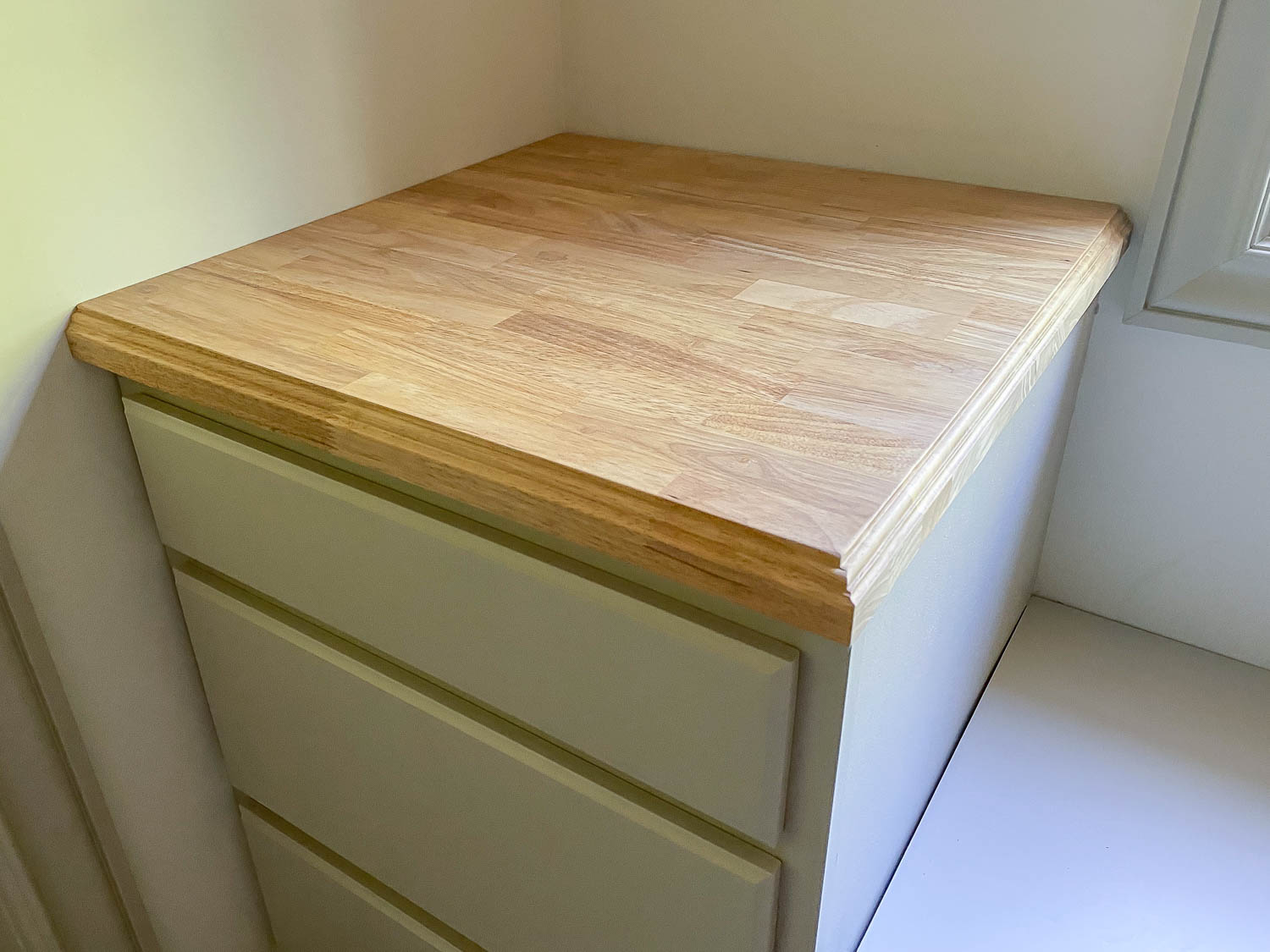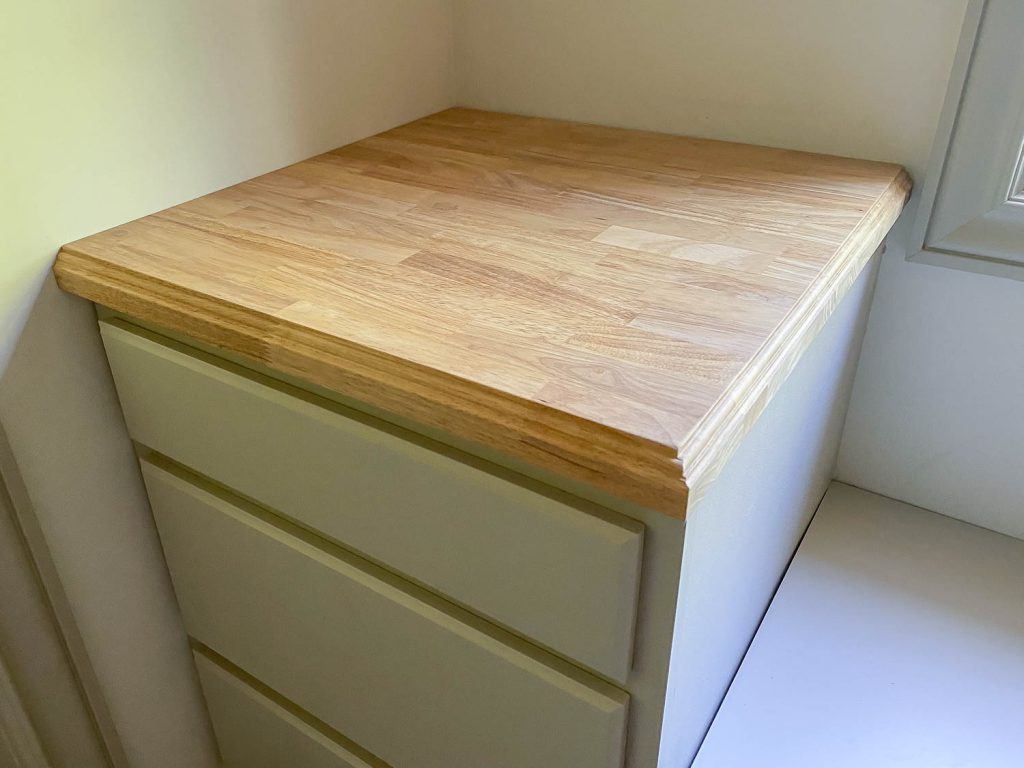 Built-In Bookcases with Reeded Glass Doors
The bookcases are built from plywood and I'm not sure how I mis-measured, but I did (doh!). I must not have accounted for the thickness of the countertop because I initially built the bookcases too tall! Fortunately, it was an easy fix. I just used a saw to cut them down. This also meant the door frames had to be cut down and rebuilt too (double doh!).
The plans for the bookcase will be available soon. It's a pretty-straightforward build; what made it more challenging was building the inset glass-front doors. Jason from Bourbon Moth Woodworking has an excellent YouTube video on how to build glass cabinet doors. It was such a huge help, since it was my first time building doors with glass. I followed his tutorial to a T and everything worked out great!
Inset Cabinet Hinges
After the bookcases and doors were rebuilt to the correct height, I added the hardware and these inset cabinet hinges. These are my new favorite hinges. They clip on and can be adjusted left/right, up/down, and front/back. There are two main things to consider when choosing hinges: 1) whether the cabinet is a face frame or frameless cabinet and 2) whether the door is inset or overlay. My bookcases have a face frame and the doors are inset, so I had to be very specific and use hinges made for inset doors on a face frame cabinet. I'll go into more detail about these hinges and how to install them in the bookcase plans and tutorial.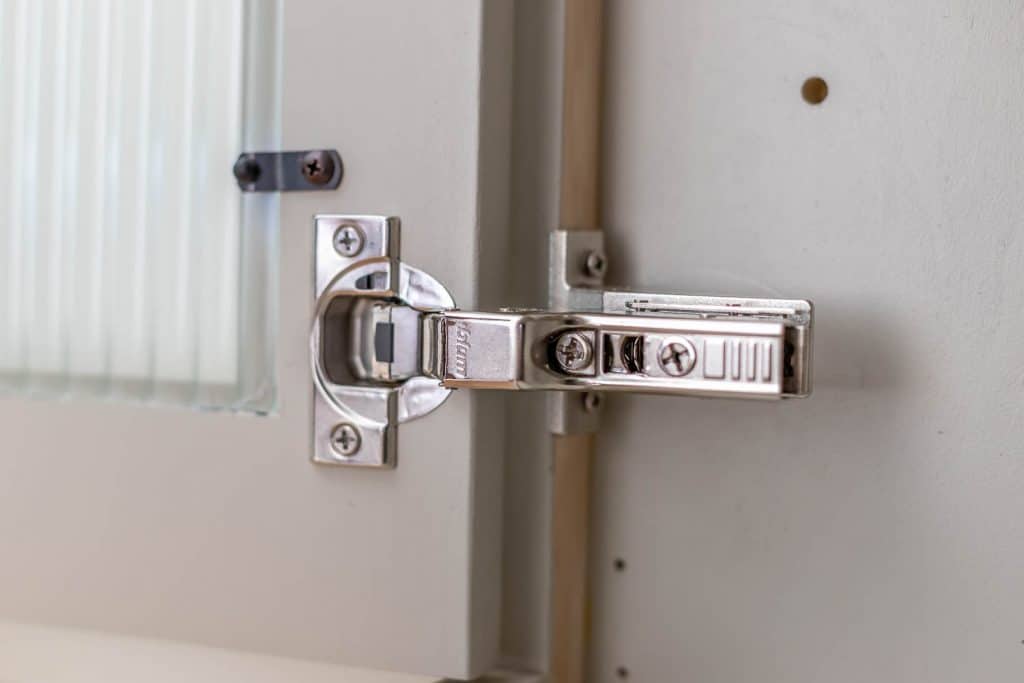 Finishing Touches
Lastly, I installed the crown molding and baseboards, caulked and painted everything, and called it a day. By the way, I've got an in-depth explanation on how I cut and install crown molding on my Instagram account, if you're interested. I am SO proud of how these built-ins turned out! I love when form and function come together!
Questions? Comments?
I tried to make this blog post as comprehensive as I could, but check out the video for more details. Feel free to leave any questions in the comment section below and I'll do my best to answer them. Thanks for stopping by!