We've nailed down our kitchen cabinet design! Very exciting stuff, lemme tell you! I decided to hire a professional cabinet maker instead of build the cabinets myself because of time- and resource-constraints. I'm so glad I did because this whole process (so far) has been 1000x easier working with someone who knows what they're doing (a professional cabinet designer) versus working with someone who's just figuring things out along the way (me).
Let's take a look at what our kitchen looks like before we start any demolition: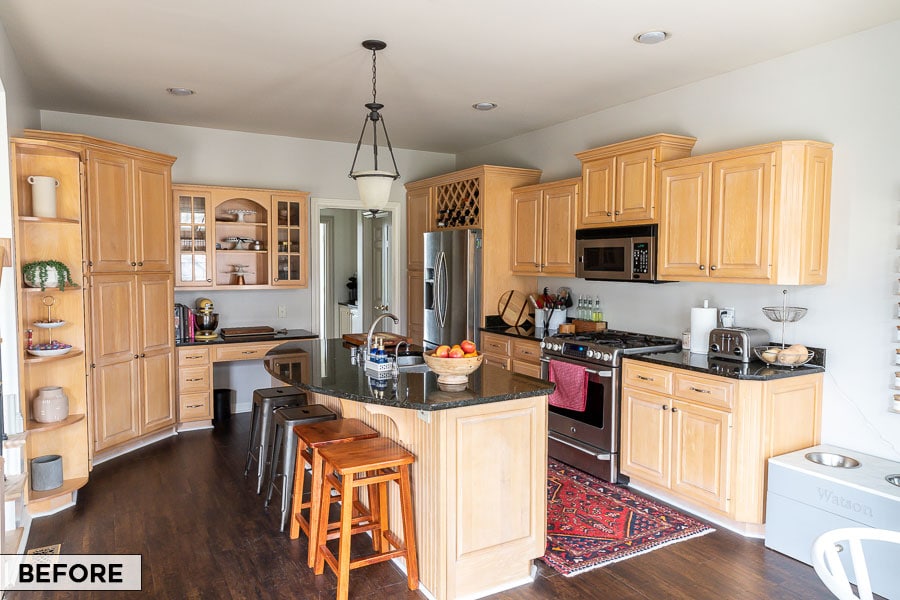 The Kitchen Before
Just as a refresher, here are the things we want to change about this kitchen. The home was built in the late 1990s and it hasn't been updated since then, so I think it's time for a fresh new look! While there are a lot of great things about this kitchen, I want to tweak just a few things to make it more functional for our family and bring the style up-to-date. We're starting with a really great footprint, though, so I'm super thankful about that!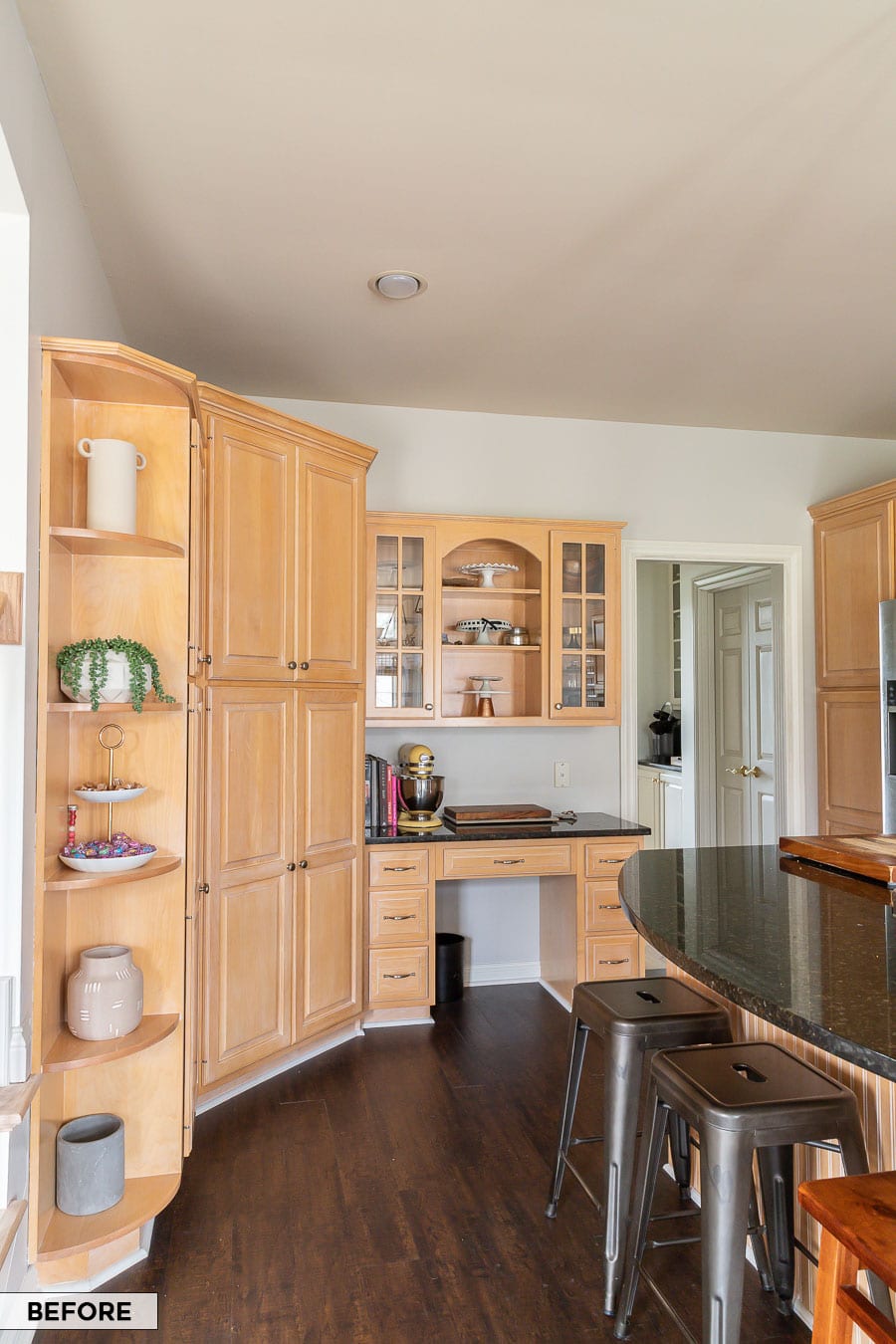 The Kitchen Design Plans
Here's a more in-depth look at our kitchen plans. In a nutshell, the plan is to replace the cabinets, countertops, island, flooring, appliances, and lighting. We'll take the new cabinets all the way up to the ceiling, with some glass-front uppers. We'll keep the main layout the same, with the range where it is currently and the sink in the island. We'll upgrade our current 30-inch range to a 48-inch Italian range and extend the counters another foot or so. We'll get rid of the desk and display cabinet and move the refrigerator to this adjacent wall. We'll square off the angled cabinet and turn it into a dedicated pantry with pull-out shelves. We'll fill the rest of the empty wall space with a built-in hutch with drawers.
Working with Walters Cabinets
We found a local cabinet shop through word-of-mouth recommendations, so I set up an initial design meeting. We discussed our family's wants and needs for our future kitchen and I also showed them my design board and various inspiration photos. Then, a certified cabinet designer came to the house and took careful measurements of the space. A few weeks later, I met with him again at his shop to review his cabinet drawings. After a few back-and-forth tweaks to the design, this is what we finally landed on: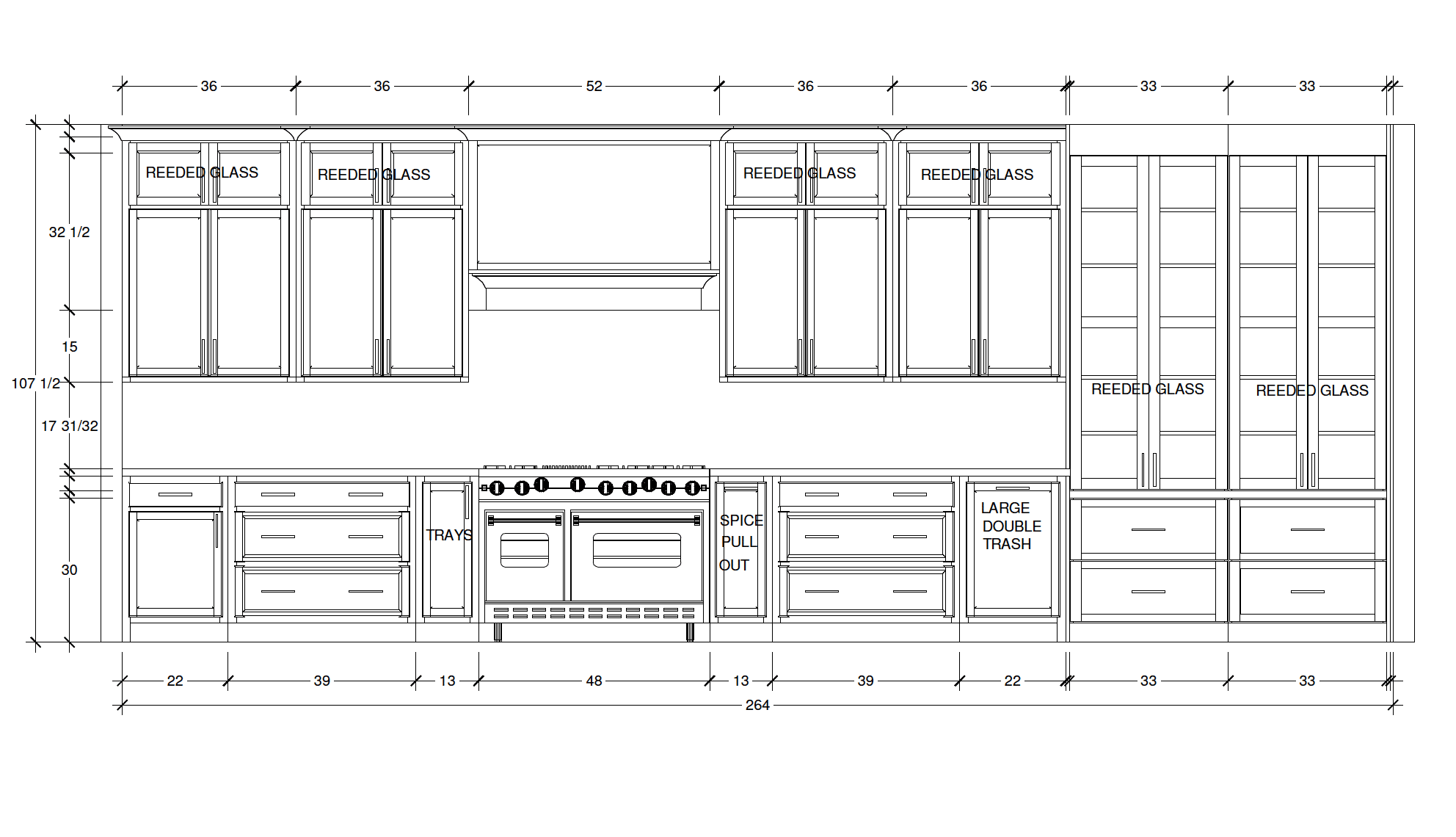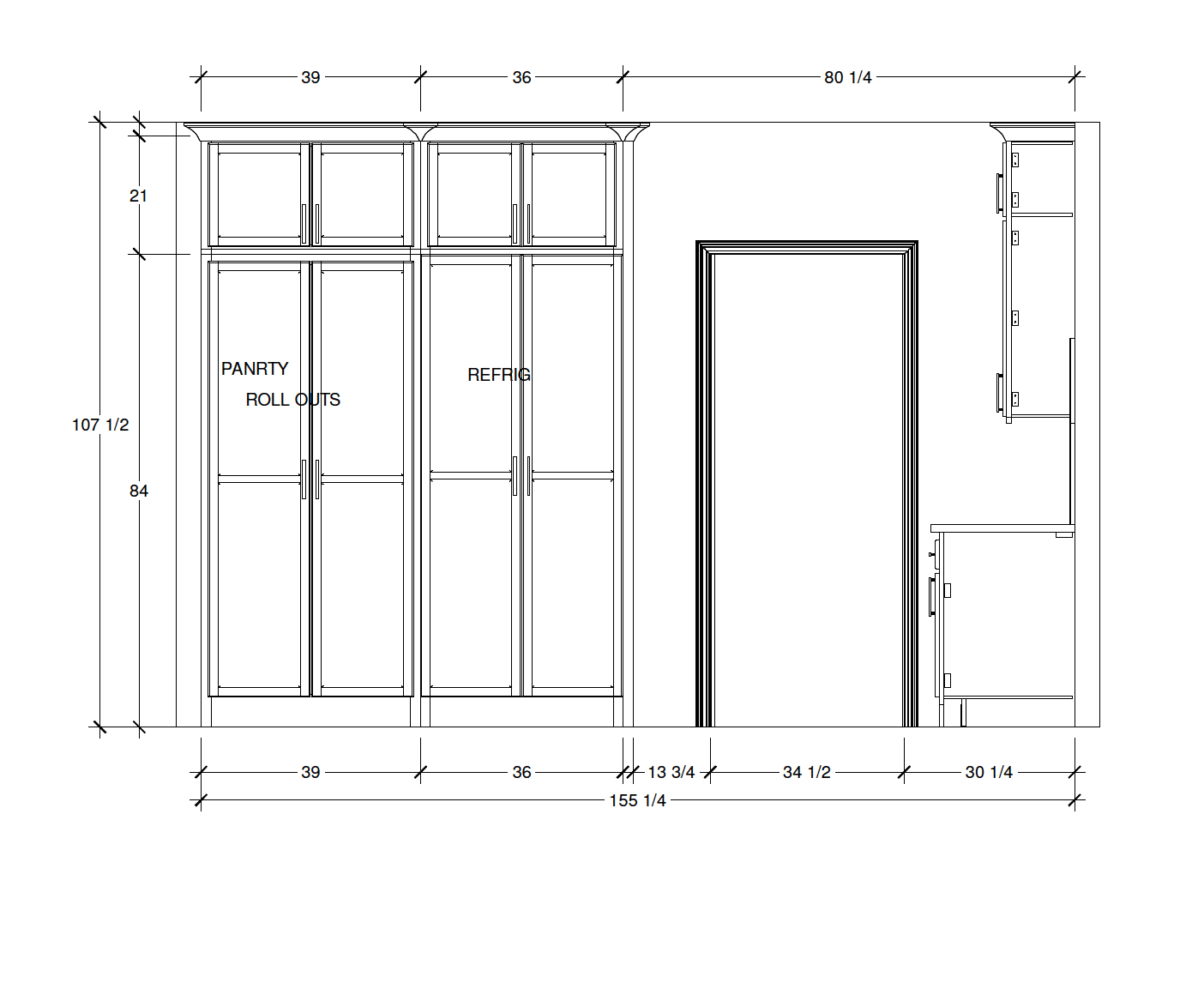 Kitchen Layout
As I mentioned, the main layout will stay the same, except we'll move the refrigerator to the adjacent wall. Because the range will be going up in size, the cabinets will have to shift as well, to achieve the symmetry I was hoping for. By moving the refrigerator, we're gaining more cabinet space on this wall; we're also extending the right bank of cabinets and counters.
Previously, the pots and pans were stored on a pull-out shelf behind lower cabinet doors, so I'd have to open the doors, pull out the shelf to retrieve my pots and pans. By replacing this cabinet with two deep drawers on either side of the range, we're eliminating that extra step of opening the cabinet doors. Such a small change, but it makes things much more efficient!
Kitchen Island, Microwave Drawer, and Pull Out Trash Bins
I'd like to remove the over-the-range microwave and put in a vent hood. We'll move the microwave to the island so that it's hidden (because who wants to see a microwave?) and add a pull-out double trash bin. Putting the trash bins in the island would have been ideal, but with the dishwasher and microwave both taking up real estate in the island, there just wasn't any more room to fit the trash bins. The trash bins will go at the end of the counters, on the right side of the range. This is not ideal, however it's actually better than what we've been living with currently, so it's still a small improvement.
There will be a few small changes from the drawing above. Instead of 2 long utensil drawers, I'll split them up into 4 smaller ones. I think it'll help me stay more organized this way. Also, because there's a long drawer that's built into the range, we'll do away with the trays cabinet on the left of the range and convert it to a cabinet for cooking utensil bins.
And did you notice the giant built-in hutch at the far right? I'm super excited to see that come to life!

Upgrading To A Single-Basin Sink
The sink will remain in the kitchen island, however we're going to switch out our current double basin stainless steel sink to a single basin sink (we are 100% on the single basin sink train!). I've also been obsessed with a bridge faucet and this is the one we chose. There will still be bar seating on the other side of the island – pretty sure we'll be able to fit 4 counter top stools there.
Pantry Cabinet
One of the dream items I wanted for this kitchen was a dedicated pantry. We've been previously splitting our pantry items between a couple of different cabinets in the kitchen and the broom closet right next to our garage door entrance. Obviously not ideal, but we worked with what we had. I'm SO glad we'll have a dedicated pantry where 1) I'll be able to access everything in the cabinet via the pull-out shelves and 2) I don't have to run back and forth from the kitchen to the garage entry to retrieve various ingredients. I can't wait to gain more storage and function here!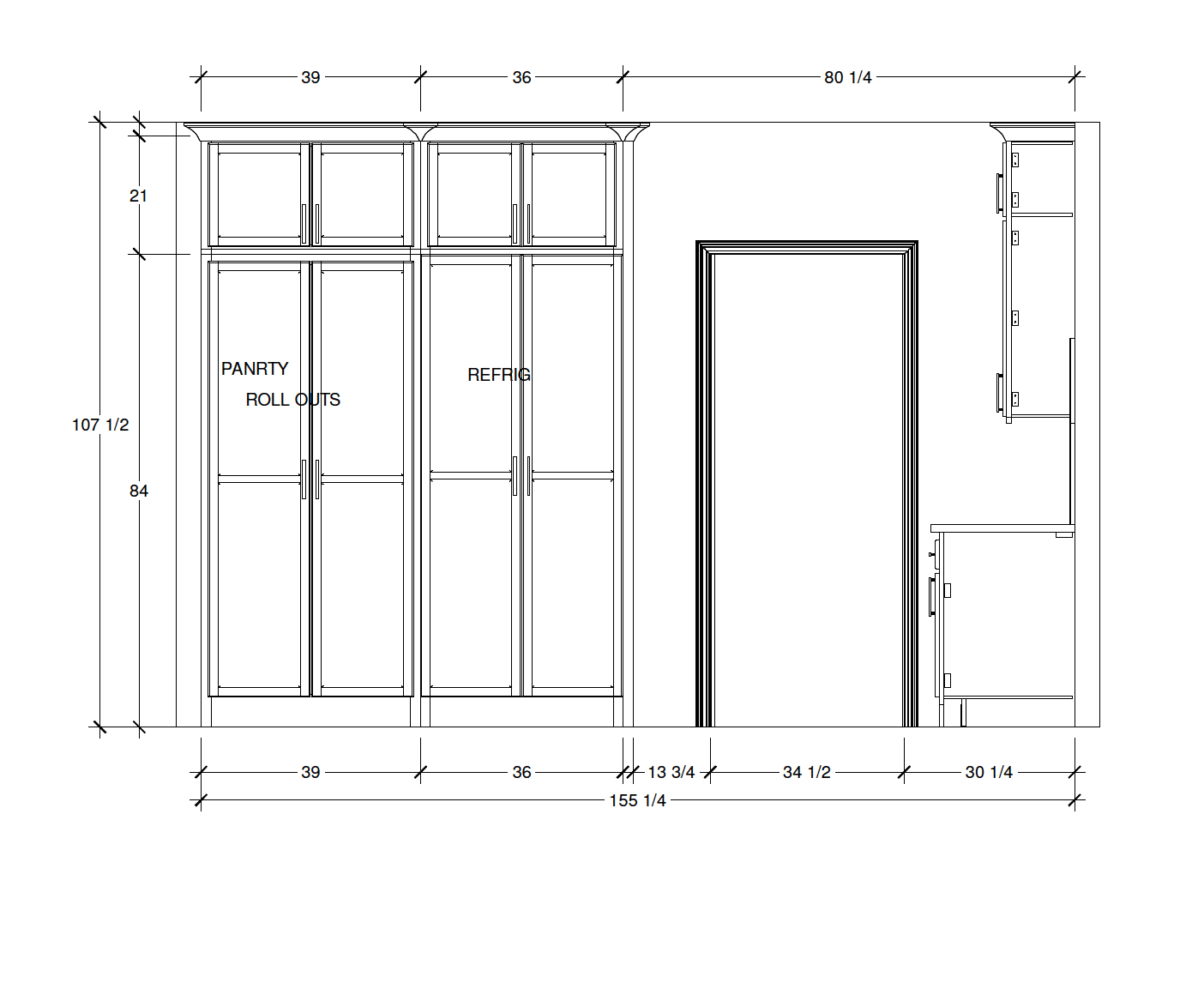 Next Steps
Now that we've nailed down the kitchen cabinet design and layout, it'll take 6-8 weeks for our cabinets to be fabricated. The cabinet carcasses are built in-house and the drawers and shelves are outsourced. We've got a lot of work to do before cabinet install day, so stay tuned!