I went back to the tailor who is making my ceremony gown to see how things were coming along. To my surprise, she was done with the dress! I tried it on and everything fit okay, barring the bra cups being too close together. She said this was easily corrected, measured where it should have been, and told me to check back tomorrow. Yay!
Also, I designed my Save the Date cards… they are the cutest things! Since our proposal made the front page of the newspaper, I thought, what better way to incorporate that than to make the save the date like a mini-mockup of a newspaper? I emailed the photographer and had him send me a hi-res of the photo so I could create the card using the real photo. I plan on making them a 4×6 postcard magnet. I ordered my 4×6 magnet sheets from Magnet Valley and plan on assembling them myself. Since I usually use PCX Media for my music promo stuff, I knew they'd print up great postcards for the best price.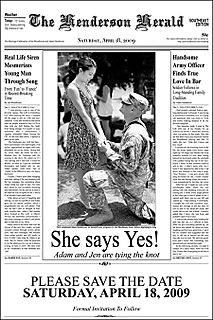 This is what they'll look like… the side articles are the 'His' and 'Hers' stories of how we met. I think the headlines were pretty funny (as well as appropriate). And it's an added bonus that it fits nicely into our black-and-white theme!