I've been lusting after upholstered headboards lately and have fallen in love with so many different kinds, whether they're plain jane, trimmed in nail heads, or tufted. This Pottery Barn Jameson bed looks like it would be a cozy one to cuddle up to, but the $899 price tag leaves me out in the cold: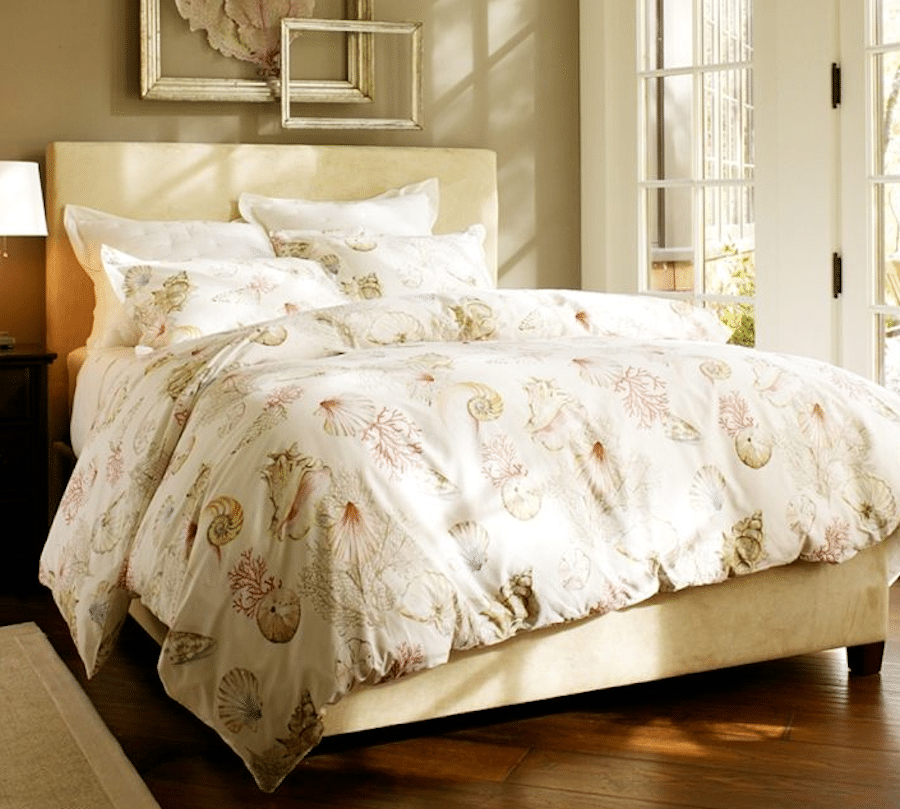 Oh, but don't you just love those crisp, classic lines?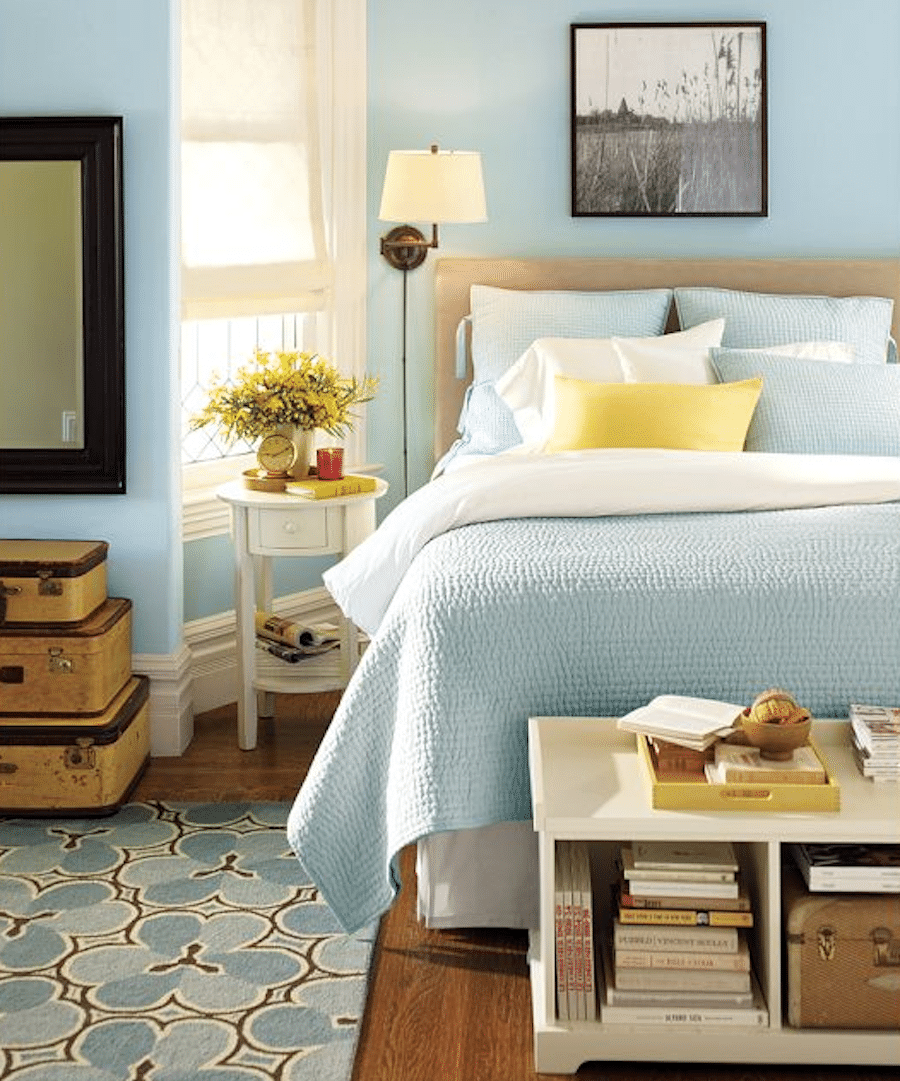 And I've been madly in love with this bed from Crate & Barrel for ages, but just can't justify the not-so-lovely $1,799 price tag: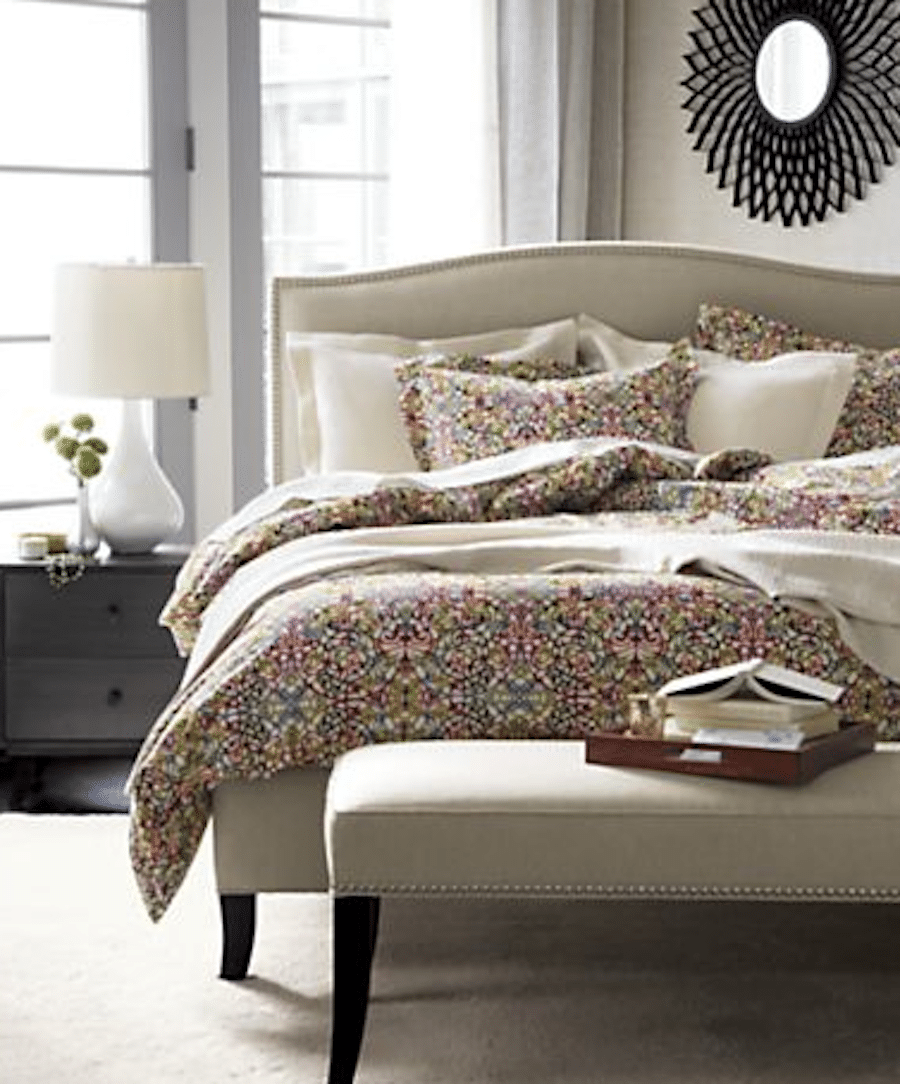 How much do I love love LOVE that nailhead trim and subtle feminine silhouette? Gah, it kills me, it's so elegant.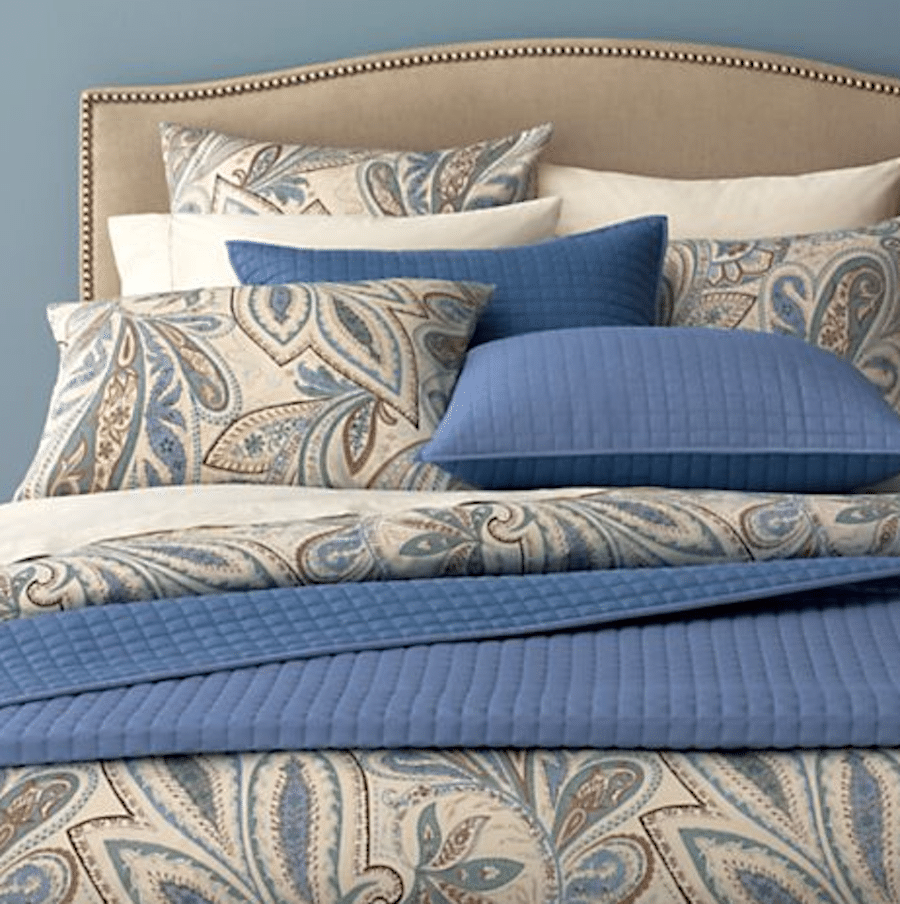 And of course, because Jonathan Adler can do no wrong by me, this Woodhouse bed is fit for a queen (after all, it has my name written all over it!), and also sports the appropriate cost at a whopping $3,200 (seriously, guys, I just swallowed my tongue over here):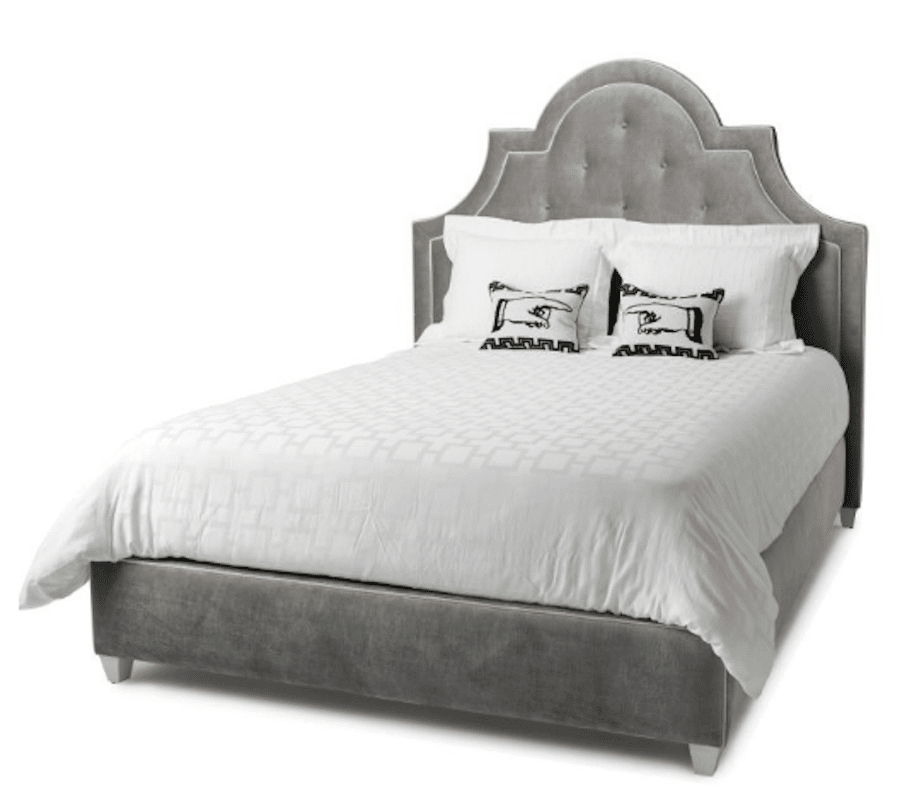 Which brings me to my latest project: to DIY my own upholstered headboard. That way, I can choose my own fabric, silhouette, and plain/tufting/nail head details. Google is your friend, folks and it hasn't let me down yet, so that was the natural course of action. It's staggering the amount of information available on how to DIY your own upholstered headboard!
First, I measured the width of our bed, allowing for a few inches of overhang on each side. Then I had to decide how far down I wanted the headboard to go. Should it rest on the floor, be bolted to the bed frame, or hang on the wall? I decided that nailing the headboard to the wall would be the most economical choice, since the board wouldn't have to reach all the way down to the floor. The bottom part of the headboard would be hidden by the bed anyway, so it would take less materials all the way around. Less materials = less cost. Sign me up (I know, I'm cheap)!
And because I'm the kind of person who needs to physically visualize things, I just slapped some painter's tape up on the wall to outline my measurements (don't look too closely; I was too lazy to use a level):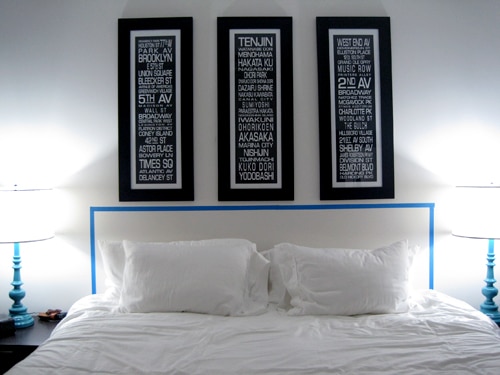 (And yes, that's a Glock pistol on the nightstand. What can I say? Husband is a gun-toting Libertarian, but we'll save that for another post):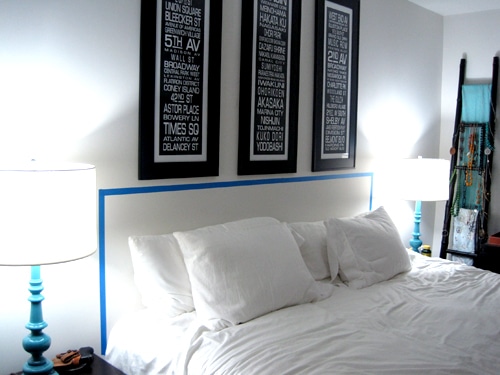 After borrowing a few swatches from the fabric store, it was decision-making time. I've long had a love affair with the color grey, and here are the final contenders: a soft, plushy charcoal microsuede, a silk Dupioni-like fabric in steely grey with a black velvet floral design, and a sturdy, slate grey canvas: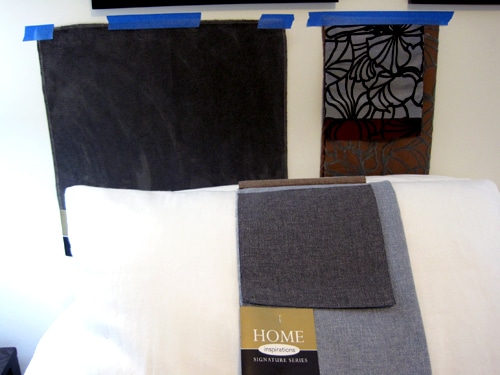 Surprisingly, Hubby and I came to a unanimous decision (and I was super thrilled that he didn't think it looked too girly!)… we went for the 'wow' factor with the floral fabric, called Alexa Peacock. Unfortunately, the store didn't carry the fabric in stock, so I had to special order it. It was regularly priced at $39.99/yard, but I happened to catch it on sale for $19.99/yard. Yes, please! And after a few days of impatiently waiting, it has arrived!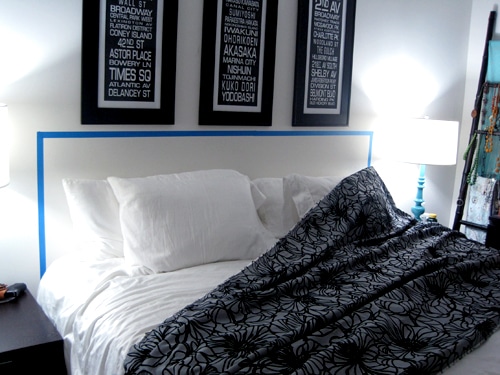 Gah, will you just look at those yards and yards of shimmery, gorgeous fabric? I love it so much, it makes me want to roll around naked in it (but again, we'll save that for another post).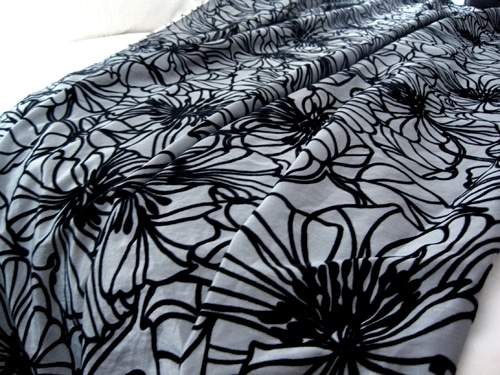 As much as I prefer headboards with nail head trim over those that are tufted, I don't think nail head trim and this fabric go well together. So tufting is an option. Leaving it plain may also work, but juuuuust in case I change my mind (as I often do), I went ahead and picked up a button-covering kit: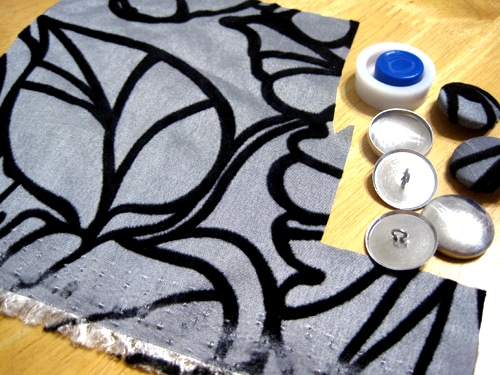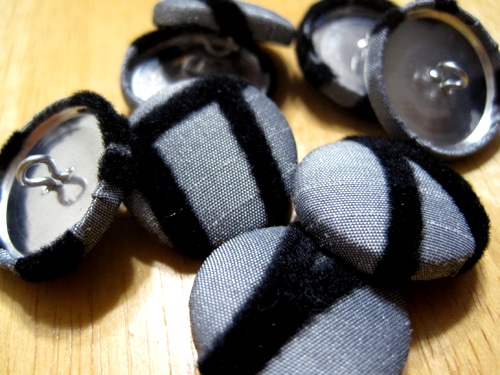 As if I don't already have a hard enough time making decisions, there are several different tufting patterns out there. Great. More choices to confuse my preggo brain. Do I want a diamond pattern like this one: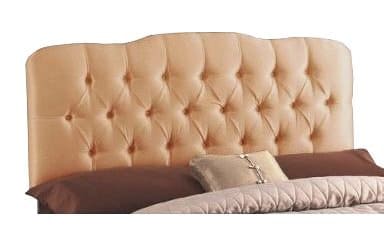 Or a grid pattern like this one: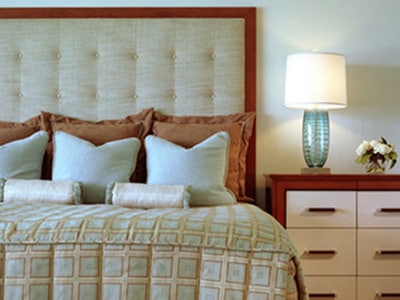 Decisions, decisions! So naturally, when I can't make a decision (and I tend to obsess over the tiniest detail, much to the chagrin of my husband), I call in "The One Who Wears the Pants" (or more appropriately, "The One Who Wears the Pants When His Wife Allows Him To"). He voted Grid and decided three rows of 4 buttons would look best. He has spoken, and so it came to be.
We had a 1/4″ sheet of 4×8 plywood cut down to 77″ x 36″ to accommodate our king-sized bed (Home Depot and Lowes will both make cuts for free). I measured the plywood and used painter's tape to divide the sections evenly, then drilled a hole where the buttons would be. By the way, I felt very clever for dreaming up the painter's tape idea instead of drawing a mess all over the board with my sharpie. If any lines looked 'off,' I simply lifted the tape and moved it around.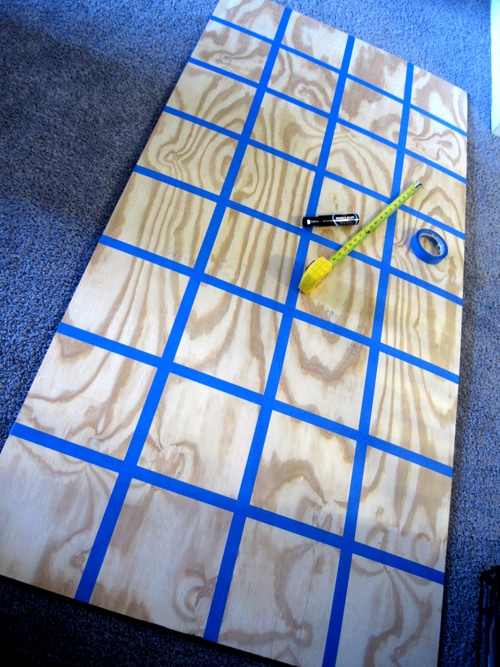 I had to purchase 5 yards of the 2″ high density foam because they're only available in 24″ widths and I had to piece it together to fill the entire headboard. Then, I adhered the foam to the plywood by way of spray adhesive, then cut any excess off with an electric knife so that the edge of the foam and the plywood would be flush.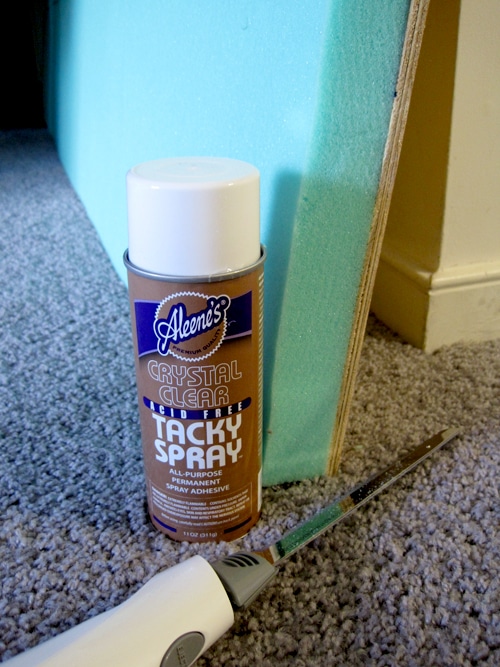 I laid the batting down on the floor, then laid the plywood on top of that (foam side down). Then, pulling the batting taut, I stapled it to the back of the plywood, starting from the center of each side, working my way out. By the way, the electric staple gun was my saving grace because I am a tiny weakling who is incapable of operating a manual one.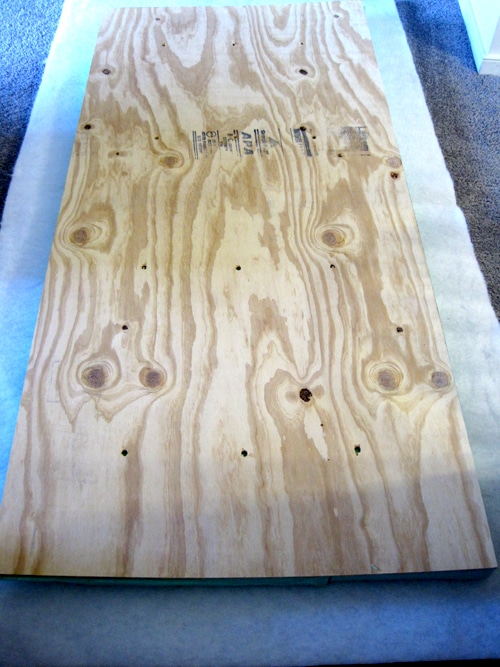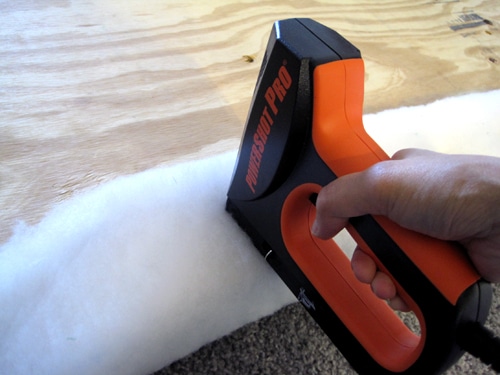 I should also mention, if you have a 4-month old very curious puppy, you should occupy him by filling his bone with peanut butter, otherwise, he will eat your batting. If you look closely, you might see bite-sized chunks of batting missing here and there.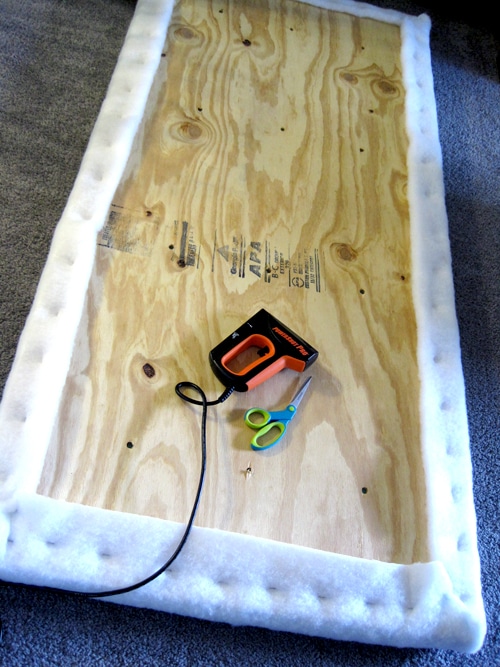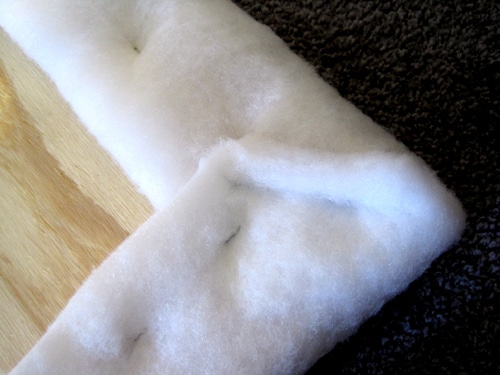 Then, I quickly ran a warm iron over my fabric to remove any wrinkles and laid it out on the floor. I laid the plywood on top of that (batting side down), pulled the fabric taut and stapled it to the back, working from the center to the edges, just like I'd done with the layer of batting. You could probably staple the batting and the fabric all in one go, but because I am overly-cautious, I stapled them separately. Then I spent waaaaay too much time folding each of the corners neatly before I stapled them down (I told you, I obsess over the tiniest detail. I mean, is there more to life than hospital corners? I think not).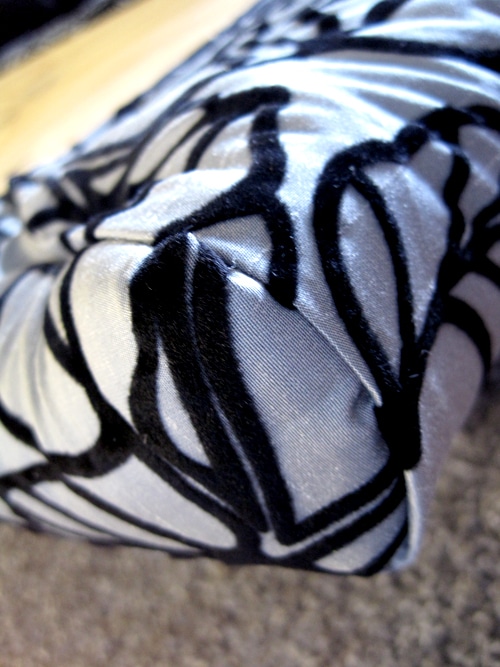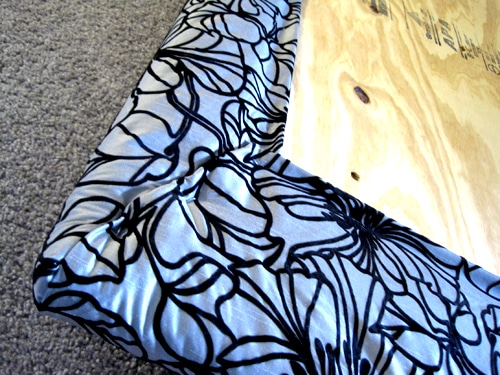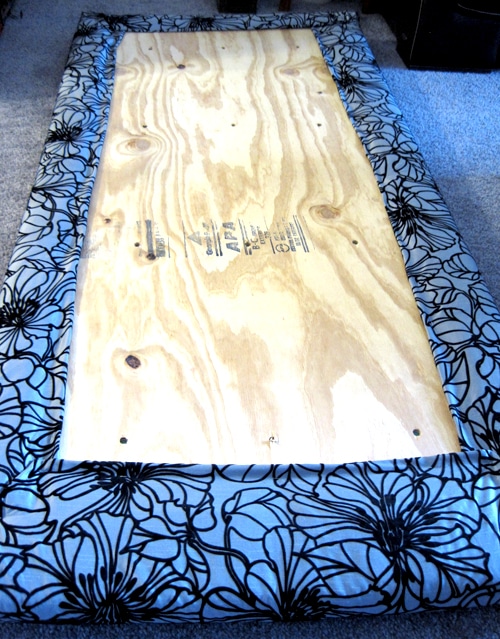 Then, I took a step back to admire my work. Does it look fine the way it is? Would it look better with buttons? Hmmm… I think tufting would be a subtle, but finishing touch, don't you?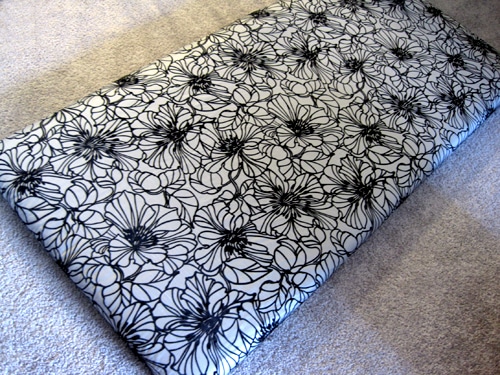 Onward! Before you begin the tufting part, do yourself a favor and get an upholstery needle. Trying to push a standard-sized needle through about 4 inches of fluffy stuff doesn't work all too well. Ahem… not that I'm speaking from experience.
Anyway, I threaded the (upholstery) needle with black upholstery thread and pushed it through a drill hole, from the back to the front. Then slid the button onto the thread, and ran it back through from the front to the back. I gently pulled the thread taut to create a tufted look, then secured the loose ends to the back of the board with my staple gun. I repeated this until I had three rows of 4 buttons.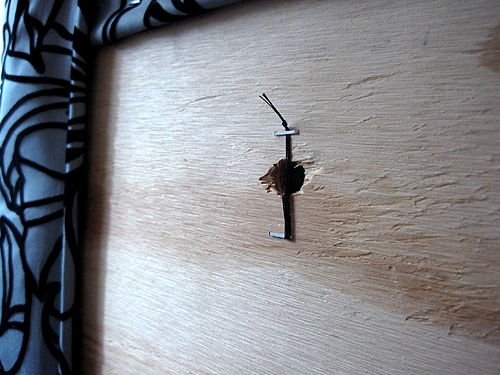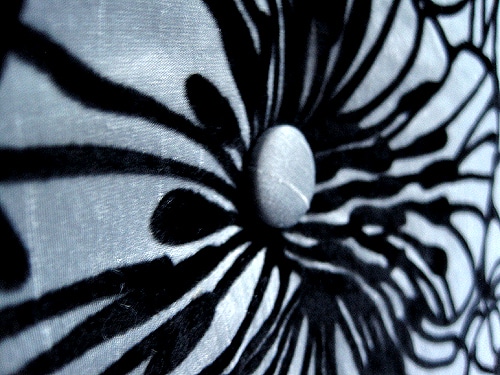 Turns out, the buttons get totally lost in the busy pattern. Well, that was time not well spent. It adds a very subtle dimension and texture, but not enough to make a statement or anything. Maybe I should have used solid-colored buttons instead… oh well. You live, you learn. Can you find the buttons?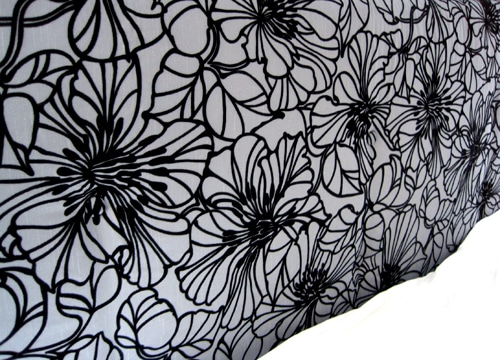 Now we hang! We chose to use a metal french cleat capable of holding 200 lbs. of weight (overkill anyone?). Basically, it comes in two parts: one that you screw into a stud in the wall, and the other that you screw into whatever it is you're hanging. One part sits into the other for a secure fit. And look! I'm using a level this time!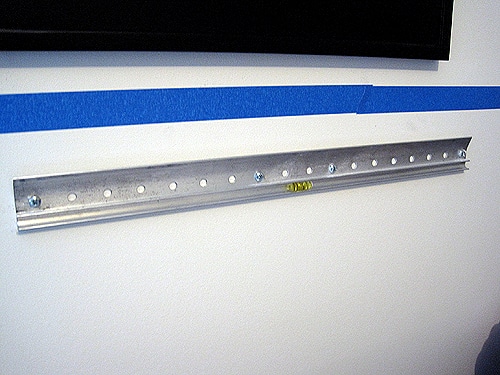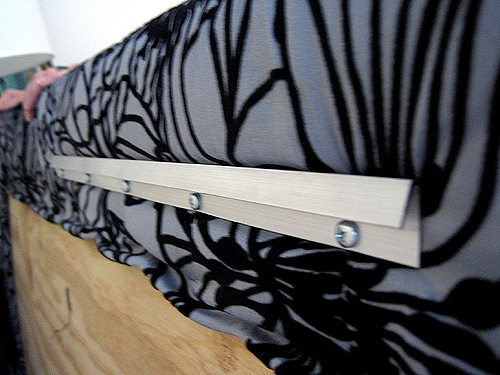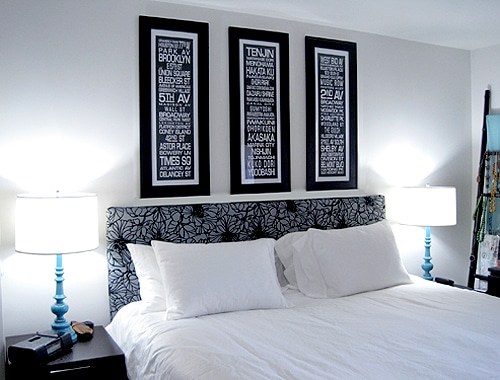 And just for kicks, here's a moody, Instagram-y shot of our sweet bed: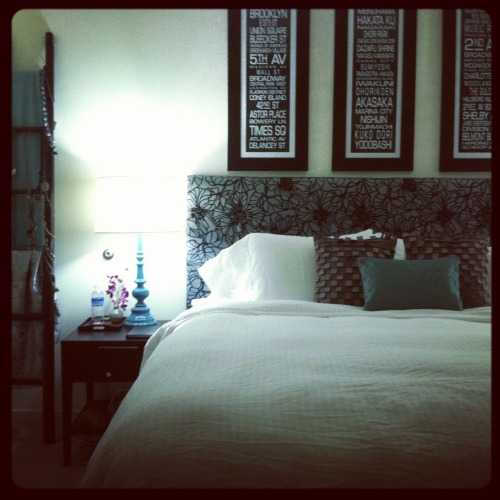 Sweet dreams!