Being a mom of young children will drive anyone to drink. Sometimes I wish I did because it certainly would take the edge off. Every day, I don't know why I am still so surprised by the things that come out of my mouth:
"No, Liam. We don't eat lint."
"Evie, please don't bedazzle the dog."
"No, you may not have cupcakes for breakfast."
Ah, motherhood. It is, bar none, the toughest job in the history of ever. Sadly, I'm allergic to alcohol. This is a self-diagnosis only because the last time I tried drinking alcohol, I went blind. Literally. BLIND. And I had ONE DRINK. And it was some fruity drink. I remember walking around in the bar, trying desperately to find the restroom, and all I could see were people's shoes and black fuzzy clouds everywhere. True story. So, from then on, I haven't touched the stuff. But I hear it does wonderful things, like trick you into seeing your children as the perfect angels they are.
But don't let my inability to drink deter you from building this sweet little wine rack I spied from Crate and Barrel: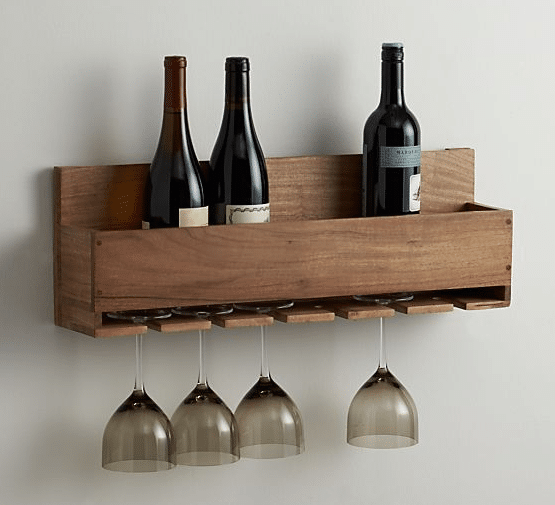 I just had to draw up the plans for it right away! I have a ton of scrap wood in the garage that is in desperate need of some use and this project would be the perfect candidate for just that. As soon as it warms up, that is. We're still digging ourselves out from under 12″ of snow. Yeah. I'm so ready for Spring, aren't you? Mostly because that means I can send the children out into the sunshine and not worry about googling "how to treat frostbite."
But until then, I'm happy to share the plans on how to build this wine rack with you today!
*This post contains affiliate links. To read my full disclosure policy, click here.
Download the PDF plans for this wine rack here.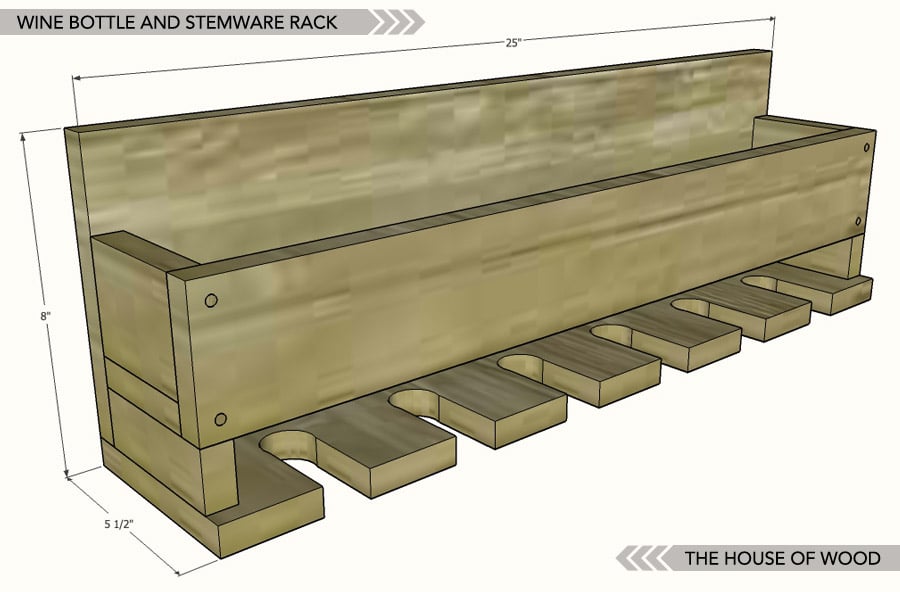 Materials:
25″ of 1×6
25″ of 1×8
9″ of 1×2
1 – 1x4x6′
1-1/4″ Wood Screws
1-1/4″ Brad Nails
Wood Glue
Hanging Hardware
Cut List:
1 – 1×6 @ 25″ (stemware hanger)
1 – 1×8 @ 25″ (back)
2 – 1×2 @ 4-1/4″ (sides)
2 – 1×4 @ 25″ (ledge and front)
2 – 1×4 @ 2-3/4″ (sides)
Tools:
Tape Measure
Pencil
Speed Square
Drill with Countersink Drill Bit
Jigsaw
Brad Nailer or Hammer
Safety Glasses
Step 1
Using a jigsaw, cut out the stemware slots as shown: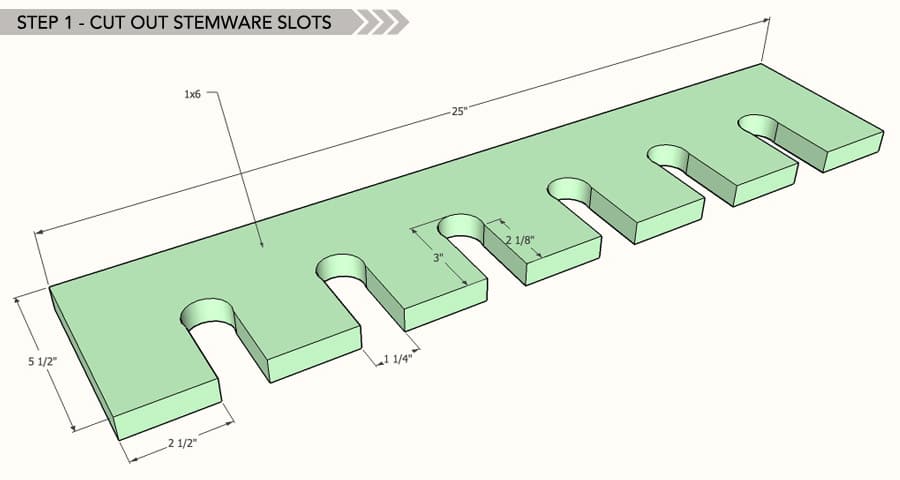 Step 2
Drill 3/4″ pocket holes into the back board facing down and use 1-1/4″ pocket hole screws to attach it to the stemware rack. Alternately, you can use 1-1/4″ brad nails and wood glue to build this wine rack. However, I prefer to use screws over nails, whenever possible, just to assure strength and durability over time. The last thing you want is half a dozen bottles of wine crashing to the floor. Oh, the horror. That would be blasphemous.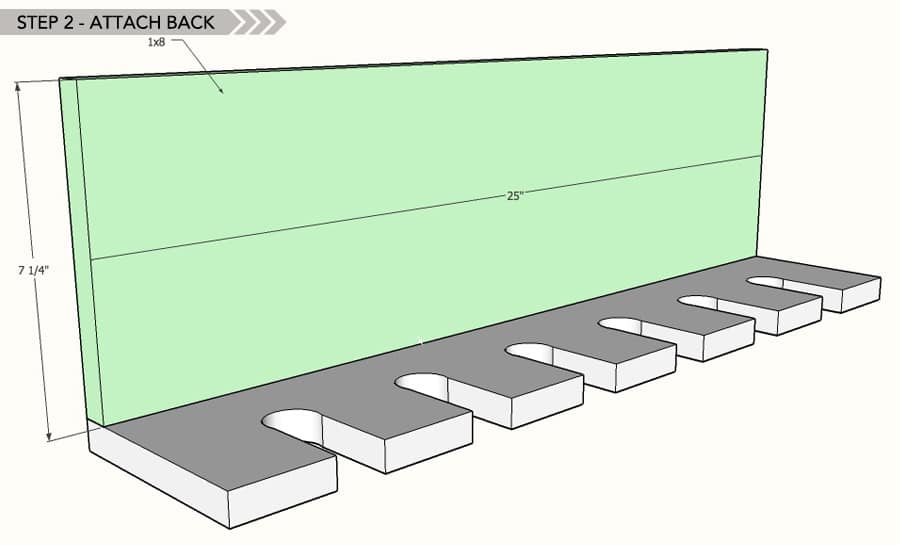 Step 3
Attach the 1×2 side pieces with 3/4″ pocket holes and 1-1/4″ pocket hole screws. Attach the 1×2 to the stemware rack with 1-1/4″ brad nails nailed from underneath.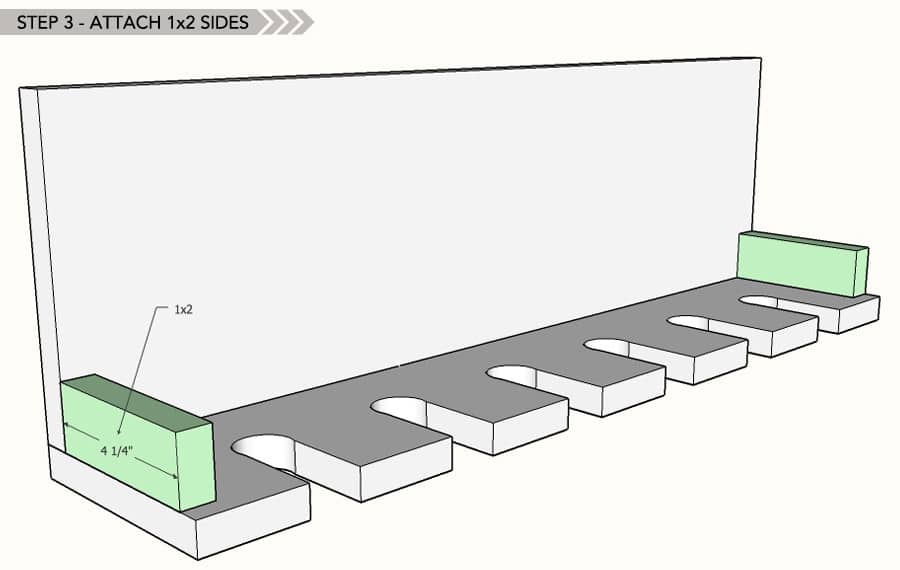 Step 4
Drill 3/4″ pocket holes into the 1×4 ledge and attach it to the back with 1-1/4″ pocket hole screws. You can also nail in 1-1/4″ brad nails on top to attach the ledge to the 1×2 sides.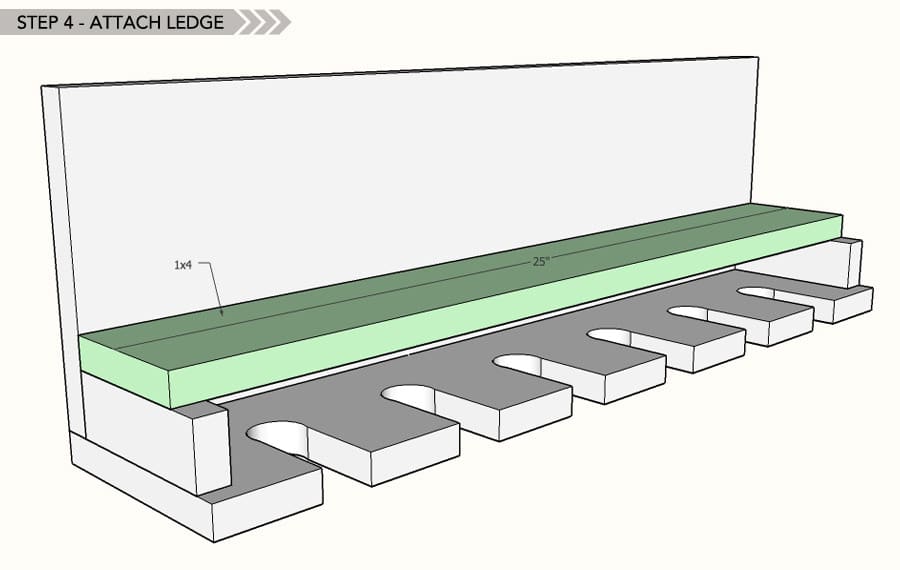 Step 5
Drill 3/4″ pocket holes into the 1×4 sides and attach it to the back with 1-1/4″ pocket hole screws. Use glue on the joint where it meets the ledge.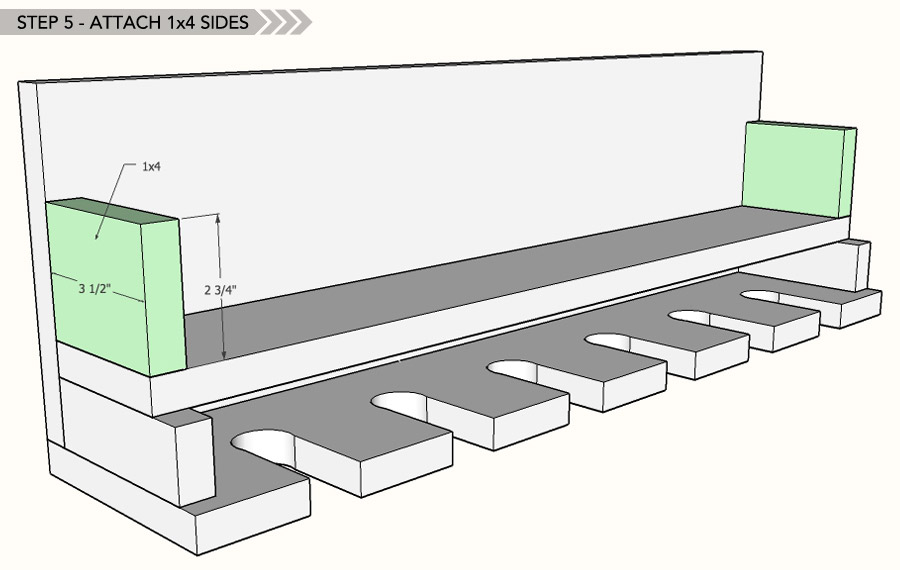 Step 6
Pre-drill countersunk pilot holes into the front board and attach with 1-1/4″ wood screws. Fill the holes with wood putty or wood plugs.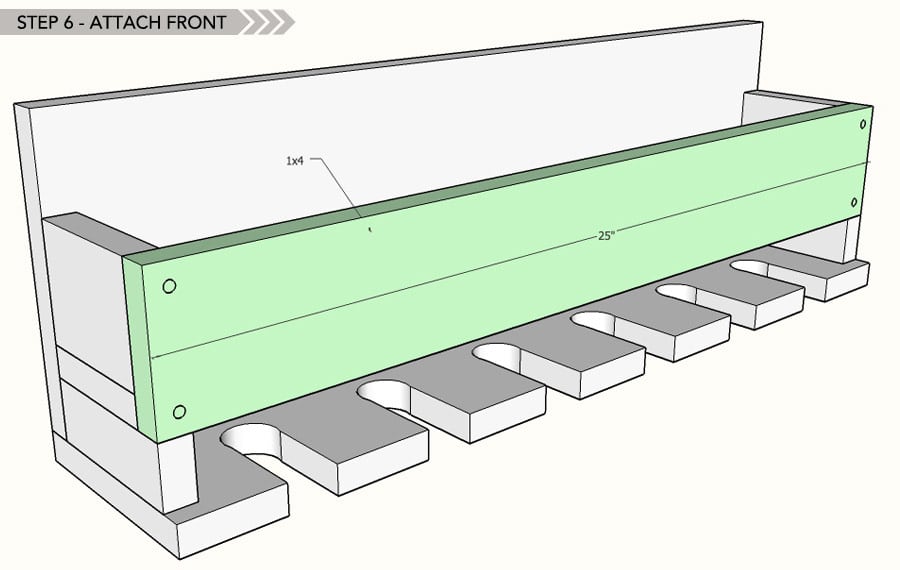 Attach hanging hardware to the back and you're done building! If you build this, I'd love to see it! Please share and let me know how it turned out for you. If you need me, I'll be the one curled up in a corner, rocking back and forth, while my children wreak havoc on my house. Maybe alcohol-induced blindness isn't such a bad thing. Happy building!
Pin for later!