I feel like I can finally say "Spring is here!" and, after what seems like the longest winter ever, I am so happy to be thinking about how to design and improve my outdoor spaces. This is Sheri from Hazel + Gold Designs and I am excited to share with you this tutorial on how to make a Easy and Inexpensive DIY Outdoor Bench. This isn't the most complicated piece of furniture I've ever made, but I wanted to design something that even a beginner can build without too many tool or supply requirements. Here's how I did it!

Easy DIY Outdoor Bench
SUPPLIES:
(2) 2 x 4 x 8 ft. boards
Wood glue
Wood stain
Pencil
3-inch screws
Sanding discs (80-grit, 180-grit, 220-grit)
Exterior paint
Paint brushes
Vinyl gloves
Exterior-grade polyurethane
TOOLS:
12-inch miter saw
Drill
Orbital sander
CUT LIST:

DIAGRAM:
Here are the plans in a 3D diagram. This project is pretty simple, so I just created this diagram to show you the measurements that I used. You can easily customize this to your space by adjusting the top board measurements. Mine is 48 inches wide, if you opt to make a longer bench, you may want to consider building a third leg section (just one more 2×4).

Cutting:
Cut two pieces of 2×4 at 18 inches long. These will be the top of your two leg sections. Cut two pieces of 2×4 at 16 inches long. These will be the bottom of your two leg sections.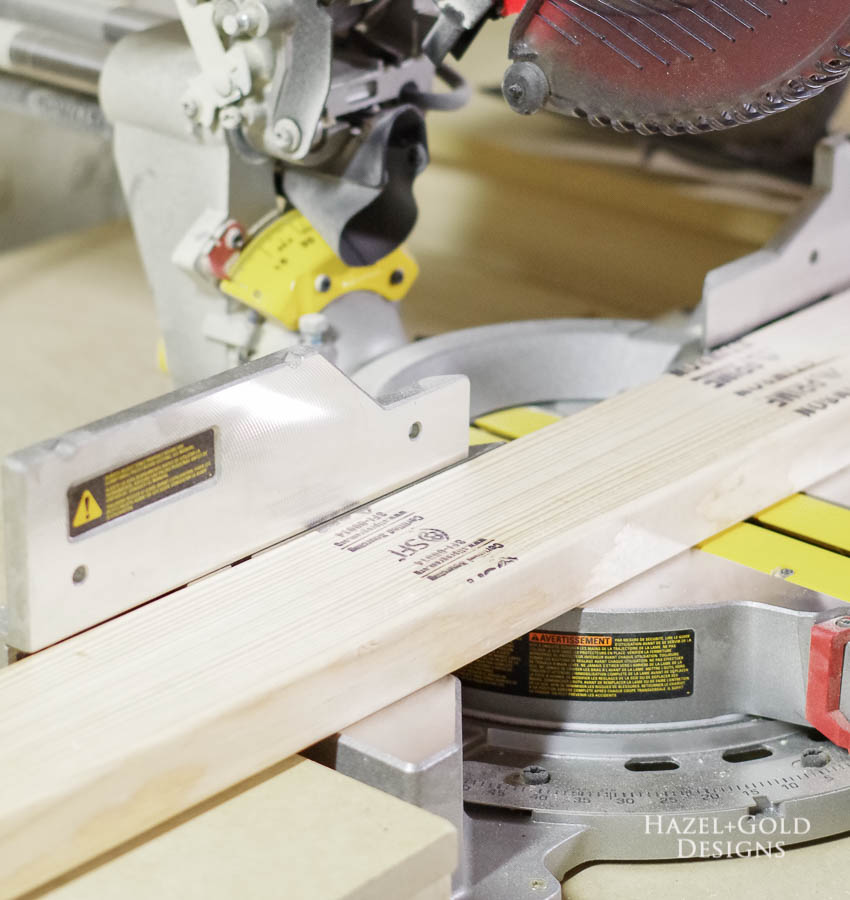 Next, we're going to create the V in the leg sections by cutting four pieces of 2×4. Each of these pieces will have 15º angles on both ends going the same direction, and from one end to the other is 16.5 inches.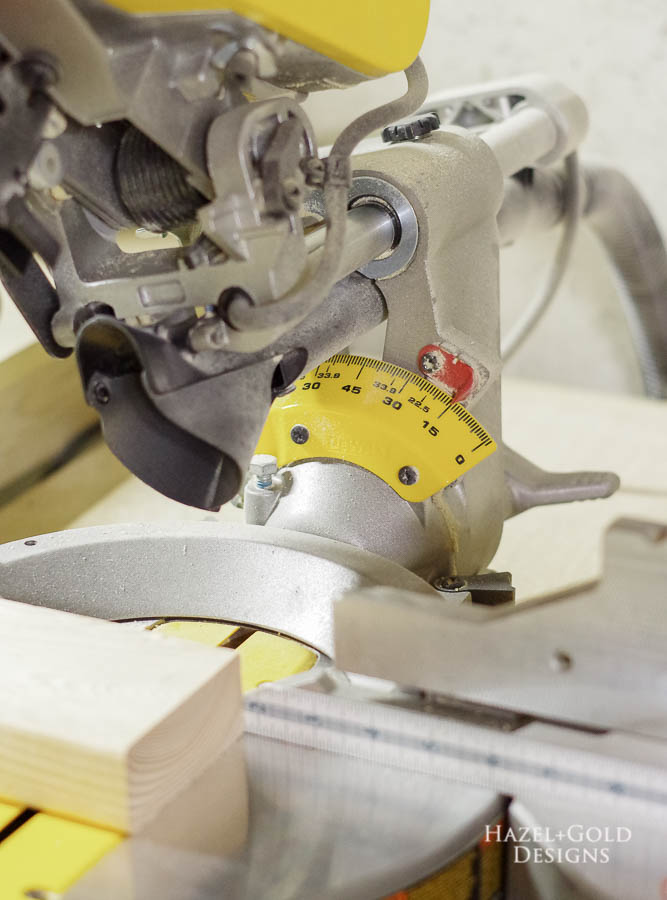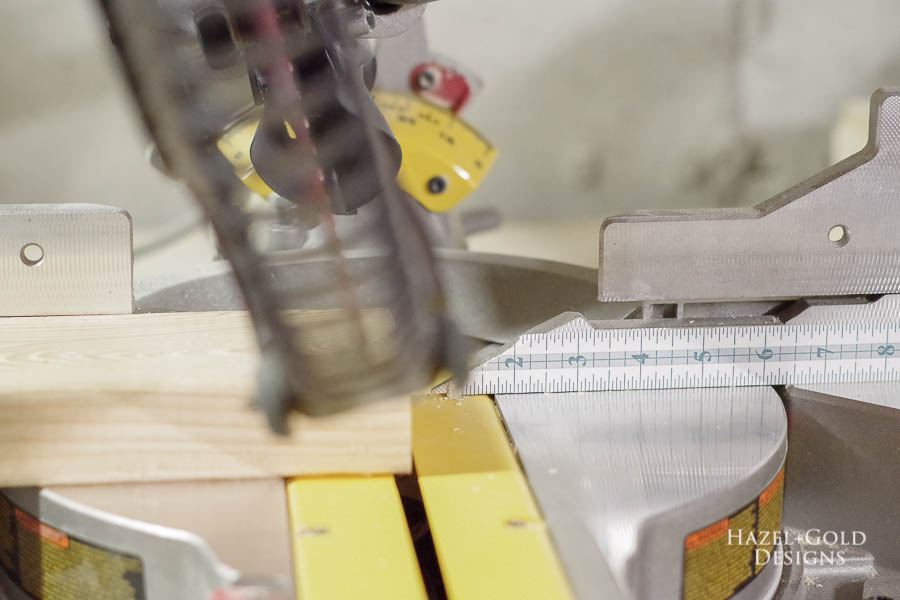 Once you have all of the leg section pieces cut, sand them all. When sanding I used an 80-grit sandpaper first, then 180-, then 220-grit. It is A LOT of sanding, but when you are working with these inexpensive stud boards it really makes all the difference. They look like brand new boards after you're done sanding. My favorite thing is to put some great music on my headphones and just get it all done as soon as I can. Sometimes my hand starts to go numb, but that's just a sign of great work, right?

Building:
Next it's time to assemble the leg sections. I marked the center of the 16-inch boards and glued and screwed in the angled boards in the shape of a V meeting at that line. You can really attach this any way you want, say with pocket holes, but I wanted to build something you wouldn't need another tool for, so I just did it this way. I do make sure the screws sink into the wood so they aren't sticking out at the bottom where it could cause leveling issues or scratching floors.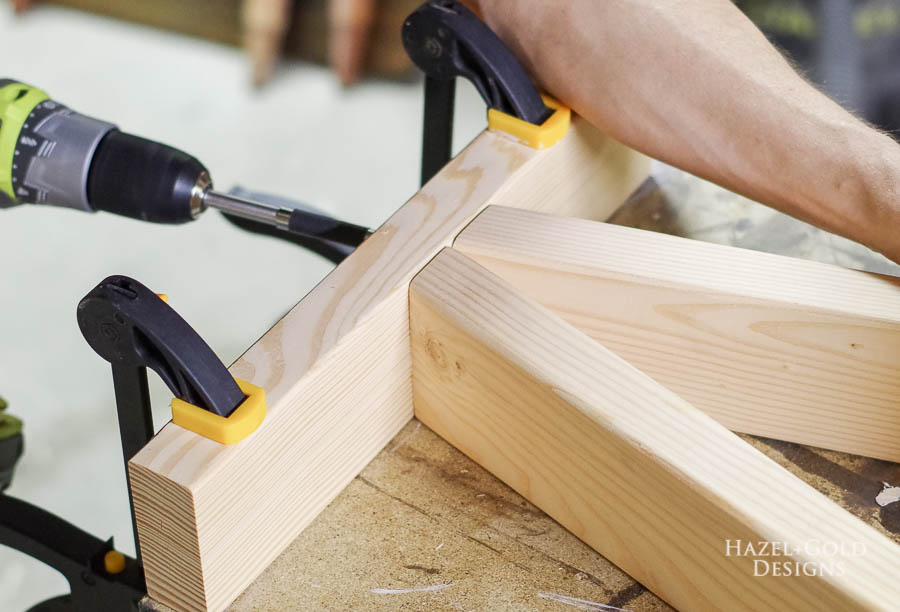 Now attach the top 18-inch boards, again using glue and two screws from the top down into each of the sides of the V.
Follow these steps again to build the second leg section exactly the same. (Full disclosure: my husband helped me with a few steps while I was suffering from a migraine. What would I do without him?)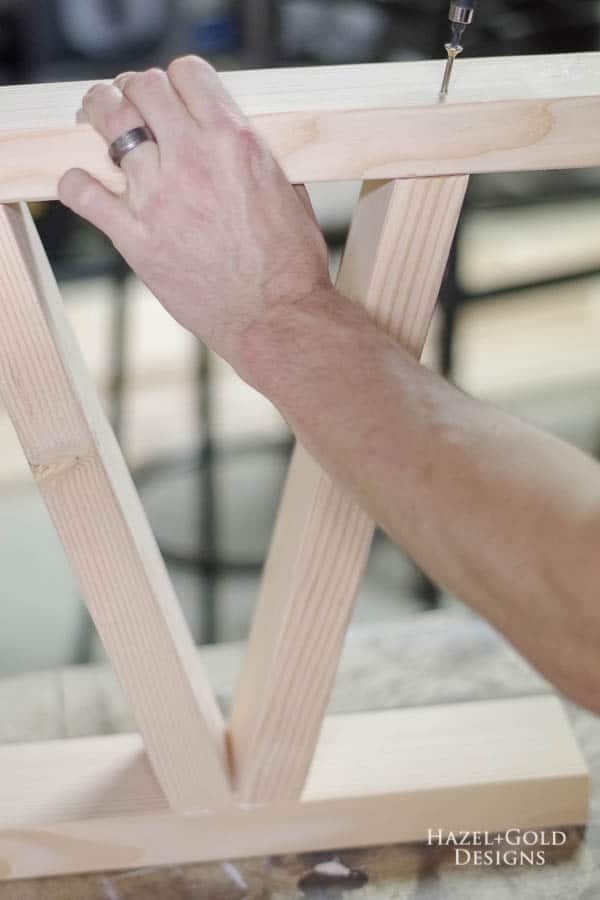 Cut your 2x10x8 board in half to create a 18-inch deep 48-inch long seat. If you don't have a 12-inch miter saw you could use a circular saw for this step.

Finishes:
Now that your leg sections are assembled, go ahead and paint them with your exterior paint. Mine had a satin finish. I just love it.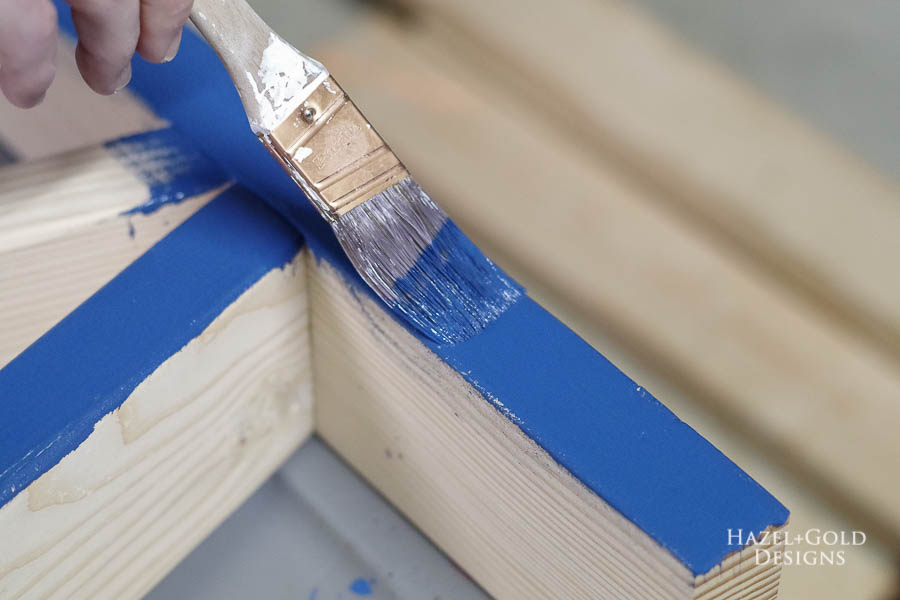 Stain the seat boards with whatever stain color you like. I apply this wearing vinyl gloves and just use a rag to wipe on and off.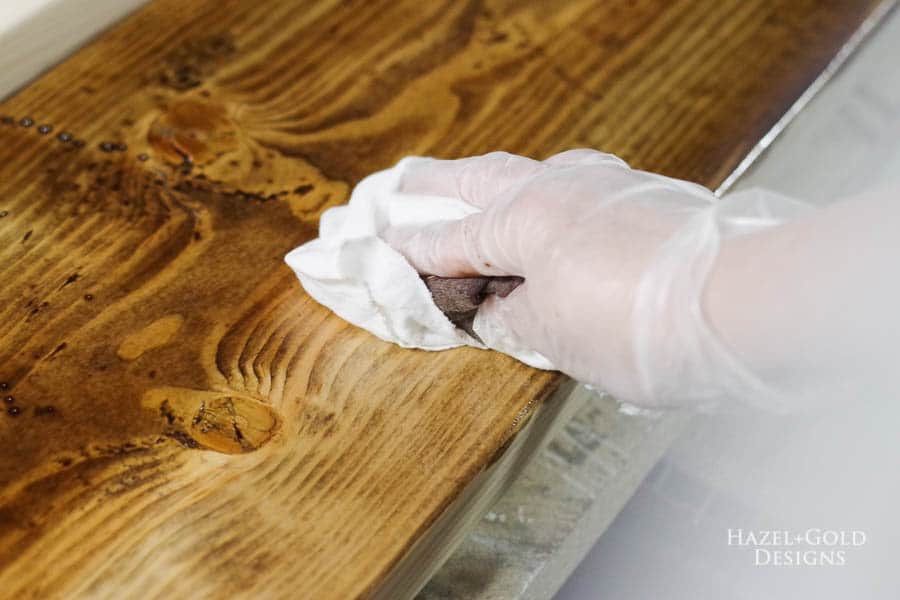 I just love seeing the difference after staining. It creates so much dimension in the wood!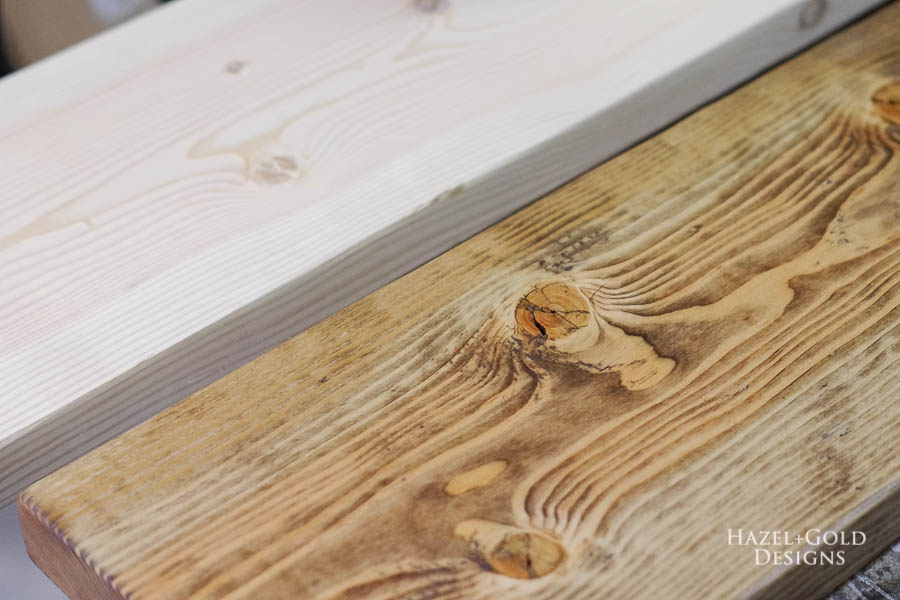 Next, coat with outdoor polyurethane. Let dry (according to the instructions on your product), then lightly sand with 220-grit sandpaper. Add second coat of poly, let dry and sand again, then finish with a third coat. Let cure for 24 hours.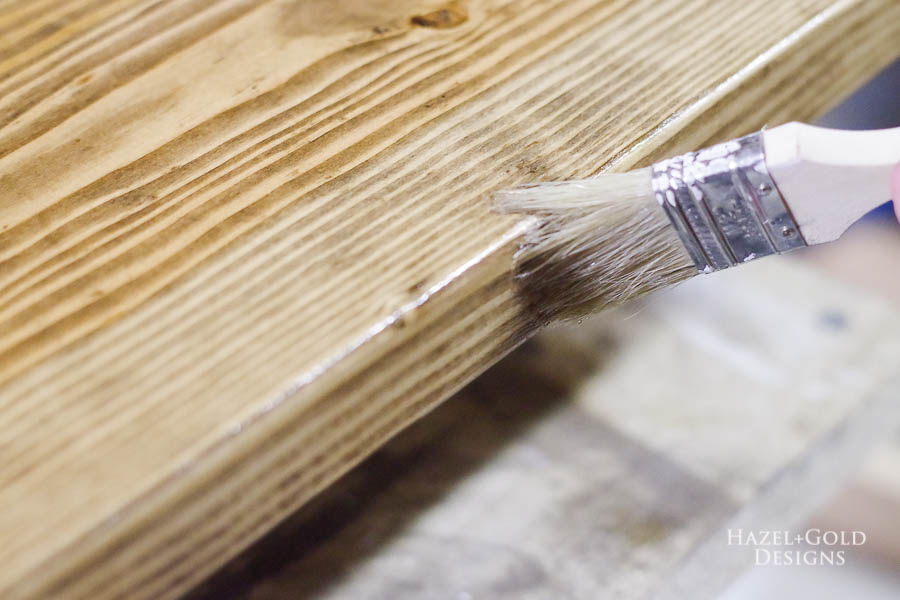 To attach the leg sections, turn other your seat boards face down and mark where you want the leg sections to go. Add wood glue, then screw the leg sections onto the top boards.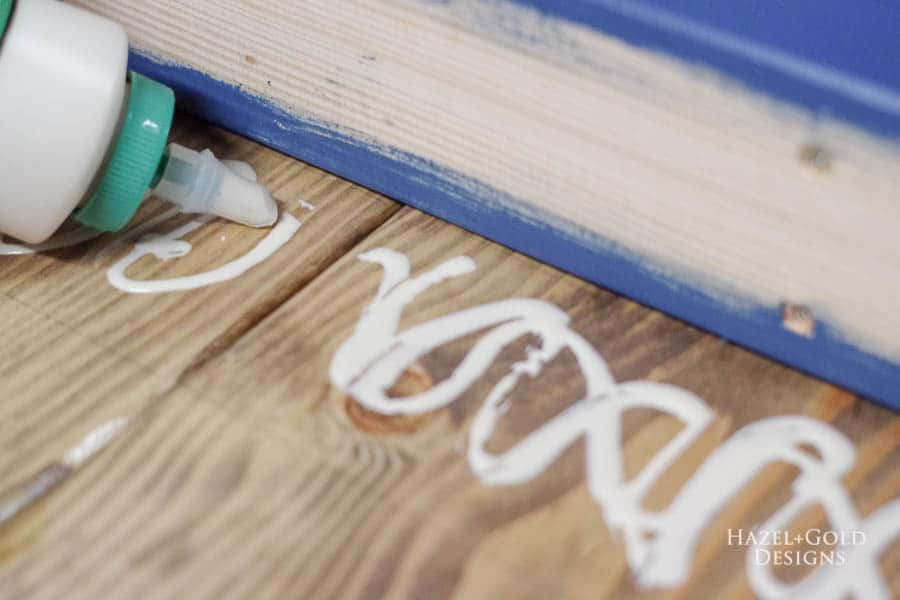 I used two screws on each end, then two in between the side boards of the V.

All finished!
Like I said, it wasn't too difficult, was it?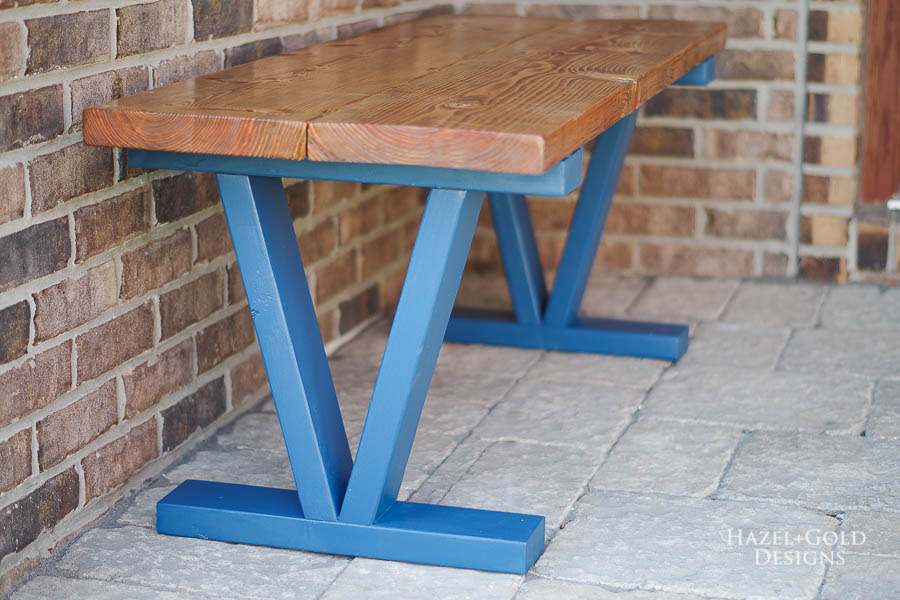 Add a flower pot on each side and you have a gorgeous sitting space on your front porch!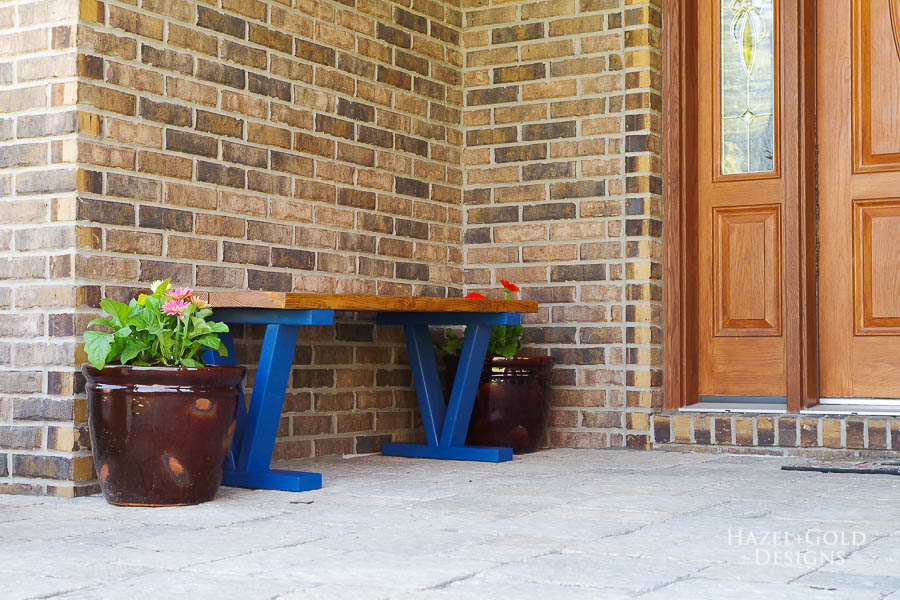 The depth of grain and color on the seat boards is always my favorite.

Front view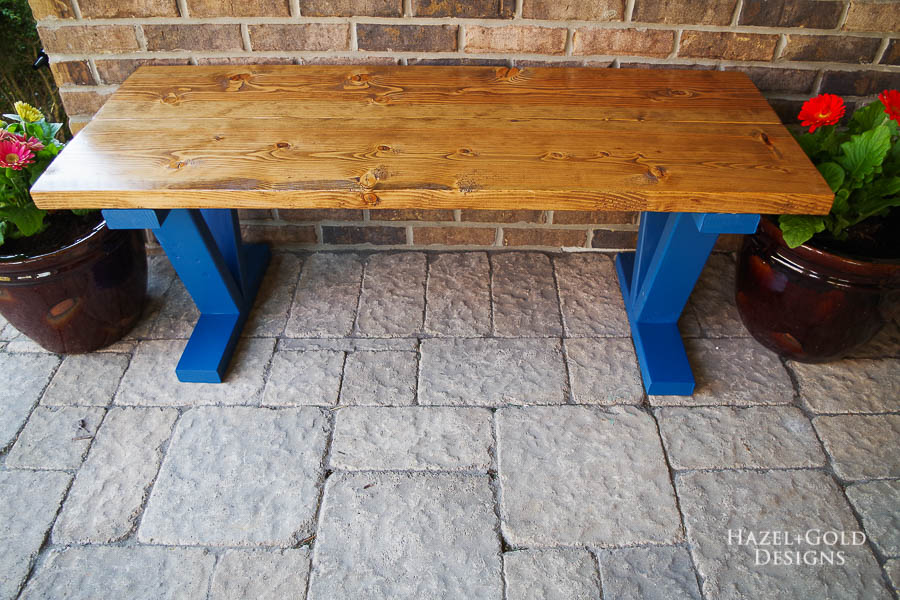 So beautiful.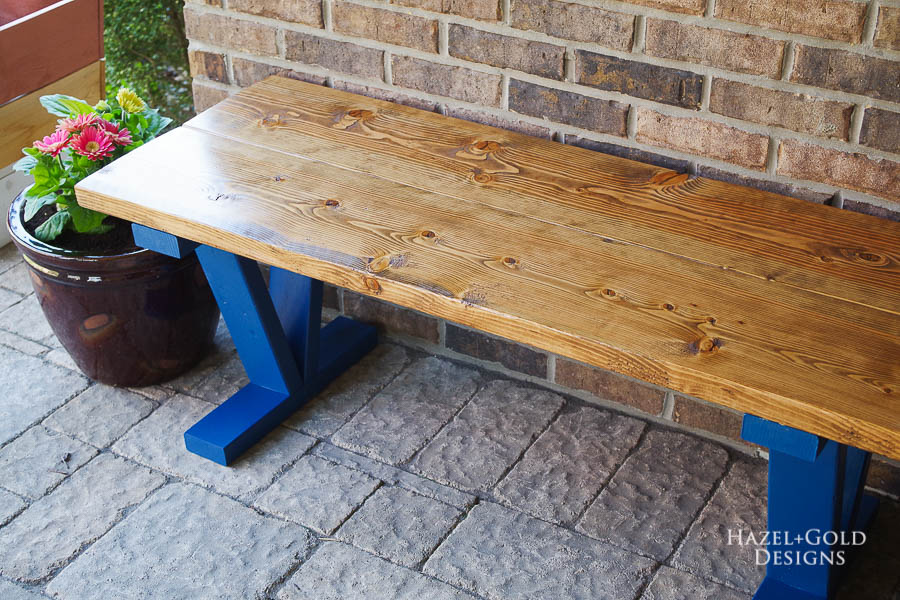 What do you think? Do you like my bench? I'd love to hear your comments! Feel free to share this on social media as well!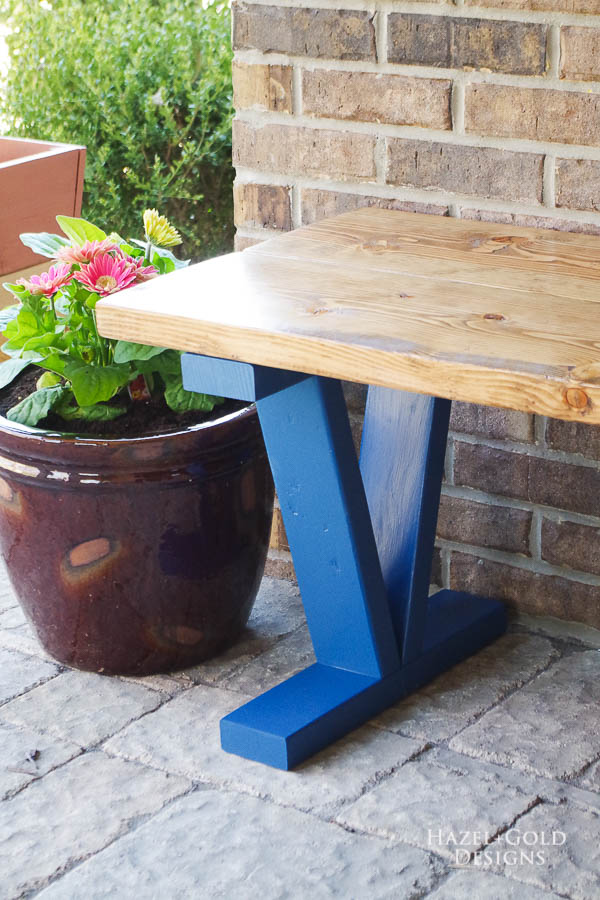 Thanks again for reading, my friends. Get out there and build something!
–Sheri
Check out some of my other builds: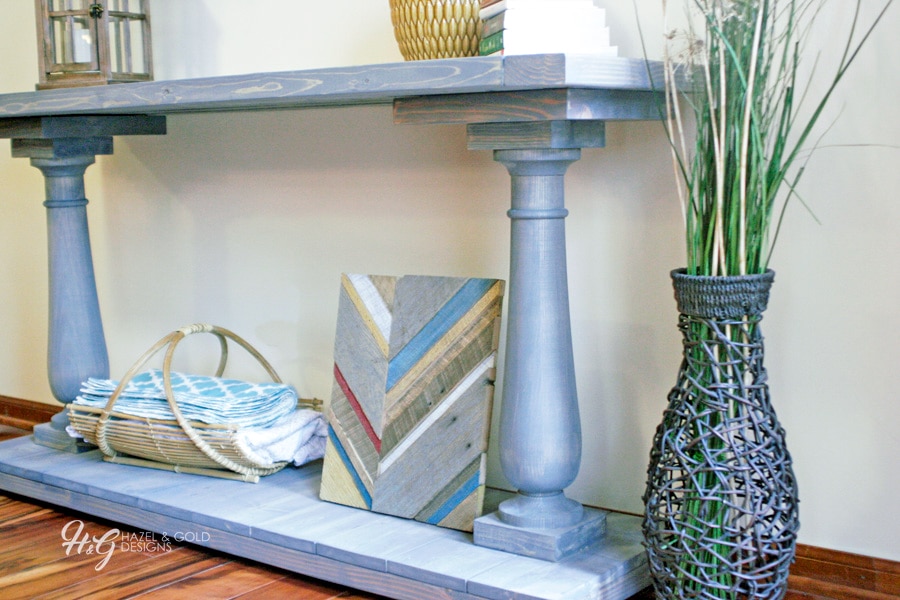 DIY Decorative Wooden Bookends