An easy, step-by-step tutorial on how to make a DIY Raised Planter with Trellis for about $50! Includes a tools and supply list with photos and downloadable PDF plans!
It's Fall planting season, friends! We are so excited to get some fall veggies planted in our brand new DIY raised planters with trellis. Don't they look great against the Woodhouse Workshop? It's the cutest little workshop that ever was and the planters add so much charm and functionality. It's my happiest place! This planter was so easy and affordable to make, I made two of them! Read on if you want to make your own.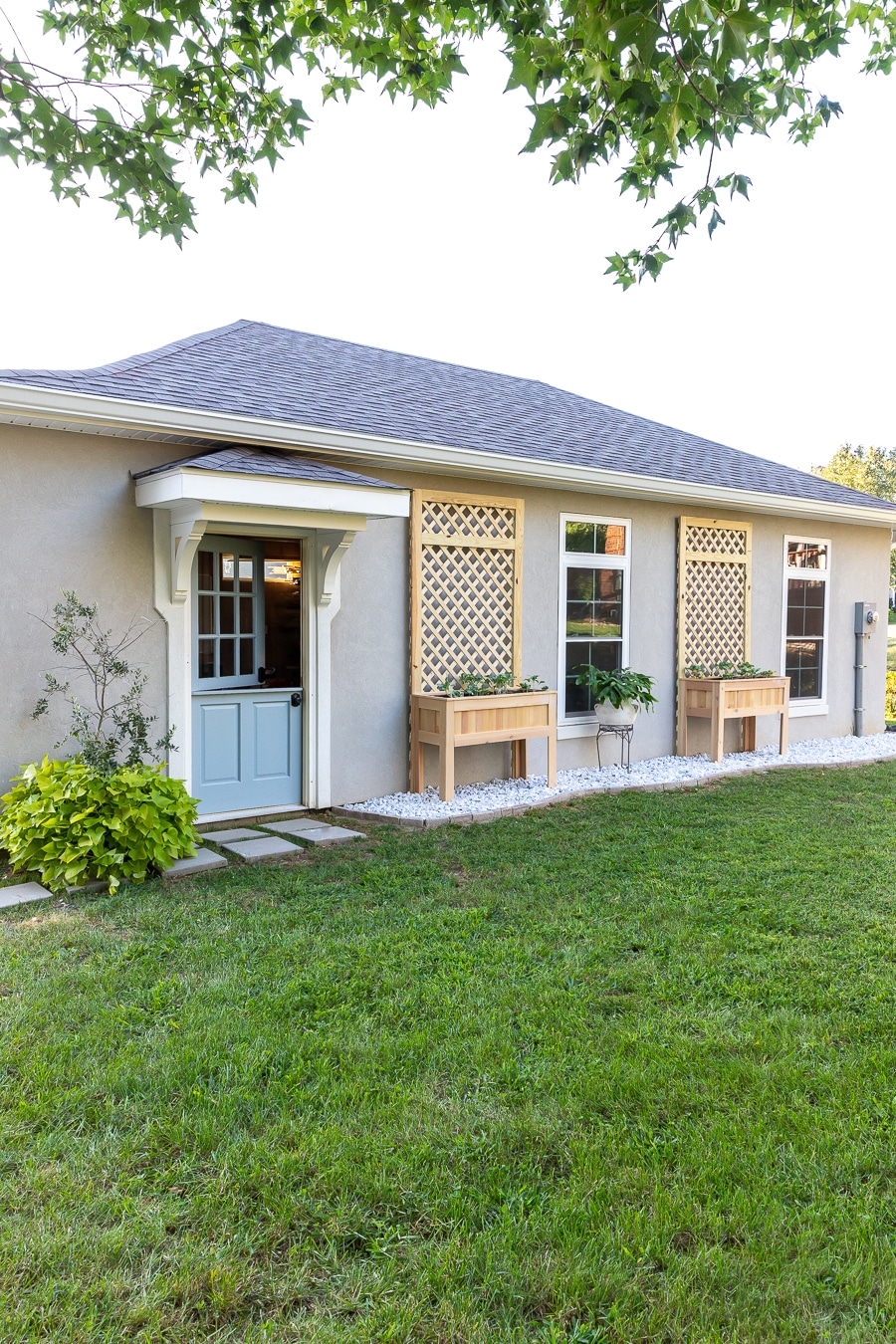 I'm thrilled to be partnering with Arrow Fastener on this DIY raised planter with trellis project. The Arrow Pneumatic Brad Nailer and Compact Electric Stapler made this build fast and easy. As always, I've got the PDF plans available for you to download below. This is a great weekend project that will cost around $50-$75 in materials (for one planter).

How To Make A DIY Raised Planter with Trellis
TOOLS:
Tape Measure
Pencil
Speed Square
Cordless Drill/Driver
Compound Miter Saw
Circular Saw or Jig Saw (optional)
Table Saw
Pocket Hole Jig
Safety Glasses
Hearing Protection
Dust Mask
SUPPLIES:
(12) 5/8″ x 5.5″ x 6′ Cedar Fence Pickets
(1) 4′ x 8′ Lattice Panel
(1) 2′ x 2′ x 8′ Board
(4) 1′ x 4′ x 8′ Boards
2 1/2-inch and 1 1/4-inch Wood Screws
1 1/4-inch Pocket Screws
Landscape Fabric
Approx. Cost Of Materials: $50-$75
I was excited to give my new pneumatic brad nailer a try – I'm happy to report it's lightweight and easy to operate. It made building these raised planters fast and easy.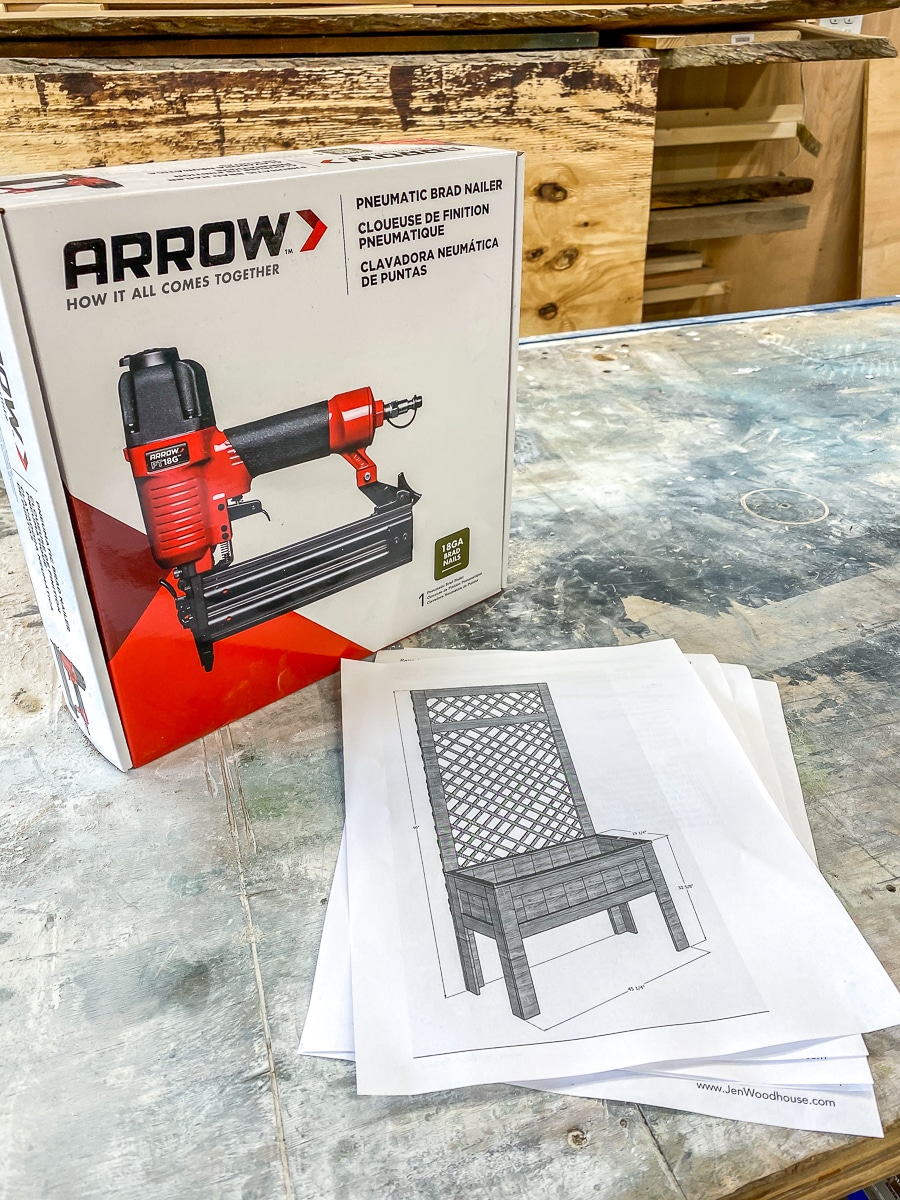 Using cedar fence pickets helps to keep the costs down – one fence picket is about $3/board and cedar is a good choice for exterior applications because it's naturally resistant to rot and pests.
First, I cut the legs, long rails, and planks down to length on the miter saw. Then I ran the leg and rail parts through the table saw, ripping them down to 3 1/2 inches wide. The planks will remain at the original 5 1/2-inch width.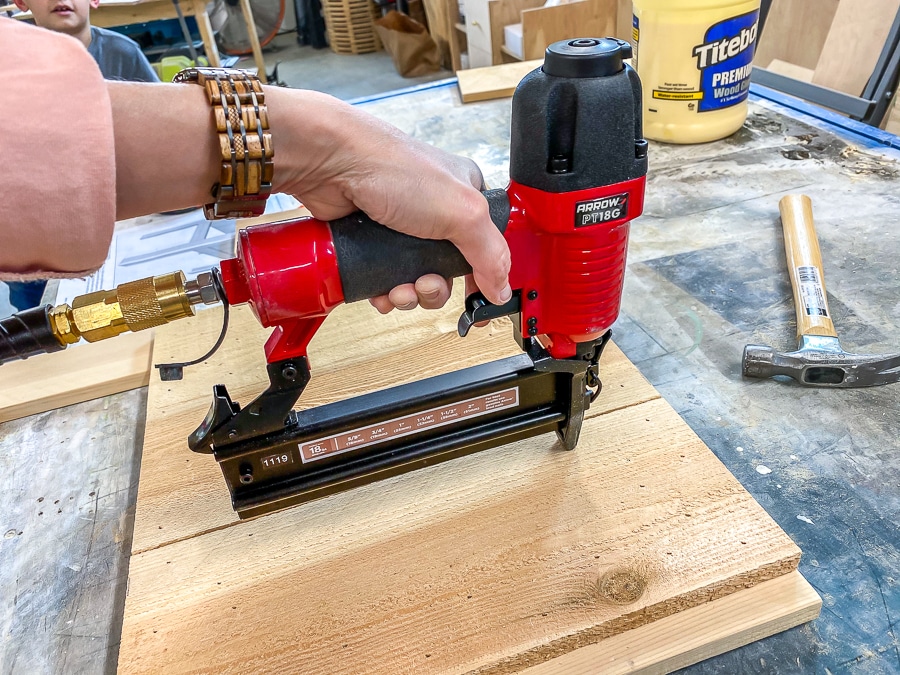 Sometimes cedar fence pickets can have a smooth side and a rough side. If this is the case, lay the good side down so that the rough side will be on the inside of the planter. I laid the legs and rails down on my workbench, with the smooth side facing down, then positioned the planks on top of them, leaving a 5/8-inch inset on each end. Then I used my brad nailer to attach the planks with 1-inch brad nails and wood glue. Don't skip the wood glue!
Repeat and build two of these panels – these will be the front and back panels of the planter. Set that aside and move onto building the side panels.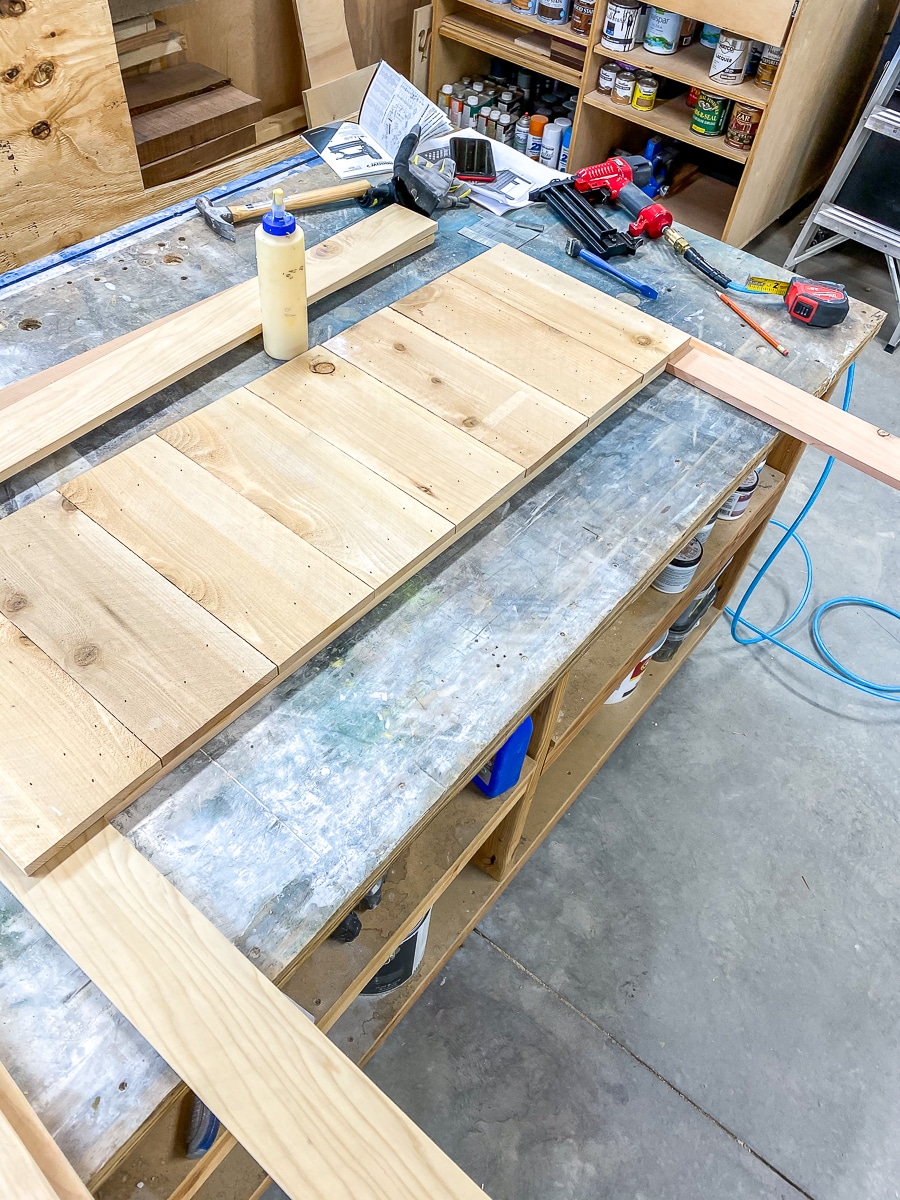 Cut the legs, short rails, and planks to length. Once again, rip the rails down to 3 1/2 inches. However, this time, you'll rip the legs down to 2 7/8 inches. Construct the side panels in the same way you did the front and back panels. Lay the legs and rails in position, then attach the planks with 1-inch brad nails and wood glue. There will also be a 5/8-inch inset on both ends.
Once all four panels are constructed, they should come together like a puzzle. Secure at each corner with 1 1/4-inch brad nails and wood glue.
Next, we attached the cleats to the inside of the planter box – this will support the bottom slats. You can place the cleats at any height in the planter. I'm no gardening expert, but I believe a good rule of thumb is to have at least 8 inches of soil for your plants (although don't quote me on that). I placed the cleats about 12 inches down from the top of the planter. Then, I simply laid the slats on top of the cleats, spacing them out evenly.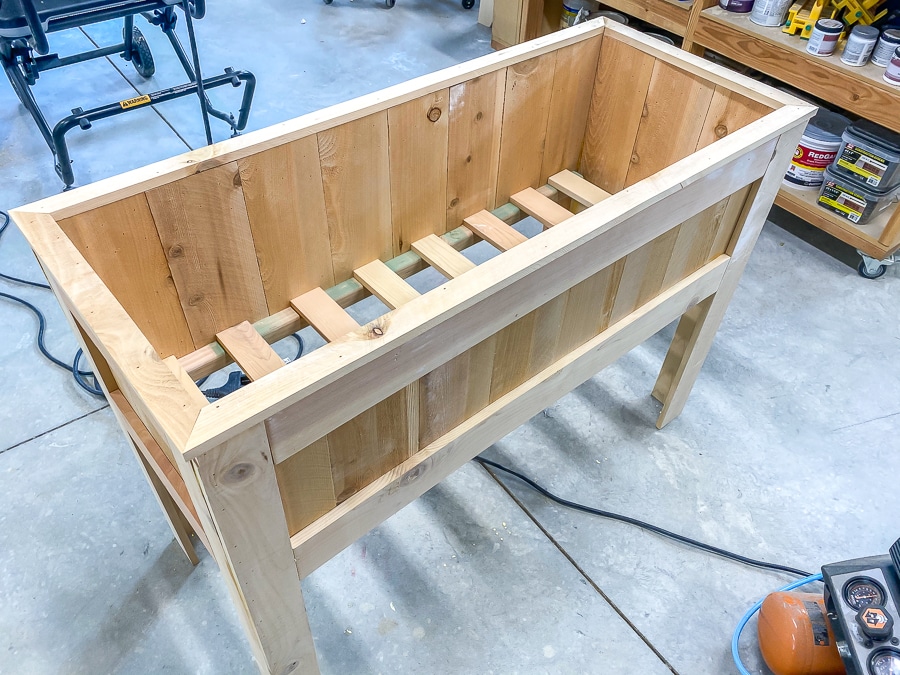 To add the trim, I ripped a couple of pickets down to 1 1/2 inches wide, then measured and mitered the ends at 45 degrees. It's best to "sneak up on the cut" here so that you get the tightest fit. I usually cut the boards long and then shave off a little at a time until the miter joints are tight. Then, I attached the trim with wood glue and brad nails.

Now that the planter is complete, I moved onto building the trellis. I used pressure-treated 1×4 boards here. I don't usually like to use pressure-treated lumber, especially for a vegetable garden, but these boards won't really come into contact with my plants so I wasn't too worried about it.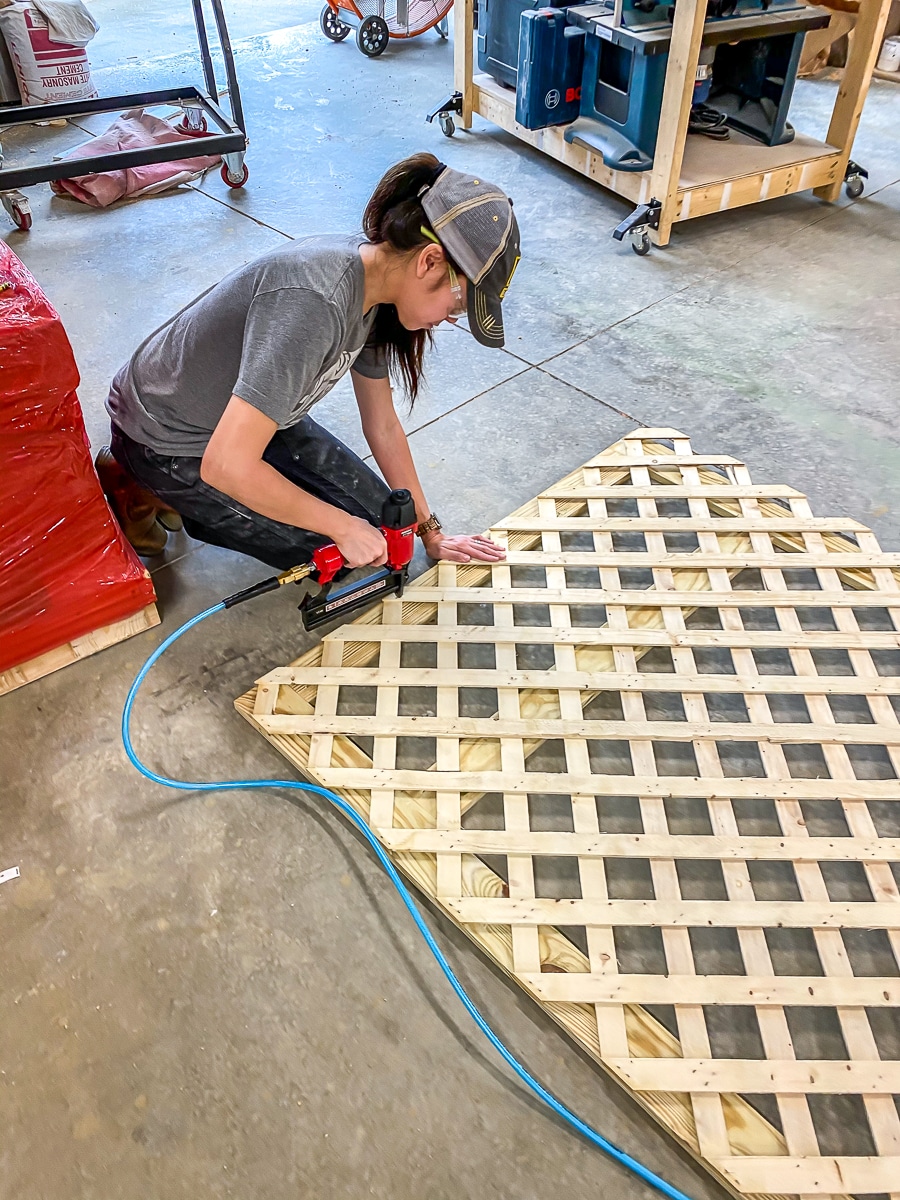 I measured, marked, and cut the 1×4 boards to length and constructed the frame with pocket holes. Then I laid the lattice down on top of the constructed frame and secured it with 1-inch brad nails.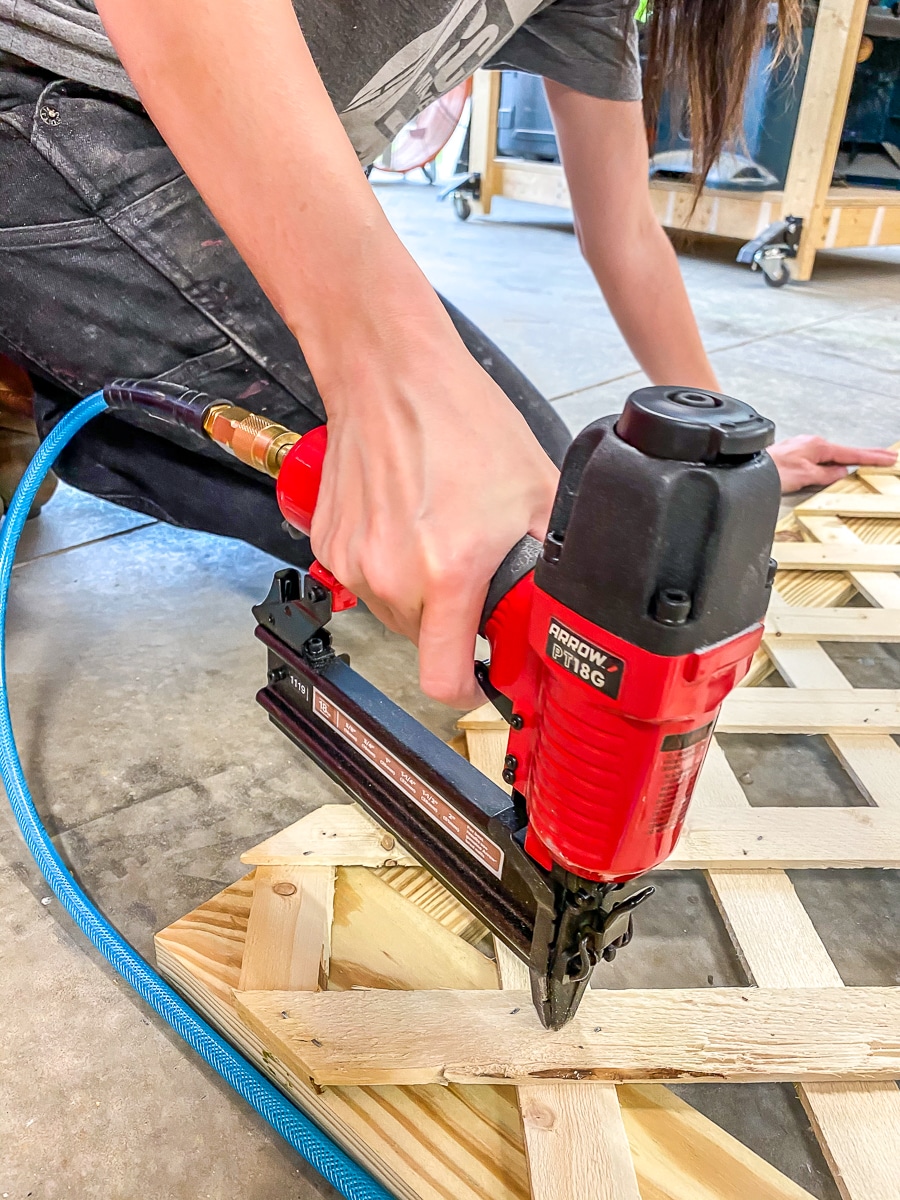 I didn't want to see the excess lattice under the planters, so I used a cordless circular saw to cut the excess from the bottom. This is totally optional though.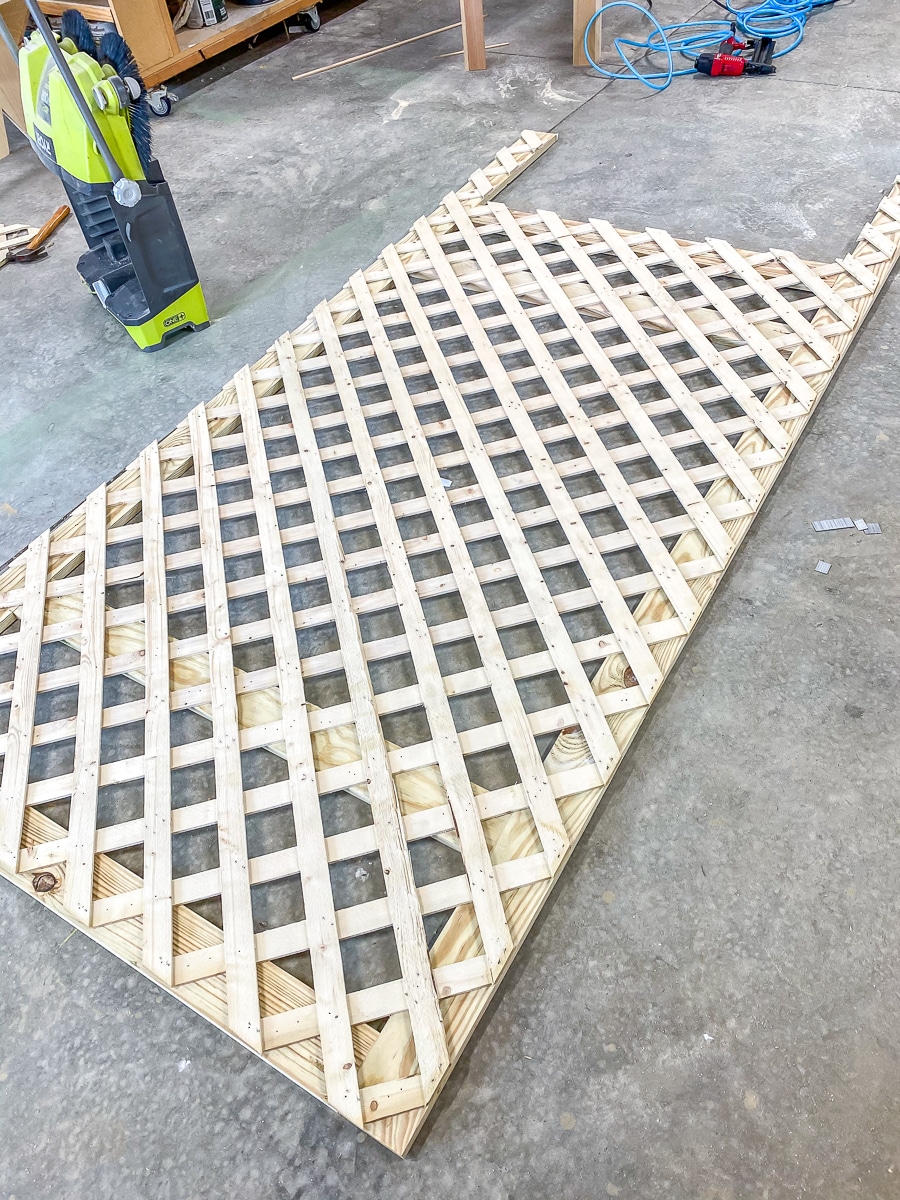 To attach the trellis to the back of the planter, I drove 1 1/4-inch wood screws in through the back. Finally, we carried the planters outside and set them in place, making sure they were level and plumb.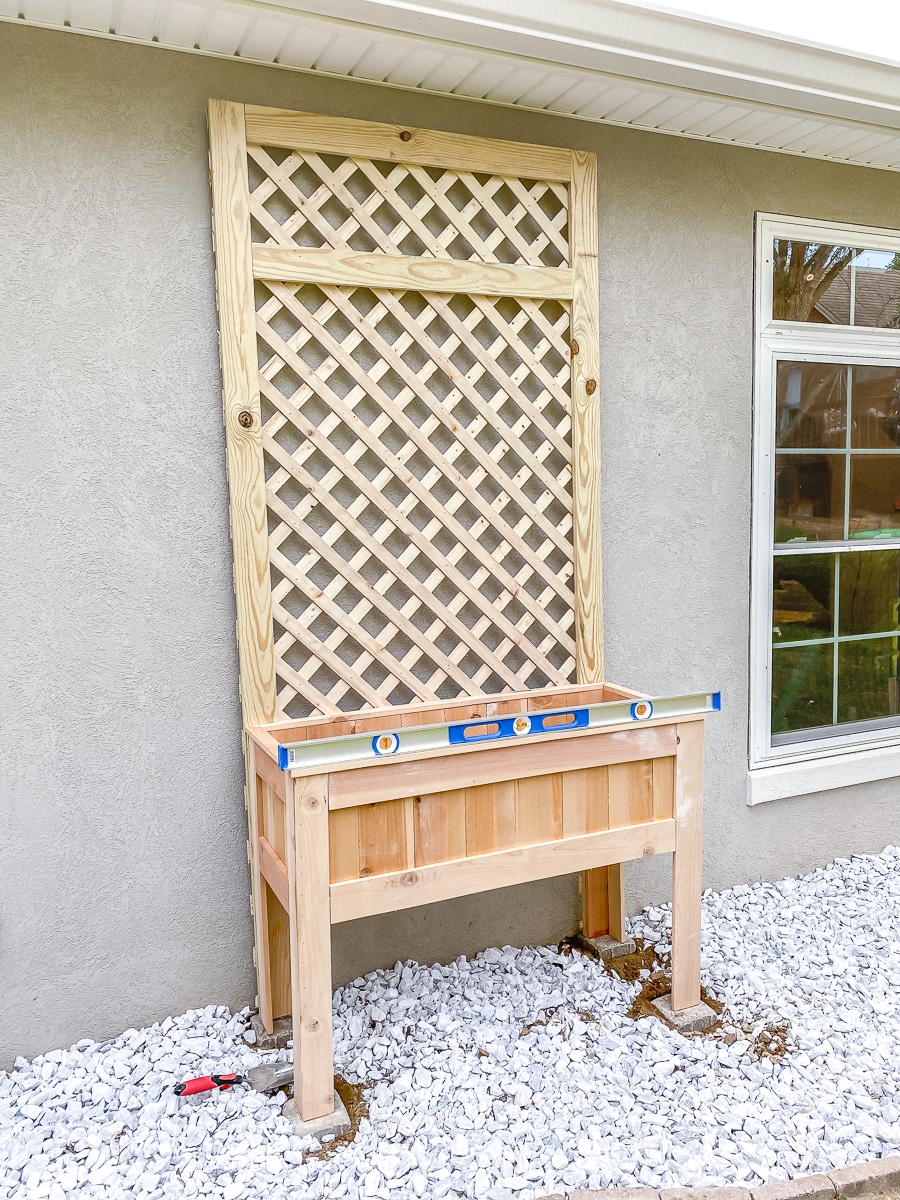 I lined the inside of the planters with landscape fabric and used the electric staple gun to attach it.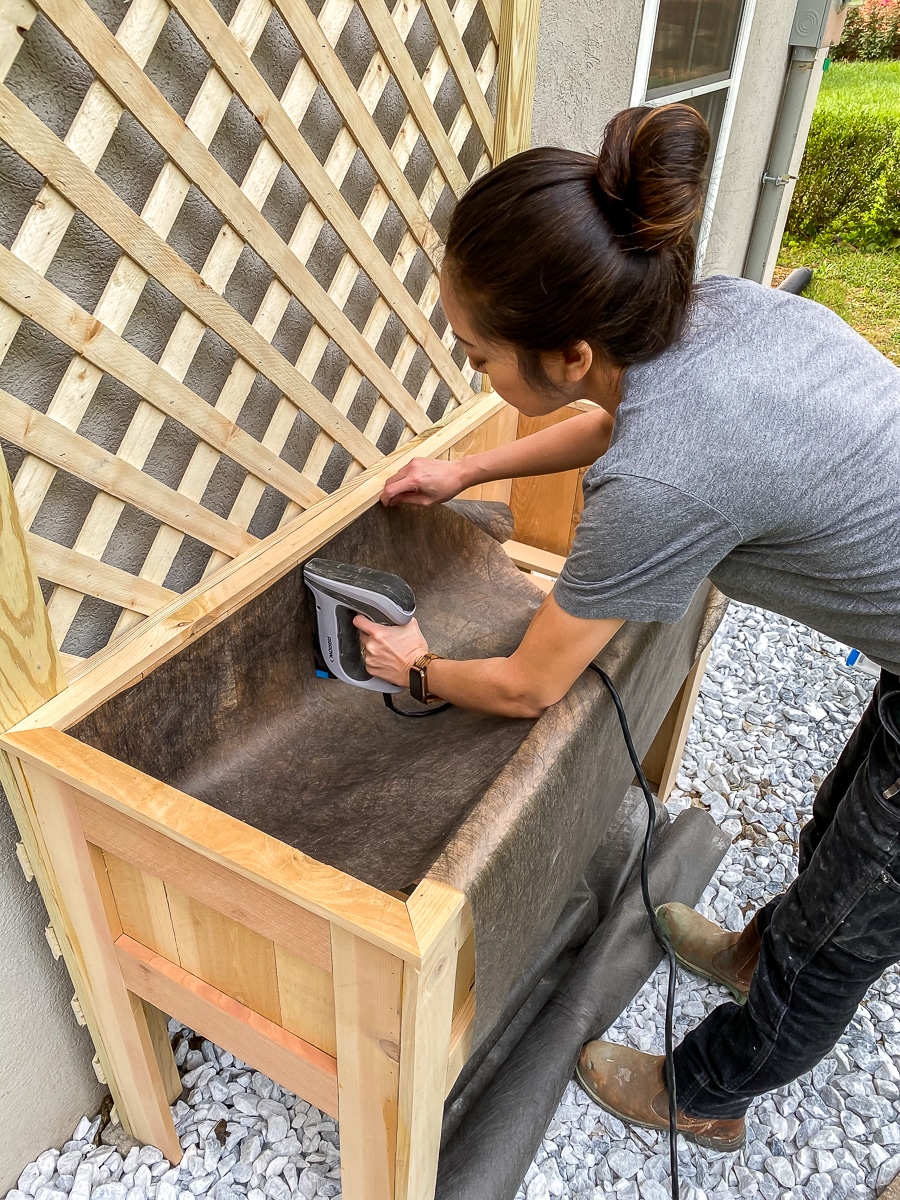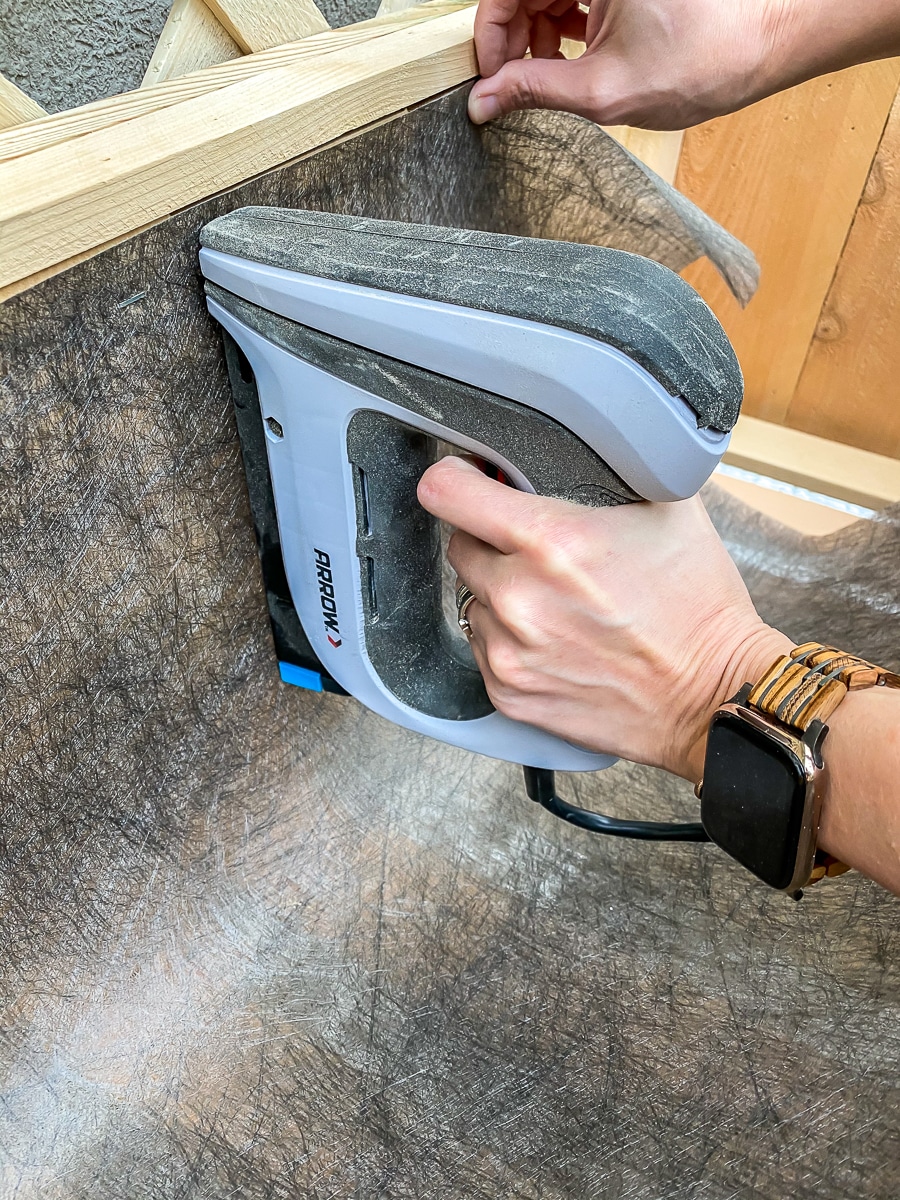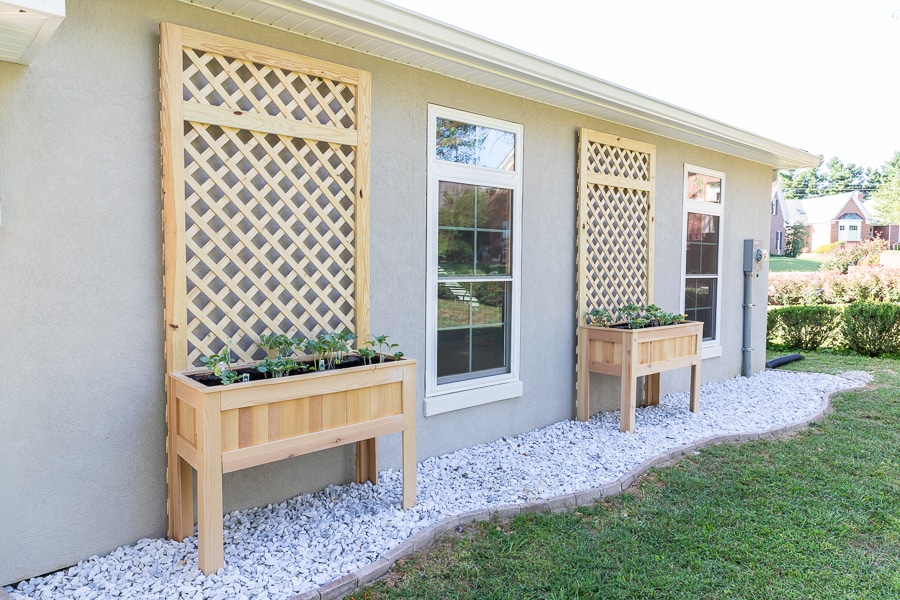 Look how adorable!!! I absolutely love how these DIY raised planters turned out! I love how they fill the space and add visual interest to an otherwise blank wall. We planted broccoli, Brussels sprouts, kale, and cauliflower and I'm really hoping we reap a good harvest! Happy Fall planting, y'all!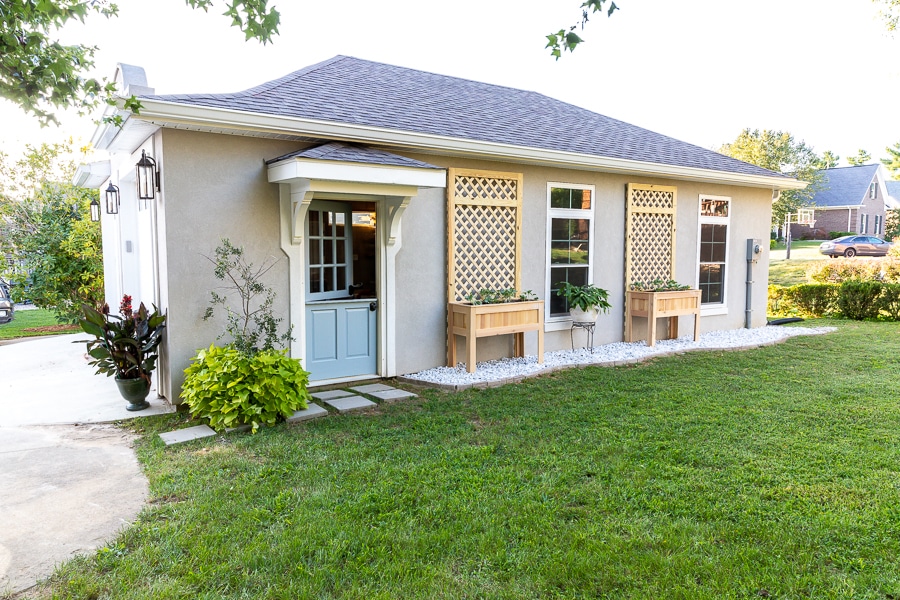 *This post is in partnership with Arrow Fastener and contains affiliate links. All efforts and opinions are my own. To read my full disclosure policy, please click here.