Good morning House of Wood fans! Shelly from 100Things2Do.ca here with another simple, but elegant build to add to your "I made this myself!" portfolio. Let's make a DIY Mid-Century Modern Side Table!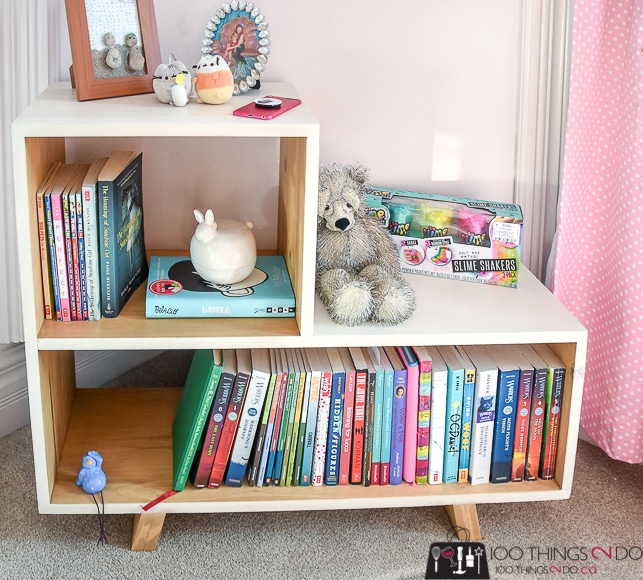 I know farmhouse style has been in fashion well… ever since there have been farmhouses – but I've noticed a growing trend towards MCM (Mid-Century-Modern) furniture in the pages of magazines and on sites like Urban Barn, Birch Lane, Anthropologie and Grandin Road (to name a few).  MCM furniture tends to feature sleek lines, rounded edges and a combination of bulk in the functional portions of the furniture, but a minimalness to legs and handles.
For my build today, I thought I'd combine a little MCM style,  farmhouse colours, and a helping of functionality in a really easy and inexpensive project;  my mid-century-modern side table.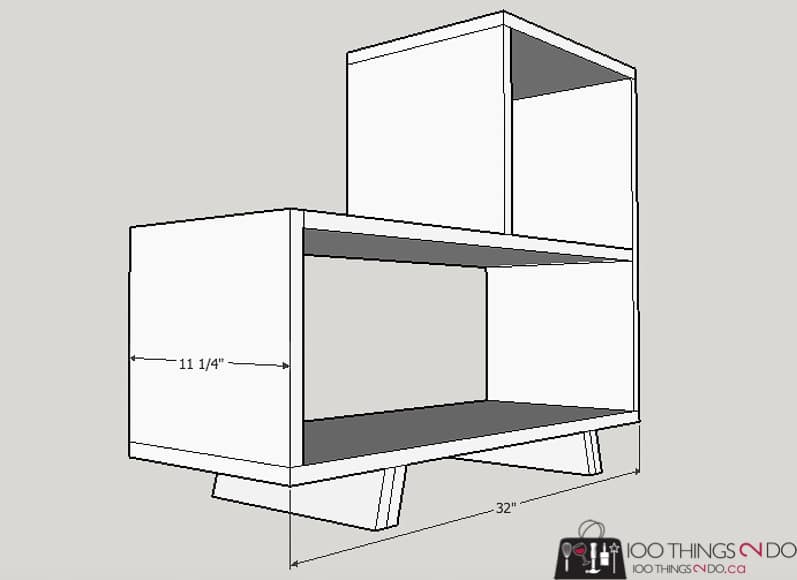 Mid-century Modern Side Table
Tools:
miter saw
pocket hole jig
square
random orbit sander
paintbrush/s
Supplies:
wood glue
1 ¼-inch pocket hole screws
drill
1 ¼-inch wood screws (optional: use a brad nailer with 1 1/4″ nails)
wood filler
stain and/or paint
Wood:
(2) 1 x 12 boards at 6 feet long.
Pro Tip: Check for knots and warping before buying and if you are unable to cut around bad sections, mark the worst side so you can "hide" blemishes on undersides/insides.
Cuts: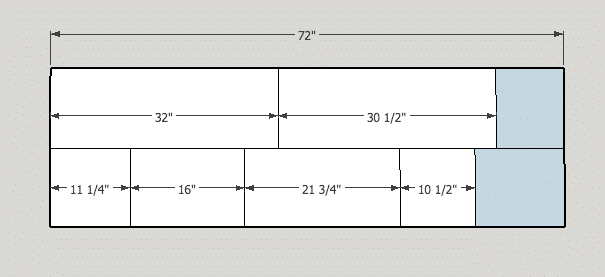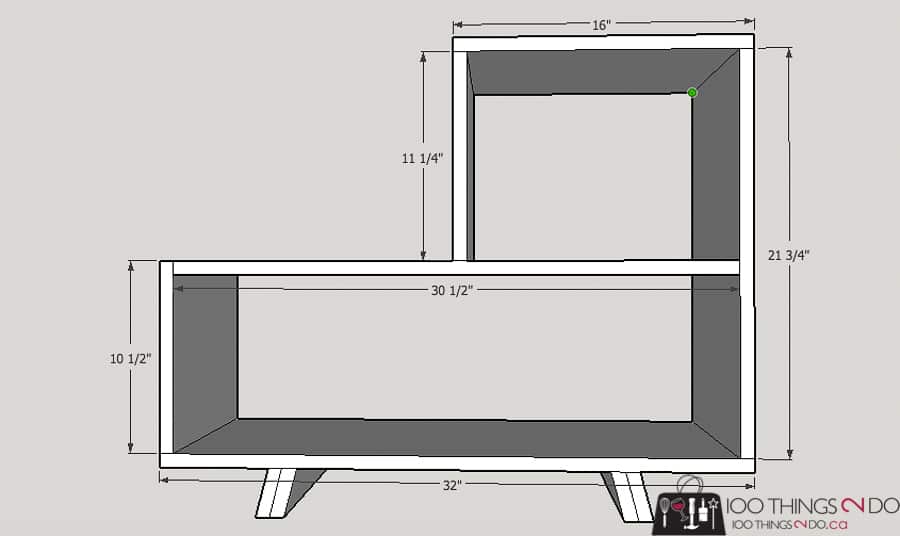 In designing my mid-century modern side table, I wanted it to be as seamless as possible, so I've laid it out to minimize the amount of screws/nails showing. To that end, I started my build by drilling 3 pocket holes in both ends of the 30 ½" board. This will be the center shelf, so the pocket holes won't be noticeable on the underside.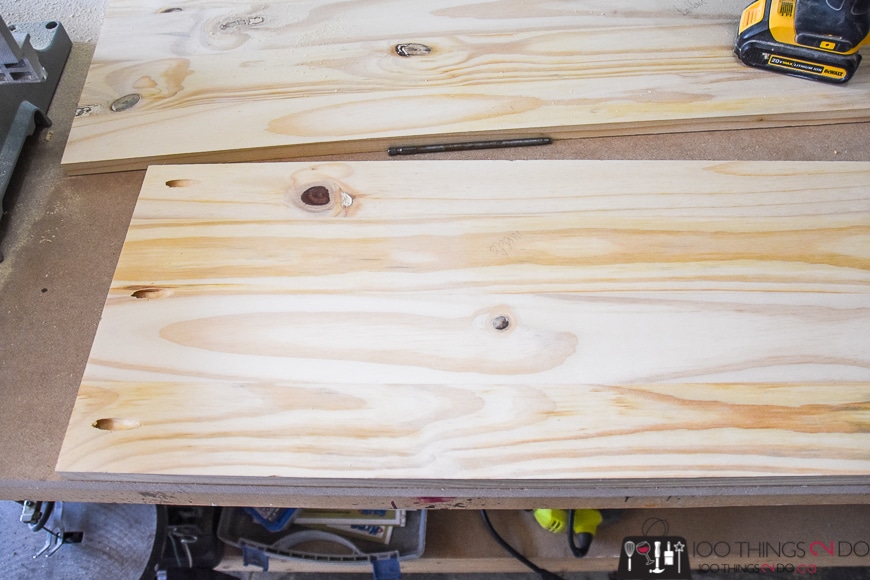 There are two side pieces in different lengths for this build; the taller side is the 21 ¾" board and the shorter side is 10 ½".  Drilling up from the bottom of the 32″ board, use 1 ¼" wood screws and wood glue to attach the sides. You can see in the photo below that my wood had some blemishes here and there – this is where pre-marking your boards will help to ensure that those 'scruffy' areas are hidden in less-obvious sections of your build.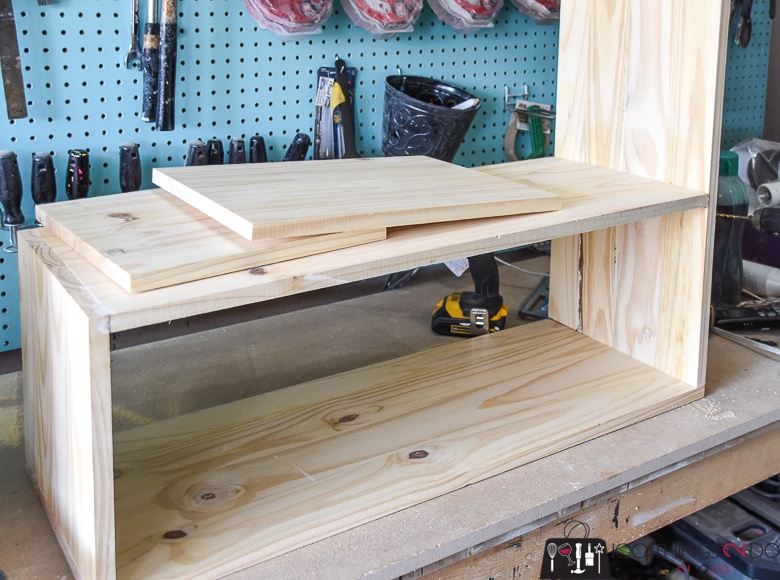 Use the pocket holes and 1 ¼" pocket hole screws to attach the 30 ½" board to the top of the 10 ½" board and up 9 ¾" on the taller side. Check for square before drilling in place.
Now you can attach the center divide section (11 ¼" board). I used wood glue and 1 ¼" wood screws and drilled up from the underside of the centre shelf 14 ½" in from your tall sideboard.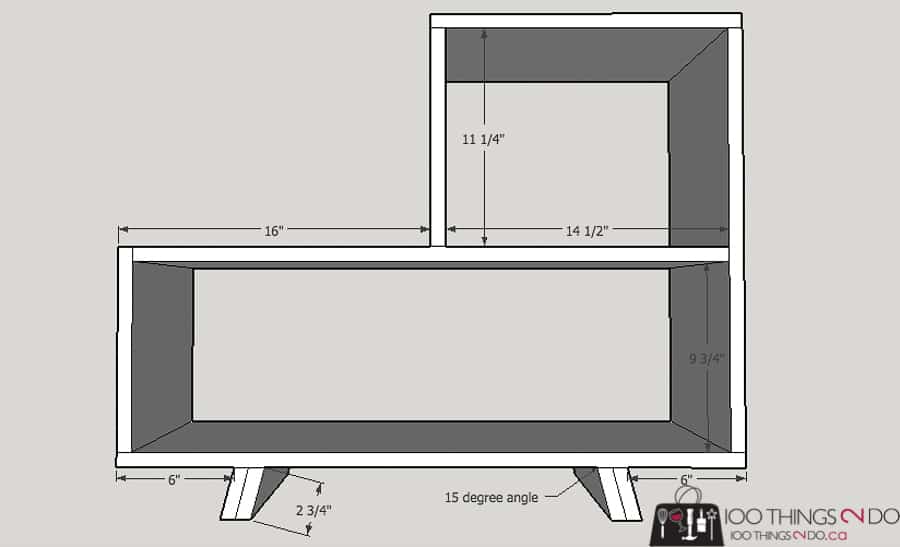 Use wood glue and finishing nails to attach the top, 16″ board.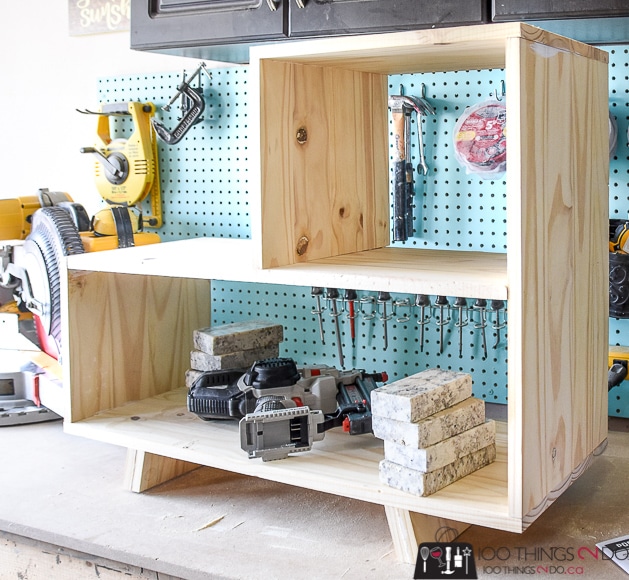 The shelf sections of this mid-century modern bookshelf are tall enough to hold average sized books, blankets and/or throw pillows (or one of those giant ashtrays that were so popular the first time this furniture style was on-trend lol)
The bottom section of your build will be dependent on the height of the chair/bed you want to put your mcm table next to.
For my purposes, I wanted an overall height for my mid-century-modern side table of 26″. This meant that I needed legs that were approximately 2¾" tall.  I cut 4 pieces of 1″ x 12″ to 3 ½" long. I glued two pieces together, reinforced with finishing nails and then clamped them until dry. (do this twice)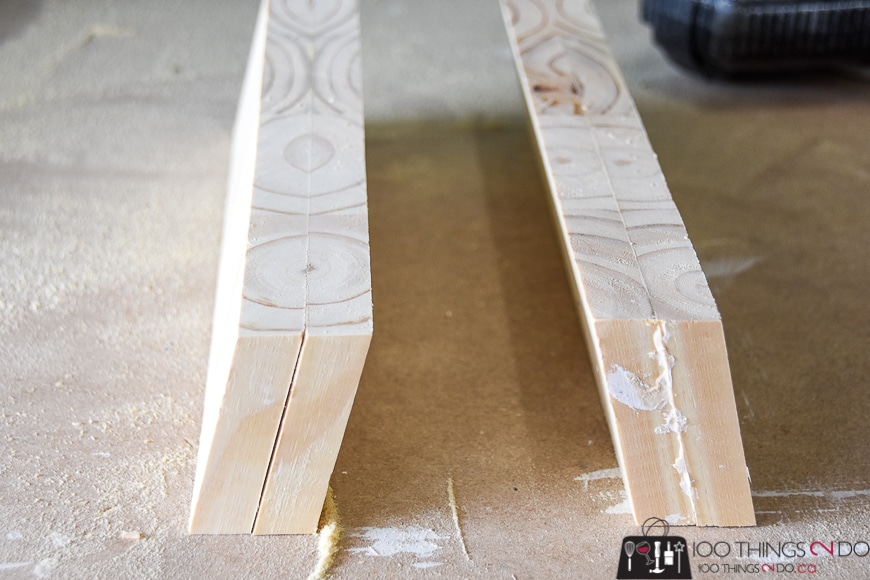 Once the leg sections are dry, cut the ends at a 15° angle on your mitre saw. Measure down 2 ¾" and cut a parallel 15° on the other end.
Attach the legs to the bottom of the baseboard 6″ in from either end. Use wood glue and finishing nails (or screws if you prefer) to hold firmly in place.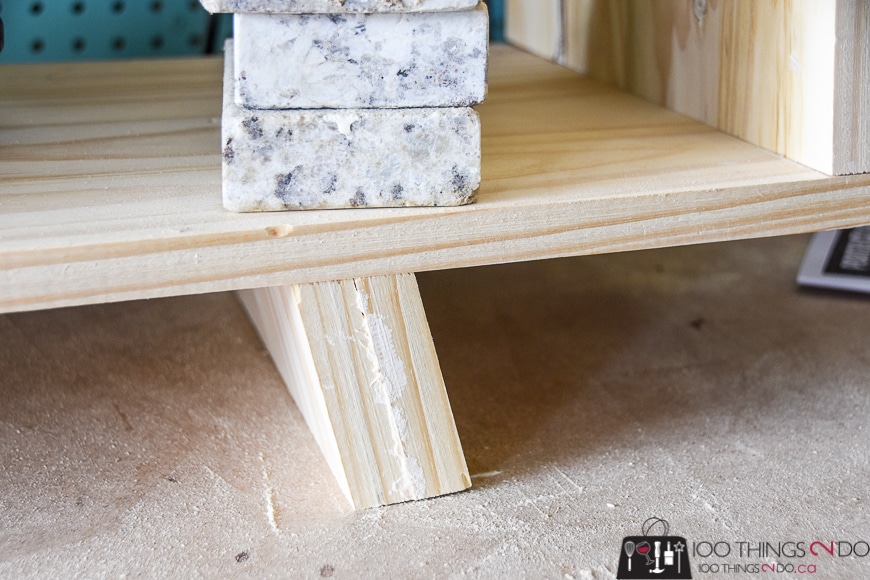 To keep as much of my mid-century-modern side table seamless and screwhead/ nailhead free, I filled in gaps with wood filler.
This is especially important if you are painting your piece. When you stain wood you expect to see seams here and there as the grain of the wood fluctuates from one board to the next, but on a painted piece, your seams should be as invisible as possible to have a smooth, consistent surface.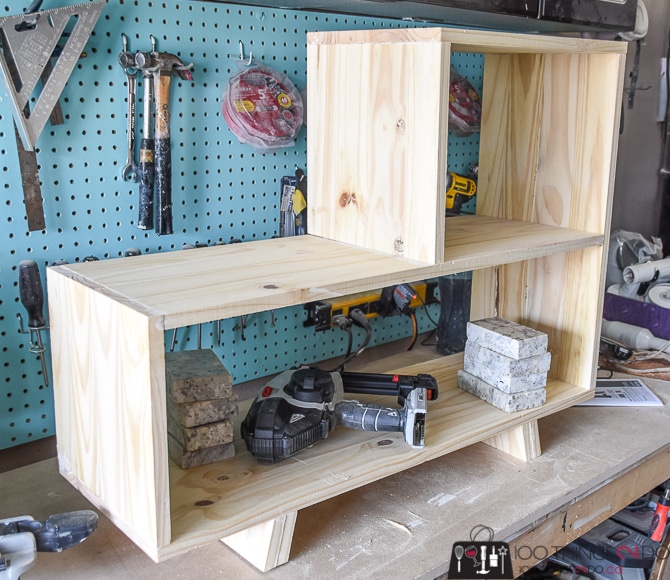 Sand everything smooth with 120-grit, then 220-grit sandpaper and you are ready to finish!
I went with a fruitwood stain for the insides of the shelving sections and then an antique white on the outside.  I thought this gave it both a 'farmhouse' feel and was still in theme with the mid-century modern style and color combinations. My white paint – in latex – was watered down slightly to give it sort of a white-washed look – although I didn't wipe any off as is typical when applying a white-wash finish. I topped the entire piece with a coating of clear poly to protect the surfaces from scuffs, scratches and watermarks.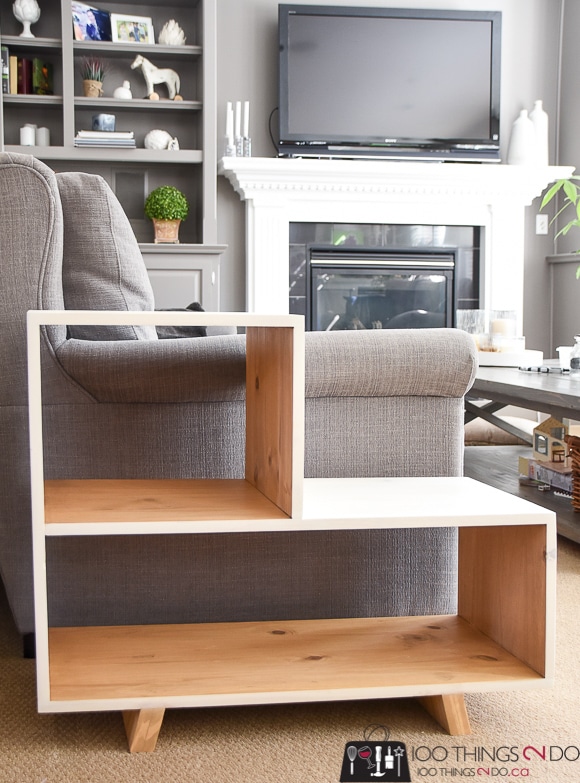 Look at all of that storage! It's actually 30 ½" by 11 ¼" of storage space on the bottom and middle shelf and then another 16″ x 11 ¼" of storage space on the top – if my calculations are correct, that's almost 6 ft² of storage space for books, games, magazines, blankets, pillows… in a narrow, 11 ¼" piece!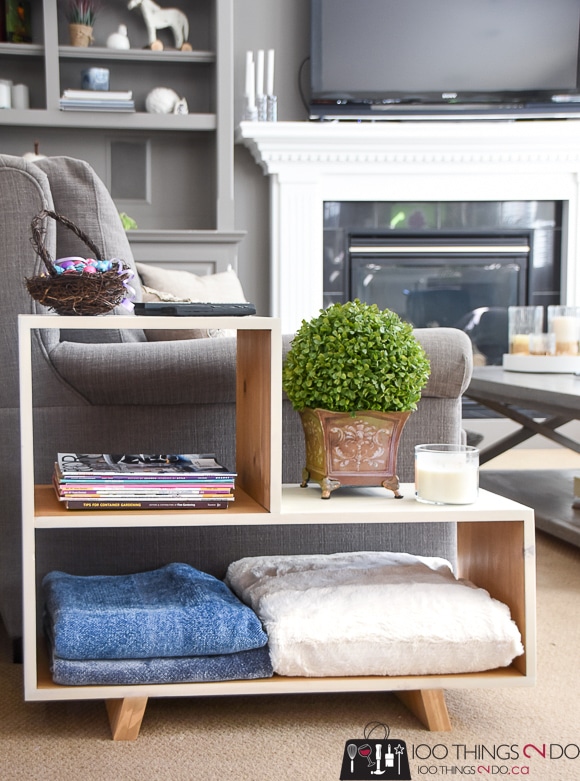 Keep blankets and magazines next to the couch and within easy reach.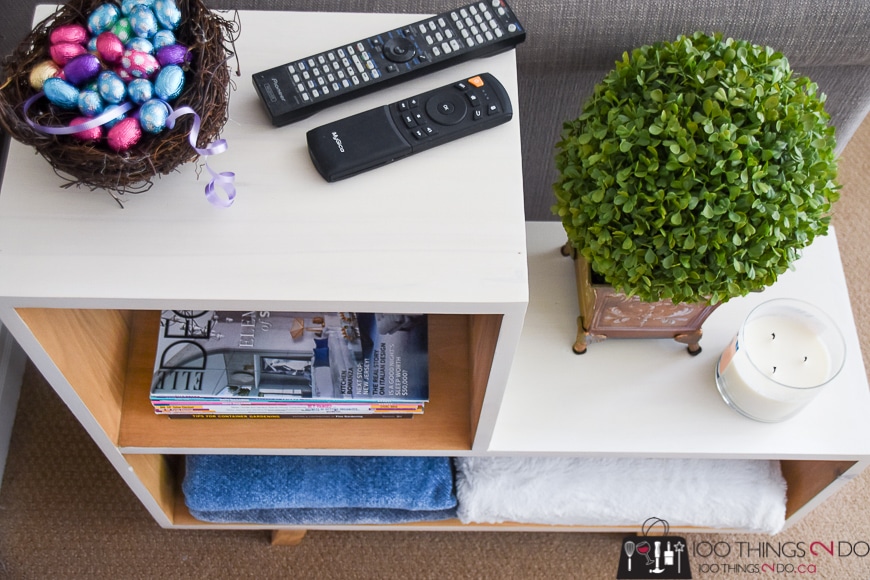 Or if you have a narrow space between chairs, this mid-century modern side table is a perfect fit to maximize your space and organization in one.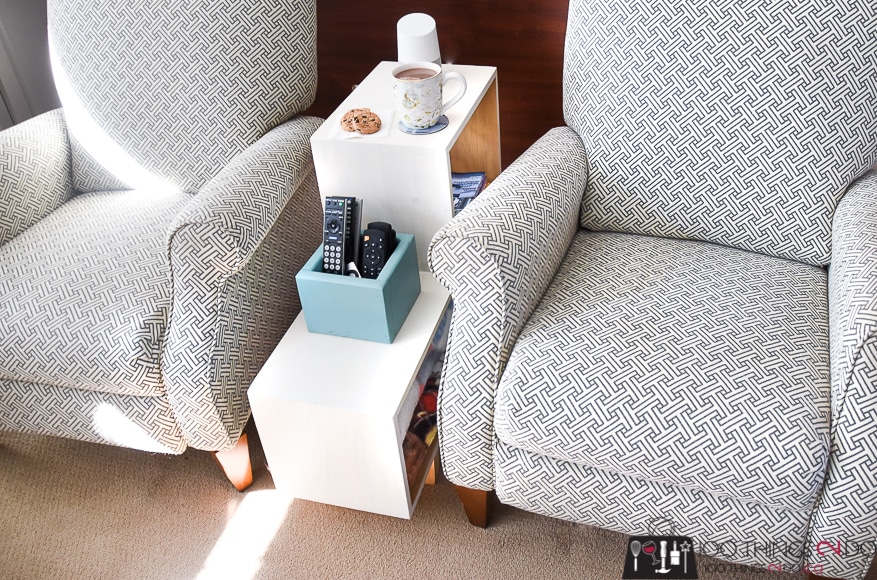 My home office is a 10′ x 10′ room that triples as a craft room and a reading nook as well, so real estate is at a premium – this build can be used as a side table and as a small bookshelf in one!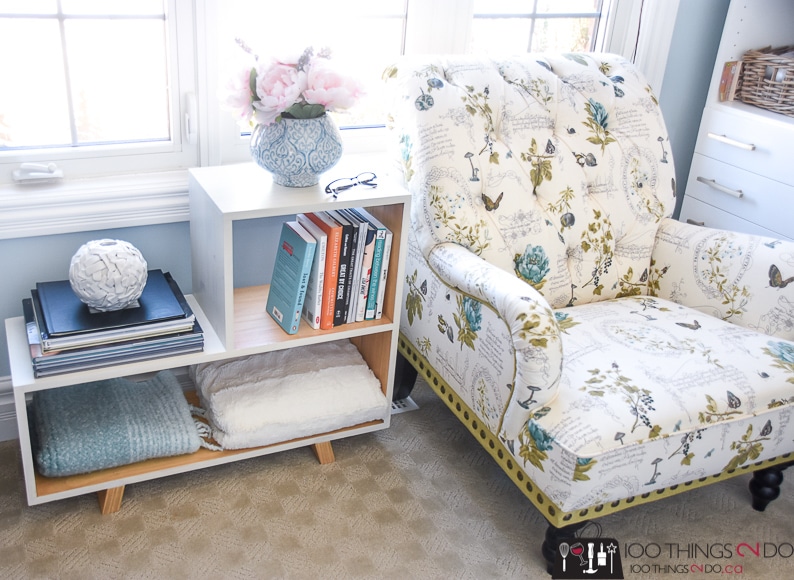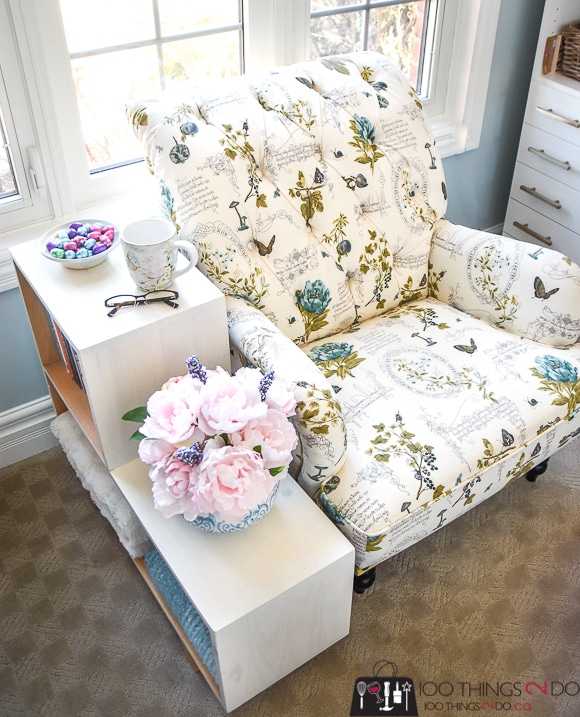 The legs are a bit short, but you could also use this as a wine rack or bar.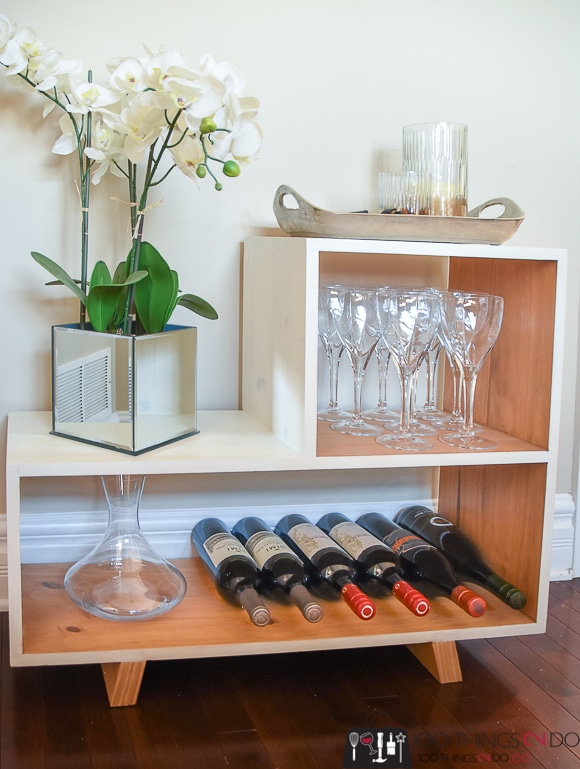 This mid-century modern side table would be fantastic in a child's room as a bookshelf with a few stuffed toys on the side or use it as a nightstand next to the bed.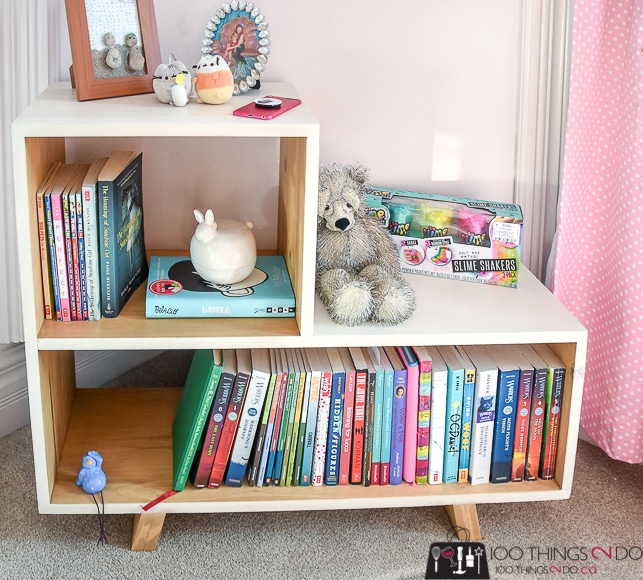 Pair it with Jen's round marble side table or tuck it in your dining room with Jen's modern box joint dining table.
Two pieces of wood – which ring in at about $25 –  a bit of your time, and you have an on-trend piece of furniture that takes up a small footprint, but has a whack-load of style and function! Doesn't get much better than that!
Thanks for having me Jen and Jen-fans, have a great one!