We just wrapped up our primary bathroom remodel and I shared how I organize my bathroom vanity drawers on Instagram. Today, I'm sharing what it looks like in the cabinet under the sink. I needed a place to store and organize my hair tools and products, so I designed and built this DIY hair tools organizer and now my "under-the-sink situation" is nice and tidy!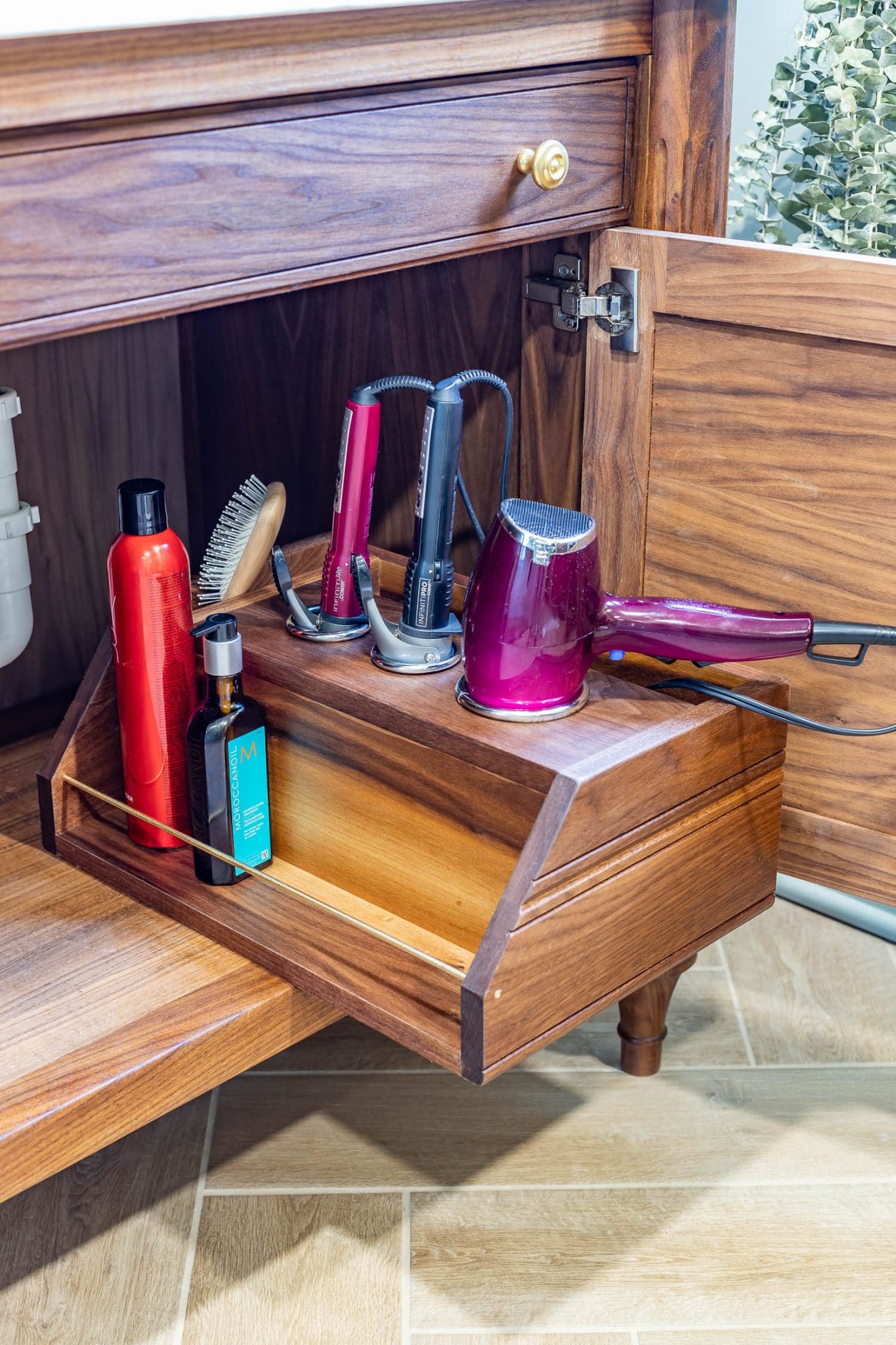 I'm thrilled to be teaming up with Arrow Fastener again this year. If you recall, we partnered on several projects last year: a raised planter box with trellis (in which we grew a ton of tomatoes last season!), a stair runner (to help our aging dog), a white oak cookbook stand (these made great gifts!), and a Parisian-inspired wall molding in our guest bedroom (so fancy!). We've got a few more exciting projects coming to you this year too, so stay tuned!
How To Make A Hot Hair Tools Organizer
This hot hair tools organizer has a place to store a hairdryer, a couple of curling irons (or flat irons, if they're narrow enough), the accompanying electrical cords, hairbrushes and/or combs, and several hair products! Are you ready to make one for yourself? Read on!
Tools:
Materials:
Scrap wood
Brass rod (optional)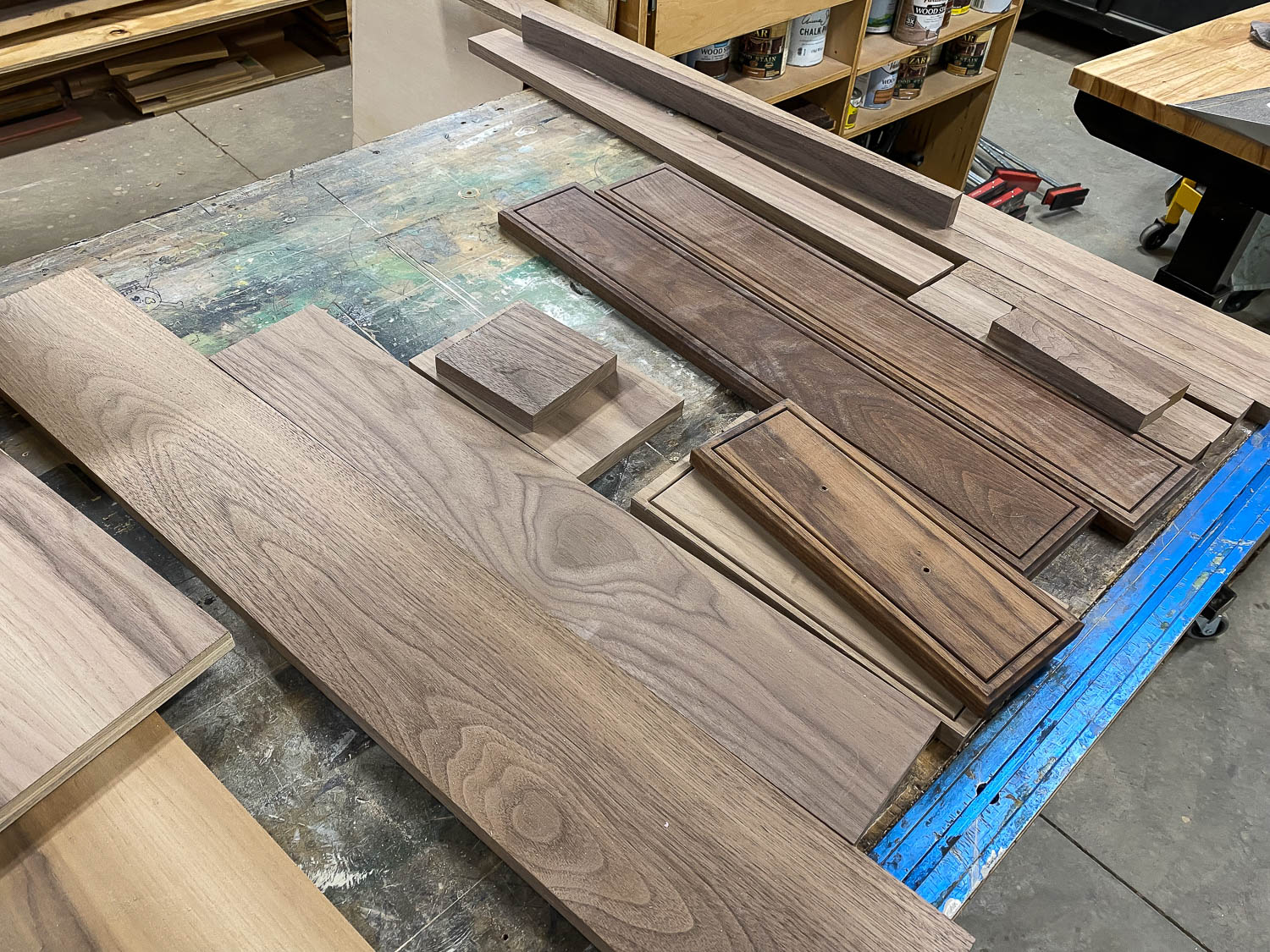 This hair tools organizer is a great scrap wood project! I was able to rummage up a few walnut pieces leftover from my DIY bathroom vanity project, but because they were a hodgepodge of various sizes, I had to glue up a few boards to create wider boards. You may not need to do this if you have enough scrap wood.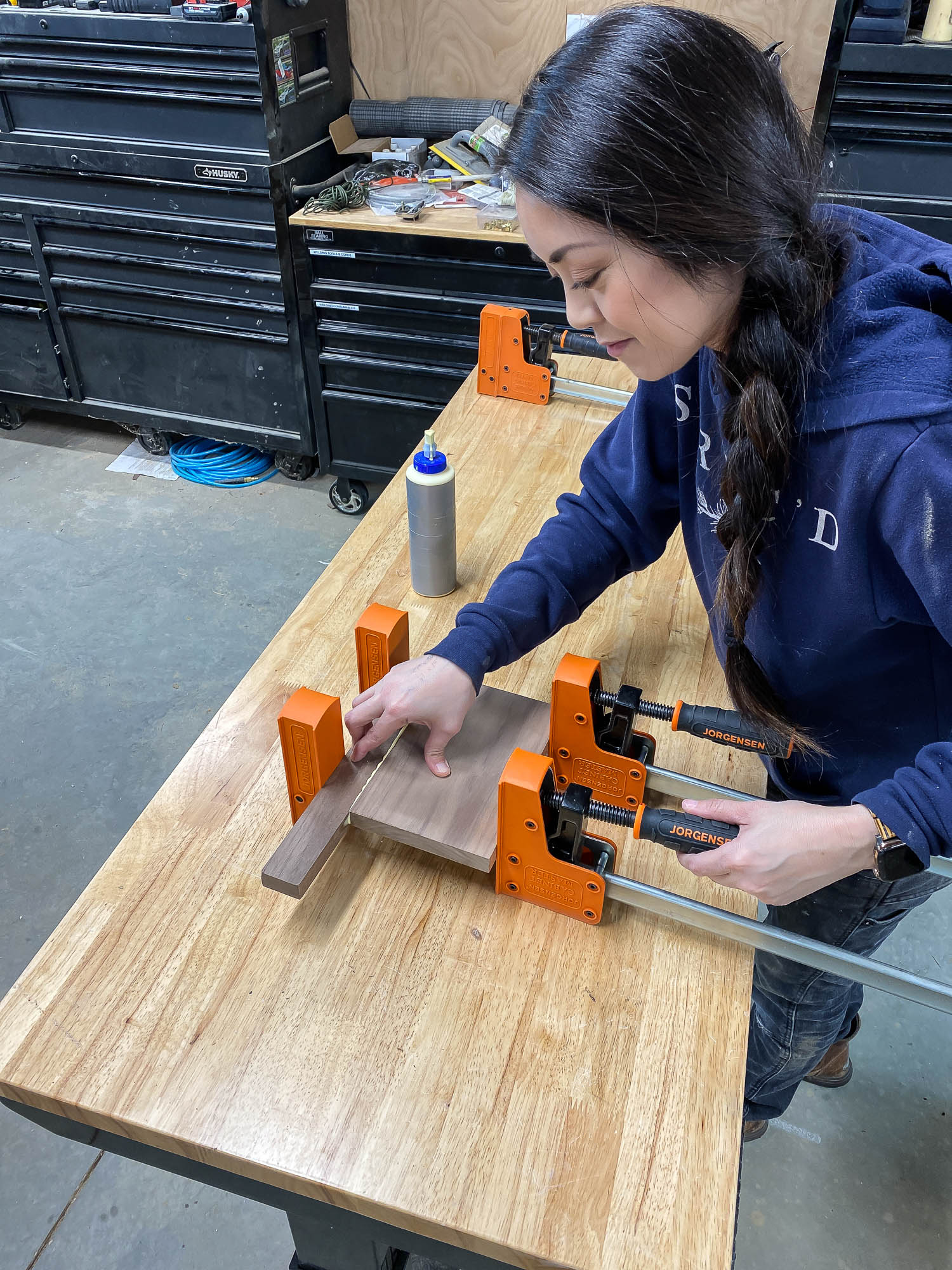 These Pony Jorgensen parallel bar clamps are my favorite – they make the glue-up so easy and precise! And I'm a big fan of these shortie clamps – they're the perfect size for cutting boards.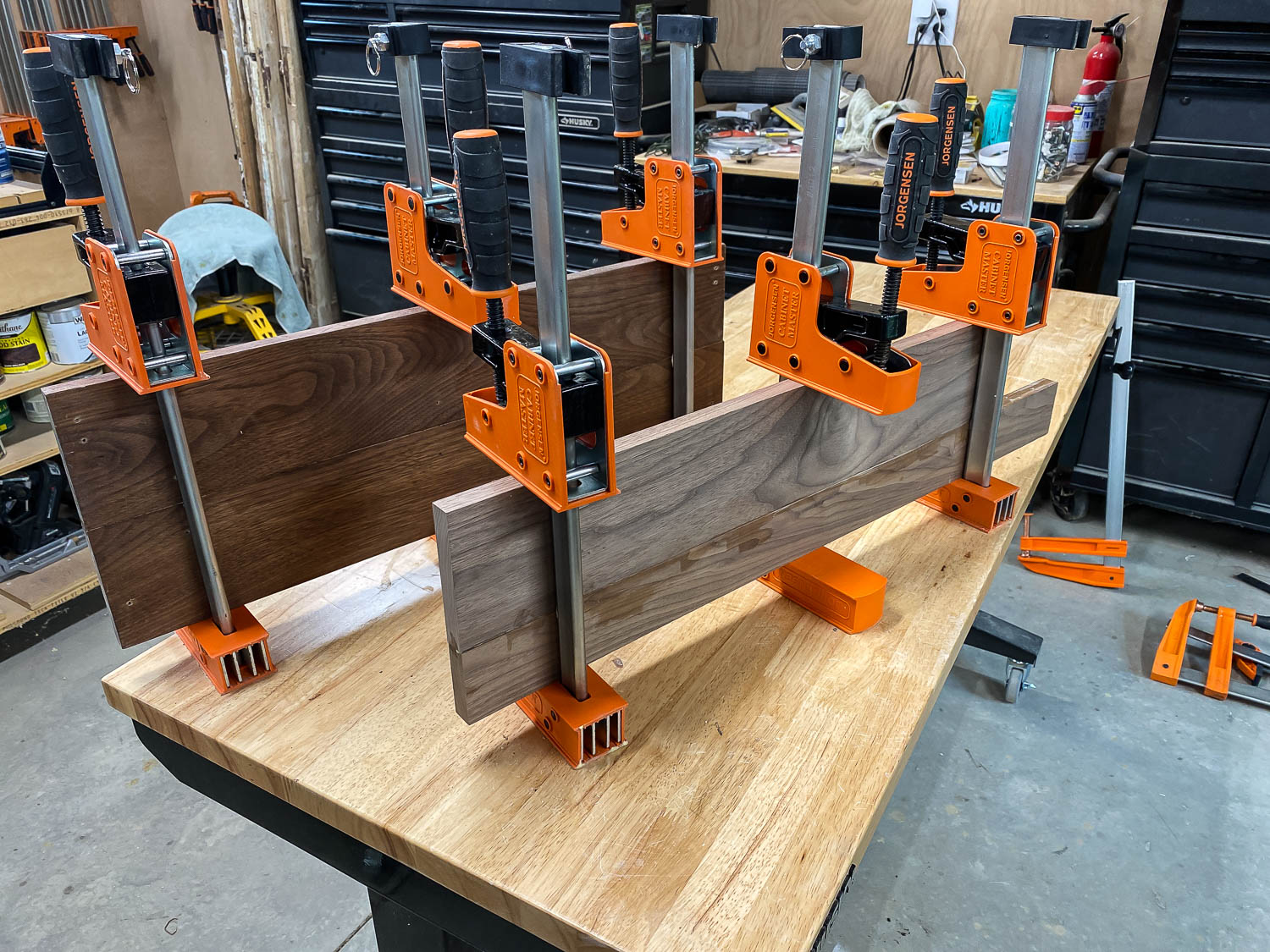 While we wait for the glue to dry, let's move onto cutting out the holes for the hairdryer and curling irons. I found these chrome salon holders online and bought a 3-inch dryer holder and two 2-inch curling iron holders. I traced the outlines, drilled a starter hole, and used a jigsaw to make the cuts. *Pro tip: put a scrolling blade on your jigsaw – it'll help you make tighter turns and more precise cuts!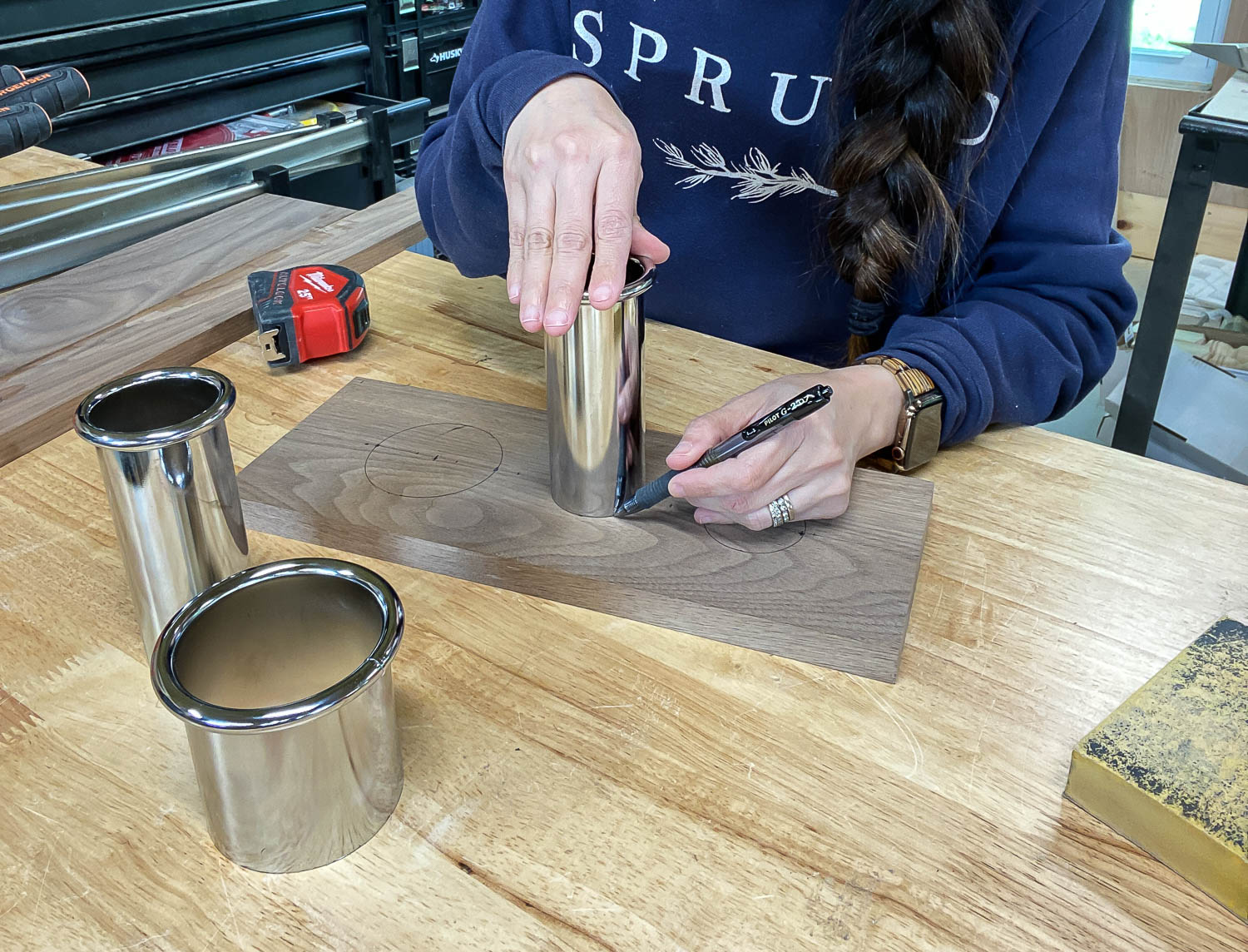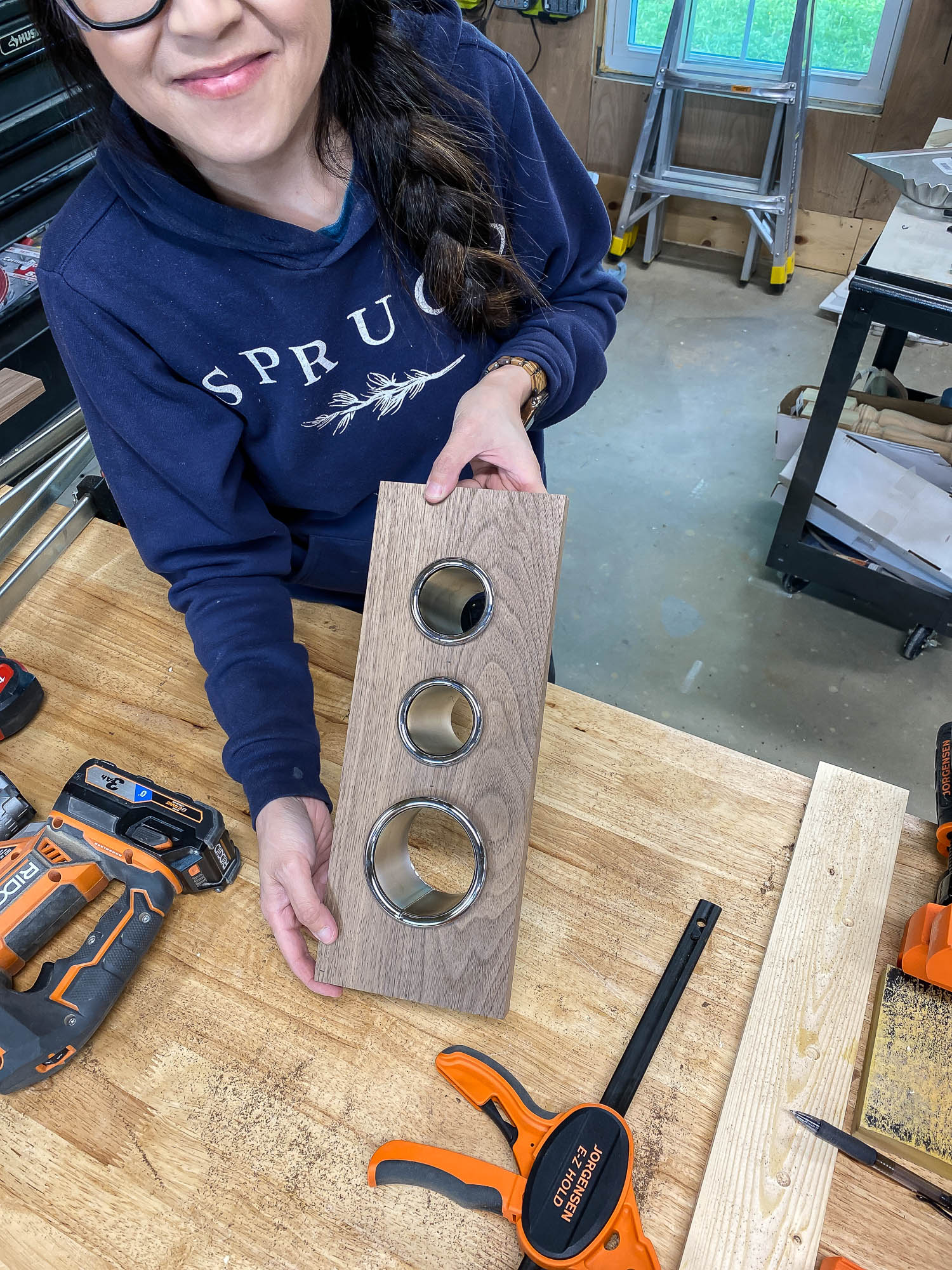 Sadly, I didn't have enough solid wood walnut scraps to make the hair tools organizer, so I had to supplement with a couple of walnut plywood scraps. To hide the raw edges and make the plywood look like solid wood, I used an iron-on walnut edge banding. The heat from the iron activates the adhesive on the veneer and once cooled down, you can trim the excess with this tool. A pair of scissors or a razor blade works well too.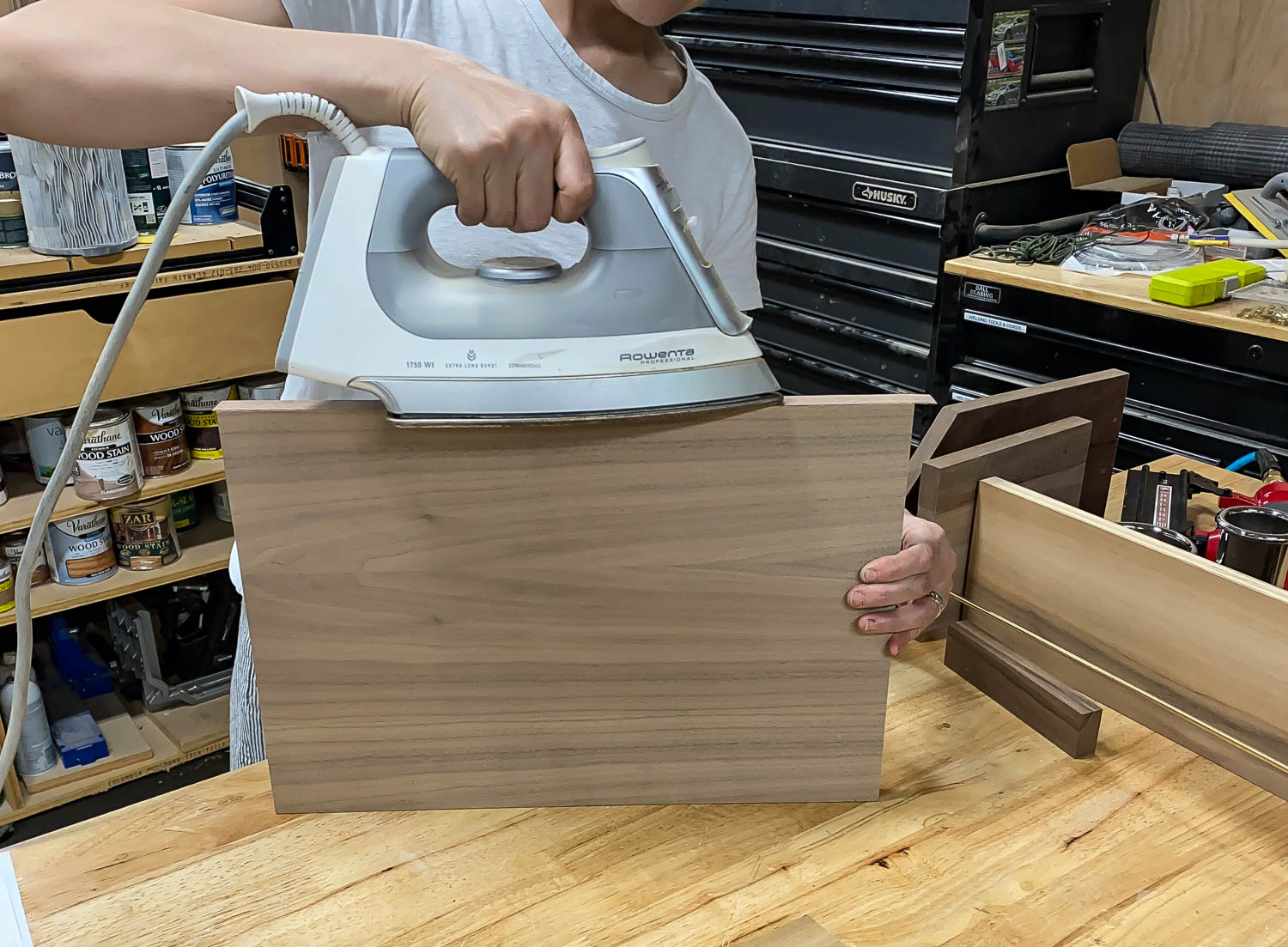 Now that the prep work is done, it's time for assembly, which should go pretty fast! According to the PDF plans, I cut out all the parts of the hair tools organizer. The plans will have a complete cut list as well as 3D diagrams of each step. I applied wood glue and used my Arrow brad nailer to nail the parts together, starting with the two sides. Arrow Fastener products are must-have items for every pro, maker, and DIYer. They have a full line of manual, electric, and battery-powered staple guns, rivet tools, glue guns, and nail guns. This nail gun is perfect for smaller projects like this one. It's lightweight and easy to handle.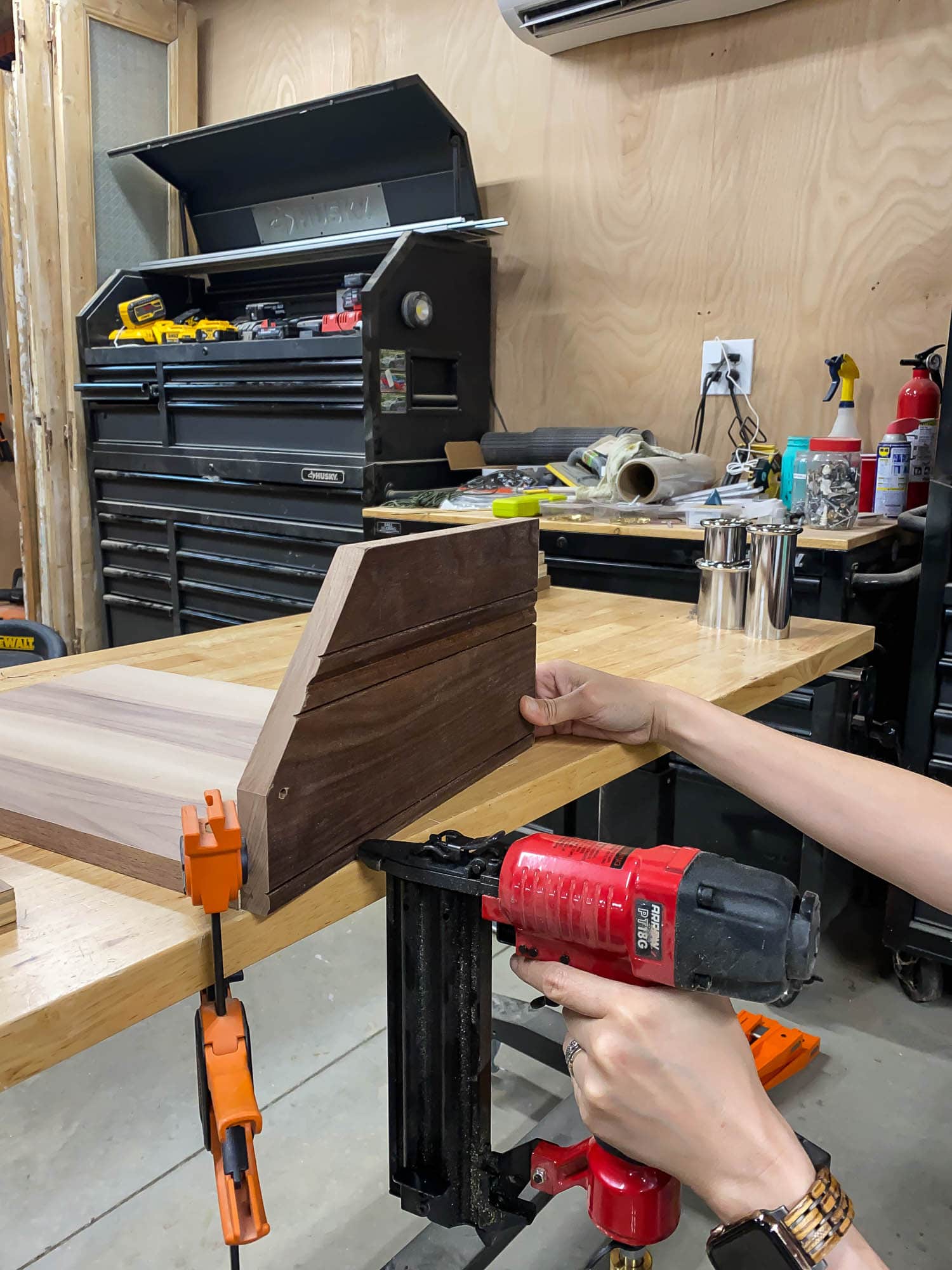 Next, I moved onto nailing the interior components together. Once constructed, I attached the interior parts to the hair tools organizer with more glue and nails. To ensure a strong joint, I always use wood glue when I'm using nails as a fastener.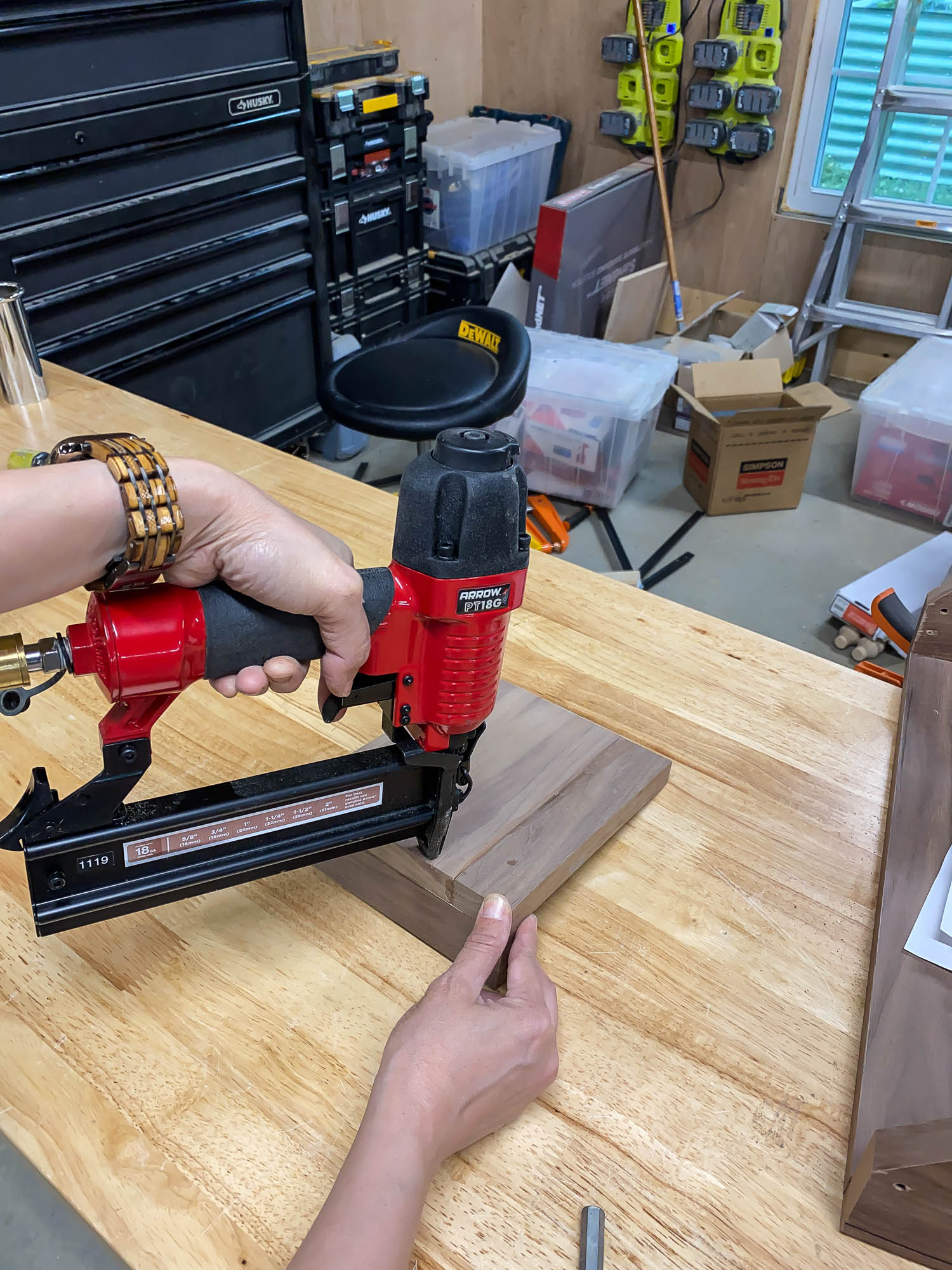 I couldn't fit the nail gun into the little cubby on the left side of the organizer, so I just glued that part together, using clamps to hold the pieces together until the glue dried. More Pony Jorgensen clamps to the rescue!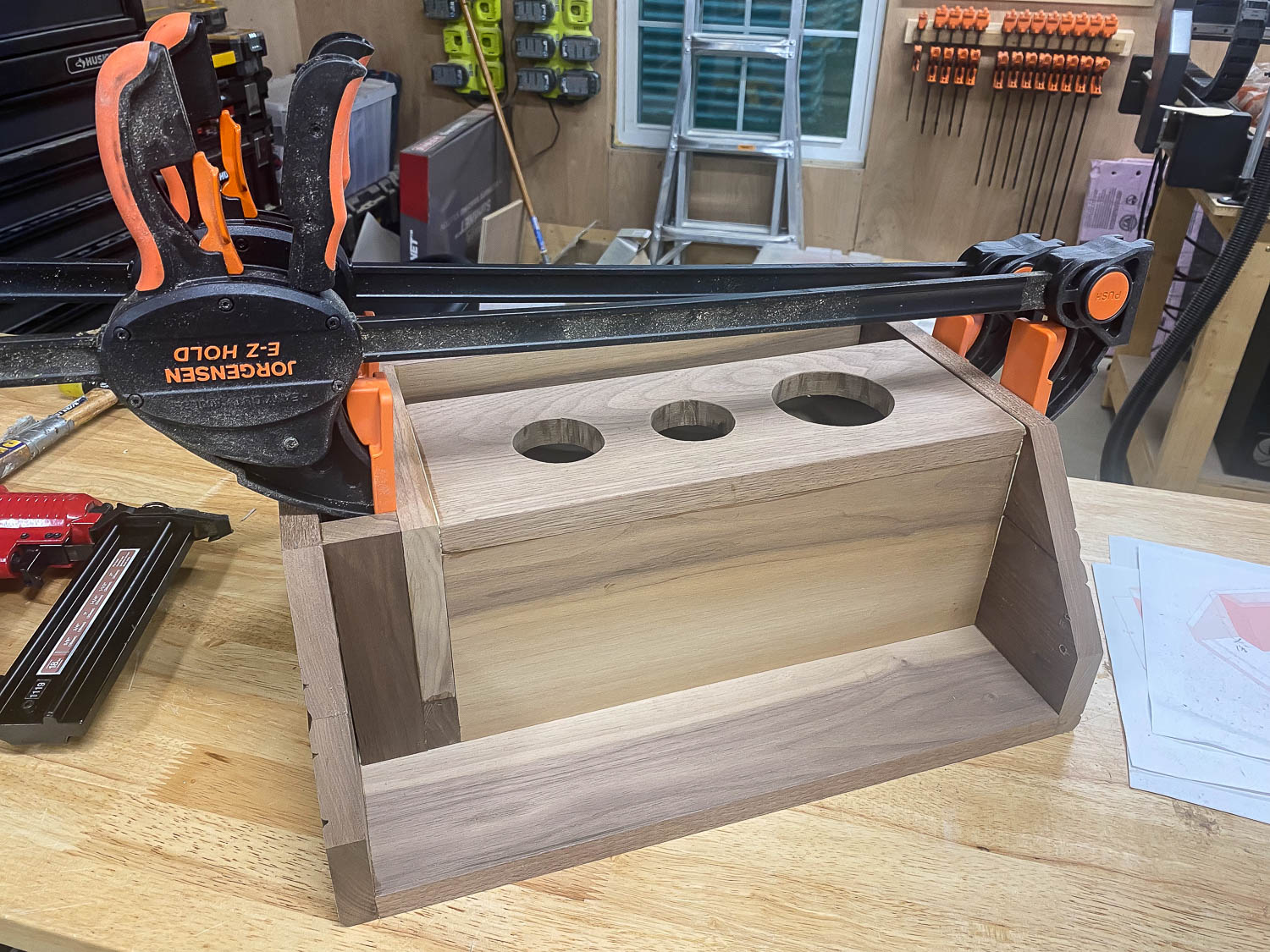 Once the glue was dry, I gave the entire thing a quick sanding and a coat of clear protective finish. I added a brass rod and dropped the chrome holders in place. The brass rod is totally optional here – I had it left over from our recent kitchen remodel, so I decided to use it to dress up the project. Now I'm wondering if I should spray paint the chrome holders gold too…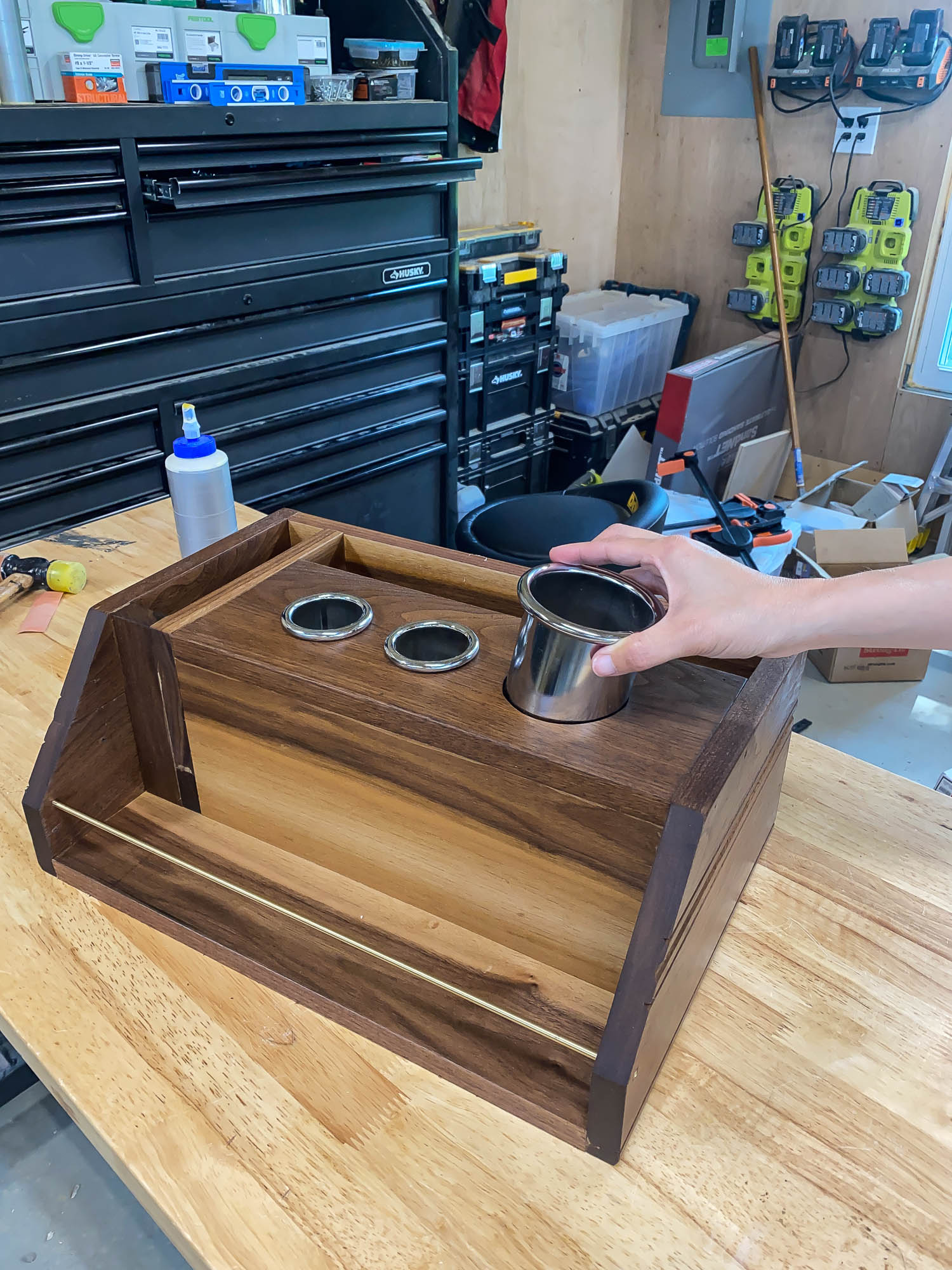 Didn't it turn out great? So functional too. There's even a place to store the electrical cords, a hairbrush or comb, as well as various hair products.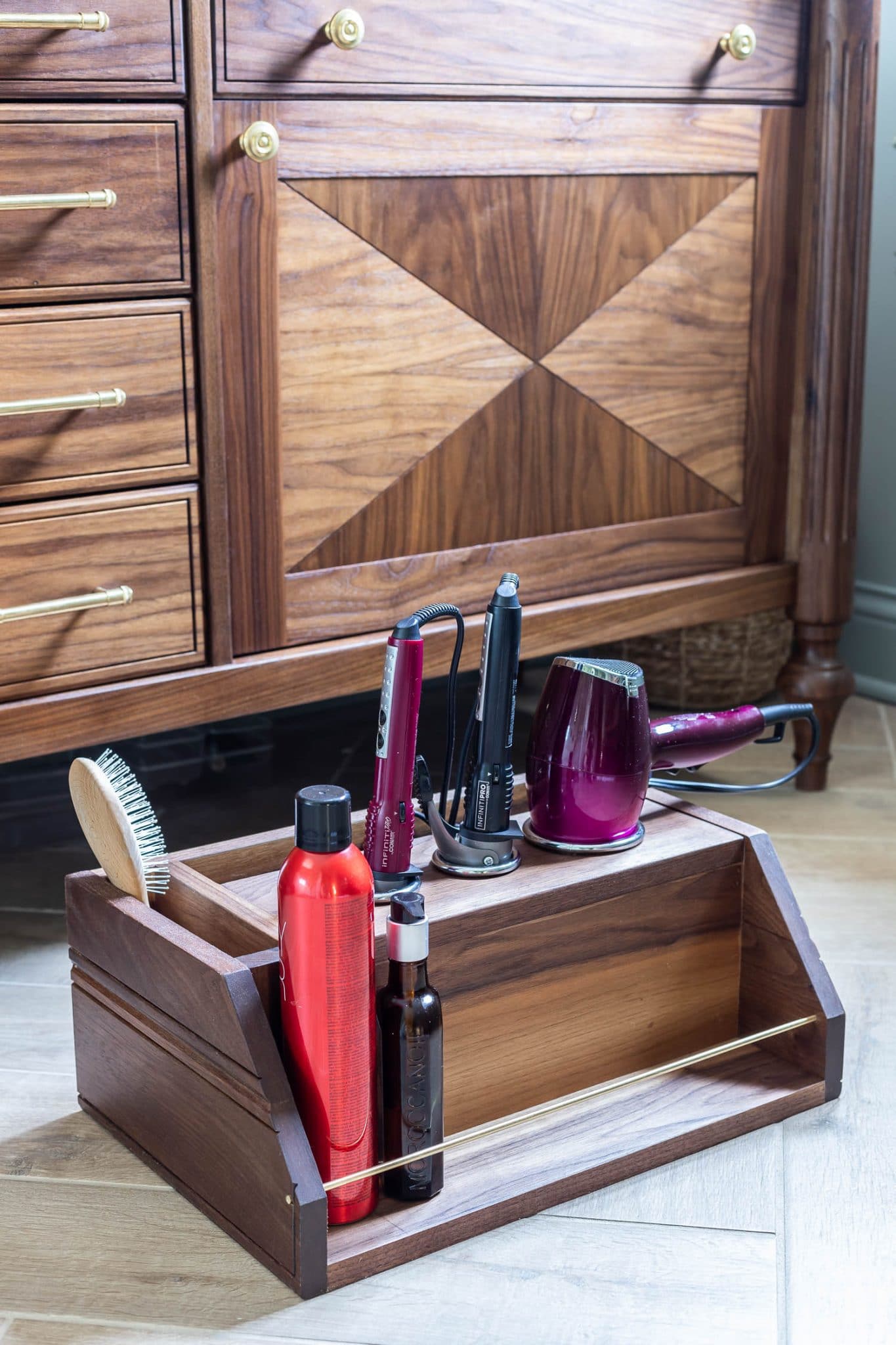 I designed this hot hair tools organizer so that it fits nicely under the sink in my DIY bathroom vanity cabinet. I may add a couple of metal drawer slides underneath so I can pull the whole thing out for easier access. For now, it's does a great job organizing my hot hair tools and other hair necessities. A place for everything and everything in its place!
If you'd like to build this hot hair tools organizer for yourself, be sure to download the plans and tag me (@jenwoodhouse) on social media so I can see your handiwork!