Hey Flower Friends! I'm Carrie Bishop, from River Rose Flower Company. I thought it would be fun to bring a modern twist to a classic holiday centerpiece. The secret to the twist is in the vase and a few "out of the box florals". Today I'm teaching you how to turn classic holiday greenery into a modern centerpiece.
How to turn classic holiday greenery into a modern centerpiece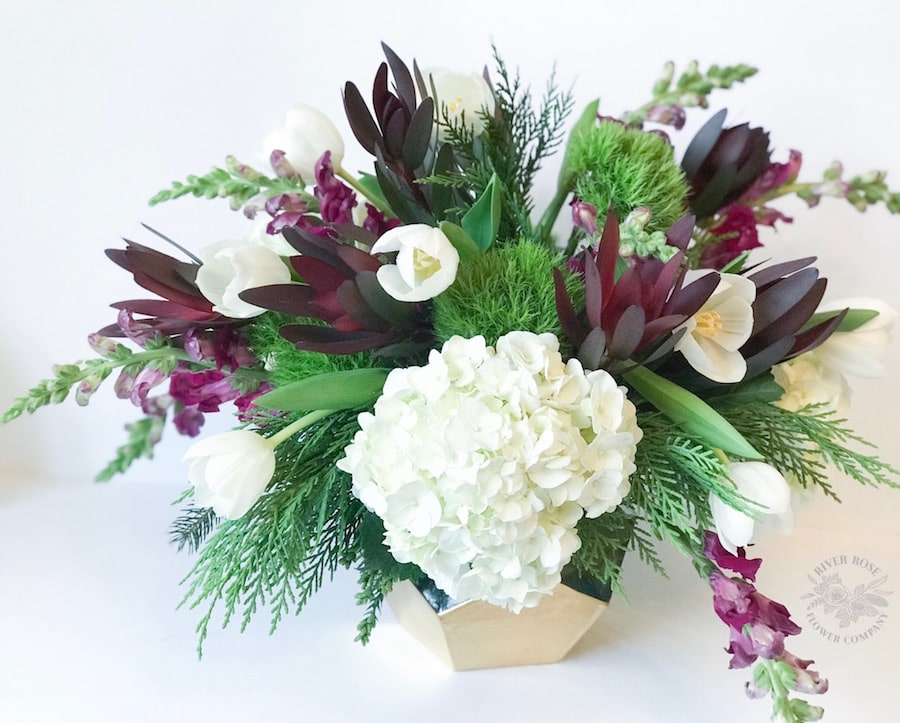 I have broken down each step of the design process, so that you can follow along. Have fun picking out a funky vase, find some fresh evergreens, buy a few "out of the box" florals such as: protea, pods, succulents, orchids, thistle, (you get the the picture) and join me for this fun holiday with a twist tutorial.
Supplies:
1 pair of floral scissors
1 medium size vase (3-5 inch opening)
3 different types of evergreens (3 stems of each)
1 bunch of burgundy snap dragons
1 bunch of protea "long-tom"
3 stems of white hydrangea
1 bunch of green dianthus balls
1 bunch of white tulips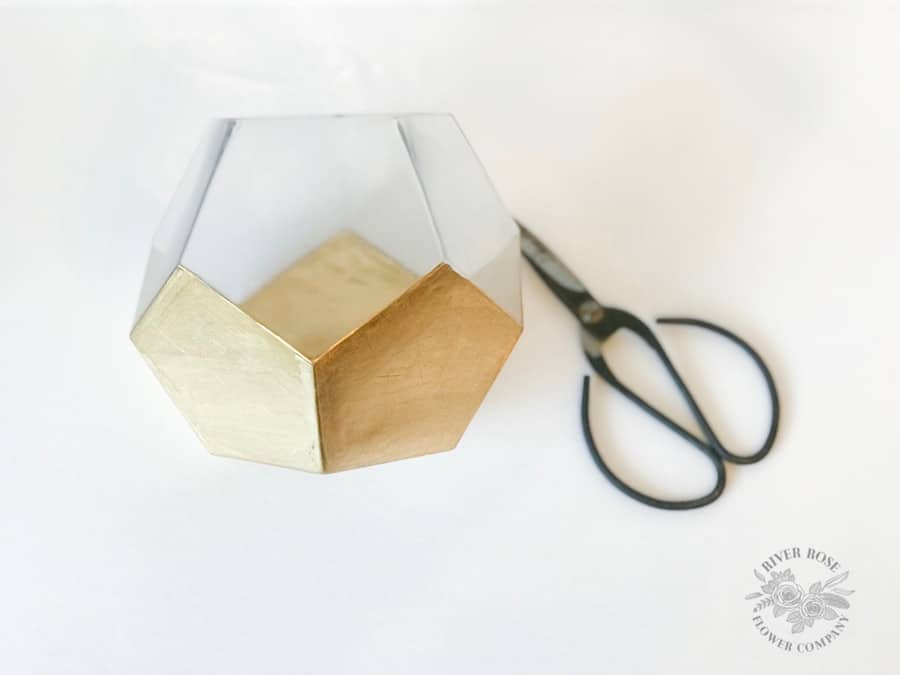 Step One: Find that funky vase and invest in a pair of floral scissors.

Step Two: If you have read any of my other posts, you will know that I like to arrange with a variety of textures. And in order to do that, I suggest "threes". Find three different types of evergreens.
Pro Tip: Make sure you clean the stems so that the water can stay clean and your flowers will stay fresher longer.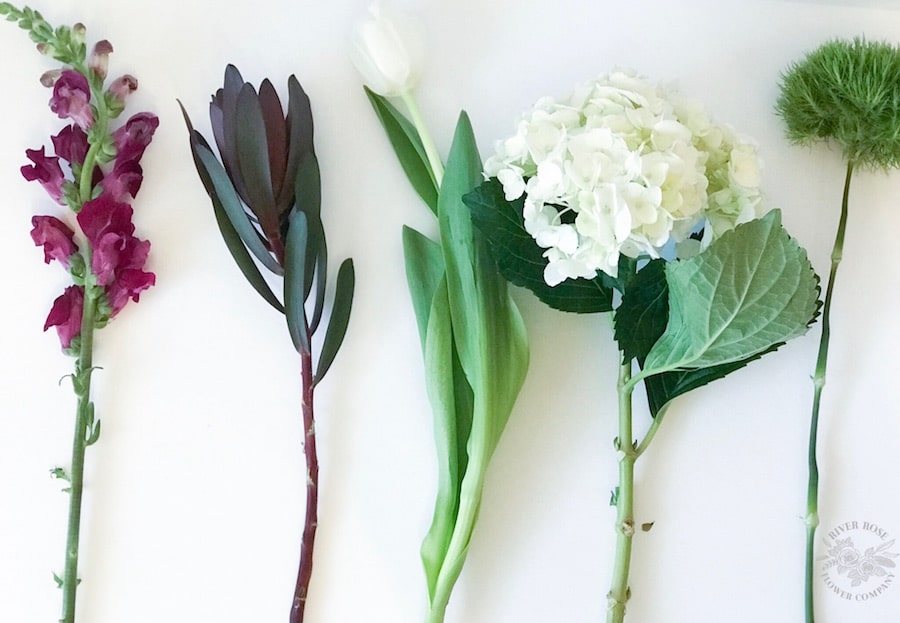 Step Three: Grab a few "out of the box florals" and a few traditional ones as well. From left to right: Snap dragon, protea "long-tom", tulip, hydrangea, and dianthus ball. I like to balance my colors. I want them to blend well with my theme. My theme for this arrangement is "winter/Christmas/holiday with a modern twist". I want my colors to be only burgundy, white, and green.  
Pro Tip: If you have something that is red, like roses, I would add something like a red berry to balance the red color out.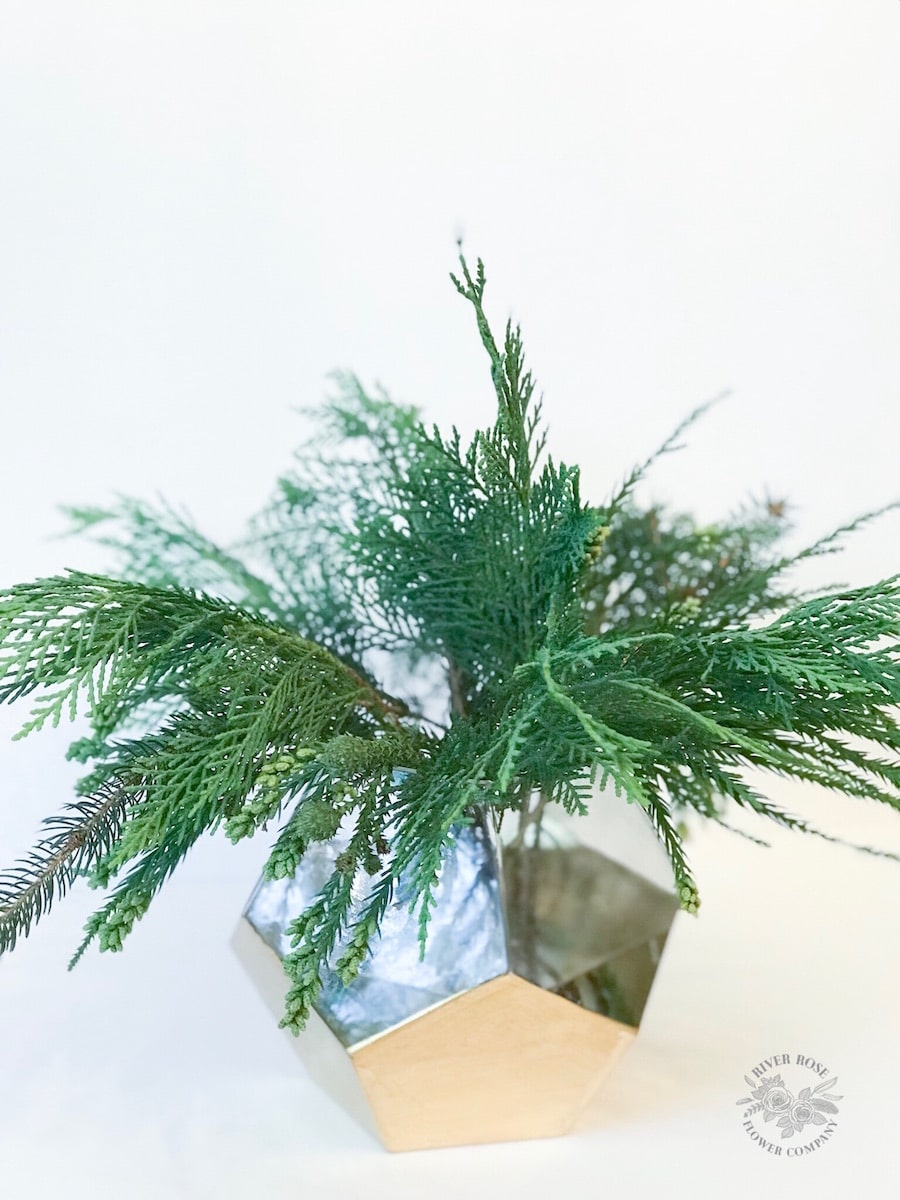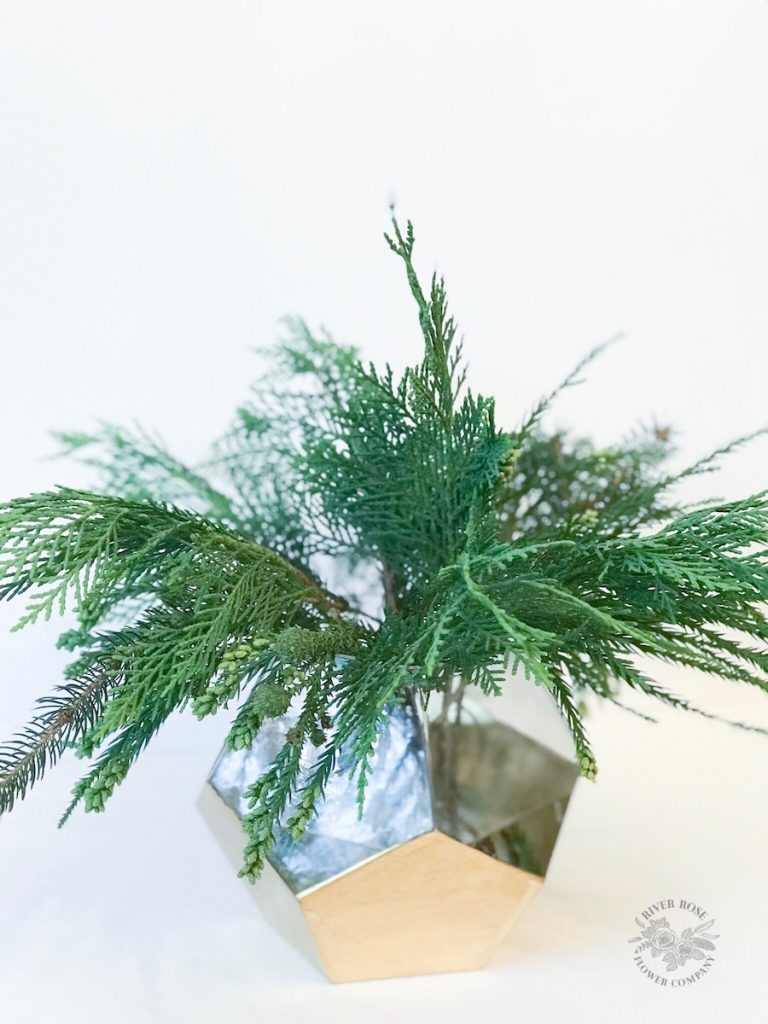 Step Four: Add your evergreens. Make sure you spread them out and that you have enough to make a good base for your flowers to hold onto. This will help your flowers keep their shape, aka, the design style.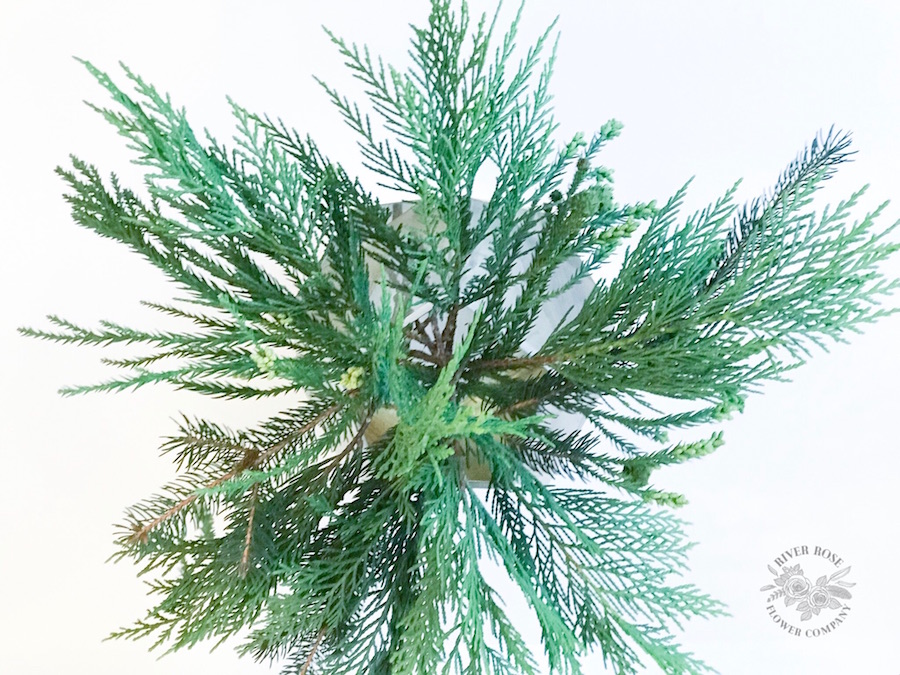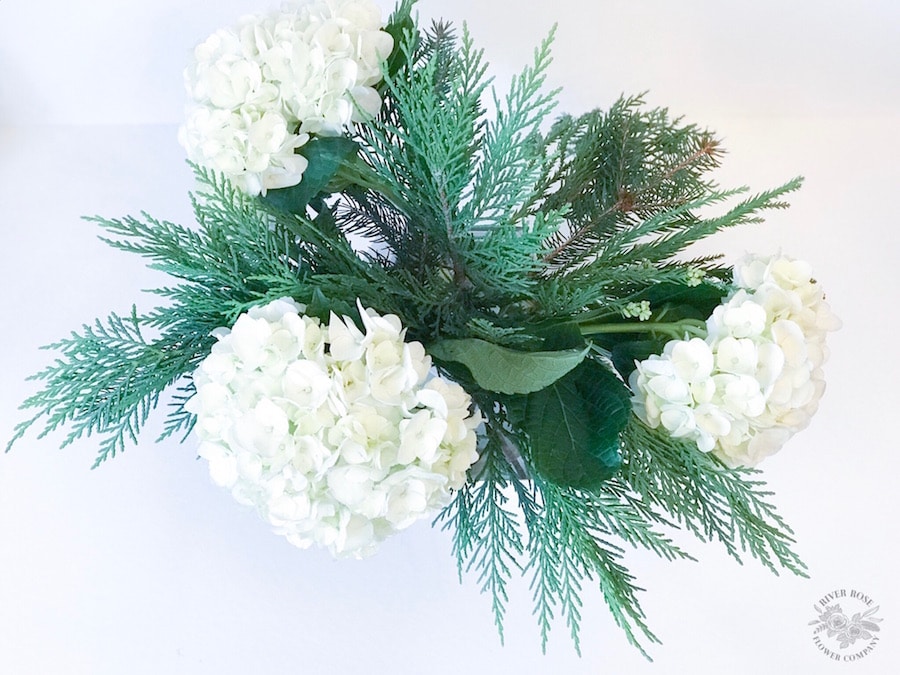 Step Five: Add your base flowers first. Base flowers are the largest flowers. They will usually have the largest stems, which is also a practical reason to add them first.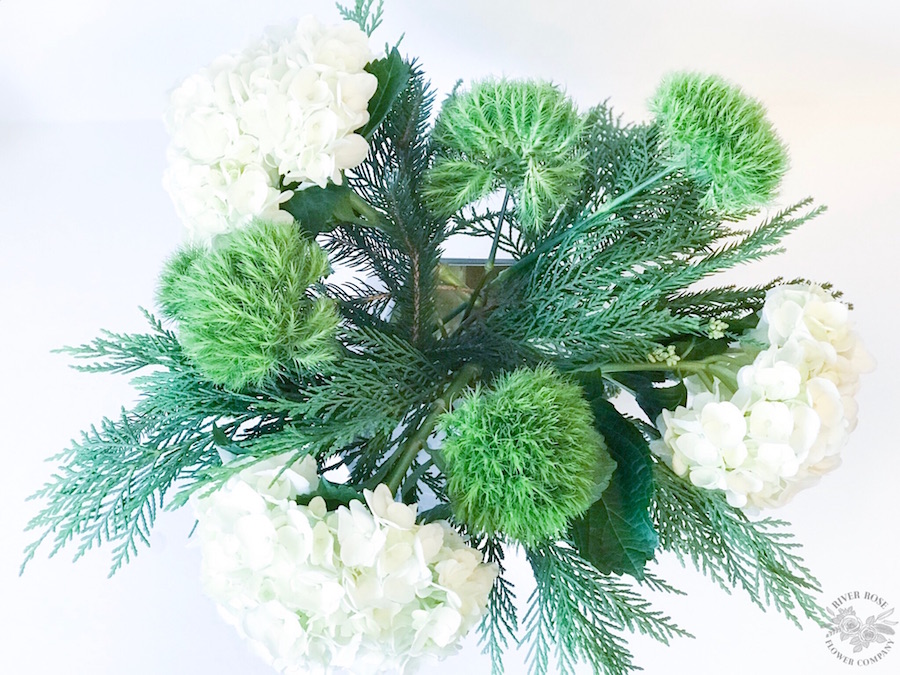 Step Six: Add any other base flowers that you have in order to have enough room for them in your centerpiece. I will typically tell people to make an invisible triangle if that helps them visualize how to space out their flowers.
Pro Tip: If you have an extra (or fourth) flower such as the green dianthus ball that is in the upper right hand corner… don't worry, you can have that toward the center when you have more flowers to support it later on in the design process even though it is not following our triangle/"rule of threes".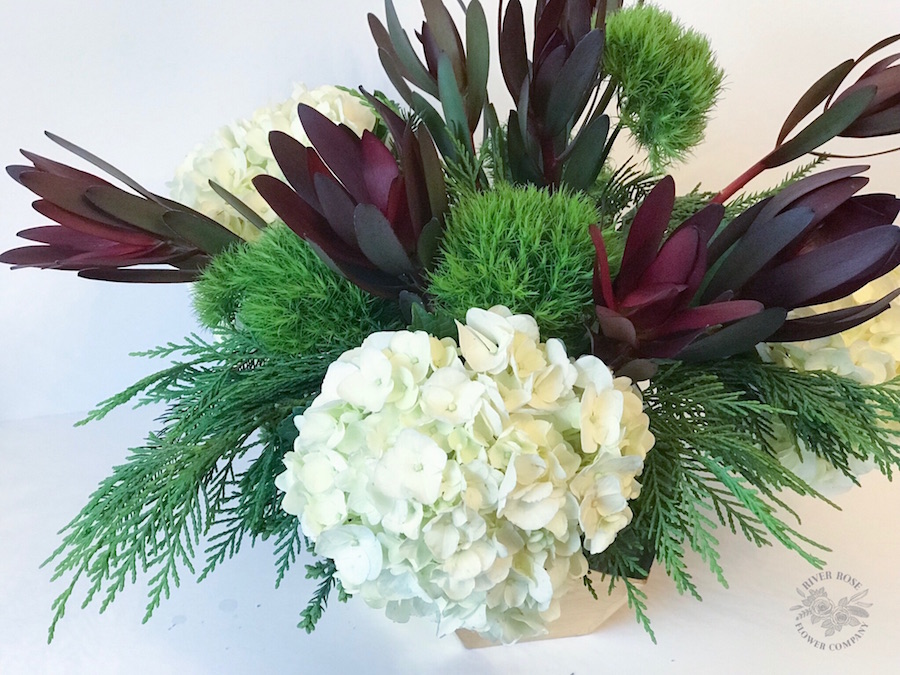 Step Seven: Add your accent flowers. Accent flowers are medium-sized flowers and they are typically the flowers that you have the most of. Make sure you spread them out in a radiant pattern or like a compass: N, S, E, W, and then put a few in the center.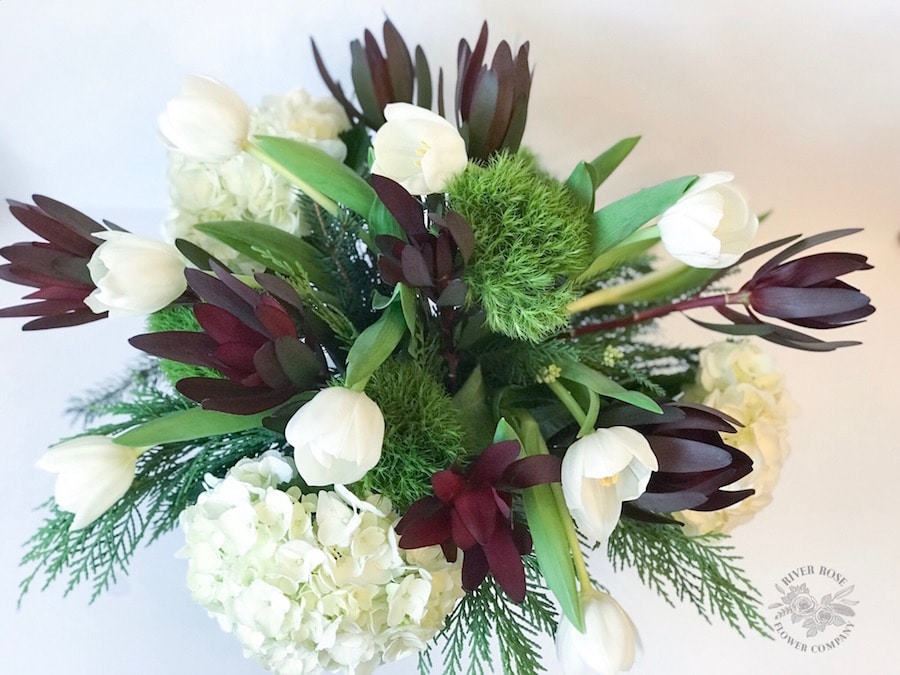 Step Eight: Add any additional accent flowers.
Pro Tip: Tulips love an ice cube a day. This will help them to stay fresh.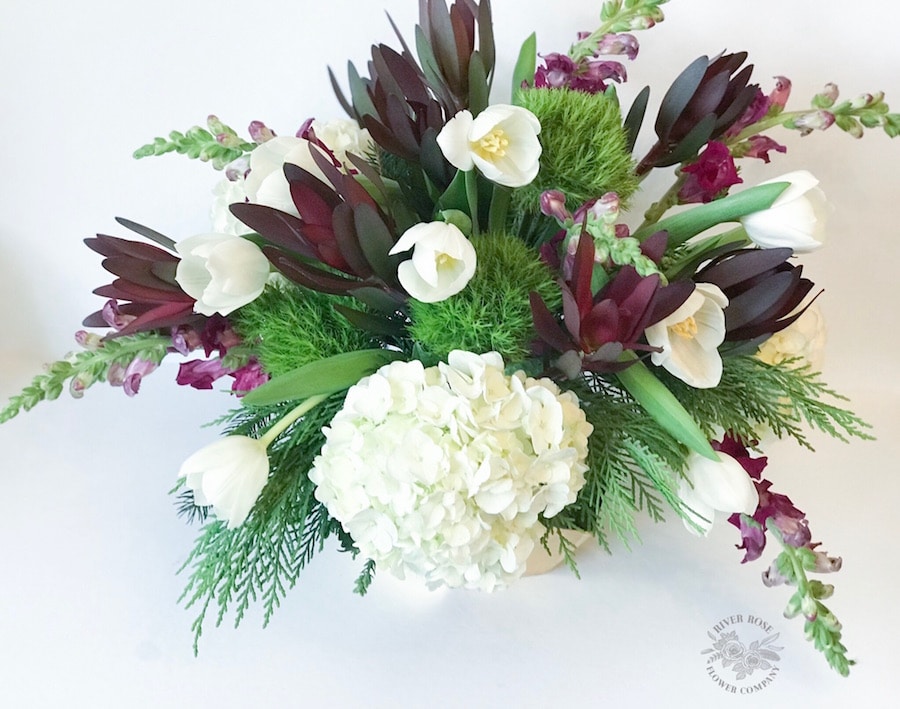 Step Nine: Add your filler flowers or flowers with micro buds. Snap dragons can also be ideal accent flowers, but in this arrangement, I added them last, like filler flowers. Filler flowers are my finishing flowers that fill in the gaps and finish my arrangement.
Pro Tip: If your flowers have shifted or you don't like the way that something looks, change it. Don't be afraid to edit your flowers at the end. Obviously, smaller edits are easier that larger ones, but I will usually shift things at the end to finish things off to complete my design.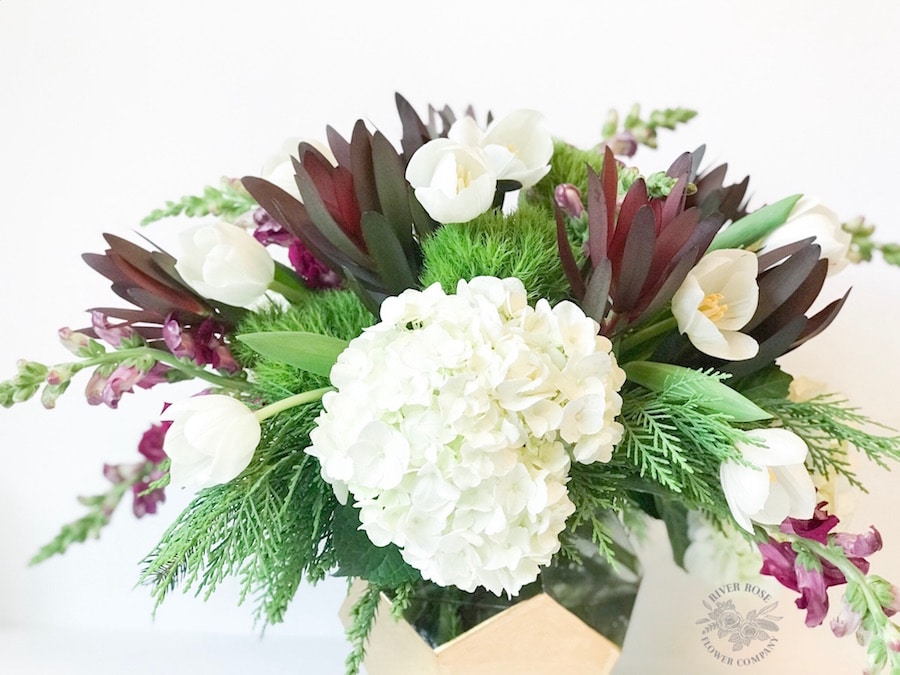 Step Ten: Enjoy! You did it!
I hope you learned a lot about flowers, floral design, and decorating for the holidays with fresh greenery. In case you missed my last arrangement, go here to see my bright burgundy and blush centerpiece — it's a twist on your typical fall arrangements.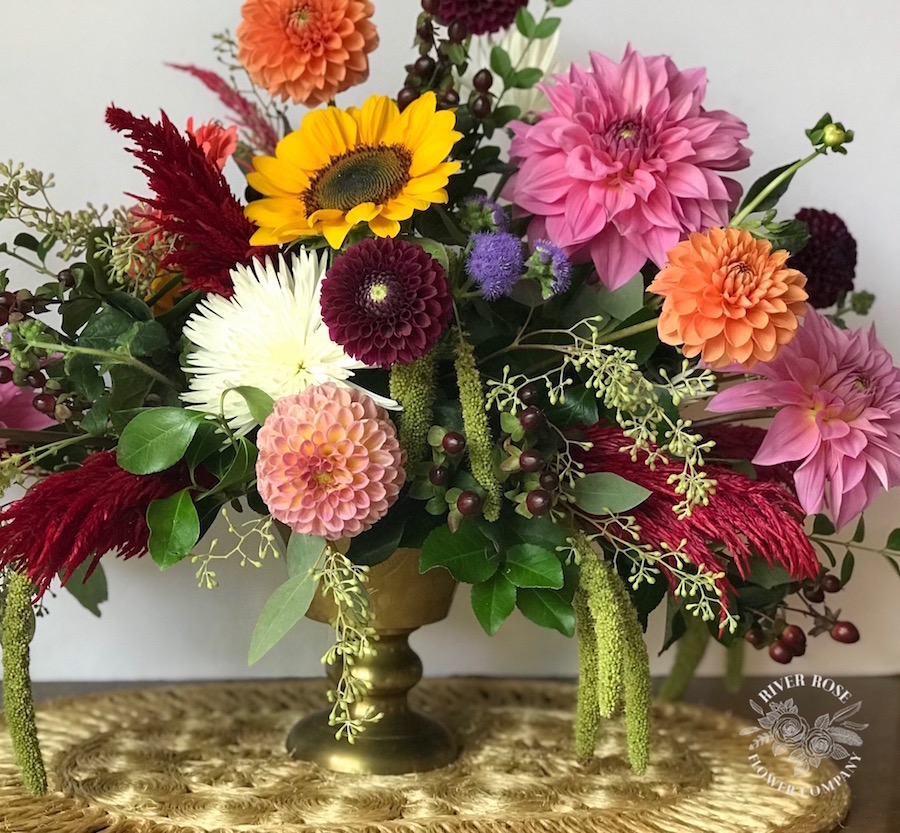 Feel free to check out some of my other seasonal arrangements as well as other DIY projects on Jen's blog here.
Happy Holidays!
-Carrie
Where to Buy Flowers
Want to DIY your own floral arrangements but don't know where to get the best flowers? I've got you covered: A Flower Market Guide to buying and arranging flowers.

Pin it for later!