Hey Flower Friends! It's Carrie Bishop from River Rose Flower Company and I have a new eclectic floral arrangement that I'd love for you to try this fall! I designed a bright, bohemian-inspired, Burgundy and Blush Fall Centerpiece that helps us transition our homes from summer to autumn. What I love most about this fall floral arrangement is the variety of colors! Yes, I've used traditional fall colors, but I've also added a bit of the unexpected with pink and purple hues.  If you saw my previous blogs for Jen, like my summer July 4 design or my $4 grocery store flower arrangement, then you know I design my flower arrangements to be very natural, garden-style and NOT predictable or matchy-matchy.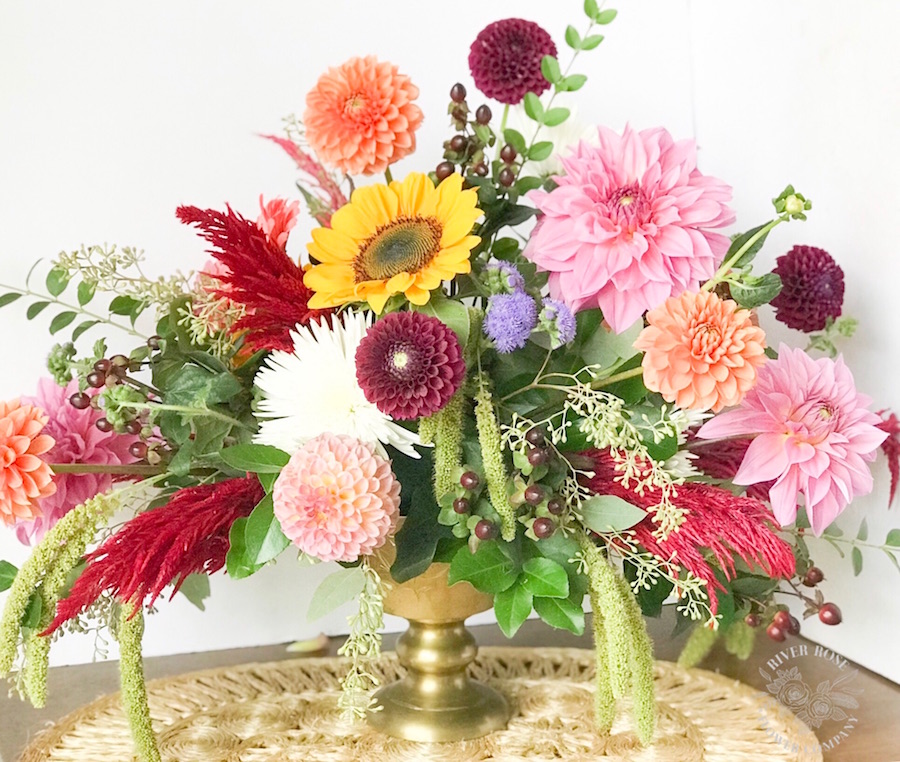 Let me show you how create a fresh fall centerpiece that looks effortless, colorful, and beautiful! Whether you are a beginner or you aren't shy around flowers, this tutorial is for everyone. Grab your flowers, supplies, some friends, a cup of pumpkin spice something, and let's get started.
How to create a Burgundy and Blush Fall Centerpiece – perfect for Fall!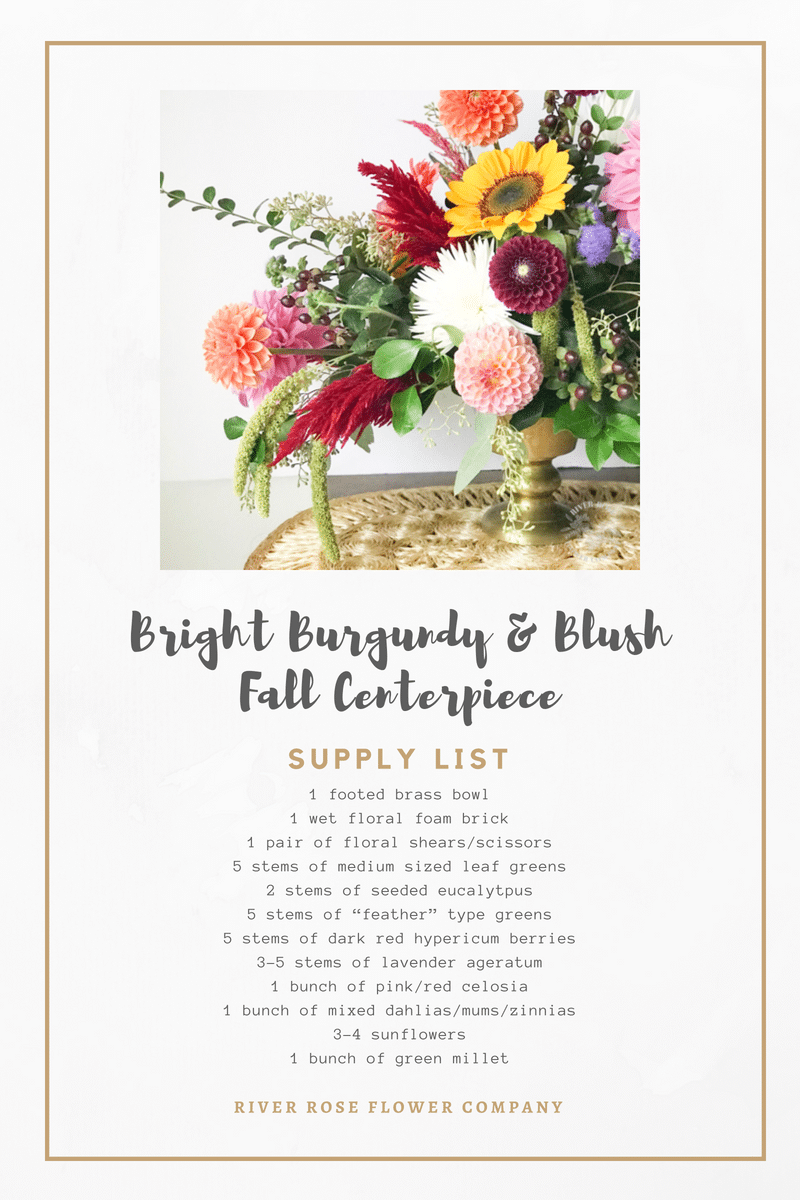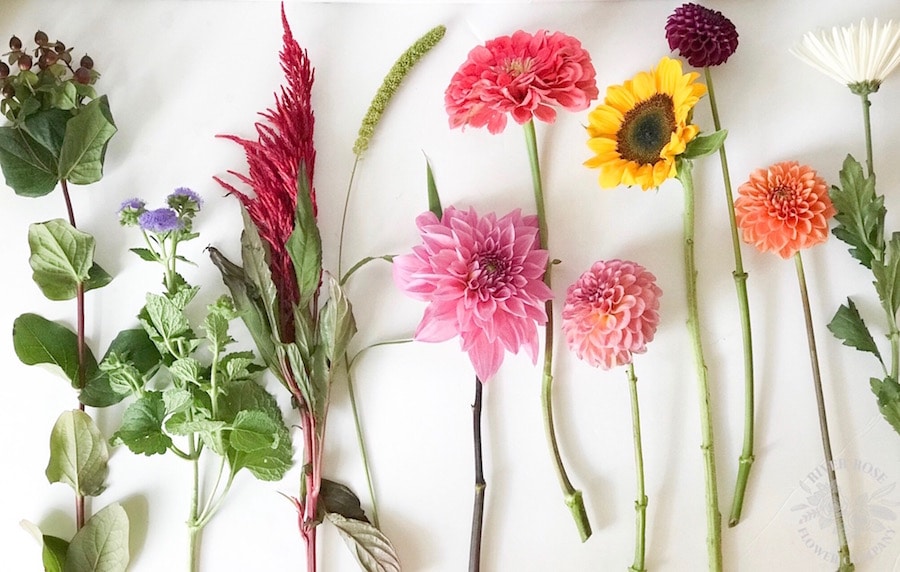 Fall flower line up from left to right: hypericum berries, lavender ageratum, celosia, green millet, pink decorative dahlia, coral zinnia, coral dahlia, sunflower, wine ball dahlia, tangerine dahlia, and white spider mum.
*Pro Tip: Make sure that you choose flowers that are a variety of different shapes, textures, and colors for your "Dream Fall Centerpiece".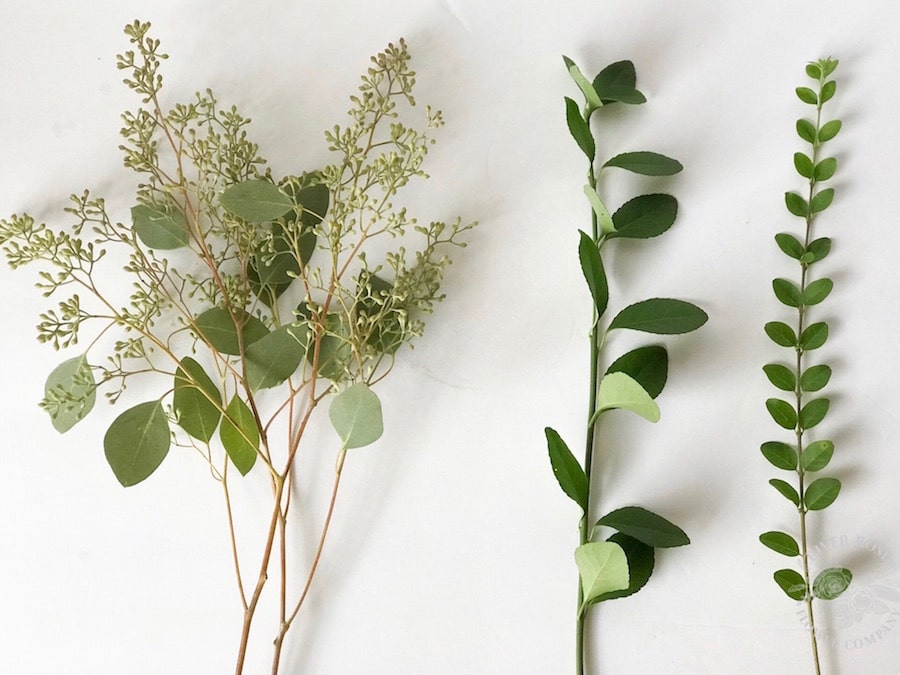 Fall greens from left to right: seeded eucalyptus, pittosporum (medium-sized leaf) and  "feather type" leaf (foraged from a field).

Step One
Soak and cut your wet floral foam brick to fit your brass container.
*Pro Tip: I cut off all of the corners whenever I am using a pedestal dish or footed bowl.  
I chose brass because I could use brass every.single.day. However, professionally, I think that brass is a perfect metal choice for this fall flower centerpiece.

Step Two
In a radial pattern, add your medium sized greens first. I will typically stick the two longest stems on mirroring sides.
*Pro Tip: Long table = Longer centerpiece stems. Round table = equal size stems all around.  

Step Three
Add your seeded eucalyptus stems in the same radial pattern as the previous greens.

Step Four
Add the bright burgundy celosia. Be careful of adding too many flowers that have big stems, or else the foam might fall apart.

Step Five
Add the largest base flowers first. Make sure that you arrange some base flowers sticking out and some closer to the foam.

Step Six
Add the sunflowers and the remainder of the mums and zinnias. Make sure that the different colors are evenly spread out. A fun way to do this, is to make an invisible triangle. For example, look at the burgundy dahlias in my arrangement.

Step Seven
Add the hypericum berries. For the best look, I recommend arranging them closer to the foam.

Step Eight
Remove the leaves from the green millet and add in groupings of three.

Step Nine
Add the lavender ageratum. I added the larger cluster in the front and back centers and the longer stems on the sides.

Step Ten
The last few steps are filling in the gaps, being careful not to overstuff your arrangement. I decided to add one more sunflower and a few more mums to make my arrangement more pleasing and not be completely symmetrical.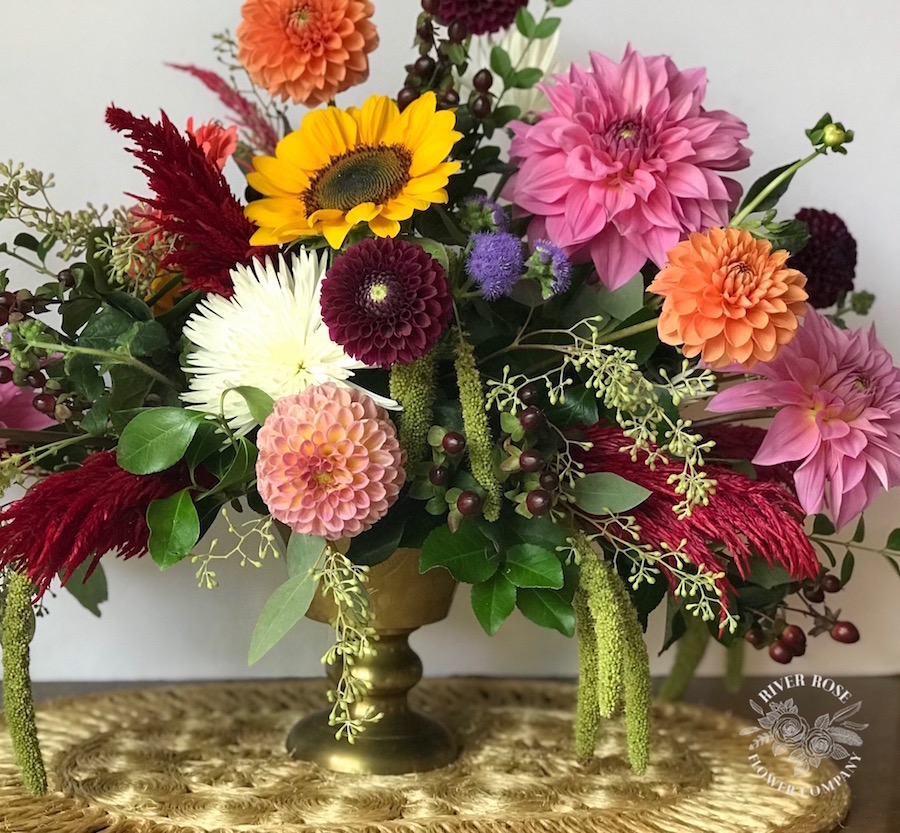 Congrats! You did it!! How dreamy is this Burgundy and Blush Fall Centerpiece? It's full of flowing wheat, mixed berries, big blooming dahlias, mums, zinnias, celosia – the perfect fall-meets-summer centerpiece. Be sure to follow me on Instagram @riverroseflowercompany for more floral design ideas. And if you create your own fall floral centerpieces, please tag me so I can see your beautiful creations. I'd love to see what color palettes you choose!
Till next time,
Carrie
Want to DIY a similar burgundy and blush fall centerpiece but don't know where to get the best flowers? I've got you covered: A Flower Market Guide to buying and arranging flowers.
Pin it for later!