*This post is in partnership with Orkin Pest Control.
Now that we own a home, one of the first things we want to protect it from are termites. Fortunately, our home inspection reported no sign of termites, so we want to keep it that way! We had Orkin Pest Control come out today to service our home with termite prevention control. On the initial visit, the Orkin technician performed a thorough inspection of our home in order to customize a treatment plan for us. Based on our current situation and the layout of our house, he recommended the Termidor Liquid Treatment to protect against any potential termite infestations.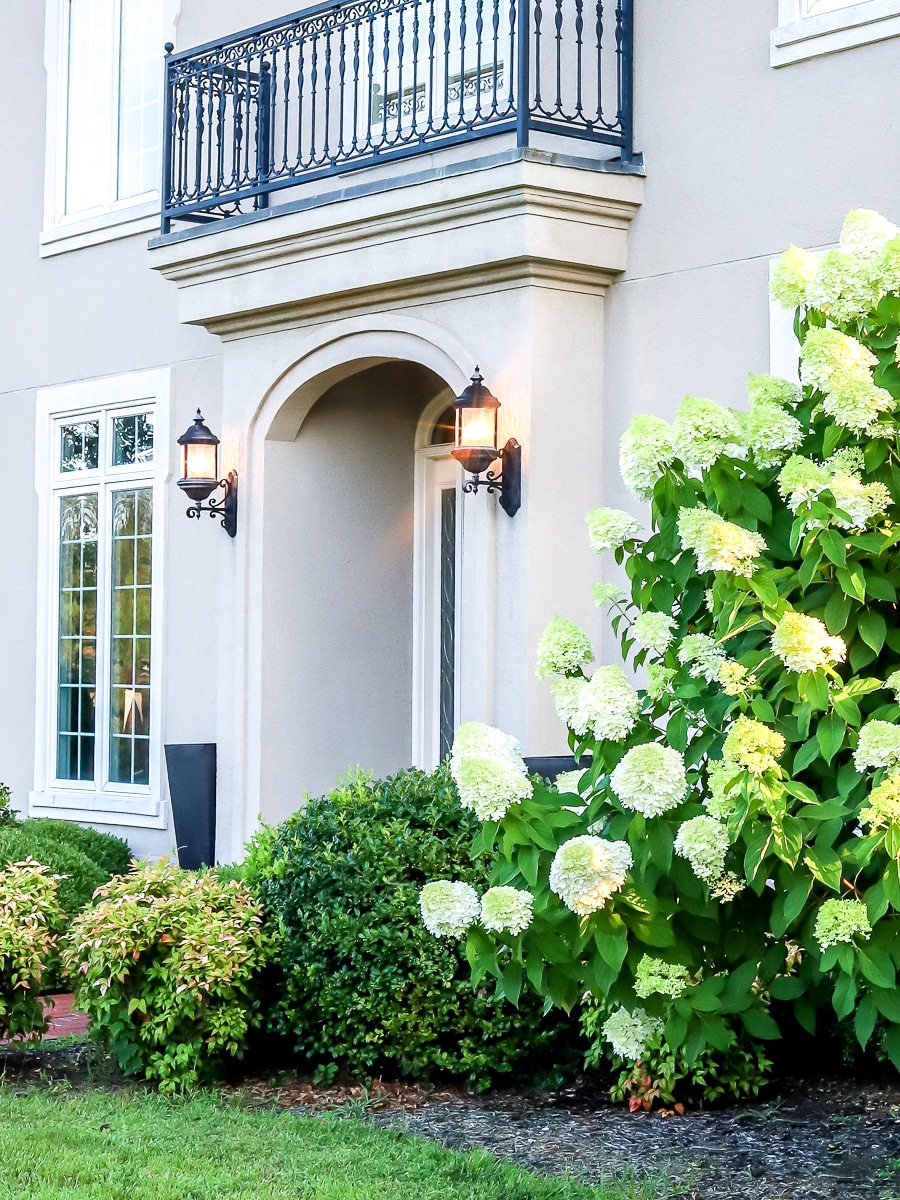 Termites can cause serious structural damage to a home by eating away at your house from the ground up. They love to eat wood, so any home – old or new – is susceptible to termites. I feel especially at risk being a woodworker because I tend to have a lot of wood laying around. My scrap wood collection alone would be an extraordinary feast for these destructive insects!
We scheduled a day for Orkin to come back and treat our home. It was interesting to watch their process. The plan is to form a protective barrier with the termite treatment around our entire home. Most of the area around the exterior of our house is soft ground, except for our back patio and garage. For these areas, Orkin had to drill through the concrete and into the ground so that they could apply the Termidor.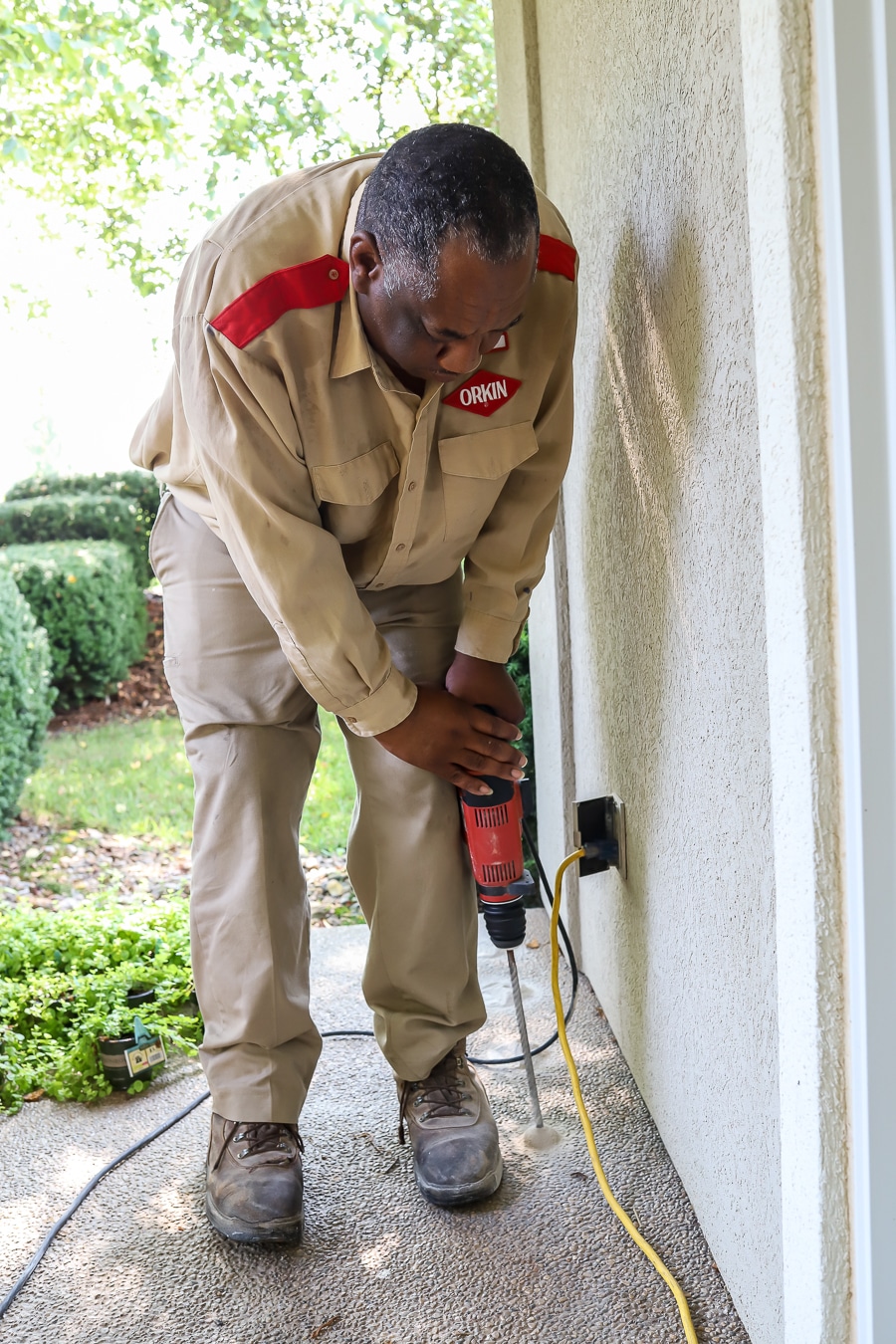 The Orkin technician used a 2-foot drill bit to drill holes about 8-10 inches apart into the concrete inside our garage as well as through our back patio. I'll admit, when he told me he'd be drilling through my patio, I was a bit concerned. He assured me he'd patch up the holes so that they're virtually invisible, so I crossed my fingers and hoped for the best. After all, I am a new homeowner and that's my brand new patio!
These are the holes he drilled around the perimeter of our garage: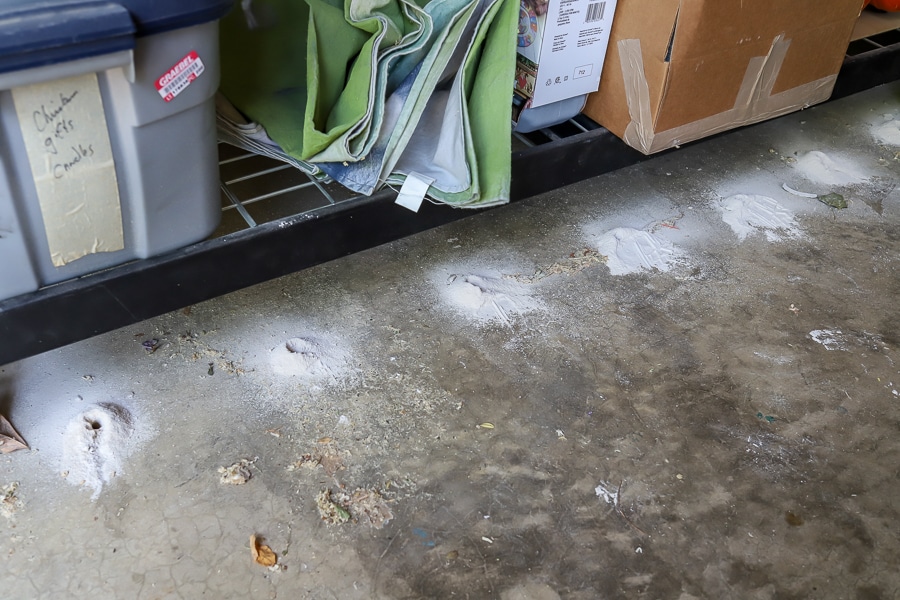 Once he was done drilling, he pumped the liquid treatment into the holes with a giant syringe. He also pumped it into the ground around the house, close to the foundation.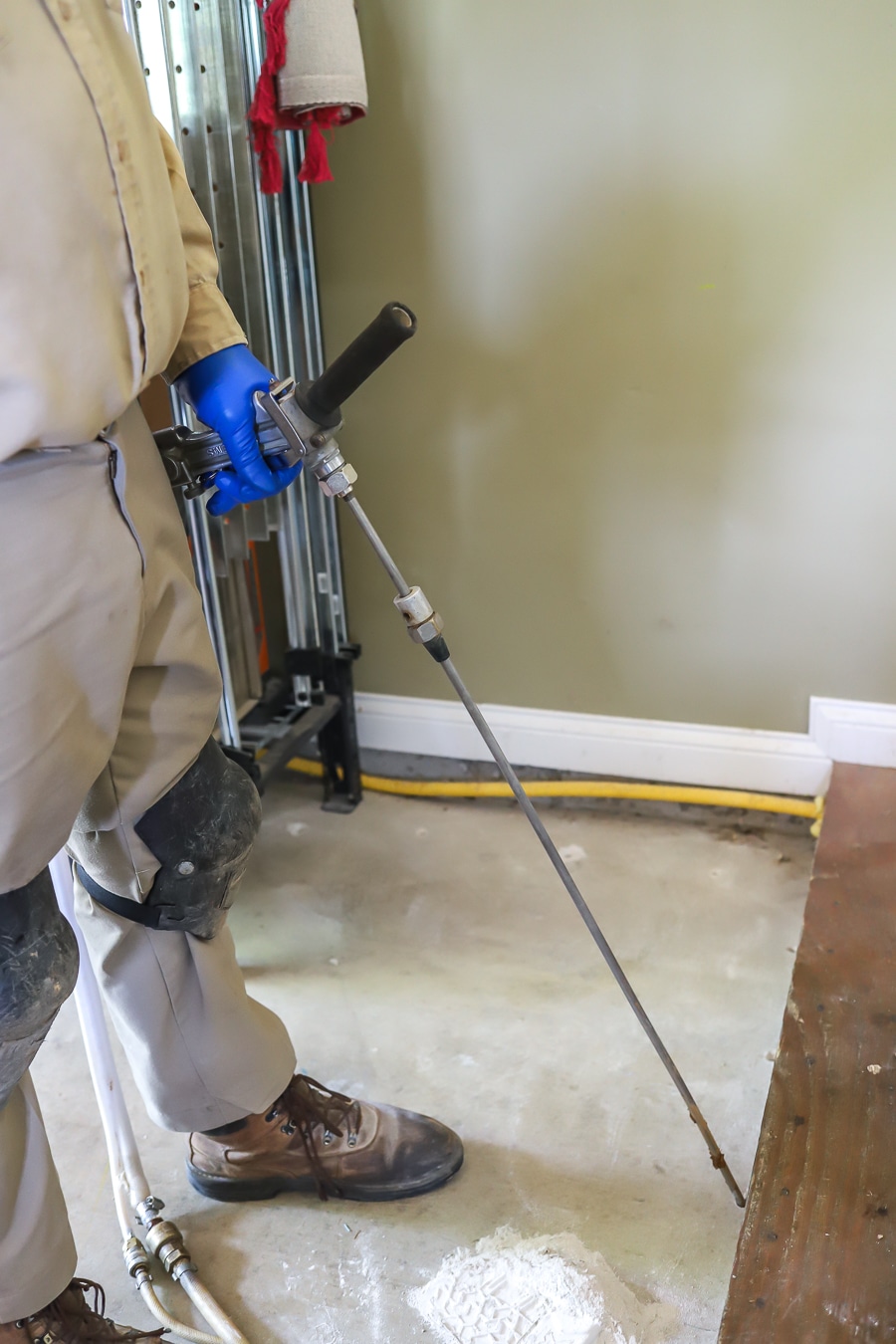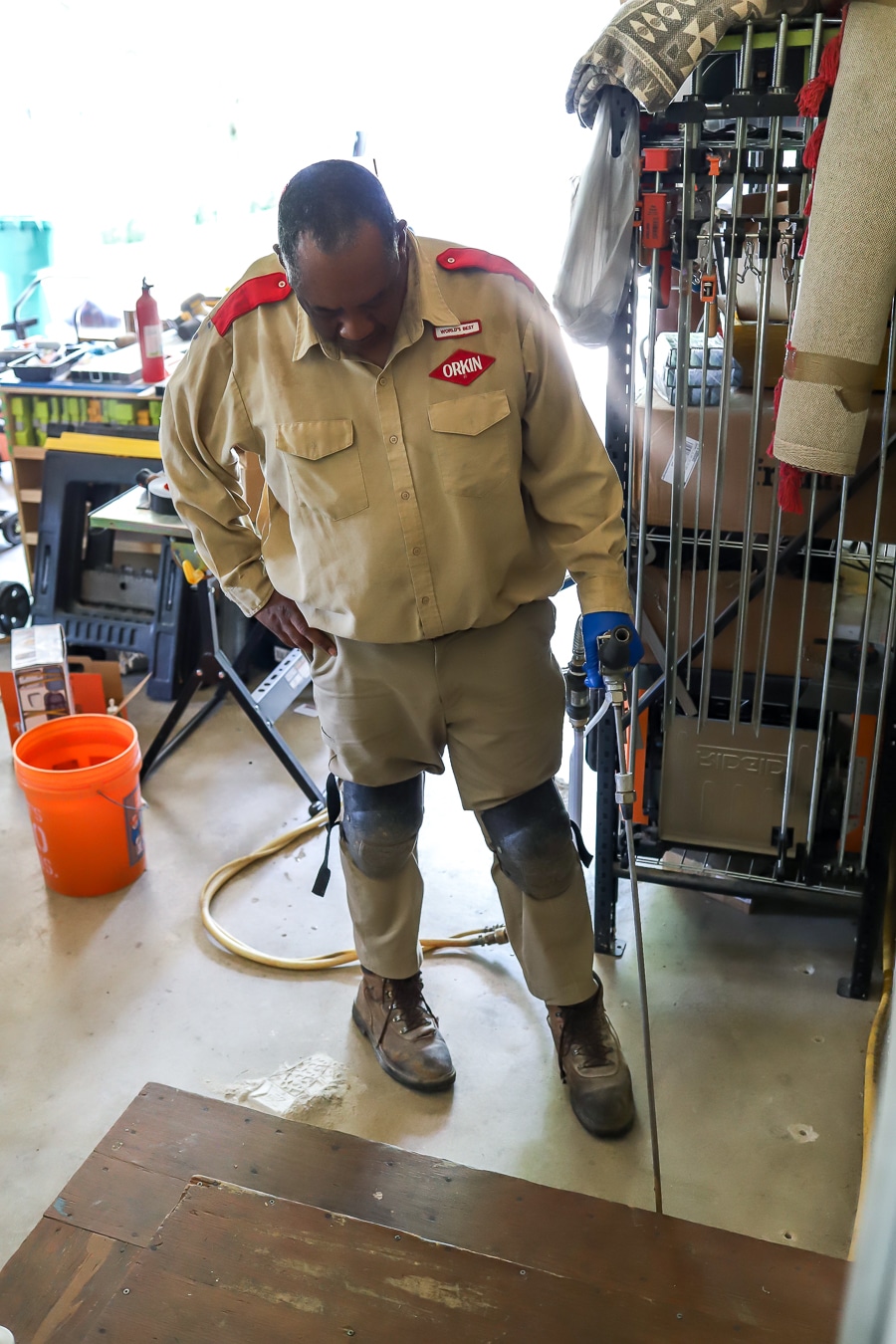 He then plugged the holes and filled them back up with concrete. For our back patio, he added some mortar and small pebbles on top, so that it blended in with the rest of the stone. Can you spot where the hole was? It really is virtually invisible and I'm so relieved!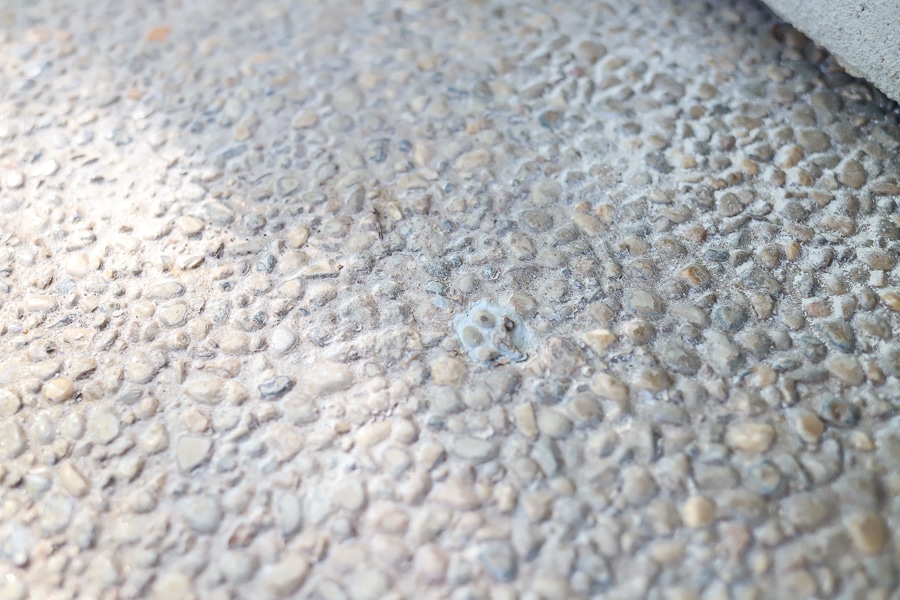 Did you know that most homeowners insurance doesn't cover termite damage because it's preventable? So what can you do to keep your home from being a termite target?
How to help prevent termites:
Repair any leaking faucets, pipes, and HVAC units.
Divert water from the foundation.
Keep gutters and downspouts clean.
Remove excessive plant cover and wood mulch.
Get rid of any standing water on the roof.
Keep all vents clear and open.
Seal entry points around water and utility lines or pipes.
Keep firewood, lumber, or paper away from your foundation or crawl space.
Get rid of any stumps or debris near your house.
Where to check for termites:
Basement – look for mud tubes running along your basement walls or floors.
Flooring – if your heel steps through hardwood floor, it could be that the hardwood is now dried out and termites have probably moved onto another area of the house.
Baseboard – knock on your baseboards. If you hear hollowed wood, termites or wood-boring beetles may have already been eating away!
Walls – look for bubbling or peeling paint as a sign of moisture just below the surface of the wood. Termites use this as a place to hide.
Structure – the house can settle or shift in a way that affects the normal opening and closing of doors and windows. Look for jams or sagging.
Foundation – check for cracks and gaps within the home's foundation.
Moving boxes – cardboard boxes make the perfect meal for cellulose-eating pests, like cockroaches and termites.
Mud – a telltale sign of termites in your new home is mud. They're bringing the mud up through the ground, around baseboards, in between floorboards, and doors. These tubes can easily be noticed in areas along exterior concrete walls or a home's foundation.
Moist wood – termites and wood-boring beetles can make homes in wood mulch, wood fences, and other nearby structures.
Now that our house has a ring of protection around it, Orkin will monitor our home and look for any signs of future termite activity. So happy I can rest easy knowing that our biggest investment is protected from termites!