Well, hello again, Friend! Remember that printer table I built for my dad? Well, I'm back to dish on how I achieved that beautiful finish! You can get the free plans for this project over at Ana White's site here.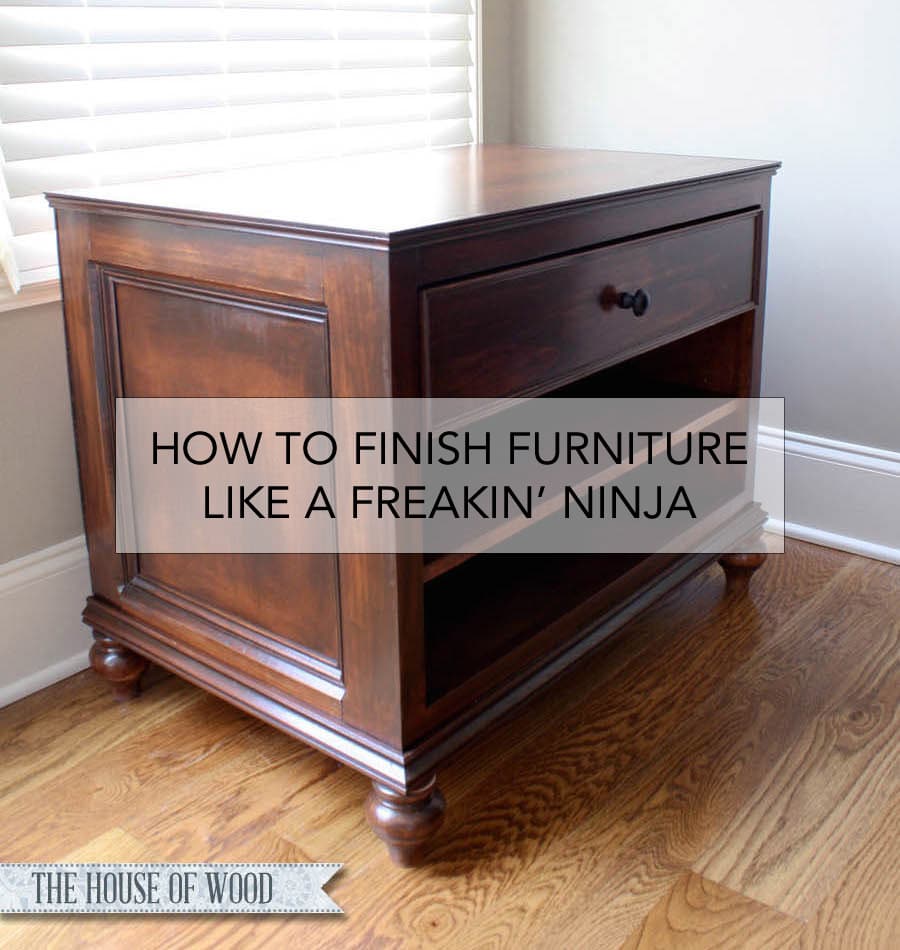 First and foremost, if you don't know Elisha from Pneumatic Addict Furniture, then you totally should. I pretty much blew up her inbox with my many questions and she was so patient and gracious to give me guidance with finishing this project.
So here's how it all shook out for me…
Supplies:
First, I sanded the entire piece with 120-grit sandpaper, then followed up with a finer, 220-grit. Then I vacuumed the dust and debris and wiped everything down with a slightly damp rag. I don't use a very damp rag, because the water can raise the grain of the wood – that grain that I so painstakingly just sanded down.
Second, I applied wood conditioner to the whole piece (per manufacturer's directions) then stained it with an American Walnut stain. This was just to give it a reddish-brown base color to start from. See how everything is still splotchy and kind of… fugly? Well, it'll get better, just stay with me for a sec.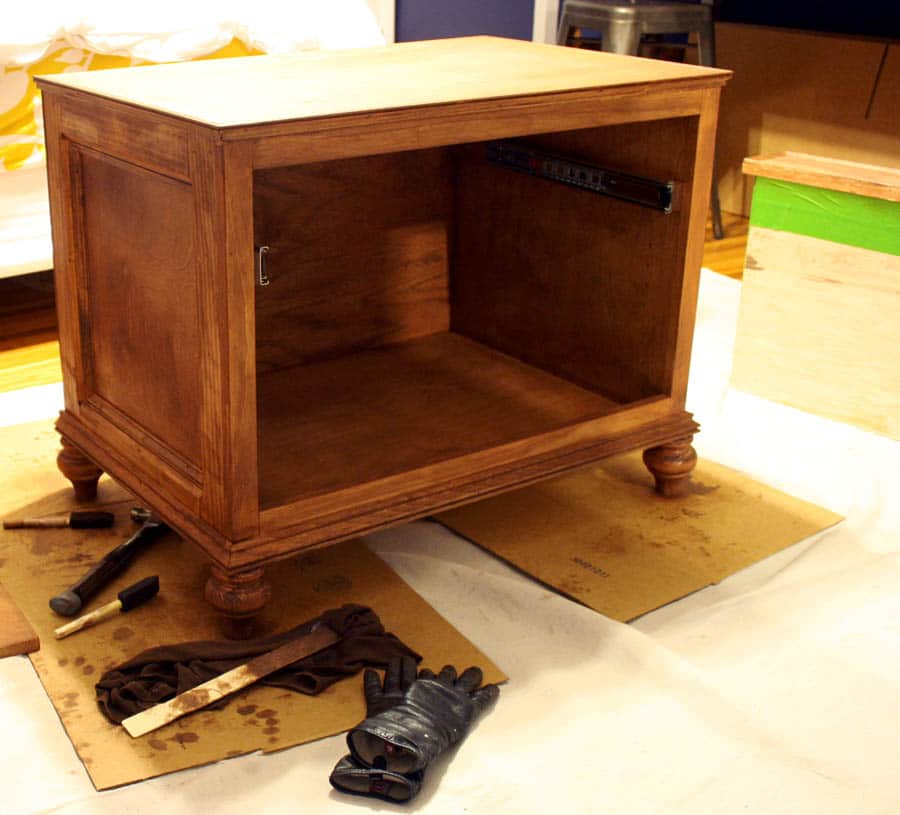 When I stain furniture, I just dip a corner of a rag into the stain and rub it onto the wood (that's what she said), in all directions, working it in until it's completely absorbed. The directions on the can say to apply the stain and then let it sit for a period of time, then wipe off the excess – I don't do that. I'm a rebel. I like to see the color I'm working with and darken it if need be. I don't really like surprises when I'm DIYing. Call me a control freak – I wouldn't blame you. I used foam brushes to work the stain into the corners, crevices, and trim work, but for everything else, I used a rag. Then I immediately wiped off whatever excess I could so the entire piece would be as uniform as possible.
Oh, and one more thing worth mentioning before we move on… I don't fill the nail holes until after I put the first coat of stain on. I find that wood filler never seems to stain properly (even though it claims it's paintable and stainable). So I stain the piece first, and then fill the nail holes in and smooth everything out and sand it back down, if necessary. That way, there's minimal wood filler to disrupt my stain color. It just helps laying down the base color first before adding the wood filler that may potentially not take stain the same way the rest of the wood does. Remember that whole surprise-disliking-control-freak thing? Yeah. Hope that made sense.
This is after one coat of stain (and before wood filler):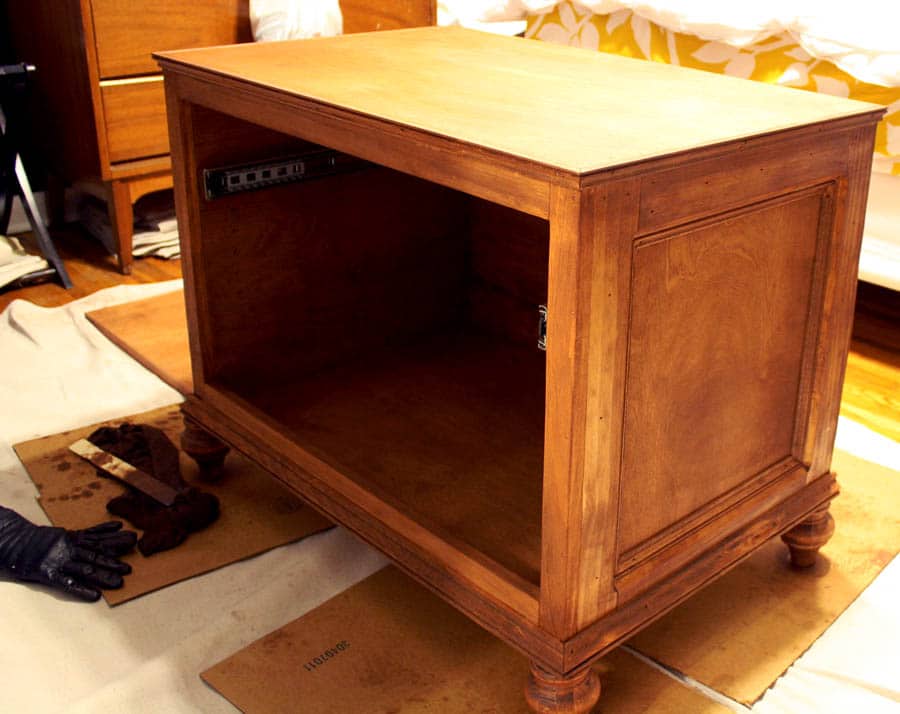 Splotchy, splotchy, splotchy. Ugh. But worry not, O Ye of Little Faith, we'll make it better. Trust.
After the first coat of stain is on, I fill in all the nail holes with wood filler and smooth it out. After the wood filler is dry and hardened, I sand where necessary and quickly hit it with my stain-soaked rag, just to color in the wood filler splotches.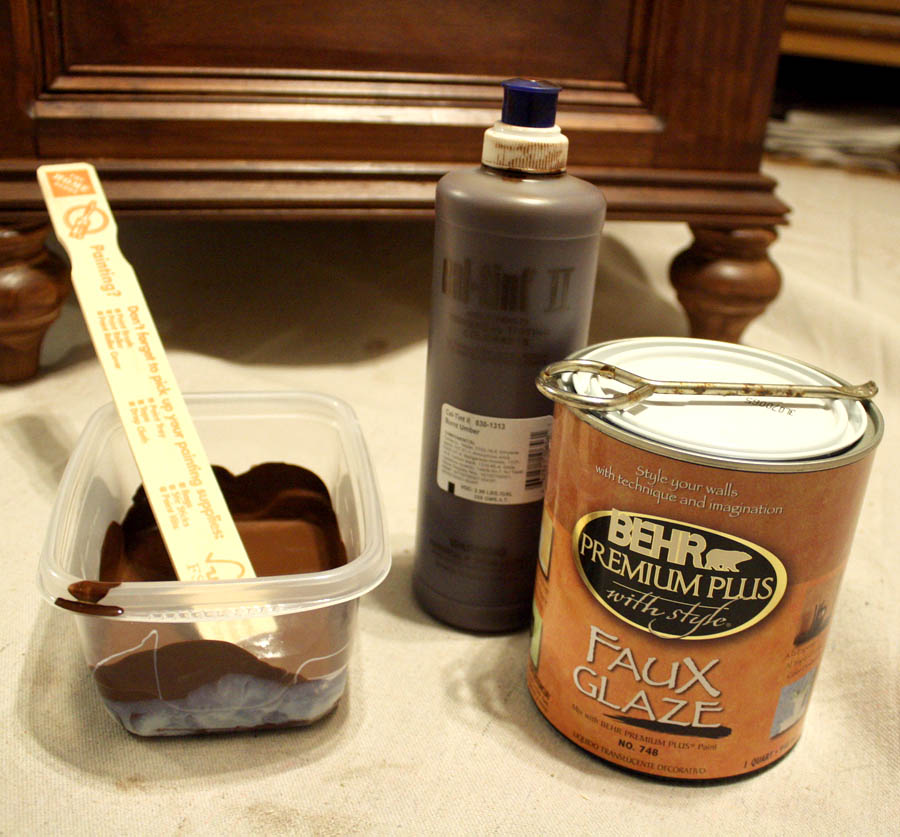 Alright, so this next step is where the magic happens. I've never worked with glazes before in my life, so this was a total game-changer for me. I did a lot of researching and YouTube video-watching to understand what a glaze is and how to use it.
Glazes come in many different colors, but if you'd like to mix your own custom color (which is what I did), you should get a translucent glazing medium and tint it to your desired color. There are really no hard or fast rules – you can choose any colorant you want: universal tinting colorant (shown below), furniture powders, latex or acrylic paint – it's up to you. I used a universal tinting colorant that I bought on Amazon.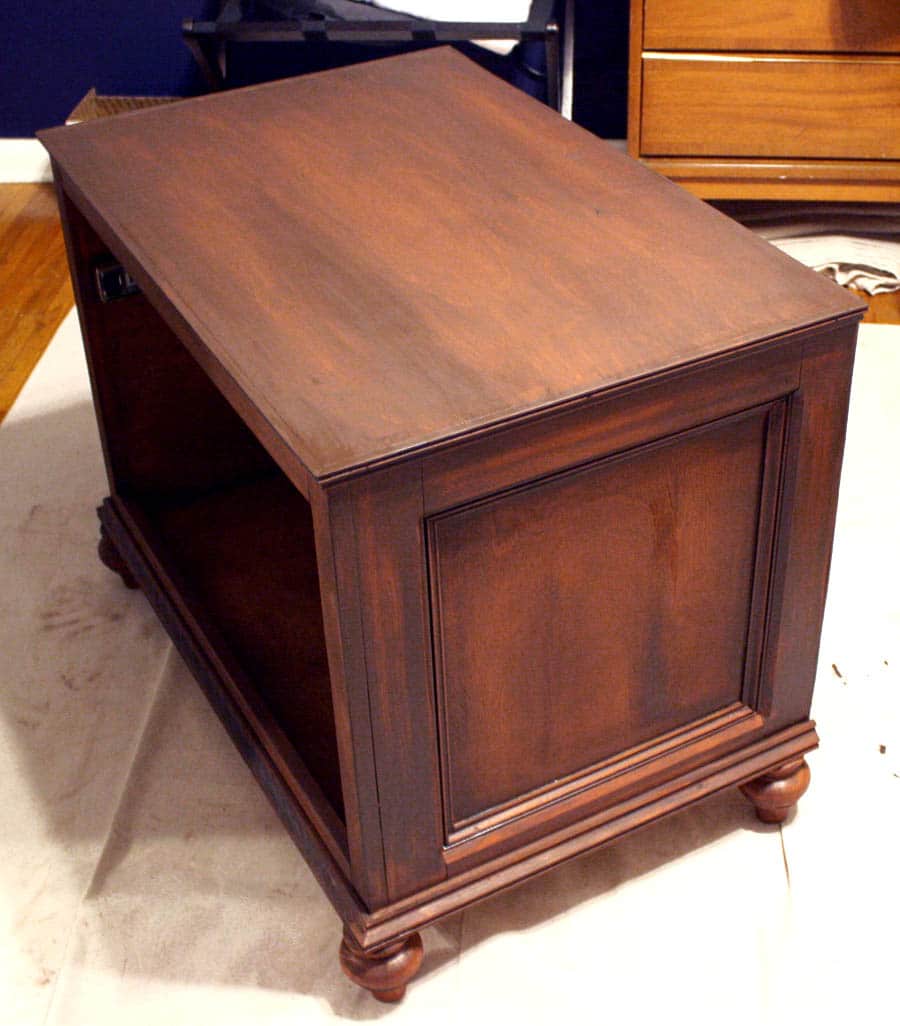 I poured about 1/2 cup of translucent glaze into a disposable container, then mixed in the tint. I started small (1 tsp) and worked my way up until I achieved the color and shade I wanted. I started with the burnt umber, and found that the color matched too closely to the stain color; it looked like I was just painting some brown paint on, so I added a teaspoon of raw umber to the mix, which added a cool, dark tone.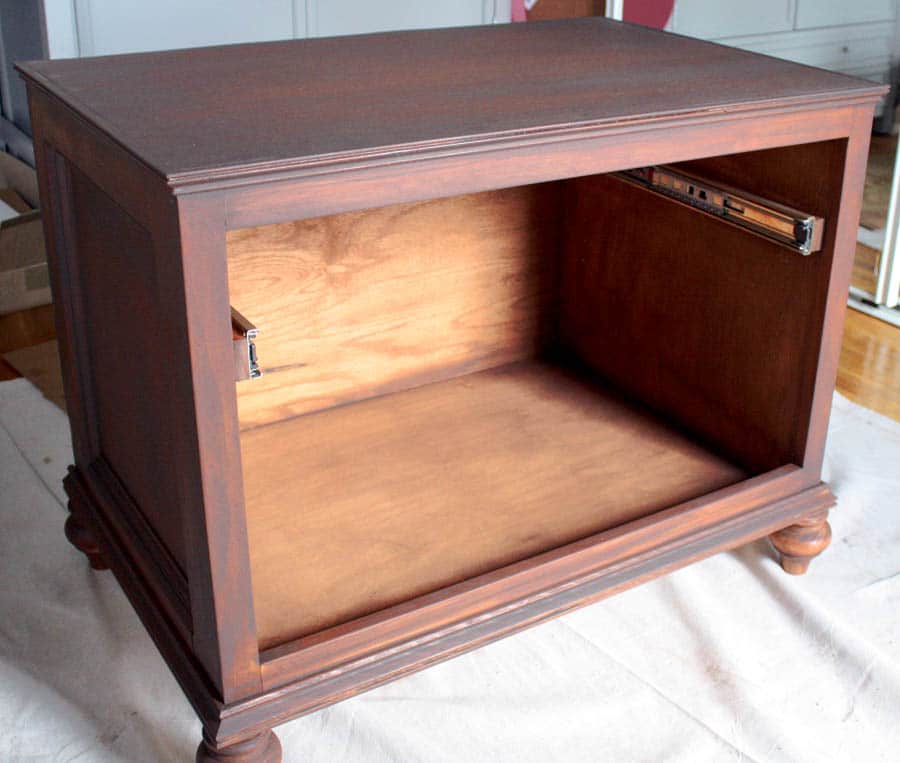 Then I brushed on my mixture (any 'ole brush will do), shadowing here and there. Since my dad's desk is sort of 'stripey' – I tried to mimic that. Then I wiped off the excess with a very damp cloth, using the cloth to blend blend blend! This took most of the glaze off, but left it in the crevices of the trim. I tried to take a painterly approach with the glaze, following the natural grain of the wood, to accentuate it. You can see where I brushed it on and wiped it off in different sections, just kind of eye-balling it.
Goodness. It adds so much more depth to the finish, amiright?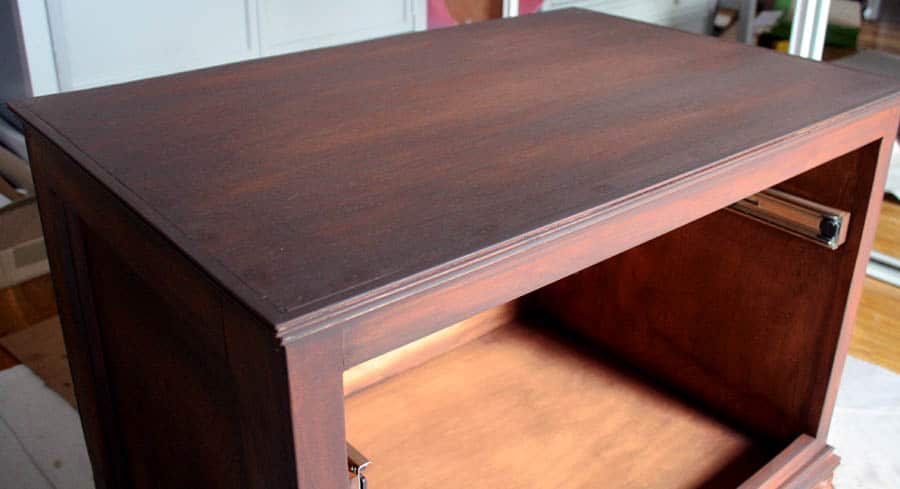 Next, I moved onto mixing up a wood toner. Basically, the toner I mixed up is a tinted, extremely diluted polyurethane.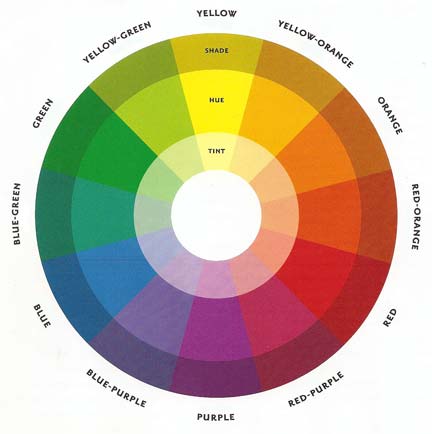 Keep the color wheel in mind. Colors that are opposite each other on the wheel cancel each other out, or 'tone' the other down. So from now on, when I get my hair colored and the stylist comes at me with a purple toner, I don't need to duck and cover. I now understand that she's trying to tone down the yellow, brassy tones in my hair. Same concept here.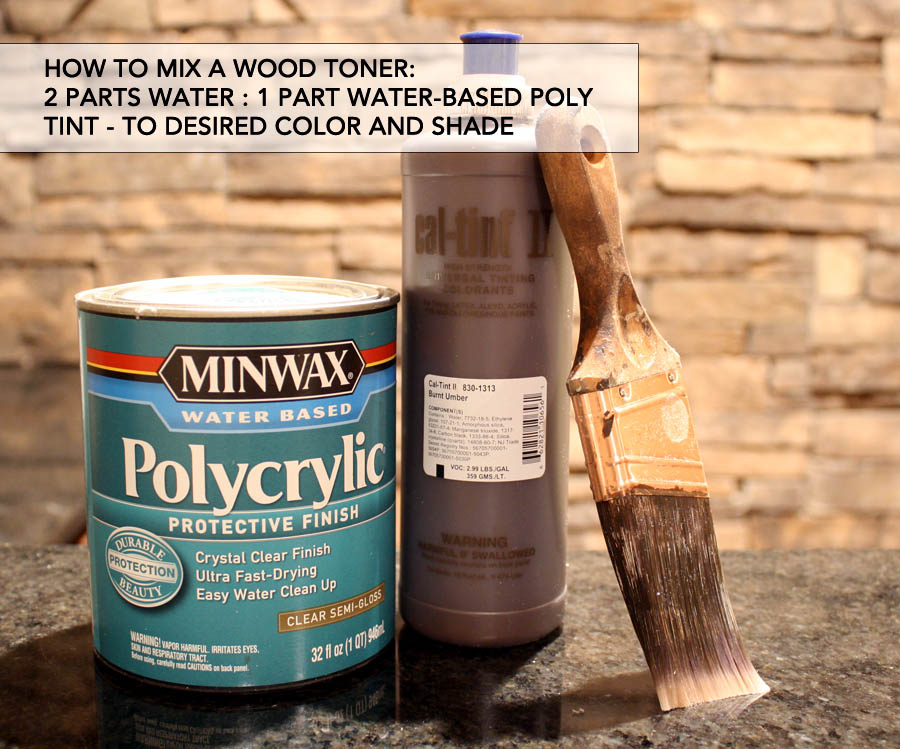 I used a water-based poly so I could use water to dilute it. It's also easier to clean up and not as stinky as its oil-based counterpart. And mental note: the mixture is really watery – I diluted it with 2 parts water to 1 part poly. You just want a little poly for the tint to stick to. Again, I used my universal tinting colorant to tint the toner. I started small and worked up to the darkness I wanted.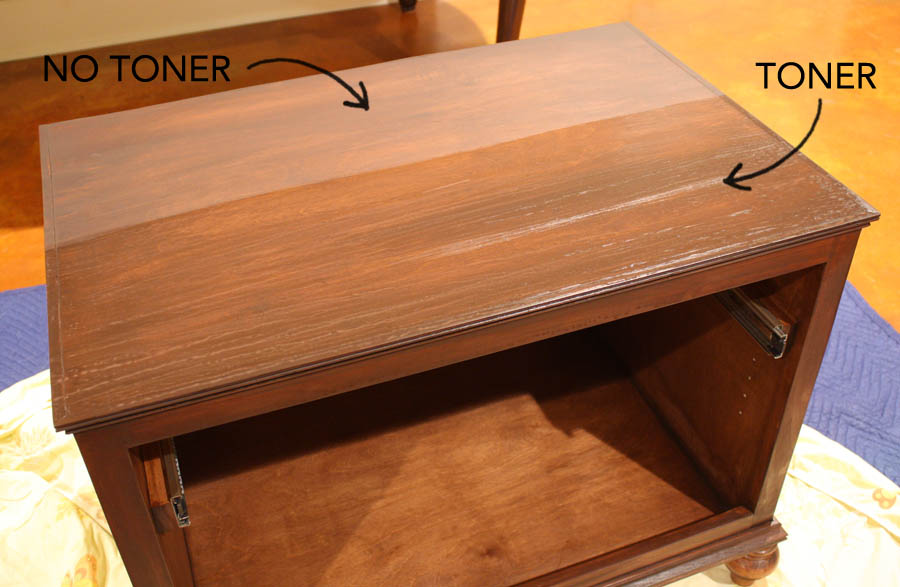 Then I brushed it on with a high-quality brush. I went slowly so as not to create bubbles (which poly is notorious for). The toner blends everything together and unifies the look.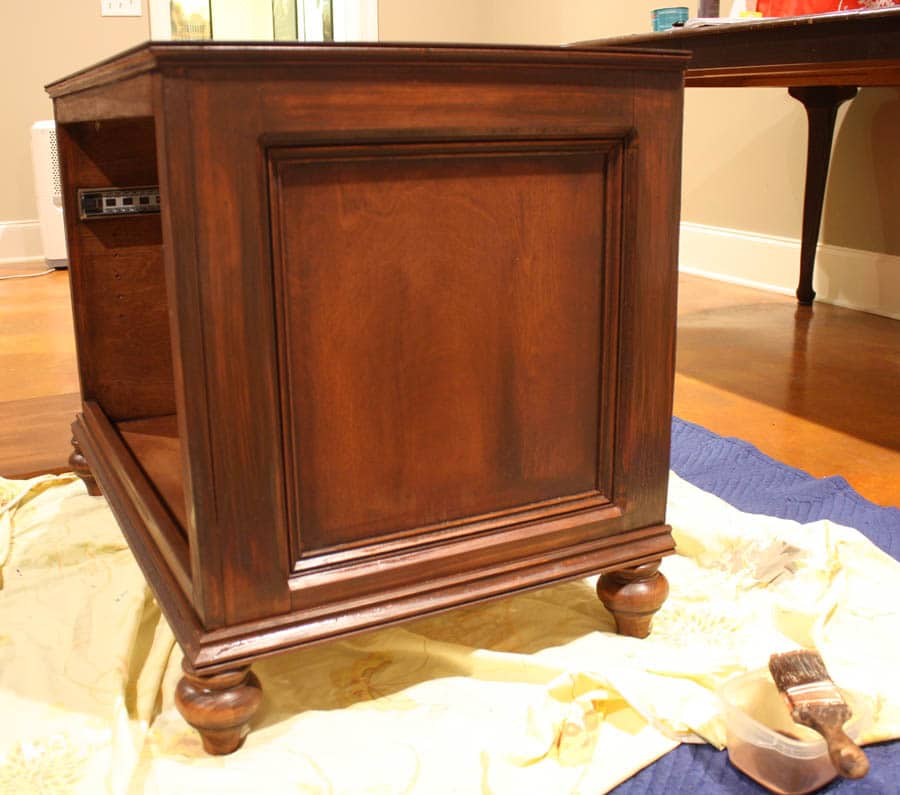 After the toner dried – and it didn't take long, since it's mostly water – I hand-sanded the surfaces with 400-grit sandpaper, just to make it super smooth. You'll find that the water in the toner raises the grain a little, so I took a few minutes to knock it back down with some ultra-fine sandpaper. Then I removed the dust with a damp cloth and prepped the table for the finishing coats.
For the top coats, I used Polycrylic in a semi-gloss sheen, brushing on each coat using a high-quality brush. Don't use foam here – it'll cause bubbles and we definitely don't want that. I applied 3 coats of Polycrylic, hand-sanding in between coats with 400-grit sandpaper.
And here's how it turned out: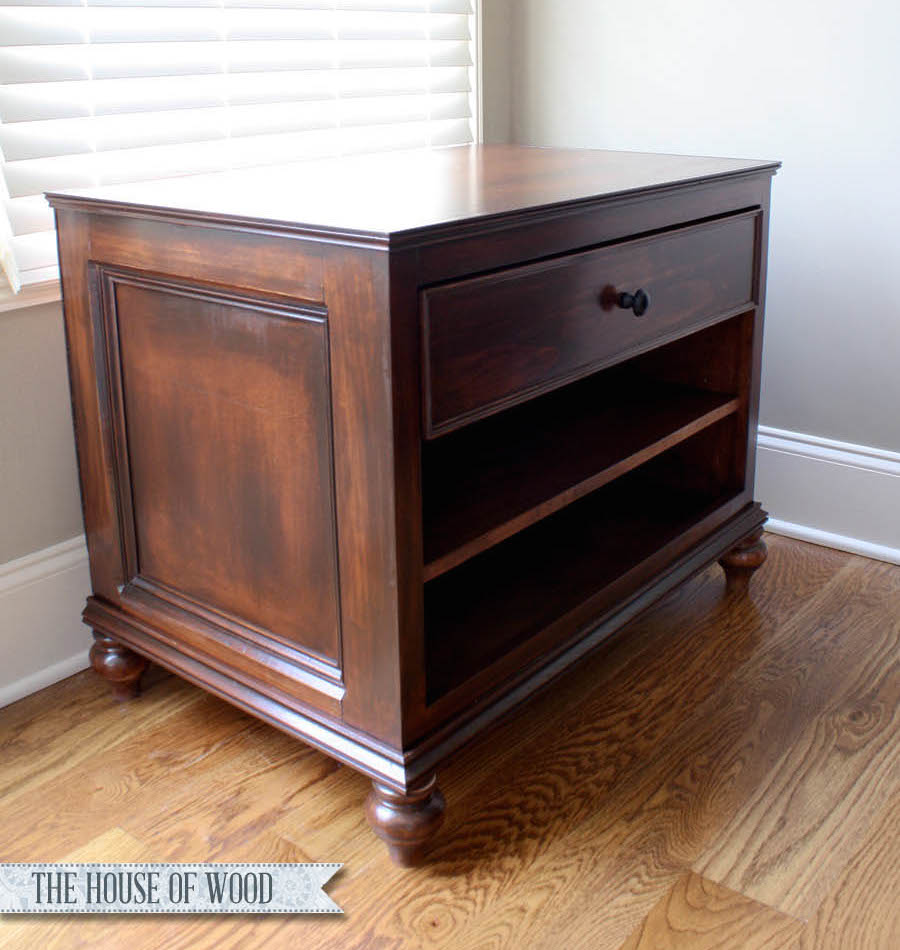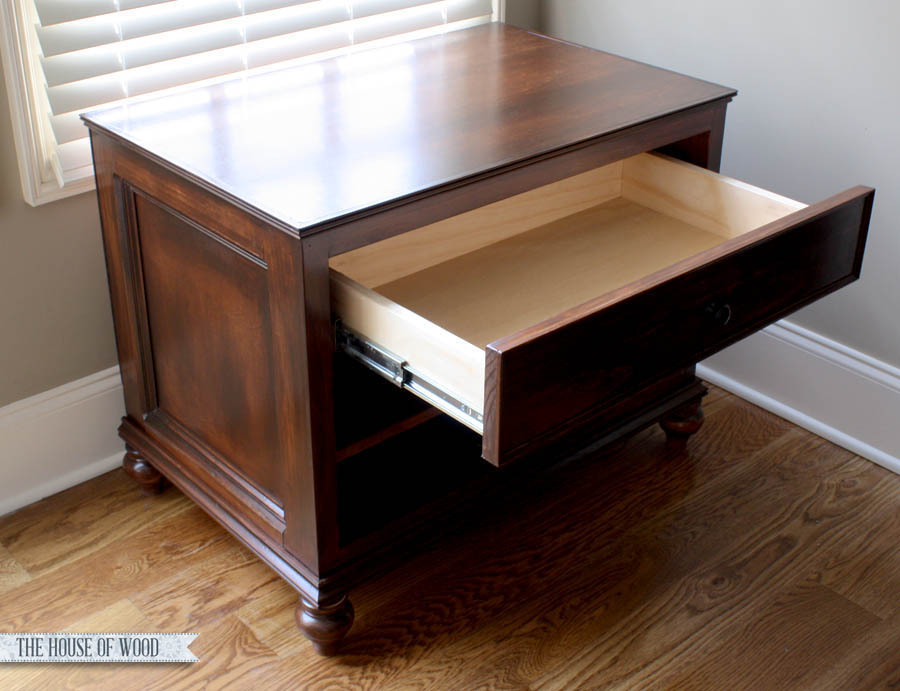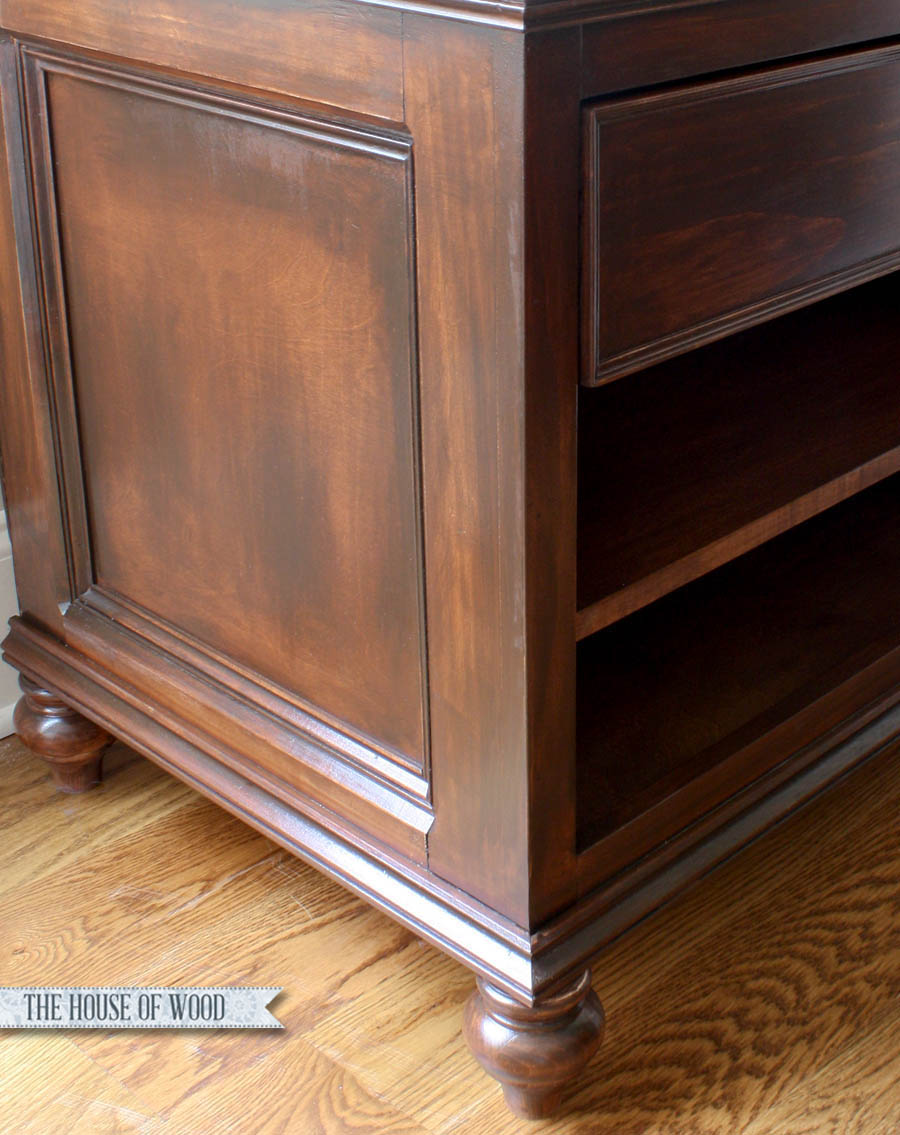 I was really apprehensive during this entire process because I needed the DIY printer table to match my dad's existing desk as closely as possible. I'm really happy with how it turned out – even though it's not an exact match, the two pieces still look like they belong together and the finish doesn't compete with or distract from Dad's beautiful heirloom-quality desk.
So there ya go! A few extra steps, but totally worth it in the end, right? A whole new world of finishing is opened up to me now, and hopefully to you too!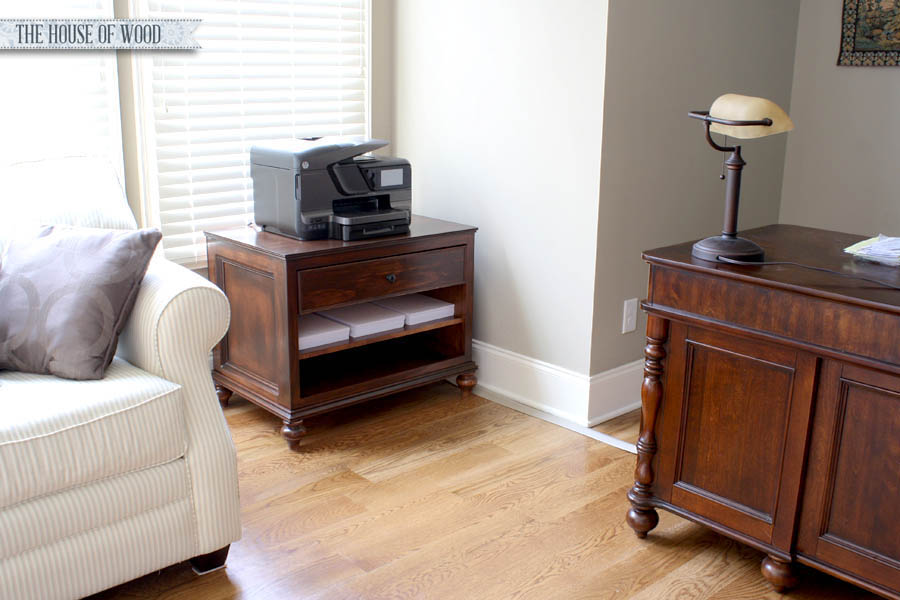 What about you? Do you have any game-changing finishing techniques you'd like to share? I'm such a novice at this sort of thing, so I'm always grateful for any insight. Thanks for reading, friends. Happy finishing and happy weekend!
Thanks for pinning and sharing this tutorial – I heart you!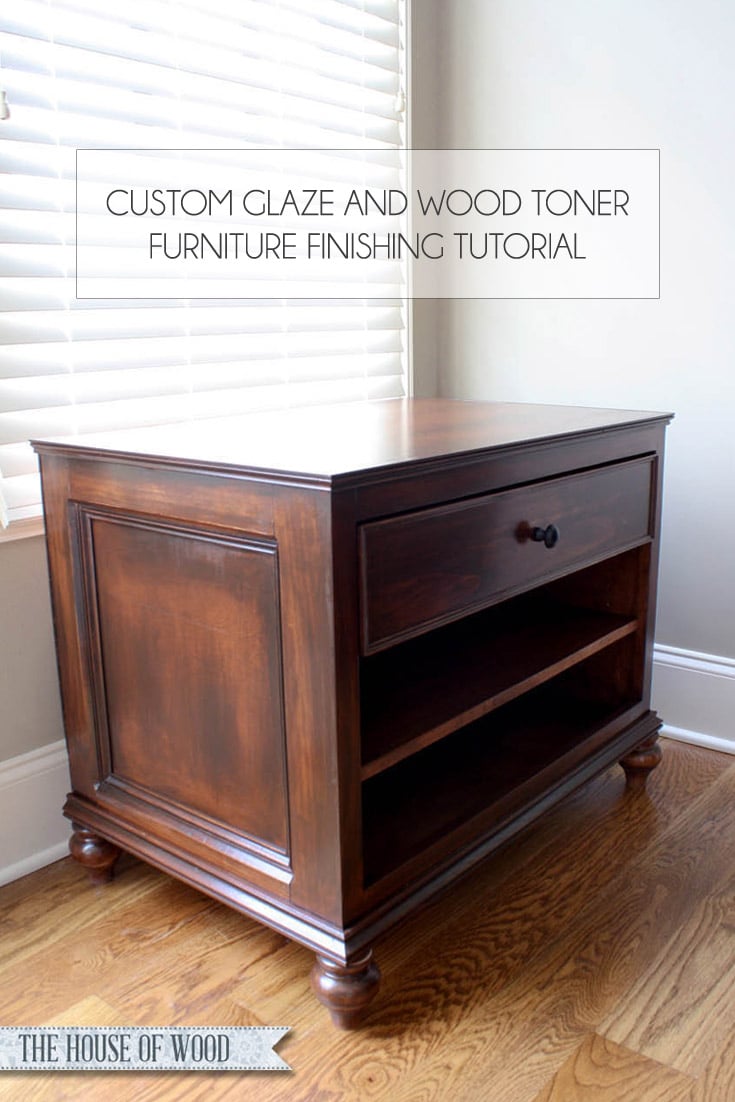 *Affiliate links used. To read my full disclosure policy, please click here.