I'm all about working with what we have (read: frugal), so here is the matching 5-drawer bureau that goes with the dresser I just refinished. It's solid wood and still in decent shape, so why not just spruce it up a bit? As much as I loved its rustic charm, I decided it needed a face lift as well, since it would be sharing a room with the newly espresso'd dresser/changing table. This time, however, I was able to skip the sanding stage altogether and dive straight into staining it, per the directions on the Minwax Polyshades can. I just wiped down the bureau with a damp cloth to remove any dust or debris and began brushing on the stain. The first coat took me less than an hour to finish, plus 6 hours drying time.
And because I'm currently suffering from pregnancy brain (not a myth!), I failed to take a 'before' picture. So here's a picture of it with the first coat on, in all its uneven, splotchy, reddish goodness: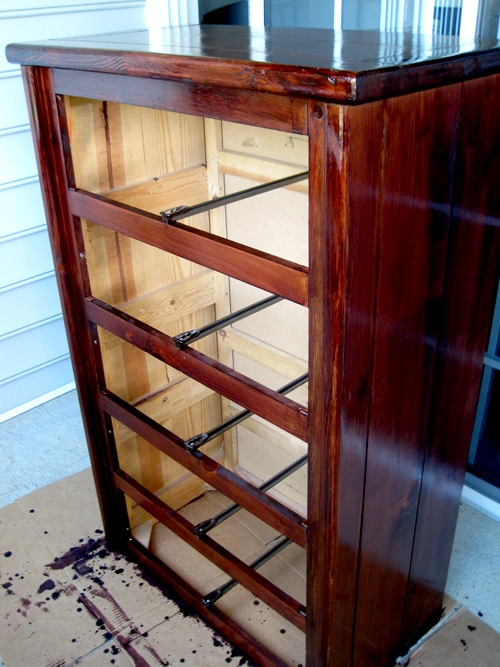 And the finished drawers patiently waiting (getting into the nooks and crannies of those recessed drawer pulls were a pain in the you-know-what, by the way):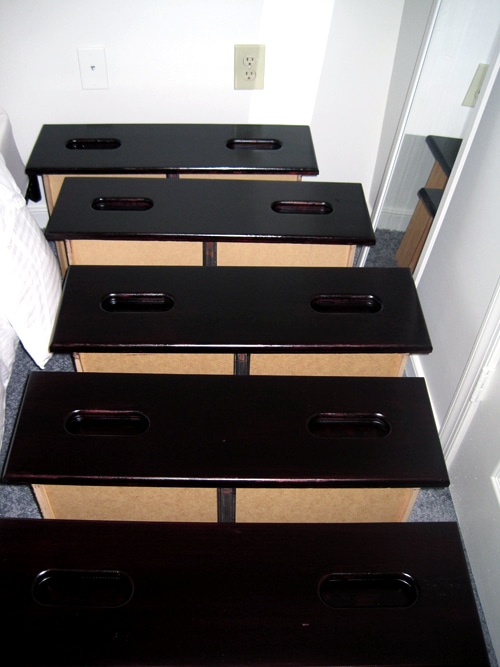 Dresser drawers finished
And 6 hours later, the 2nd coat goes on (in under 30 minutes!):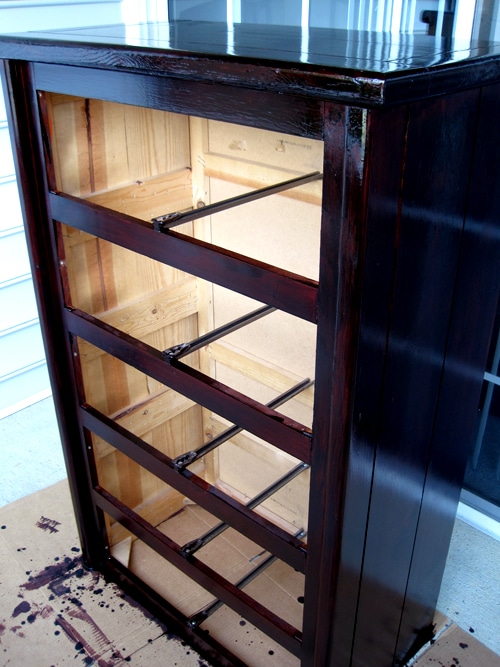 2nd coat of stain
And the following morning, it was still looking a little uneven, so I decided a third coat wouldn't hurt. And here's a helpful little tip: seal your brush up in a plastic bag so that it doesn't dry out and you can reuse it (instead of ruining a new brush every coat).
So there you have it, after a good 48 hours of drying time outside, it's living happily ever after in our nursery: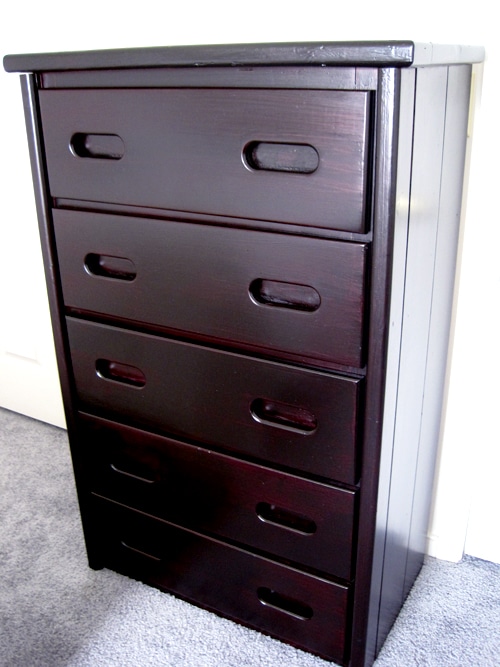 Old Bureau (Re)Finished!
Cost Breakdown:
Chest of drawers: already owned
Face mask: already owned
Dust cloth: already owned
Gloves: already owned
Minwax Polyshades in Bombay Mahogany (Satin 380): $10.68
3″ Economy brush: $3.59
Total: $14.27